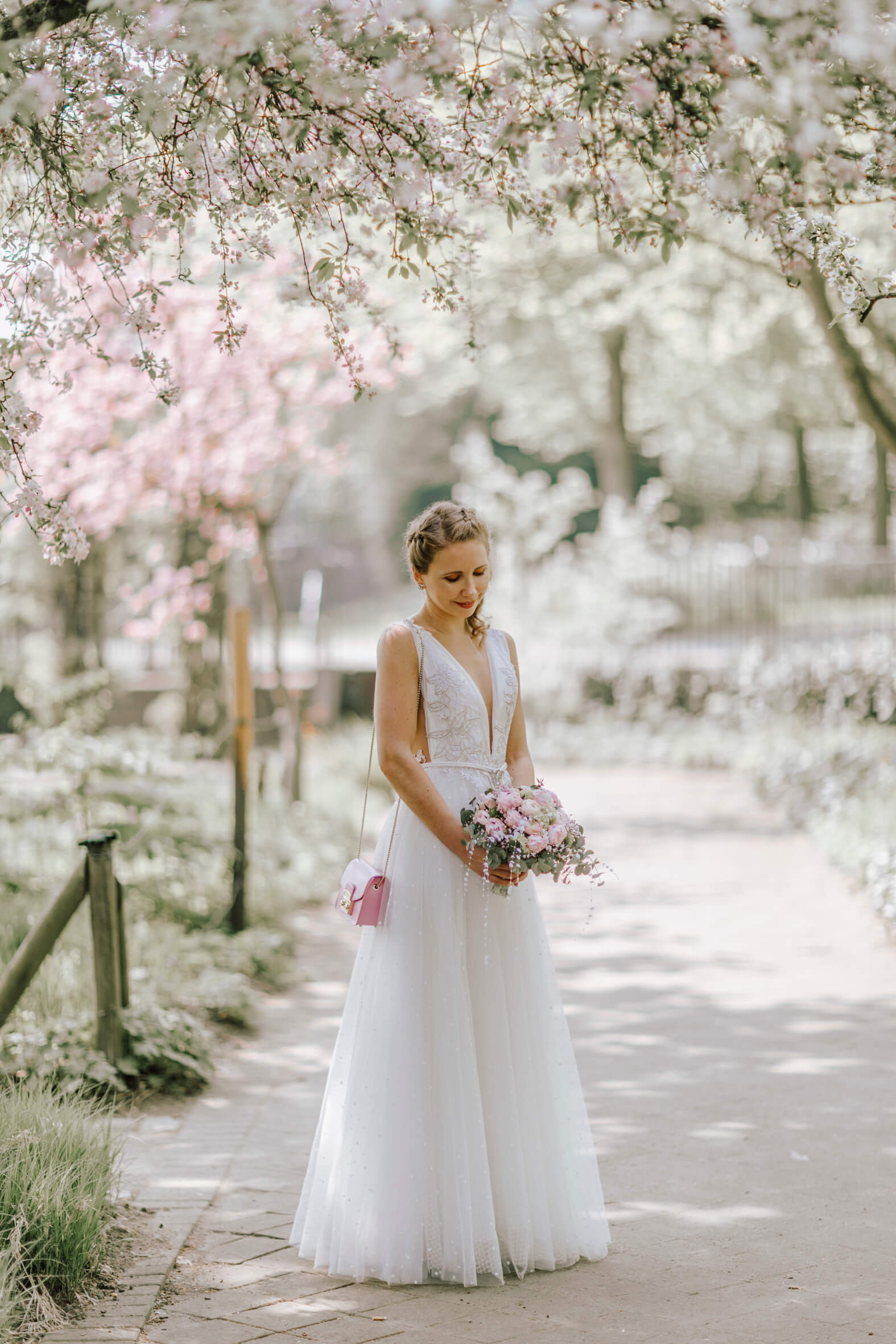 Heute sind der Hubby und ich genau zwei Monate verheiratet und in rund einer Woche feiern wir unsere große Wedding Party mit Freunden. Ich kann es kaum erwarten, dafür erneut in mein frisch gereinigtes Brautkleid zu schlüpfen. Genau darum geht es auch im heutigen Blogpost: Mein Brautkleid von Inmaculada Garcia!
Mein Brautkleid: Liebe auf den ersten Blick
Letzten September habe ich euch hier von meiner Brautkleidsuche bei I am Yours in Düsseldorf berichtet – natürlich ohne euch MEIN Kleid vorab zu zeigen. Es war aber wie damals beschrieben wirklich Liebe auf den ersten Blick. Ich wusste schon bevor ich es anhatte, dass dies mein Kleid werden könnte.
Das Kleid ist von Inmaculada Garcia aus Barcelona und der Hubby und ich werden der Brautmodenboutique auf jeden Fall einen Besuch abstatten, wenn wir übernächste Woche im Rahmen unserer Flitterwochen in Barcelona sind. Ich folge ihnen auch bei Instagram und bin super begeistert von ihren individuellen Brautkleidern.
Bei meinem Modell "Kaori" habe ich mich direkt in die vielen Details und die unglaublich gute Verarbeitung verliebt. Oben die tief ausgeschnittene Form mit locker aufgestickten Blüten aus weißem und silberfarbenem Garn. Unten mehrere Lagen Tüll, der satt nach unten fällt ohne aufzubauschen, gekrönt von Gittertüll und Pünktchentüll als oberste Schichten. Voller Kontraste und trotzdem so stimmig!
Aus einem Kleid wird mein Kleid
Dennoch musste auch dieses traumhaft schöne Kleid natürlich noch zu meinem werden. Für mich musste zum Beispiel die Schleppe, die das Kleid ursprünglich hat, weichen. Ich wollte für die Art wie wie feiern gerne ein gerades, bodenlanges Kleid ohne Schleppe, mit dem ich auch auf unserer baldigen Party problemlos tanzen kann.
Dann hat das Kleid hinten eigentlich eine durchgehende Knopfleiste, was für mich allerdings ein wenig die Leichtigkeit genommen hat. So habe mich – gemeinsam mit meiner Schneiderin Hale*, die übrigens direkt über der I am Yours Boutique ihr Atelier hat – dazu entschieden, sie wegzunehmen und nur ein paar wenige Knöpfe für den Halt unten zu belassen. Hale hat wirklich fantastische Arbeit geleistet und das Kleid zu MEINEM Kleid gemacht!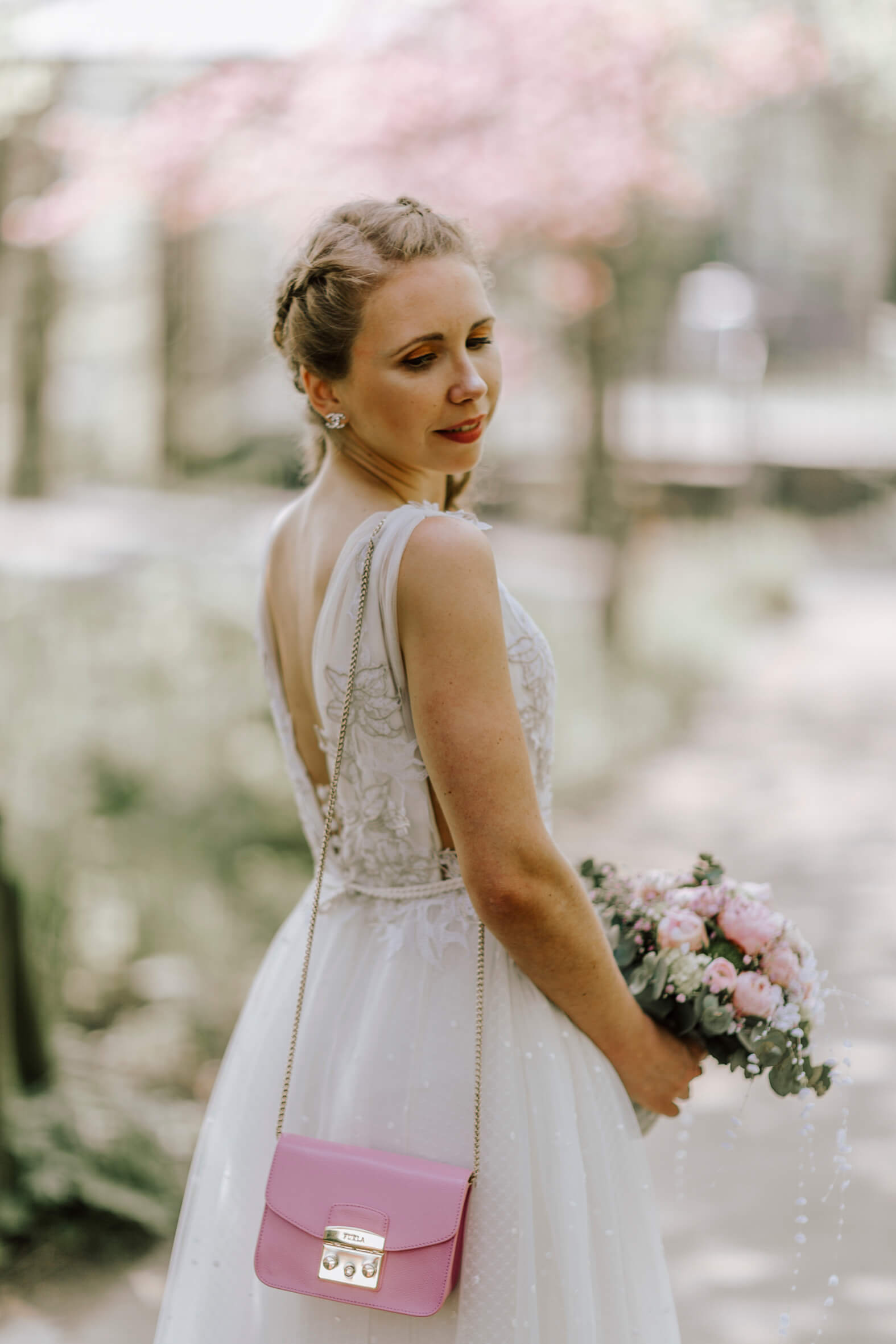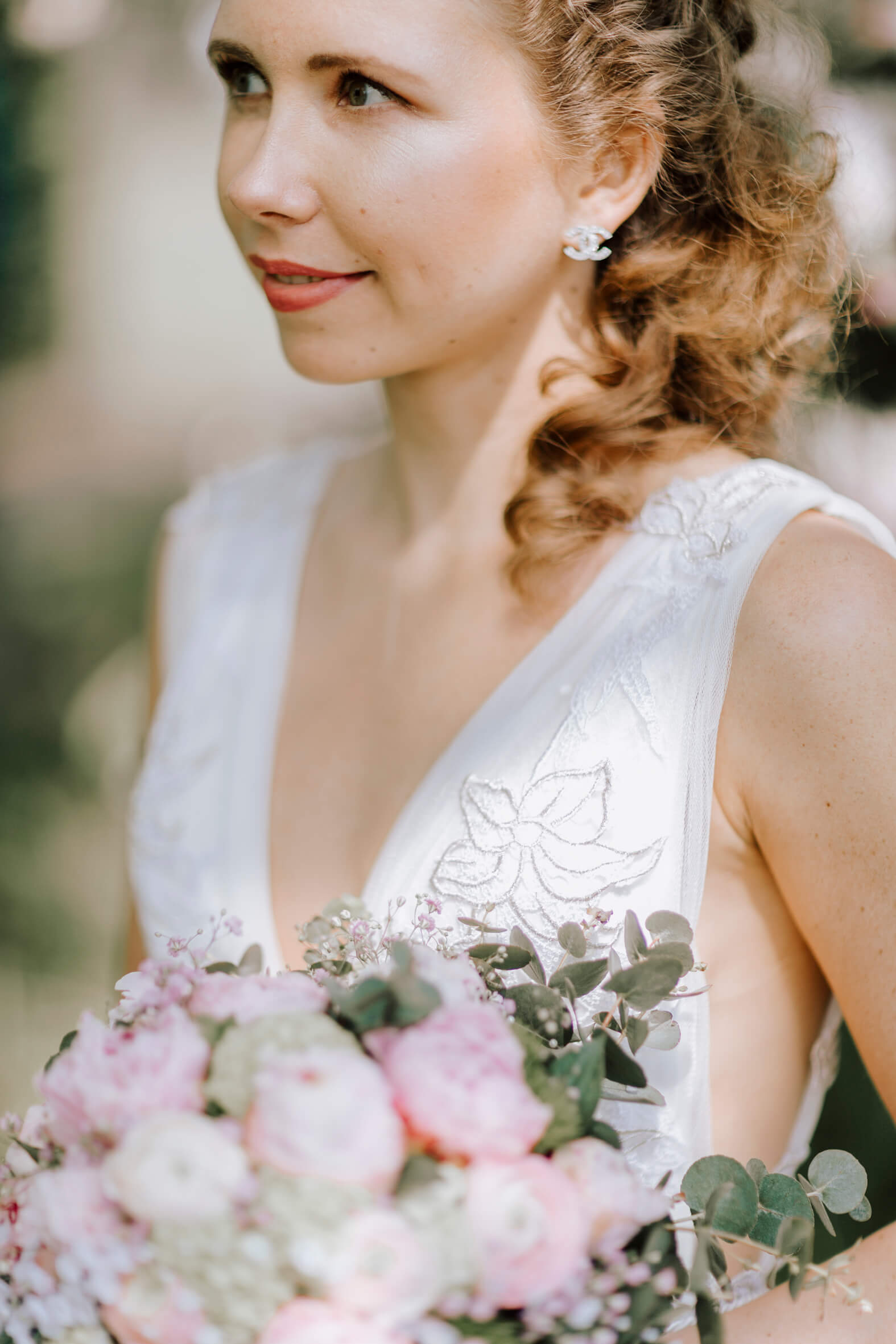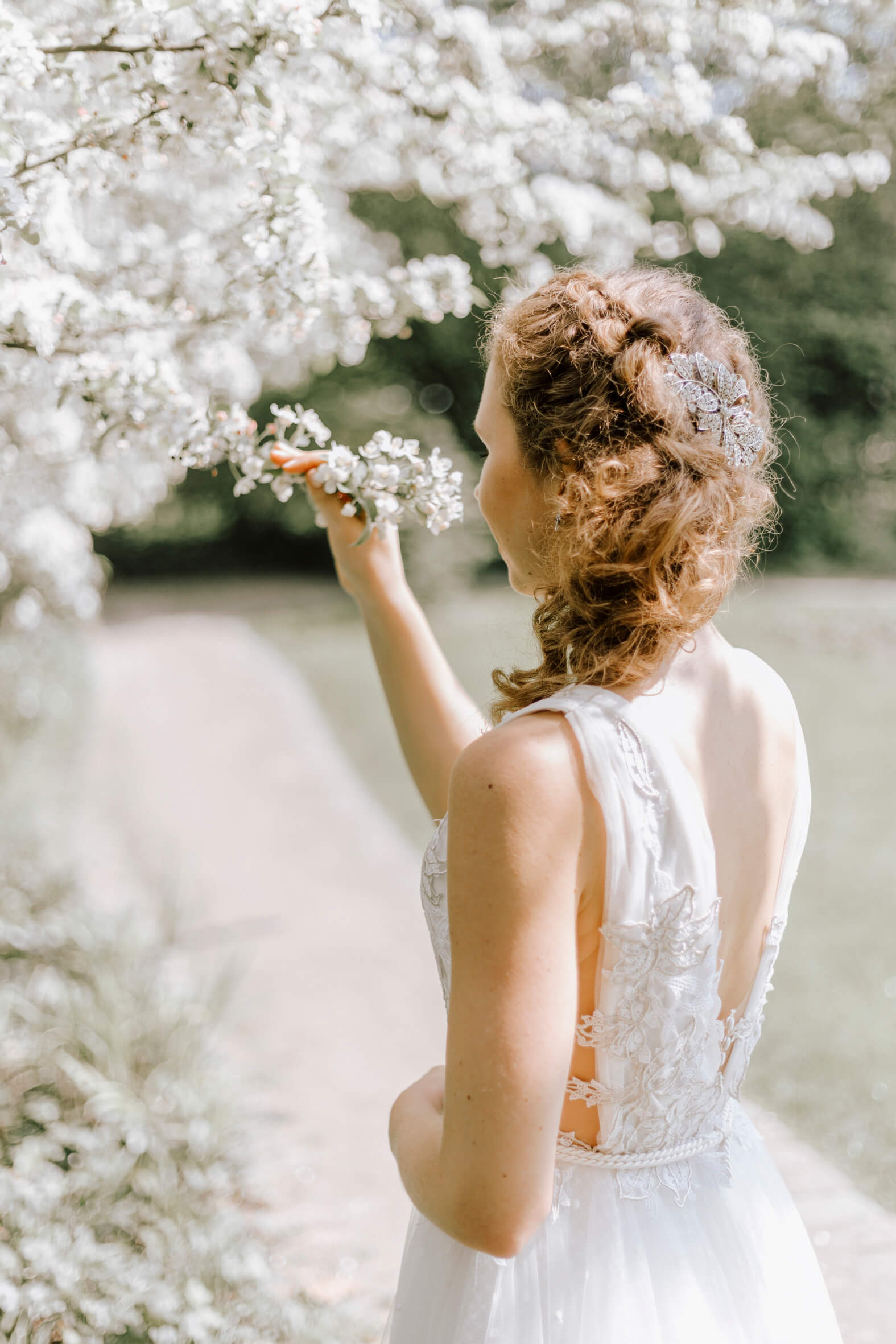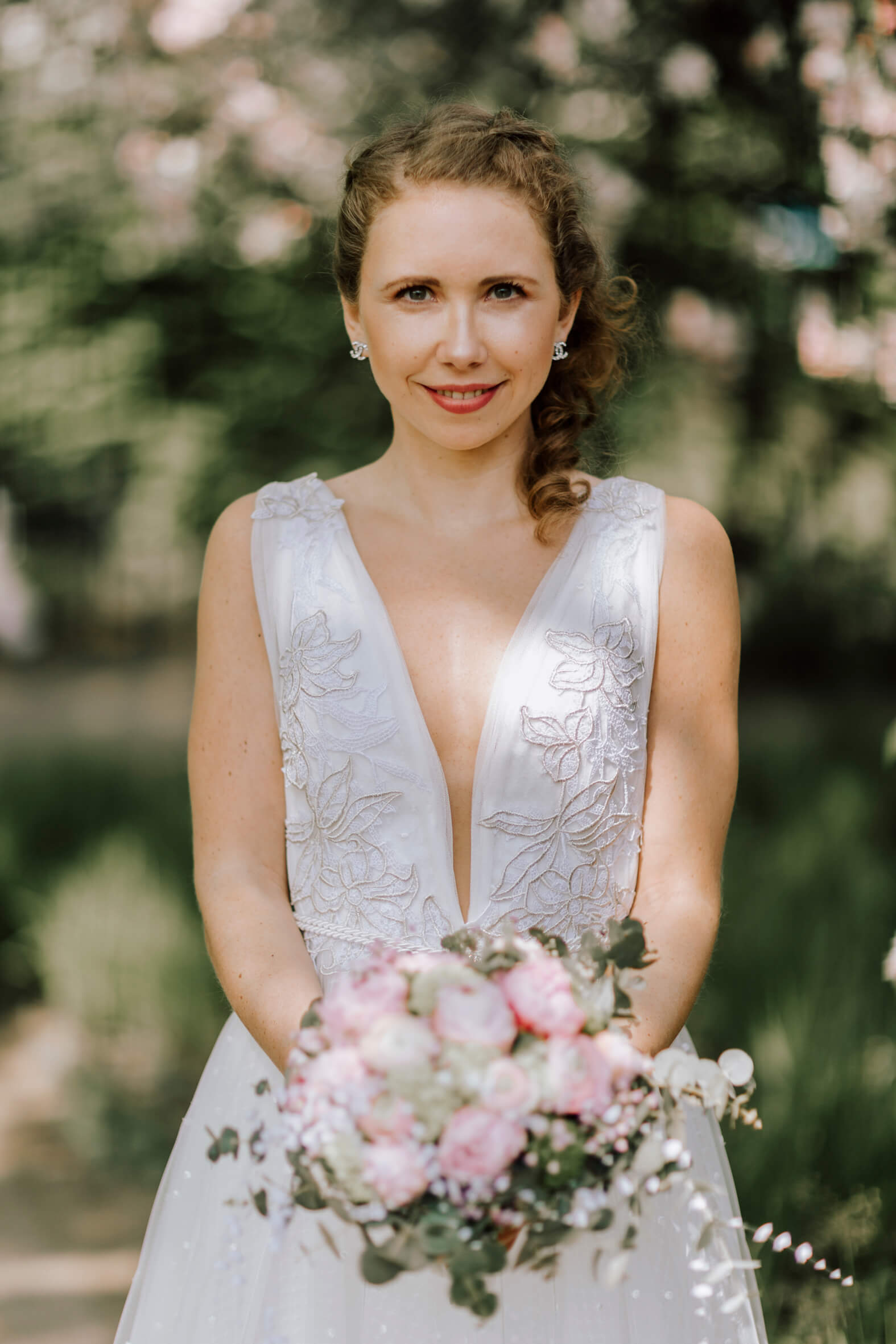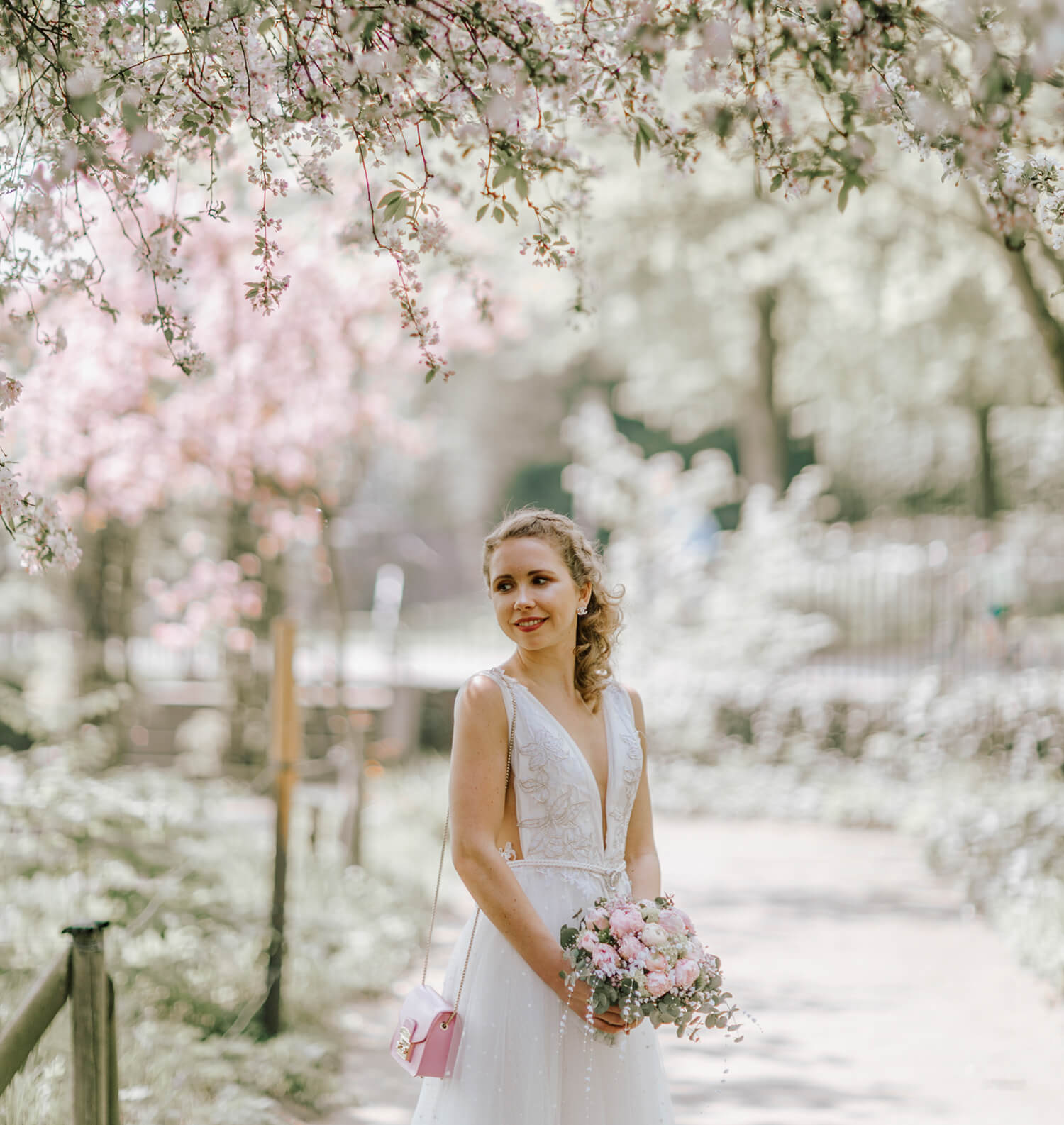 ---
Today the hubby and I are married for exactly two months and in about a week we celebrate our big wedding party with friends. I can't wait to slip into my freshly cleaned wedding gown again. This is exactly what today's blog post is about: My wedding dress from Inmaculada Garcia!
My wedding gown: Love at first sight
Last September I told you here about my wedding dress search at I am Yours in Düsseldorf – of course without showing you MY dress in advance. But it was really love at first sight as described at that time. I already knew before I wore it that it could become my dress.
The dress is from Inmaculada Garcia in Barcelona and the Hubby and I will definitely visit the bridal boutique when we are in town the week after next as part of our honeymoon. I also follow them at Instagram and I am super excited about their individual wedding dresses.
With my model "Kaori" I fell in love directly with the many details and the incredibly good workmanship. On top the low-cut shape with loosely embroidered flowers made of white and silver yarn. Below several layers of tulle, which falls fully downwards without bulging up, crowned by mesh tulle and dotted tulle as the top layers. Full of contrasts and yet so harmonious!
A dress becomes my dress
Nevertheless, this gorgeous gown had to become mine, of course. For me, for example, the train that originally had the dress had to go. I wanted a straight, floor-length dress without a train for the way we like to celebrate, with which I can also dance at our upcoming party without any problems.
Then the dress in the back actually has a continuous button placket, which took a bit of the lightness for me, though. So I decided – together with my seamstress Hale*, who by the way has her studio directly over the I am Yours boutique – to take it away and leave only a few buttons for the hold down. Hale really did a fantastic job making the dress MY dress!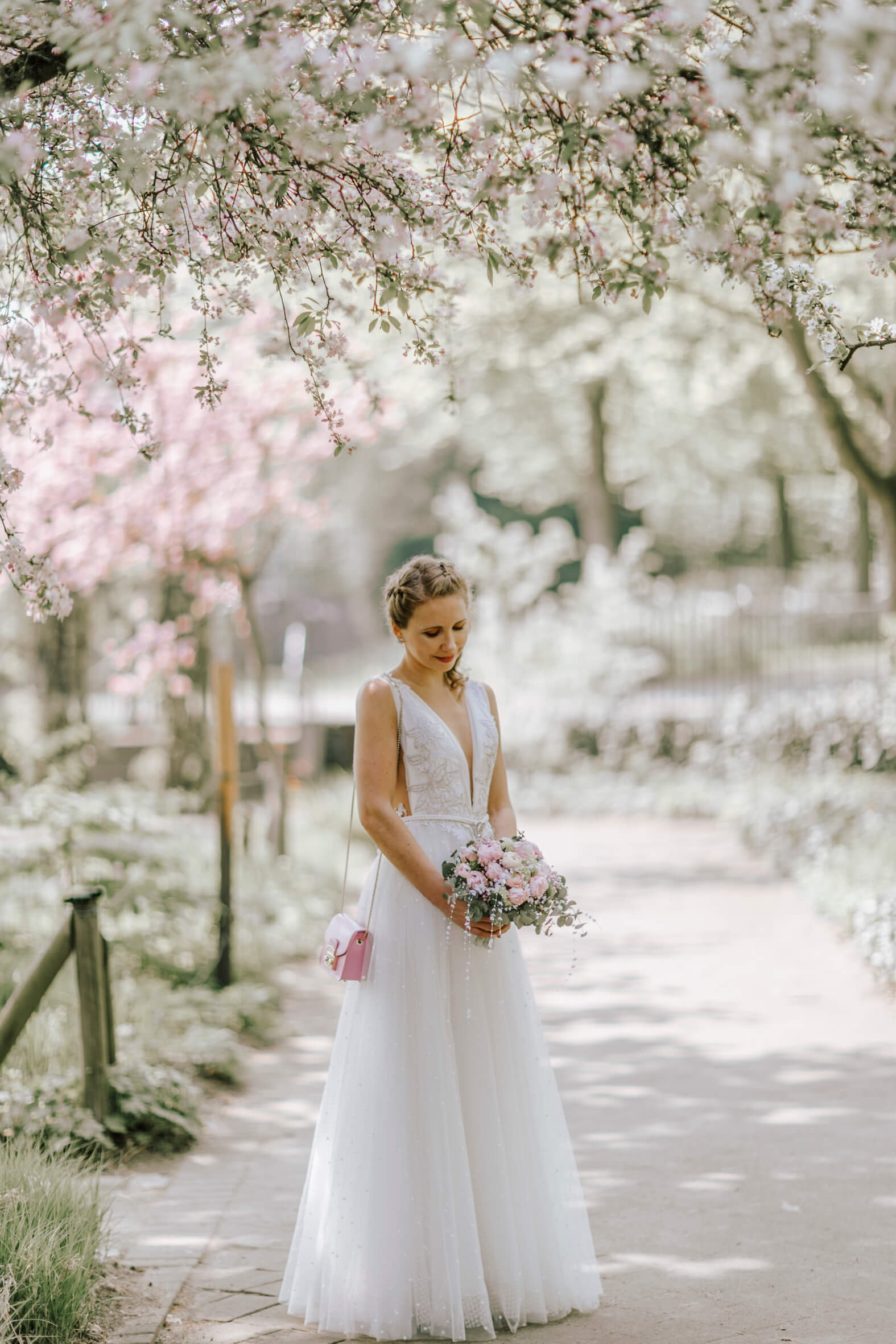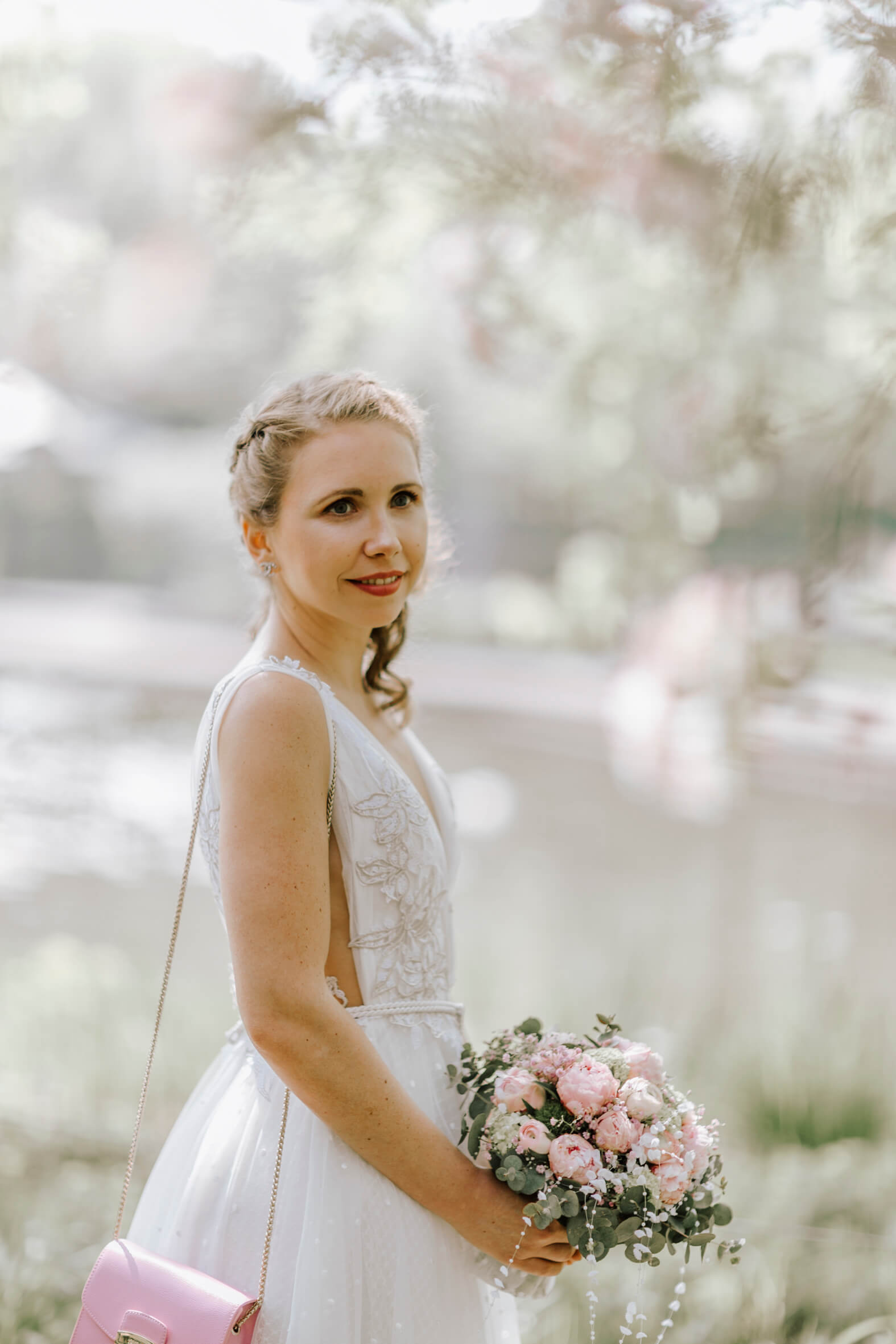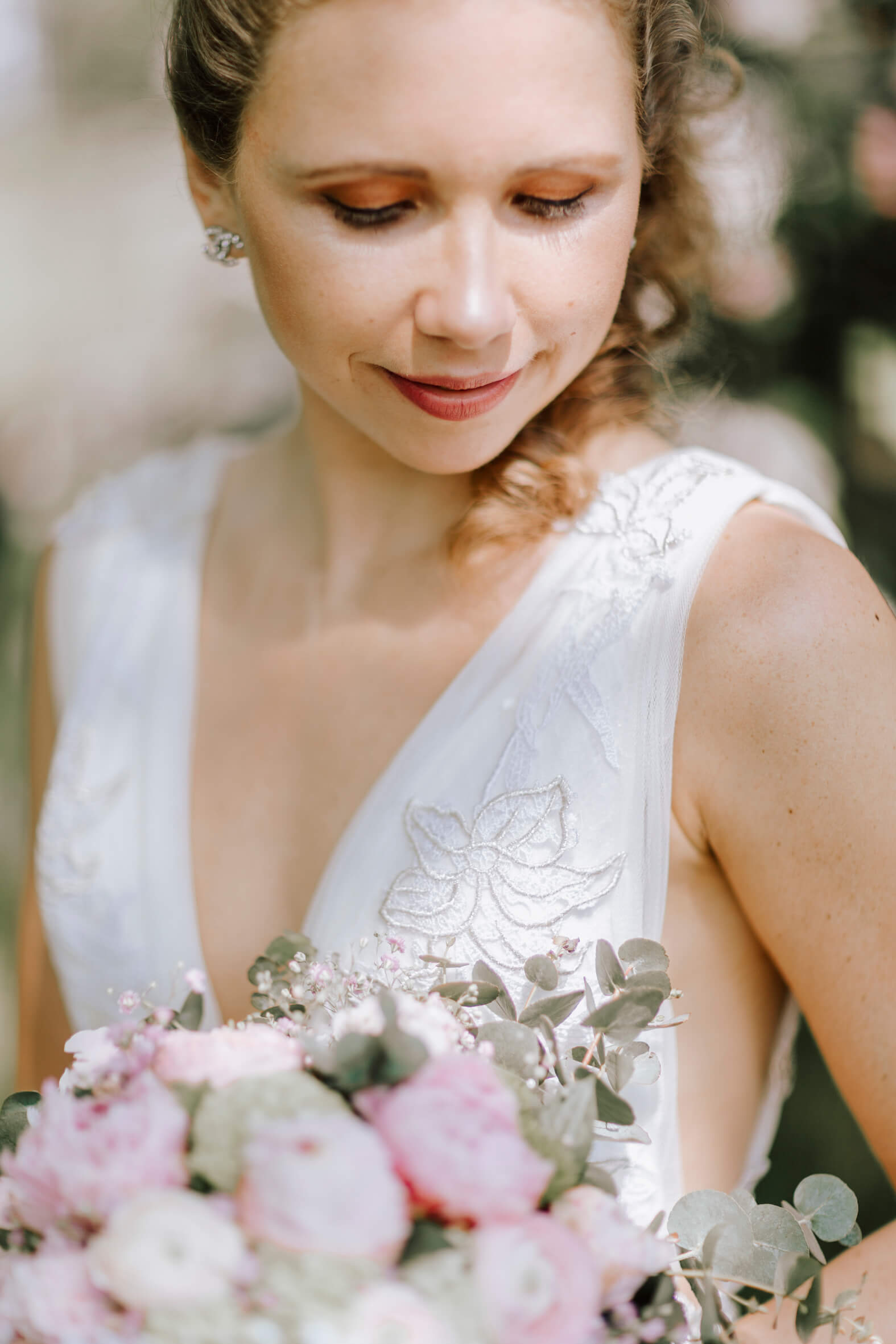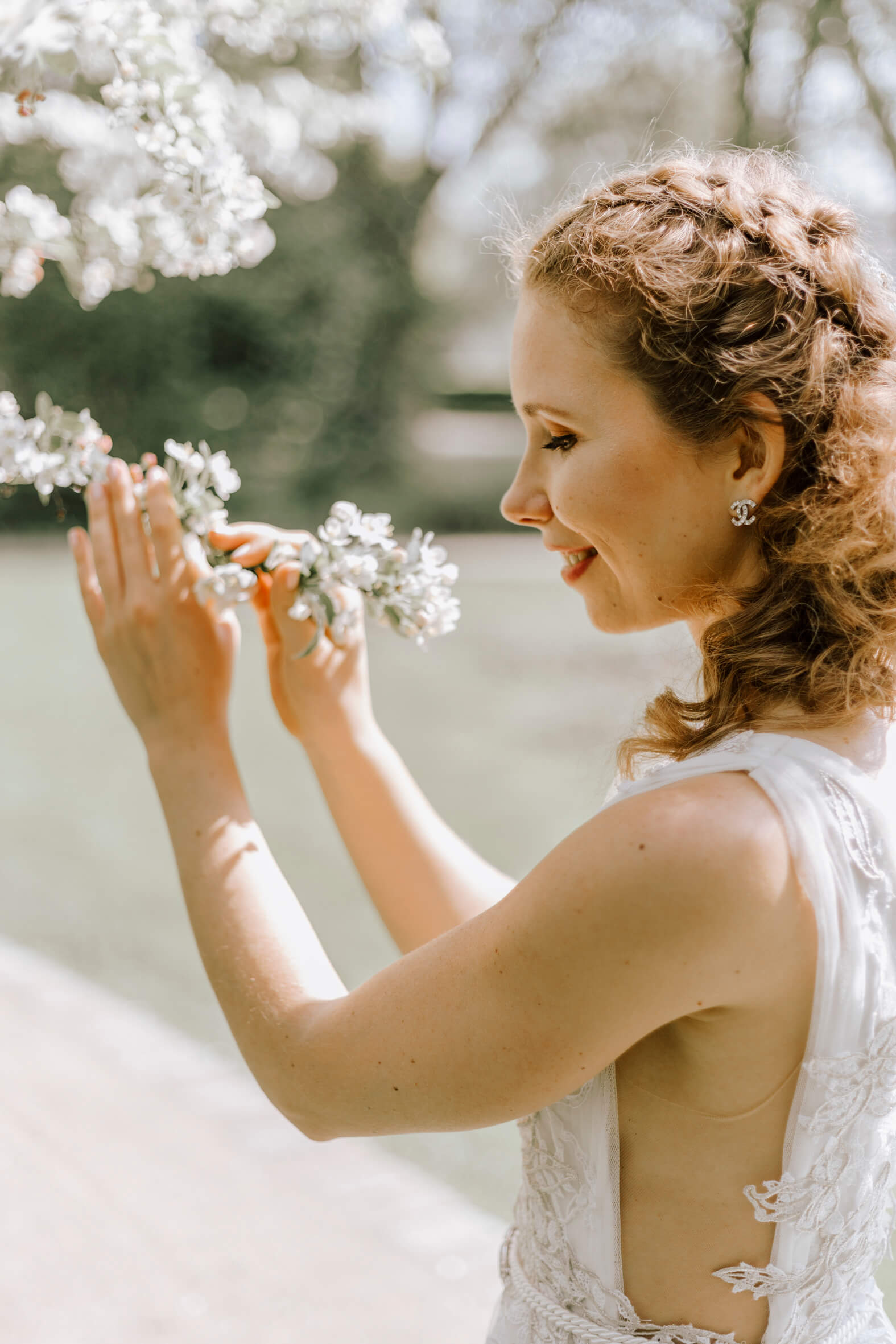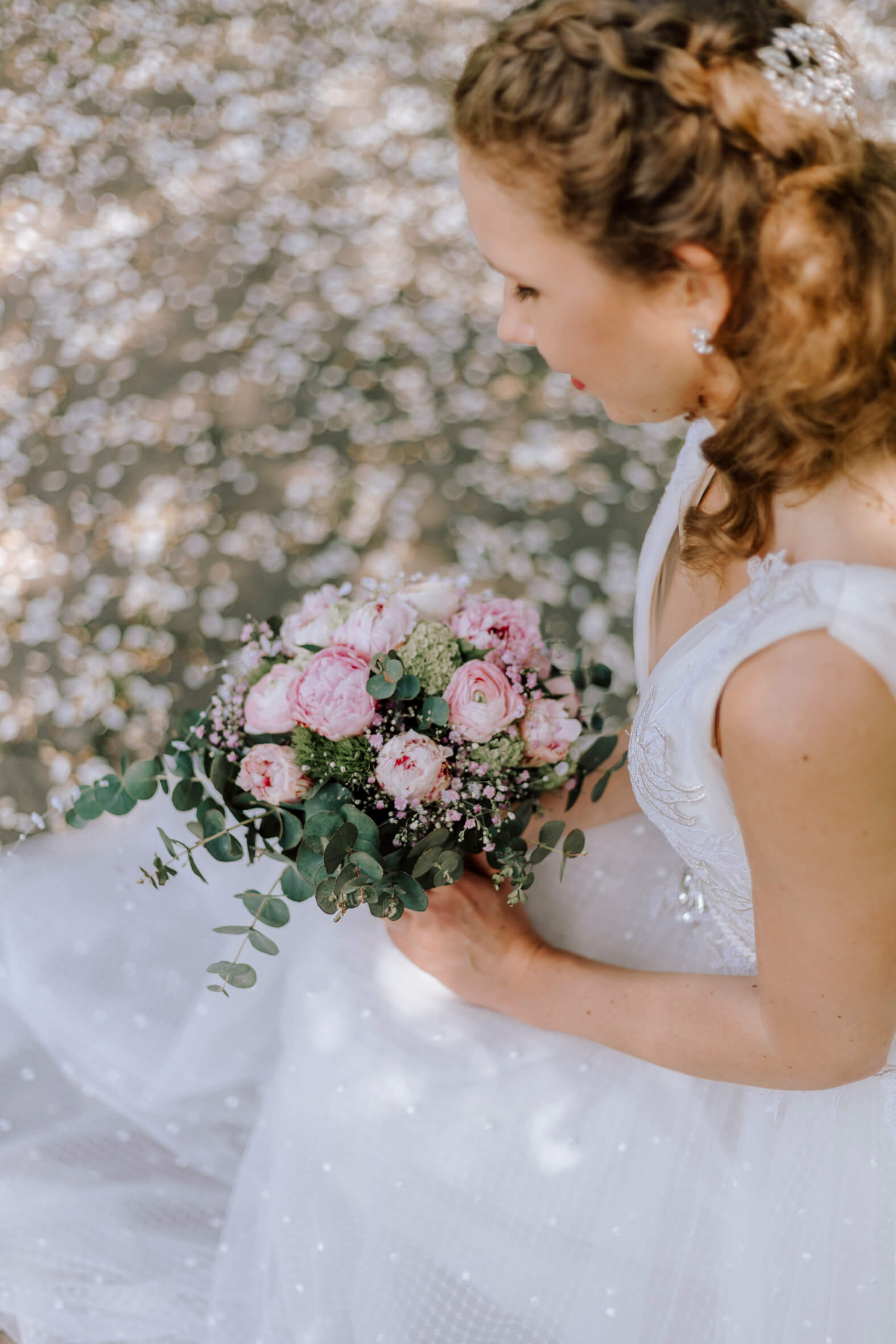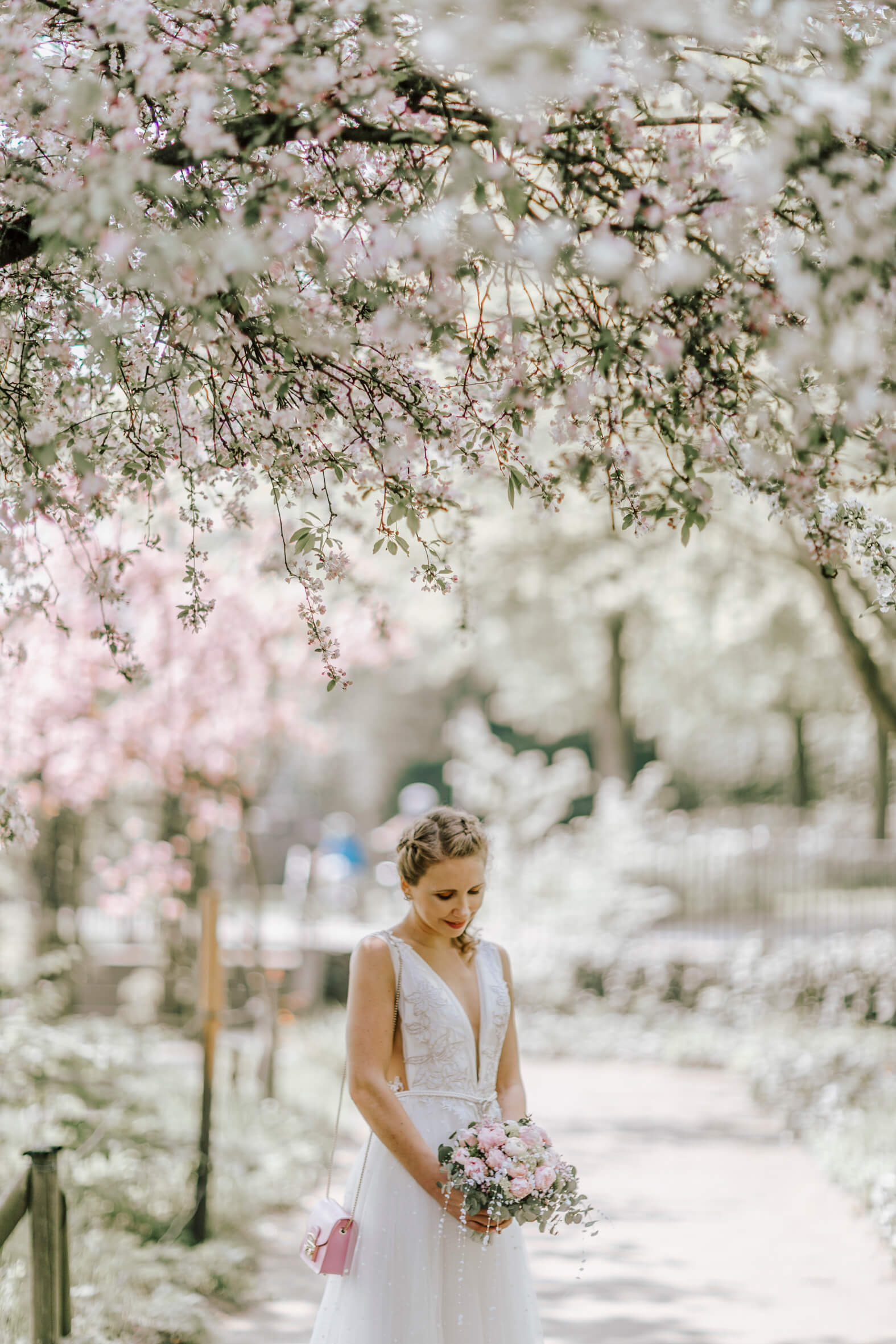 *not sponsored