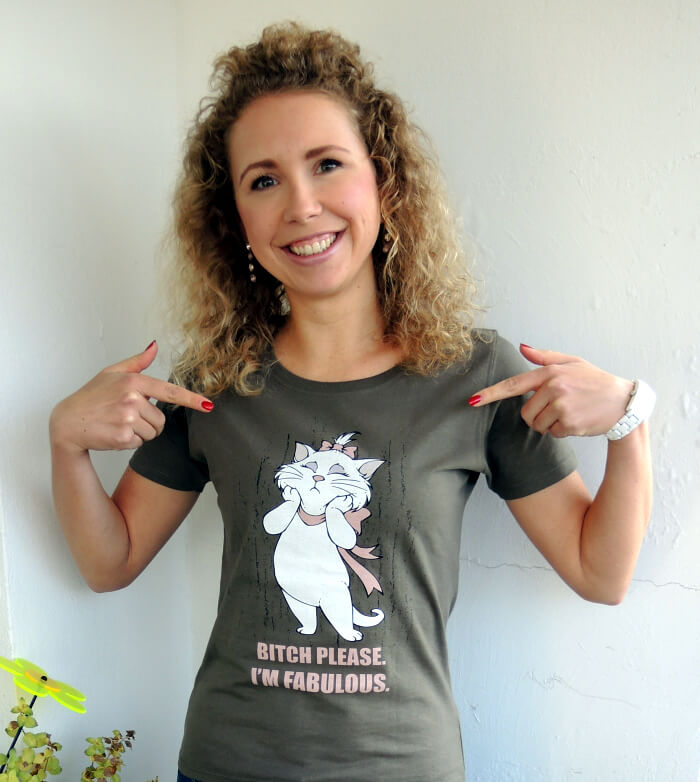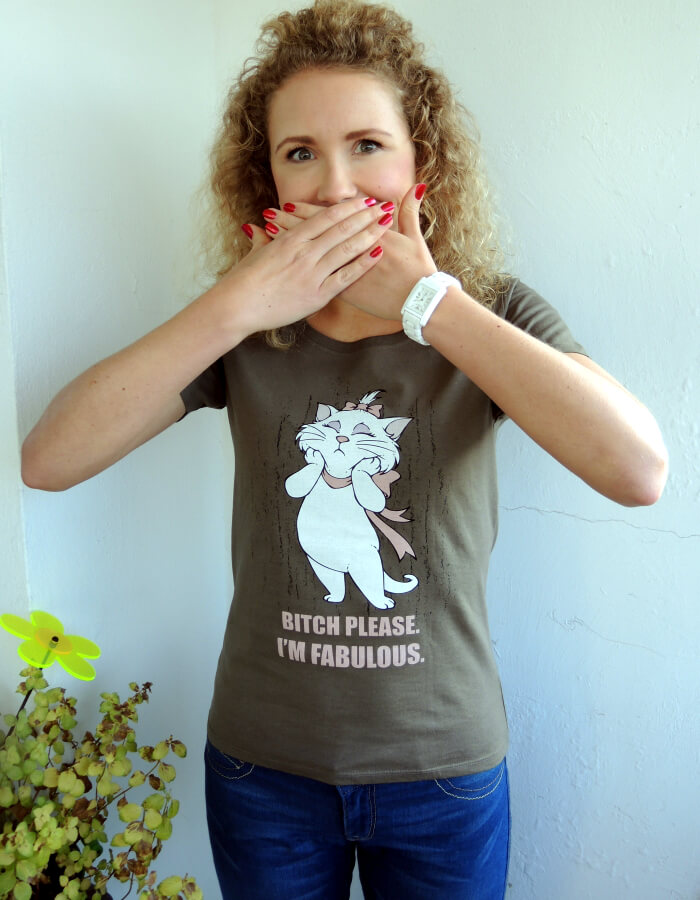 Ihr Lieben, seid ihr auch so große Disney-Fans wie ich? Ich liebe die Filme, besonders die Klassiker wie "Das Dschungelbuch", "Die Schöne und das Biest", "Cap und Capper", "Bambi", "Cinderella", "Der König der Löwen" – und "Aristocats". Als ich dieses unfassbar süße Shirt mit Marie aus "Aristocats" und der frechen Botschaft bei Likoli.de entdeckt habe, war es um mich geschehen.
Likoli ist ein noch recht junger Shop und spezialisiert auf Designer & Fun T-Shirts. Es gibt unglaublich lustige und coole Drucke, sodass es wirklich schwer fällt, sich zu entscheiden. Jedes Shirt ist für Frauen und Männer erhältlich und kostet 19,95 Euro. Der (blitzschnelle!) Versand und Rückversand sind kostenlos, es gibt viele Zahlungsmöglichkeiten und die Lieferung an Packstationen ist auch möglich.
Ich muss zugeben, ich war etwas skeptisch, was die Qualität der Shirts angeht. Oftmals hat man gerade bei diesen Fun-T-Shirts viel zu weite Schnitte und keinen schönen Baumwollstoff. Der erste Eindruck, als das Oberteil bei mir eintraf war allerdings durchweg positiv:
Es war ansprechend und umweltschonend verpackt und einen kleinen Lolli gab es auch noch dazu ;-). Außerdem hat Likoli ein eigenes Treuekarten-System, den "T-Shirt-Ausweis" entwickelt. Mit jedem gekauften Shirt bekommt man eine Karte, und wenn man 15 Karten hat, gibt's ein Shirt nach Wahl umsont.
Auch das Oberteil selbst machte einen guten ersten Eindruck: Der Stoff ist weich und elastisch, der Schnitt körpernah und auch der Druck sieht gut aus. Ich habe das Shirt in Größe S bestellt, und das einzige, was ich bemängeln würde, ist, dass es recht kurz geschnitten ist. Wie sich Shirt und Druck nach dem Waschen verhalten, kann ich noch nicht sagen.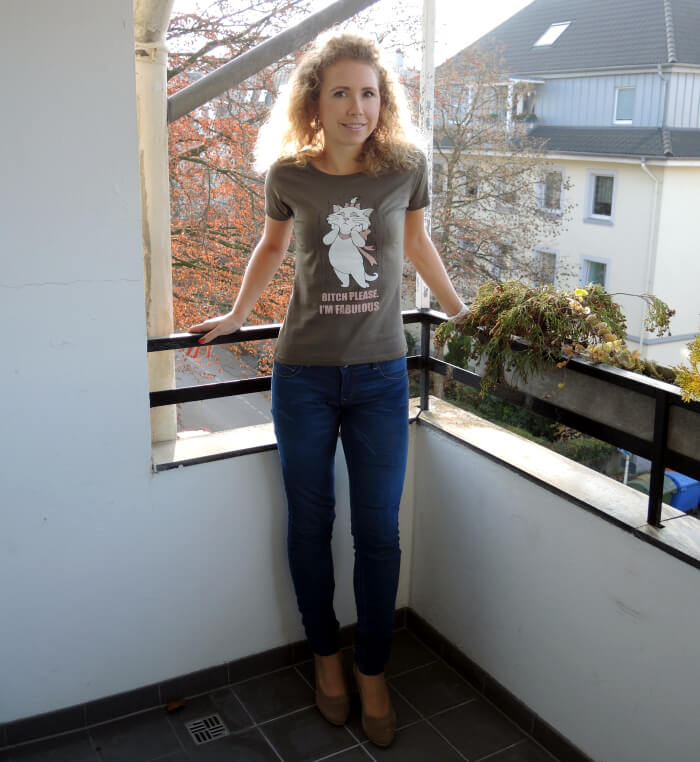 Grundsätzlich sind die Shirts, gerade auch im Hinblick auf Weihnachten, eine schöne Geschenkidee zu einem sehr fairen Preis.
Wie gefallen euch Fun-Shirts? Was sagt ihr zu meiner Auswahl? Für welches hättet ihr euch entschieden?
---
My lovelies, I am a big Disney fan. I love the films especially the classics like "The Jungle Book", "Beauty and the Beast", "The Fox and the Hound", "Bambi", "Cinderella", "The Lion King" – and "The Aristocats". When I saw this absolutely sweet shirt with Marie from "The Aristocats" and the cheeky message on it at Likoli.de it was all up with me.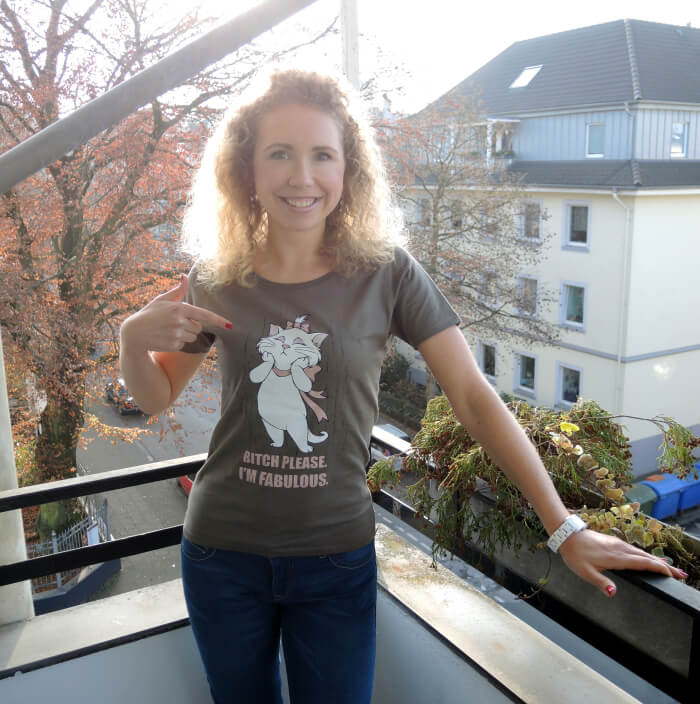 Likoli is a young online shop specializing in designer and fun shirts. They have many funny and cool prints, so it is really difficult to choose one. Every shirt is available for women and men and costs always 19,95 Euros. The (very fast) shipping and returns are free and they offer many payment options.
I have to admit that I was highly sceptical towards the quality, because fun shirts are often very shapeless and the cotton is often times of poor quality. But the first impression when the shirt arrives was really good. It was properly packed, the cotton is soft and flexible and the print looks very good, too. I ordered the shirt in size S and it fits very well. The only point of criticism is that it could be a little bit longer.
The shirts are – particularly with regard to Christmas – a nice gift idea at a good price.
How do you like fun shirts? And what are your thoughts about my choice. Which one would you choose?

In Kooperation mit Likoli. // In cooperation with Likoli.