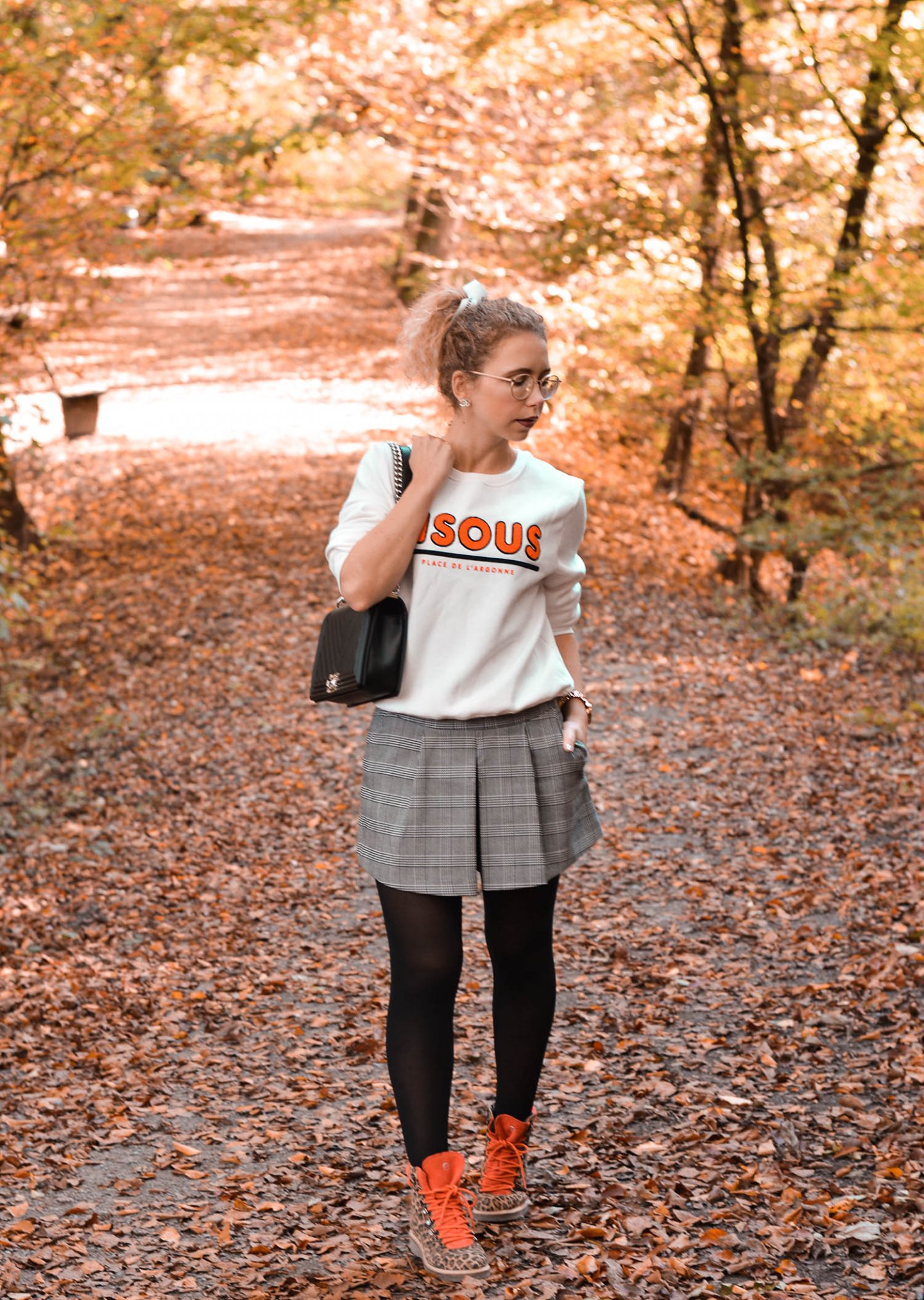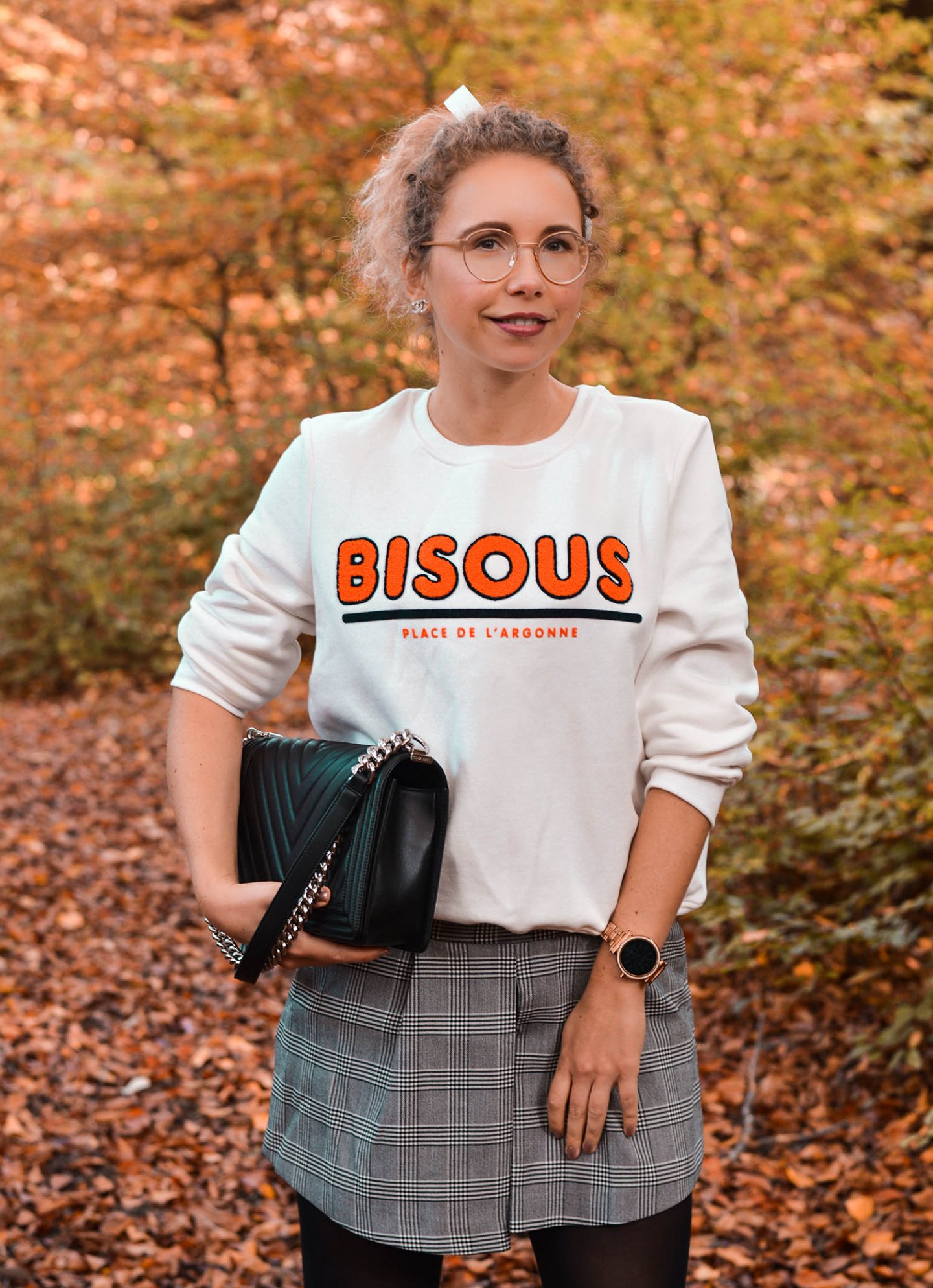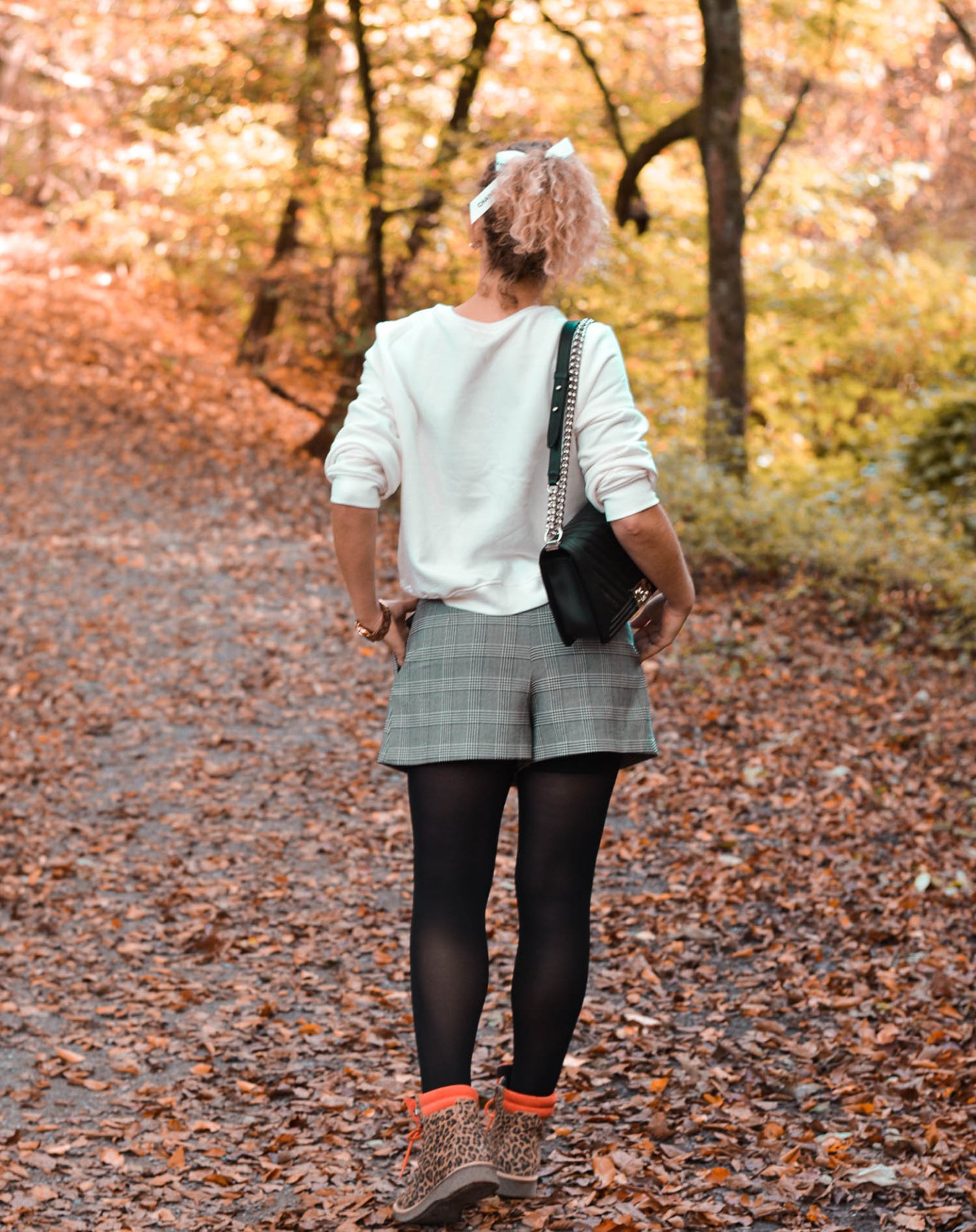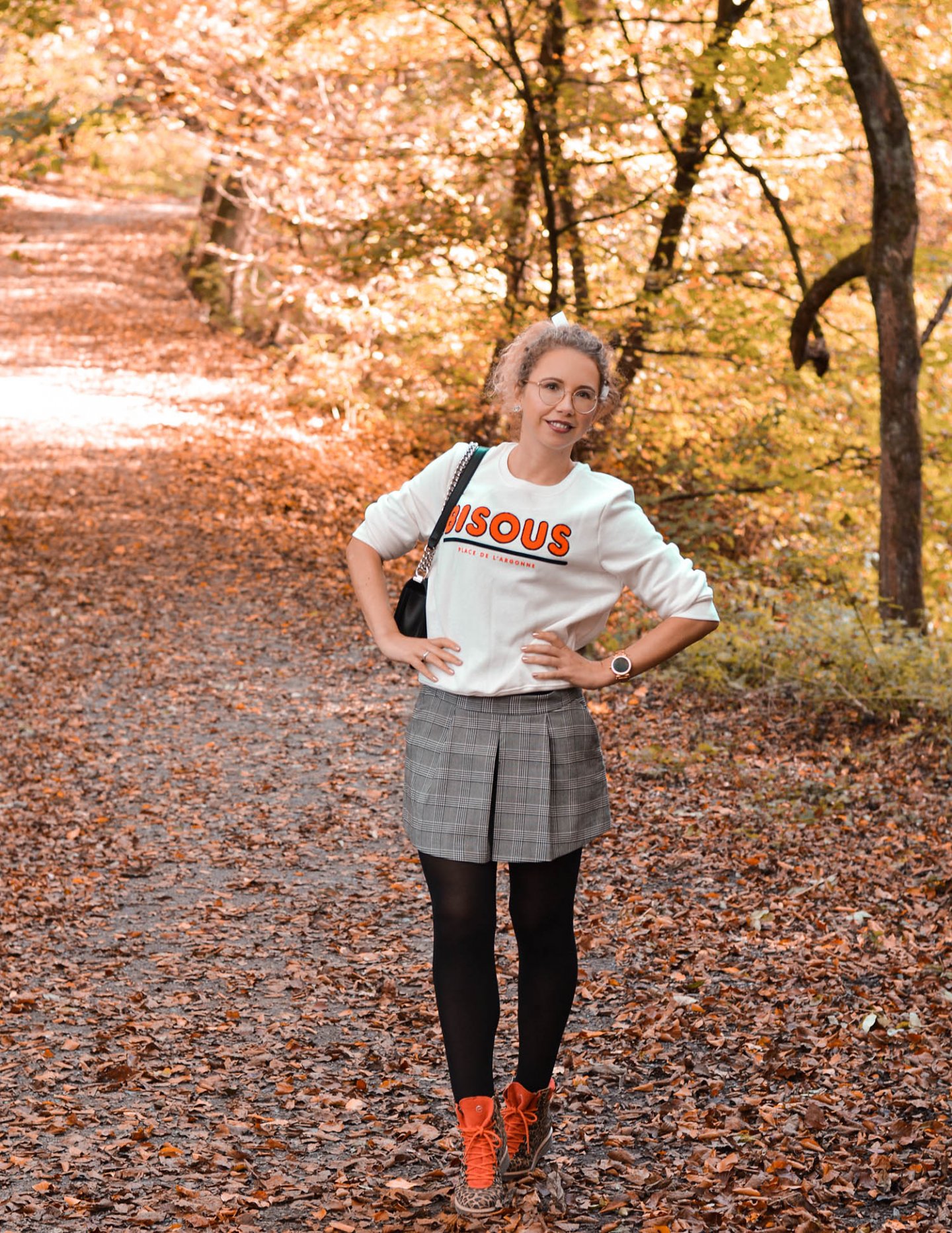 enthält Affiliate Links

Meine Lieben, etwas verspätet, weil es mir Sonntag leider gar nicht gut ging, folgt heute der nächste Outfitpost. Es ist wieder ein Herbstlook, diesmal mit leicht französischem Twist.
Herbstlook mit Statement Sweatshirt und Chanel Accessoires
Im Mittelpunkt vom heutigen Herbstlook steht mein neues Statement Sweatshirt von H&M. Ich finde den geflockten "Bisous" Schriftzug (französisch für "Küsschen") in Orangerot super schön. Von innen ist es ganz kuschelig und wärmt somit auch schön. Einzig mit der hellen Farbe muss man natürlich ein bisschen aufpassen, aber manches Fashion-Opfer muss man halt bringen. ;-)

Was passt ideal zu den French Vibes? Na klar, ein paar hochwertige Chanel Accessoires! So kostspielig eine Boy Bag auch ist (selbst gebraucht) und so lange ich auch mir mir deshalb gehadert habe, umso glücklicher bin ich, seit ich sie mein Eigen nennen darf. Sie wertet einfach jeden Look auf und passt zudem auch noch zu fast allem. Ein zeitloser Klassiker mit absolutem Wertsteigerungspotenzial. Erst kürzlich wurden die neuen Preise von Chanel Handtaschen bekanntgegeben und die Boy Bag ist erneut um einige hundert Euro im Preis gestiegen. Unfassbar, aber wahr! Und warum nicht – statt auf der Bank – seine Geldanlage spazieren tragen? Spaß beiseite, ich glaube, wenn man Freude an diesen Dingen hat und es sich leisten kann, dann soll man es doch auch ruhig machen.

Bevor ich hier weiter abschweife, nochmal zurück zum Herbstlook. Für einen Citylook hätte man das Outfit auch super mit schicken Booties oder Stiefeln kombinieren können. Ich habe mich, entsprechend der Location, aber für meine flachen Leo-Boots entschieden. Auch hier funktioniert der Mustermix von Schuhen und den kurzen Skorts wieder, weil die Farbkombi harmonisch ist. Das Orangerot des Prints findet sich in den Schuhen wieder – und natürlich im schönen bunten Herbstlaub um mich herum… :-)
Shop my Look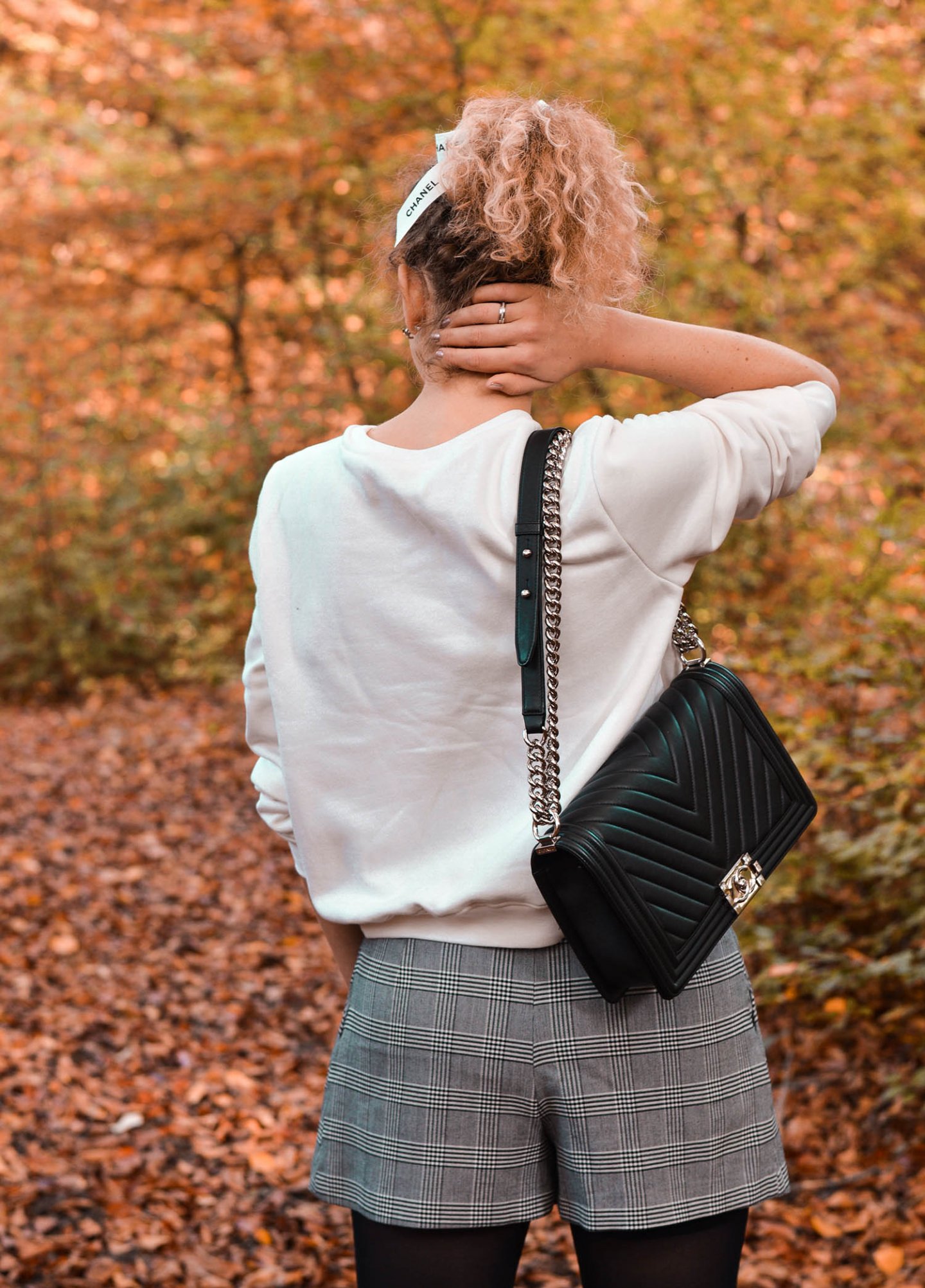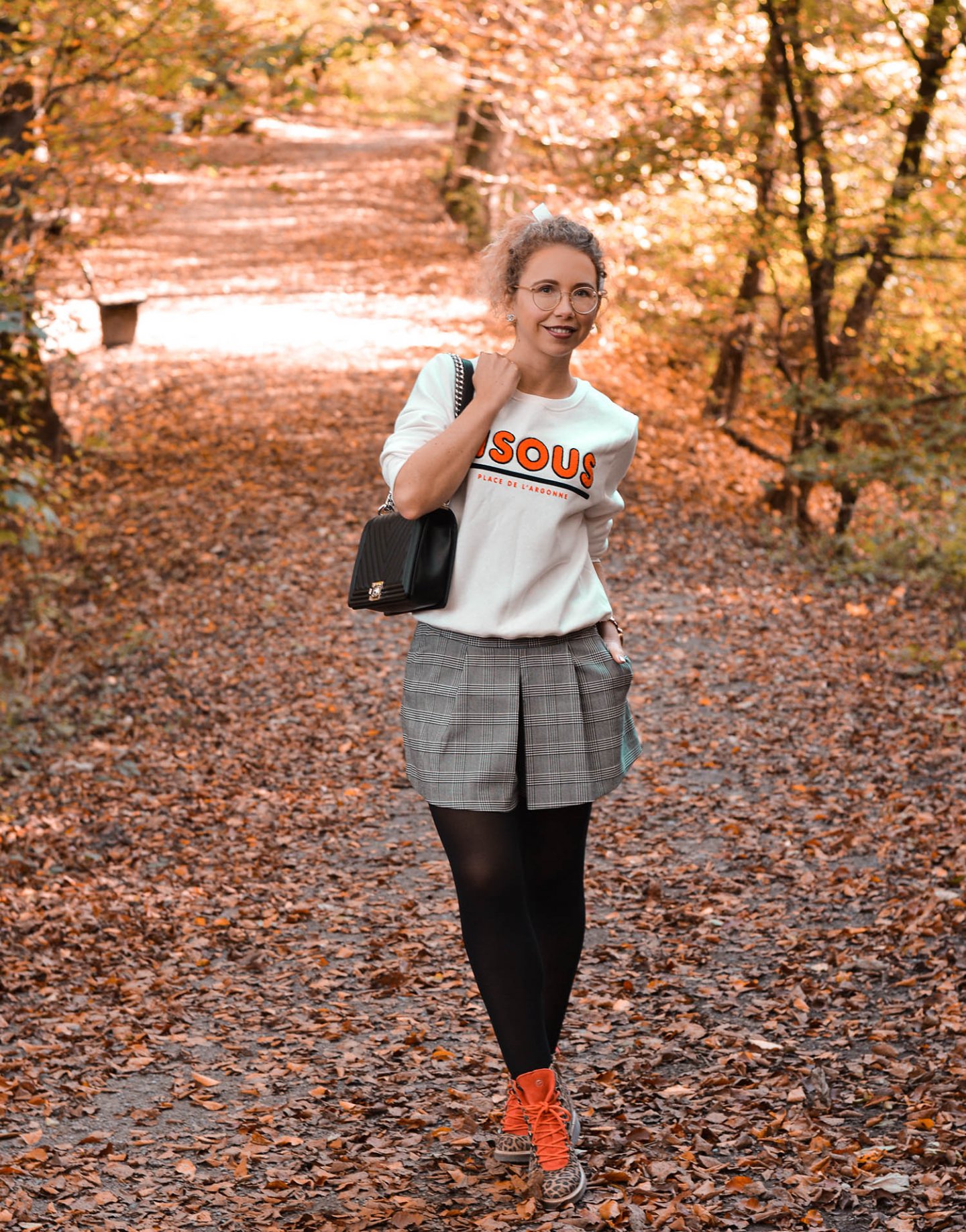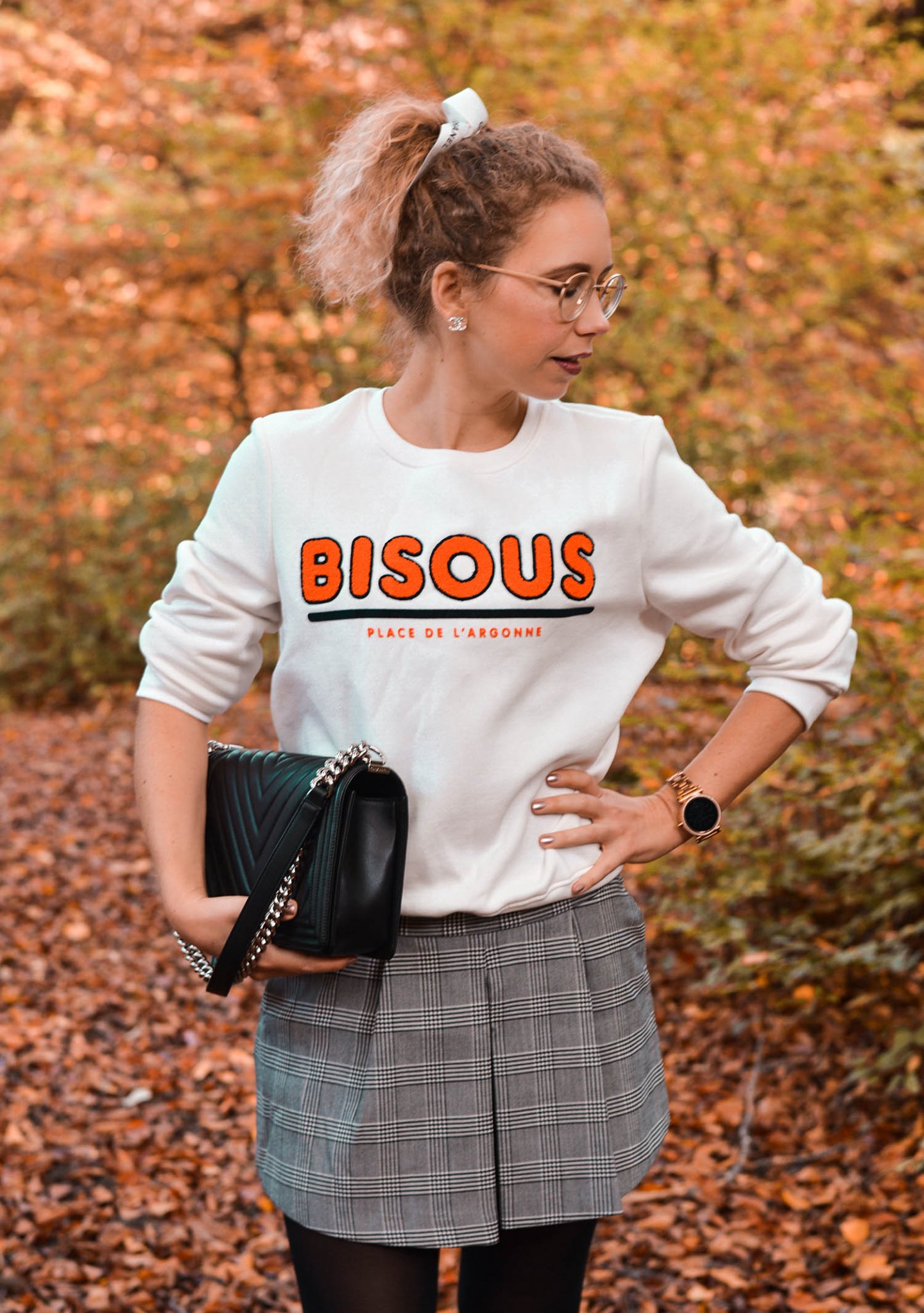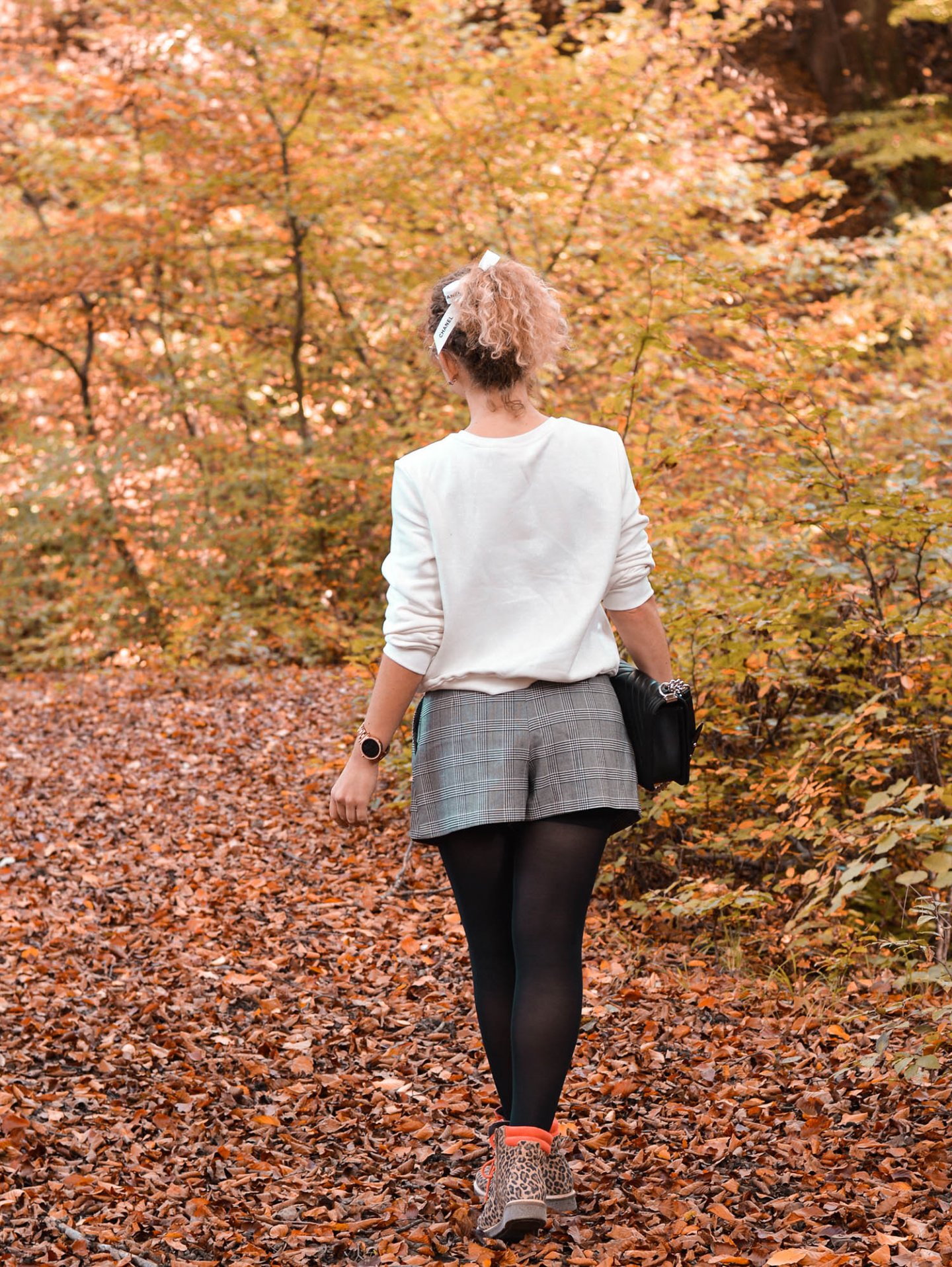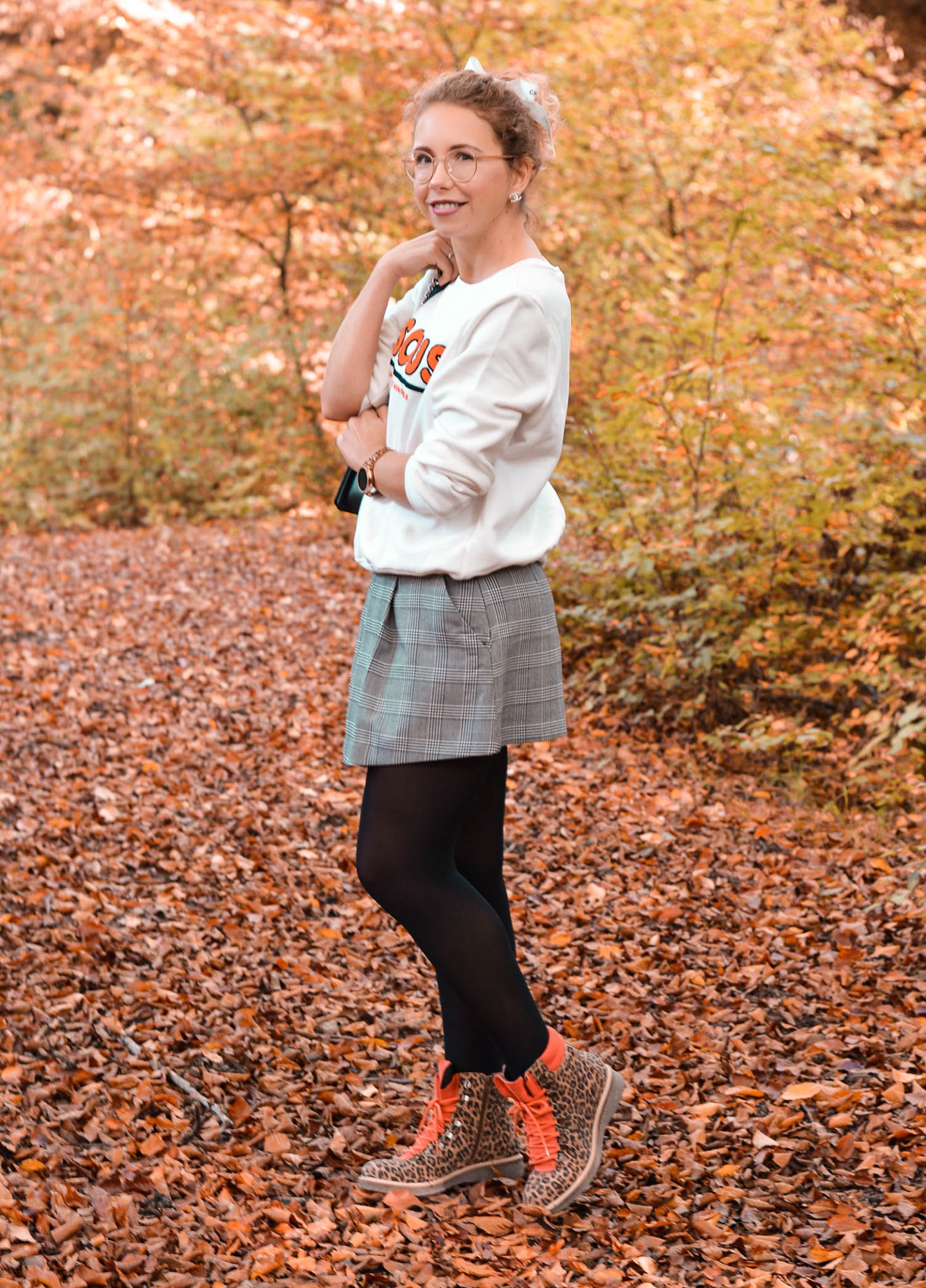 Dear ones, a little late, because I wasn't feeling well on Sunday, the next outfit post will follow today. It's a fall look again, this time with a slightly French twist.
Autumn look with statement sweatshirt and Chanel accessories
Today's fall look focuses on my new statement sweatshirt from H&M. I think the flocked "Bisous" lettering (French for "kiss") in orange red is absolutely beautiful. From the inside it is very cuddly and warm. Only with the light color you have to be careful of course a little bit, but some fashion sacrifices you have to bring. ;-)

What fits ideally to the French Vibes? Of course, a few high-quality Chanel accessories! As expensive as a Boy Bag is (also a second-hand one) and as long as I have fought my way through it, the happier I am since I can call it my own. It just enhances every look and fits to almost everything. A timeless classic with absolute value enhancement potential. Only recently the new prices of Chanel handbags were announced and the Boy Bag has again risen in price by several hundred euros. Unbelievable, but true! And why not – instead of giving it to the bank – take your investment for a walk? No kidding, I think, if you enjoy these things and can afford them, then you should do it, right?

Before I digress further here, back to the autumn look. For a city look you could have combined the outfit with chic booties or boots. I decided, according to the location, for my flat leopard boots. Also here the pattern mix of shoes and the short skorts works again, because the color combination is harmonious. The orange red of the print can be found in the shoes – and of course in the colorful autumn leaves around me… :-)