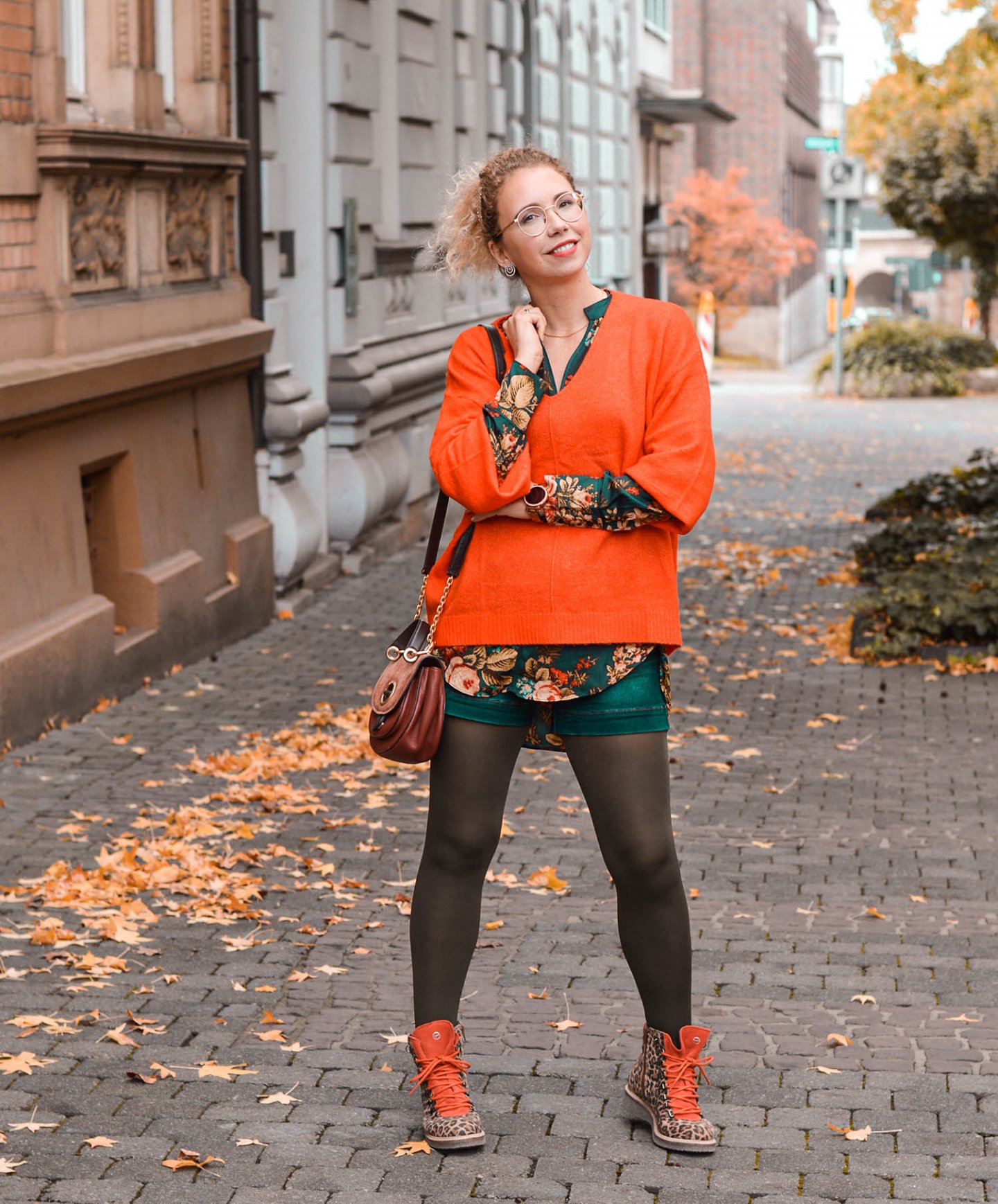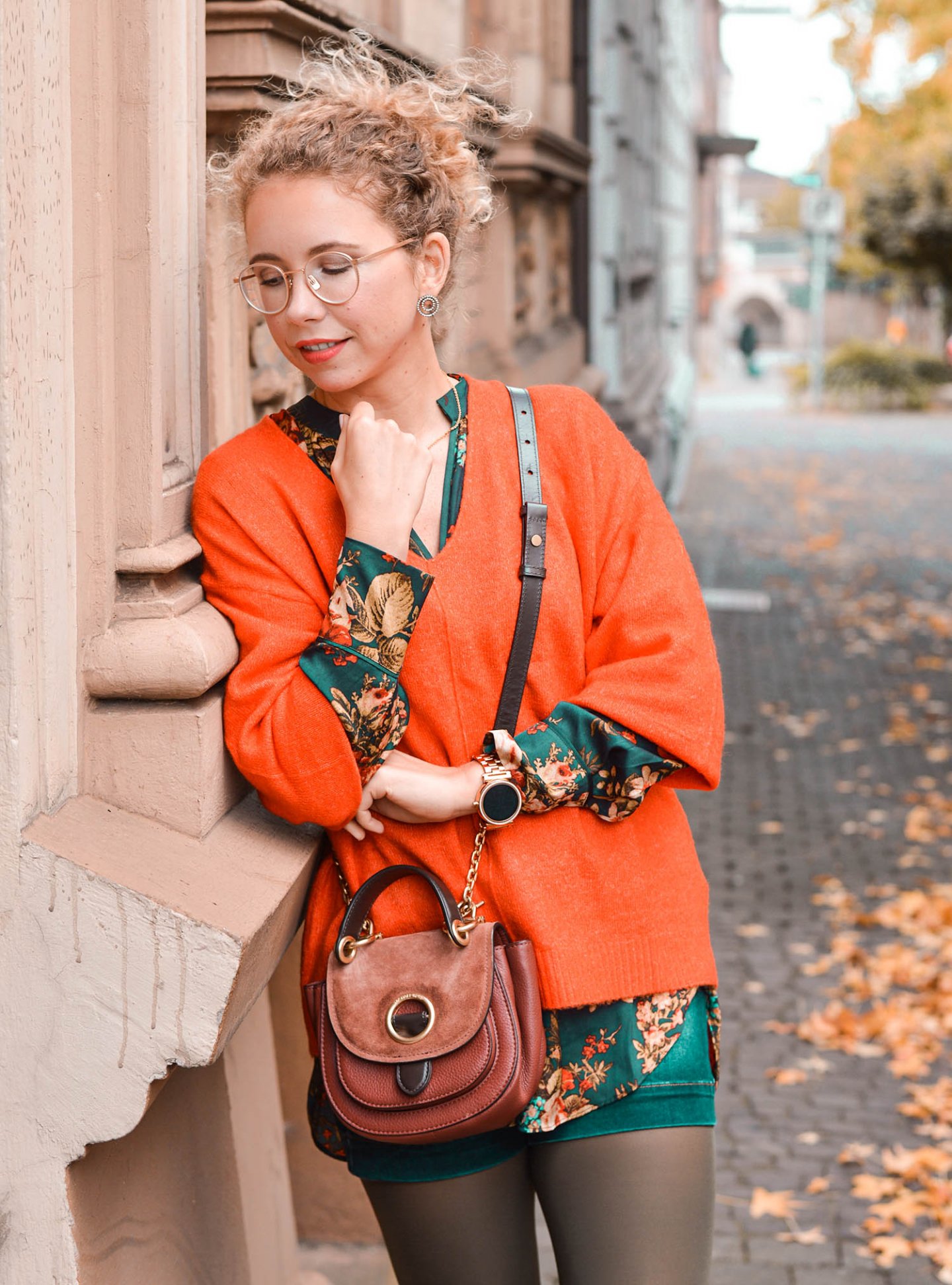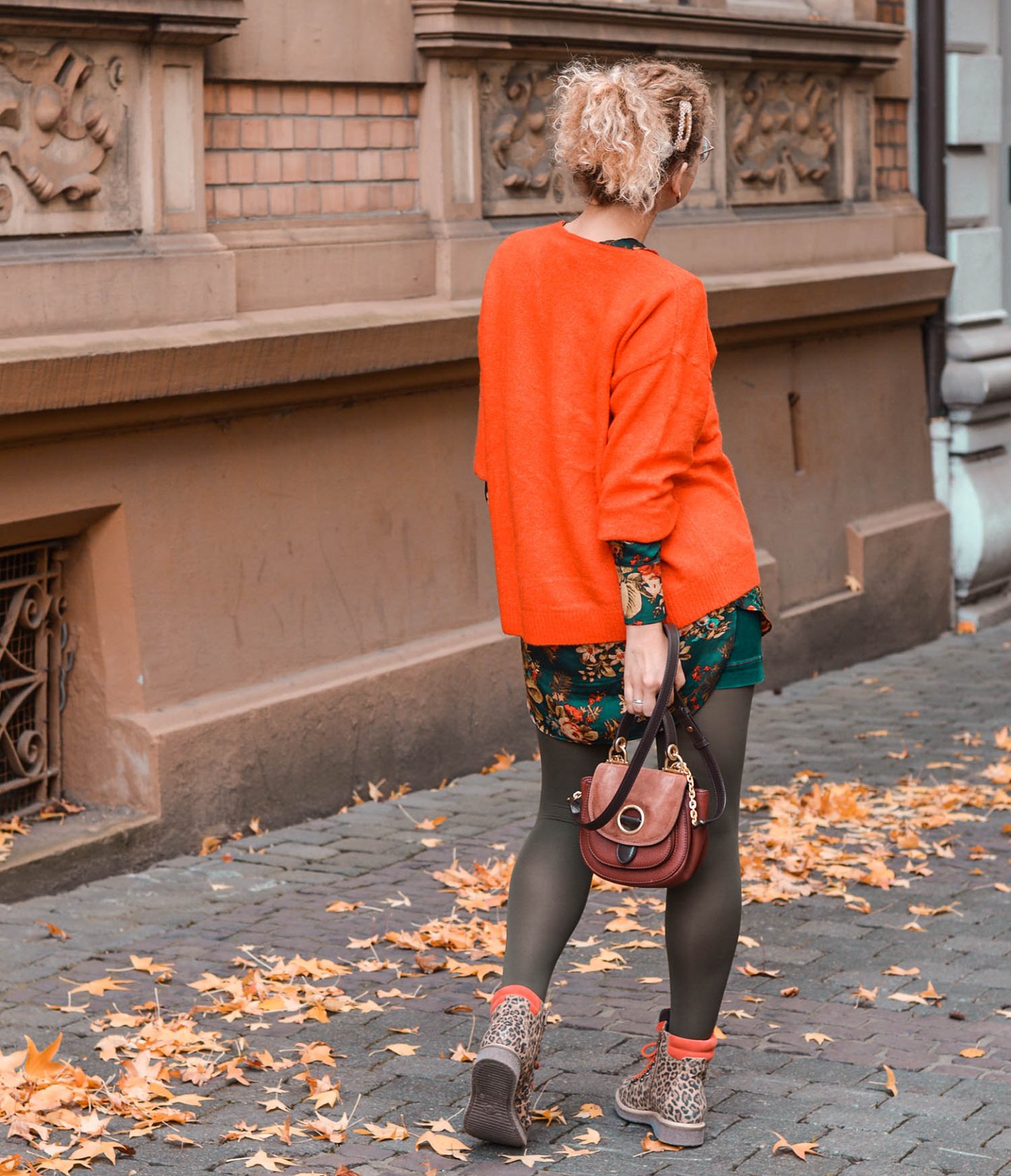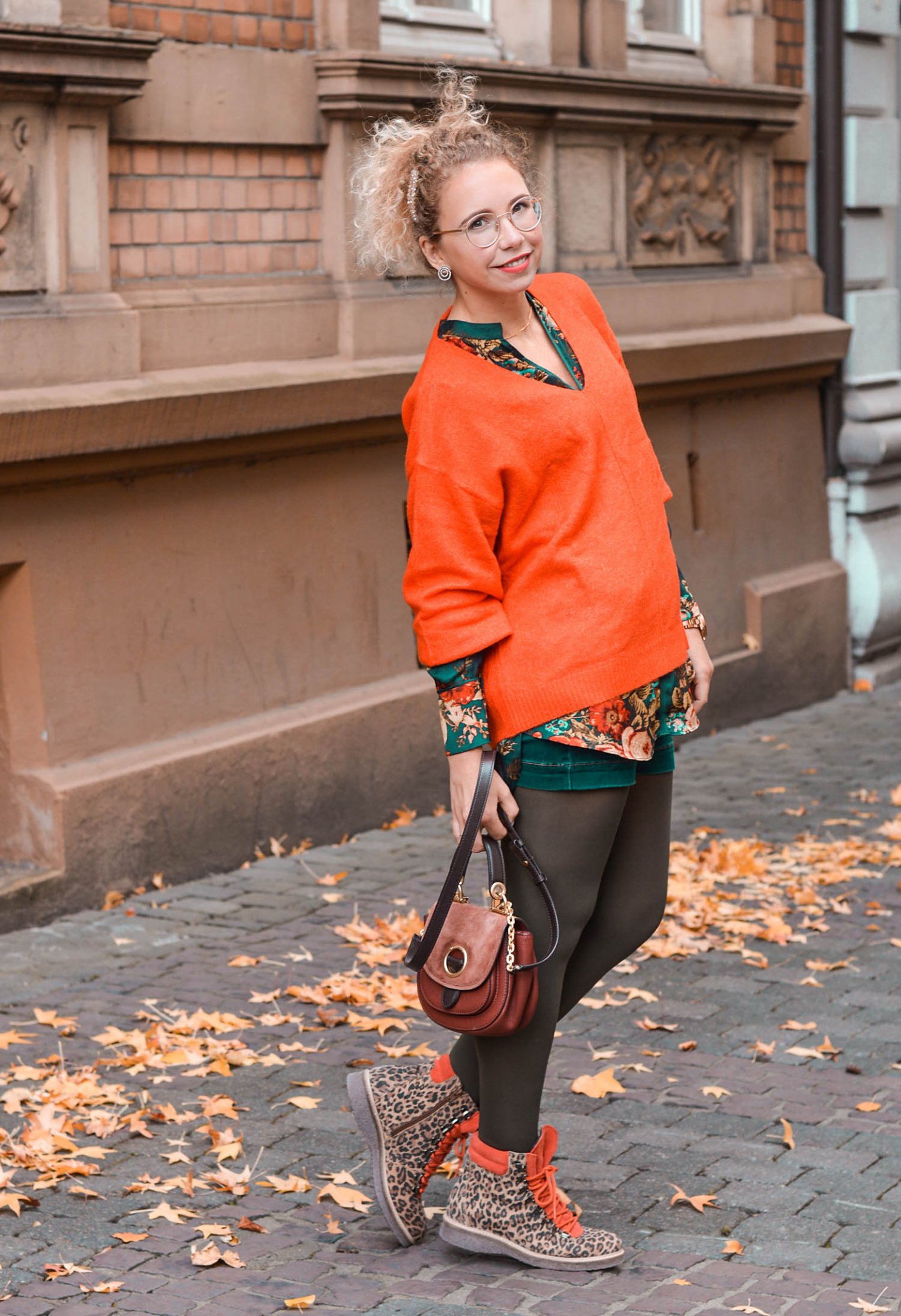 enthält Affiliate Links

Was ich an der Herbstmode besonders gerne mag? Man kann so wunderbar layern, also verschiedene Lagen und Längen übereinander tragen. Daher ist auch wieder ein neuer herbstlicher Lagenlook für euch. Zusammen mit einem weiteren Trendthema: Mustermix!
Herbstlicher Lagenlook für den Alltag
Mein heutiger herbstlicher Lagenlook ist ein lässiges Alltagsoutfit mit ein paar Neuzugängen in meiner Herbstgarderobe. Neu dabei ist der leichte Strickpulli mit V-Ausschnitt in Orangerot. Wer meine letzten Outfits hier gesehen hat, dem fällt vielleicht auf, dass ich euch diesen bereits in einer anderen Farbe, ebenfalls mit einer Bluse gelayert, gezeigt habe. :-)

Auch die wunderschöne Bluse mit herbstlichem Blumendruck ist neu. Beide Teile sind von H&M. Ich liebe die lange Form, hinten ist sie noch ein wenig länger als vorn, die sie zu einem idealen Teil für Lagenlooks macht. Hier trage ich kurze Denimshorts und khakifarbene Strümpfe dazu, aber auch mit klassischen Jeans funktioniert der Look hervorragend. Nur immer drauf achten, dass die Hose eher schmal geschnitten ist, damit es mit der weiteren Optik oben gut harmoniert.
Mustermix: Blüten treffen auf Leo
Die letzten Neuzugänge dieses Outfits sind meine kuschelig-gefütterten Boots von Tamaris. Schnürung und Schuhzunge sind ebenfalls Orangerot (es gibt sie auch mit gelber oder brauner Schnürung) und passen daher perfekt zum Pulli. Auch ein paar Blüten auf der Bluse greifen den Ton auf. Das ist auch der Grund, warum der Schuh mit seinem Leomuster hier so gut funktioniert. Durch die Farbharmonie beißen sich der Blumen- und Leo-Print hier nämlich gar nicht.
Shop my Look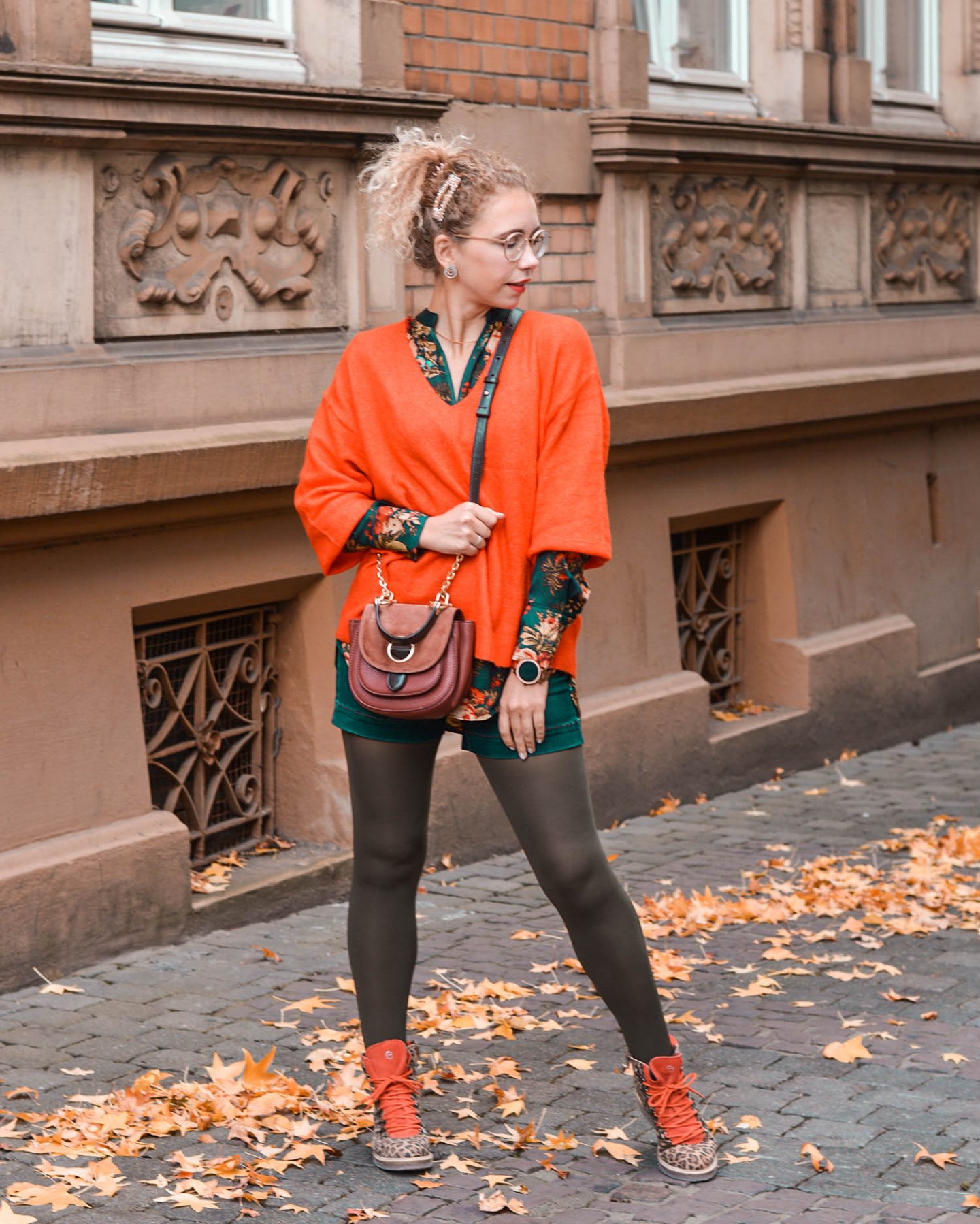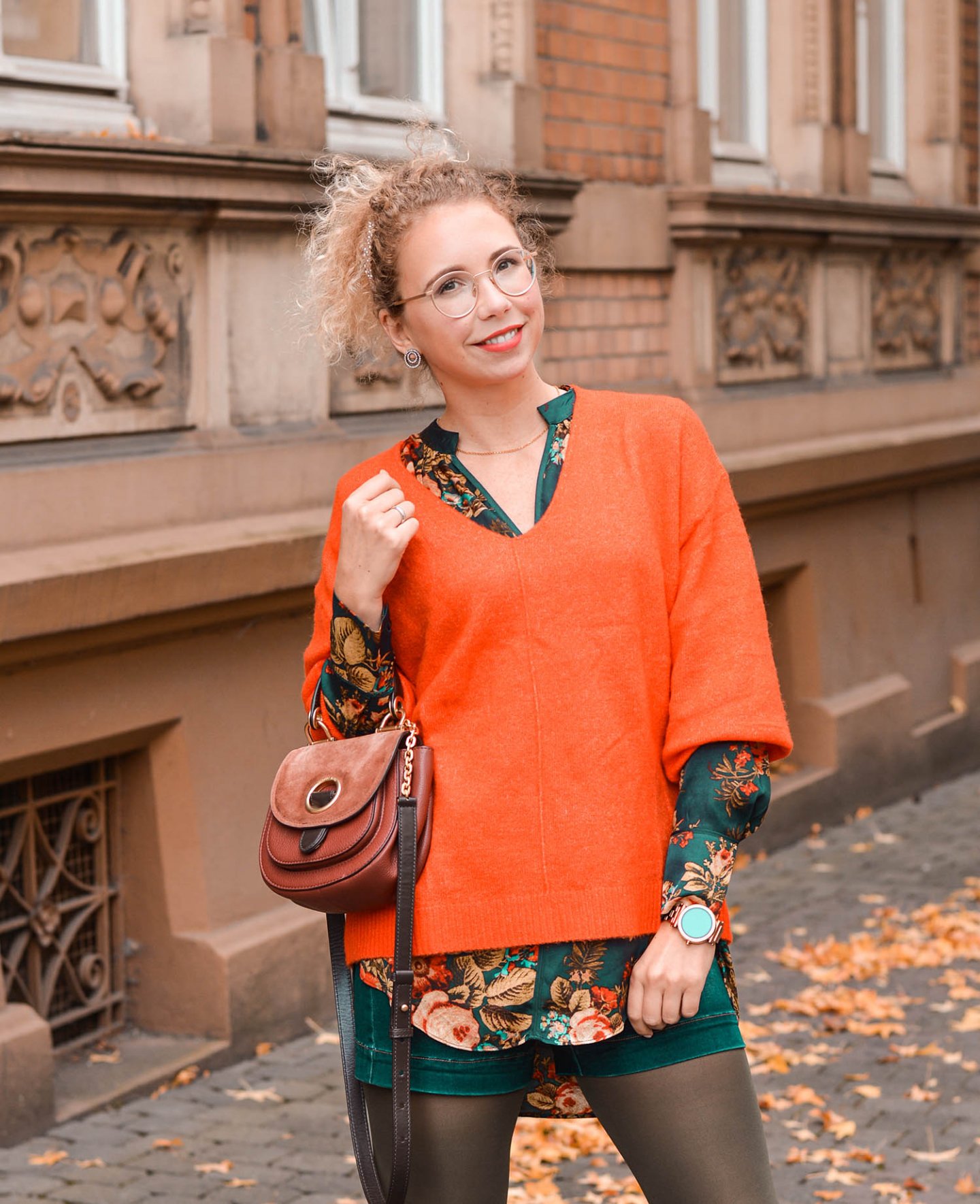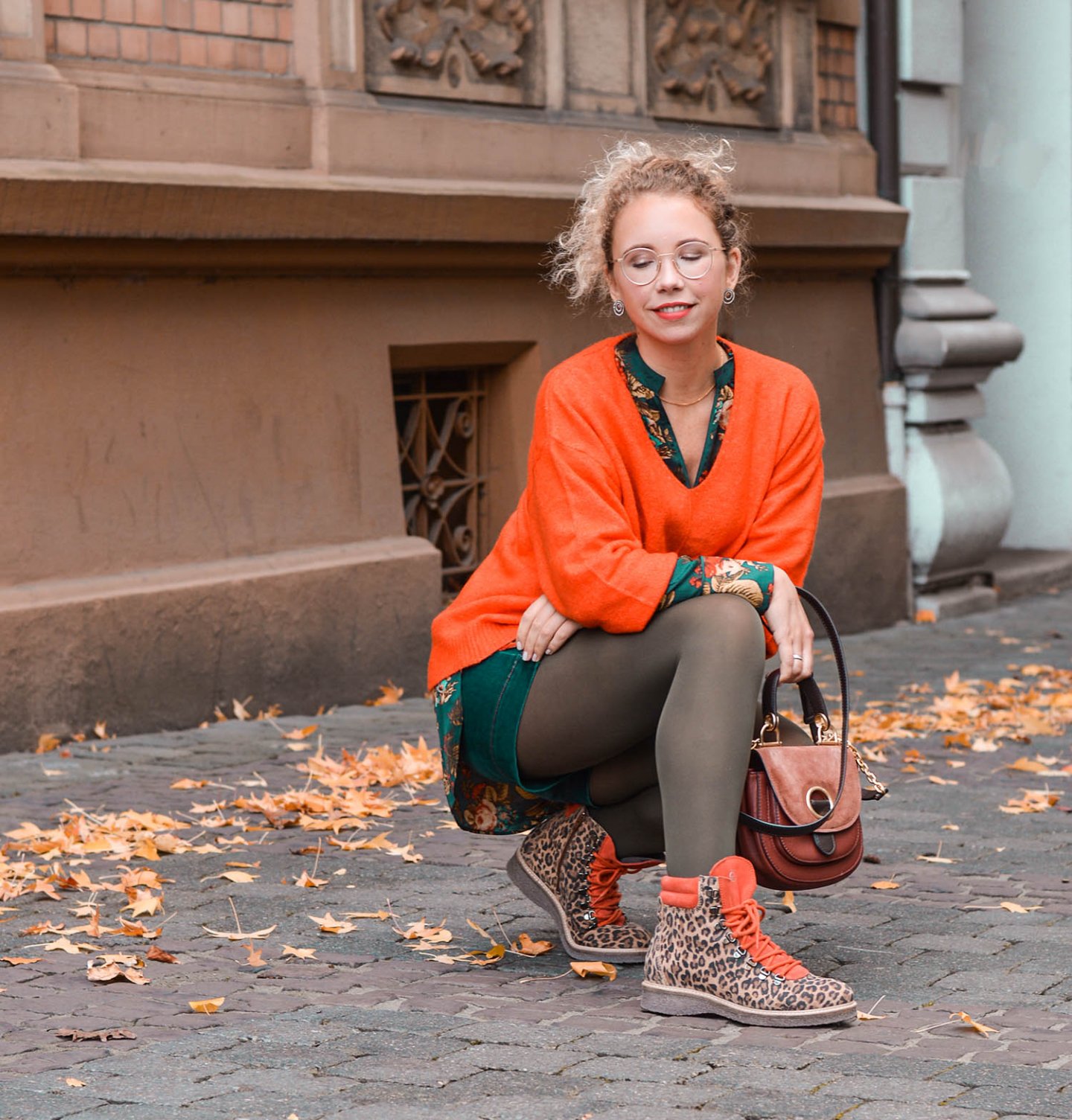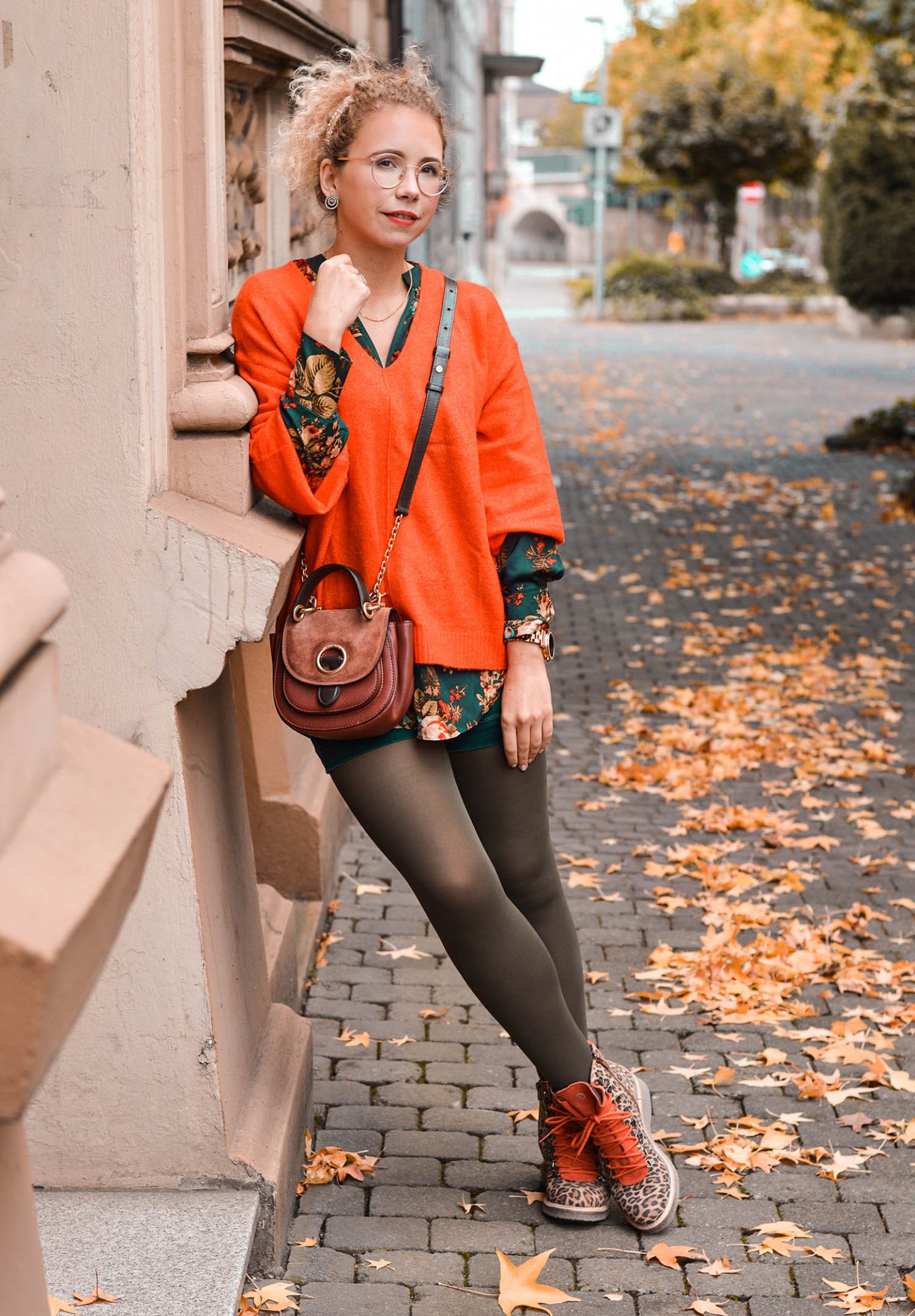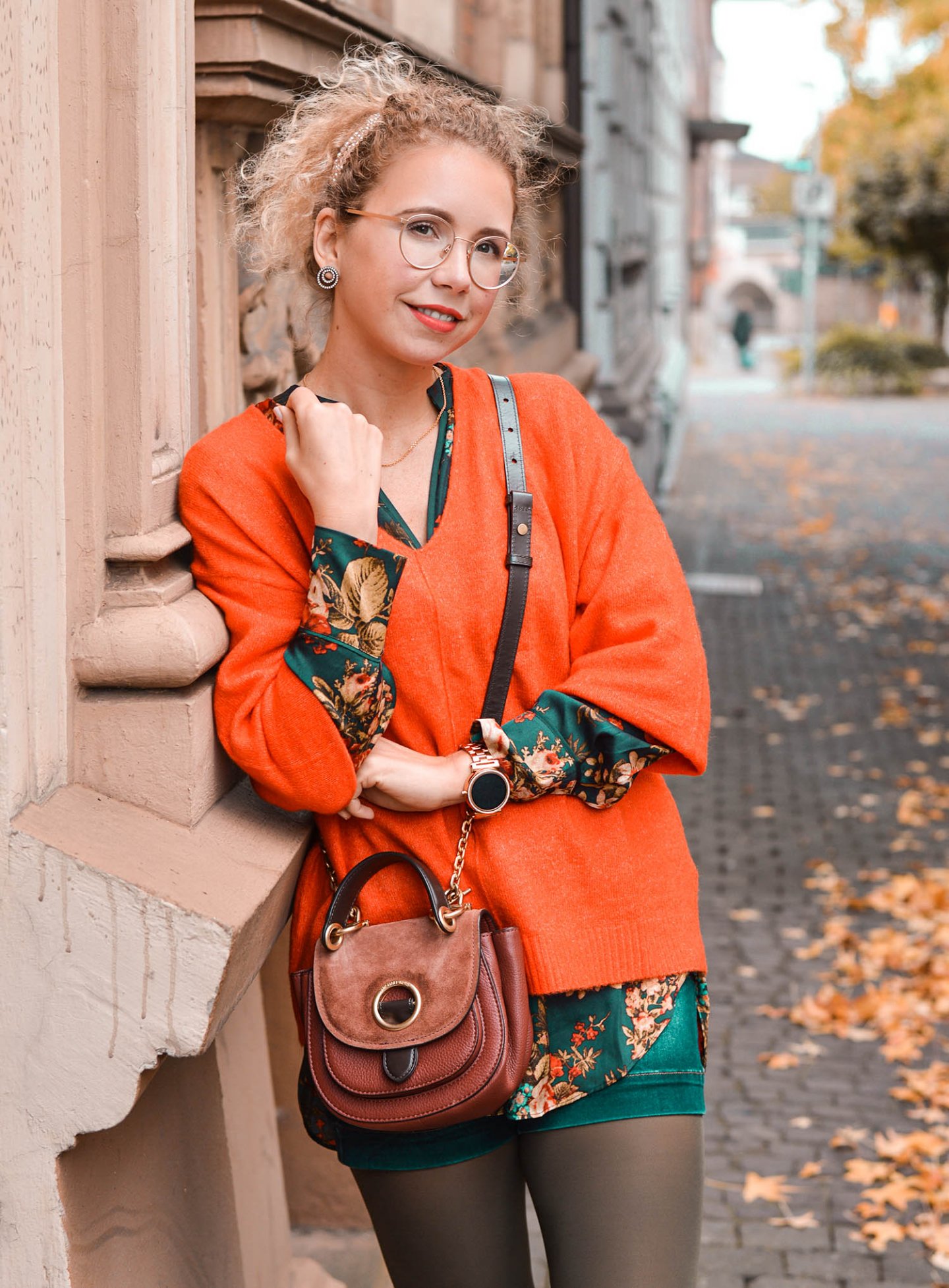 What do I particularly like about fall fashion? It's time for layering, i.e. you can wear different layers and lengths on top of each other. Therefore there is a new autumnal layering look for you. Together with another trend theme: pattern mix!
An Autumnal Layering Look for Everyday Life
My autumnal layering look today is a casual everyday outfit with a few new arrivals in my autumn wardrobe. New is the light knitted sweater with v-neck in orange red. If you've seen my last outfits here, you might notice that I've already shown it to you in a different color, also layered with a blouse. :-)

Also the beautiful blouse with fall flower print is new. Both parts are from H&M. I love the long shape, the back is a little longer than the front, which makes it an ideal part for layered looks. Here I wear short denim shorts and khaki tights, but also with classic jeans the look works great. Just always make sure that the pants have a rather narrow cut so that they harmonize well with the wider look at the top.
Pattern mix: flowers meet leopard
The latest new additions to this outfit are my cuddly-lined boots from Tamaris. Lacing and shoe tongue are also orange red (they are also available with yellow or brown lacing) and therefore fit perfectly to the sweater. A few blossoms on the blouse also pick up the tone. This is another reason why the shoe with its Leo pattern works so well here. Because of the color harmony the flower and leo print don't bite each other at all.