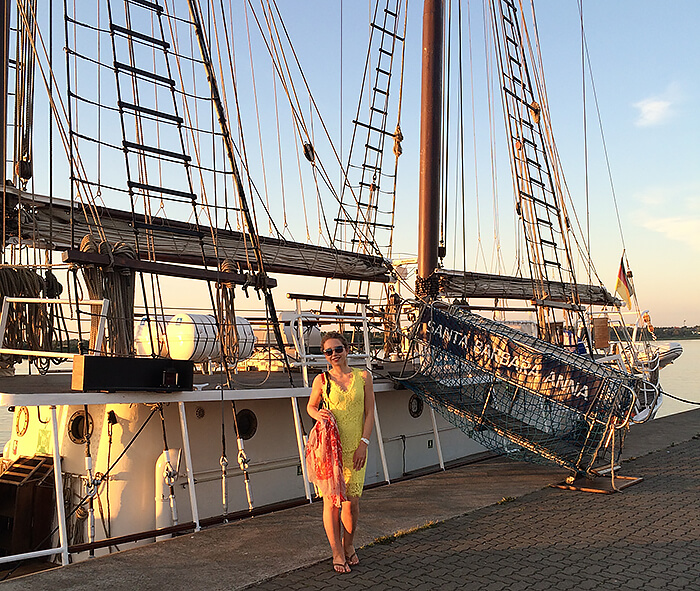 Hier ist er auch schon, mein letzter Beitrag aus dem schönen Rostock mit Radisson Blu und PureGLAM.tv!
Nach unserem Segeltörn und dem Besuch des Ostseebades Warnemünde hatten wir zunächst wieder ein bisschen Freizeit. Ich habe sie für einen weiteren Bummel durch Rostock's hübsche City genutzt und mir spontan das gelbe Spitzenkleid gekauft und direkt abends angezogen.
"Happen von hier"
Diesmal haben wir uns unten im Hotelrestaurant getroffen, wo bereits eine schöne lange Tafel für uns eingedeckt und vorbereitet war. Erste Speisen standen auch schon zum Begutachten und natürlich Fotografieren bereit. Das Dinner fand unter dem Motto "Happen von hier" statt. Ein neues Food-Konzept, bei dem alle Gerichte direkt auf dem Tisch stehen: die Vorspeisen auf hübschen Platten und in Schälchen, die Hauptgerichte – köstlich duftend und dampfend – in gusseisernen Töpfen. Das Besondere: die Zutaten stammen allesamt aus der Region und man ist durch die Speisen auf dem Tisch ständig in Kommunikation mit seinen Tischnachbarn. Man reicht sich hier etwas an, probiert dort ein wenig und geht schließlich auch schon mal am Tisch rum, schauen, ob am anderen Ende vielleicht noch etwas von dem Lieblingsessen übrig ist. Wie in einer Großfamilie! Alles war unglaublich köstlich, besonders angetan hat es mir ein Graupenrisotto mit gebackener Rote Beete und Kräuterseitlingen! Das war so gut, dass ich es nicht einmal geschafft habe, es vorher zu fotografieren. ;-P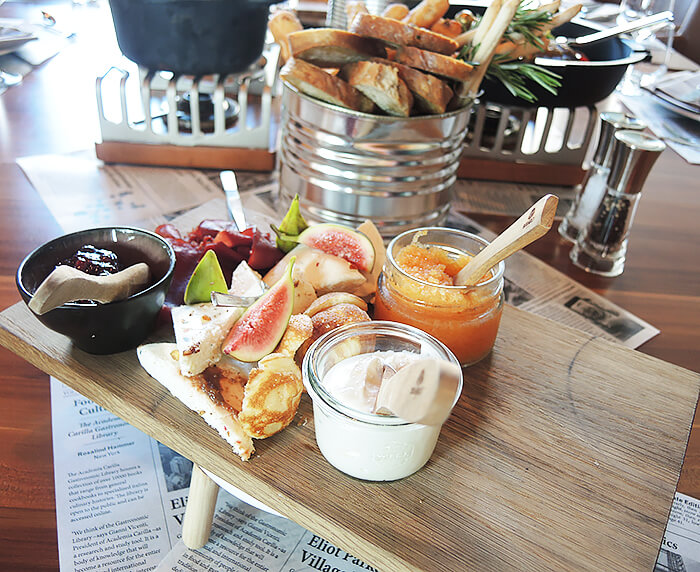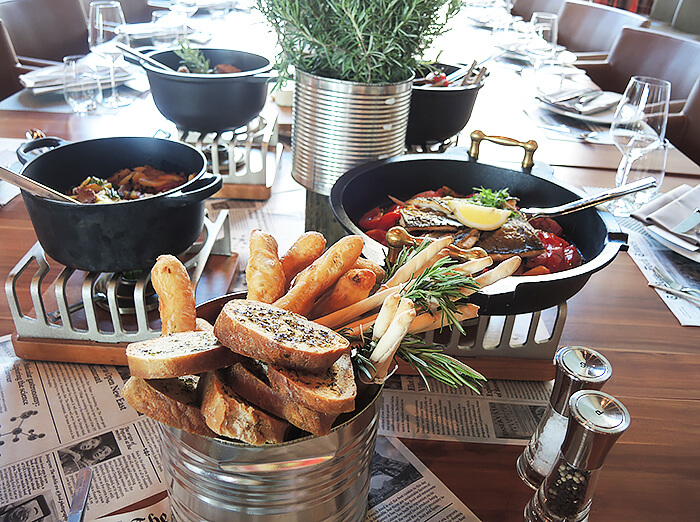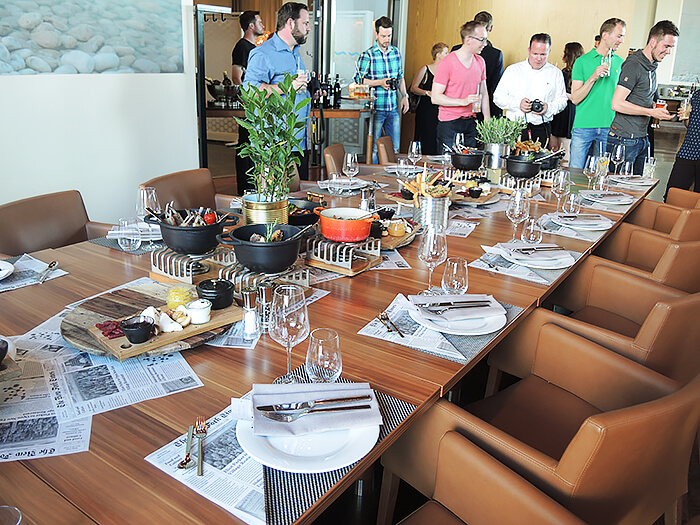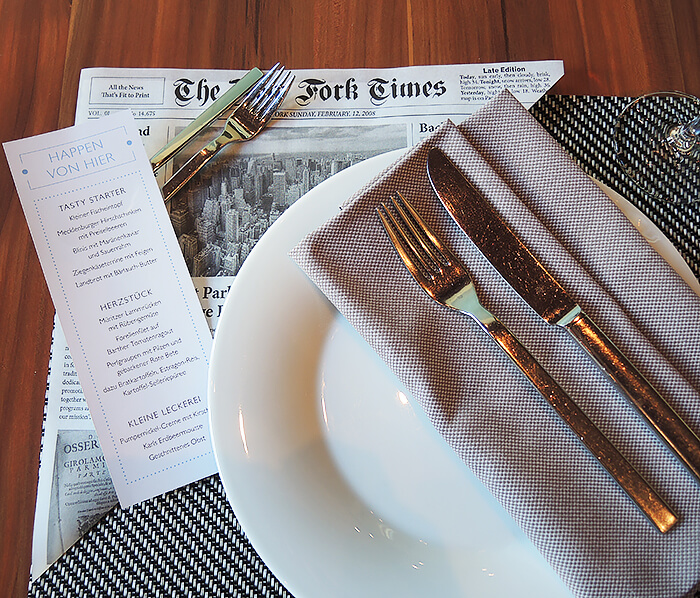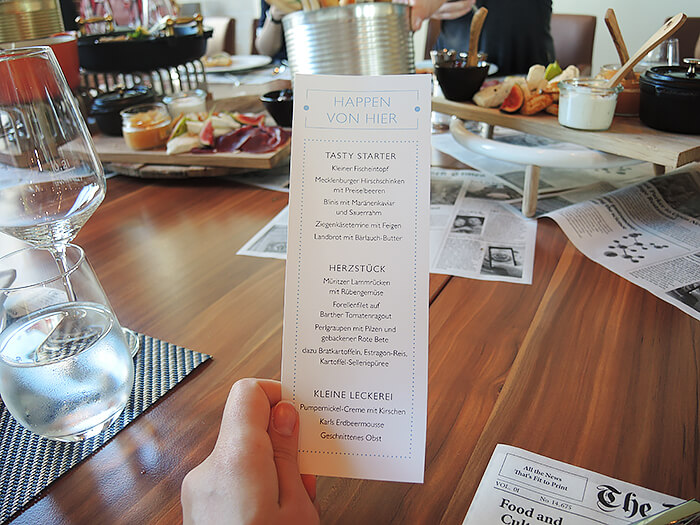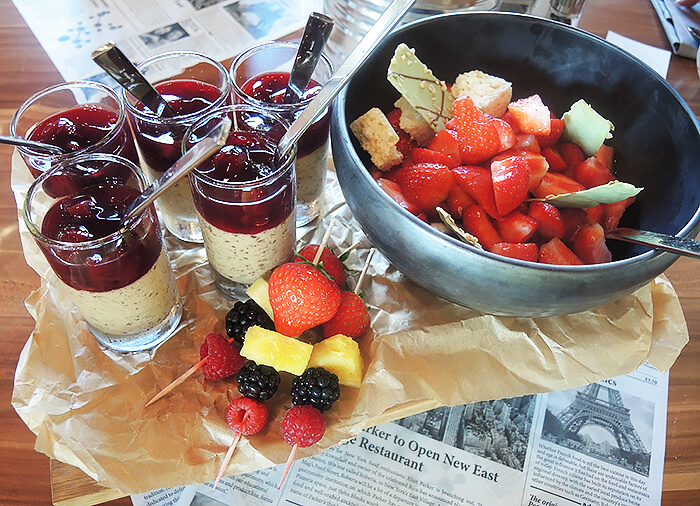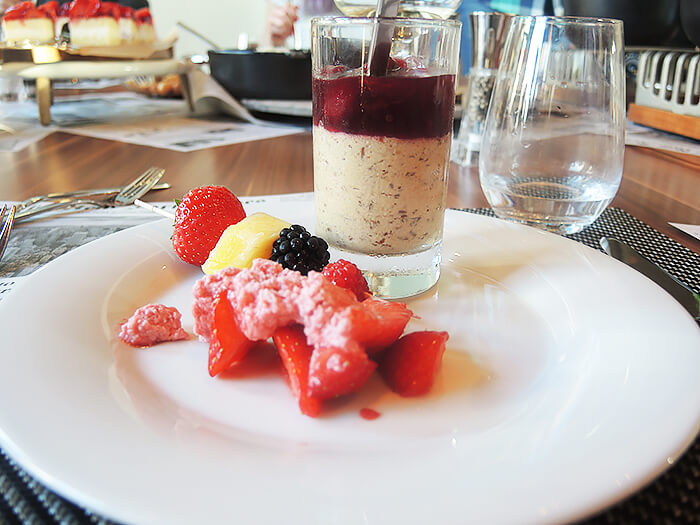 Romantische Abendstimmung
Nach diesem köstlichen und spaßigen Dinner war der Abend noch zu kurz und zu schön, als das wir schon hätten getrennter Wege gehen mögen. So sind wir alle zusammen nochmal zum Stadthafen spaziert und haben bei einem Traum von Sonnenuntergang und karibischen Klängen den Abend mit ein paar Drinks ausklingen lassen.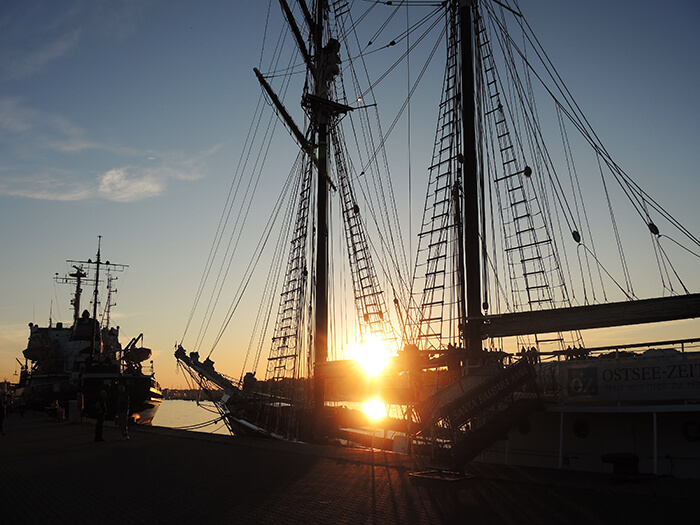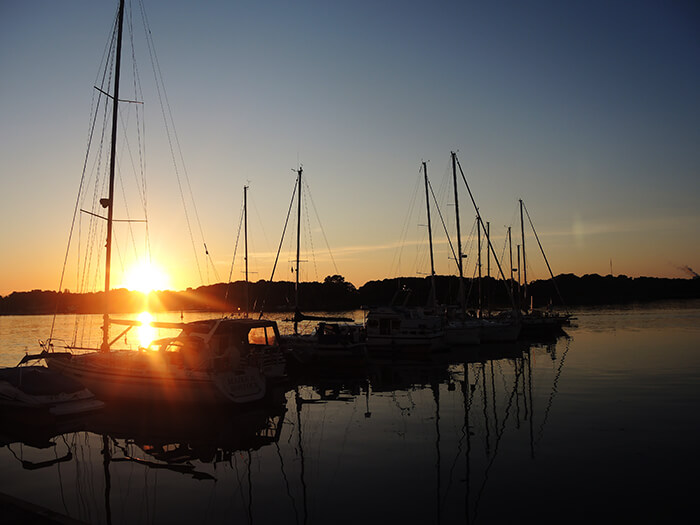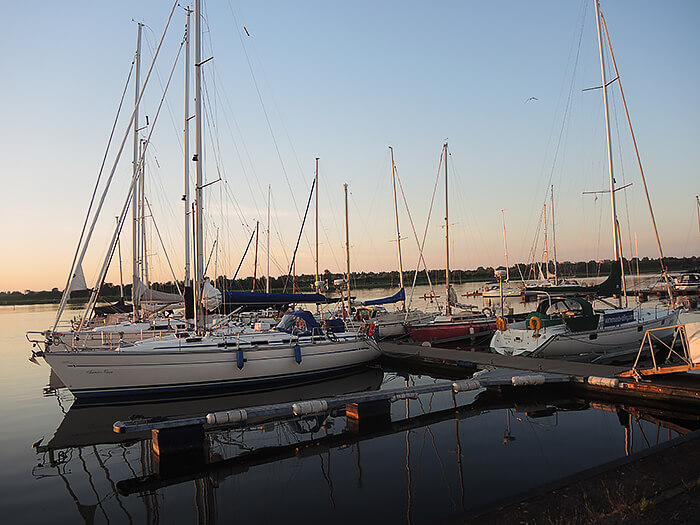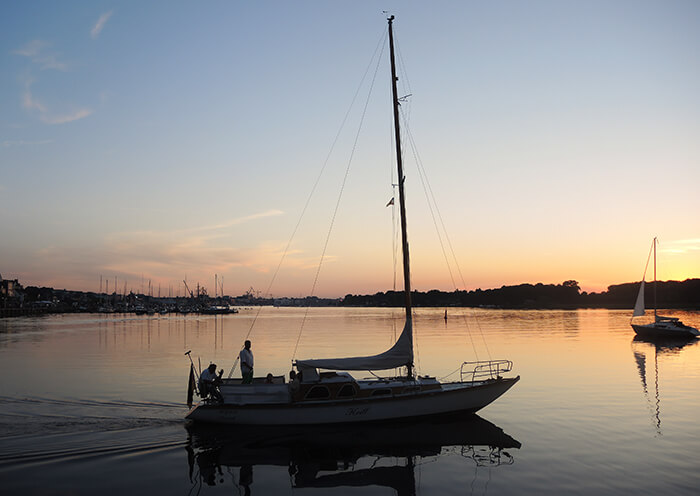 Hier sind noch einmal alle Posts aus und über Rostock gesammelt für euch:
Travel: Sailing Event from Rostock City to Warnemünde with Radisson Blu
Outfit: Maritime with Flared Skirt and Heart patterned Top in Rostock
Ich hoffe, sie haben euch gefallen?! Ich wünsche euch ein tolles Wochenende! Wir sind mittlerweile in Split und Sonntag geht es leider schon wieder zurück nach Hause – mit vielen schönen Erinnerungen im Gepäck! Und viiieel Material für den Blog. :-D
---
Here it is, my last post about beautiful Rostock with Radisson Blu and PureGLAM.tv!
After our sailing trip and visiting Warnemünde, we had a bit free time. I went out for a little city stroll through the pretty old town again. I bought my yellow lace dress there which I've worn later that evening.
Morsels from here
This time we met downstairs at the hotel restaurant, where a great long table was waiting for us. The dinner had the motto "morsels from here". It's a new food concept where all dishes are standing directly on the table: the starters on nice plates and the main dishes in cast-iron pots. It's called that way, because all ingredients are from the region. You are communicating with your table mates all the time. One passes here something, tastes there a bit and sometimes one stands up and looks at the other of the table if there maybe something of the fave dish is left. Just like an extended family. Everything was incredibly good, my fave was a pearl barley risotto with baked beetroot and king oyster mushrooms!
Romantic evening mood
After this delicious and fun dinner the evening was still young, so we decided to walk down to the city harbor again. A really good idea: We enjoyed some drinks while watching a perfect sunset.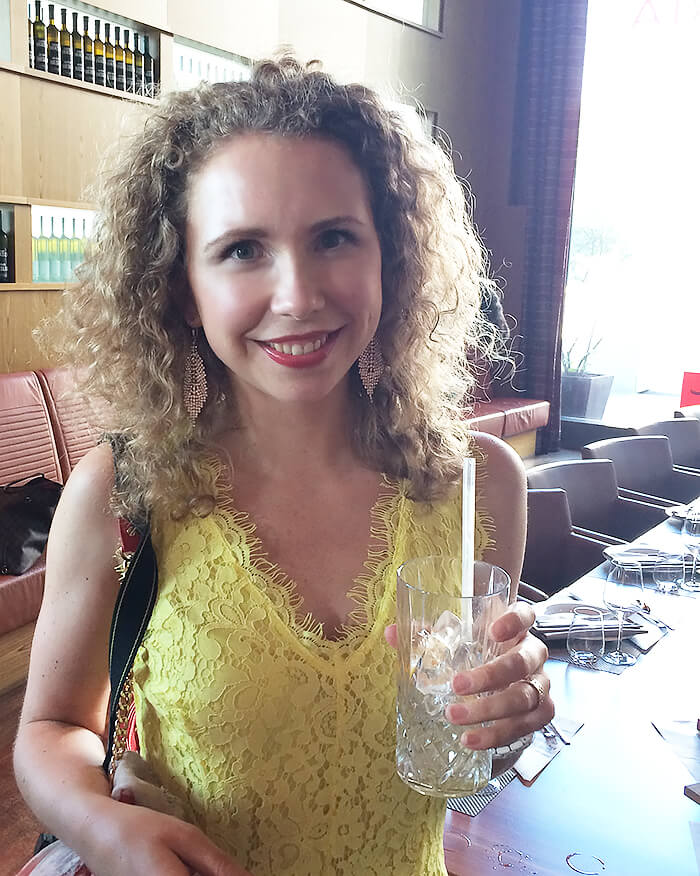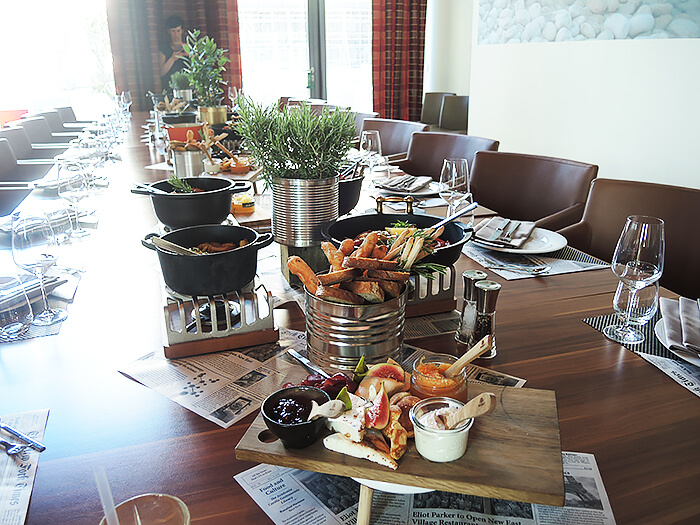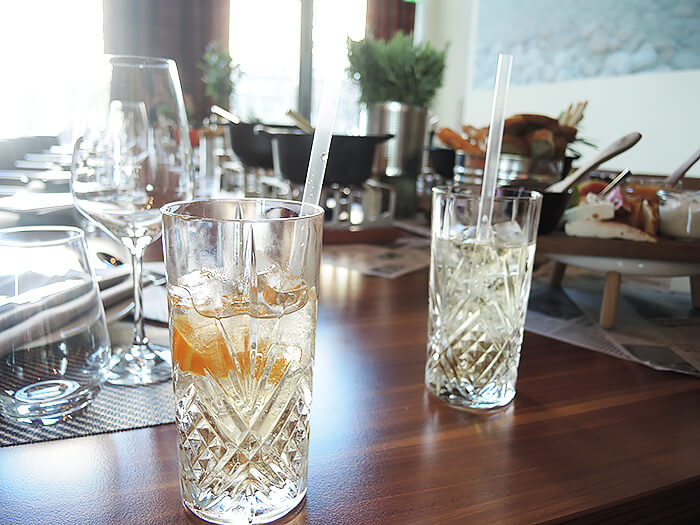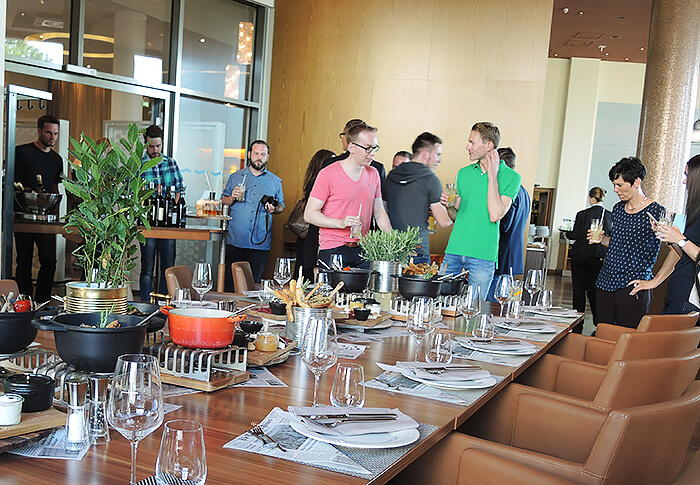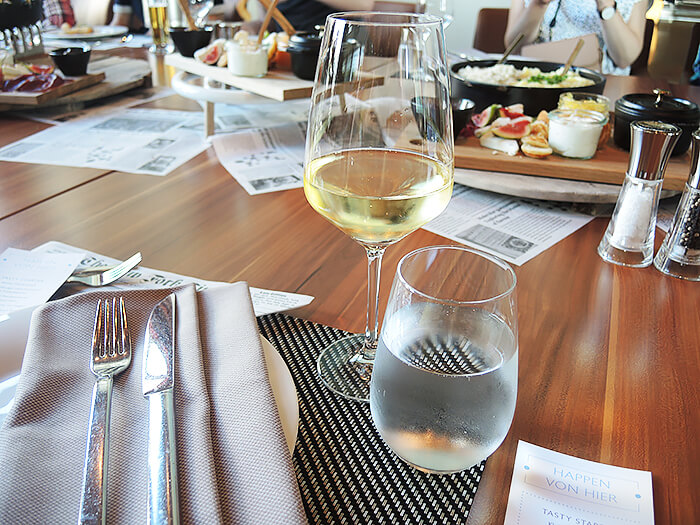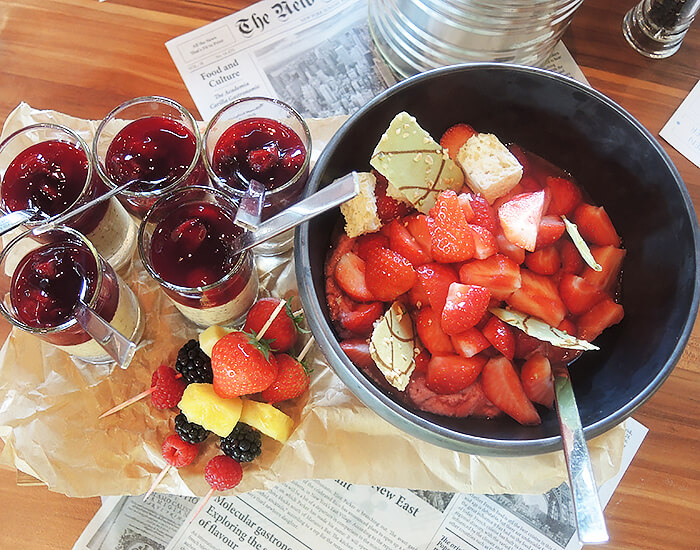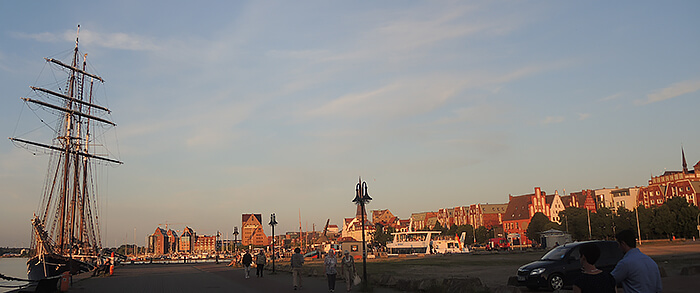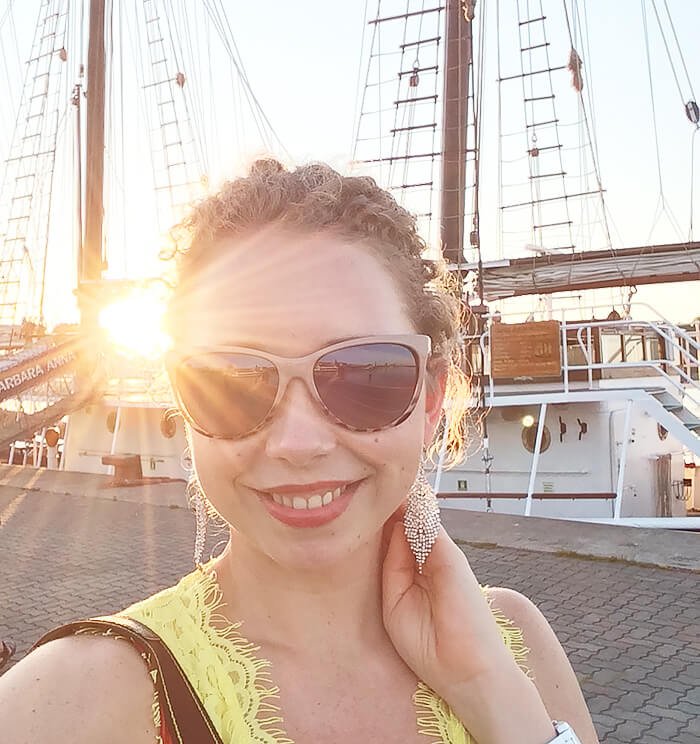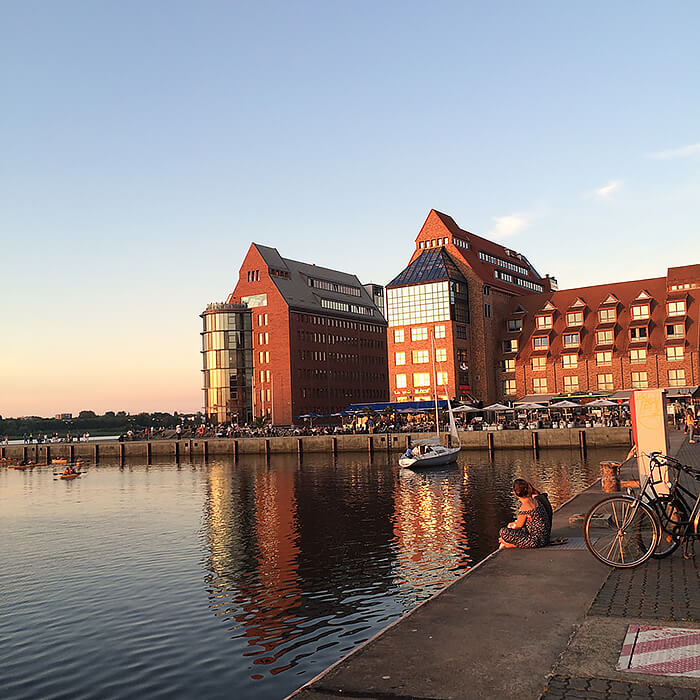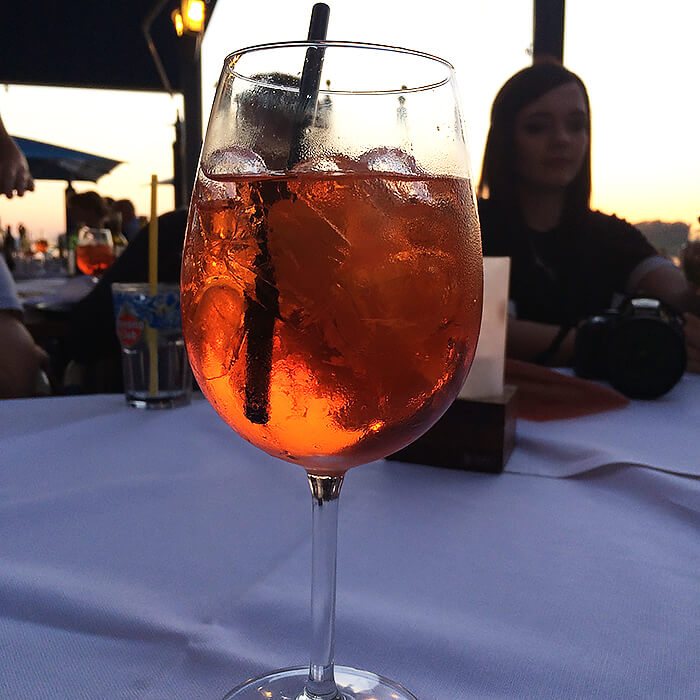 Above you can find all my Rostock-related posts!
I hope, you liked them all and wish you a fantastic weekend! We're in Split now and on Sunday we unfortunately have to travel back home – but with many unforgettable memories…