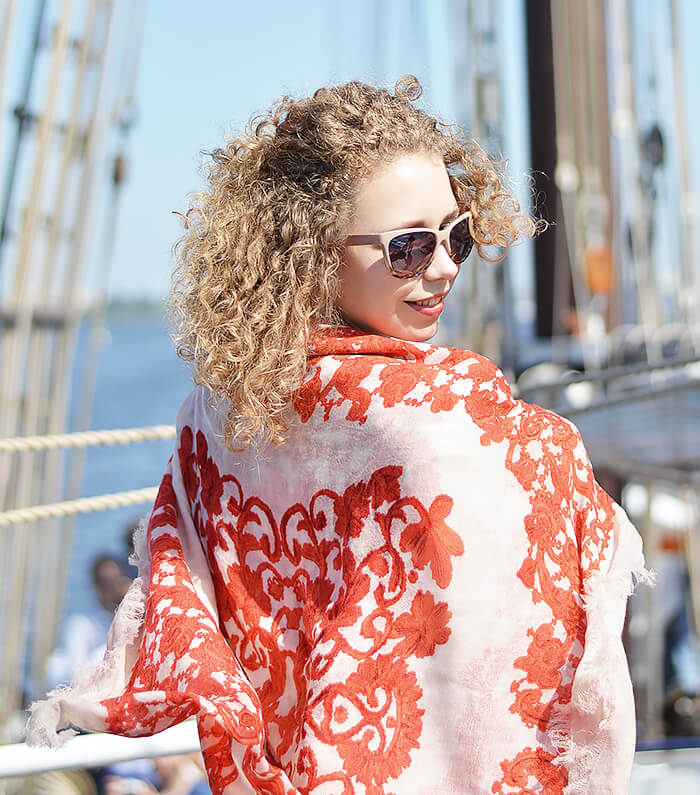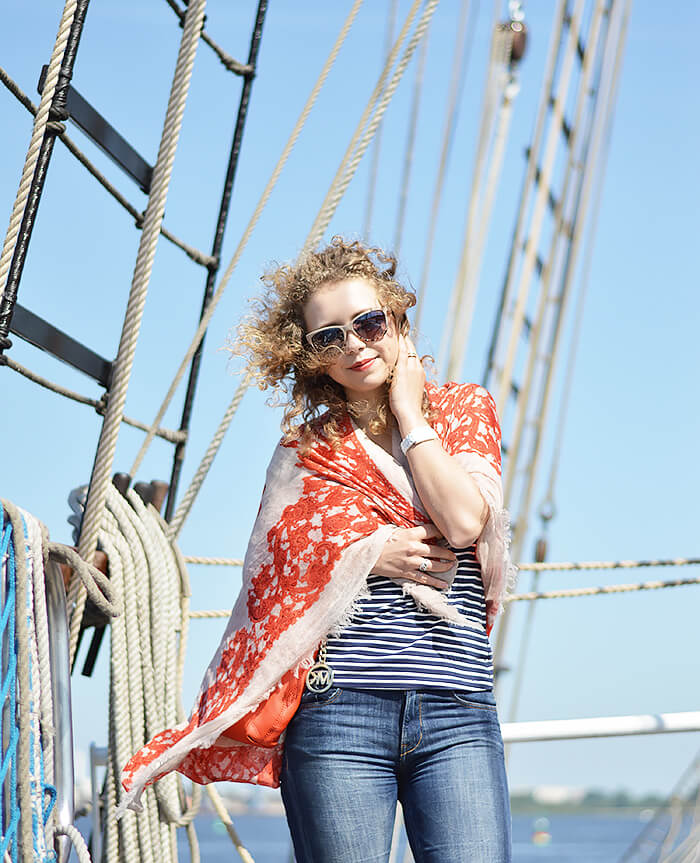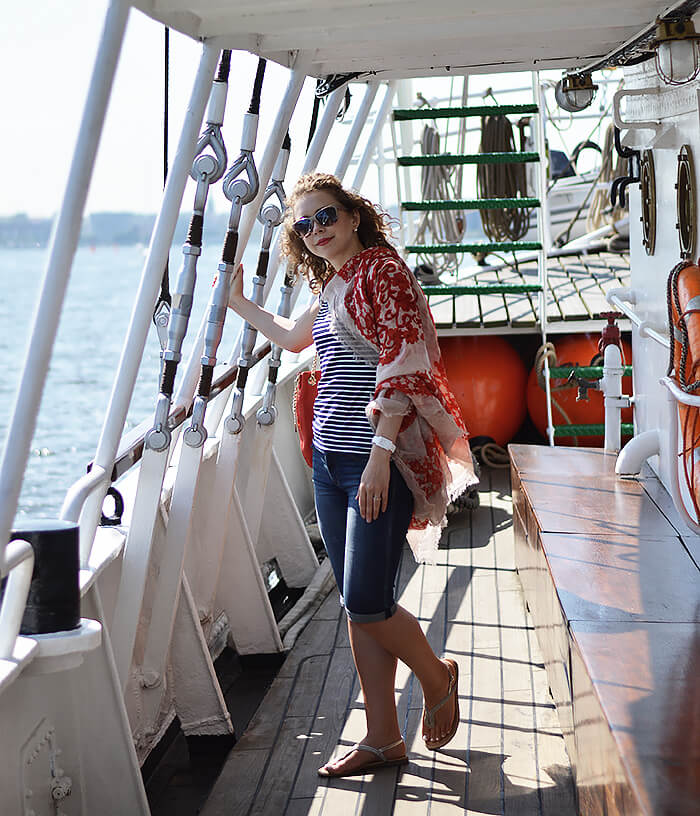 Jeans: H&M // Shirt: Orsay // Sandals: Roland Schuhe // Bag: Michael Kors // Scarf: Fraas
Shop my Look
Halli hallo ihr Lieben! Bevor es hier den ersten Reise-/Erlebnisbericht vom Blogger-Event mit Vanessa und Radisson Blu letztes Wochenende gibt, hier schon mal ein erstes Outfit, dass während dieser rundum gelungenen Tage in Rostock entstanden ist. Ein kleiner Teaser auf das Programm ist hier aber bereits unschwer zu erkennen: Segeln und ein Strandbesuch standen unter anderem auf dem Plan! :-)
Der Umgebung angepasst, ist mein Outfit daher mal wieder sehr maritim angehaucht. Wo sonst könnte man ein Streifenshirt auch besser anziehen, als auf hoher See?! Die Sandalen habt ihr letzte Woche erst bei mir gesehen. Da fällt mir ein, habt ihr schon für mich bei der Roland Blogparade für mich abgestimmt? Ich würde mich riesig über eure Stimmen freuen!
Star des Outfits ist mein neuer XXL-Schal. Ihr kennt doch sicher die Marke Fraas? Seit über 135 Jahren stellt Fraas in Familientradition hochwertige Schals und textile Accessoires her und ist so zum größten Schalhersteller der Welt avanciert. Seit 2006 gibt es auch die Eigenmarke Fraas, gemacht direkt für uns Endverbraucher – mit wunderschönen Tüchern, Schals und Ponchos aus soften Materialien wie Wolle, Cashmere, Kamelhaar, Seide, Baumwolle oder Lyocell. Charmant finde ich die Bedeutung des Logos, eine Distel, denn man fragt sich schon, was ein so "grobes" Pflänzchen mit den feinen Stücken zu tun hat. Die Distel ist aber tatsächlich unentbehrlich für die Herstellung des super soften, seidig glänzenden Kaschmirs. Hättet ihr's gewusst?
Ich durfte mir für diesen Look ein Stück aus der Kollektion aussuchen und kann euch sagen: Die Wahl fiel mir bei der großen Auswahl doch recht schwer. Verliebt habe ich mich dann aber in diesen 1.15 x 2 Meter-Traum in Rot und Beige mit Gaucho-Muster. Perfekt für den Sommer und die windigen Momente auf dem Segelschiff am Wochenende an der Ostsee! Ihr könnt euch nicht vorstellen, wie kuschelig dieses wunderhübsche Stückchen Stoff (100% Wolle) ist… Ihr merkt schon: I'm in love und ich werde den Schal am Sonntag definitiv auch mit nach Kroatien nehmen!
Für euch habe ich diesmal aber auch etwas: Mit dem Code Kationette0616 erhaltet ihr 10% auf euren Einkauf im Fraas-Onlineshop. Er ist gültig bis zum 31.07.2016.
Und, seid ihr schon neugierig auf meine Erlebnisse letztes Wochenende? Und wie gefällt euch mein Look?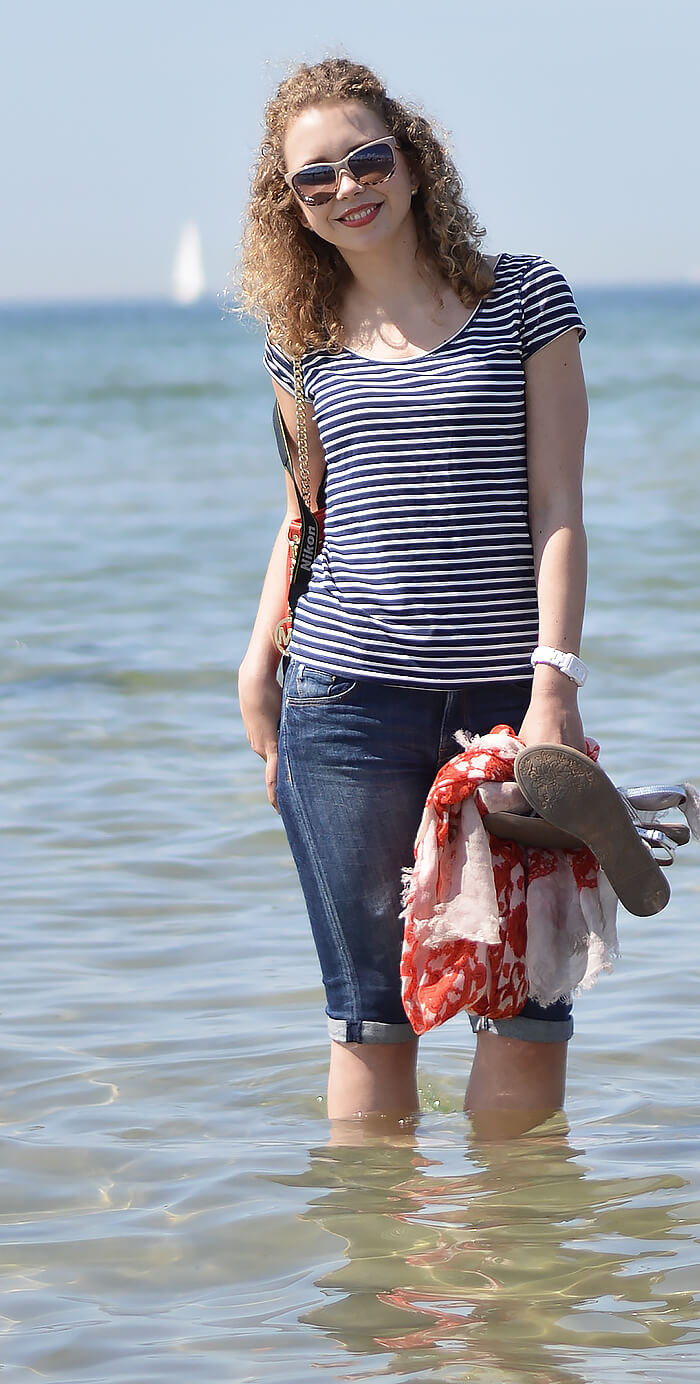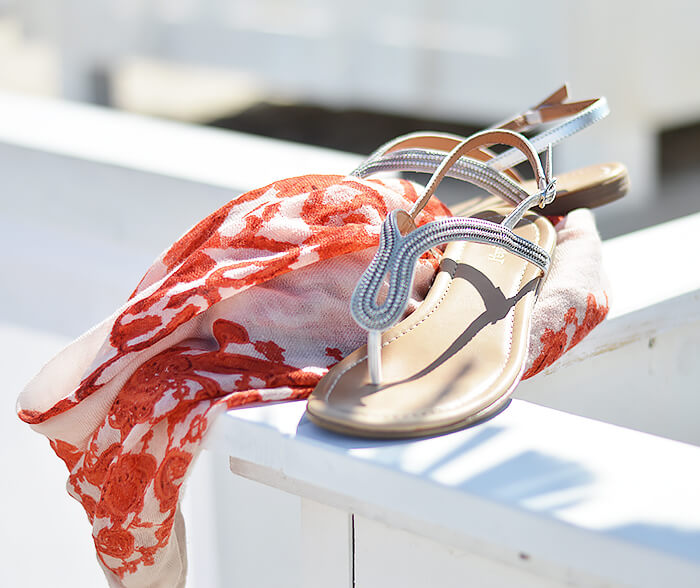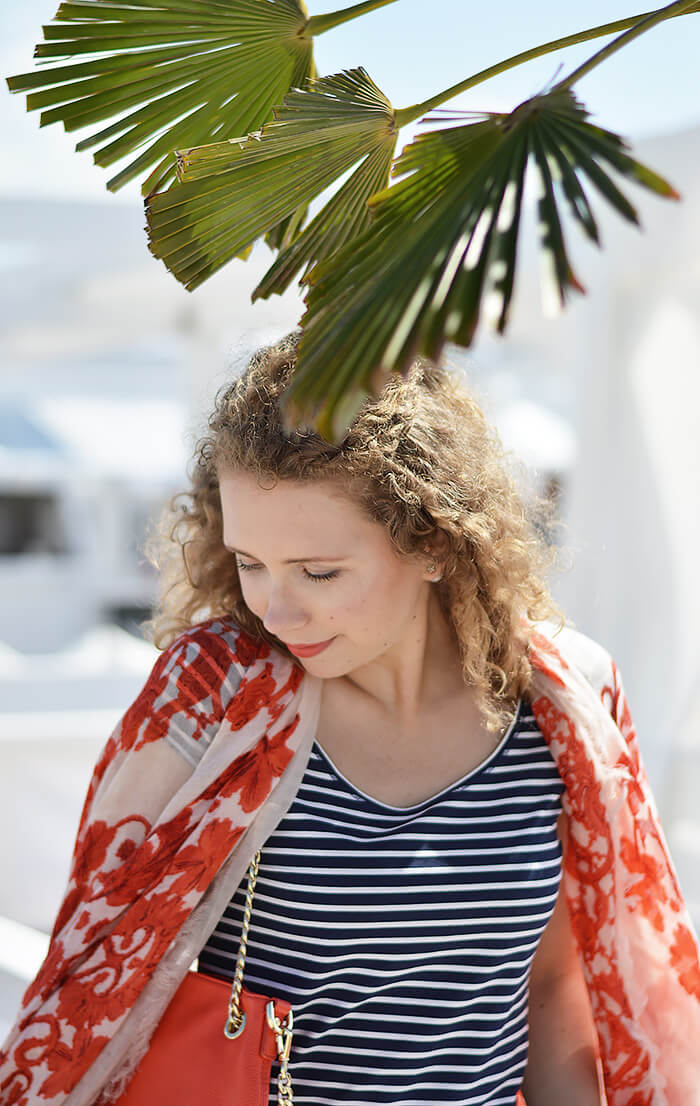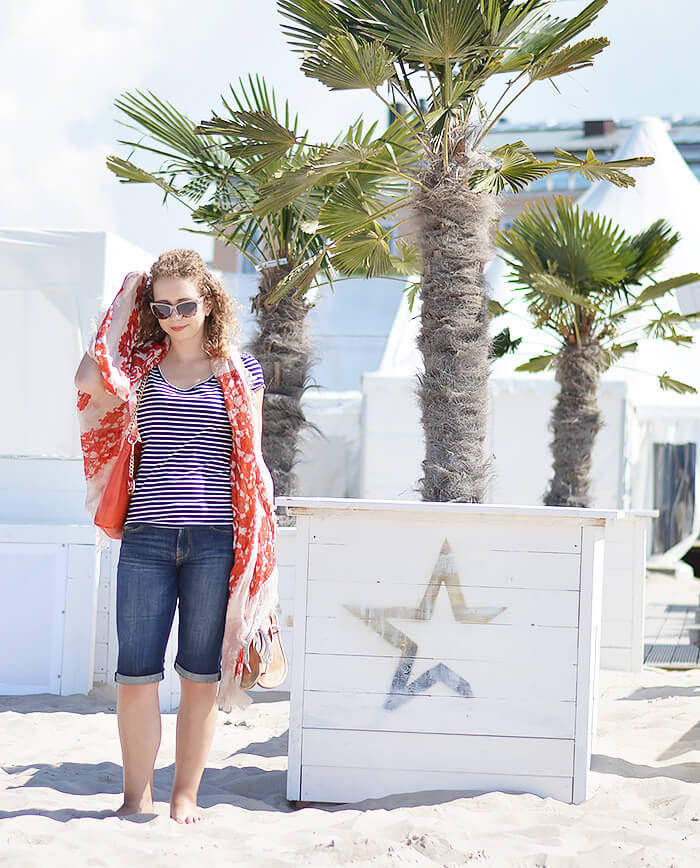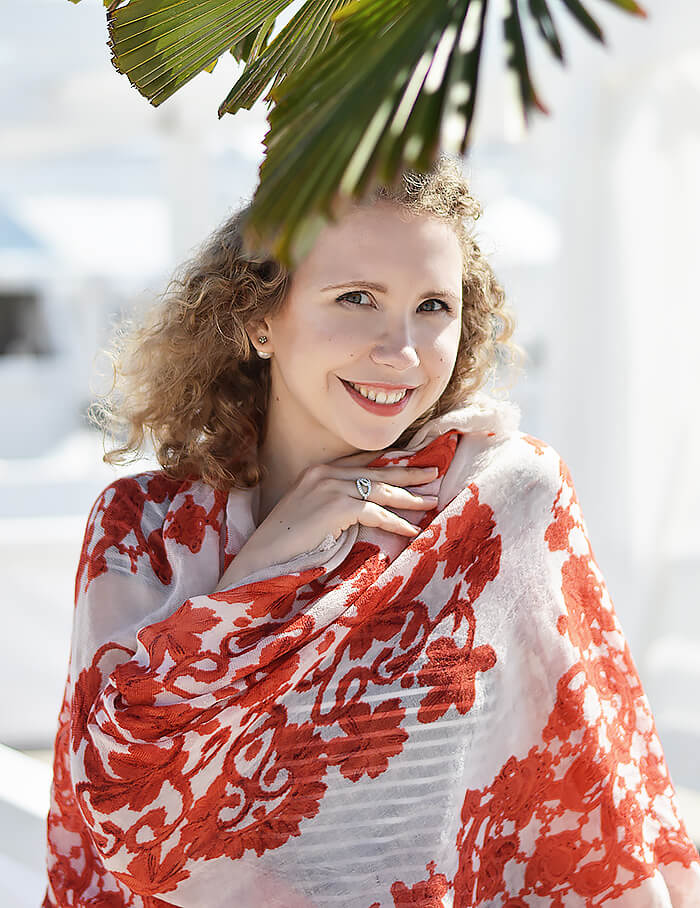 Hi lovelies! Before my first travel/experience report from the blogger event last weekend with Vanessa and Radisson Blu is going online, here is an outfit which I've worn during the perfect days in Rostock first. It is also a little teaser, because you can already guess that we've been sailing and visiting a beach…
Adapted to the environment, my look is very maritime this time. Where else could a striped shirt be more suitable than on the sea? The sandals did I show you last week already. I would be more than happy, if you could vote vor me at the Roland blog parade.
The star of my outfit is my new xxl-scarf. Do you know the brand Fraas? It's the result of 136 years of experience in the field of manufacturing textile accessories. The company has developed from a rural business to a worldwide active corporation whose quality is prized by exclusive brands and prestigious department stores. In 2006 the company launched its own private label Fraas for us end-consumer – with beautiful foulards, scarfs and ponchos made of wool, cashmere, camel hair, silk, cotton or lyocell.
I was allowed to choose one piece of the Fraas collection for this look and I can tell you: this was a hard decision. I fell in love with this XXL-dream in red and beige with gaucho-pattern. Perfect for summer and the windy moments at the Baltic Sea last weekend! You can't imagine, how cosy this beautiful piece of cloth (100% wool) is… You see, I'm totally in love and will take the craf with me to Croatia, too!
Suprise! I've also got something for you cuties: You'll get a 10% disount on your puchase at the Fraas online shop with the code Kationette0616. It's valid until 31.07.2016.
So, are you curious about my experiences from last weekend and how do you like my look?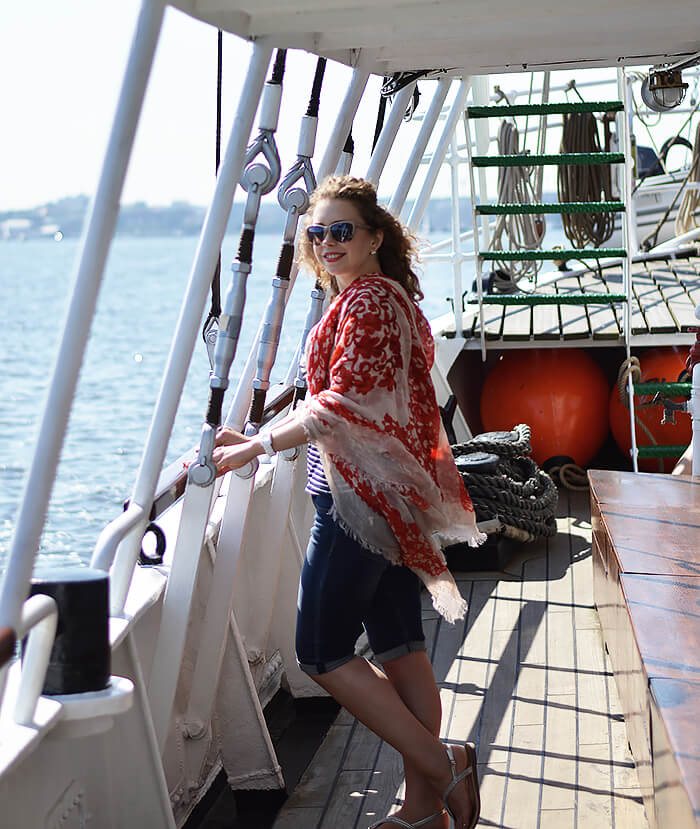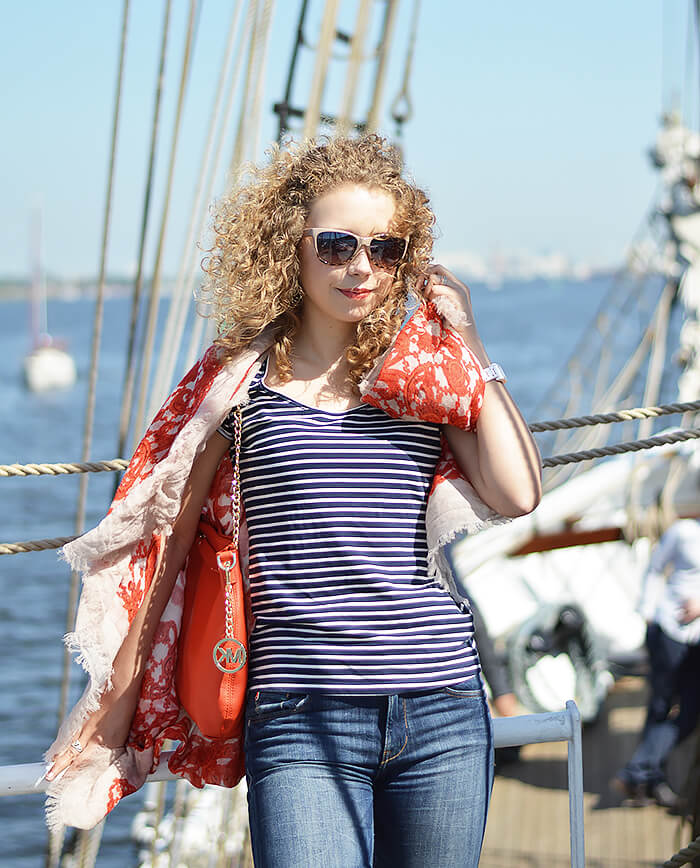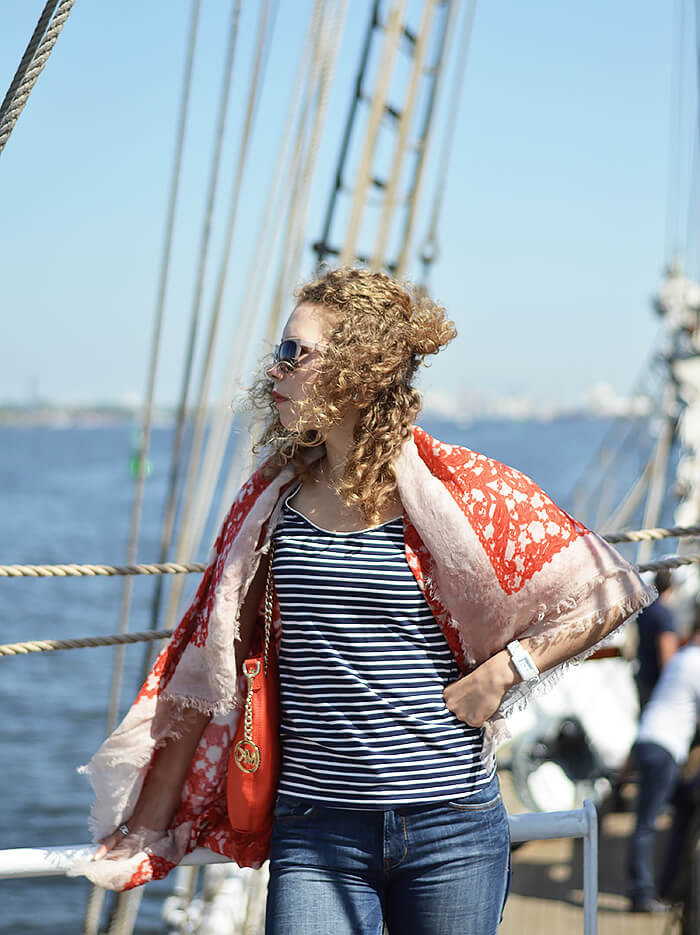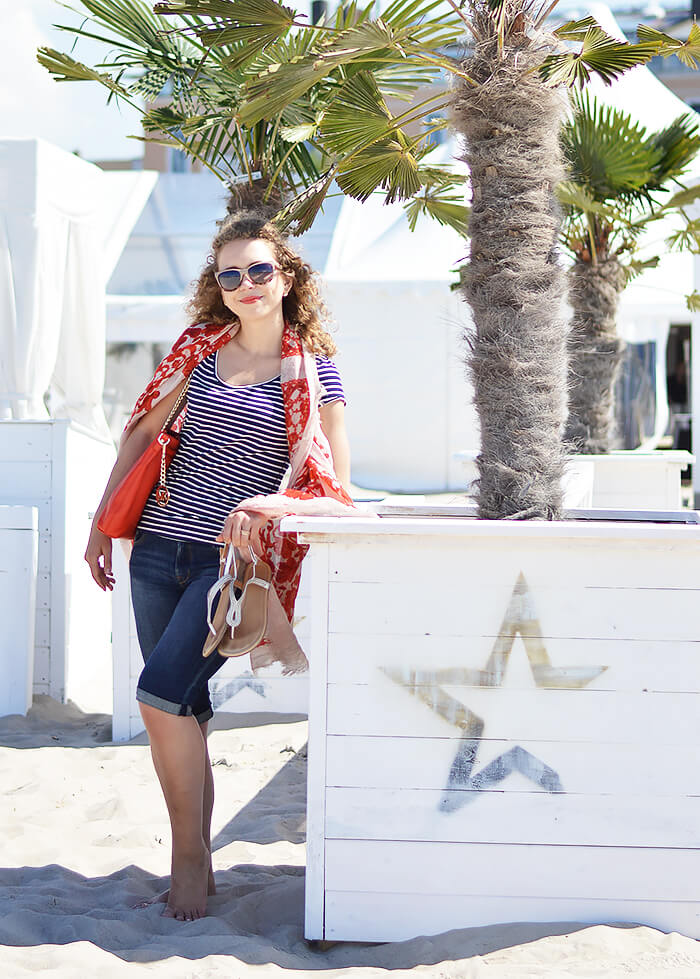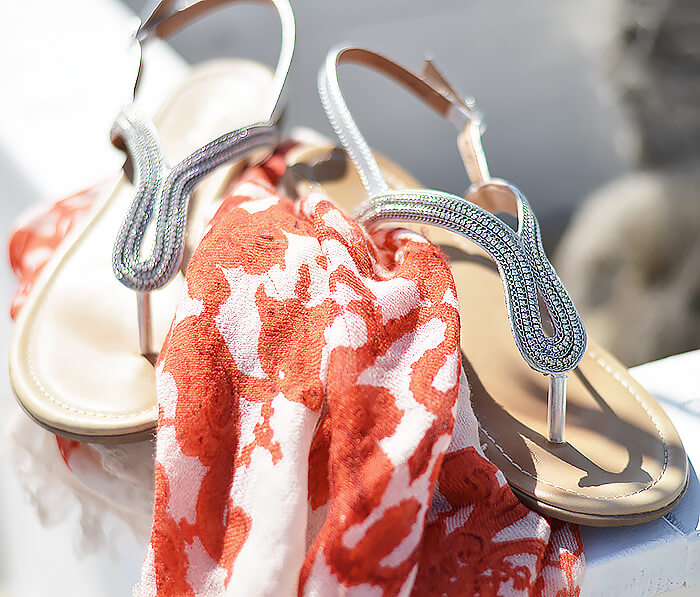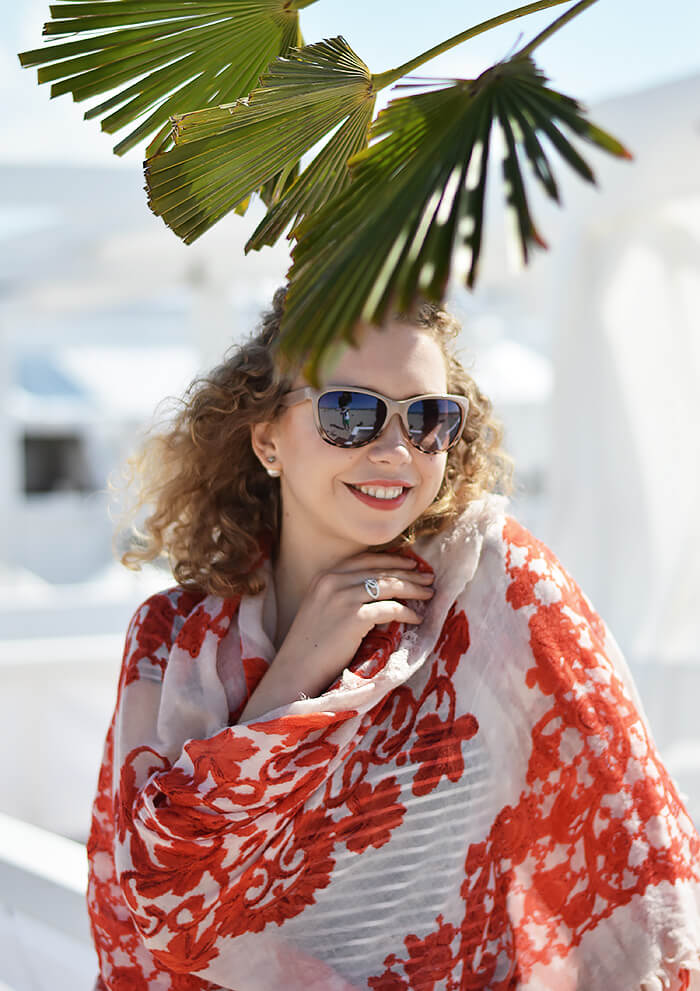 In Kooperation mit Fraas. // In cooperation with Fraas.