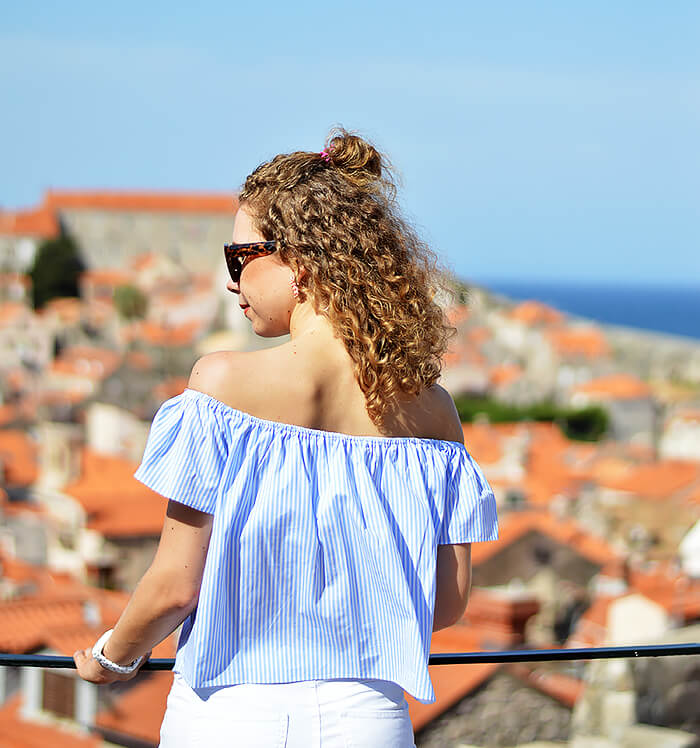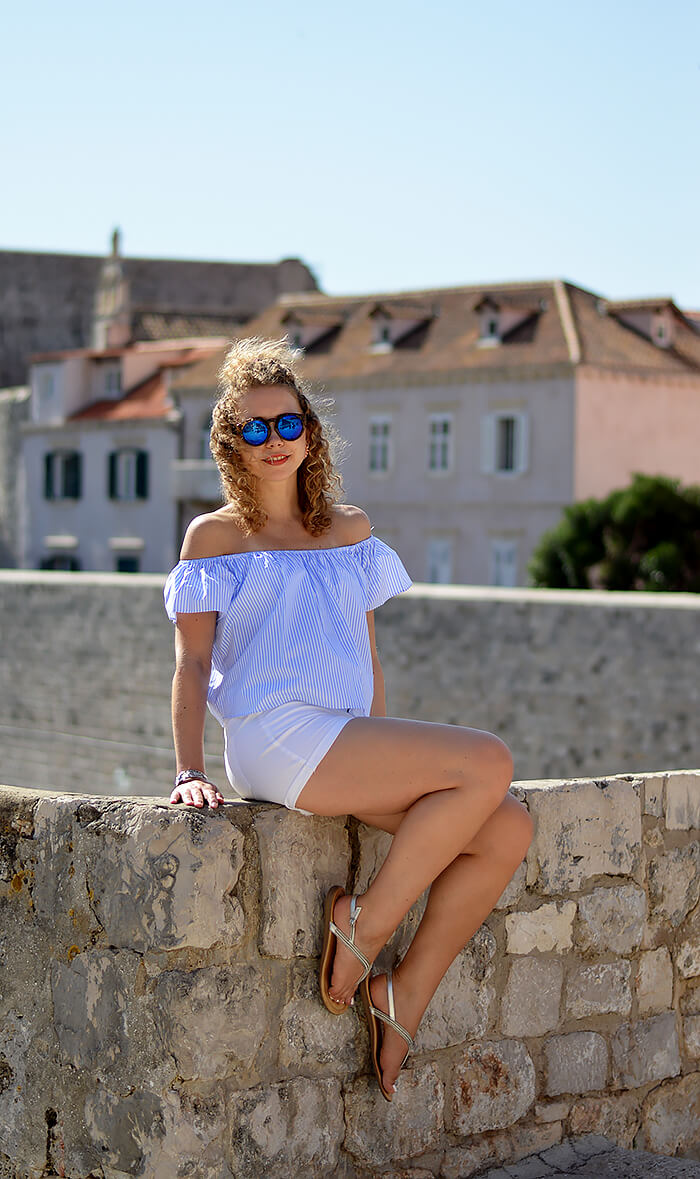 Top: Zara // Shorts: H&M // Sandals: Limelight by Roland Schuhe
Shop my Look
Guten Morgen ihr Lieben! Ich hoffe, ihr hattet ein tolles Wochenende? Meins war sehr schön, denn gestern war die Taufe von meinem Patenkind! Der kleine Sohn meiner besten Freundin ist inzwischen schon gut vier Monate alt und zum Klauen süß. Wir hatten einen wunderschönen Familientag mit viel leckerem Essen, bestem Wetter und erfrischenden Drinks.
Die Kulisse
Hier geht's heute weiter mit dem nächsten Look aus Kroatien. Nach drei Tagen in Brela haben wir uns auf den Weg nach Dubrovnik gemacht. Eine außergewöhnlich schöne (Alt)Stadt, von der ich bald mehr berichten werde! Nach der ersten Nacht haben wir uns morgens vor dem Frühstück (warum? auch dazu bald mehr) auf zur Stadtmauer gemacht und sie einmal komplett umlaufen. Wunderschön, sag ich euch!
Das Outfit
Für diesen Ausflug habe ich ein sommerlich-leichtes und vor allem sehr trendiges Outfit gewählt. Denn der Off-Shoulder Trend macht doch diesen Sommer vor fast keinem mehr Halt, oder? ;-) Obwohl dieser Trend so modern ist, passt er auch perfekt in die historische Kulisse. Und das helle Blau des Tops strahlt mit dem Himmel und den orangefarbenen Dächern um die Wette. Dazu trage ich weiße Jeans-Hotpants und mal wieder meine Zehentrenner-Sandalen in Silber.
Wie gefällt euch der sommerliche Look vor dieser Traumkulisse?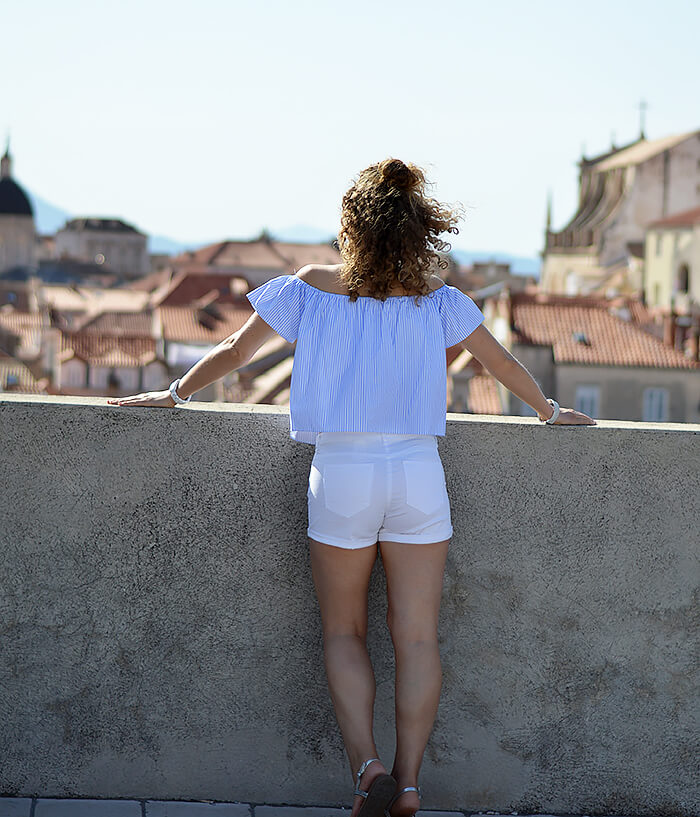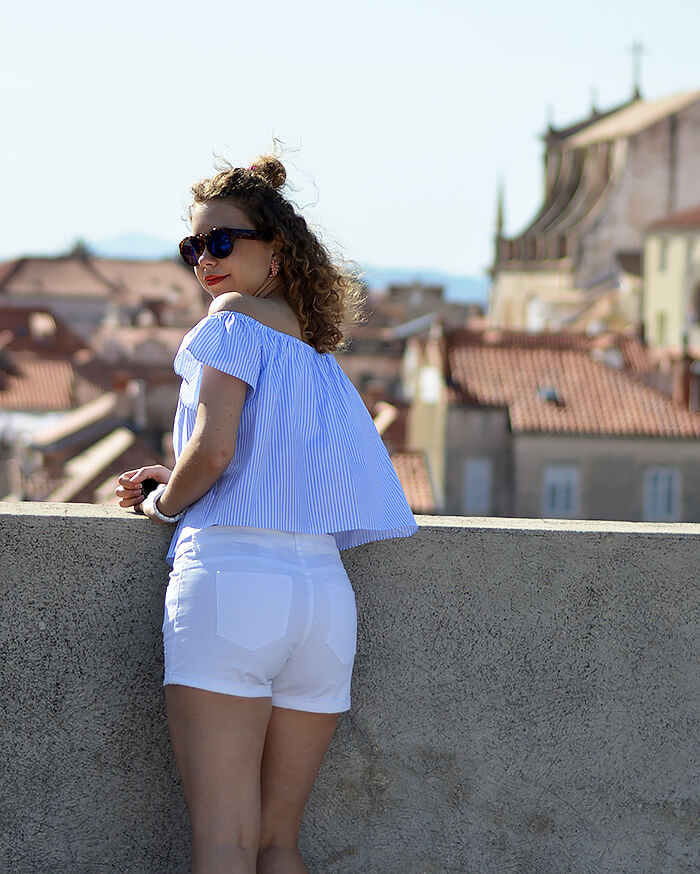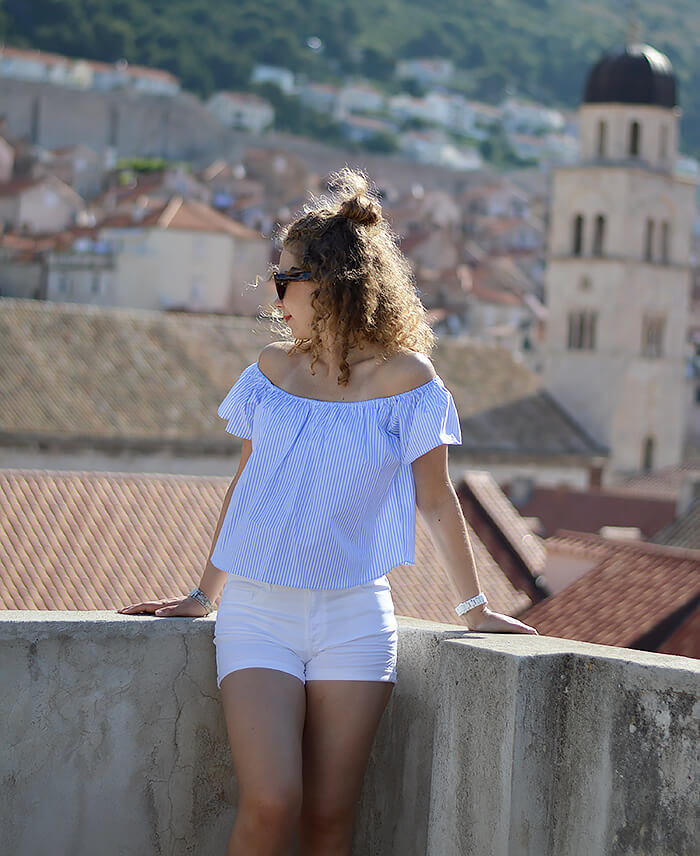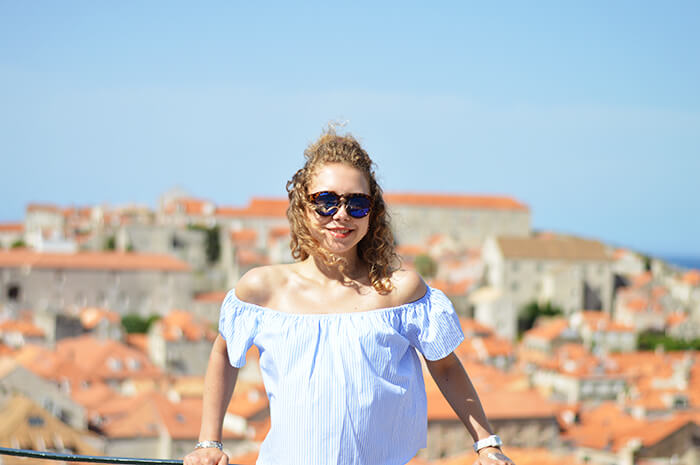 ---
Good Moning lovelies! I hope, you had a great weekend? My weekend was pretty nice, because yesterday was the baptism of my godson. The little boy from my best friend is already four months old and just adorable. We had a fantastic day with the families, lots of food, sun and drinks.
The location
Here is the next look from Croatia. After three days in Brela, we travelled to Dubrovnik. An amazing (old) town – I will write more about it soon. After the first night we made to the city walls right before the breakfast (why that early? stay tuned). Simply beautiful!
The outfit
For this trip, I chose a summery, trendy outfit. The off shoulder trend spares no-one, right? Even if the trend is that modern, it perfectly goes with this historic location, doesn't it? I wear it with white little shorts and my toe separator sandals again.
How do you like the summery look in front of this dream scenery?