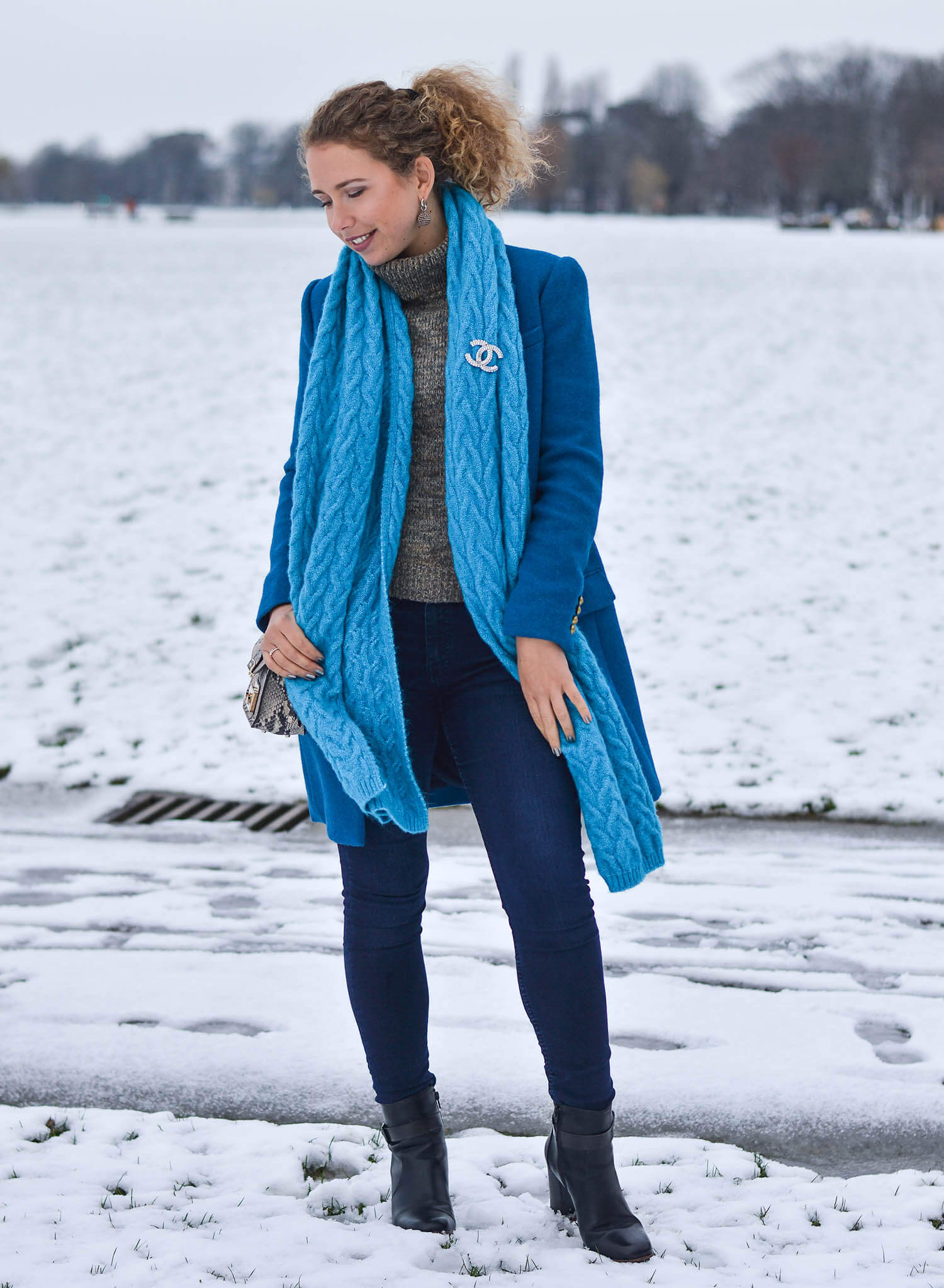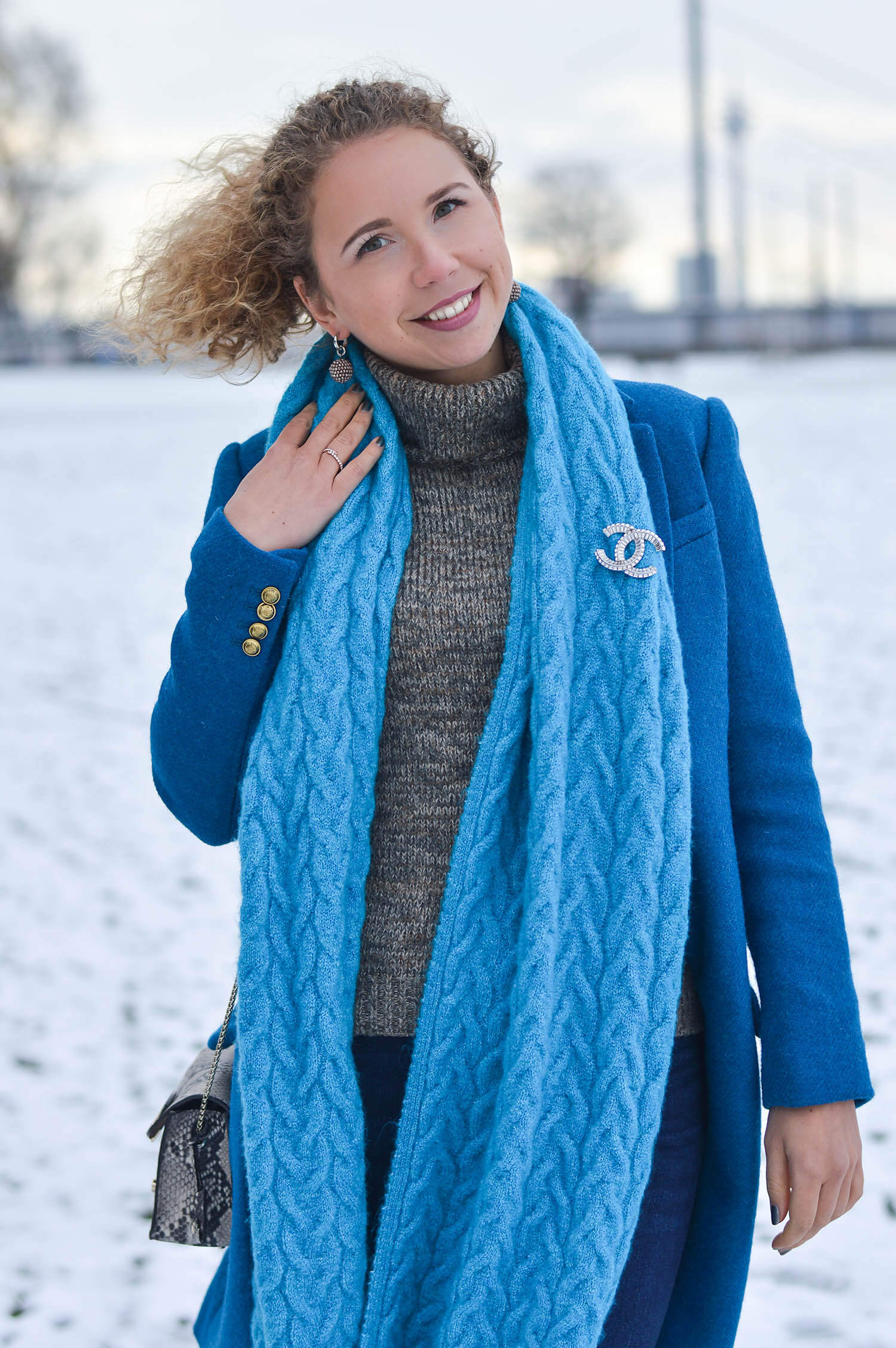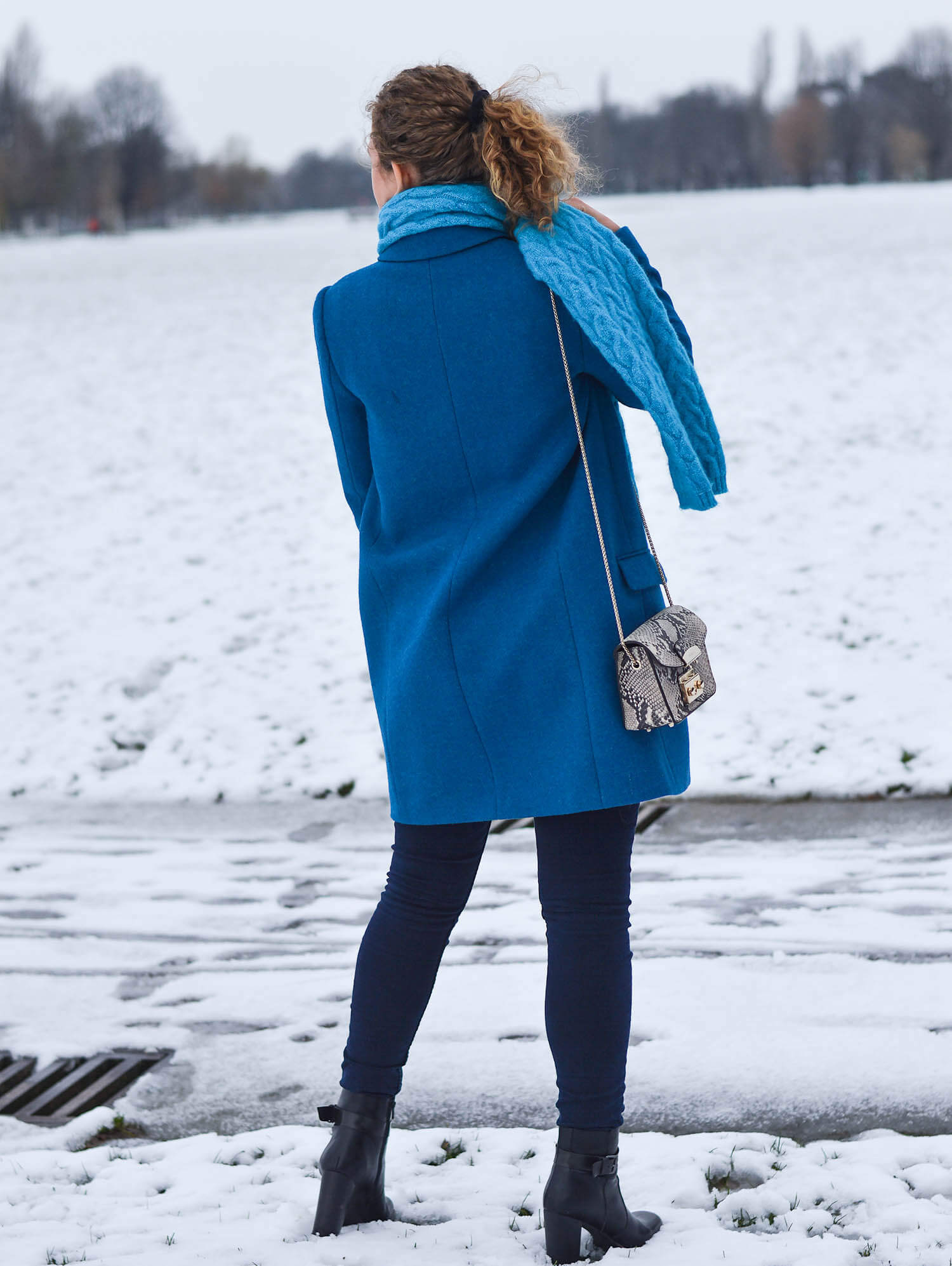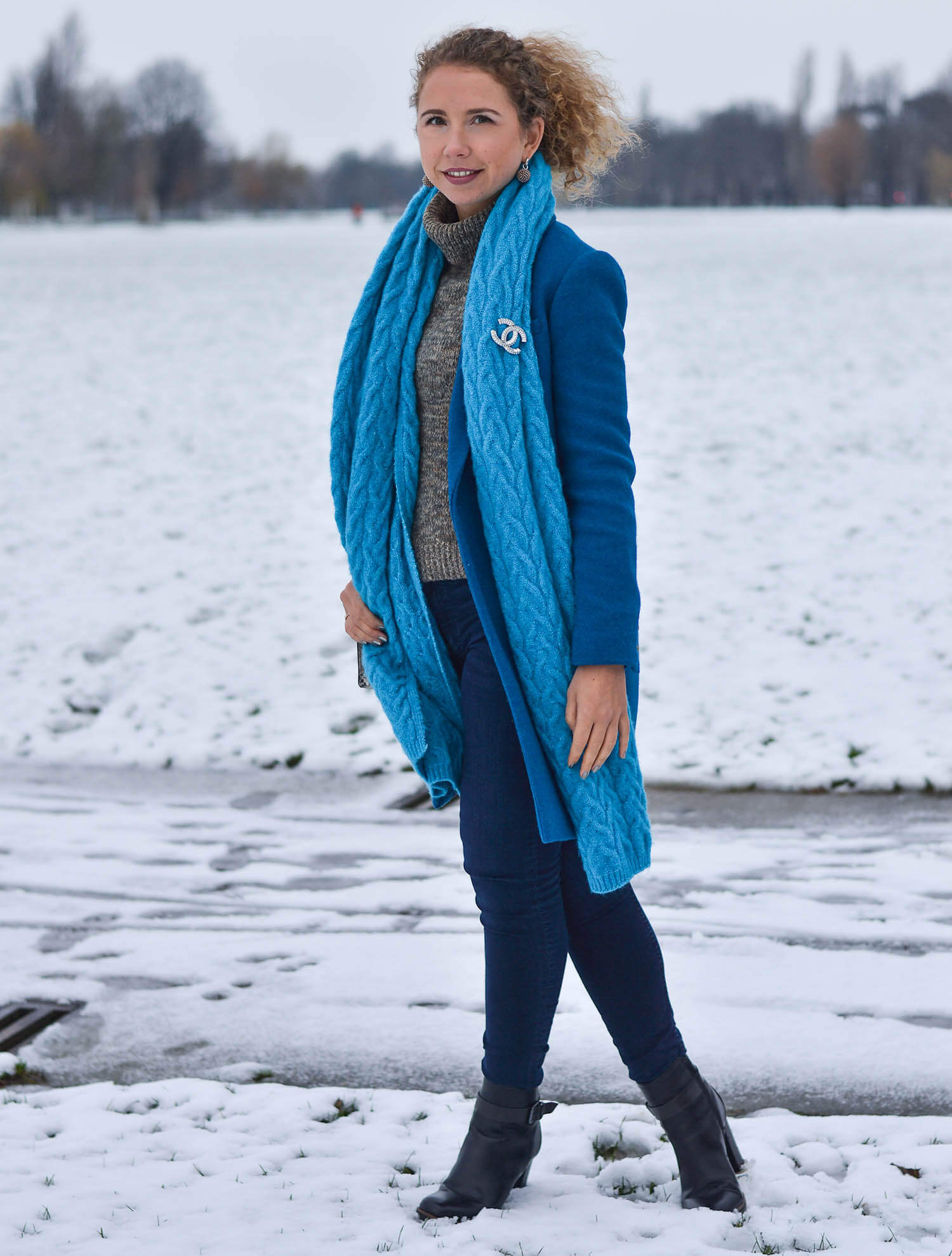 Ich wünsche euch ein wunderschönes, glückliches, aufregendes, erfolgreiches und vor allen Dingen gesundes neues Jahr!
Um hier auf dem Blog ins neue Jahr – 2018 – zu starten, habe ich mir ein frisches Outfit mit leuchtenden Blautönen ausgesucht. Geshootet haben wir den Look Anfang Dezember als es tatsächlich mal ein ganzes Wochenende ordentlich geschneit hat bei uns…
Azur und Beige im Schnee
Für den Tag im verschneiten Düsseldorf mit anschließendem Weihnachtsmarktbesuch habe ich zu meinem edlen blauen Mantel aus Harris Tweed von J.Crew gegriffen. Dazu trage ich meinen neuen XL-Strickschal mit Zopfmuster von Zara. Ich habe ihn auf Madeira gefunden und war sofort verliebt in die knallig azurblaue Farbe. Ist er nicht wunderschön?
Bei all dem Blau habe ich den Rest des Winterlooks schlicht gehalten und eine enge dunkle Jeans sowie einen beigefarbenen Rolli aus Strick dazu kombiniert. Bei den Accessoires, Furla Tasche und Ohrhänger, bin ich ebenfalls bei Beige-Tönen geblieben.
Die letzte Nacht des Jahres
Seid ihr eigentlich gut ins neue Jahr gerutscht gestern? Wie und wo habt ihr gefeiert? Wir waren mit Freunden ganz ungewohnt für uns auswärts essen und feiern. Eigentlich mag ich an Silvester am liebsten Hauspartys bzw. gemütliche Abende daheim mit oder bei Freunden. Dementsprechend hatten wir kaum Erwartungen dieses Mal. Tja, was soll ich sagen: Die wurden vollends übertroffen; wir hatten einen rundum schönen Abend, haben viel getanzt, gelacht und das neue Jahr begrüßt!
Coat: J.Crew
Scarf: Zara
Sweater: Hallhuber
Jeans: H&M
Bag: Furla
Shop my Look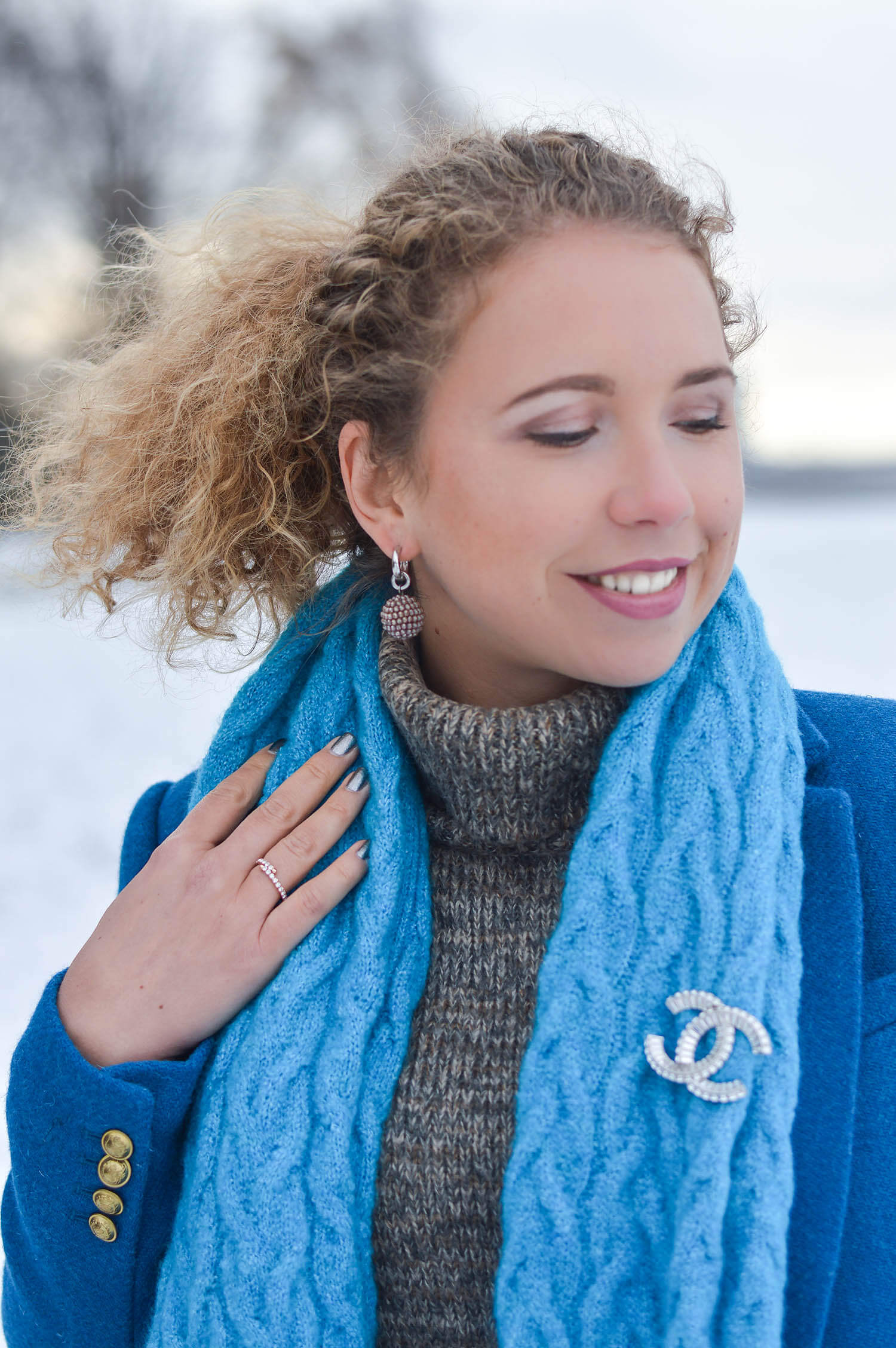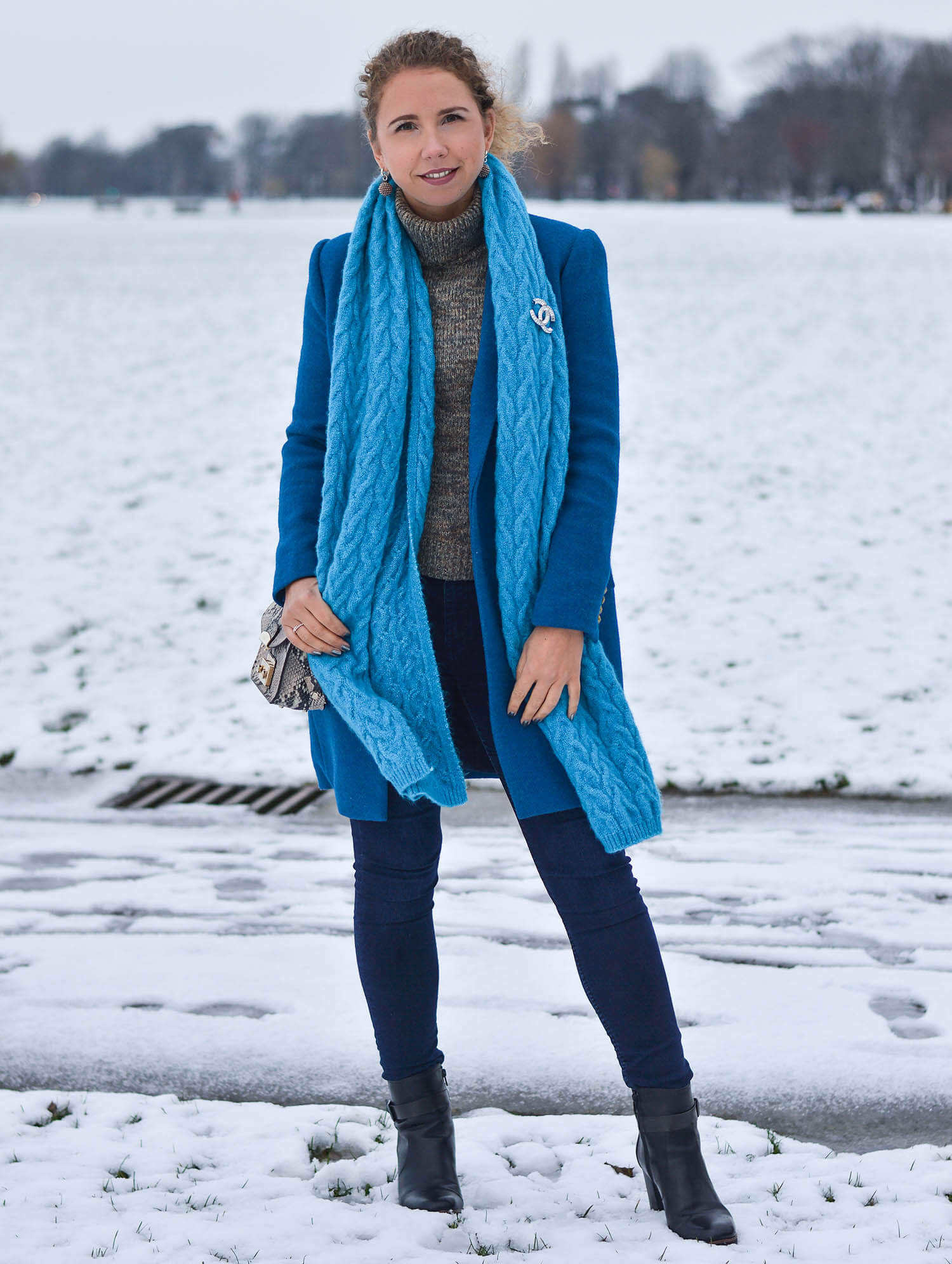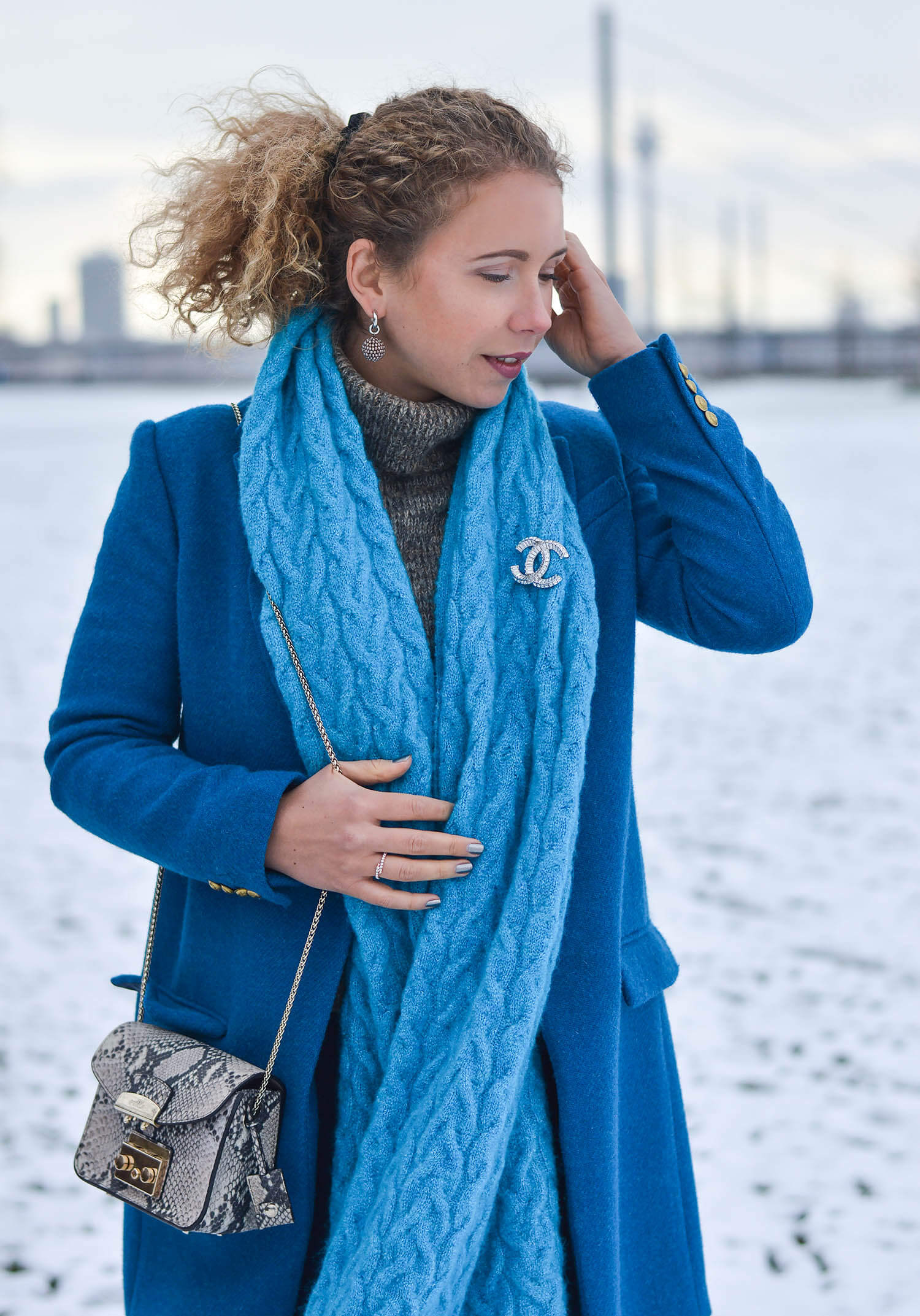 ---
I wish you a wonderful, happy, exciting, successful and especially healthy new year!
To start here on the blog into the new year 2018, I chose a fresh outfit with bright blue tones. We shot these pics at the beginning of December, when we had a real snow weekend here…
Azure and beige in the snow
For this day in snowy Dusseldorf with Christmas market visit, I wore my elegant blue coat made of Harris tweed from J.Crew. I match it with my new XL cable-knit scarf from Zara. I found it on Madeira and fell in love with this loud azure blue color. Isn't it beautiful?
At all those blue shades, the rest of the look is quite simple with some skinny blue jeans and a turtleneck knit sweater in beige. The accessories, my Furla bag and earrings are also beige and I really like this blue-beige combo.
The last night of the year
I really hope you all had a successful start to the new year last night? Where and how did you celebrate? We've been out with some friends and it was really, really nice despite the fact that I usually like house parties on New Year's Eve best.