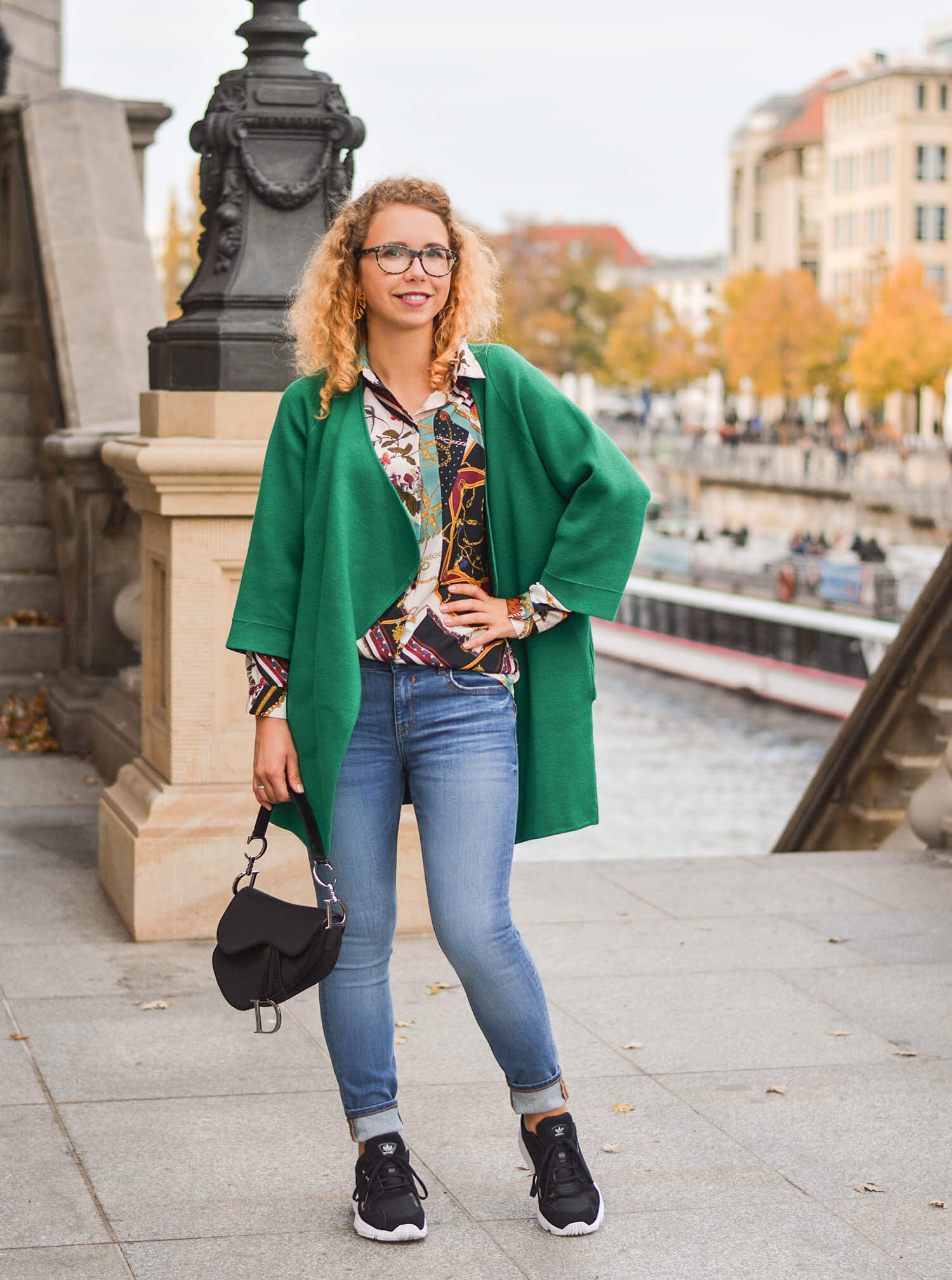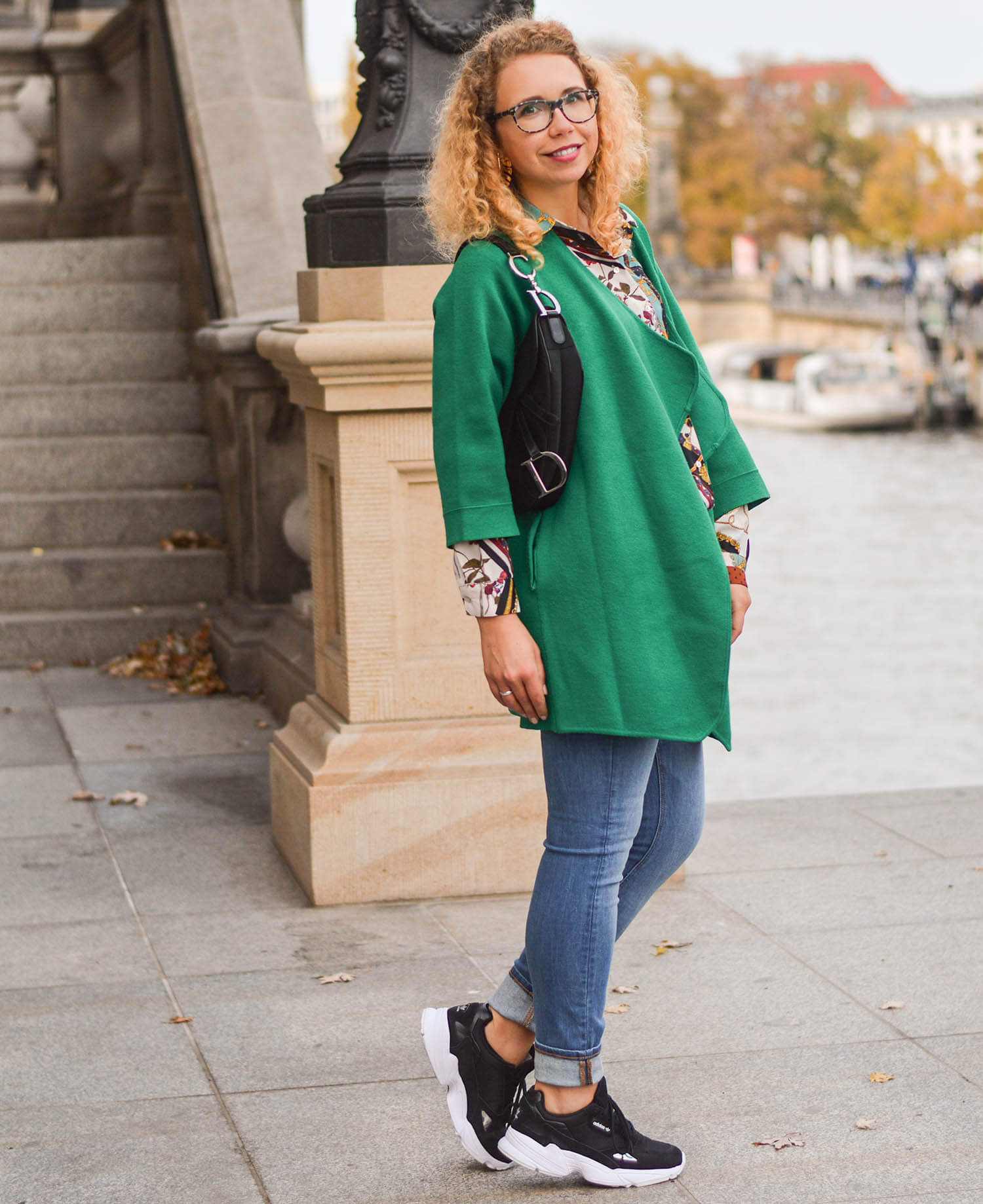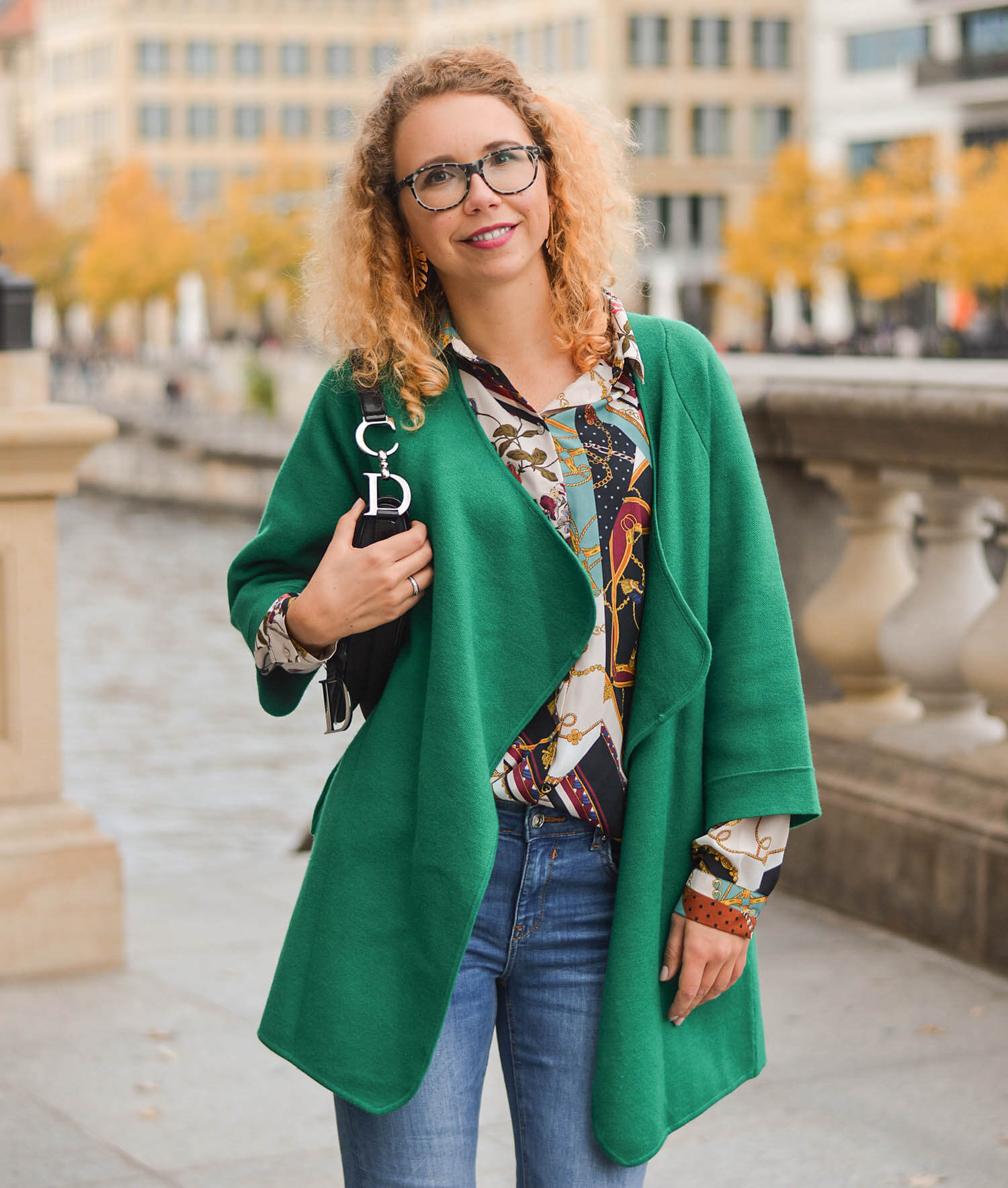 Enthält Affiliate Links
Meine Lieben, ich hoffe, ihr hattet alle ein schönes Wochenende? Das Wetter war bei uns ausnahmsweise mal nicht so schön – so richtig nasskalt. Aber somit die beste Gelegenheit, um schon mal ein bisschen weihnachtlich zu dekorieren. Und Zeit für neue Blogposts – heute mit einem weiteren Outfit aus Berlin und meinen neuen Adidas Falcon Sneakern.
Adidas Falcon – Chunky Sneaker light
Seit einigen Monaten können Sneaker nicht klobig genug sein. Unter dem Namen "Chunky Sneaker" sah man sie zuerst bei Balenciaga und inzwischen bei allen denkbaren Marken zwischen High Class und Discount. Sie passen zur Jeans genauso wie zum zarten Maxikleid oder Minirock. Einige der Modelle waren mir persönlich immer ein wenig zu klobig oder aber auch zu kostenintensiv. Ich hatte Angst, dass ich mich vielleicht schnell an ihnen satt sehe würde. Seit Anfang September dann aber der Adidas Falcon auftauchte, ging er mir nicht mehr aus dem Kopf.
Der Adidas Falcon wurde durch die 90er inspiriert und ist exklusiv für uns Ladies erhältlich. Der Sneaker kombiniert Wildleder mit Mesh und reflektierenden Elementen. Er ist für mich die perfekte Mischung aus dem beliebten Retro-Chunky-Sneaker und einem modernen Schuh. Und mit knapp 100 Euro auch noch vergleichsweise günstig. Dennoch habe ich ein wenig gezögert, wohl auch, weil es ihn in so vielen verschiedenen Farbgebungen gibt. Da fällt die Entscheidung gar nicht so leicht…
In Kombination mit Kettenprint und Dior Saddle
In Berlin war es dann soweit. Ich habe in einem Adidas-Store verschiedene Farbgebungen anprobiert und letztlich ist es die denkbar schlichteste geworden: ganz klassisch in Schwarz und Weiß… Ich dachte erst, dies könnte ein bisschen langweilig sein, aber die Variante passt einfach am besten zu mir. Sie ist zeitlos und ich mag den starken Kontrast sehr.
Natürlich mussten die neuen Schuhe direkt ausgeführt werden. Ich trage sie hier mit Slim Jeans, meiner Zara-Bluse mit Kettenprint, einem grünen Cardigan und meiner Vintage Dior Saddle Bag. Seitdem sind die Sneaker ständig in Gebrauch, weil sie zudem noch irre bequem sind.
Wie steht ihr zum Chunky oder auch Ugly Sneaker Trend? ;-)
Cardigan: Smashed Lemon
Blouse, Jeans: Zara
Shoes: Adidas
Bag: Vintage Dior
Shop my Look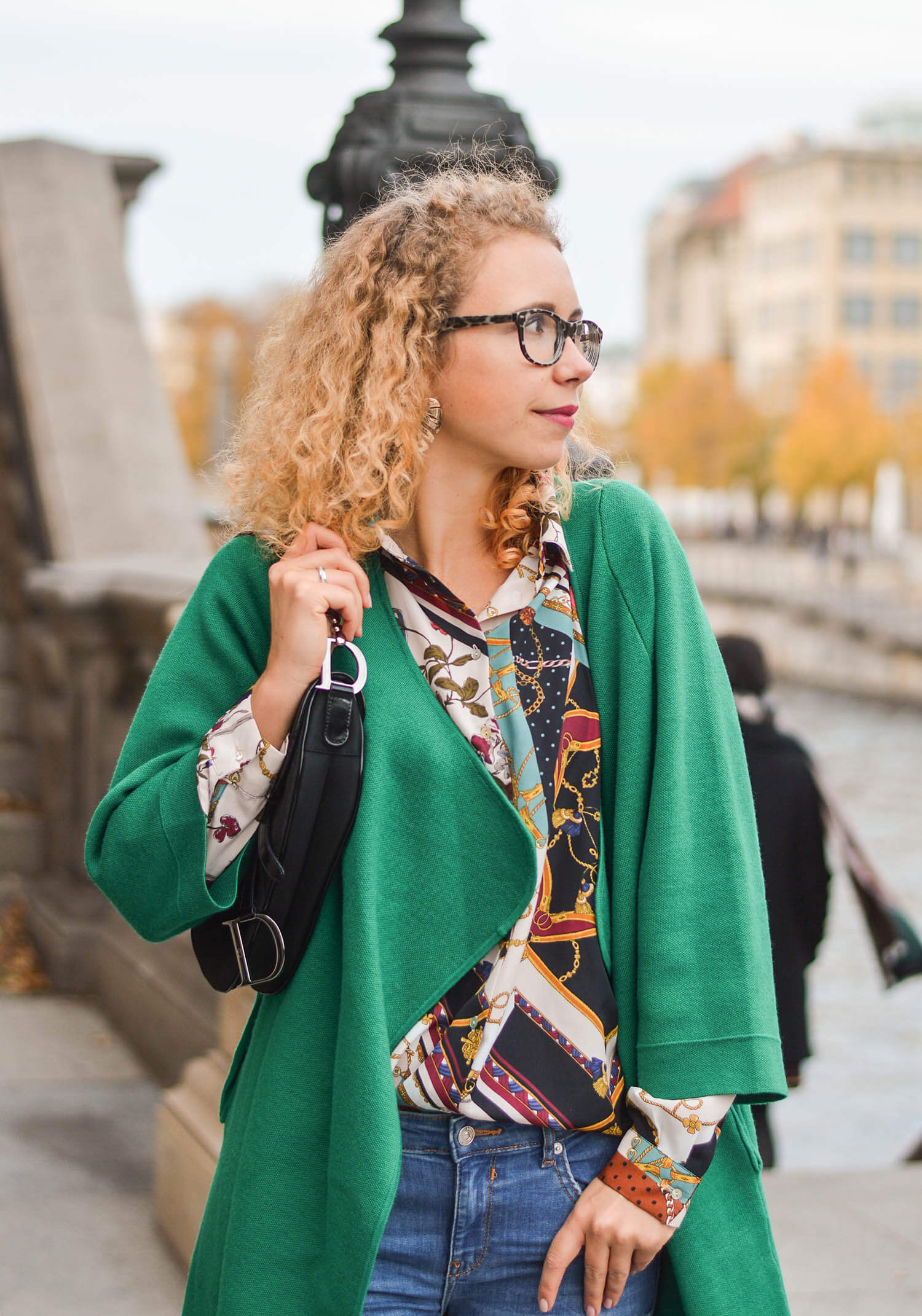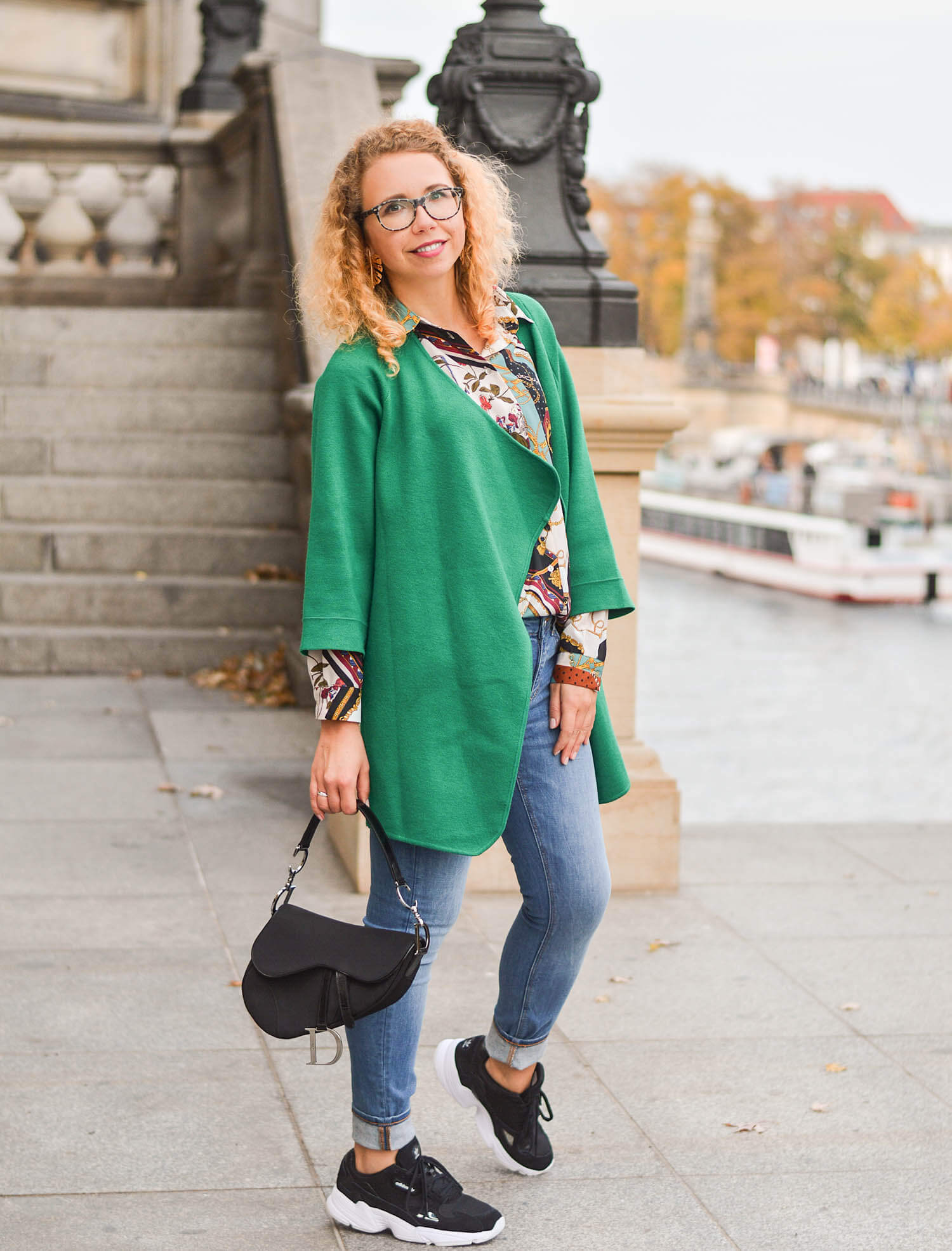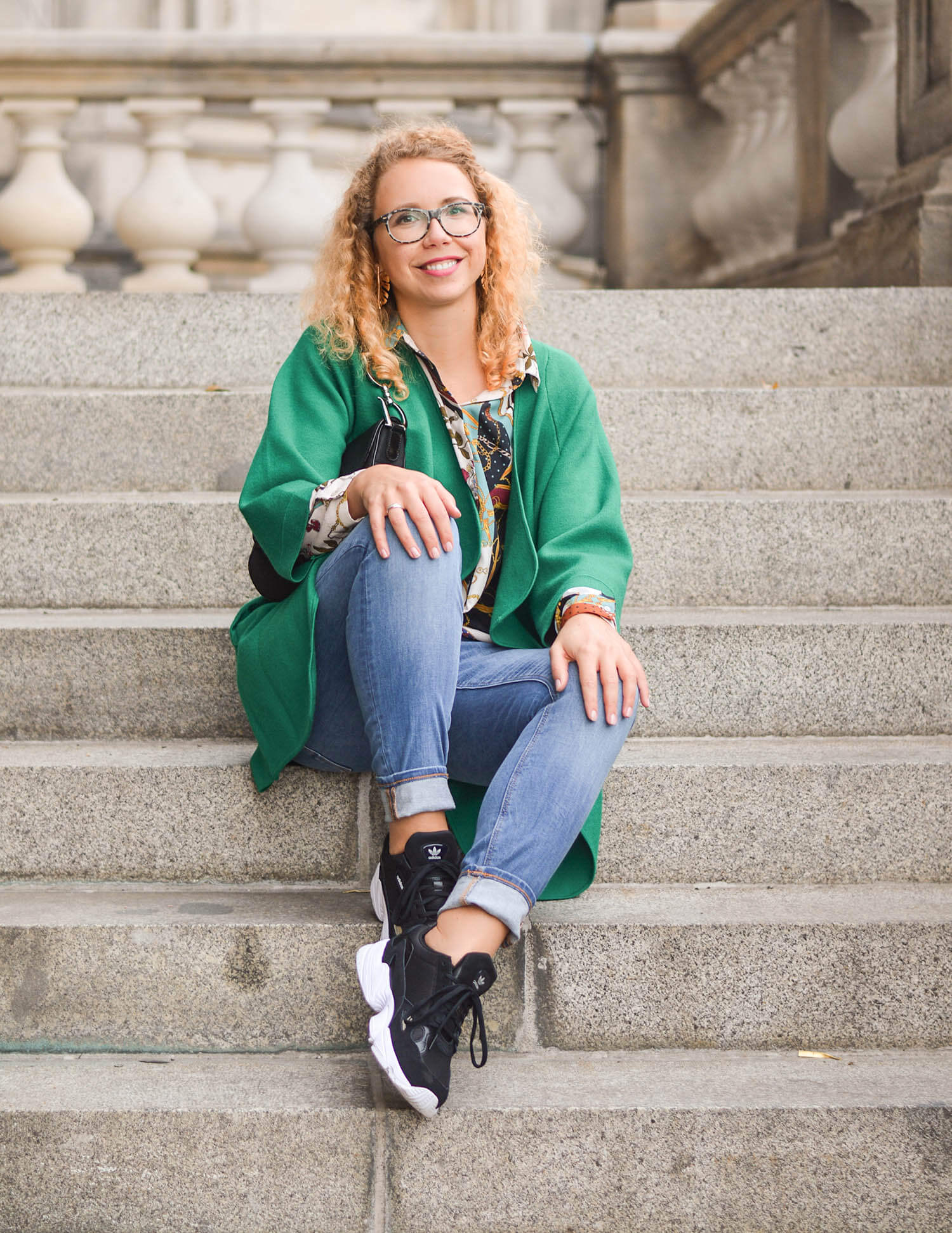 ---
Cuties, I hope you've all had a nice weekend? For once, the weather wasn't so nice for us – really wet and cold. But it was the best opportunity starting with Christmas decorations. And time for new blogposts – today with another outfit from Berlin and my new Adidas Falcon sneakers.
Adidas Falcon – Chunky Sneaker light
For a few months now, sneakers can't be clunky enough. Under the name "Chunky Sneaker" they were first seen at Balenciaga and now at all conceivable brands between high class and discount. They go just as well with jeans as with a delicate maxi dress or mini skirt. Some of the models were a little too chunky or too expensive for me. I was afraid that I might soon get tired of them. But since the beginning of September, when the Adidas Falcon appeared, I couldn't get it out of my head.
The Adidas Falcon was inspired by the 90s and is available exclusively for us ladies. The sneaker combines suede with mesh and reflective elements. For me it is the perfect mixture of the popular retro chunky sneaker and a modern shoe. And with almost 100 Euro it is also comparatively affordable. Nevertheless, I hesitated a little, probably also because it comes in so many different colors. The decision is not that easy…
In combination with chain print and Dior Saddle
In Berlin the time had come. I tried on different colors in an Adidas store and in the end it became the simplest imaginable: very classic in black and white… At first I thought this might be a bit boring, but the version suits me best. It's timeless and I really like the strong contrast.
Of course, the new shoes had to be worn directly. I wear them here with slim jeans, my Zara blouse with chain print, a green cardigan and my vintage Dior Saddle Bag. Since then, the sneakers have been in constant use because they are also very comfortable.
How do you feel about the chunky or ugly sneaker trend?