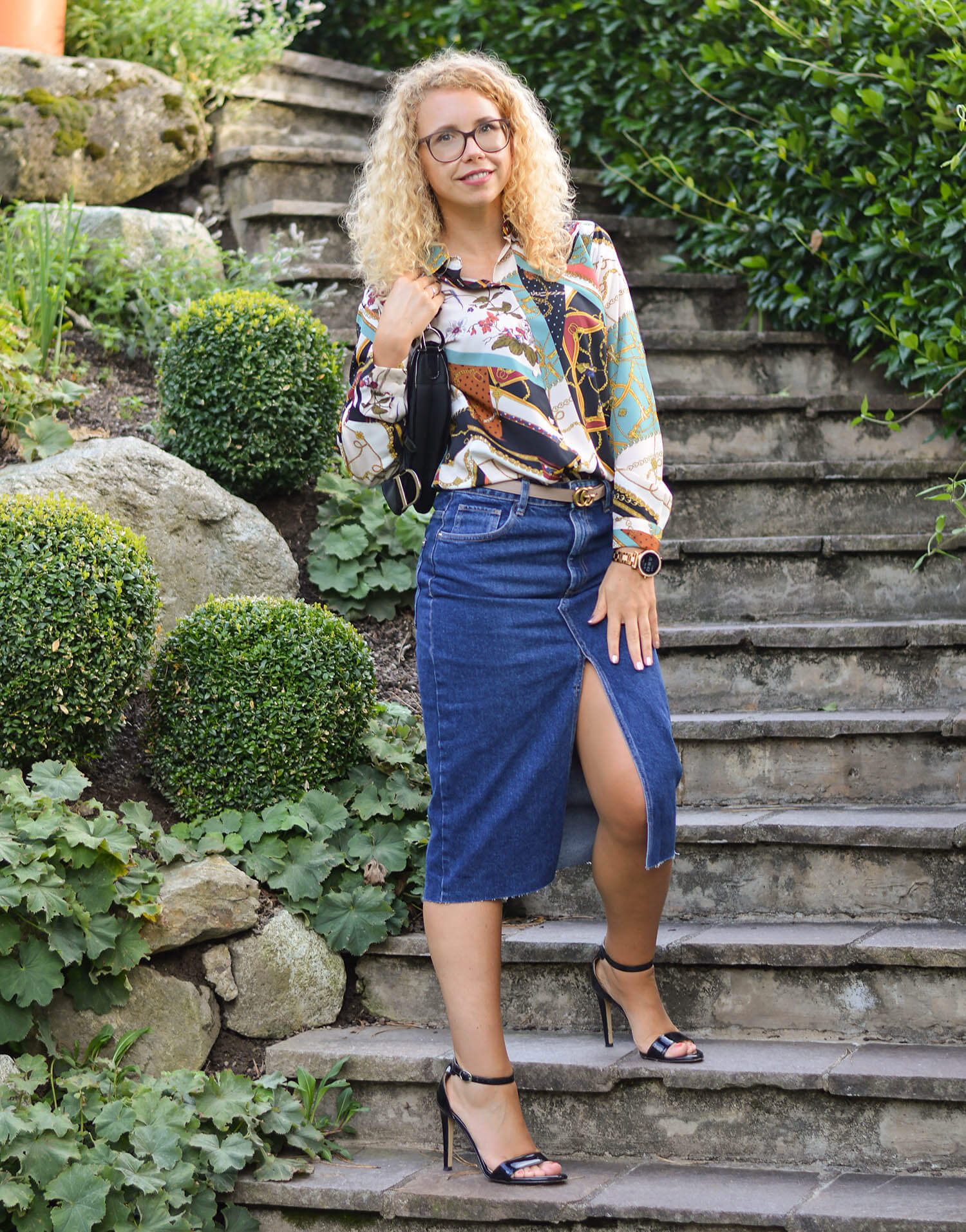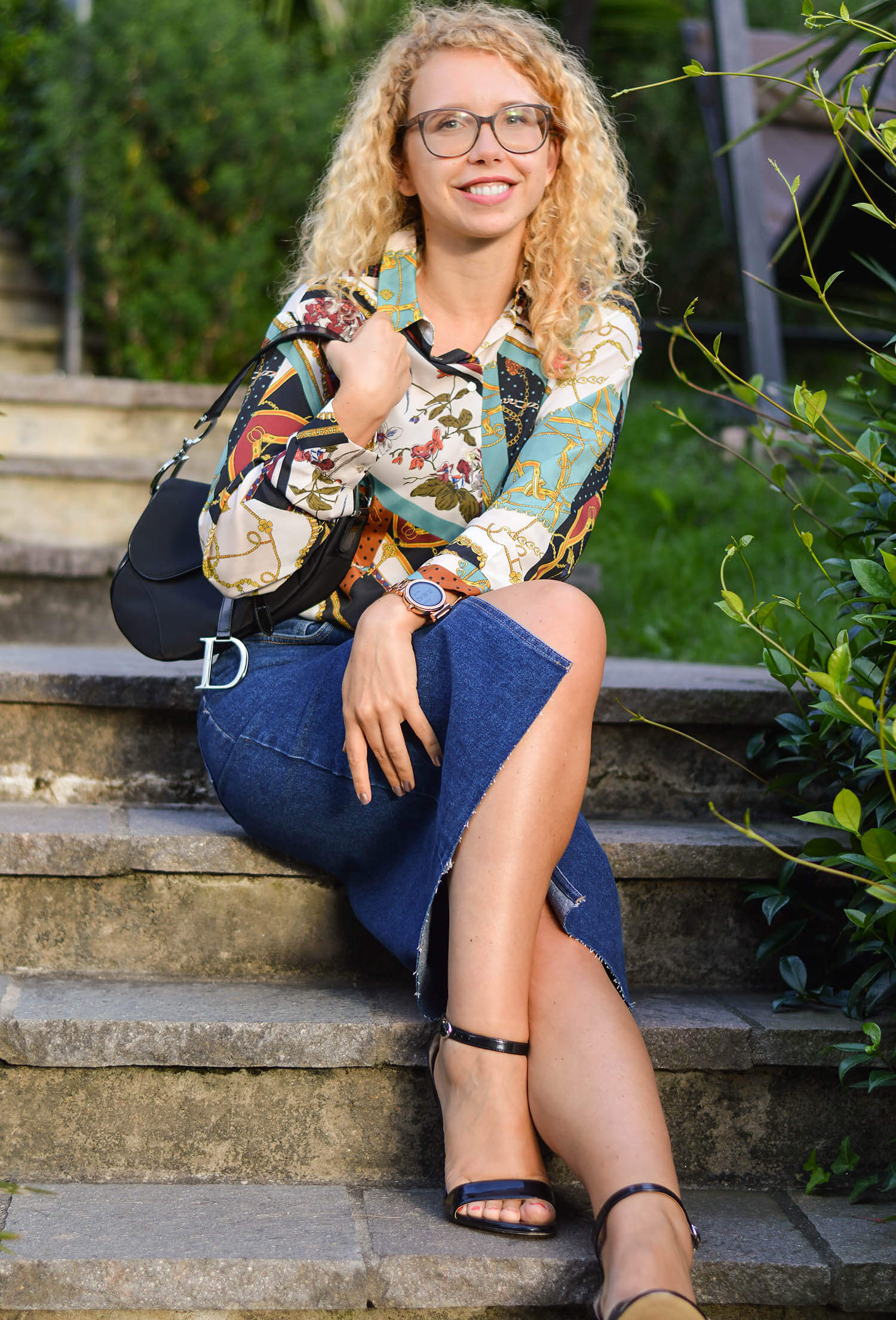 Was wurden wir wieder verwöhnt am Samstag mit herrlichstem Herbstwetter und auch die Prognose für die Woche sieht sehr vielversprechend aus. Spätsommerliches Wetter hatten wir auch Anfang September in Südtirol. Heute zeige ich euch das erste Outfit von dort – mit zwei Neuheiten aus der aktuellen Zara Kollektion.
Kettenprint und Pencil Skirt
Immer, wenn wir in Schenna Urlaub machen, laufen wir an mindestens einem Tag runter nach Meran. Die Kurstadt mit ihren hübschen, 800 Jahre alten Laubengassen bezaubert einfach immer wieder. Seit einigen Jahren gibt es mittendrin auch einen großen Zara-Store, an dem ich natürlich nie vorbeigehen kann. Denn auch wenn es die Teile auch bei uns gibt, erinnere ich mich im Nachhinein doch immer gern an den Ort, an dem ich sie geshoppt habe. :-)
Diese Mal sind die Bluse und der Jeansrock in meiner Einkaufstasche gelandet. Momentan sieht man neben den – von mir ebenfalls heiß geliebten – Animalprints auch viele Tuch- und Kettenprints auf Oberteilen, Kleidern und Röcken. Die Bluse mit besagtem Print gefiel mir direkt richtig gut, und sie ist trotz des auffälligen super vielseitig kombinierbar. Ob mit schwarzen, braunen oder auch rostroten Stoffhosen, Skinny Jeans, Schlaghosen oder eben Röcken macht die Bluse immer eine gute Figur. Sie landete zusammen mit dem geschlitzten Denim Bleistiftrock in der Umkleide und die Kombi hat mich direkt überzeugt. Der Rock ist ziemlich sexy durch den relativ hohen Schlitz. Gleichzeitig ist er dadurch sehr komfortabel und erlaubt auch größere Schritte; was mit Pencil Skirts sonst oft gar nicht so leicht ist. Und mit Strumpfhosen und Stiefeletten wird er auch ganz schnell Herbst- und bürotauglich!
Noch am selben Abend musste ich die neue Kombi direkt ausführen – zusammen mit Gucci-Gürtel, High Heels und meiner Dior Saddle Bag.
Kurzes persönliches Update
Ja ihr Lieben, was soll ich sagen… Ich habe die Knochenmarkspunktion letzte Woche gut überstanden. Der Eingriff selbst war wirklich gut auszuhalten; die Schmerzen beim Sitzen, Liegen und Bücken die Tage danach waren fast unangenehmer. Hinzu kam, dass mich einen Tag nach dem Eingriff – am Feiertag – auch noch eine fiese eitrige Bindehautentzündung erwischt hat. So musste ich noch zum ärztlichen Notdienst und nehme seitdem eine Antibiotika-Augensalbe. Ist auch schon viel besser, nervt natürlich trotzdem… Am Freitag bekomme ich die Ergebnisse von der Punktion – bitte drückt mir noch einmal ganz fest die Daumen!
Blouse, Skirt: Zara
Bag: Dior (Vintage)
Belt: Gucci
Sandals: Deichmann
Shop my Look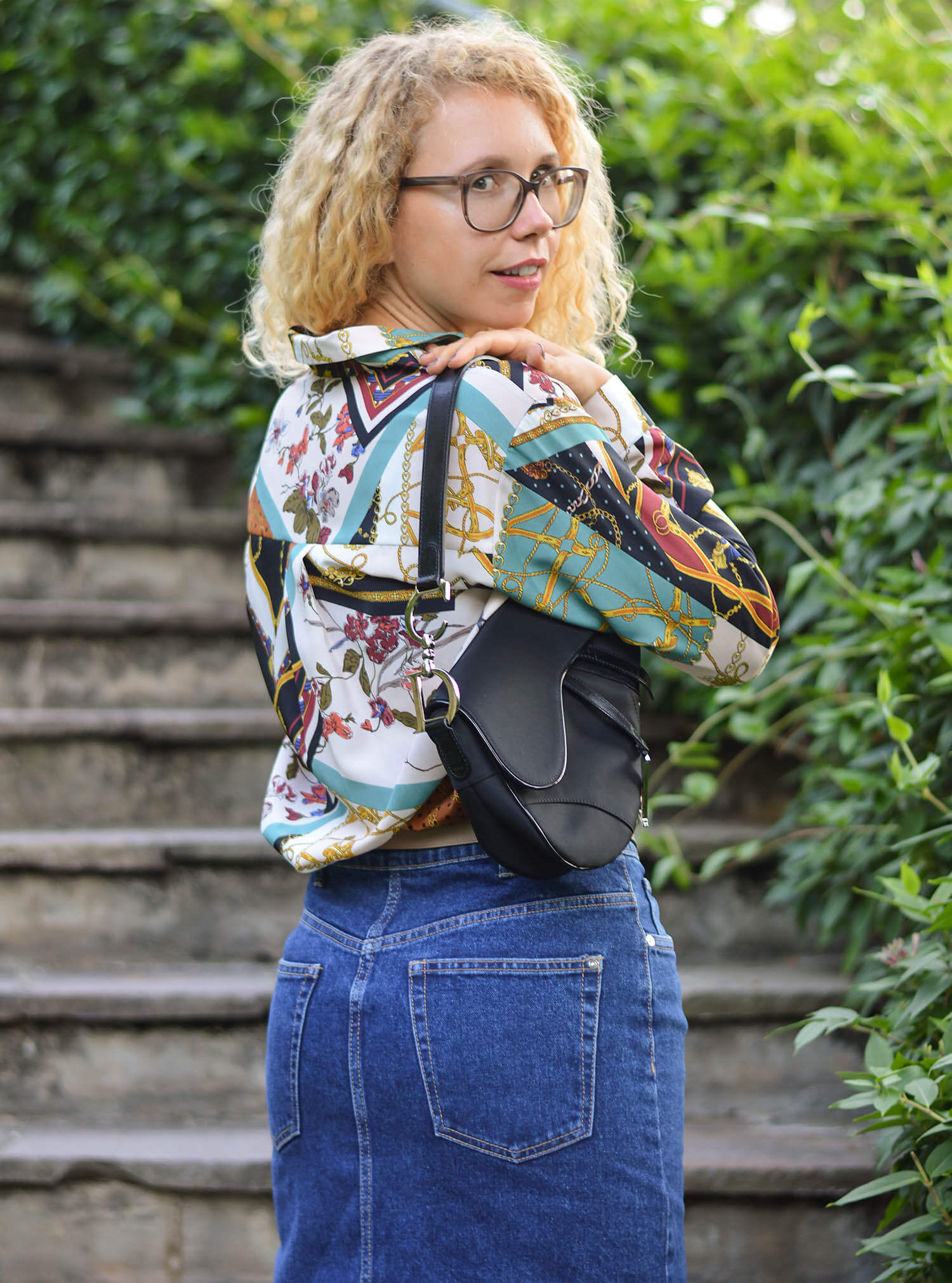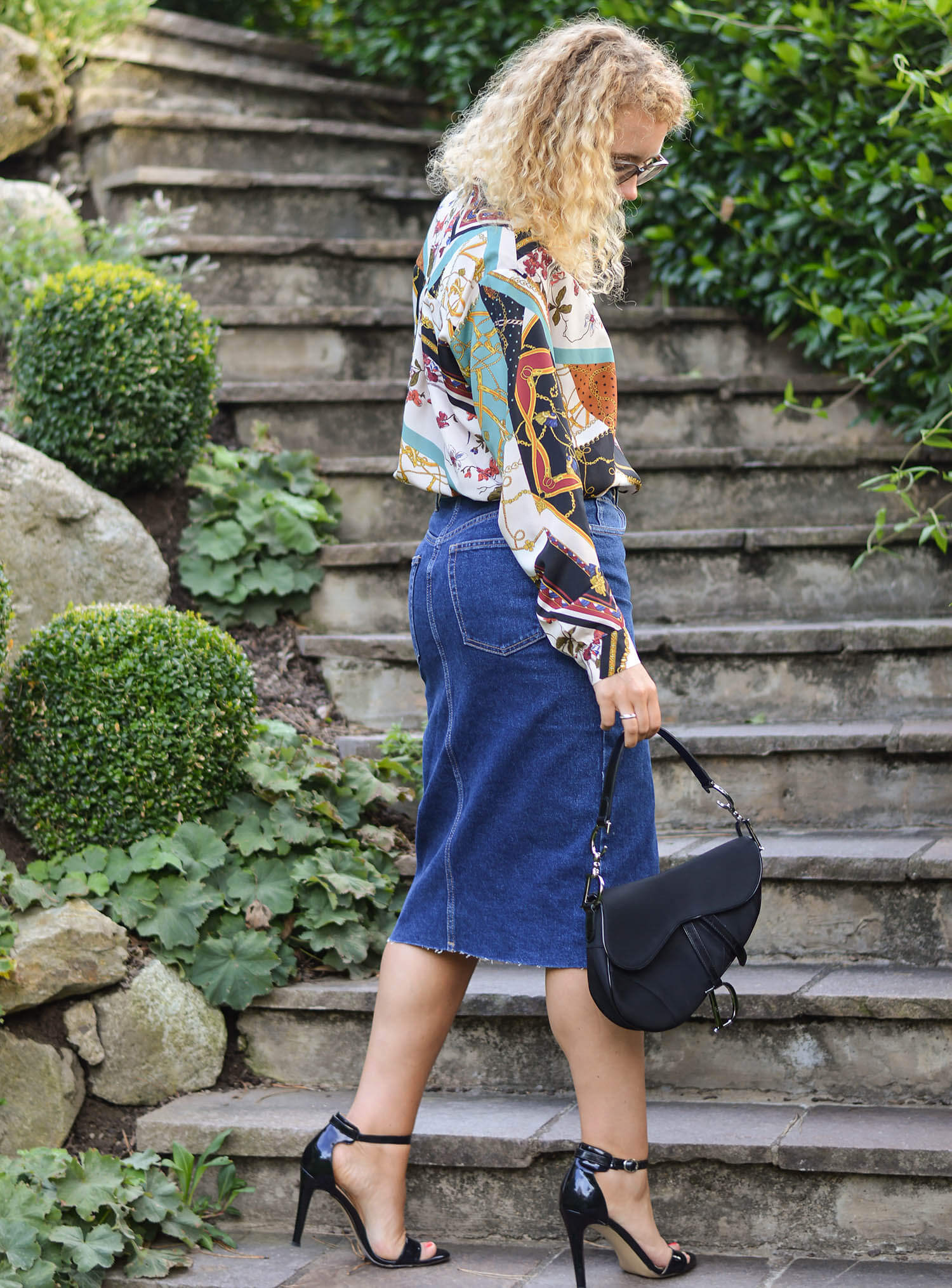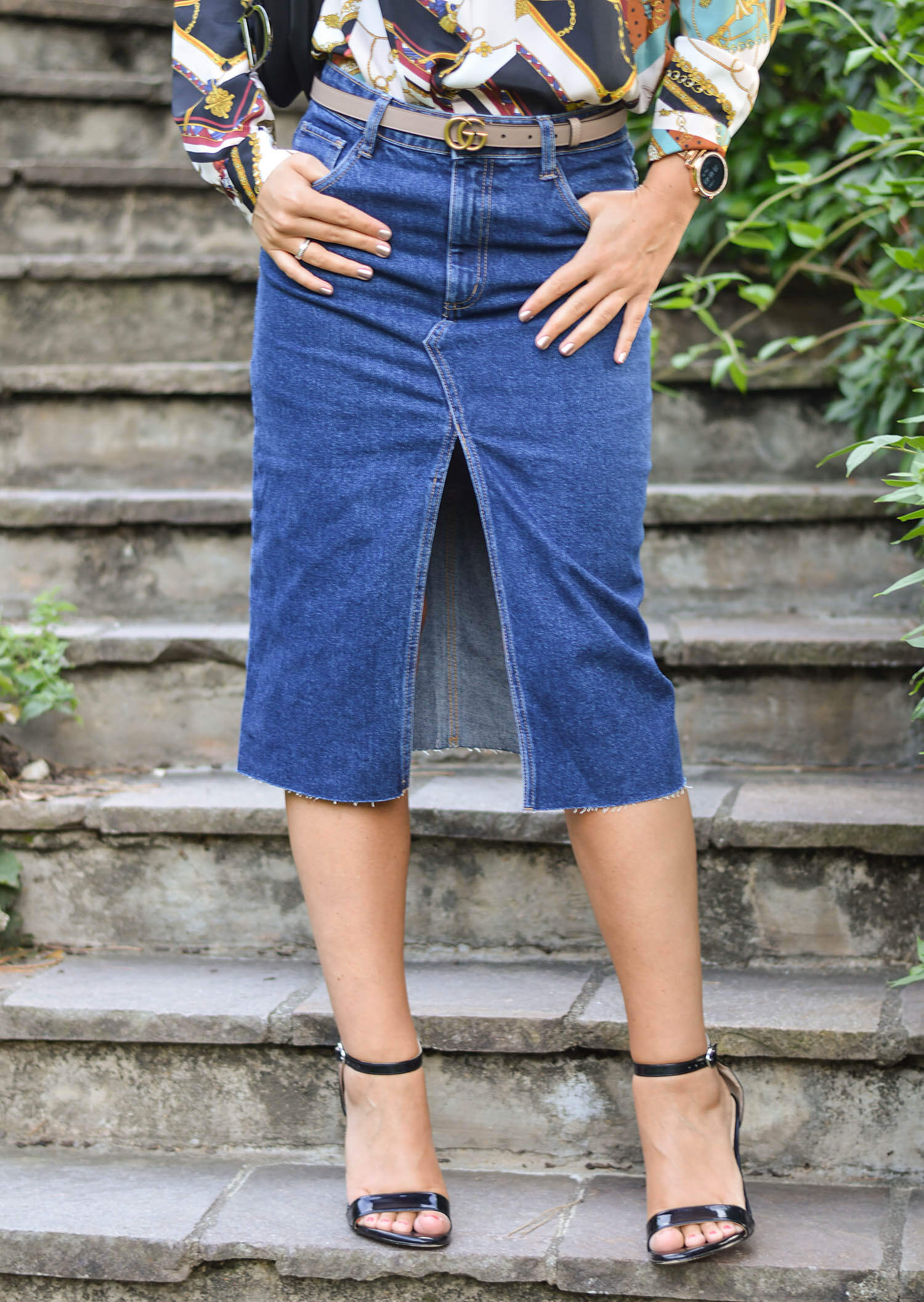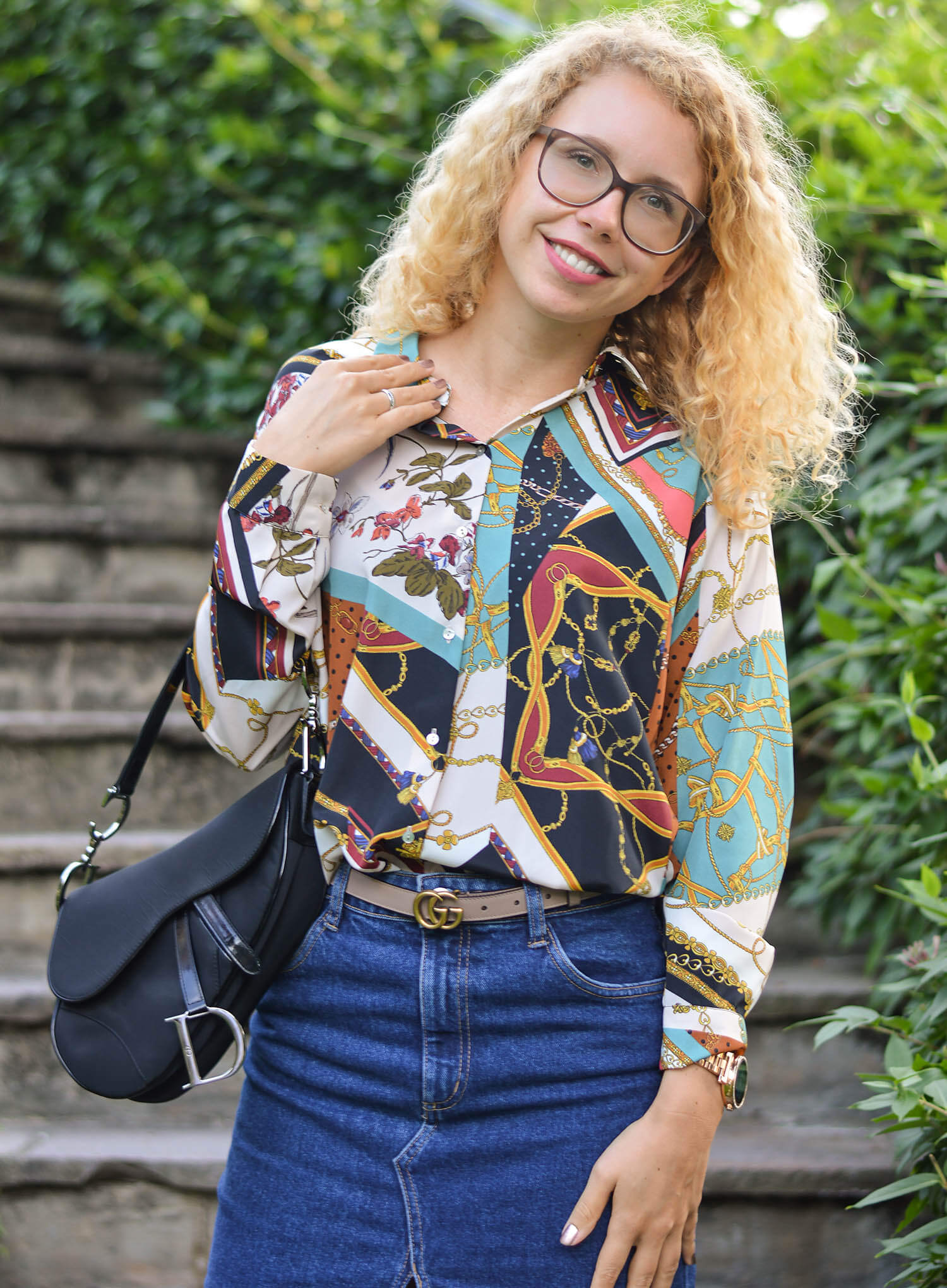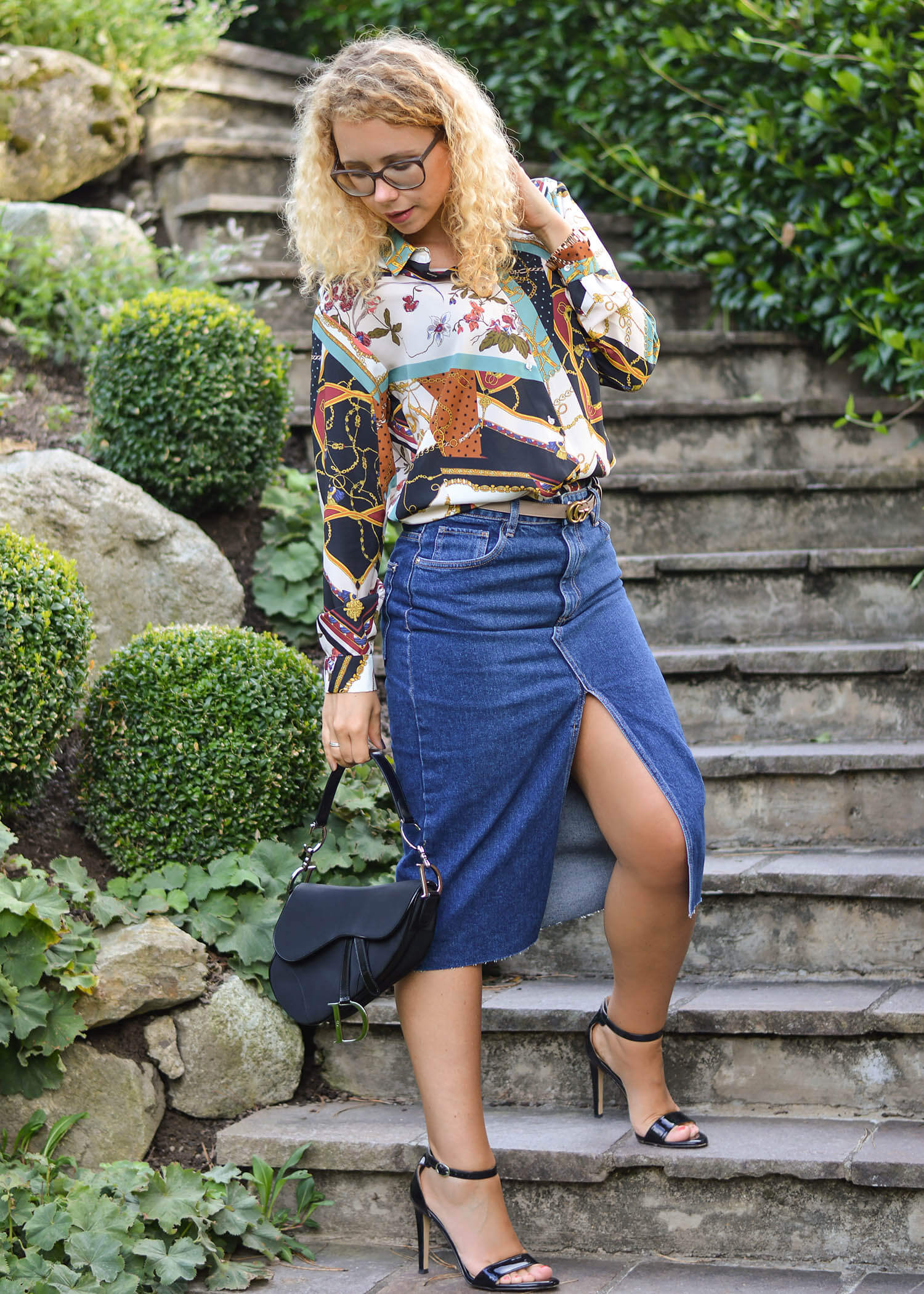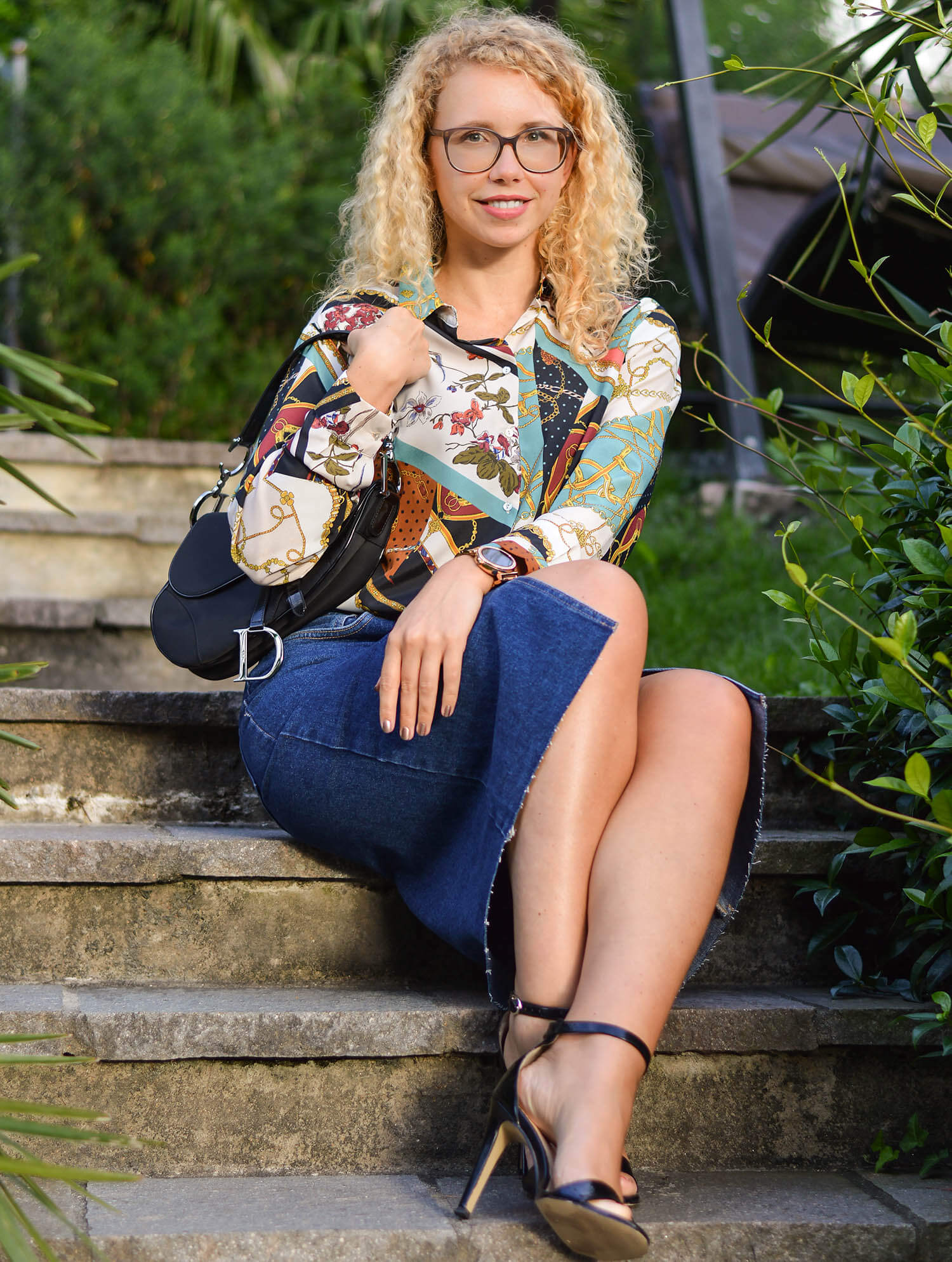 ---
What were we spoiled again on Saturday with wonderful autumn weather and also the forecast for the week looks very promising. Late summer weather was also in South Tirol at the beginning of September. Today I show you the first outfit from there – with two novelties from the current Zara collection.
Chain print and pencil skirt
Whenever we go on holiday in Schenna, we walk down to Merano on at least one day. The health resort town with its pretty, 800 years old arcaded streets simply enchants me again and again. Since some years there is also a big Zara store in the middle of it, which of course I can never pass. :-)
This time the blouse and the jeans skirt landed in my shopping bag. At the moment you can see the animal prints – which I also love very much – as well as many chain prints on tops, dresses and skirts. I really liked the blouse with the print, and despite the eye-catching design it can be combined in many ways. Whether with black, brown or rust-red trousers, skinny jeans, flare pants or even skirts, the blouse always cuts a good figure. It landed together with the slit denim pencil skirt in the changing room and the combo convinced me directly. The skirt is quite sexy because of the relatively high slit. At the same time it is very comfortable and also allows bigger steps; which is not easy with pencil skirts very often at all. And with tights and booties it quickly becomes suitable for autumn and office use!
On the same evening I had to take out the new outfit directly – together with Gucci belt, high heels and my Dior Saddle Bag.
Short personal update
Yes dear ones, what can I say… I survived the bone marrow puncture well last week. The procedure itself was really well tolerated; the pain when sitting, lying down and bending down the days after was almost more unpleasant. In addition, one day after the operation – on the holiday – a nasty conjunctivitis also caught me. So I had to go to the medical emergency service and take an antibiotic eye ointment since then. It's already much better, but of course it's still annoying… On Friday I get the results of the puncture – please keep your fingers crossed again!