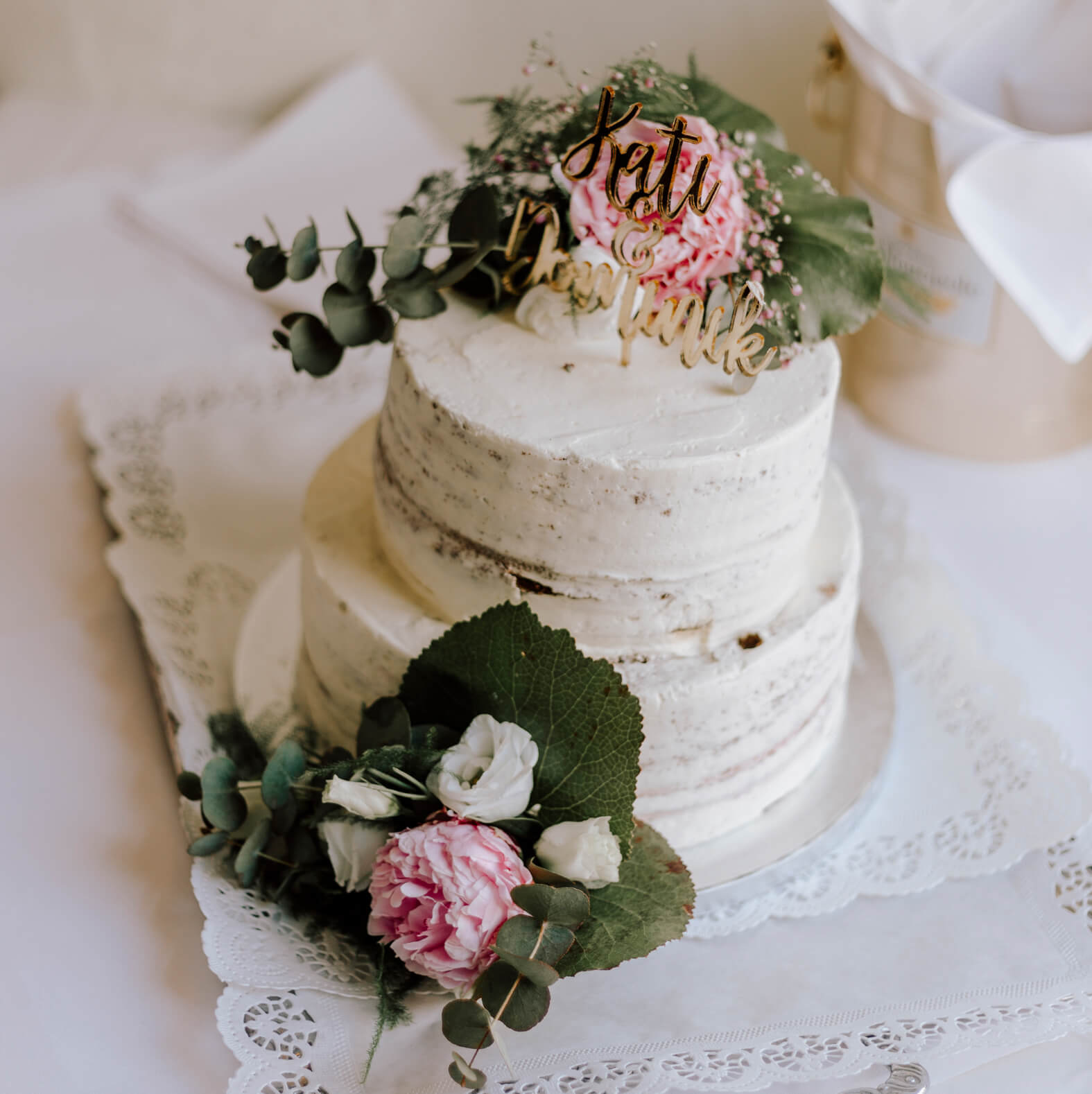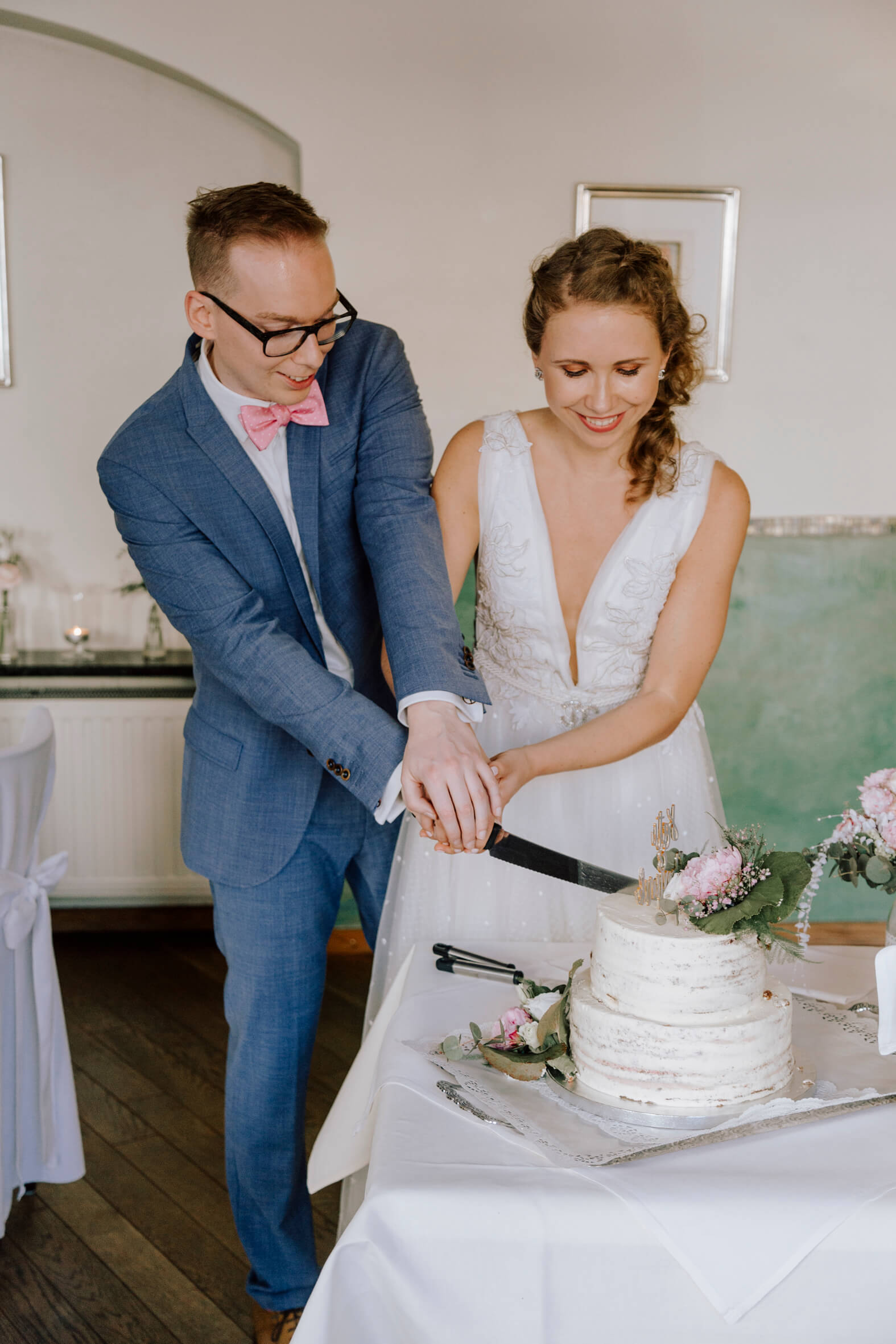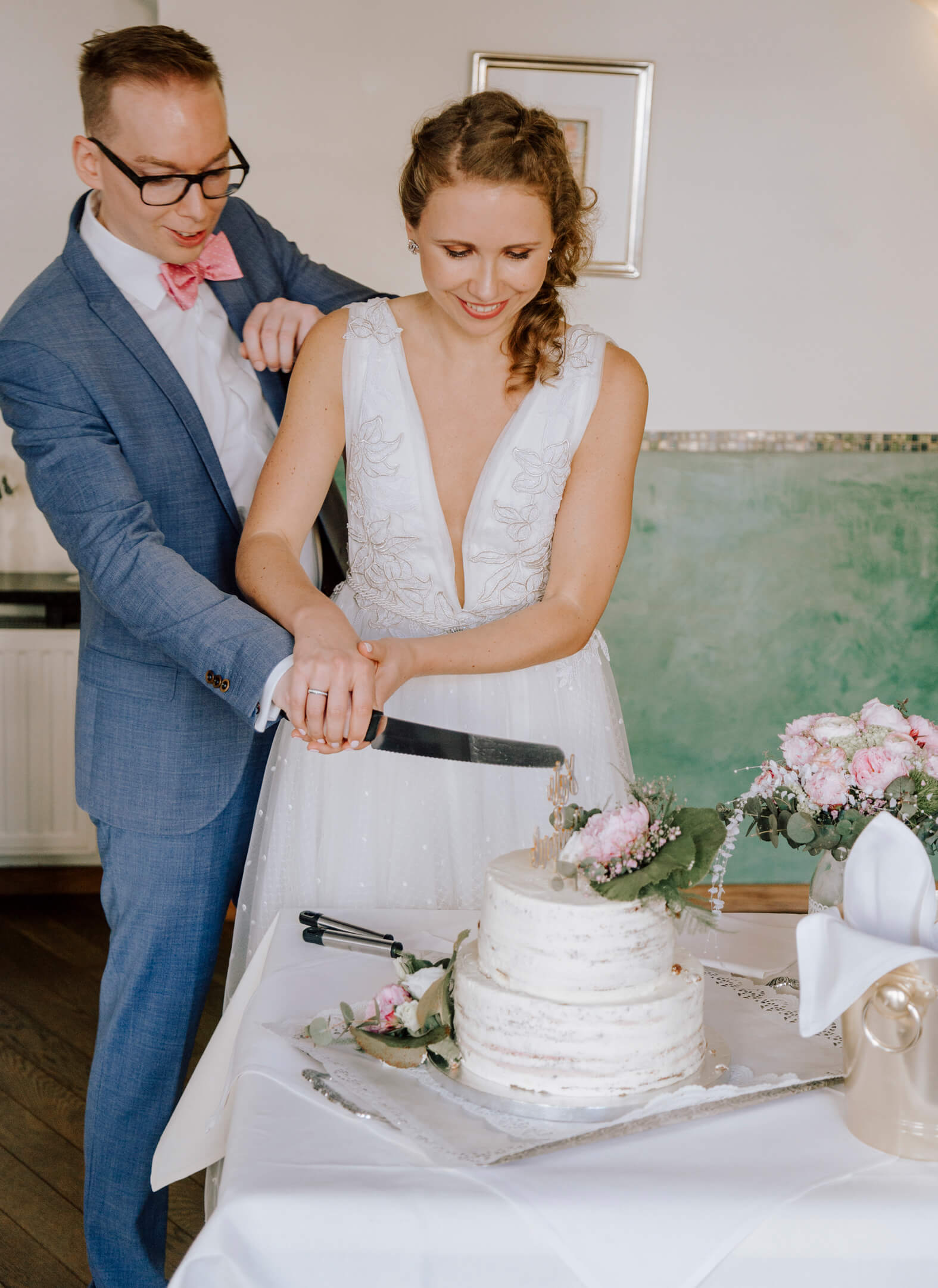 In Kooperation mit Sugarbird Cupcakes Düsseldorf // Nachdem wir uns getraut haben und einen kleinen Sektempfang an unserer Trau-Location beendet haben, ging es zu unserem Lieblingsrestaurant "Mölleckens Altes Zollhaus". Der Plan war es, in Ruhe anzukommen, erneut anzustoßen, die Torte anzuschneiden und mit einem Kaffee sowie zu späterer Stunde ein köstliches Dinner  zu genießen. Wir wussten, ab diesem Zeitpunkt sind wir in besten Händen und müssen uns keinerlei Sorgen machen. Genau so war es auch…
Hochzeitstorte und Dekoration
Den Festraum haben meine Mama und ich ja am Vorabend bereits mit Blumen, Gastgeschenken und Menükarten dekoriert – alles in Rosé, Weiß, ein wenig Flieder und dezentem Grün wie Eukalyptus. Mein Brautstrauß, den mein Papa mitgebracht hat, als er mich fürs Shooting abholte, passte perfekt dazu.
Auch unsere Hochzeitstorte wollte ich gerne mit Blumen dekoriert haben. Passend zu unserer für uns recht unkomplizierten Feier, wollte ich auch eine Torte ohne viel Schnickschnack. Sie sollte natürlich hübsch sein, vor allem aber auch gut schmecken. Fündig geworden bin ich bei Sugarbird Cupcakes. Neben köstlichen Cupcakes oder Macarons fertigen sie auf Bestellung auch Hochzeitstorten an. Und zwar sowohl Naked- als auch Semi Naked Torten wie die unsere.
Der Hubby hat mir hier freie Hand gelassen und beim Vorgespräch entschied ich mich schnell für dunkle Schoko-Biskuitböden und zwei verschiedene Füllungen. Der untere Teil war mit Himbeerbuttercreme gefüllt und der obere mit einer Oreo-Frischkäse-Mischung. Sie wurde außen soft eingestrichen, sodass ein bisschen Biskuit durchschimmert für den Semi Naked, den "halbnackt"-Effekt. :-)
Blumenschmuck, Cake Topper  und Anschnitt
Die lieben Mitarbeiter von Sugarbird Cupcakes hätten mir die Torte auch mit Blüten oder Früchten dekoriert, aber da ich gerne überall den selben Blumenstil wollte, habe ich die Torte ohne zusätzliche Deko bestellt. Meine Mama, die als Floristin natürlich für alle Blumen zuständig war, hat mir zwei kleine Gestecke mit Pfingstrosen gebunden. Passend zum Brautstrauß. Oben auf kam dann noch ein goldener Cake Topper von Fira Studio. Damit war die Torte für uns optisch schon mal perfekt!
Beim Anschneiden habe ich zunächst nicht richtig geschaltet vor lauter Aufregung. So kam es, dass auf den ersten Bildern der Hubby die Hand oben hat. Schnell habe ich es aber gemerkt und meine Hand auf seine gelegt. Also alles ganz ausgeglichen, sinnbildlich für unsere bisherige Beziehung und hoffentlich auch unsere Ehe! :-)
Jetzt wollt ihr aber sicher wissen, wie die Torte geschmeckt hat, oder? Ich kann euch sagen, sie war köstlich. Die Oreo-Füllung fand ich noch ein bisschen leckerer, während der Hubby die Himbeercreme favorisiert hat. Unseren Gästen hat es auf jeden Fall auch sehr gut geschmeckt und Appetit gemacht auf das spätere, ebenfalls unglaublich leckere Dinner!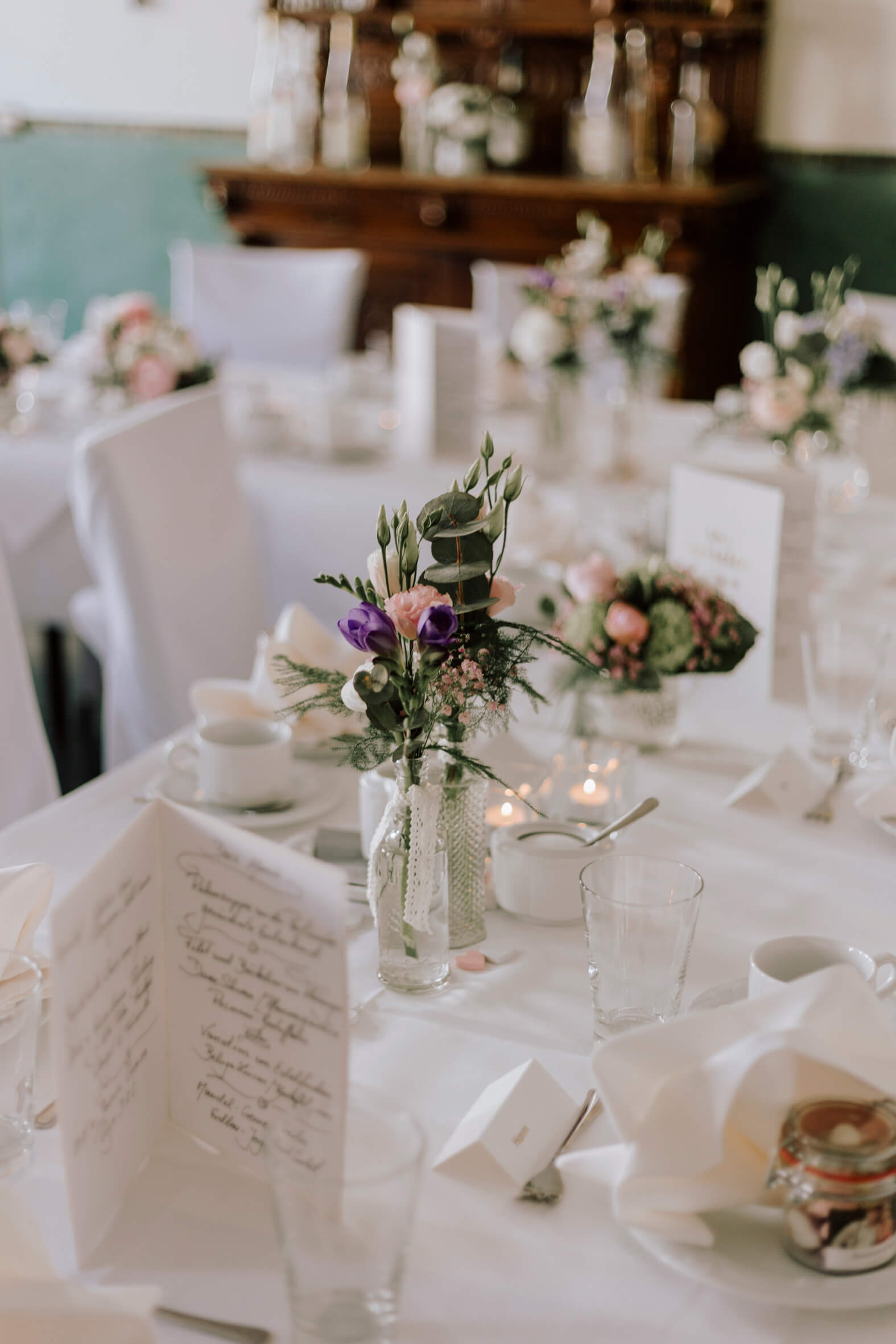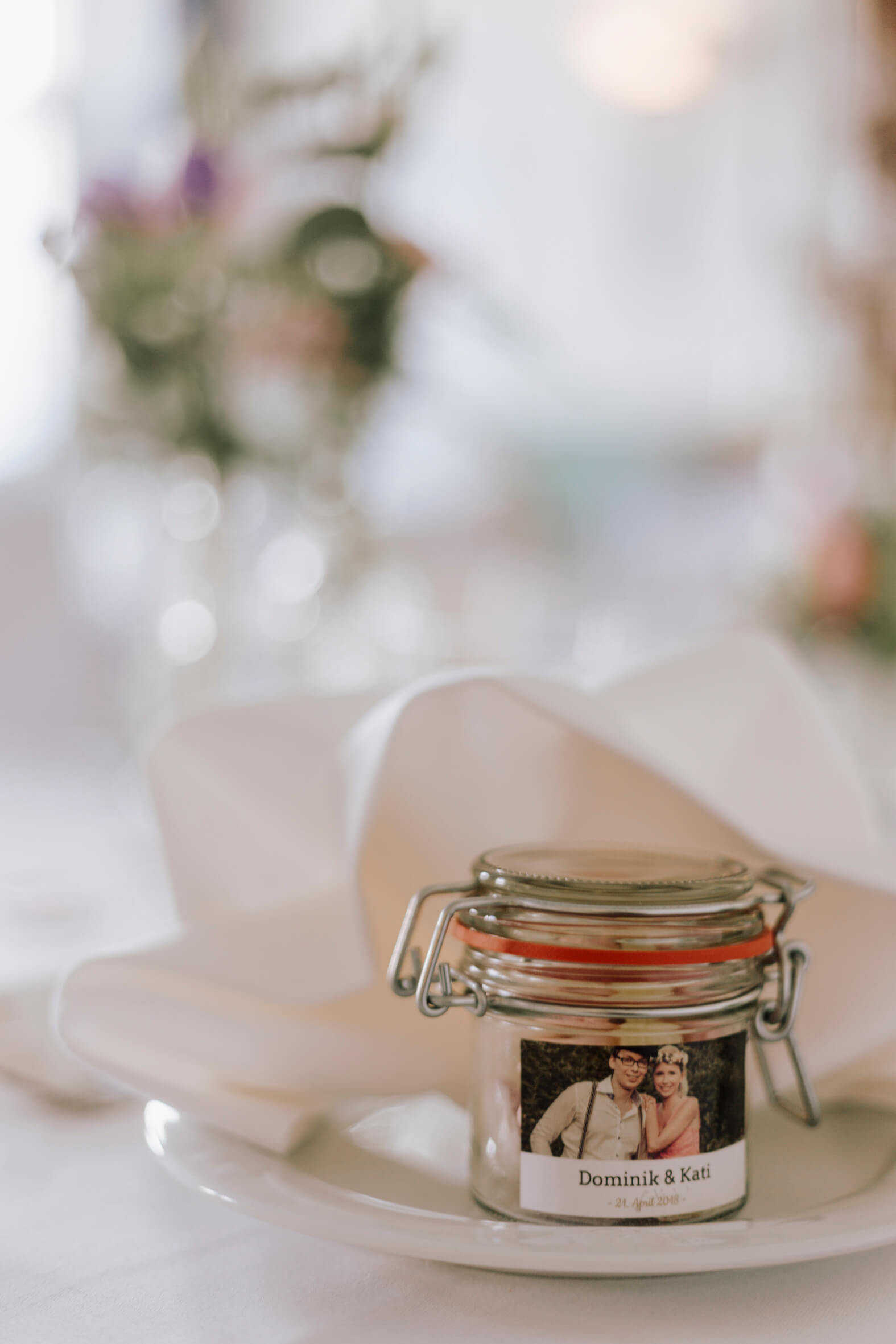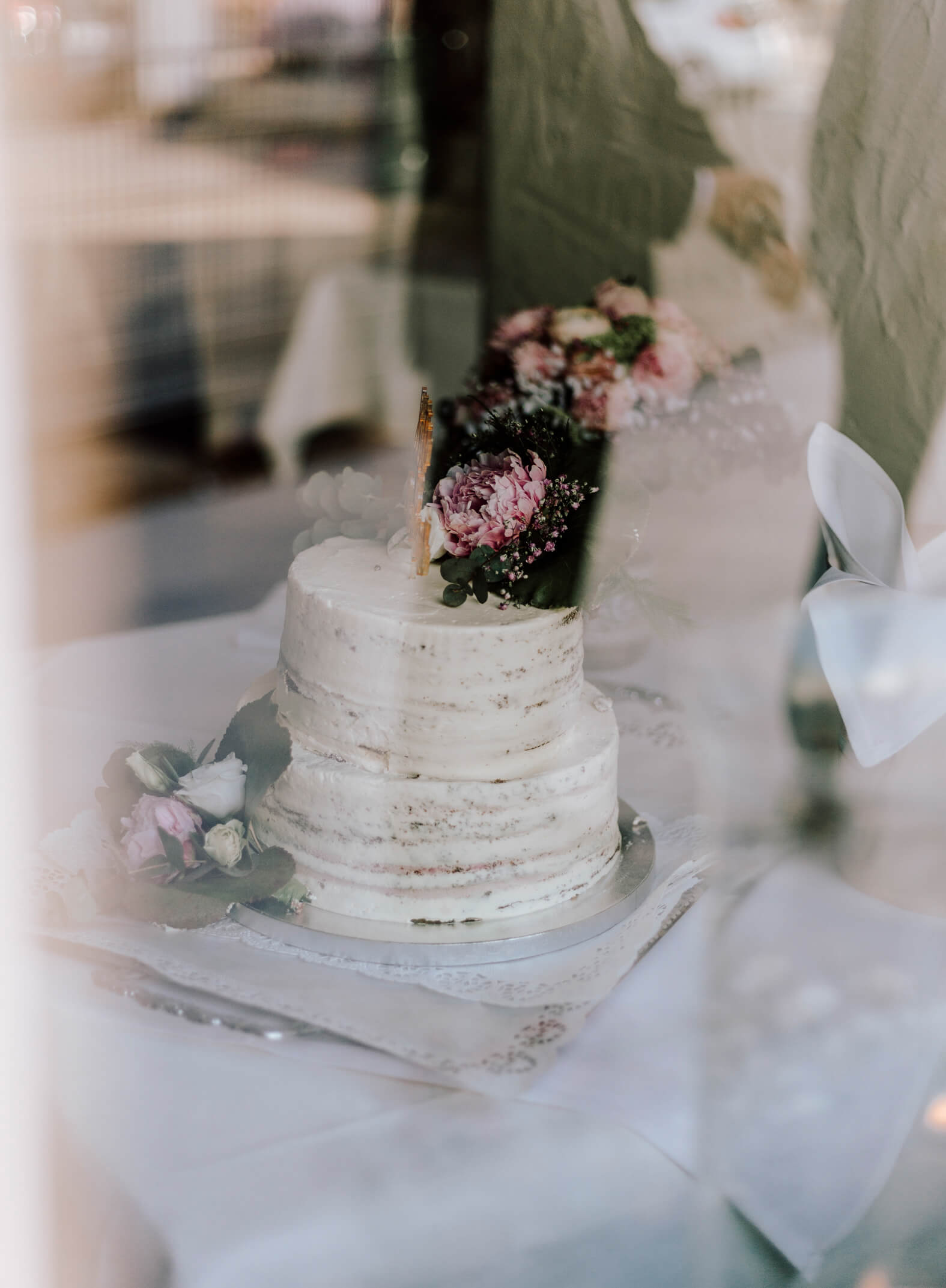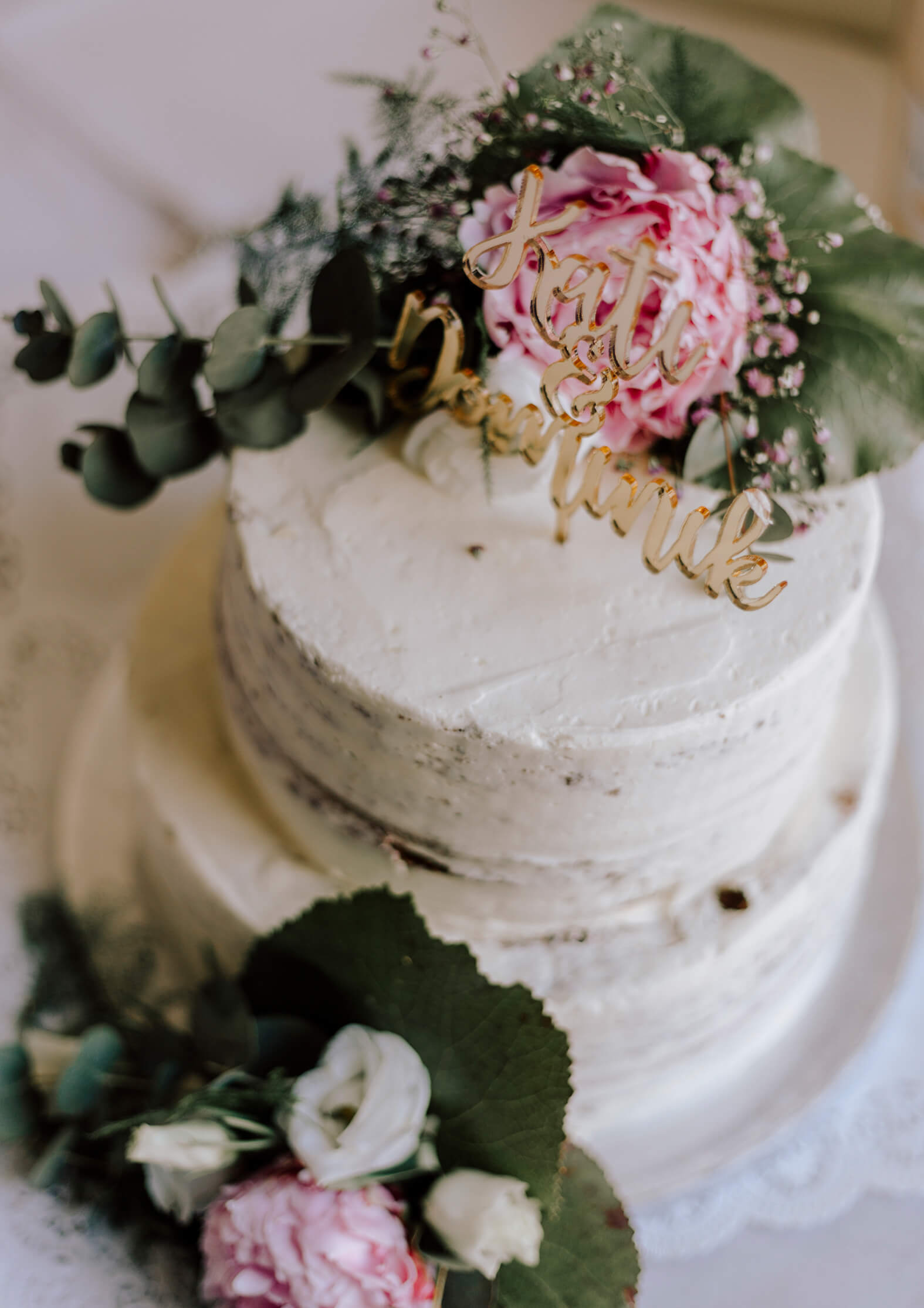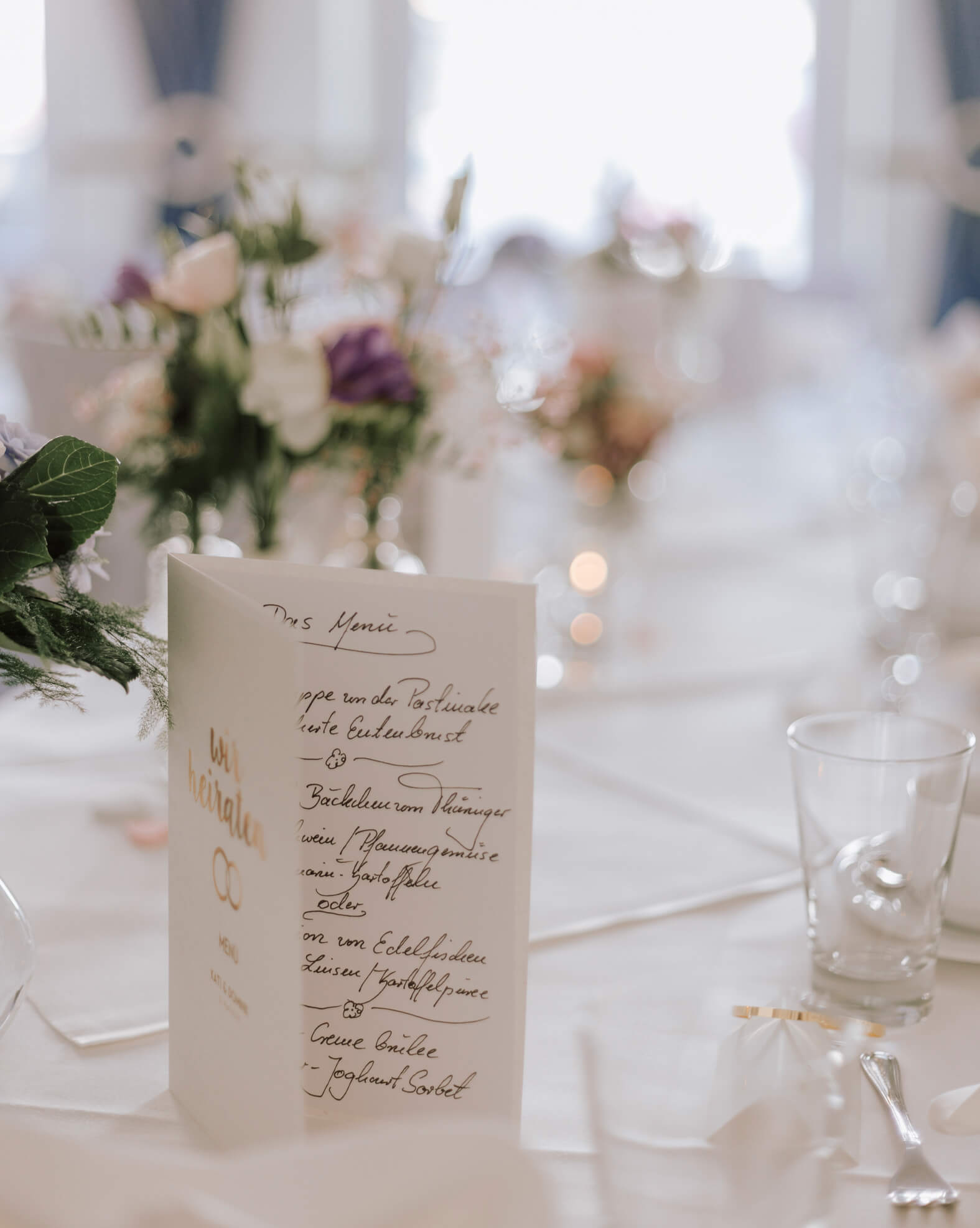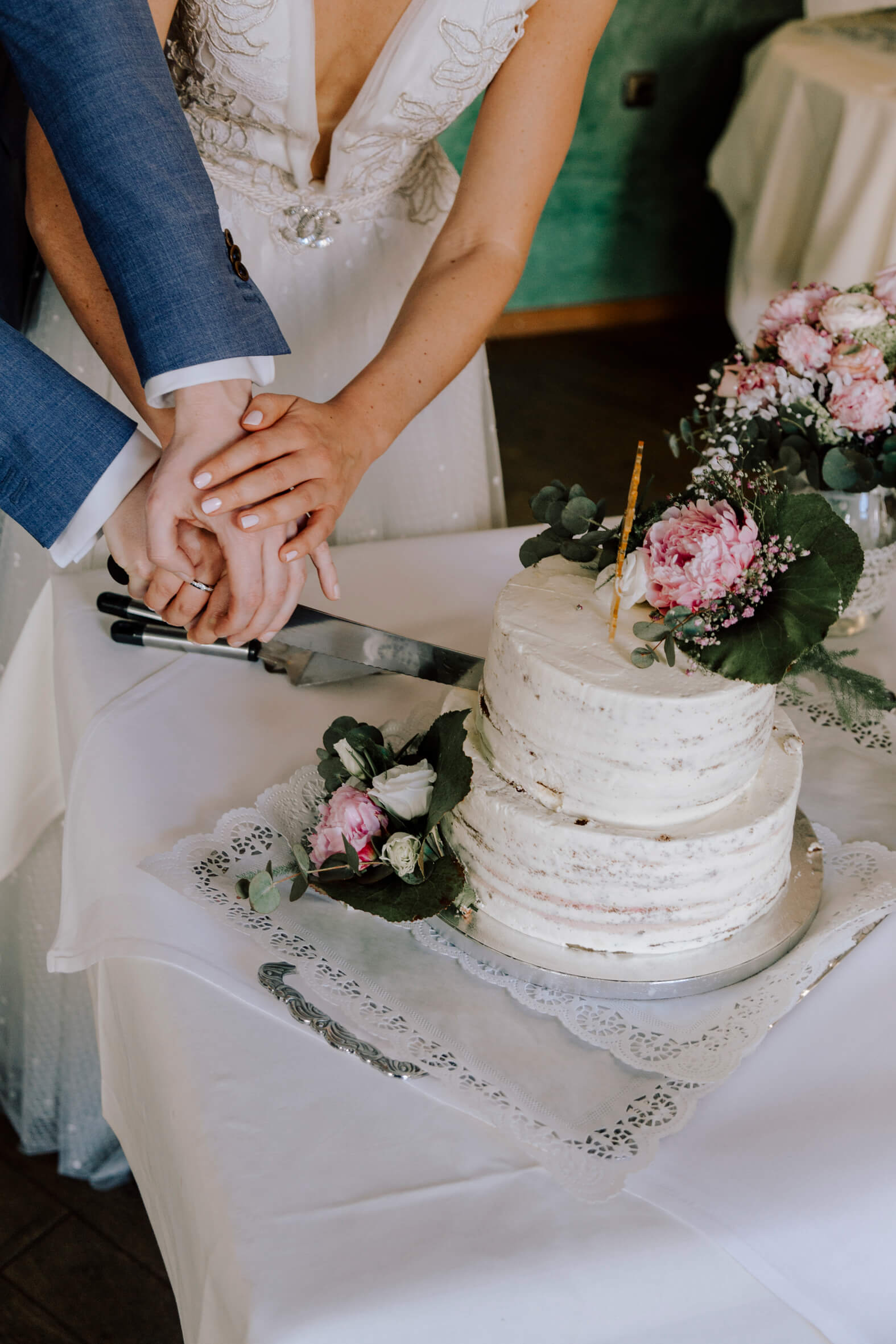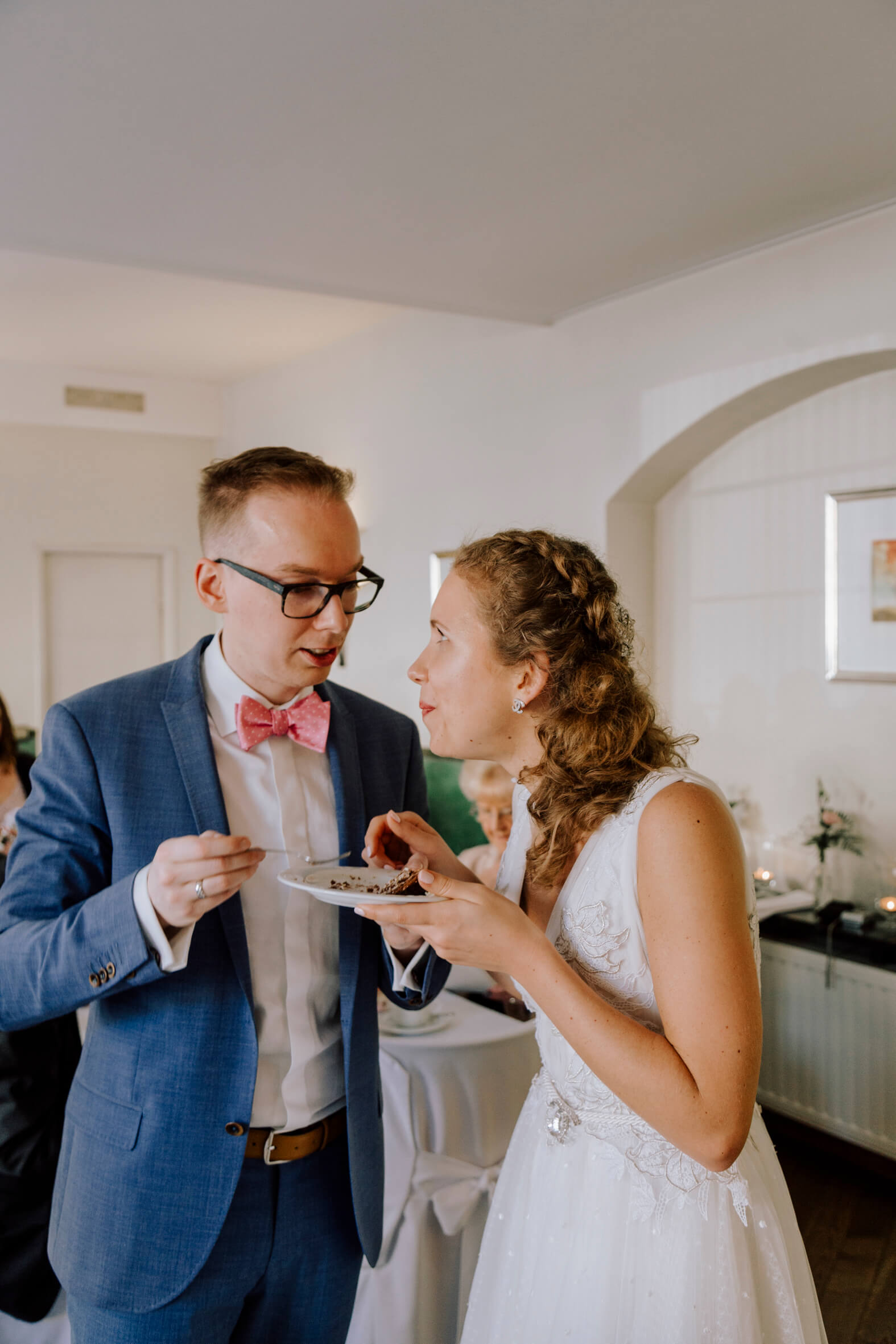 ---
In cooperation with Sugarbird Cupcakes Düsseldorf // After our wedding ceremony and had a small champagne reception at our wedding location, we went to our favourite restaurant "Mölleckens Altes Zollhaus". The plan was to arrive in peace, toast again, cut the cake and enjoy it with a coffee and later a delicious dinner. We knew that from this point on we were in the best of hands and didn't have to worry about anything. It was exactly the like that…
Wedding cake and decoration
My mum and I decorated the party room the evening before with flowers, presents and menu cards – all in rosé, white, a little lilac and discreet green like eucalyptus. My bridal bouquet, which my dad brought with him when he picked me up for the shooting, was a perfect match.
I also wanted our wedding cake decorated with flowers. Fitting to our quite unpretentious celebration, I also wanted a cake without a lot of frills. It should be pretty, of course, but above all it should taste good. I found it at Sugarbird Cupcakes. Besides delicious cupcakes or macarons, they also make wedding cakes to order. Both naked and semi-naked cakes like ours.
The hubby gave me a free hand and during the preliminary talk I quickly decided on dark chocolate biscuit bases and two different fillings. The lower part was filled with raspberry butter cream and the upper part with an Oreo cream cheese mixture. It was coated softly on the outside so that a little biscuit shimmers through for the semi-naked effect. :-)
Flower decoration, cake topper and first cut
The staff at Sugarbird Cupcakes would have decorated the cake with flowers or fruits, but because I wanted the same flower style everywhere, I ordered the cake without any additional decoration. My mom, who was responsible for all the flowers, tied two small flower arrangements with peonies for me. Matching the bridal bouquet. On the top came a golden cake topper from Fira Studio. So the cake was optically perfect for us!
When we started cutting, I was so excited, I didn't switch properly. So it came that on the first pictures the hubby has his hand up. But later I realized it and put my hand on his. So everything is quite balanced, symbolic of our previous relationship and hopefully our marriage!
Now I bet you want to know what the cake tasted like, don't you? I can tell you it was delightful. I found the Oreo filling even more delicious, while the Hubby favored the raspberry cream. In any case, our guests enjoyed it very much and whet their appetite for the later, also incredibly delicious dinner!