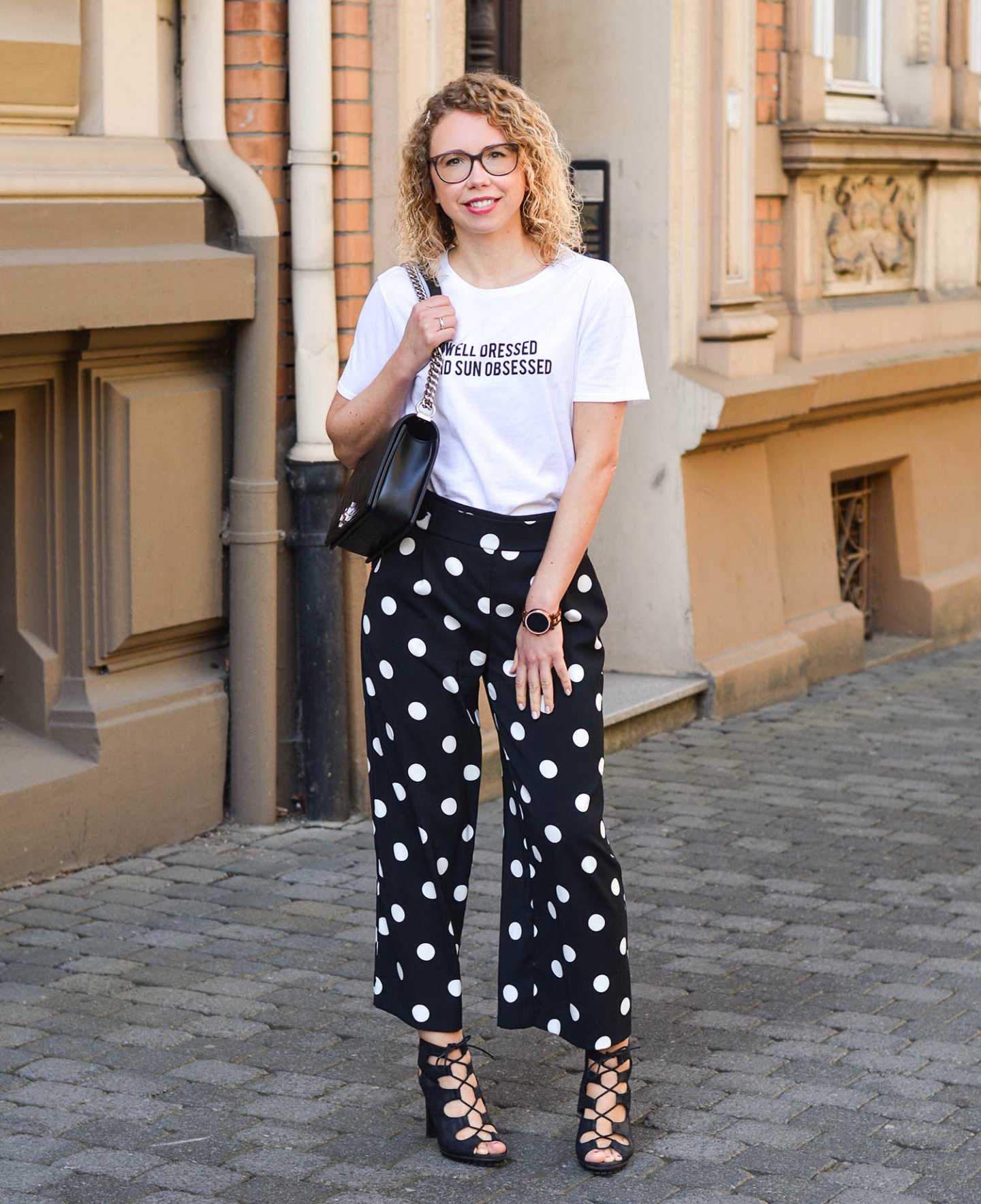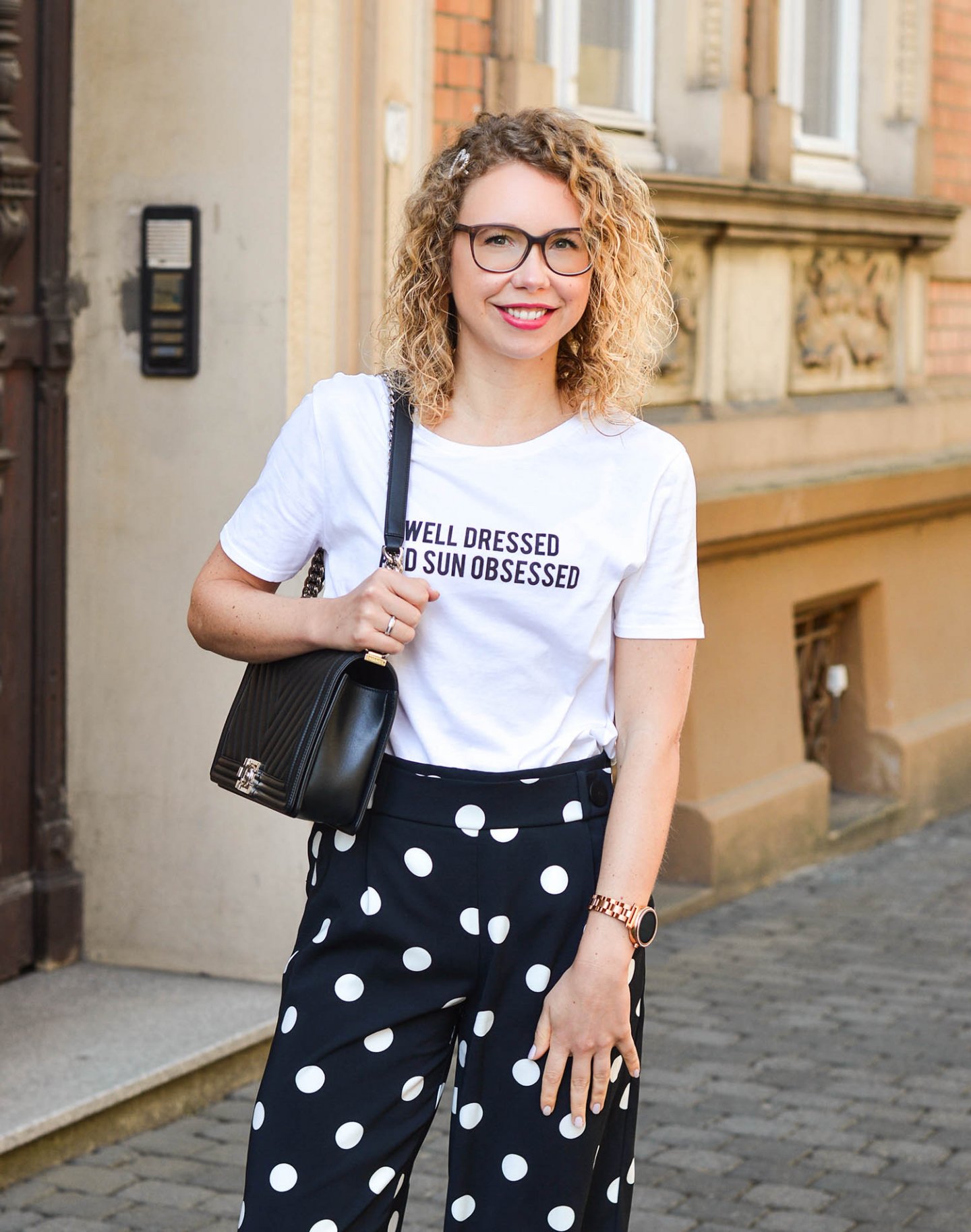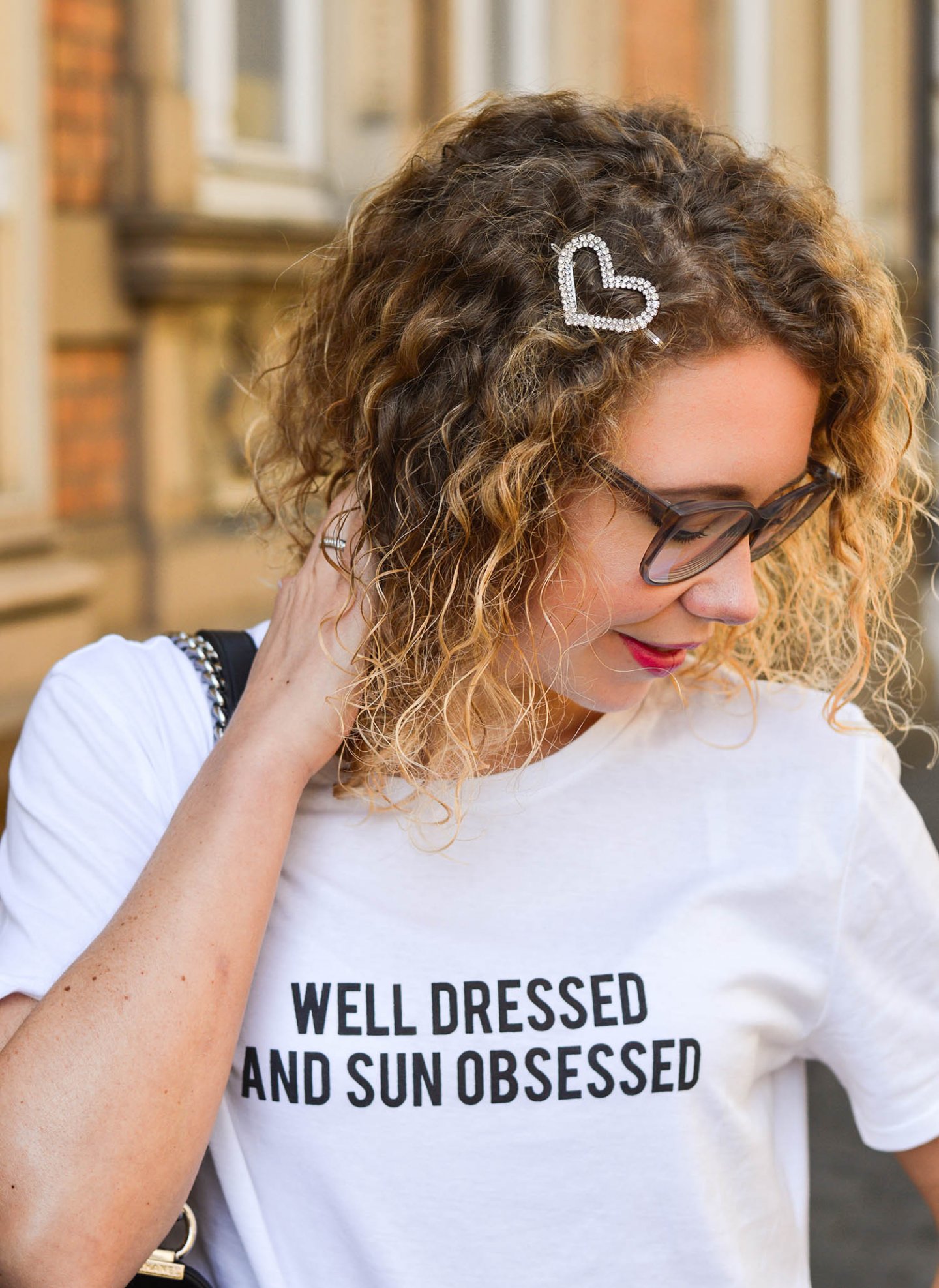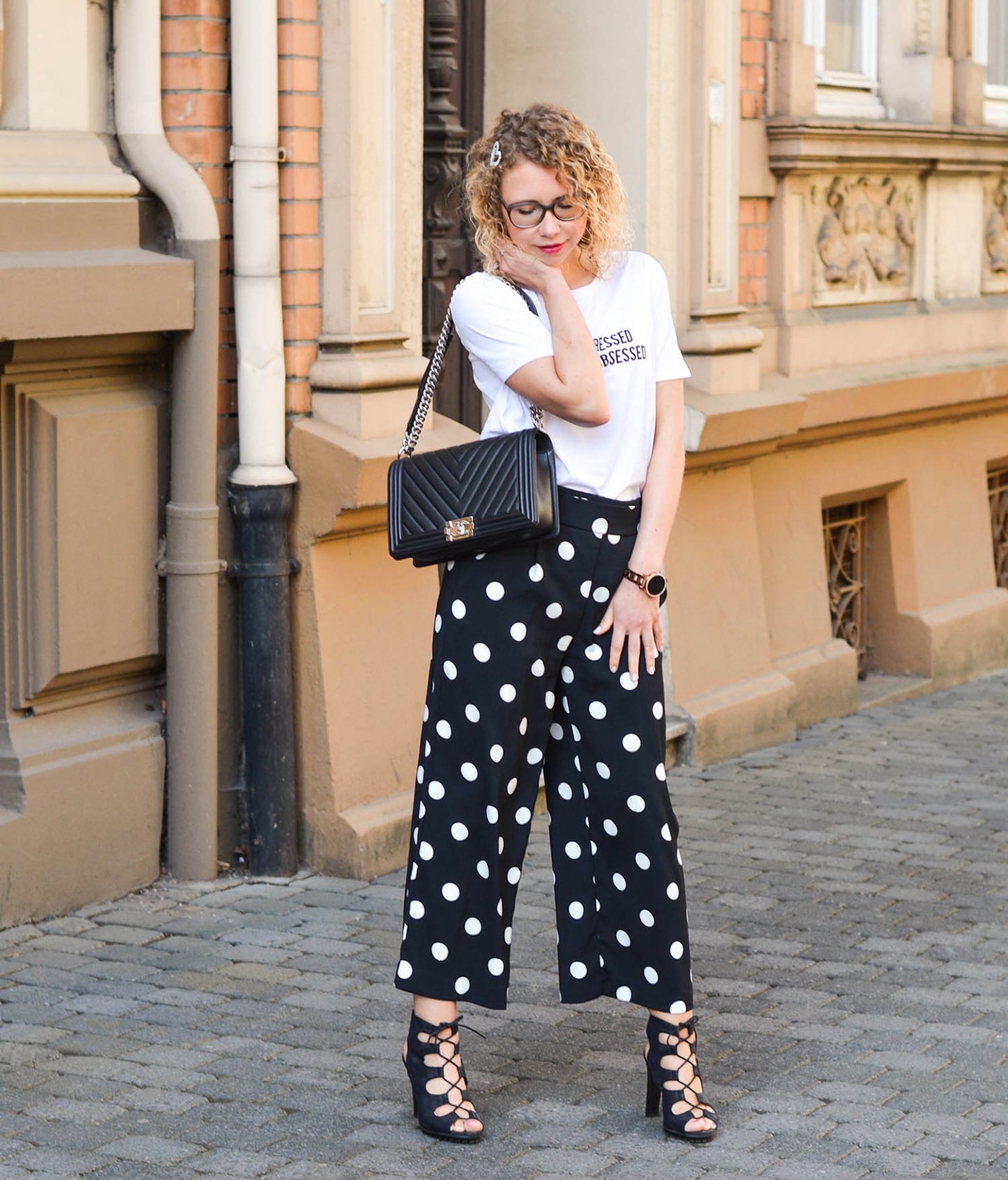 enthält Affiliate Links

Zum Start in die neue Juniwoche habe ich ein luftiges Sommeroutfit im Gepäck. Ich liebe Statement Shirts in dieser Saison und habe hier eines mit einer leichten Culotte kombiniert. Ausnahmsweise ist der Look mal nicht bunt, sondern Schwarz-Weiß. Denn so gern ich Farben mag, manchmal geht einfach nichts über diese klassische Kombi.
Sommeroutfit in Schwarz-Weiß
Die Culotte mit Polka Dots stammt schon aus dem vergangenen Jahr und ich trage sie unheimlich gern. Sie ist super luftig und man ist trotzdem gut angezogen. Sie funktioniert mit Sneakern oder flachen Sandalen genauso wie mit High Heels. Somit ist sie auch perfekt fürs Büro geeignet.

Ich trage die weite Hose hier mit einem neuen Statement Shirt mit sommerlichem Print. "Well Dressed But Sun Obsessed" – hat mich direkt angesprochen und finde ich ganz passend in Bezug auf diesen Look, oder was meint ihr? ;-)

Aufgewertet wird das Sommeroutfit noch mit meiner Chanel Boy Bag, geschnürten Sandalen und der kleinen Herz-Haarspange.
Kurze Arbeitswoche und dann Stockholm
Diese Woche lohnt sich wieder ein Blick in meine Insta Stories! Ich habe nur anderthalb Arbeitstage vor mir, bevor es Mittwochnachmittag nach Stockholm geht. Unsere Freunden, mit denen wir fahren, sind echte Stockholm-Fans und haben uns einen tollen Reiseplan zusammengestellt. Bis Sonntag werden wir also jede Menge aus der schwedischen Hauptstadt mitnehmen. Ich freue mich ganz besonders, dass wir Mittsommer in Schweden verbringen – die Sommersonnenwende wird ja groß gefeiert dort. Ich sehe mich schon mit Blumenkranz um einen Baum tanzen… :-)

Wart ihr schon einmal in Stockholm?
Shop my Look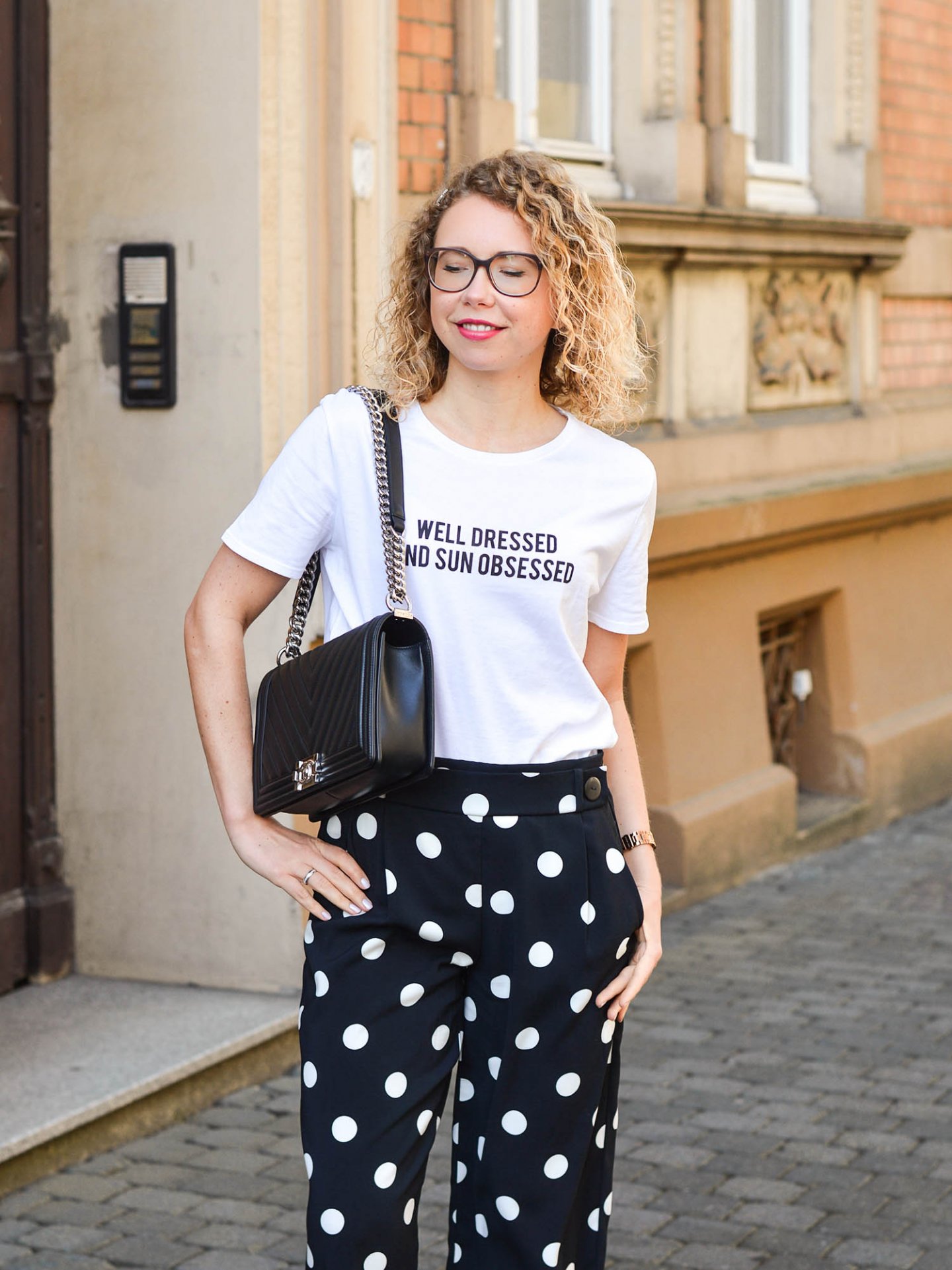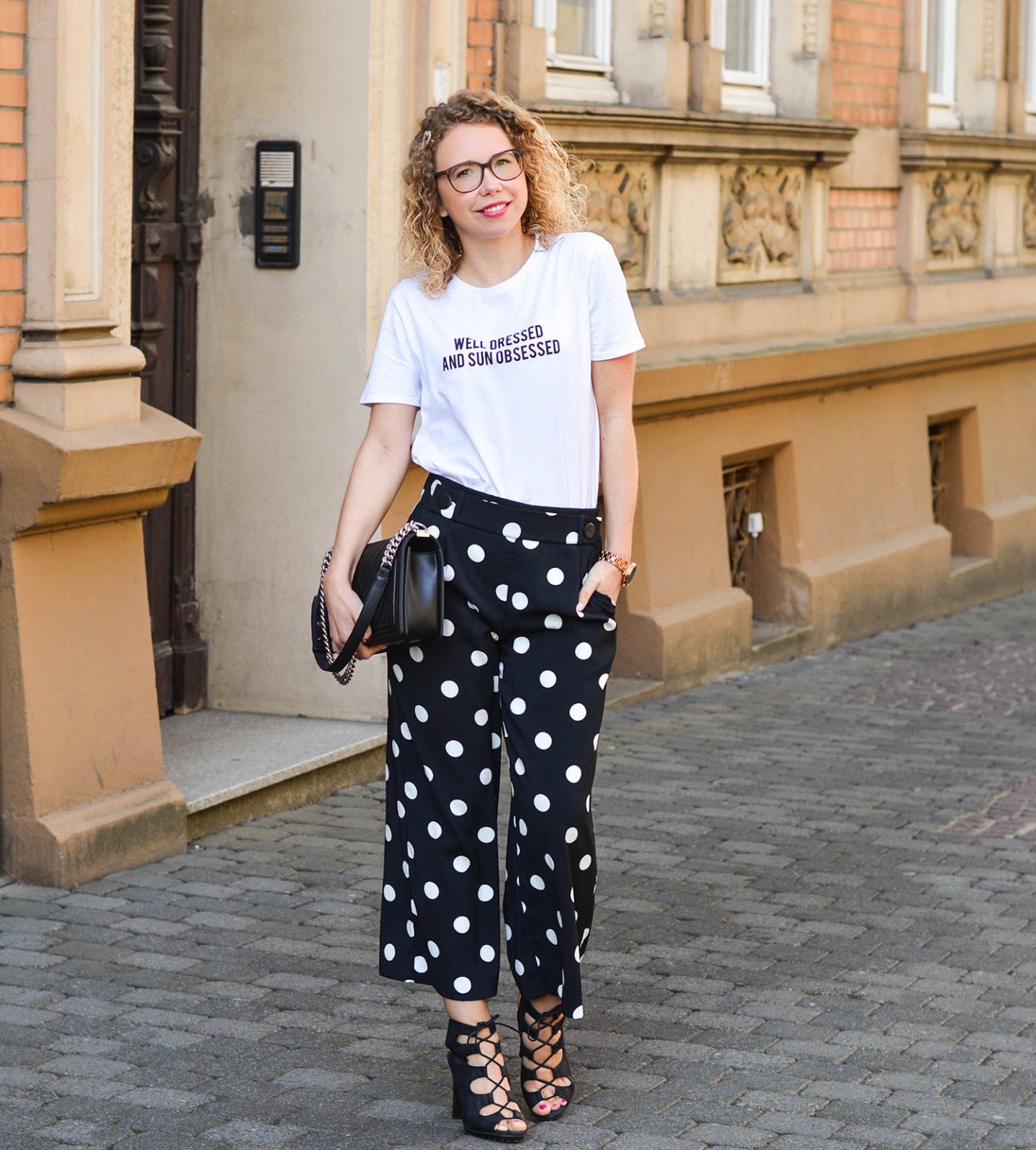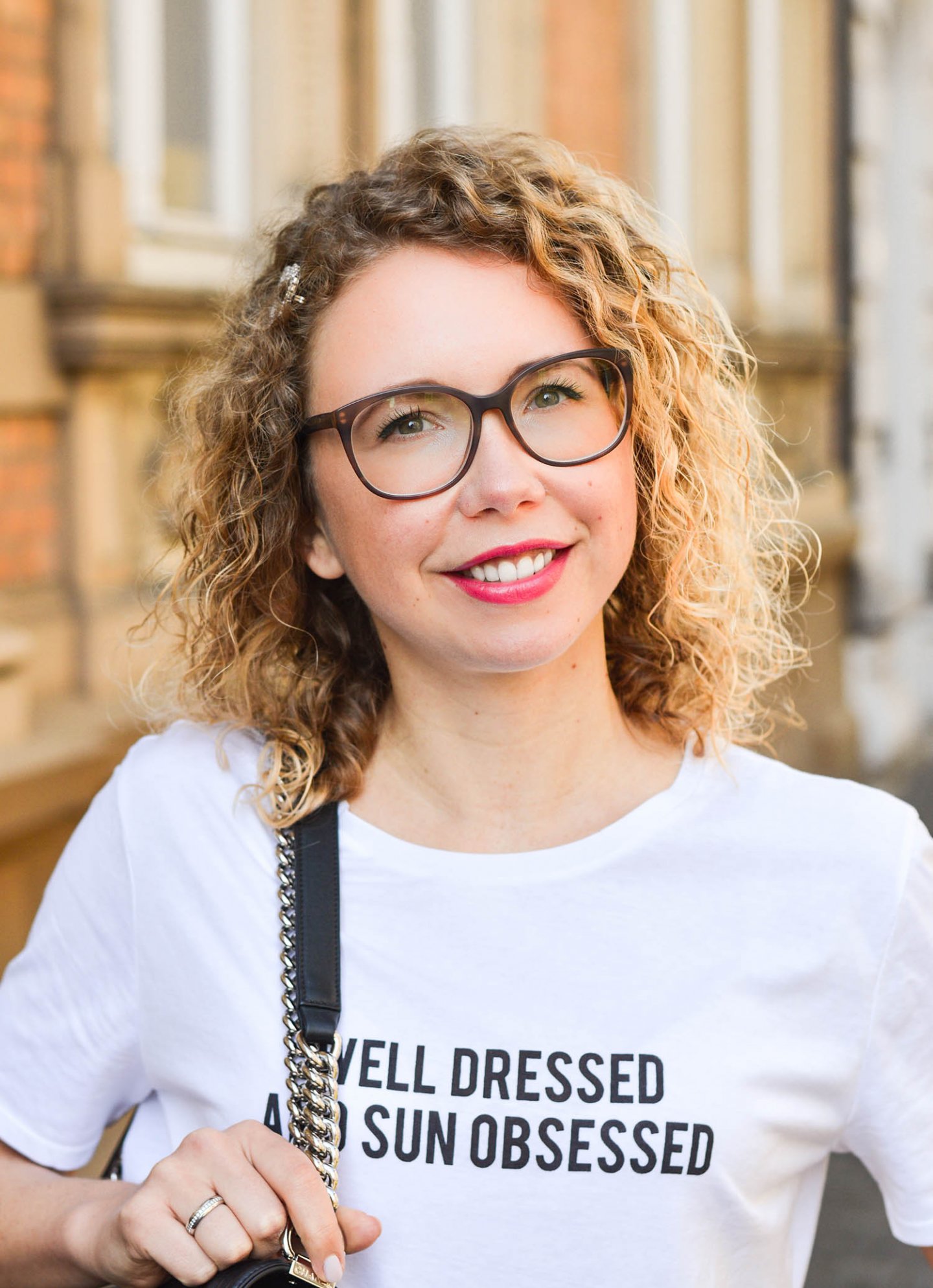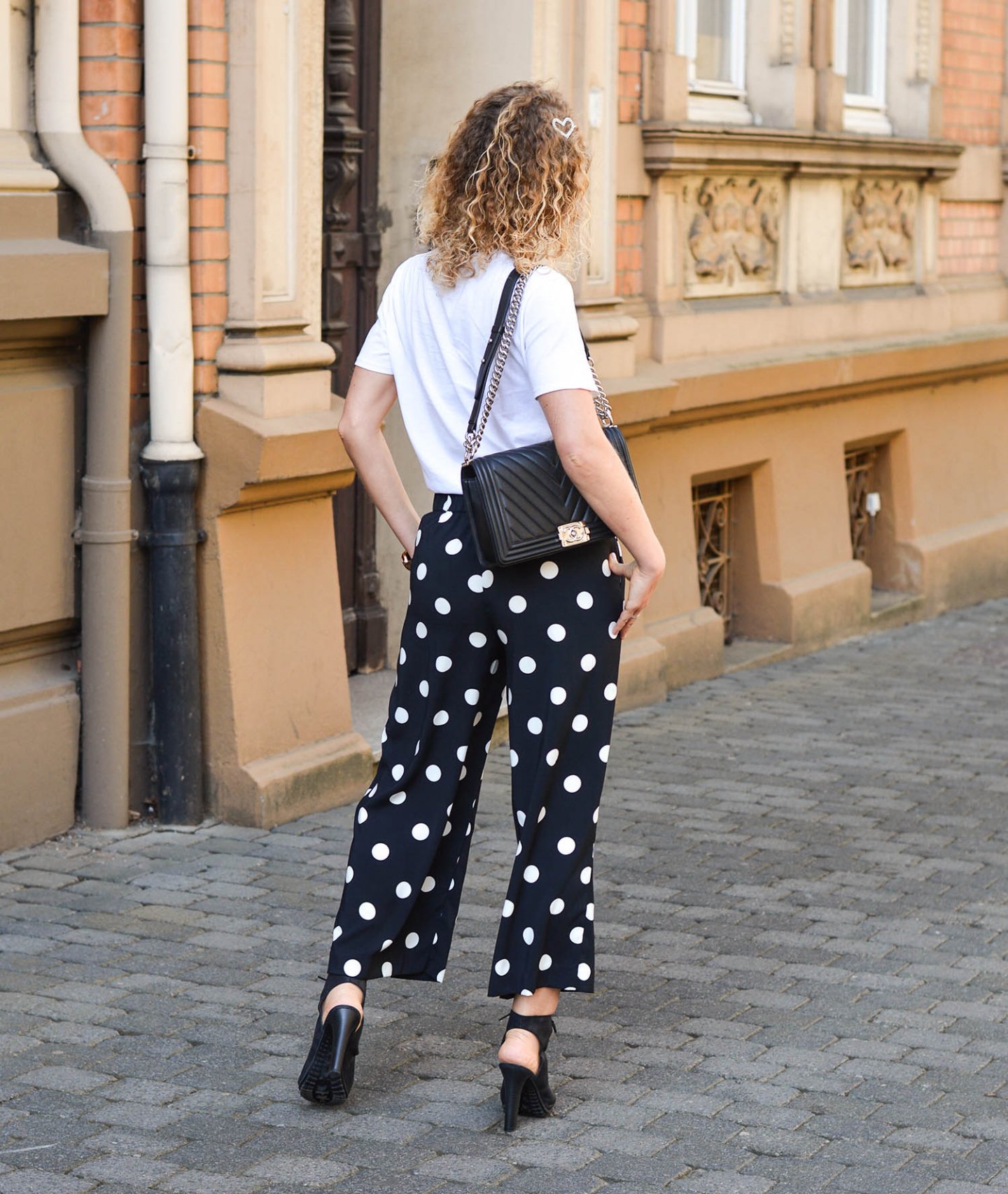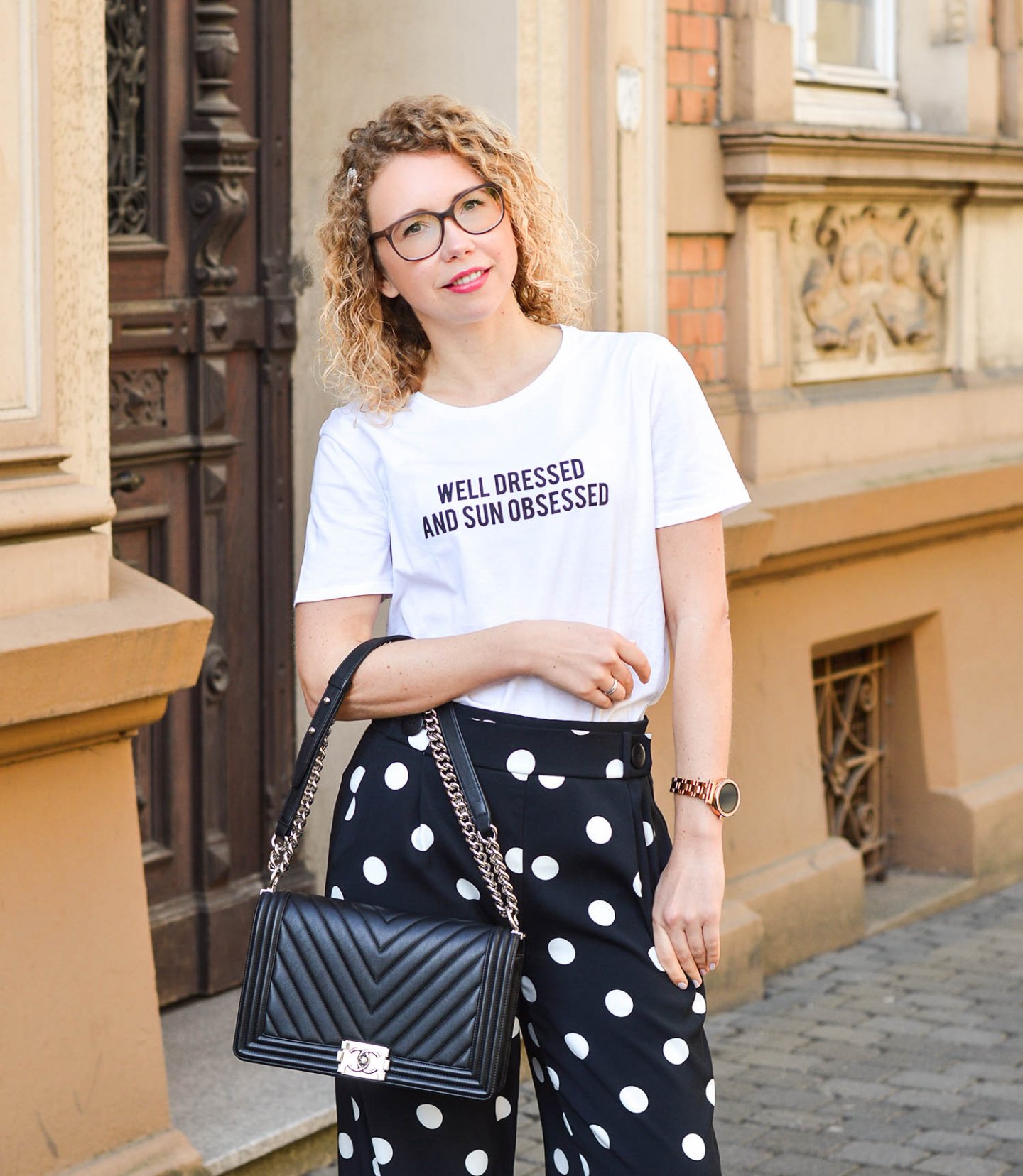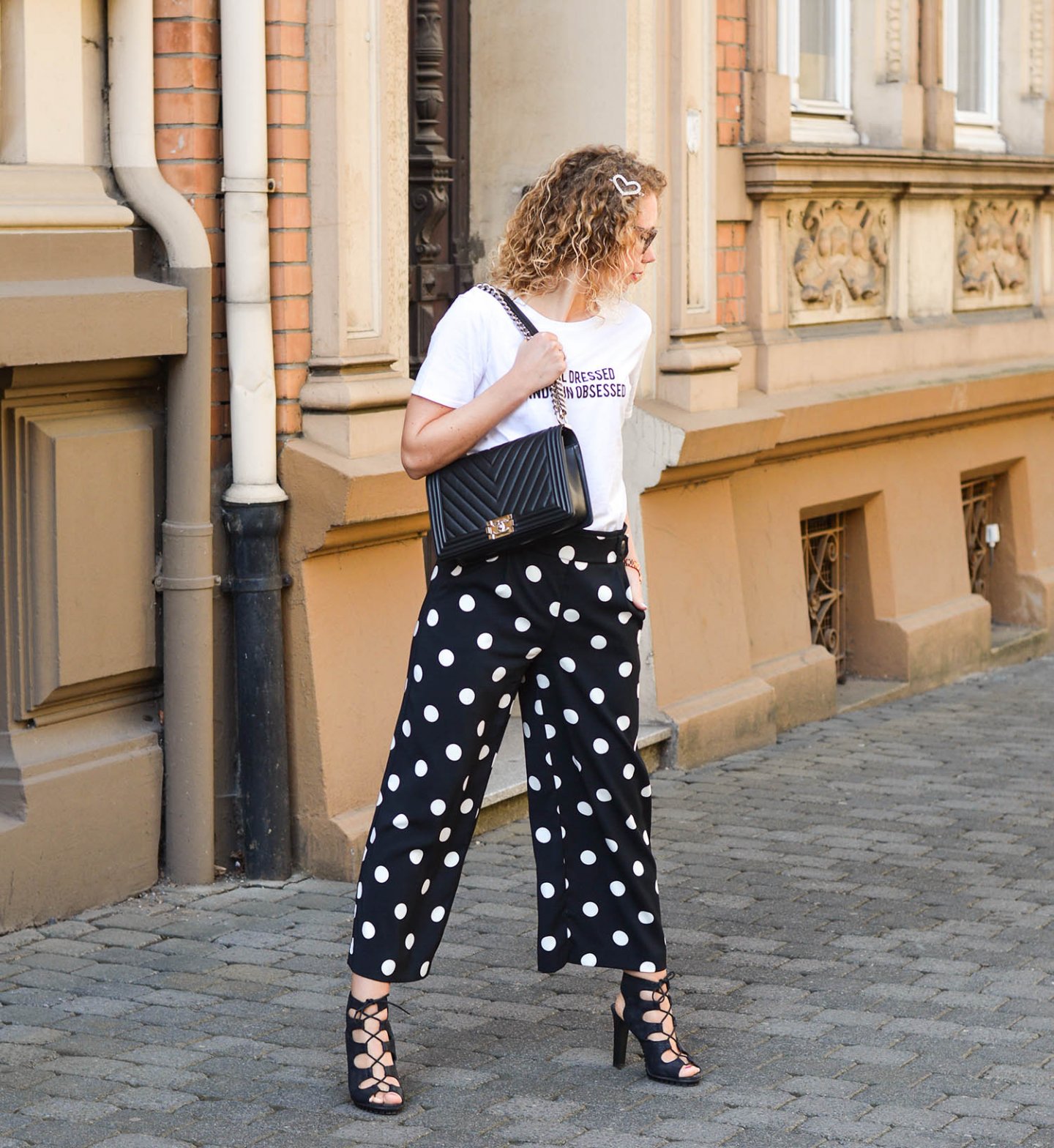 For the start of the new June week I have a breezy summer outfit for you. I love statement shirts this season and have combined one with a light culotte. For once, the look is not colorful, but black and white. Because as much as I like colors, sometimes nothing beats this classic combo.
Summer outfit in black and white
The Culotte with Polka Dots is from last year and I love to wear it. It is super airy and you are still well dressed. It works with sneakers or flat sandals as well as with high heels. So it is also perfect for the office.

I wear the wide pants here with a new statement shirt with a summery print. "Well Dressed But Sun Obsessed" – appealed directly to me and I think it's quite fitting in terms of this look, or what do you think? ;-)

The summer outfit is enhanced with my Chanel Boy Bag, laced sandals and the little heart hairclip.
Short working week and then Stockholm
This week it's worth taking a look at my Insta Stories again! I have only one and a half working days ahead of me before I go to Stockholm on Wednesday afternoon. Our friends, with whom we travel, are real Stockholm fans and have put together a great travel plan for us. By Sunday we will enjoying the Swedish capital. I am especially happy that we are spending Midsummer in Sweden – the summer solstice is celebrated there. I already see myself dancing around a tree with a wreath of flowers… :-)

Have you ever been to Stockholm?