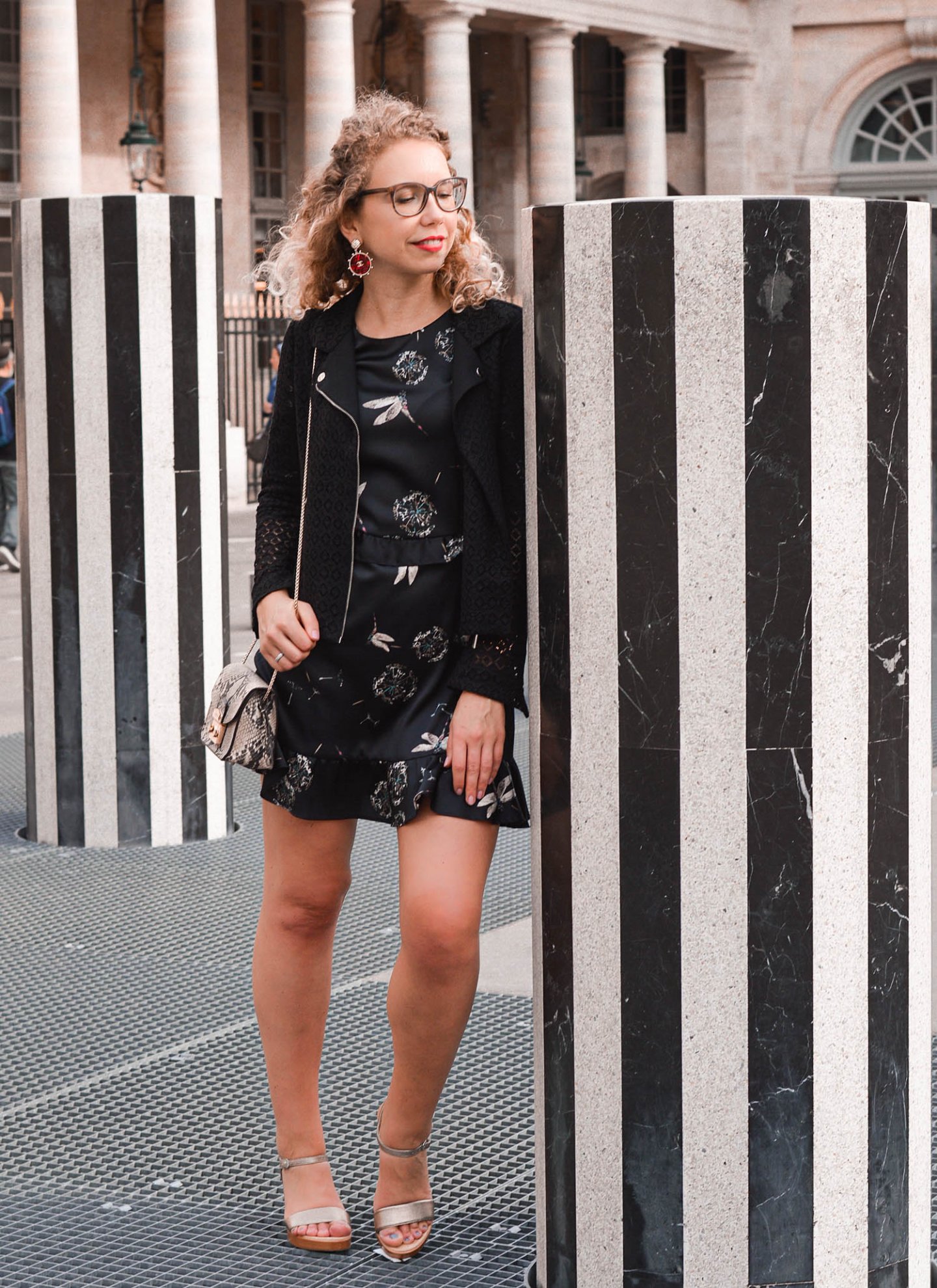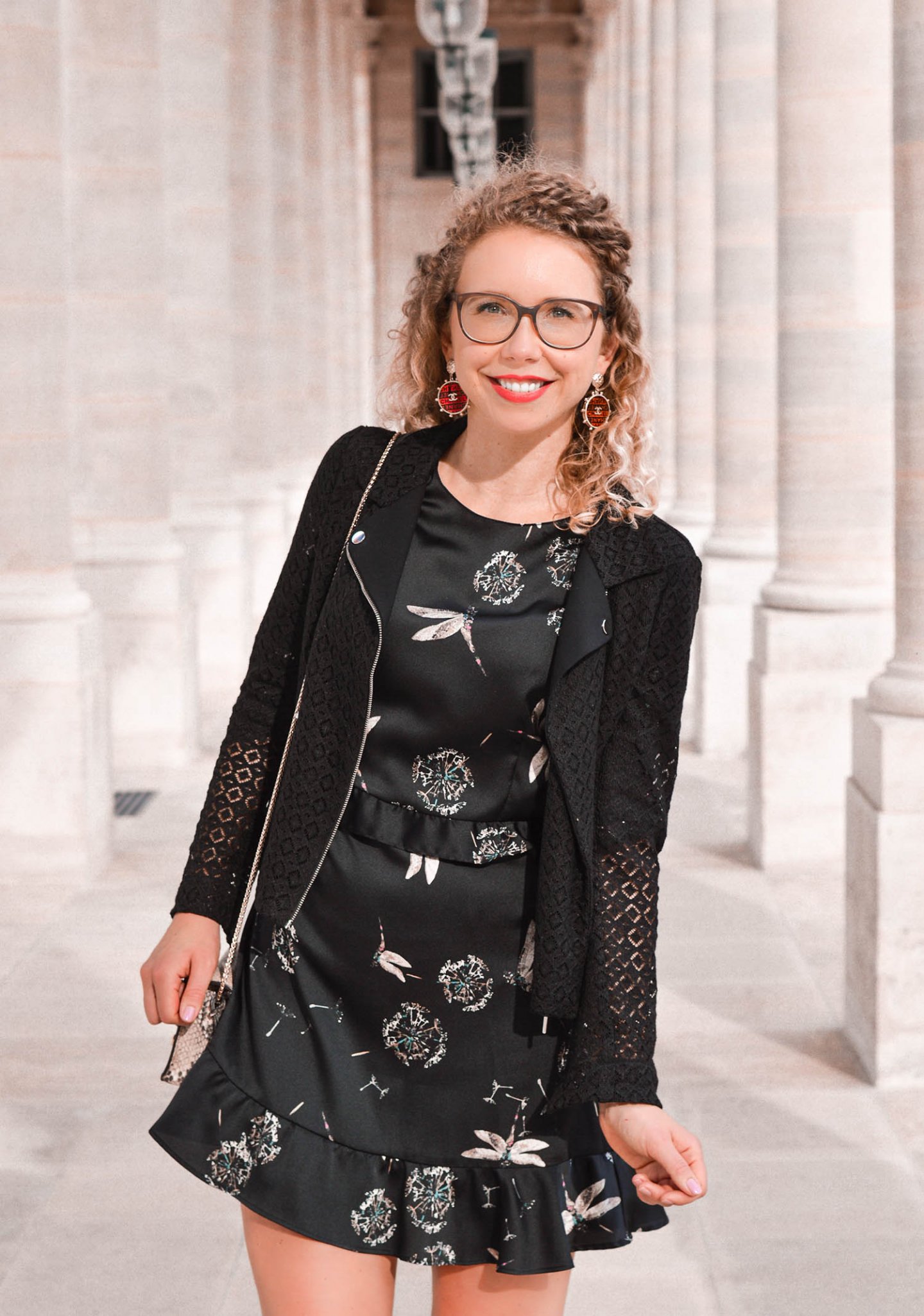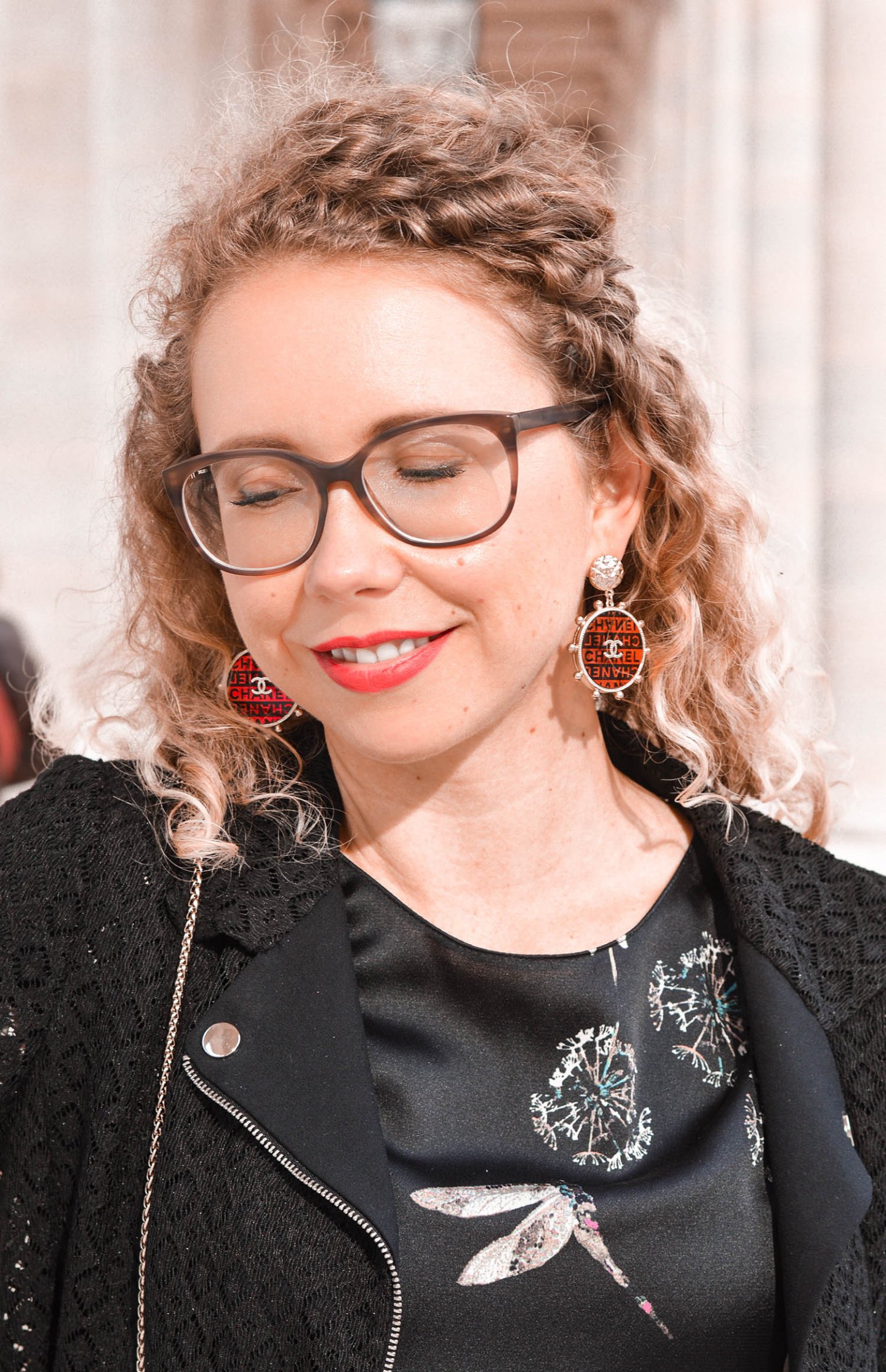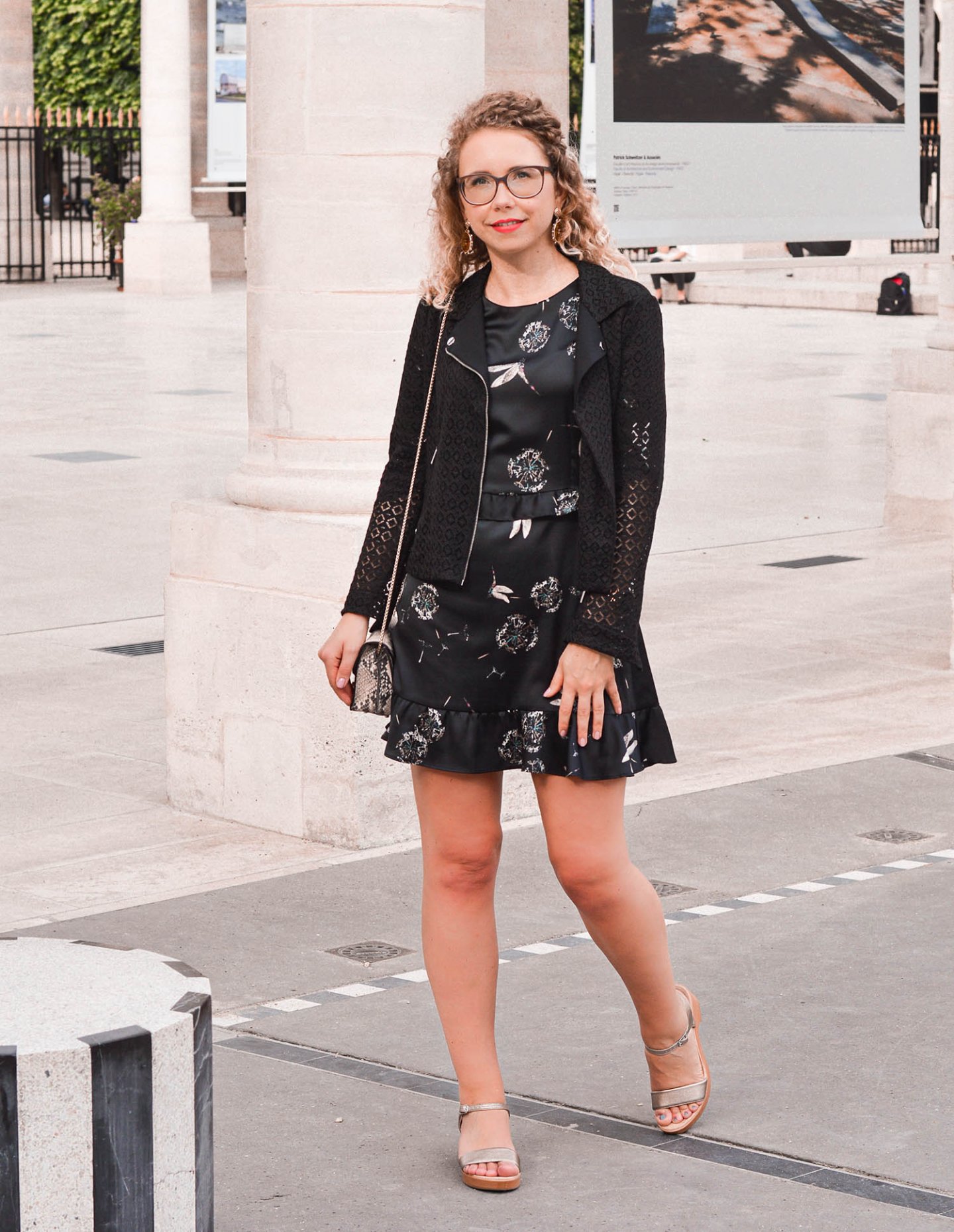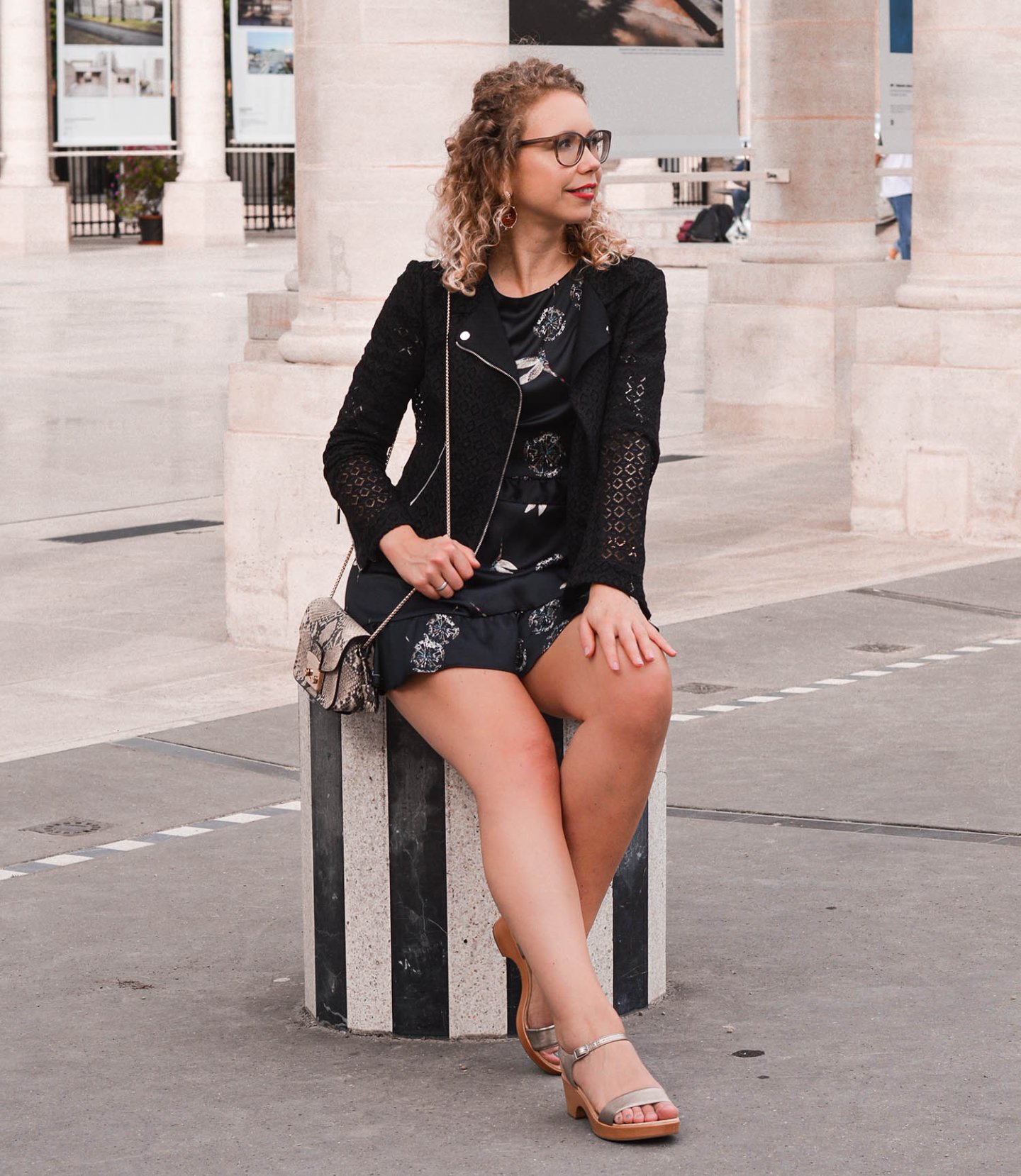 enthält Affiliate Links

Nach einem wunderschönen Pfingstwochenende melde ich mich heute mit einem neuen Blogpost zurück. Ich zeige euch mein elegantes Outfit für meinen Geburtstagsabend in Paris.
Elegantes Outfit in Paris – das kleine Schwarze geht immer
Da wir an dem Abend sehr schick essen waren – im "Kong", dem Restaurant über den Dächern von Paris, wo schon Carrie in SATC gegessen hat – war ein elegantes Outfit Pflicht. Ich mache mich ohnehin ganz gerne schick im Urlaub, sodass mir dies gerade recht kam. Zudem ist die Kulisse in Paris einfach ideal für elegante Looks.

Ich trage ein kleines Schwarzes aus Satin mit Volants sowie Libellen- und Pusteblumen-Druck darauf. Dazu ein Spitzenjäckchen sowie Schuhe und Accessoires in Beige-Gold-Tönen. Dadurch wirkt der Allblack-Look weniger hart und sommerlicher – perfekt für den lauen Frühlingsabend in Paris.
Neue Ohrringe von Chanel
An meinen Ohren seht ihr meine wunderschönen neuen Chanel Ohrringe aus der letzten Cruise Collection von Karl Lagerfeld. Sie haben die Form eines Steuerrads und schimmern je nach Lichteinfall in Rot oder Gold. Die neuen Schmuckstücke habe ich mir wenige Stunden zuvor bei Chanel an der Rue Cambon gekauft. Ein echtes Einkaufserlebnis, das ich jeden Chanel und/oder Modefan nur ans Herz legen kann. Man wird dort so wunderbar aufmerksam bedient und ich habe sogar kleine Aufmerksamkeiten zum Geburtstag geschenkt bekommen. Das hat dem Tag wirklich die Krone aufgesetzt!
Das vergangene Pfingstwochenende
Auch jetzt am Pfingstwochenende sind wieder schöne Bilder für den Blog entstanden. Der Hubby und ich waren nämlich von Freitagabend bis Sonntagmittag in Berlin. Wir haben liebe Freunde getroffen und ihren drei Monate alten, absolut knuffigen Sohn kennengelernt, waren bei schönsten Wetter Bummeln, lecker Essen und hatten einfach eine fantastische Zeit! Gestern Nachmittag, wieder Zuhause, hatten wir dann noch Besuch von weiteren lieben Freunden. Mit ihnen fahren wir kommende Woche nach Stockholm und sind die Reiseplanung durchgegangen. Bei Käsekuchen von Café Dreikäsehoch aus Berlin – absoluter Tipp für alle (Käse-)Kuchenfans!
Shop my Look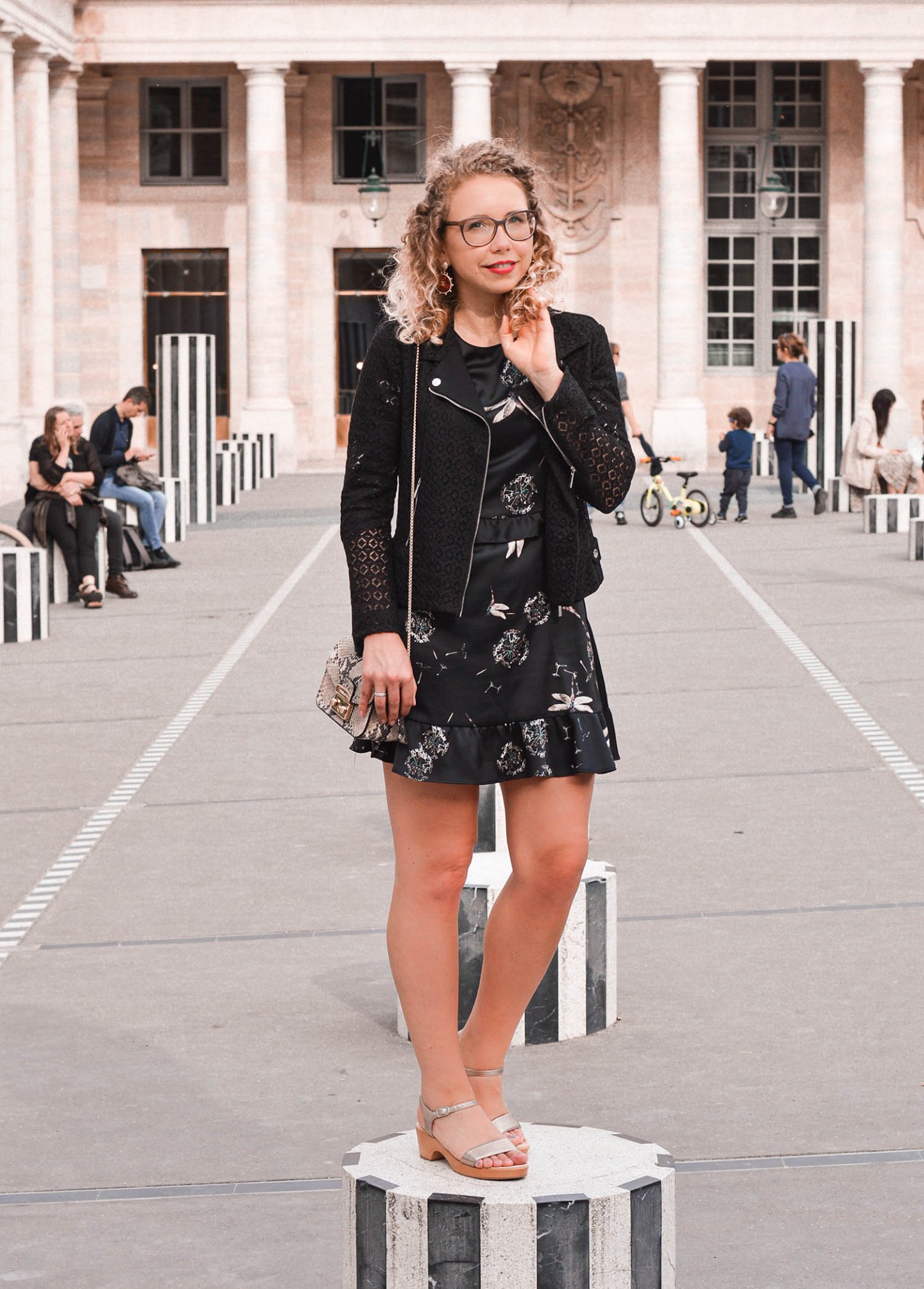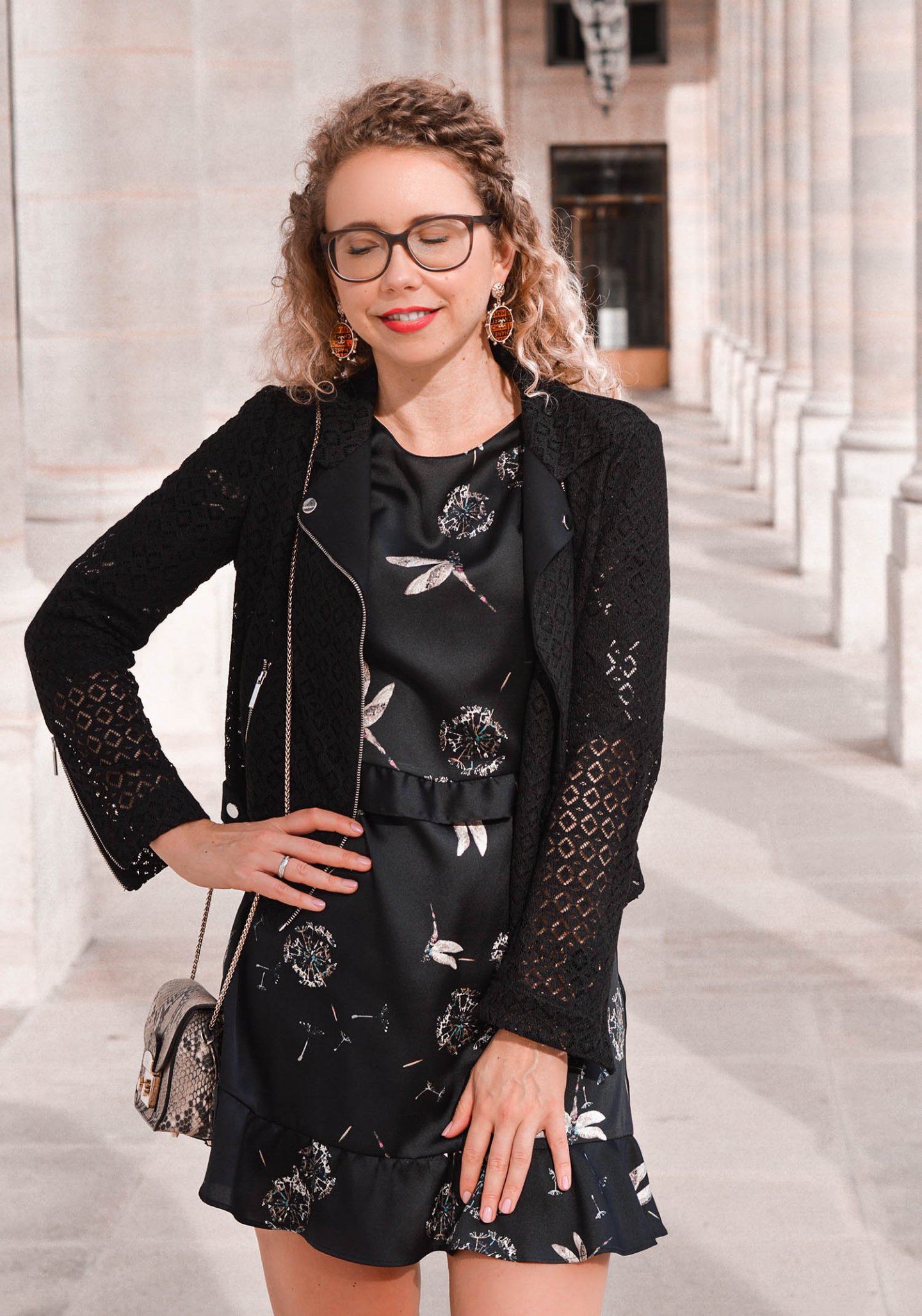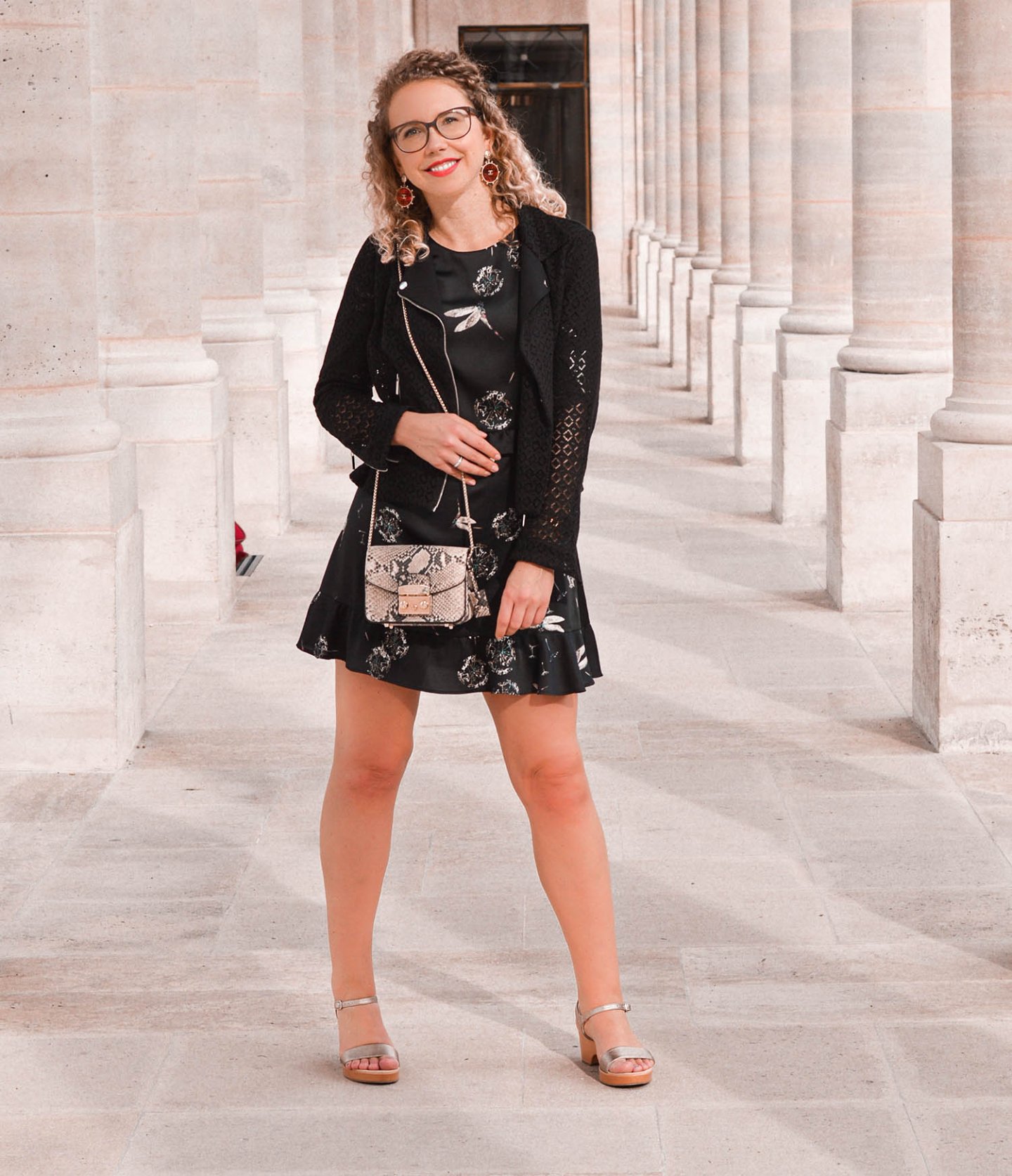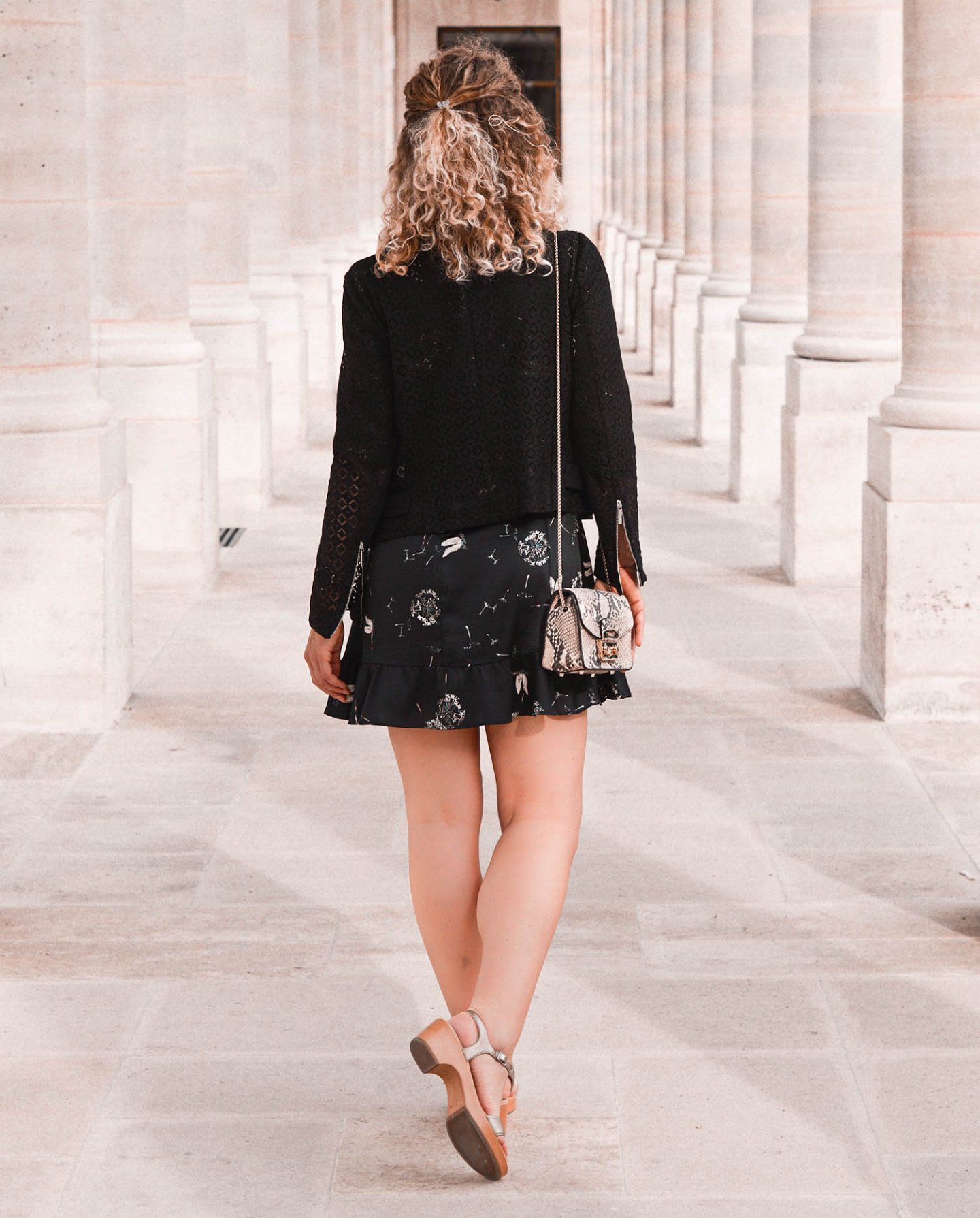 After a wonderful Whitsun weekend I'm back today with a new blogpost. I show you my elegant outfit for my birthday evening in Paris.
Elegant outfit in Paris – the little black dress always works
As we had a very chic dinner that evening – at the "Kong", the restaurant above the rooftops of Paris, where Carrie had already eaten in SATC – an elegant outfit was a must. I like to dress up for my holidays anyway, so it was just right for me. In addition, the scenery in Paris is simply ideal for elegant looks.
I'm wearing a little satin black dress with flounces as well as dragonflies and dandelion prints on it. I also wear a lace jacket and beige-gold shoes and accessories. This makes the all-black style look less hard and more summery – perfect for the warm spring evening in Paris.
New earrings from Chanel
On my ears you can see my beautiful new Chanel earrings from the last Cruise Collection by Karl Lagerfeld. They have the shape of a steering wheel and shimmer in red or gold depending on the incidence of light. I bought the new jewellery a few hours earlier from Chanel on Rue Cambon. A real shopping experience that I can only recommend to every Chanel and/or fashion fan. One is treated there so wonderfully attentively and I even got small gifts for my birthday. That really crowned the day!
The past Whitsun weekend
Also now at the Whitsun weekend beautiful pictures for the blog were created again. The Hubby and I were in Berlin from Friday evening to Sunday noon. We met dear friends and got to know their three month old, absolutely cuddly son, went for some strolls in beautiful weather, had tasty food and just a fantastic time! Yesterday afternoon, at home again, we had visits from other dear friends. With them we will go to Stockholm next week and have gone through the travel planning. With cheesecake from Café Dreikäsehoch in Berlin – an ultimate tip for all (cheese) cake fans!