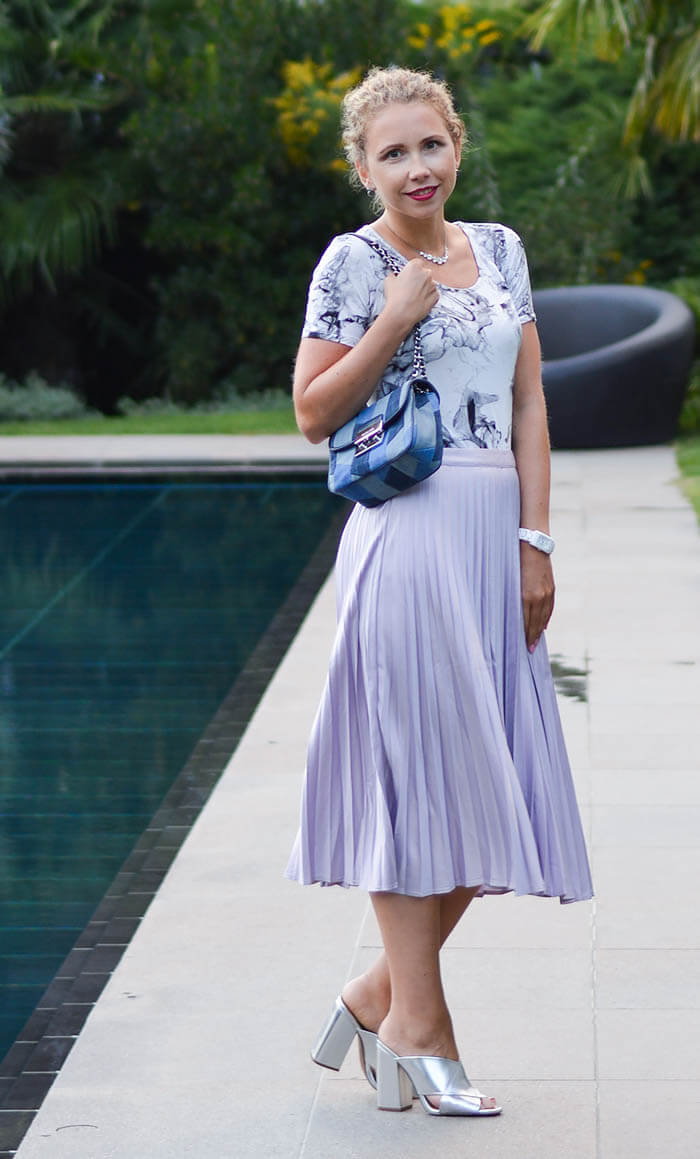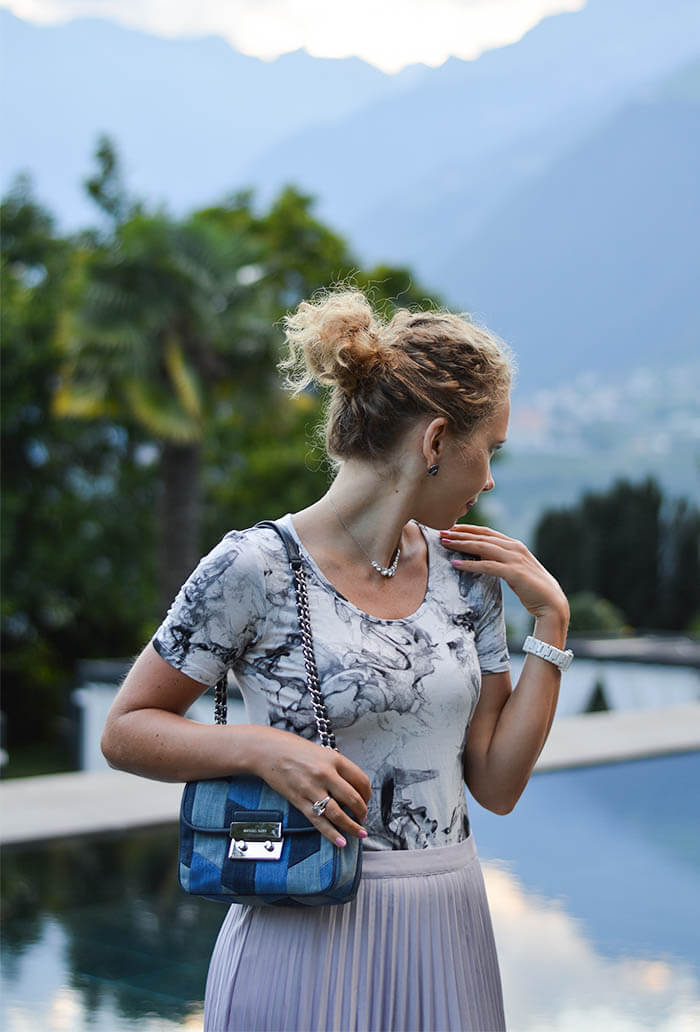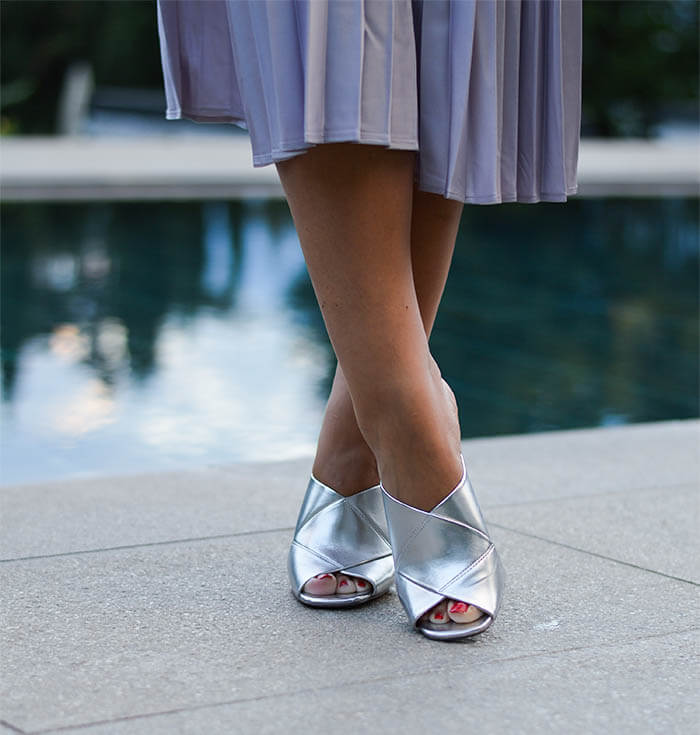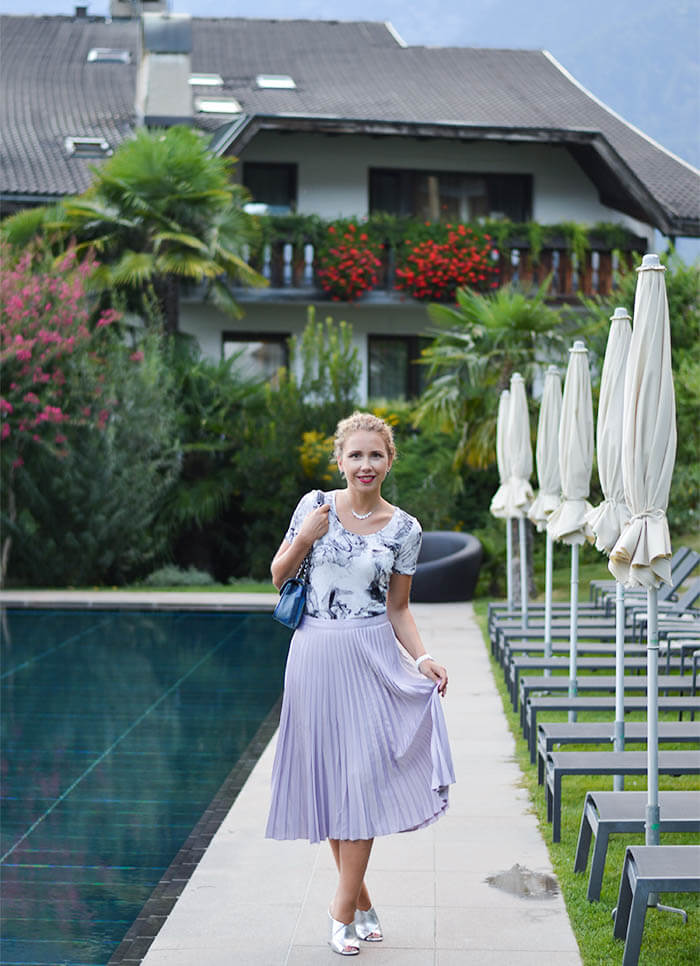 Skirt: Mint & Berry // Top: TJ Maxx New York // Mules: H&M // Bag: Michael Kors
Shop my Look
Heute gibt's ein neues Outfit aus Südtirol für euch. Wir haben die Bilder an einem Abend kurz vorm Dinner am zu der Zeit menschenleeren Pool gemacht. Und ich trage hier zwei neue Trendteile: einen Plisseerock und Mules!
Faltenrock reloaded
Der gute alte Faltenrock bzw. Plisseerock ist zurück undzwar in sämtlichen Farben und Längen. Ich muss sagen, dass mir dieser Trend schon länger richtig gut gefällt, es für mich aber schwer war, ein passendes Modell zu finden. Faltenröcke haben nämlich den Nachteil, dass immer ein wenig auftragen. Wenn man nun etwas mehr Po oder Hüfte oder beiden hat, kann es schon mal etwas unvorteilhaft aussehen. Für meine Figur ist wichtig, dass der Rock oberhalb der Hüfte, also in der Taille oder kurz darunter sitzt und dann fließend – am besten ohne zusätzlich auftragendes Futter – nach unten fällt.
Gefunden habe ich mein Exemplar schließlich bei Zalando von Mint & Berry. Nicht nur Form und Fall, sondern auch die Farbe, ein metallisches Flieder, haben es mir sofort angetan. Ich freue mich schon darauf, ihn demnächst mal mit einem Strickpulli und Boots zu stylen. Seid ihr auch Fans von Plisseeröcken?
Mules
Seit dem Sommer sind sie plötzlich überall: Pantoletten, Mules, Pantoffeln, Schlappen. Von Gucci, Tod's, Hermès, Miu Miu nd Co. Zum Glück sind die üblichen Verdächtigen wie Asos, Topshop oder Zara auf den Zug mit aufgesprungen. Ich habe meine Mules mit Blockabsatz von H&M, sie haben sie auch in schwarz und hellem rosa. Da ich aber eh schon im Metallic-Fieber war, kam für mich nur silber in Frage. Der Mister findet die Mules ganz schrecklich, aber an diesem Abend haben mich so viele auf meine "tollen Schuhe" angesprochen, dass er mal wieder eines Besseren belehrt wurde. ;-P
Nun bin ich aber neugierig, was ihr zu den Schuhen, dem Rock und dem Outfit generell sagt!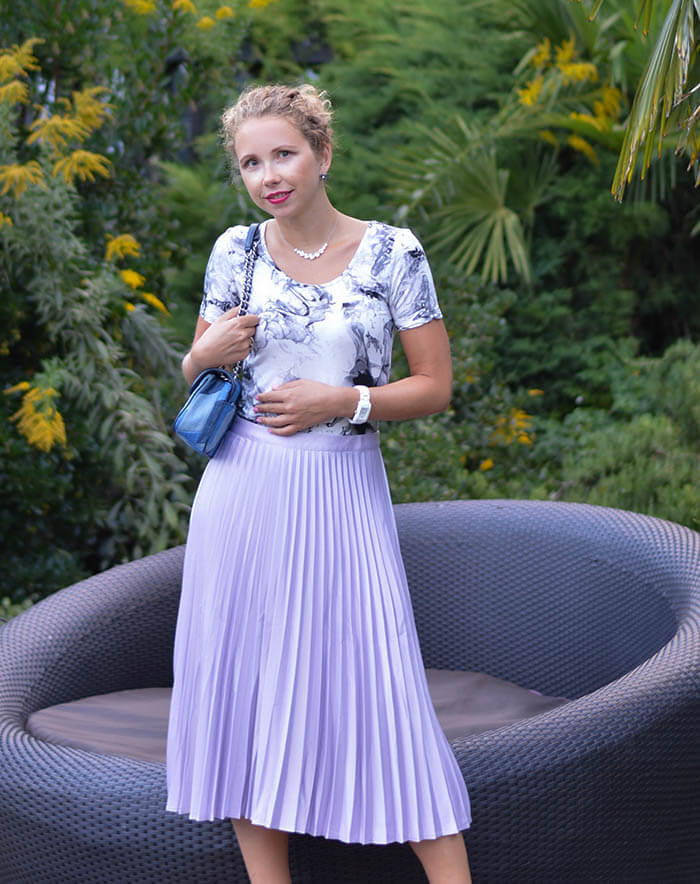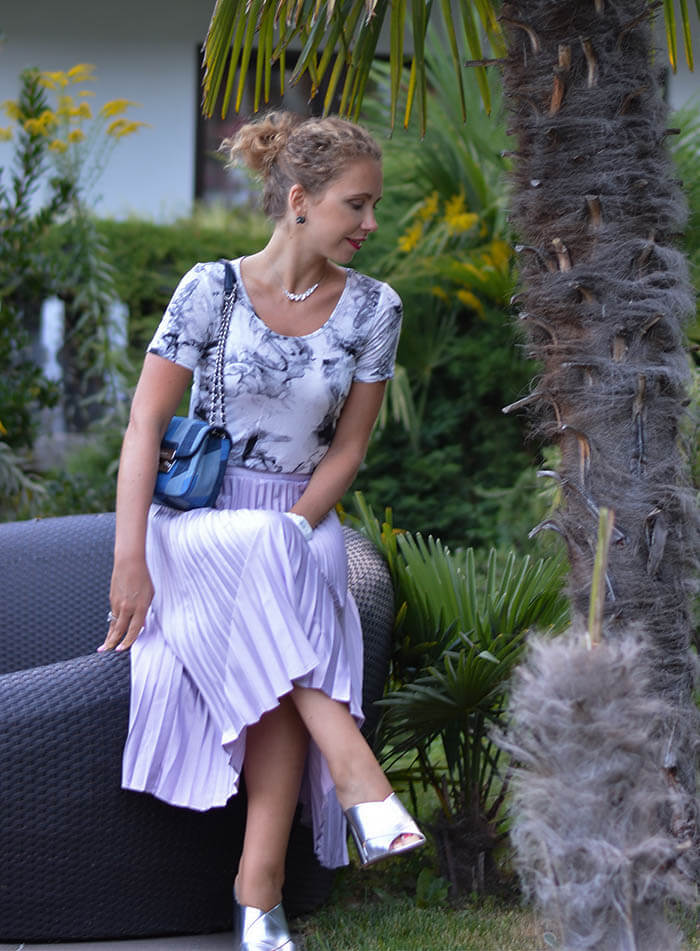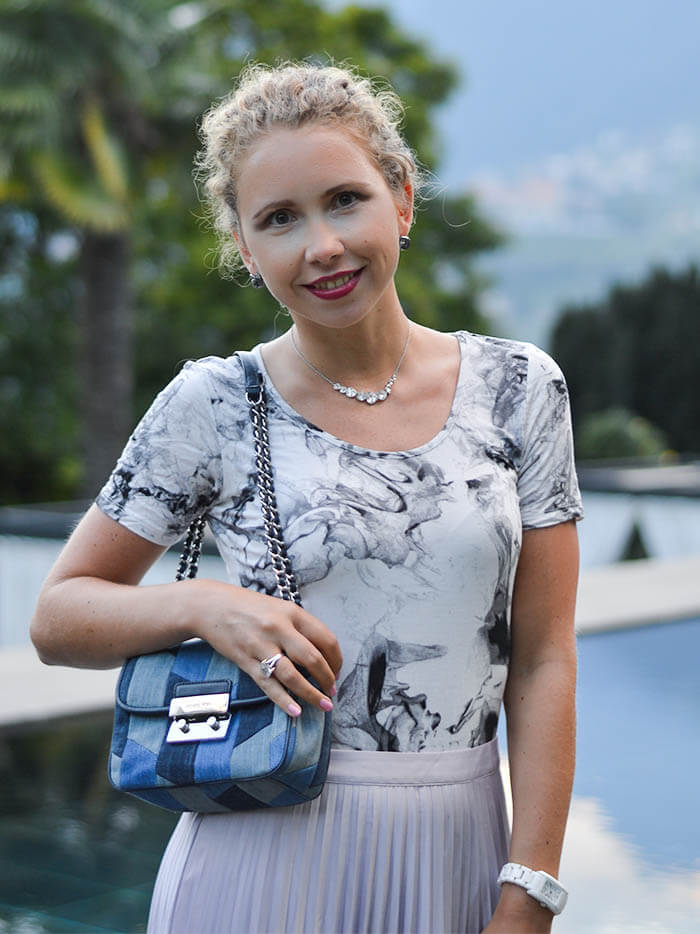 ---
Here's another outfit from South Tirol. I wore it one night for dinner and we made these pics right before at the unpeopled pool. I wear two new trend pieces: a pleated skirt and mules!
Pleated skit reloaded
The good old pleated skirt is back in many colors and lengths. I have to say that I like this trend since a while now, but it was difficult for me to find a suitable one. Pleated skirts have the problem, that they are wearing out a bit. If you have some hips and a bigger but, it can be look unflattering. For my body type it's important, that the skirt should start above the hips. Waist or right below is perfect. Then, it should go fluently down without any lining.
I've found my skirt at Zalando and it's from Mint & Berry. I love the cut, but also the color, a metallic lilac. I'm looking forward to style it with knit sweater and boots. Do you also love pleated skirts?
Mules
Since summertime they are everywhere: slippers, scuffs, mules. From Gucci, Tod's, Hermès, Miu Miu and so on. High or flat. I'm glad that the retailers like Asos, Topshops, Zara and the others are taking part. My mules are from H&M and they also got them in black and blushed pink. I liked silver the most and they go perfectly with that skirt, right? The mister hates these shoes, but that evening so many people called me on my good-looking mules, disabusing him. ;-)
Now, I'm really curious what you might think about this look?