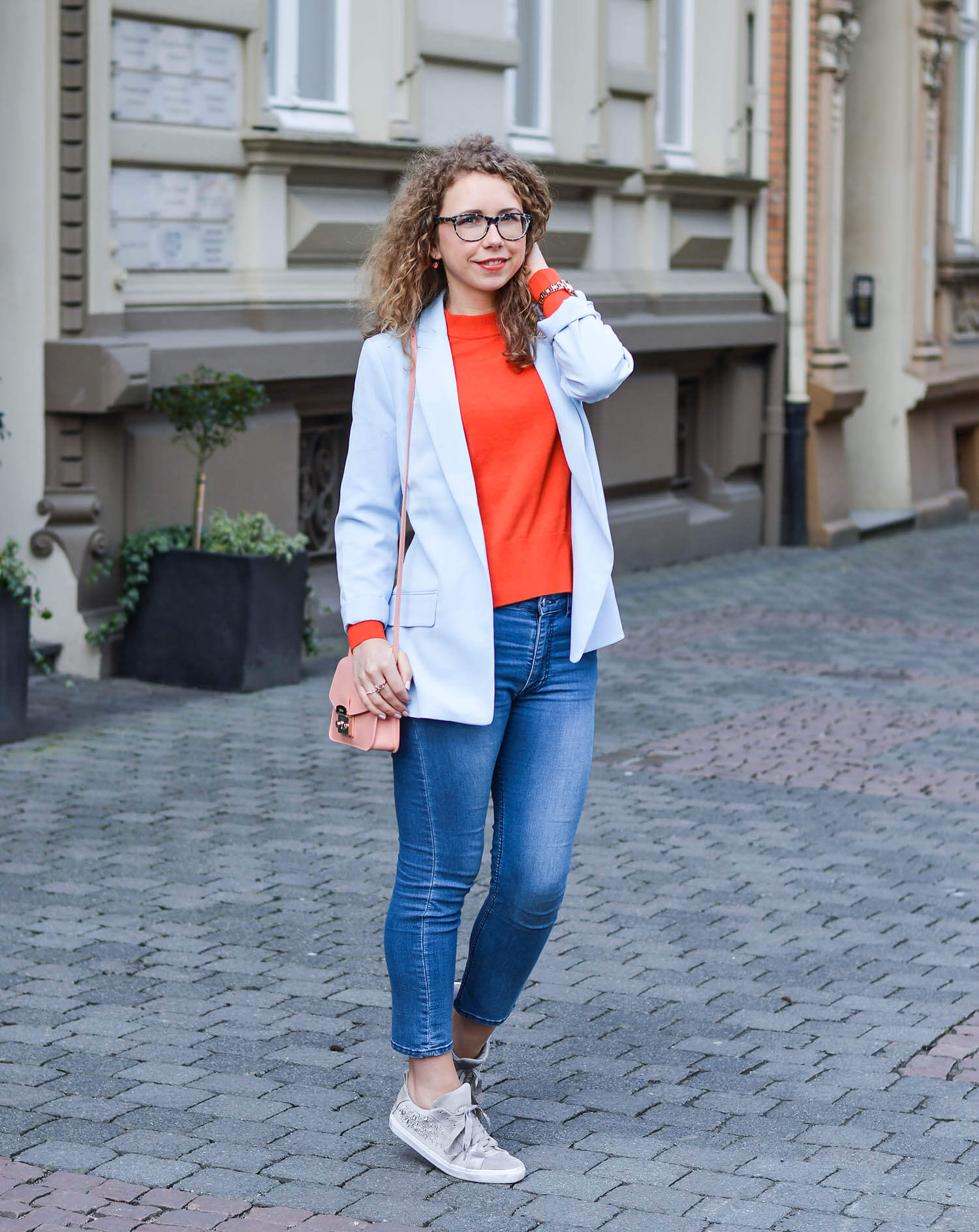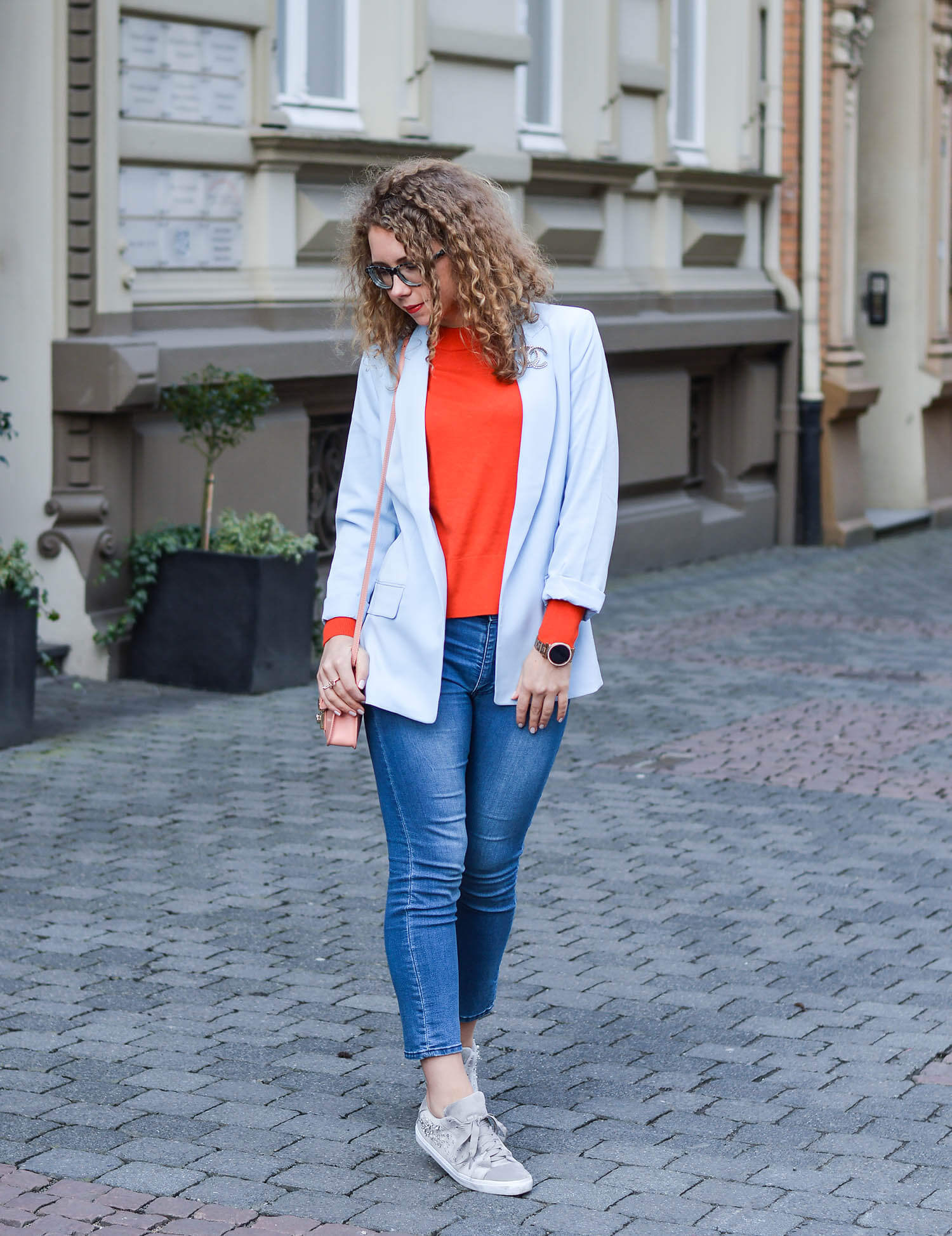 Heute dreht sich alles um das Thema Color-Blocking mit zwei neuen Teilen von H&M. Ich kombiniere Pastellblau mit einem kräftigen Orange.
Color-Blocking: Blazer in Babyblau mit einem Spritzer Orange
Als ich den schlichten pastellblauen Blazer mit offenem Revers im H&M Onlineshop entdeckt habe, war es Liebe auf den ersten Blick. Dennoch war ich gespannt, wie er mir dann wohl live gefällt und wie die Qualität sein würde. Eine Woche später – warum dauert der Versandweg bei H&M inzwischen wieder so unnatürlich lang? – hielt ich das gute Stück in den Händen und war zum Glück begeistert. Der Blazer fällt wunderbar schwer und das zarte Blau ist ein Traum!
Neben dem Blazer habe ich auch diesen leichten Strickpulli gekauft. Er hat kleine Schlitze an den Seiten und ich mag den kräftigen Orangeton sehr. Dennoch ist die Farbkombi wie ich sie hier trage eher ungewöhnlich für mich. An diesem Tag war mir aber mal nach starken Farbkontrasten und ich finde, es sieht gar nicht schlecht aus. Der Look zeigt auch, wie vielfältig der Blazer ist und ich freue mich schon auf viele weitere Kombinationen damit.
Für einen weiteren Farbspritzer sorgt meine apricotfarbene Fula Tasche, die den ganzen Winter auf ihren nächsten Einsatz warten musste. ;-)
Gesundheit geht vor
Leider geht es mir immer noch nicht gut und mein Arzt hat mich am Montag direkt für die ganze Woche krankgeschrieben. Erst hielt ich das für etwas übertrieben, aber inzwischen bin ich wirklich froh darüber. Ihr könnt euch gar nicht vorstellen, wie sehr mir der Sport fehlt, aber aktuell bin ich schon nach längeren Spaziergängen total kaputt und bekomme Hustenanfälle. Ich hoffe, das hat nun bald mal ein Ende und dass ich bis zur Hochzeit wieder ganz fit bin!
Blazer, Sweater, Jeans: H&M
Shoes: Zara
Bag: Furla
Shop my Look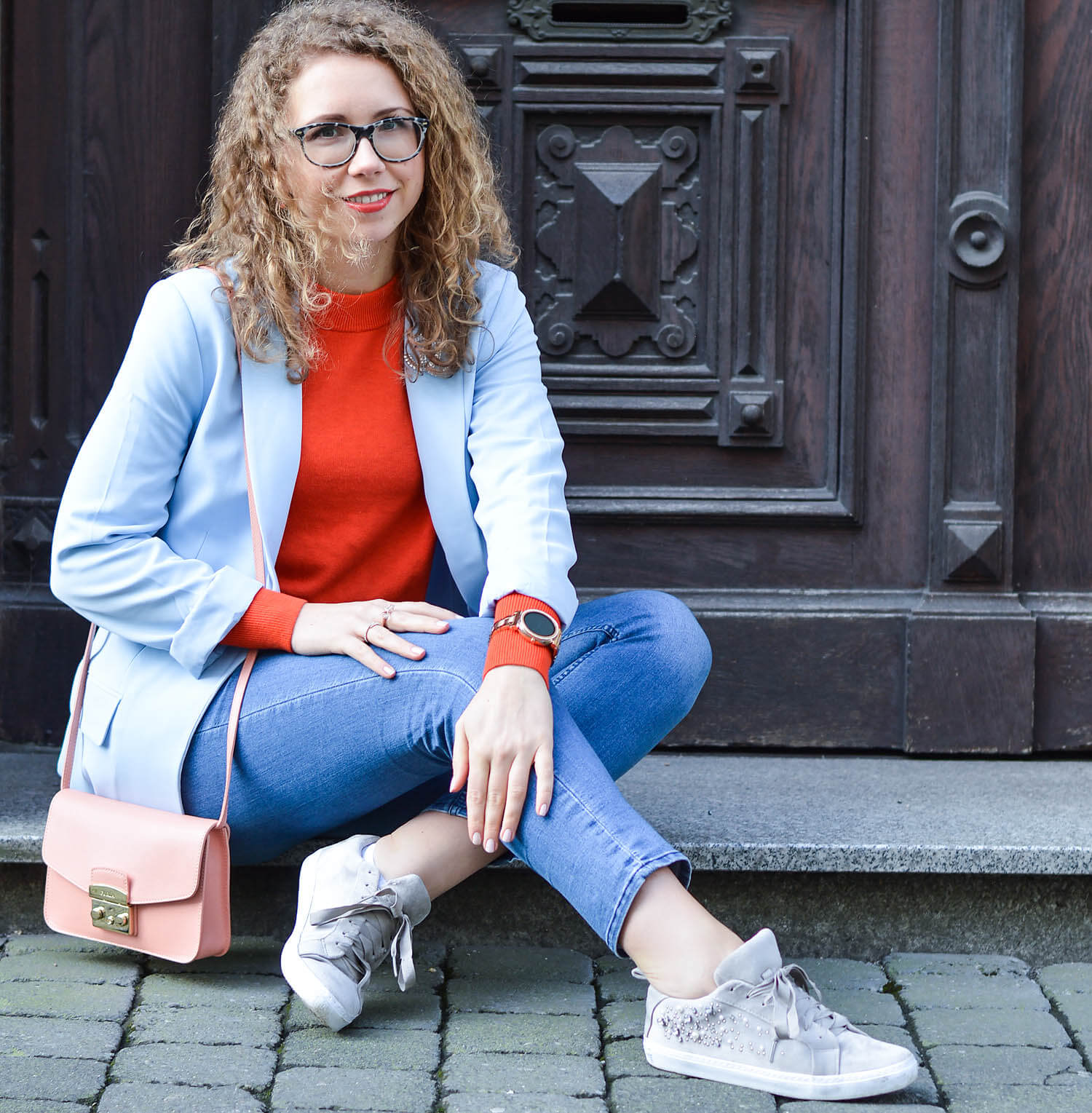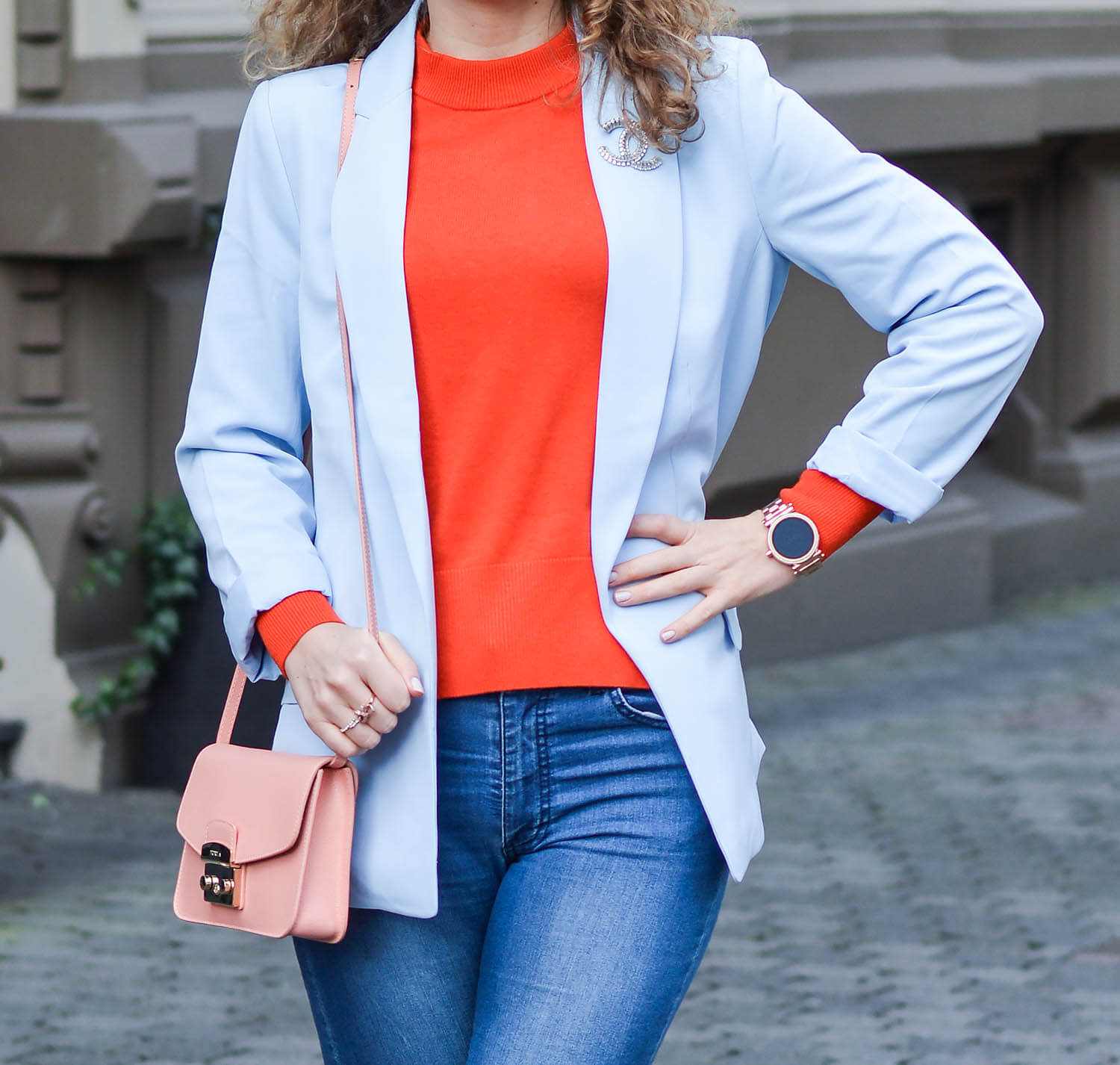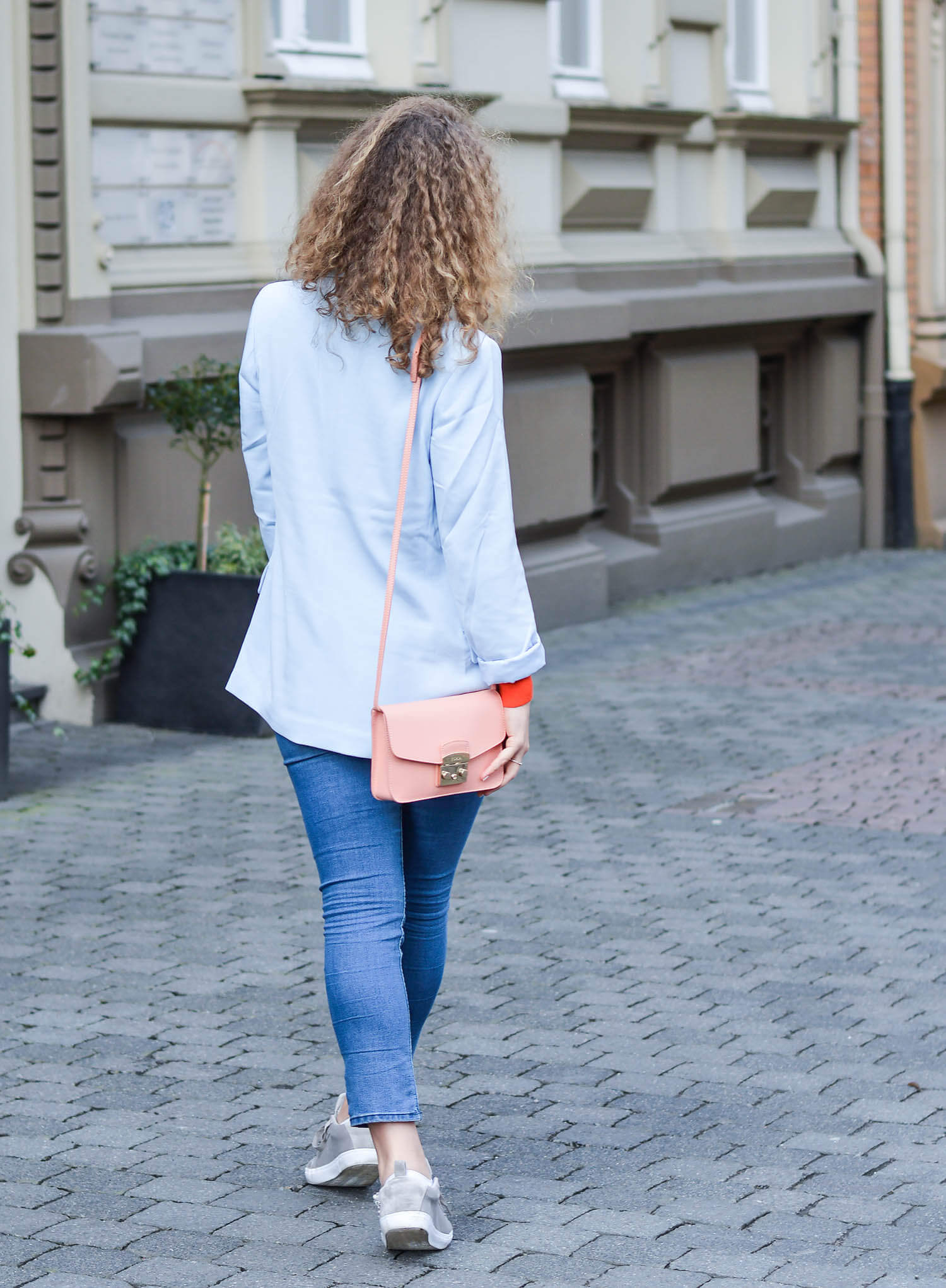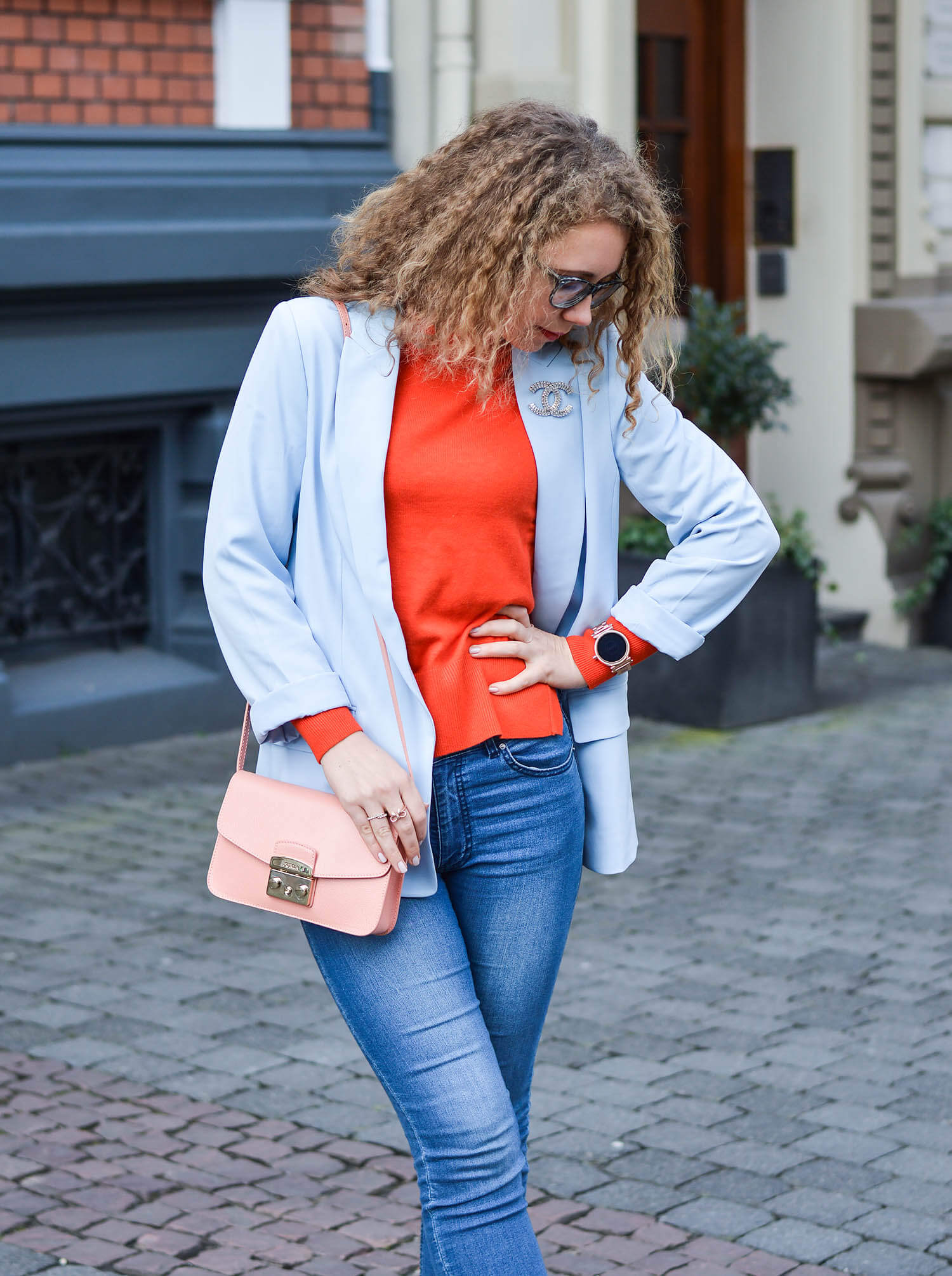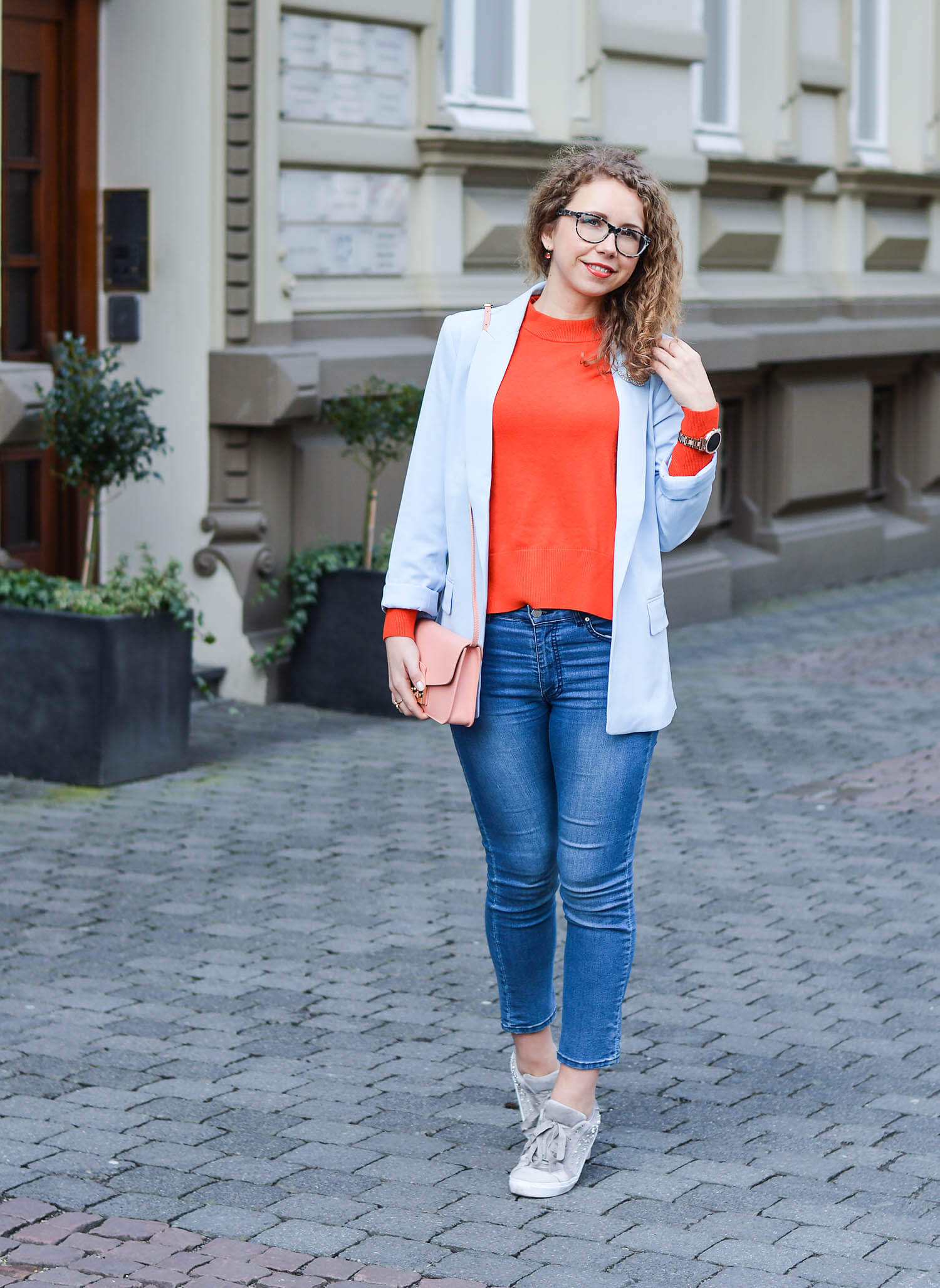 ---
Today everything revolves around the topic of color-blocking with two new pieces from H&M. I combine pastel blue with a strong tangerine.
Color-blocking: Blazer in baby blue with a dash of orange
When I discovered the simple pastel blue blazer with open lapel in the H&M online shop, it was love at first sight. Nevertheless I was curious how I would like it live and how the quality would be. A week later – why does the shipping process at H&M take so unnaturally long again? – I held the good piece in my hands and was fortunately enthusiastic. The blazer is wonderfully heavy and the delicate blue is a dream!
Besides the blazer I also bought this light knit sweater. It has small slits on the sides and I like the strong tangerine tone very much. Nevertheless, the color combination as I wear it here is rather unusual for me. But on this day I was looking for strong color contrasts and I think it doesn't look bad at all. The look also shows how versatile the blazer is and I'm looking forward to many more combinations with it.
Another splash of color is my apricot-colored Fula bag, which had to wait all winter for its next use. ;-)
Health comes first
Unfortunately I am still not well and on Monday my doctor wrote me off for the whole week. At first I thought that was a bit of an exaggeration, but now I'm really happy about it. You can't imagine how much I miss the sport, but at the moment I am totally broken after long walks and get coughing fits. I hope this will soon come to an end and that I will be completely fit again by the time of the wedding!