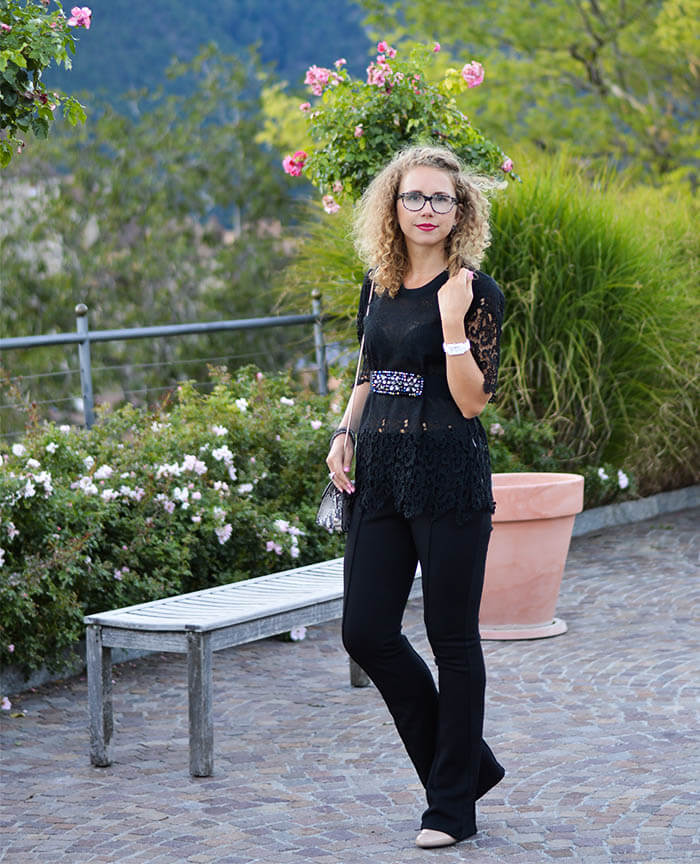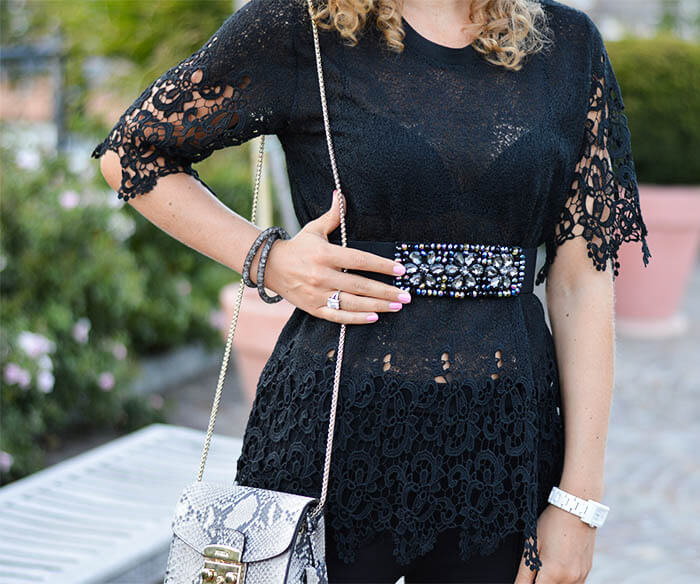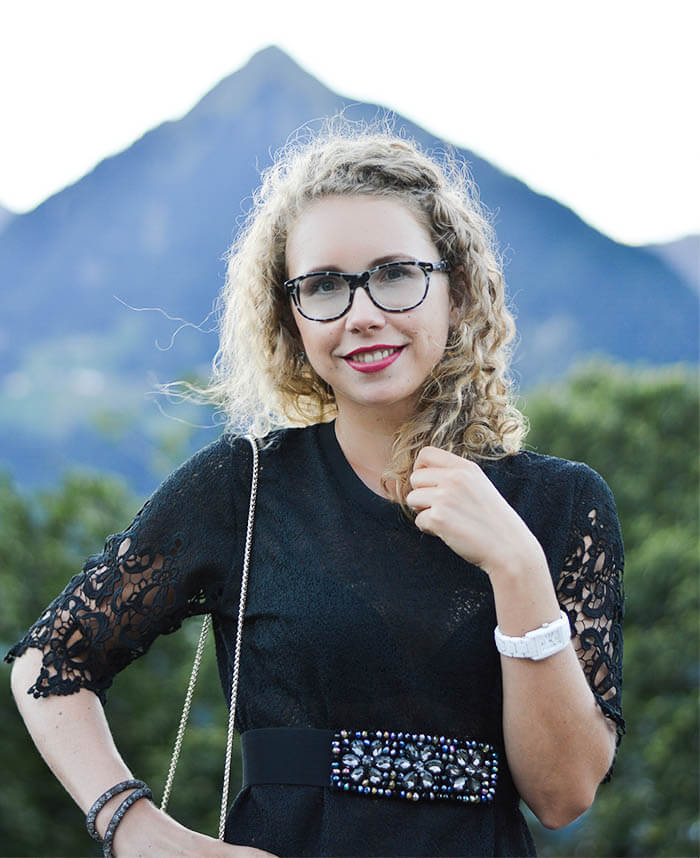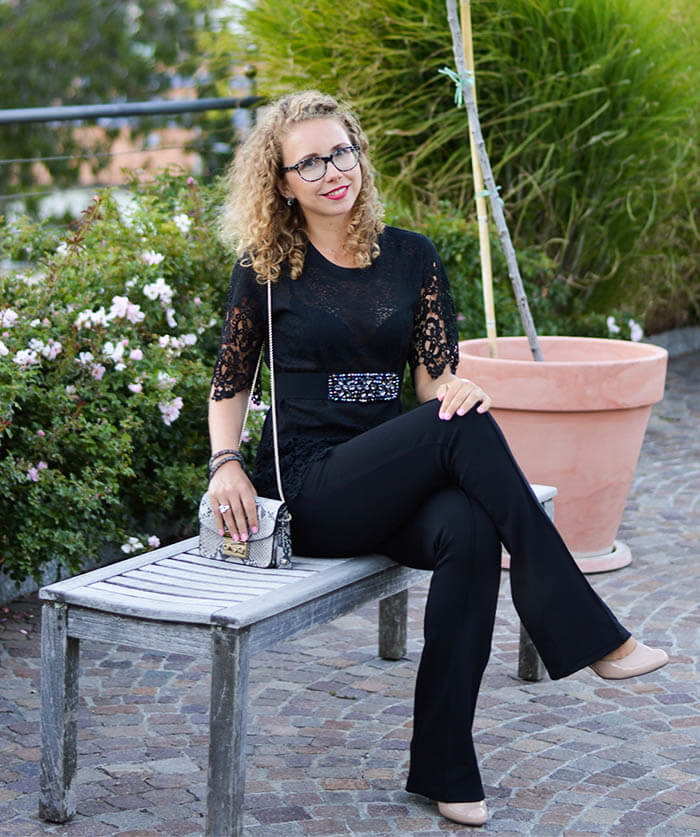 Top, Pants: Zara // Belt: from Italy // Pumps: Clarks // Bag: Furla
Shop my Look
Guten Morgen ihr Lieben! Nach einer für mich kurzen Arbeitswoche – Dienstag war bei uns ein Feiertag und Montag habe ich mir einen Gleittag gegönnt – steht das nächste Wochenende schon wieder kurz bevor!
Outfit
Nachdem ich letzte Woche schon mal in Schwarz gehüllt war, folgt heute erneut ein Allblack Everything Outfit. Die Bilder sind in Südtirol entstanden, vor dem Eingang zum Hotel Hohenwart. Ich trage meine schwarze Schlaghose von Zara, die ihr hier bereits einmal gesehen habt. Auch das Spitzenshirt ist von Zara und schon etwas älter. Ich habe es diesmal mit einem elastischen Gürtel in eine andere Form gebracht und meine Taille betont. Den Gürtel habe ich beim Bummeln in Meran in einer kleinen italienischen Boutique gefunden.
Habt ihr auch immer das Bedürfnis, neue Sachen möglichst sofort anzuziehen? So ging es mir auch mit diesem Accessoire. Tagsüber geshoppt, stand ich abends vor meinem Hotel-Kleiderschrank auf der Suche nach etwas Passendem. Gar nicht so einfach, hatte ich doch nicht unbedingt damit gerechnet, dass ich mir einen Taillengürtel kaufen würde… Letztlich bin ich mit meiner Kombi aber sehr zufrieden. Etwas aufgelockert wird es noch durch meine kleine Furla und die farblich passenden Lackpumps.
Wie gefällt euch mein Abendlook?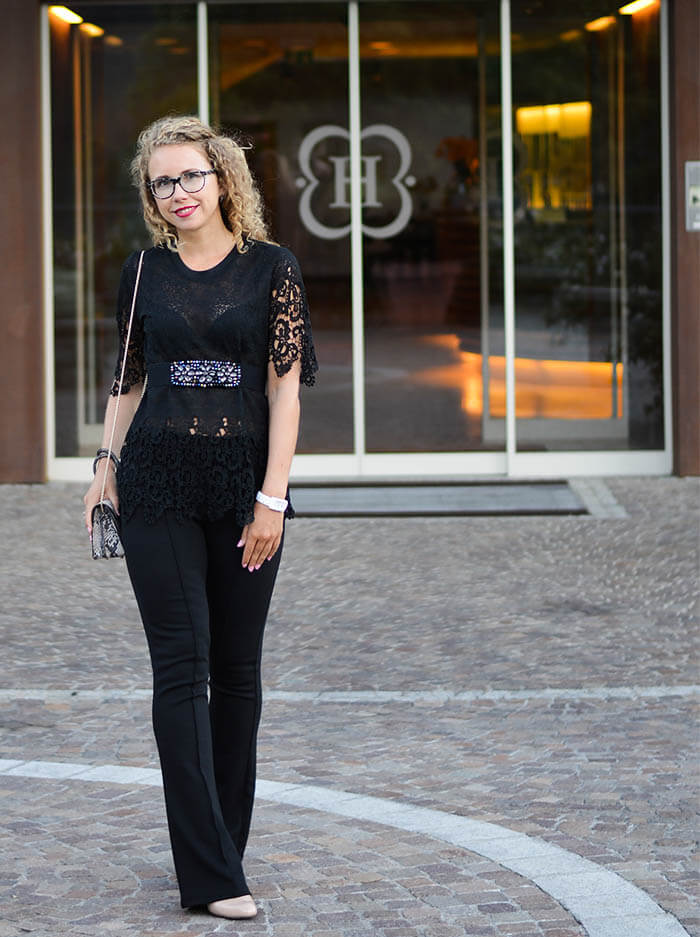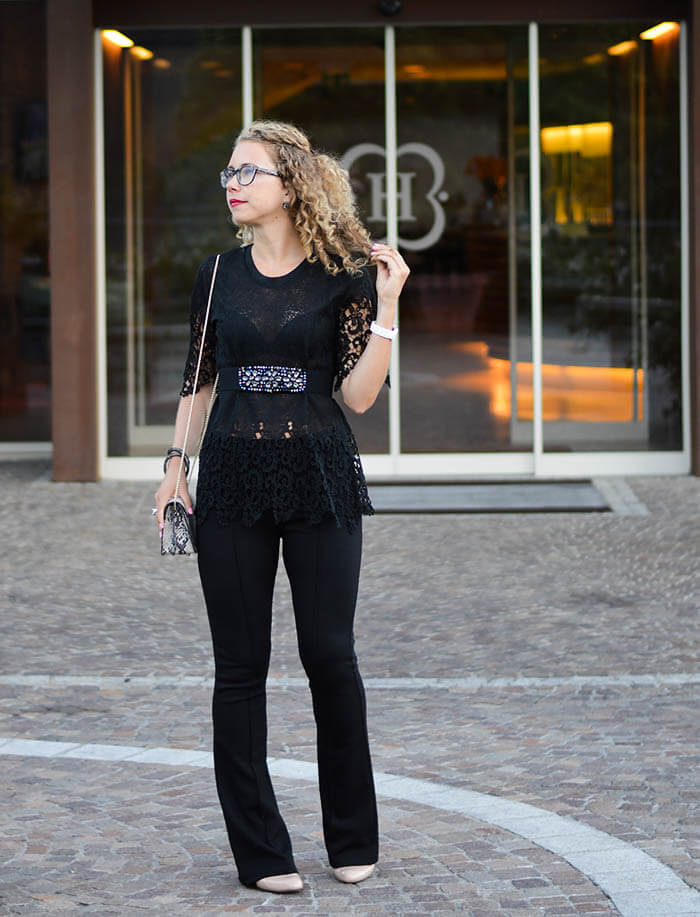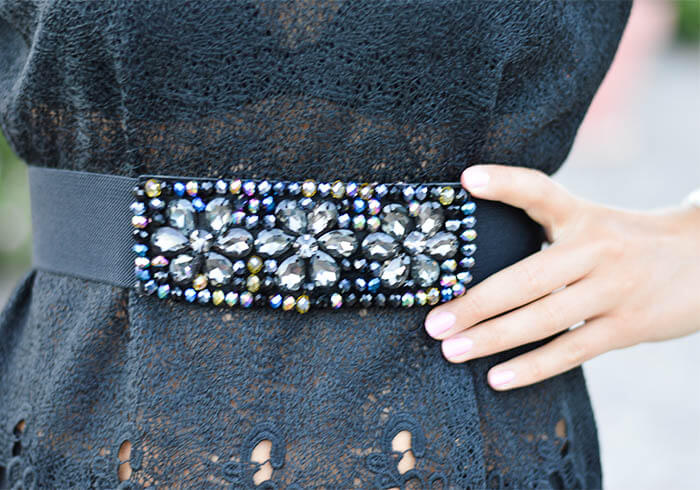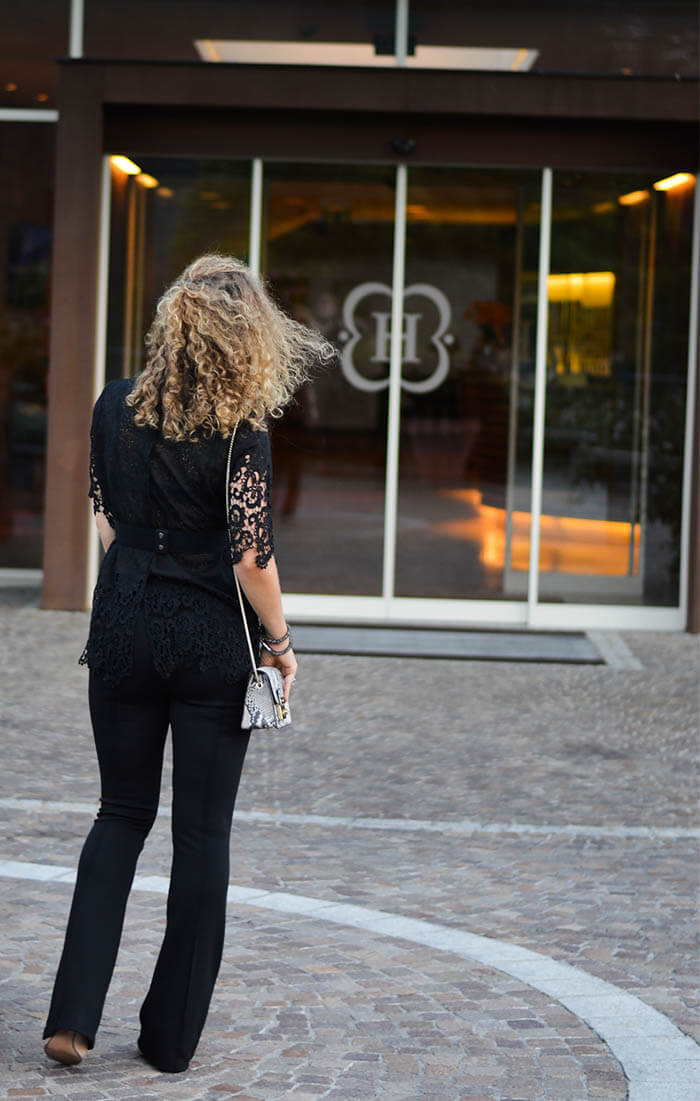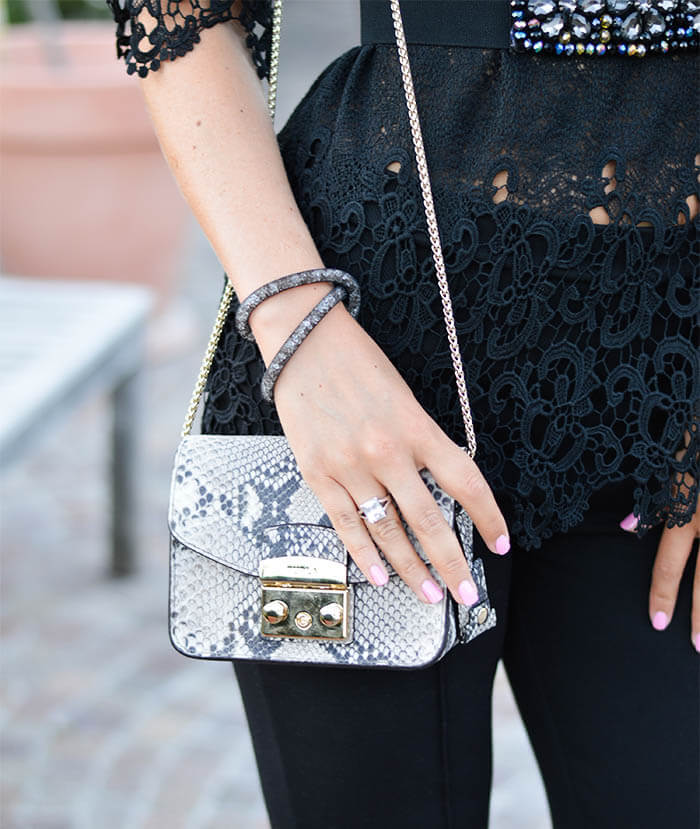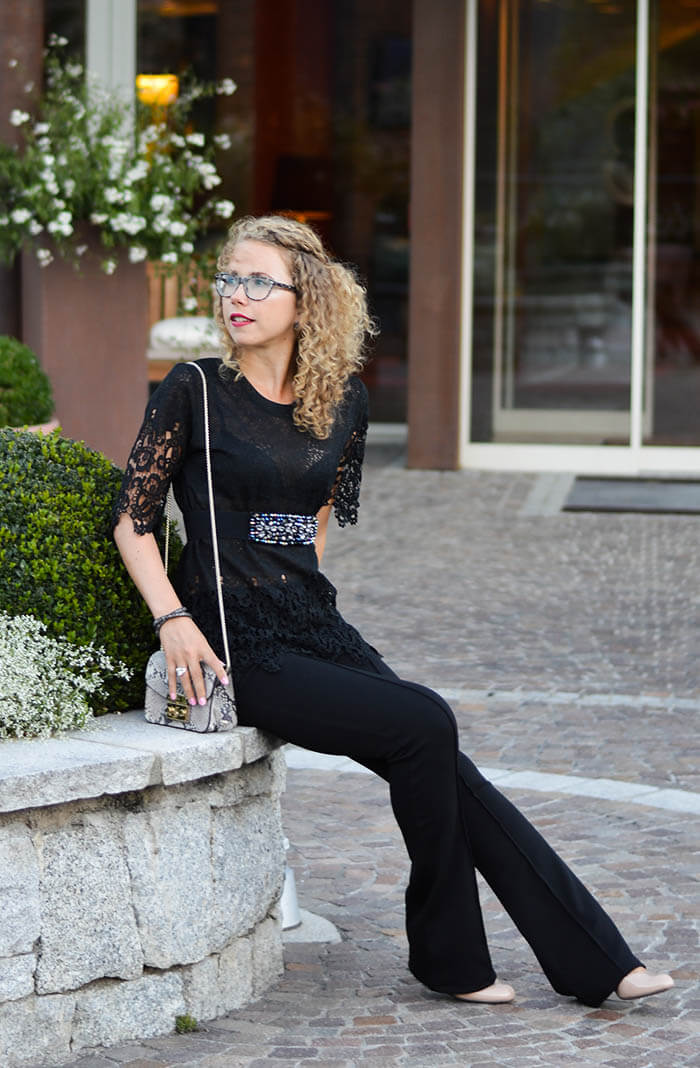 ---
Good morning lovelies! After a short workweek for me due to a bank holiday on Tuesday and a day off on Monday, the next weekend is just around the corner!
The Outfit
After showing an allblack everything look last week, I have another one for you today. We made these pics in South Tirol in front of the entrance of Hotel Hohenwart. I'm wearing my black flared pants from Zara and an older lace shirt which is from Zara, too.
This time, I teamed it up with an elastic belt to enhance my waist. Right before I found this belt while strolling through beautiful Merano in one of the little Italian boutiques.
Do you also feel the urge to wear new items immediately after buying them? I shopped it by day and in the evening I was standing in front of my hotel wardrobe, thinking about what could go together with my new belt. Not that easy, because I wouldn't have thought that I would buy myself a waist belt… in the end I'm really happy with my whole outfit, including the nude patent pumps and the little color-compatible Furla.
How do you like my evening style?