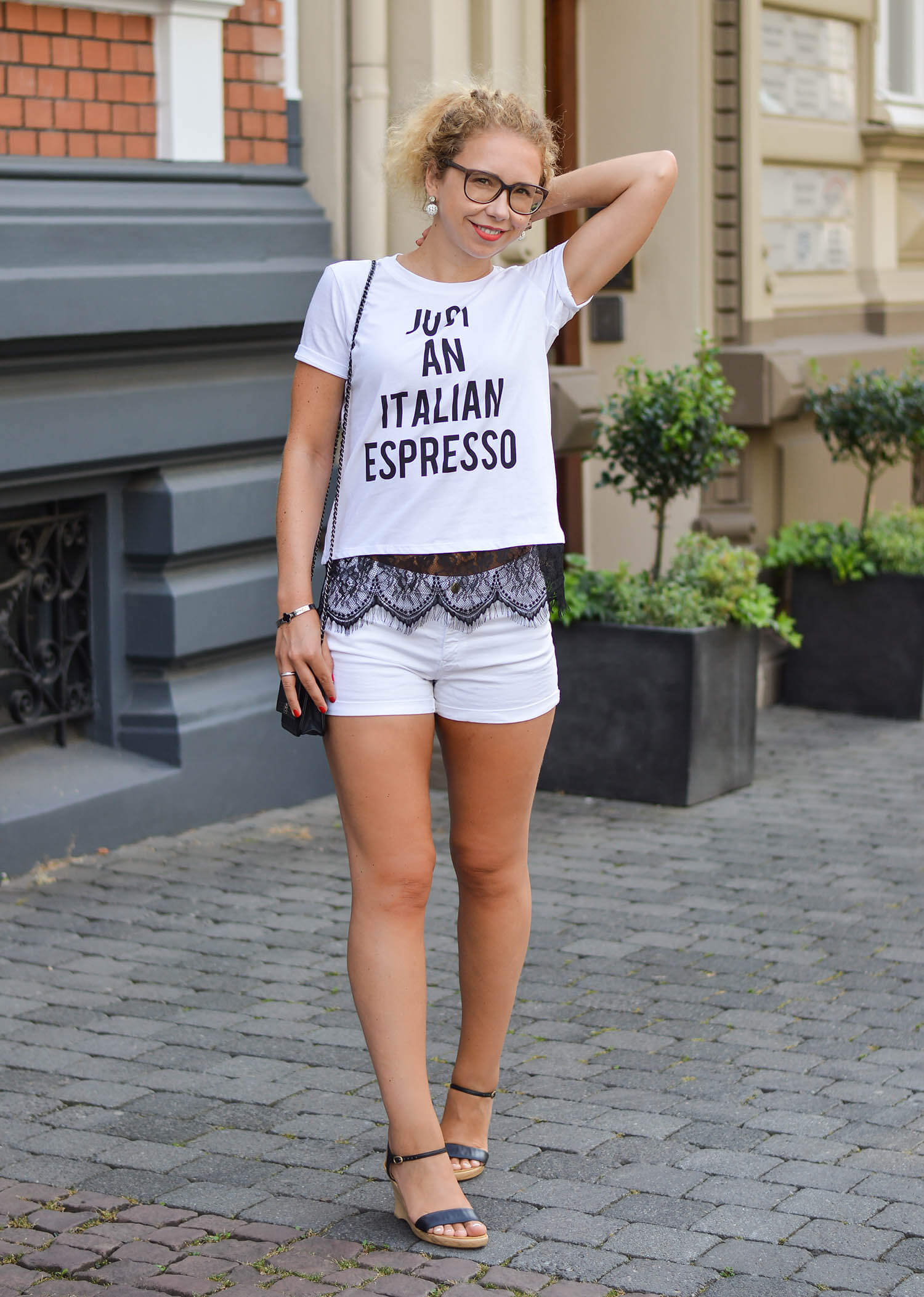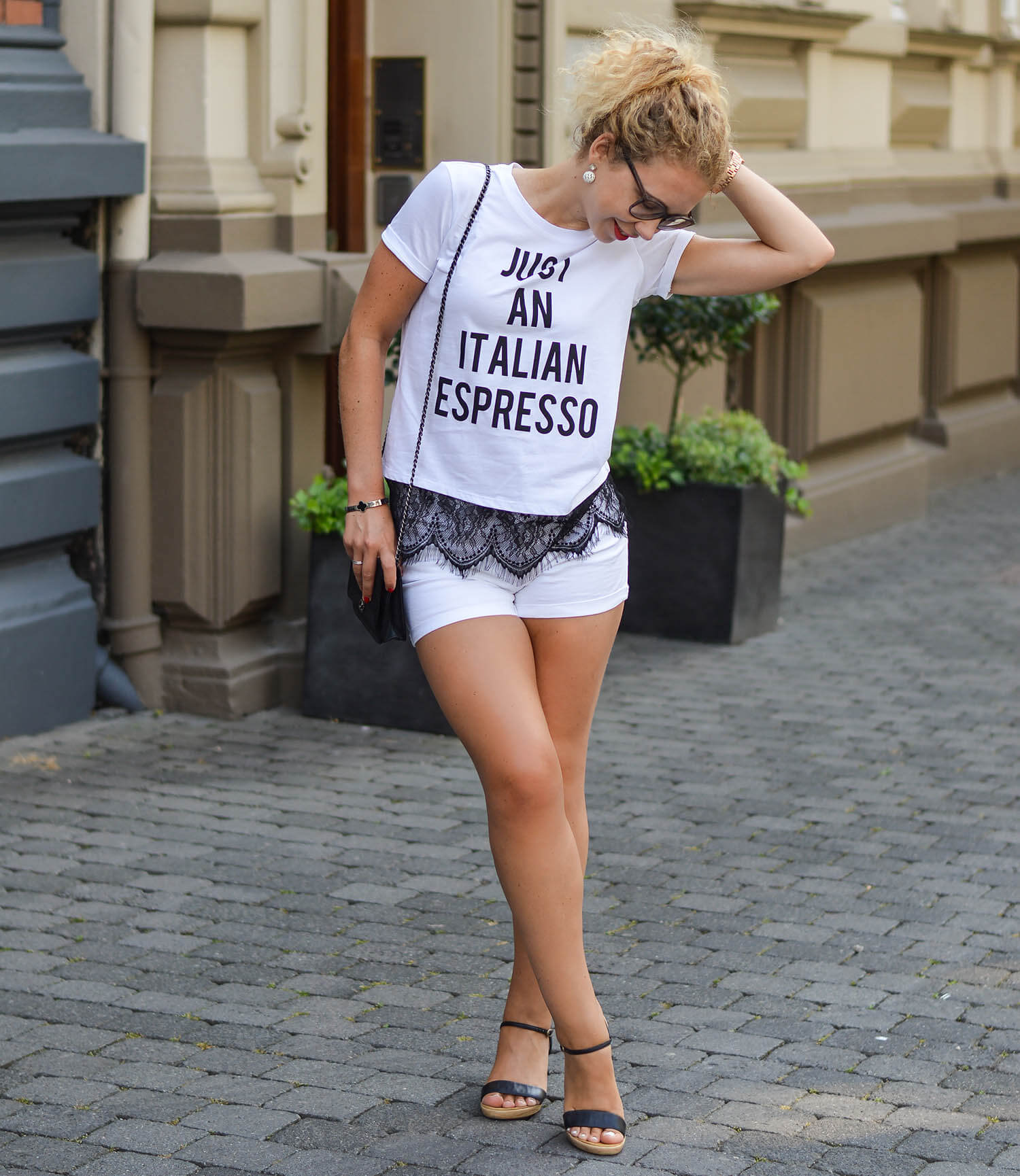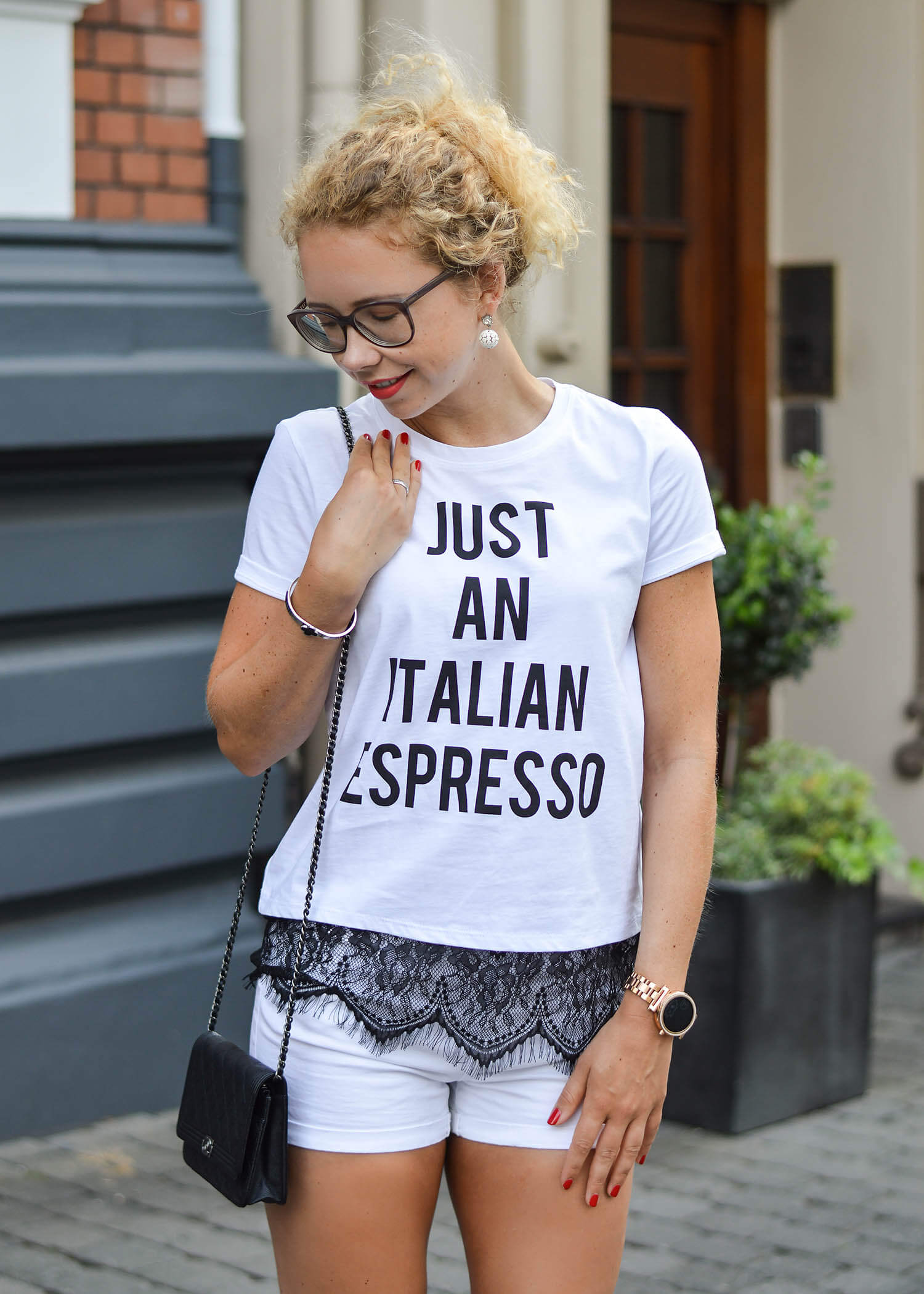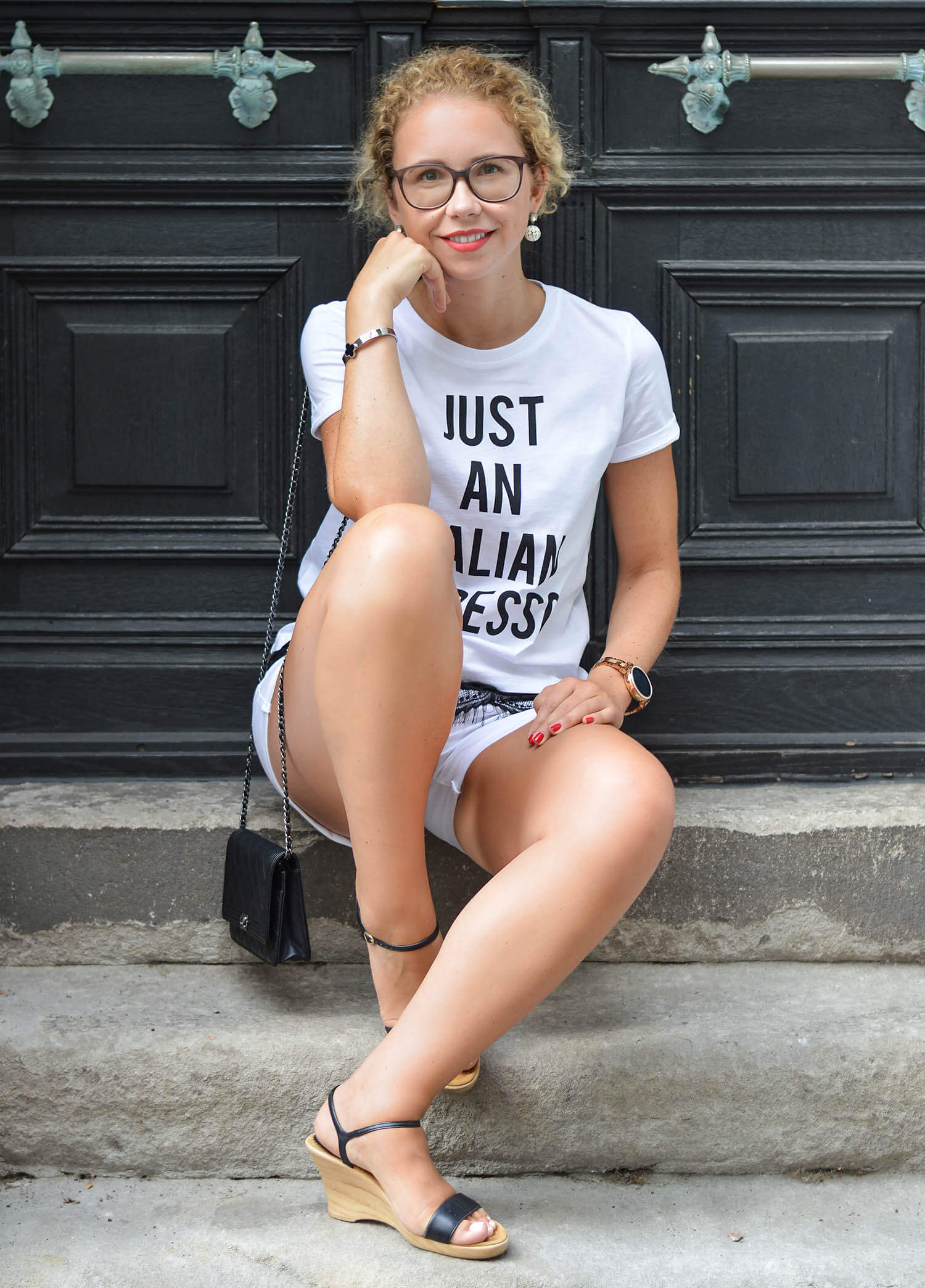 Pünktlich zum Herbstanfang war er dann am Freitag auch plötzlich da: Der Herbst! Bevor auch hier die ersten herbstlicheren Outfits folgen, verabschiede ich mich vom wettermäßig wirklich unfassbaren Sommer 2018 mit einem weiteren Sommer-Outfit.
Statement Shirt
Das Statement Shirt von Zara hat mich sofort gecatcht. Ich finde die Message "Just an Italian Espresso" einfach witzig und mir gefällt vor allem die mädchenhafte Spitzenbordüre am Saum. Ohne diese wäre das Shirt für mich nur halb so cool, wobei es manche bestimmt an eine Tischdecke erinnern wird. ;-)
Geshootet haben wir den Look an einem der unzähligen heißen Sommertage. Daher trage ich ultrakurze weiße Shorts dazu. Die Accessoires sind wie das Outfit komplett in schwarz-weiß gehalten: Von den Ohrringen und dem Armband über meine kleine Chanel Tasche bis hin zu den Sandalen. So entsteht ein cleaner Sommerlook – perfekt für einen Stadtbummel oder – wie hier – den obligatorischen Sonntagskaffee.
Mein Sommer 2018
Neben dem unsagbar guten, wenn auch zu trockenem Wetter, wird mir der Sommer 2018 auch aus persönliche Gründen sicher lange in Erinnerung bleiben. Von sprichwörtlich himmelhoch jauchzend bis hin zu zum Tode betrübt, war für mich und meine Familie fast alles dabei. Der Sommer begann mit unserer unfassbar schönen Hochzeitsparty und anschließenden Flitterwochen in Barcelona und auf der AIDAprima. Ganz kurz darauf folgte meine Blut-Diagnose, die mir, zusammen mit weiteren sehr schlechten Gesundheitszuständen innerhalb meiner Familie, einen ordentlichen Dämpfer versetzte…
Unser Südtirolurlaub vor drei Wochen hat mich wieder ein wenig aufatmen und Kraft tanken lassen und somit wieder mit dem Sommer versöhnt. Ich hoffe, der Herbst hält für meine Lieben und mich sowie für euch ganz viel Gutes bereit! Für mich geht es morgen zur ersten Kontrolluntersuchung nach 6 Wochen Pause und ich hoffe, dass sich inzwischen alles wieder relativiert hat…
Startet gut in die erste Herbstwoche des Jahres ihr Lieben!
Shirt: Zara
Shorts: H&M
Sandals: Unisa
Bag: Chanel
Shop my Look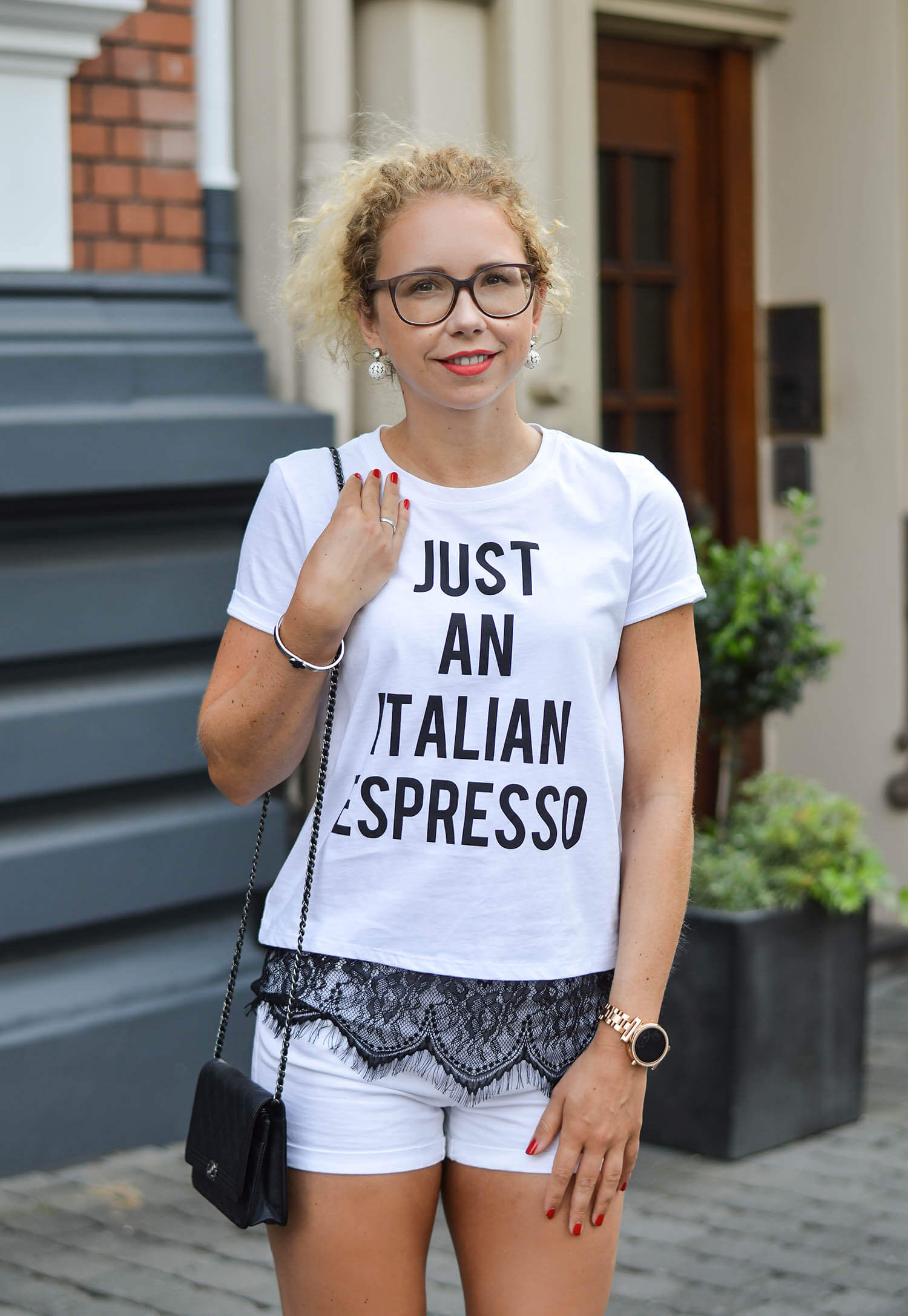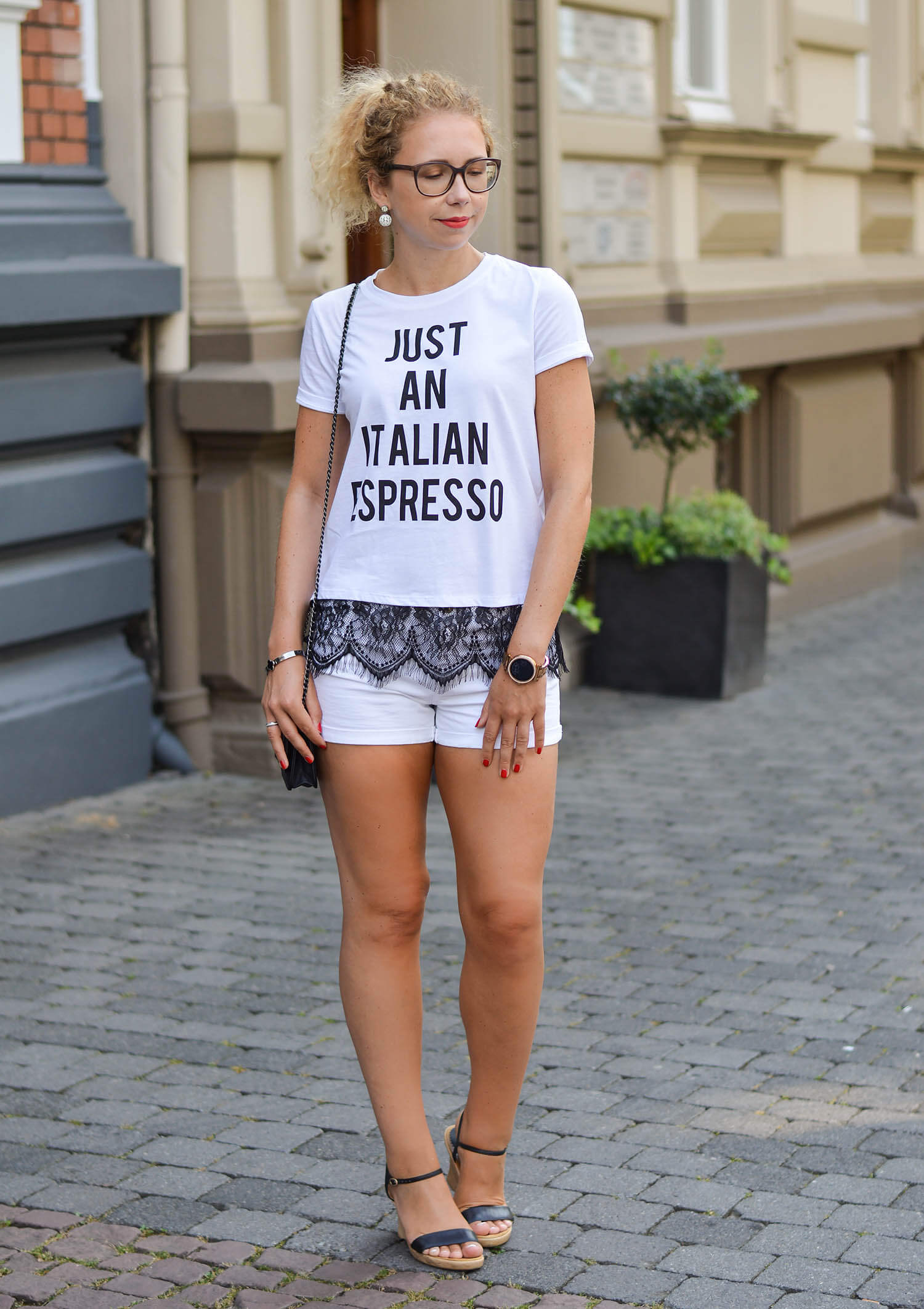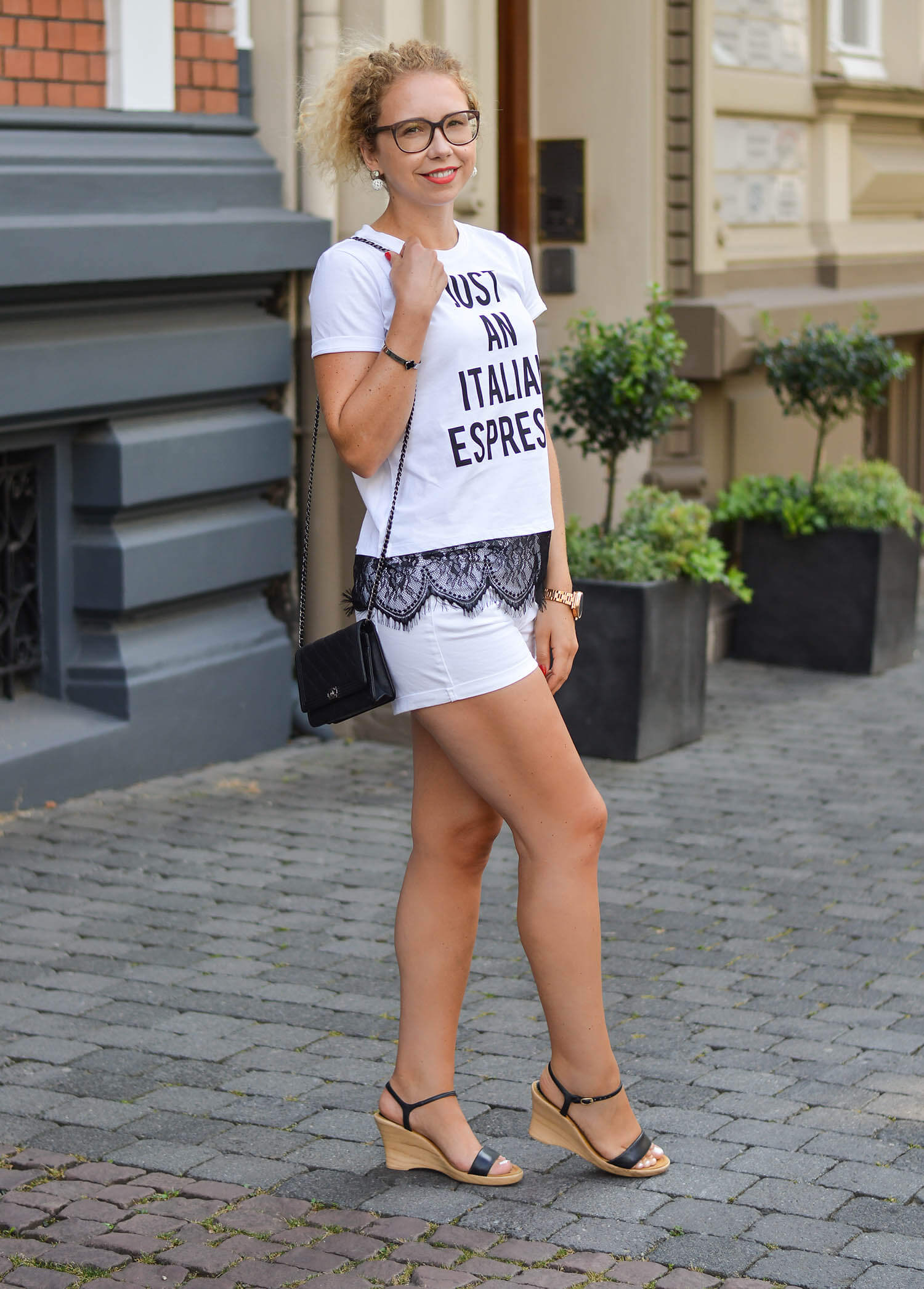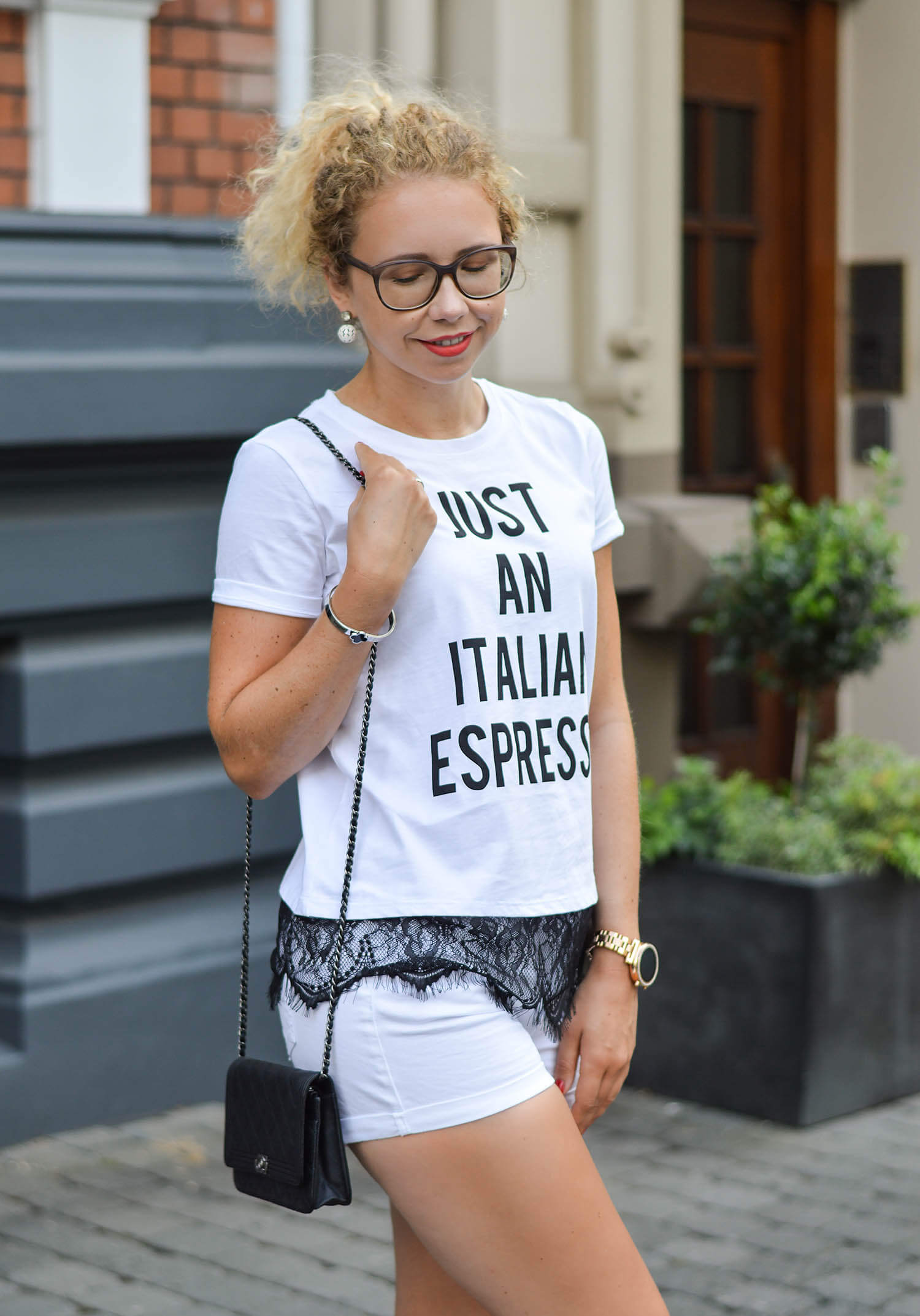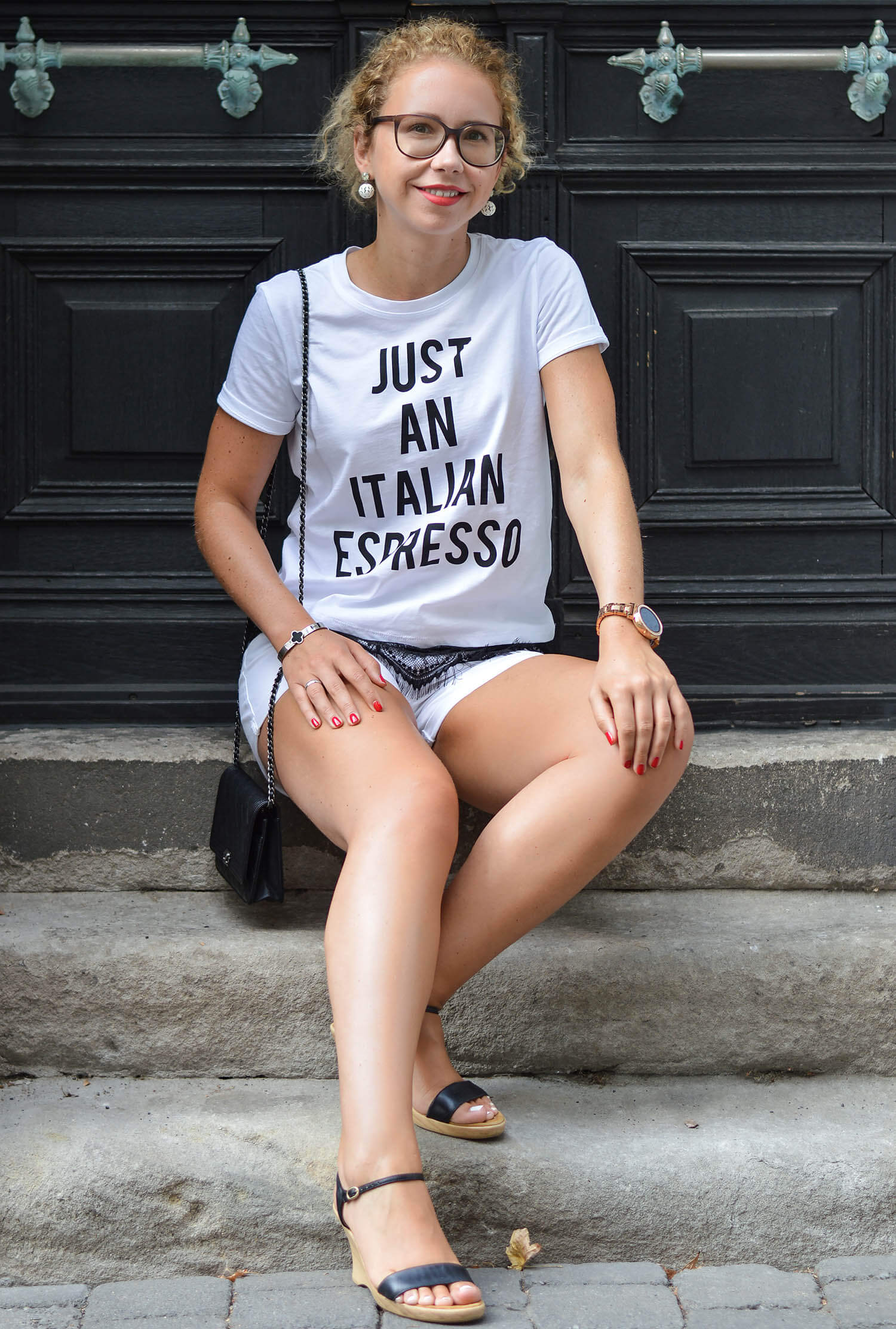 ---
Just in time for the beginning of fall it suddenly arrived on Friday: Autumn! Before the first fall outfits follow, I say goodbye to the weather-wise really unbelievable summer 2018 with another summer outfit.
Statement Shirt
Zara's statement shirt immediately catched me. I find the message "Just an Italian Espresso" simply funny and I especially like the girlish lace border at the hem. Without this the shirt would only be half as cool for me, although it will certainly remind some of a tablecloth. ;-)
We shot the look on one of the countless hot summer days. That's why I wear ultra-short white shorts with it. Like the outfit, the accessories are completely in black and white. From the earrings and the bracelet over my little Chanel bag to the sandals. The result is a clean summer look – perfect for a stroll through town or – as here – the obligatory Sunday coffee.
My summer 2018
Apart from the unspeakably good, even if too dry weather, the summer of 2018 will certainly remain in my memory for a long time, also for personal reasons. From proverbial sky-high cheering up to saddened to death, almost everything was there for me and my family. The summer began with our incredibly beautiful wedding party followed by our honeymoon in Barcelona and at AIDAprima. Shortly thereafter followed my blood diagnosis, which, together with other very bad health conditions within my family, put a damper on my life…
Our holiday in South Tyrol three weeks ago gave me a little relief and gave me the strength to recharge my batteries and make up for the summer again. I hope that autumn will be a good time for my loved ones, for me and for you! For me it goes tomorrow to the first control investigation after 6 weeks break and I hope that everything has relativized itself in the meantime…
Start well into the first autumn week of the year, cuties!