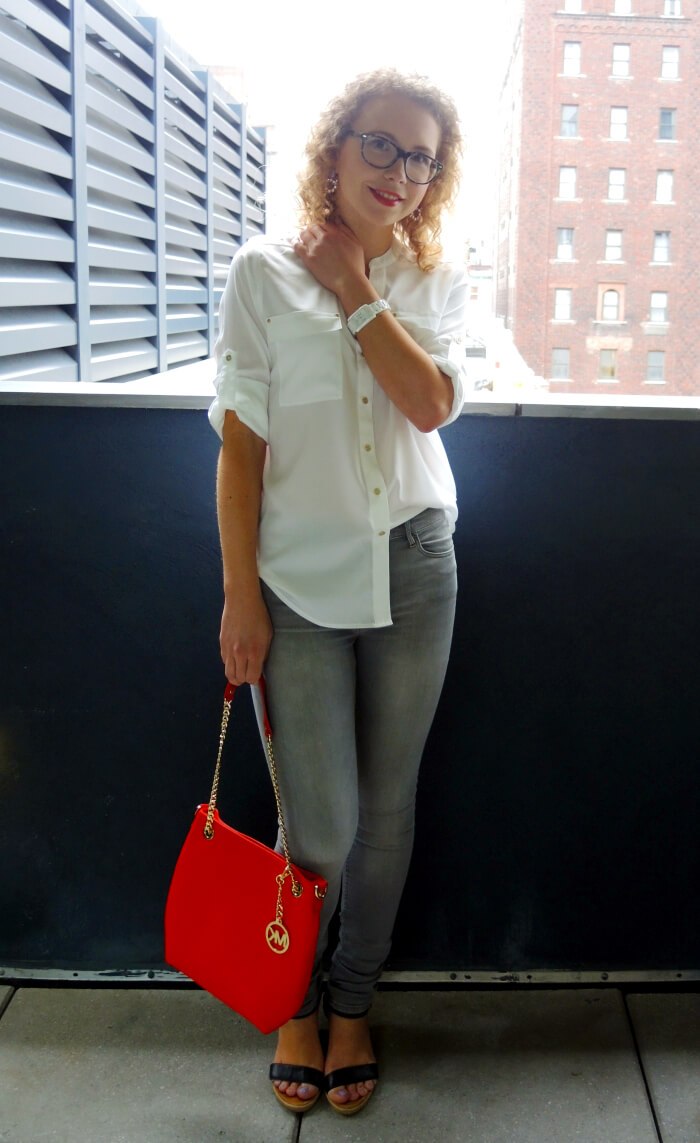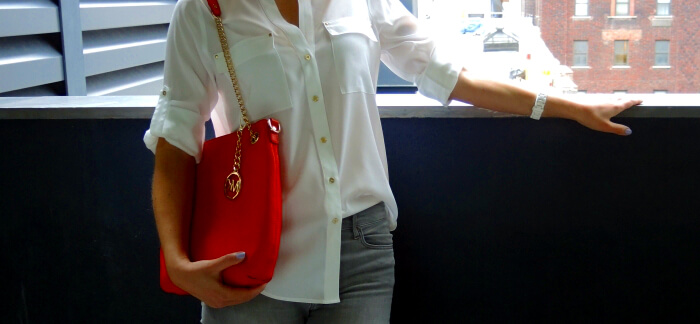 Shop my look


Heute teile ich mein letztes New York-Outfit mit euch und zum Abschluss der Reihe habe ich einen etwas eleganteren Look gewählt. Es dreht sich alles um meine beiden Neuheiten, die weiße Bluse von Calvin Klein und die knallrote Michael Kors-Tasche mit Gold-Elementen.
Könnt ihr euch vorstellen, dass dies meine erste reinweiße Bluse ist? Ich muss gestehen, dass ich bis vor ein/zwei Jahren irgendwie nicht so der Blusentyp war, aber das hat sich inzwischen stark geändert. Ein klassisch weißes Exemplar fehlte aber noch in meiner Garderobe und somit war ich sofort verliebt als ich dieses (bügel-)leichte Teil mit Goldknöpfchen und gekrempelten Ärmeln bei Century21 entdeckt habe.
Die Tasche hat es mir ebenfalls direkt angetan. Ich hatte hier zuvor schon angedeutet, dass ich in New York nach einer roten Michael Kors Ausschau halten werde – und noch röter geht ja wohl nicht, oder? ;-)
Getragen habe ich das Outfit bei unserem abendlichen Ausflug zur Rooftop-Bar (der Bericht dazu folgt im nächsten Teil meines Reisetagebuchs) – allerdings mit Boots, Strick- und Lederjacke, da es verdammt kalt war.
Wie gefällts euch?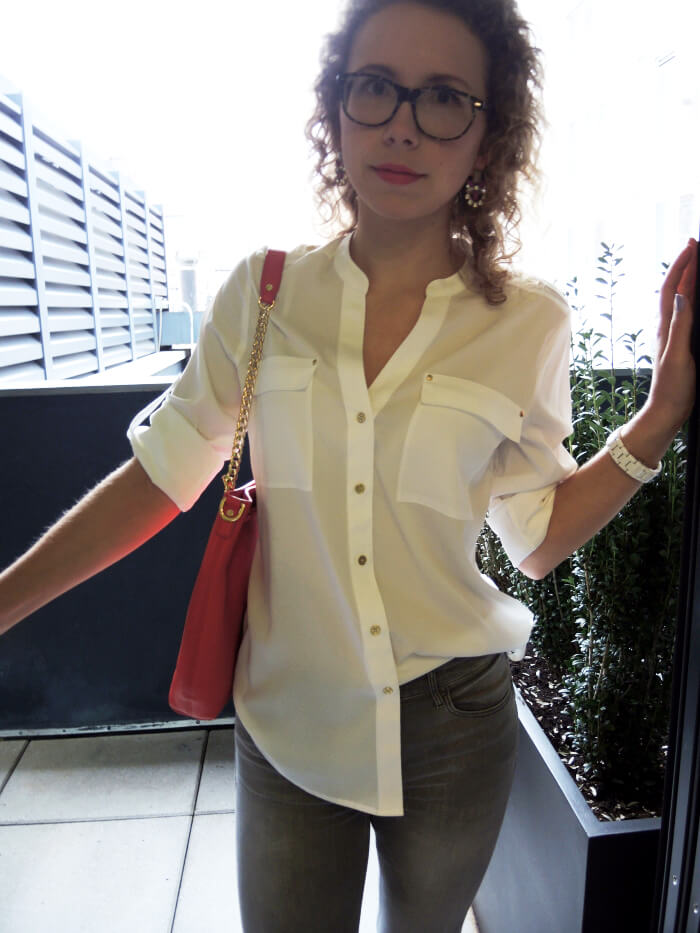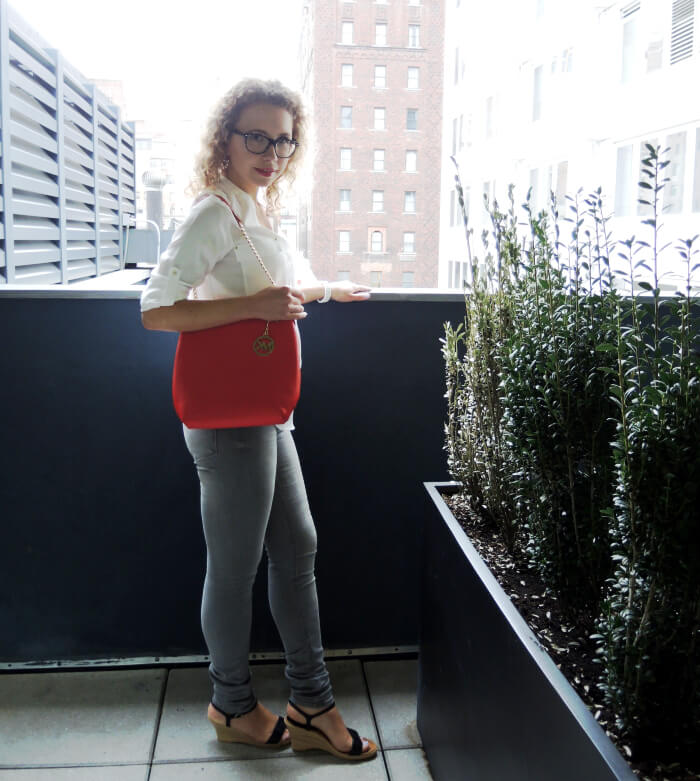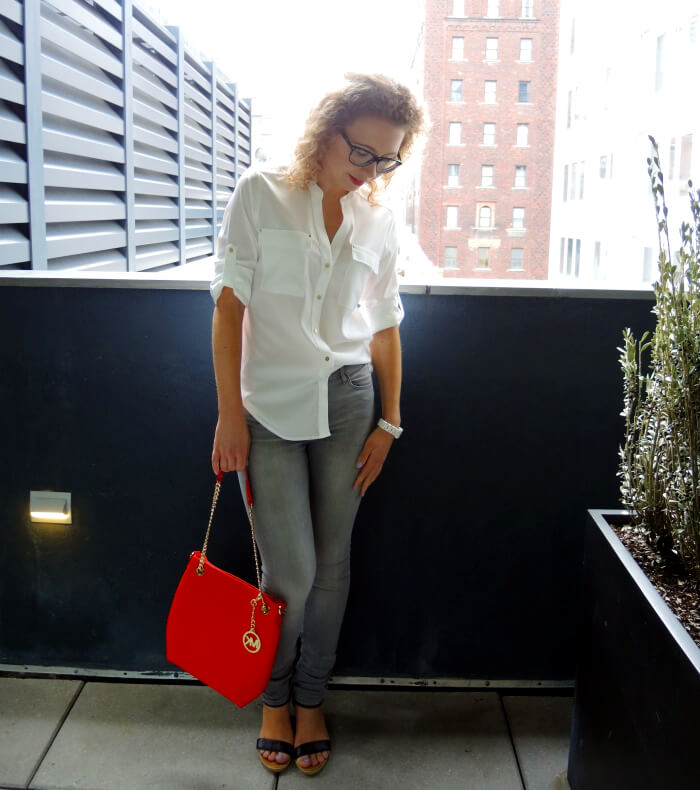 ---
Today I'm sharing my last New York outfit with you. It's all about my new items – the white blouse from Calvin Klein and the chili red Michael Kors bag with golden applications.
Can you imagine that this one is my very first white blouse? I must confess that I wasn't really a blouse-type since a few years ago. That has definiteley changed, but a classic white blouse was still missed in my wardrobe. So, it was love at first sight when I spotted this light item with golden buttons at Century21.
I immediately fall for the bag, too. Before our vacation I already mentioned here that I wanted to look for a red Michael Kors bag – and it couldn't be more red, right? ;-)
I've worn this outfit for our evening trip to a rooftop bar (I will talk about it in the next part of my travel diary) – but with boots, cardigan and leather jacket because it was freaking cold.
How do you like it?