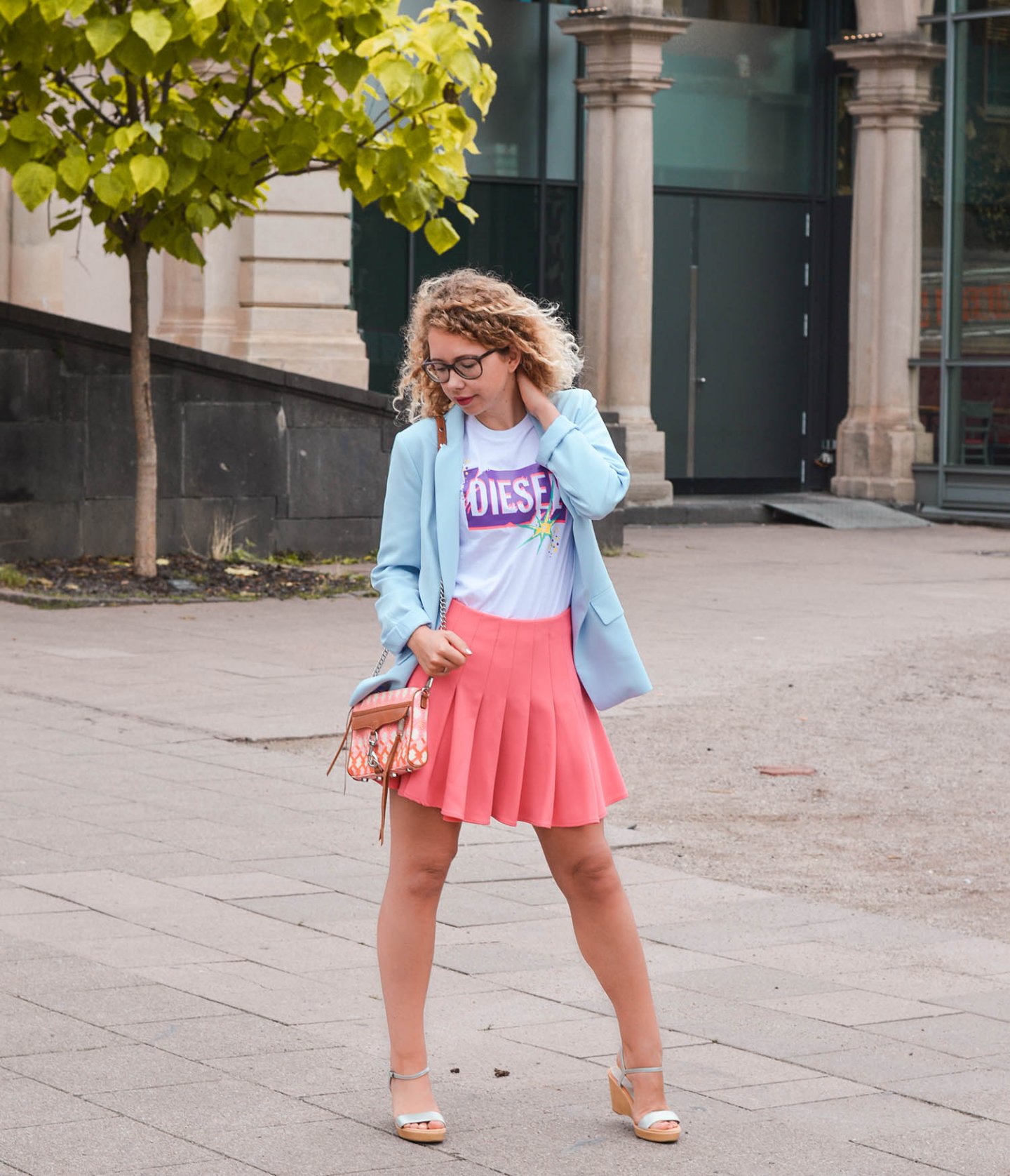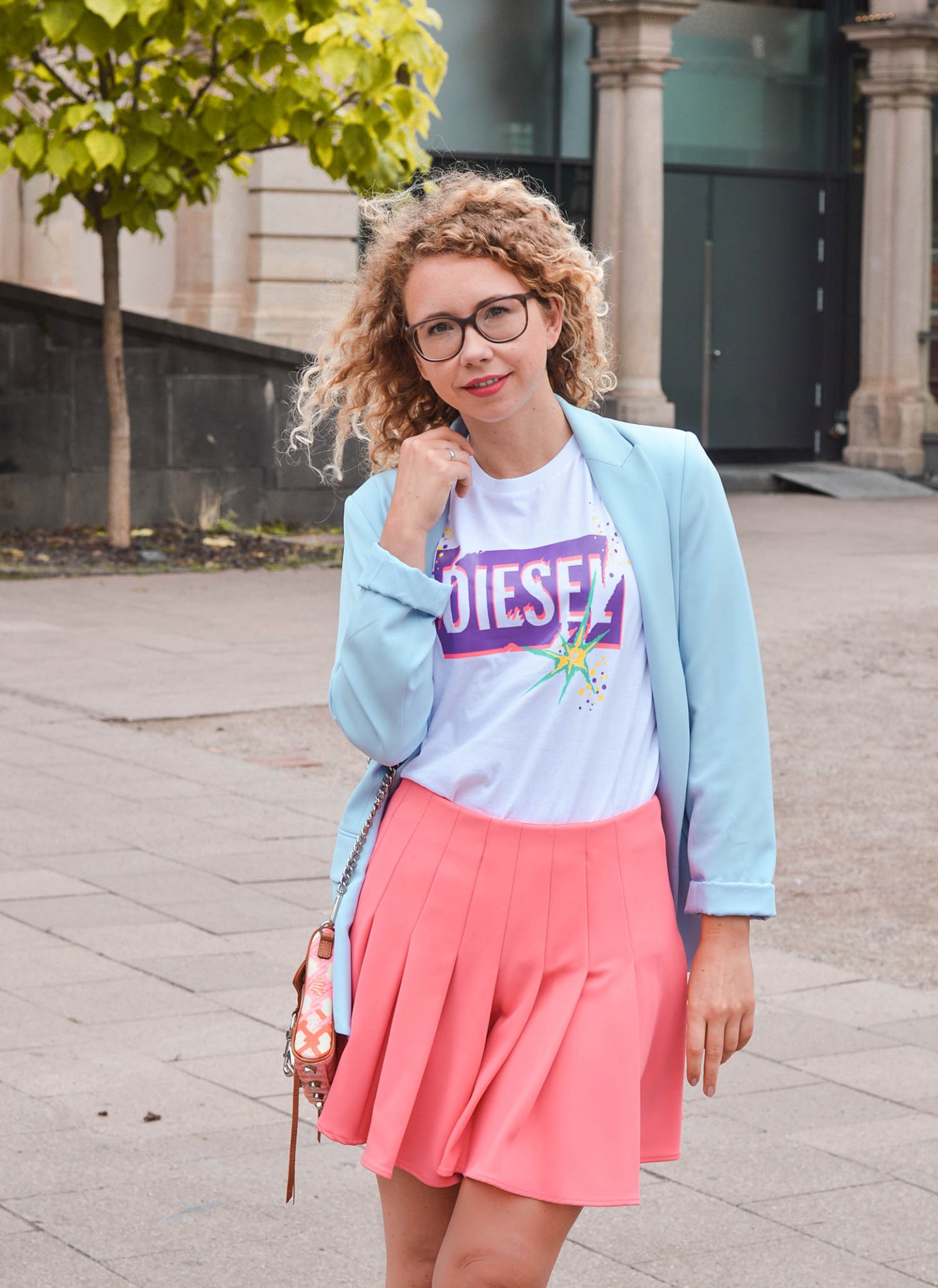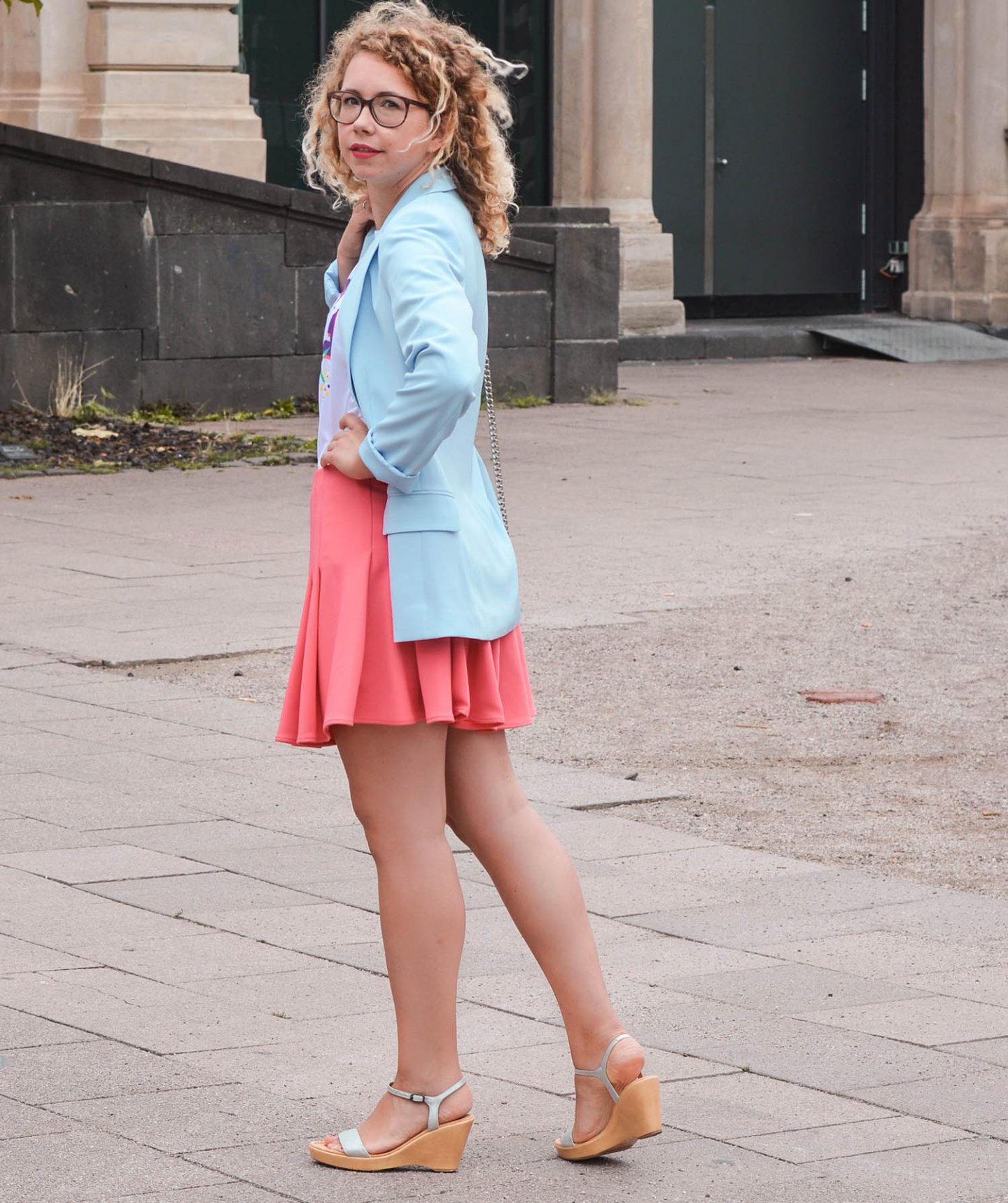 enthält Affiliate Links

Der Herbst ist da, aber ich habe noch ein paar sommerliche Looks im Petto wie diesen hier mit Logo-Shirt und Neon-Farben. Macht auch Ende September noch gute Laune, oder was meint ihr?
Logo-Shirt von Diesel
Das coole Logo-Shirt von Diesel habe ich im Sommer bei TK Maxx gefunden. Wie immer ganz zufällig, denn ich muss gestehen, dass ich selten Lust habe, mich komplett durch die Kleiderstangen zu wühlen. Meist picke ich nach Zufallsprinzip ein paar Teile raus und nicht selten ist direkt etwas Schönes dabei. So auch bei diesem Logo-Shirt. Die Logo-Mania hält sich nach wie vor in der Fashionwelt, sodass ich hiermit auch voll im Trend liege.

Mir gefällt vor allem die Farbzusammenstellung des Logos und ich hatte direkt Lust, auch den Neon-Trend aufzugreifen und kombiniere daher meinen Faltenrock in neon-korall dazu. Farblich perfekt dazu ist meine Rebecca Minkoff Crossbody Bag, die ich vor vielen Jahren in NYC geholt habe. Und oben drüber kommt ein babyblauer schlichter Blazer.

Das Logo-Shirt lässt sich aber auch herbstlich prima kombinieren, zum Beispiel mit Jeans, Boots und einer kuscheligen Strickjacke. Probiere ich vielleicht auch mal aus demnächst, denn eich bisschen Farbe schadet auch in der ohnehin dunklen Jahreszeit nicht… ;-)
Shop my Look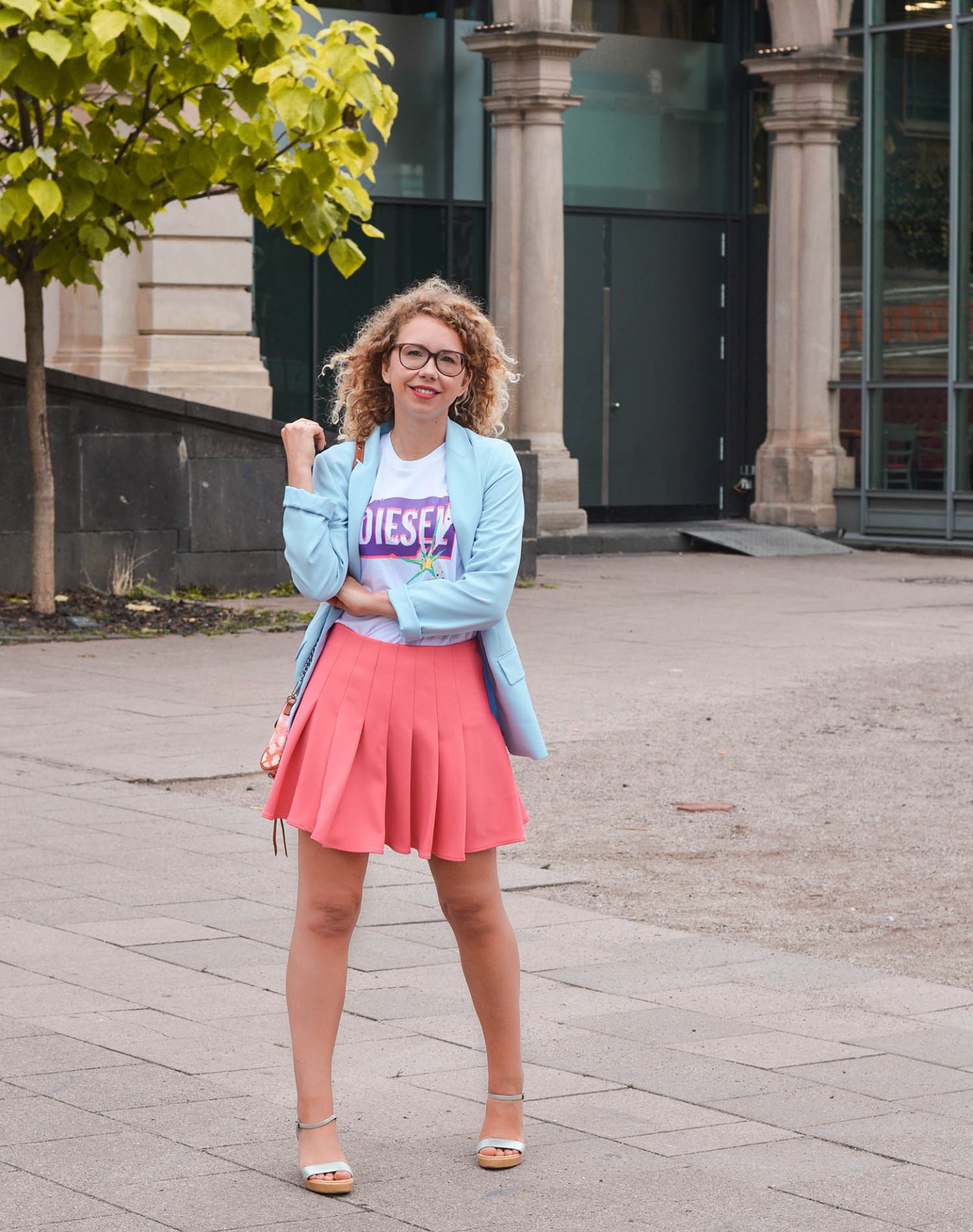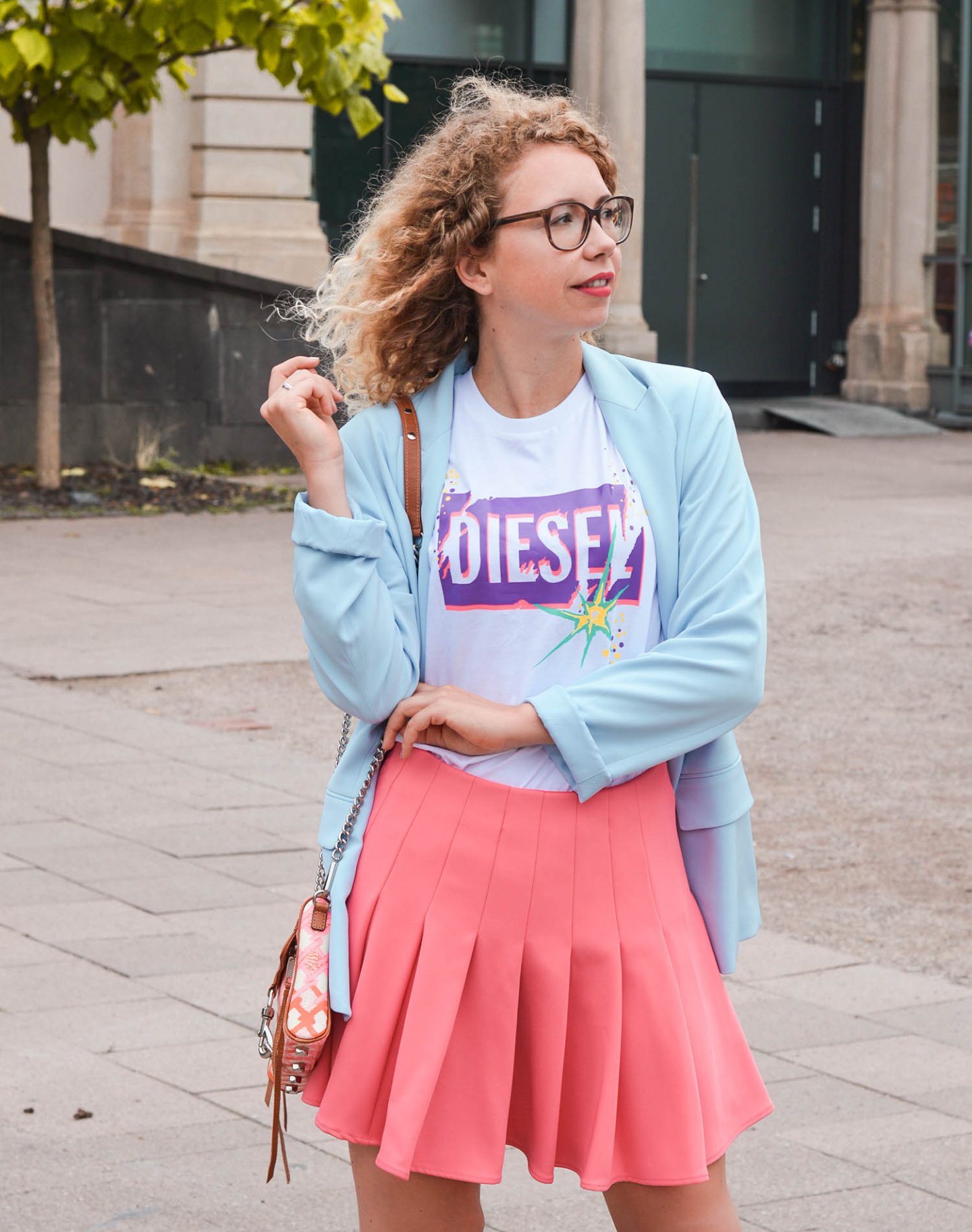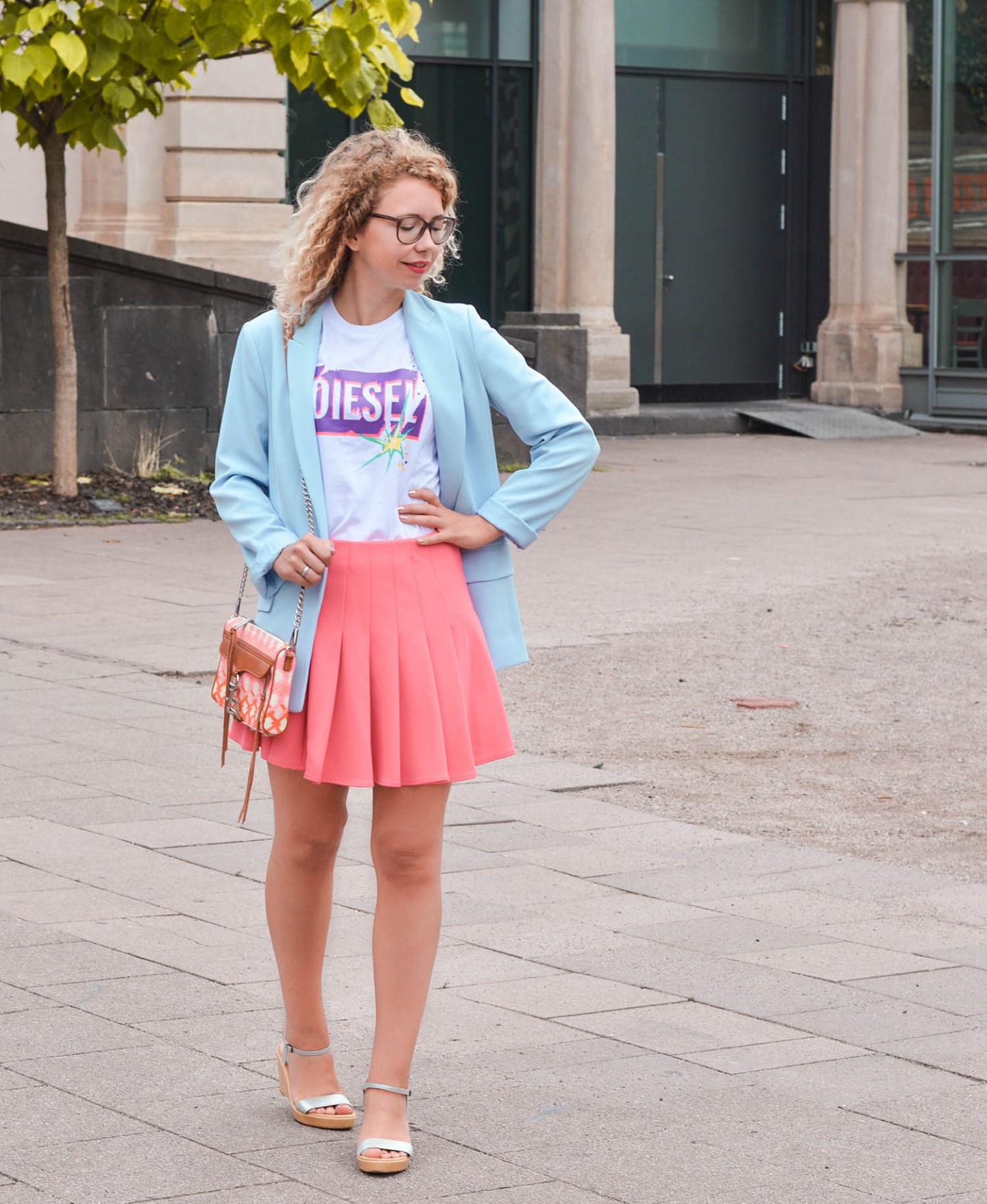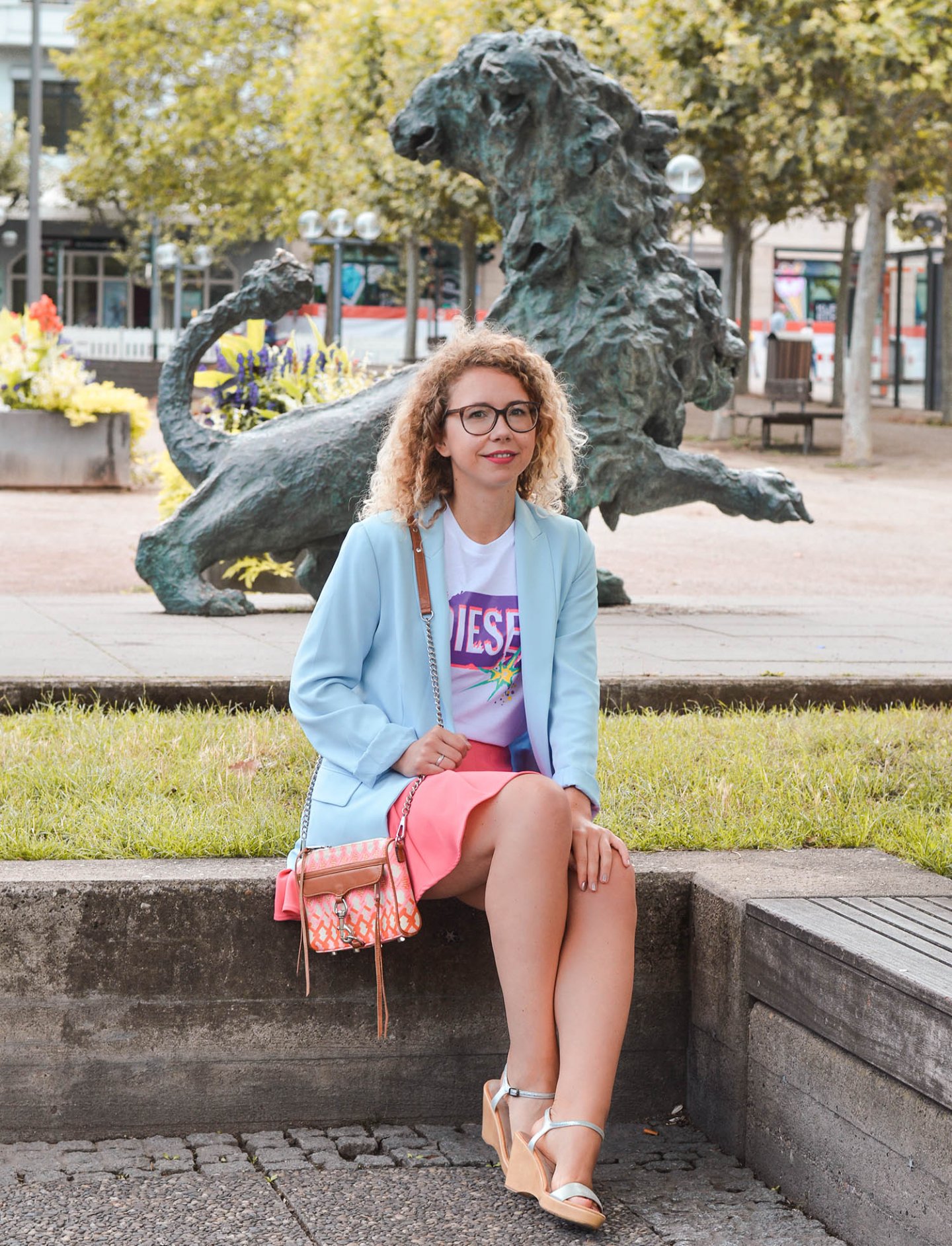 Autumn is here, but I still have some summery looks like this one with logo shirt and neon colors. They keep you in a good mood even at the end of September, don't you think?
logo shirt from Diesel
I found the cool Diesel logo shirt this summer at TK Maxx. As always quite by chance, because I have to admit that I rarely feel like digging completely through the clothes rails. Usually I pick out a few pieces at random and not infrequently there is something beautiful right there. This was also the case with this logo shirt. The logo mania is still part of the fashion world, so I'm fully in line with the trend.

I especially like the color combination of the logo and I was directly in the mood to pick up the neon trend and therefore combine my pleated skirt in neon coral with it. My Rebecca Minkoff crossbody bag, which I got many years ago in NYC, is perfect for this. And on top there is a baby blue plain blazer.

The logo shirt can also be combined autumnally, for example with jeans, boots and a cuddly cardigan. Maybe I'll try this sometime soon, because a little bit of color doesn't hurt even in the dark season… ;-)