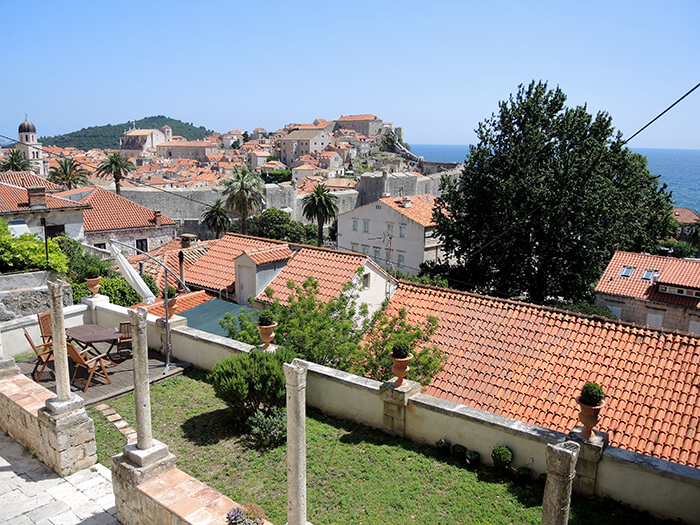 Da es so wunderschön war, möchte ich heute einen eigenen kleinen Beitrag unserem Apartment in Dubrovnik widmen. Wir haben in einem der beiden Wohneinheiten der Villa Ani gewohnt.
Lage
Die Lage des außergewöhnlichen Stadthauses ist ein absoluter Traum: Nur drei Gehminuten von der Altstadt entfernt, hat man von der Terrasse aus einen Panoramablick auf eben diese, auf die Stadtmauer, die Festung Lovrijenac und auf das Meer. Man ist also mittendrin, aber dennoch ganz für sich. Es war ein großer Spaß, zur Mittagszeit – in der Mittagssonne – die Touristenschwärme sich dicht an dicht über die Stadtmauer drängen zu sehen. Gut, dass wir die Mauer am Morgen mit deutlich weniger "Touristenverkehr" erklommen haben.
Geschichte
Die Steinvilla aus dem 18. Jahrhundert gehört mittlerweile unserem Vermieter Josko und seiner Familie. Er wohnt mit seiner Frau und seinem Sohn selbst in dem Haus und vermietet zwei wunderschöne Apartments, eins für vier und eins für zwei Personen. Sie haben die Wohnungen nach und nach der Kirche abgekauft und Josko hat sie – größtenteils in Eigenarbeit – auf Vordermann gebracht. Im Garten leben zudem noch zwei Schildkröten. :-)
Ausstattung
Schon beim Öffnen der Tür wussten wir: Hier fühlen wir uns wohl! Das geräumige Apartment hat einen tollen Parkettboden, im Schlafzimmer eine wunderschöne Steinmauer (generell ist in der Steinvilla so ein tolles Klima, dass wir die Klimaanlage kaum genutzt haben), eine gut ausgestattete moderne Küche mit großem Kühlschrank (hier warteten Wasser und Bier auf uns) sowie ein schickes Badezimmer mit Fenster und viel Stauraum auf uns. Auch der Kleiderschrank im Schlafzimmer ist sehr geräumig und mit einem Safe ausgestattet.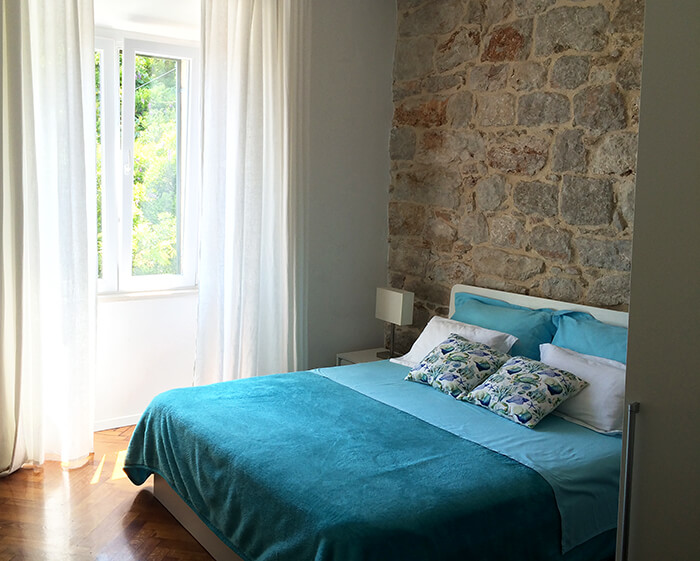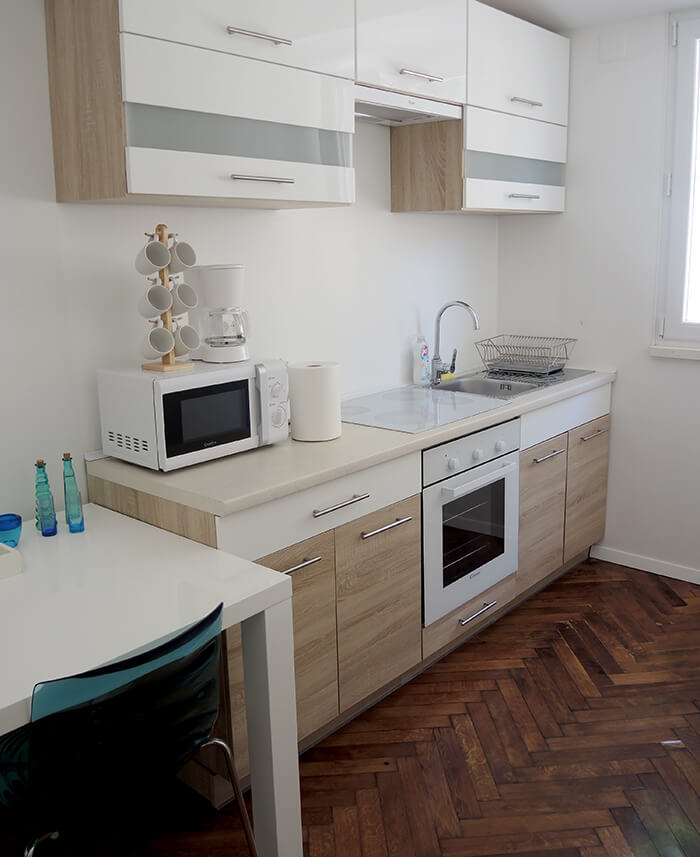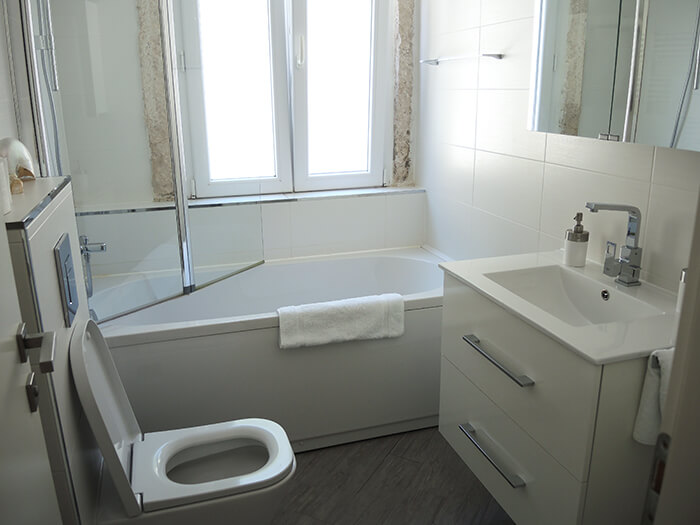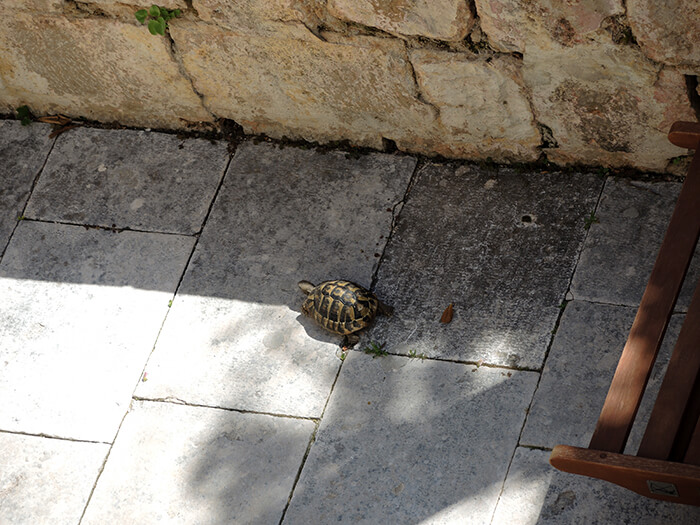 Fazit
Wir haben uns hier rundum wohl gefühlt und werden das Apartment bei unserem nächsten Dubrovnik-Besuch auf jeden Fall wieder buchen. Josko war unheimlich freundlich und hat uns viele tolle Tipps für Dubrovnik, Restaurants oder Ausflugsziele gegeben. Wir fühlten uns die drei Tage fast als Teil der Familie, ohne, dass sie in irgendeiner Form aufdringlich gewesen wären.
---
Cuties, I have to write a short post about our apartment in Dubrovnik because it was so wonderful! We stayed at one of the two apartment units of Villa Ani.
Location
The city house is situated at a really prime location: Just three walking minutes away from the old town, you have a panorama view on the very same thing, the Fort Lovrijenac and the sea. So, you're right in the middle, but alone for yourself at the same time. It was so great, watching the swarms of tourists, funneling over the crowded city wall.
History
The stone villa from the 18th century is owned by our landlord Josko and his family. He's also living in the house with his wife and his son – and two turtles. They're renting two beautiful apartments, one for two and one for four persons. Josko fixed up almost everything by himself in the old villa and he made a very, very good job!
Furnishing
Even as we opened the door, we knew: We will feel very comfy here! The roomy apartment has a great parquet floor, a beautiful stone wall in the bedroom, a modern kitchen with a big fridge (here, water and beer were already waiting for us) as well as a nice bathroom with window and much space for us. The wardrobe was very roomy, too.
Conclusion
We felt totally comfy and will book that apartment again, when going to Dubrovnik the next time. Josko is such a kind person and gave us many tips for Dubrovnik, restaurants or tourist attractions. We felt almost like a part of the family without them being pushy in any way.