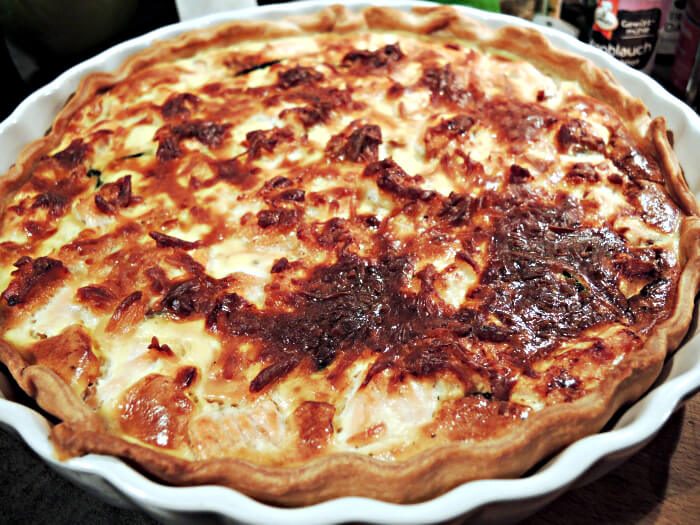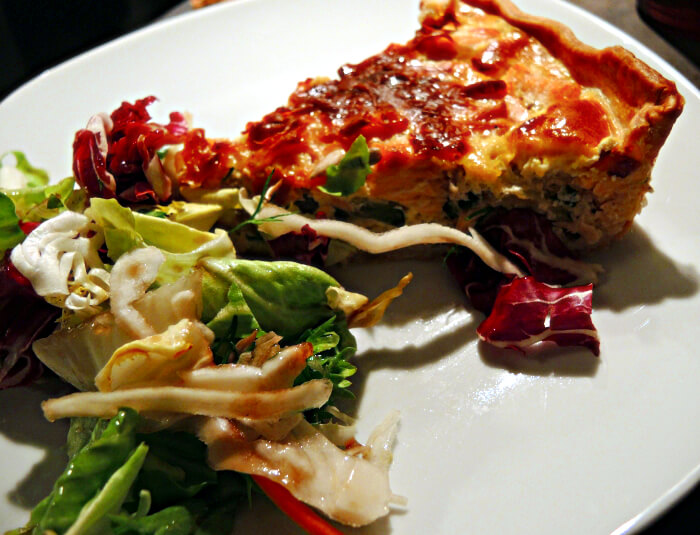 Letztens hatten wir meine Eltern spontan zum Essen da, und da wir tagsüber viel unterwegs waren, blieb wenig Zeit, etwas Aufwändiges vorzubereiten. Darum entschied ich mich, eine Quiche mit fertigem Blätterteig zuzubereiten. Als ich dann im Supermarkt vor der Frischetheke stand, hab ich den frischen Quiche- und Tarteteig von Tante Fanny entdeckt. Bisher kannte ich von dieser Marke nur den Blätterteig, auf den ich auch eigentlich zurückgreifen wollte. Den klassischen Mürbeteig für Quiches mache ich sonst auch selbst, aber das hätte ich an diesem Tag mit Kühlzeit und Ausrollen einfach nicht mehr geschafft. Jedenfalls hat mich der Teig neugierig gemacht und ich habe ihn gekauft. Und was soll ich sagen: Ich bin absolut begeistert! Der Teig ist super geschmeidig und auch das Backergebnis überzeugt mich. Wenn's also mal schnell gehen muss, eine super Alternative für mich zum Blätterteig oder selbst gemachtem Quicheteig.
Zutaten
1 Packung Quiche- und Tarteteig (Tante Fanny) oder Blätterteig
3 Zucchini (ca. 600 g)
1 mittelgroße Zwiebel
2 EL Öl
Salz, Pfeffer
500 g Lachsfilet
1 EL Zitronensaft
50 g geriebener Käse (z.B. Gouda)
4 Eier (Größe M)
250 g Schmand oder Crème Légère
2 EL Paniermehl
evtl. Dill zum Garnieren
Zubereitung
Zucchini waschen und in Scheiben schneiden. Zwiebel schälen und fein würfeln. Öl in einer großen Pfanne erhitzen. Zucchini zugeben und kräftig darin anbraten. Zwiebel zugeben und kurz mitbraten. Mit Salz und Pfeffer würzen und etwas abkühlen lassen. Lachs abspülen, trocken tupfen und in Würfel schneiden. Mit Zitronensaft beträufeln. Käse ggf. reiben. Eier und Schmand verrühren. Mit Salz und Pfeffer kräftig würzen. Eine Quicheform (ca. 26 cm Durchmesser) mit dem Teig auslegen und am Rand hochdrücken. Teigboden mehrmals mit einer Gabel einstechen und ca. 10 Minuten ruhen lassen. Teig mit Paniermehl bestreuen. Zucchini und Lachs darauf verteilen, mit der Ei-Mischung aufgießen und den Käse darüberstreuen. Im vorgeheizten Backofen auf der unteren Schiene (E-Herd: 200 Grad/ Umluft: 175 Grad) 40-45 Minuten backen. Evtl. mit Dill garnieren.
Guten Appetit!
---
Recently we spontaneously had my parents at dinner and I hadn't enough time to prepare an elaborate meal. So, I decided to cook a quiche with prefabricated puff pastry. At the refrigerated counter in the supermarket I light on the prefabricated quiche- and tarte pastry from "Tante Fanny". Hitherto I only knew the puff pastry from this brand, but this new sort really intrigued me and I bought it. You know what: I am totally thrilled! The pastry is super soft and even the baking result is convincing – a great alternative to puff pastry or homemade shortcrust pastry when time is short.
Ingredients
1 pack prefabricated pastry (puff pastry or quiche pastry)
3 zucchinis
1 onion
2 tbsp oil
salt, pepper
500 g salmon filet
1 tbsp lemon juice
50 g grated cheese
4 eggs (size M)
250 g sour cream
2 tbsp breadcrumbs
poss. dill to garnish
Preparation
Wash the zucchinis and cut it into slices. Peel the onion and finely dice it. Heat oil in a big pan and sauté the zucchini. Add the onion and let it roast gently. Spice everything with salt and pepper and let it cool down a bit. Cut the salmon into dices and sprinkle it with lemon juice. Whisk the eggs with sour cream and spice it with salt and pepper. Cover a quiche pan (about 26 cm diameter) with the pastry, prick the pastry with a fork and let it rest for about 10 minutes. Sprinkle the pastry with breadcrumbs. Spread zucchini and salmon on it, infuse the egg mixture and finally spread the cheese over it. Bake the quiche in the bottom third of the preheated oven at 200 °C for about 40-45 minutes. Garnish with dill to taste.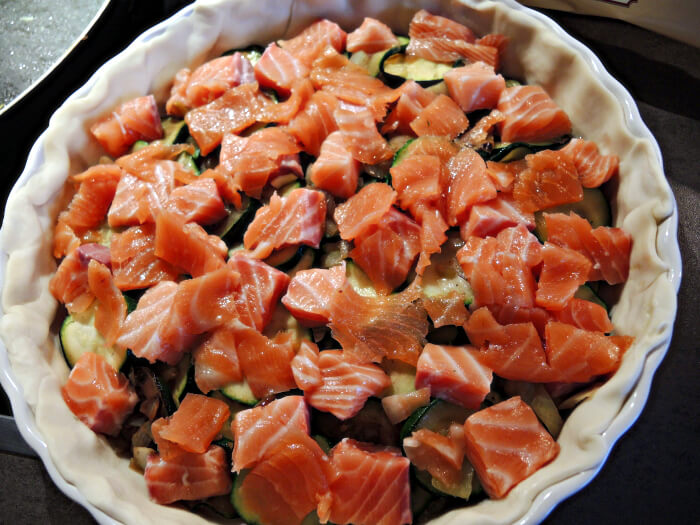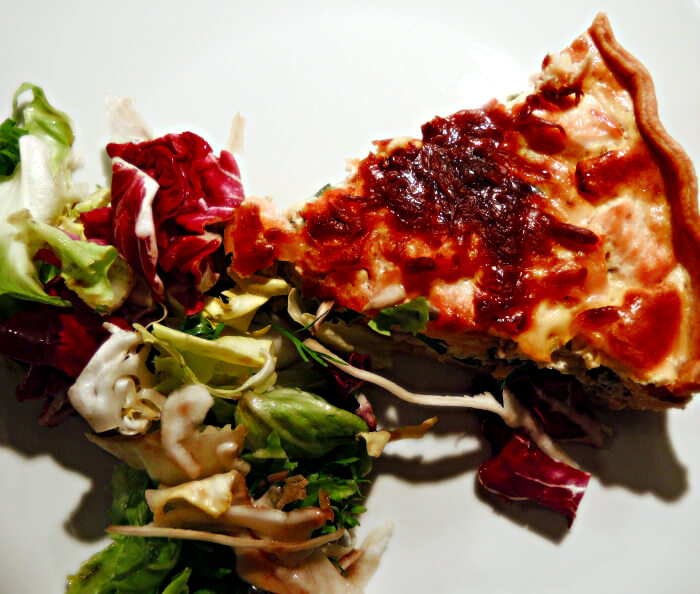 Bon appétit!