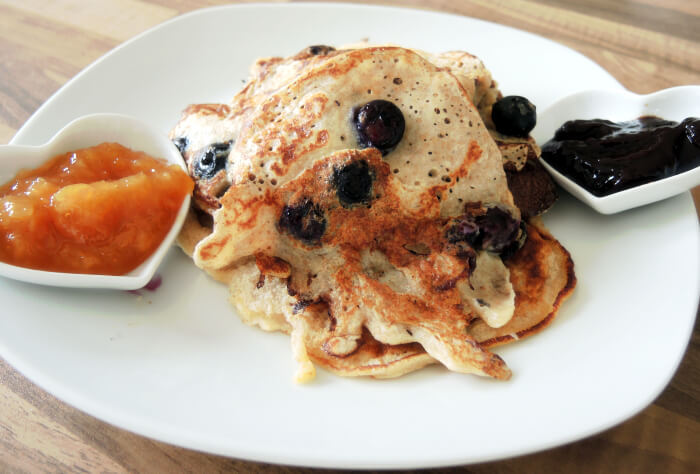 Lang, lang ist's her, dass ich hier ein Rezept gepostet habe… Bedingt durch unseren Umzug, den neuen Job und häufiges Essen auswärts, bin ich einfach nicht dazu gekommen, etwas Blogpost-würdiges zu kochen oder zu backen. Oder ich habe schlicht vergessen, es zu fotografieren. ;-)
Wie dem auch sei, heute kommt mal wieder ein Rezept und zwar ein simples, aber köstliches für fluffige Pancakes. Bitte entschuldigt die nicht ganz so "Instagrammable" gelungenen Pfannküchlein – ich habe leider die falsche Pfanne benutzt, wodurch sie etwas auseinandergelaufen sind. Tut ihrem Geschmack aber keinerlei Abbruch!
Das Rezept habe ich von meiner besten Freundin. Zum Geburtstag bekam ich von ihr – neben absolut hippen Flashtattoos – ein wunderschön designtes Koch-Ringbuch, in dem ich meine 40 Lieblingsrezepte sammeln kann. Und drei süße Rezepte hat sie mir direkt schon mal reingeschrieben, unter anderem das für die tollen Pancakes.
Aber seht selbst: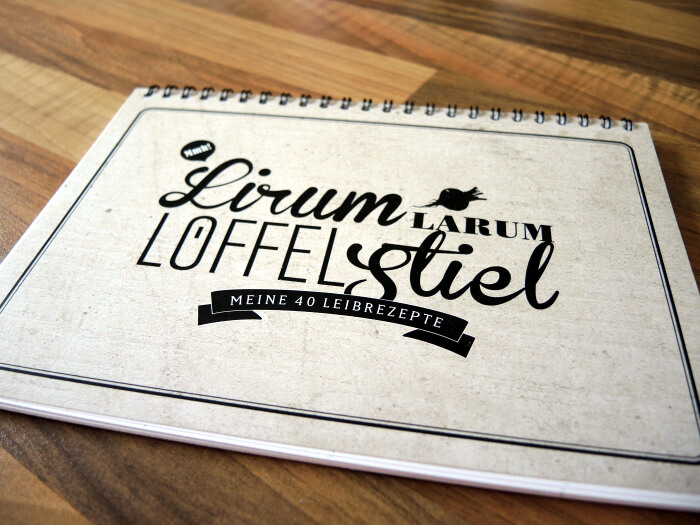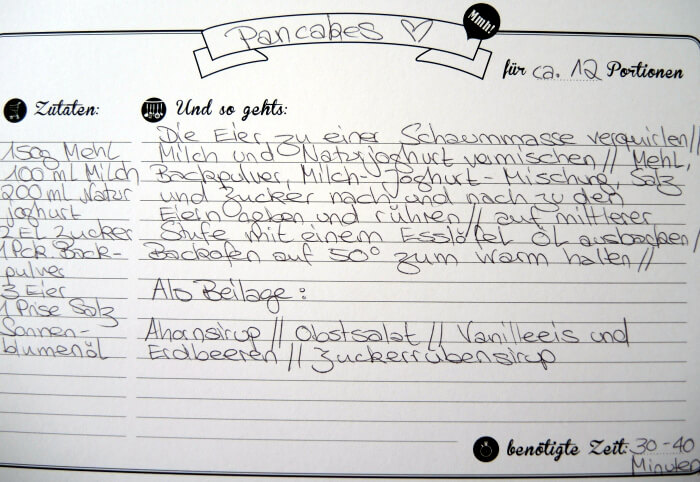 Ich habe die Pfannküchlein an einem Sonntagmorgen nach einer Joggingrunde zubereitet. Wer einen Standmixer Zuhause hat, kann die Zutaten einfach allesamt hineingeben und mixen – hat super geklappt!
Beim Backen habe ich noch ein paar Blaubeeren drauf gestreut und Konfitüren dazu gereicht. Yummy! :-)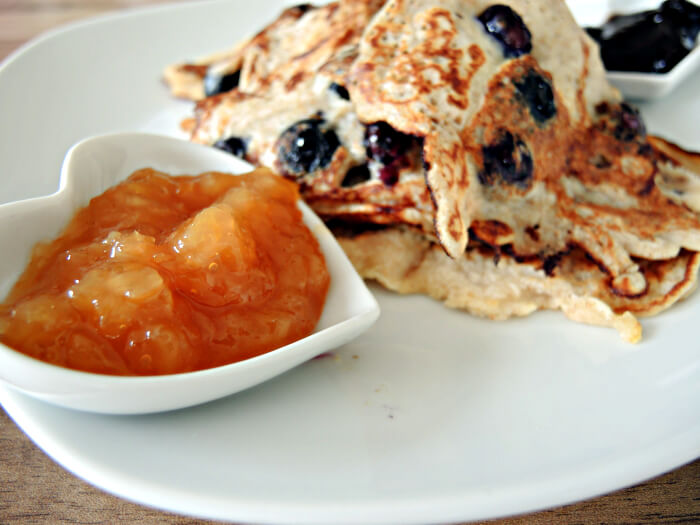 ---
It has been a long time since I posted the last recipe here… Due to our move, my new job and dining out very often, there was no facility to cook something which would be worth mentioning on the blog – or I forgot to shoot some pics of it. ;-)
Whatever, today I'm sharing a new recipe for easy but delicious and amazingly fluffy pancakes. Please forgive me that the pancakes aren't as perfect as many others you can spot on Instagram & Co – I used the wrong pan and they unfortunately spreaded a bit. They are delicious anyway!
The recipe is from my best friend. I got a beautiful recipe book from her for my birthday where I can write down my 40 favorite recipes. She wrote down the first three for me including this one.
Ingredients for 12 little pancakes
150 g flour
100 ml milk
200 ml natural yoghurt
2 tbsp. sugar
1 packet of baking powder
3 eggs
1 dash of salt
sunflower oil
Preparation
Whisk the eggs and mix milk with yoghurt. Give flour, milk-yoghurt mix, salt and sugar to the eggs bit by bit. Bake them through in a pan with an tablespoon of oil. Put the finished pancakes into the oven at 50 degrees (Celsius) to keep them warm while baking the next ones.
I made the pancakes on a Sundaymorning after a jogging session. I put all ingredients into my new blender and mixed them – it worked very well and fast!
While baking I spreaded some blueberrys on the pancakes and served some jams to it. Yummy! :-)