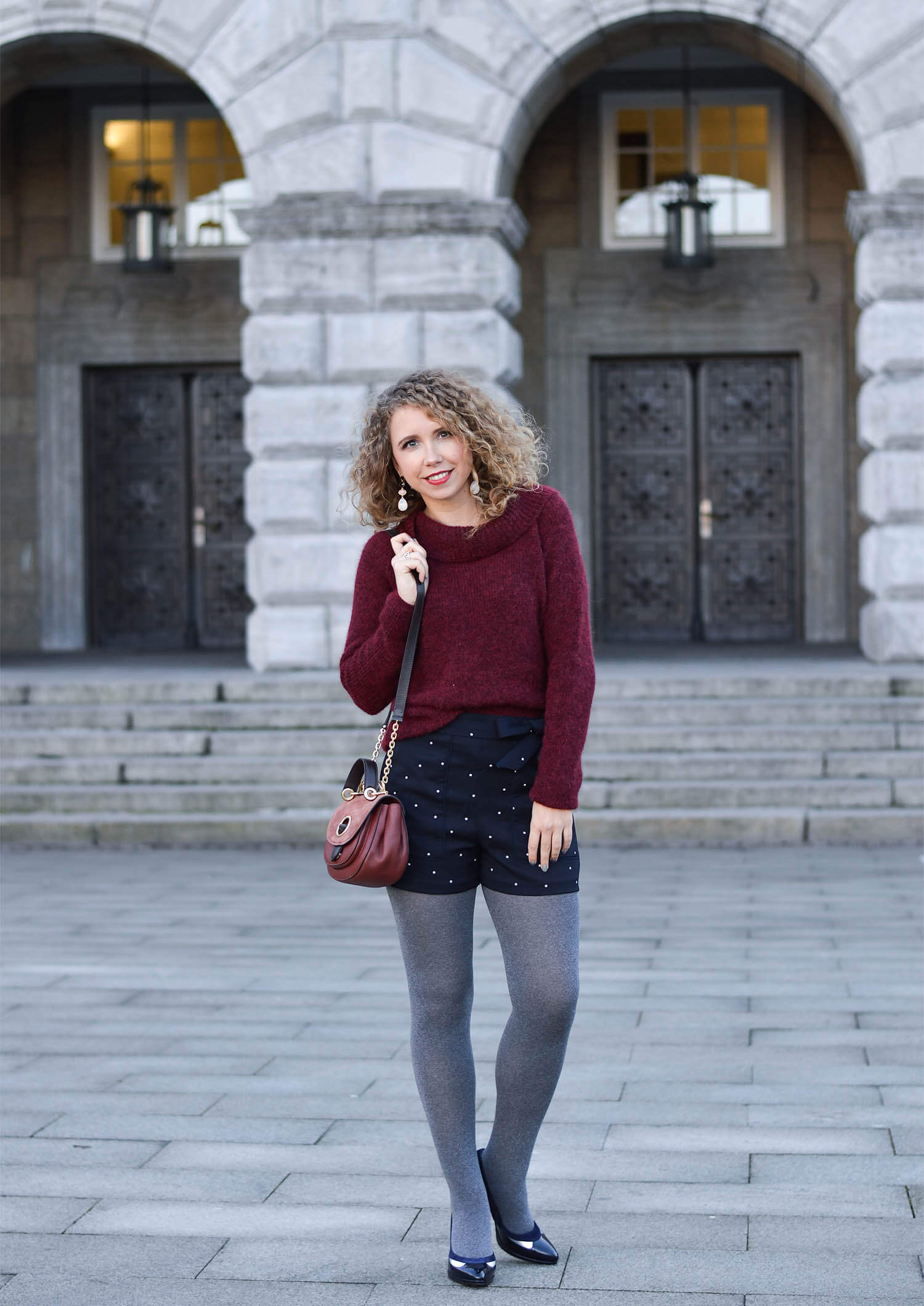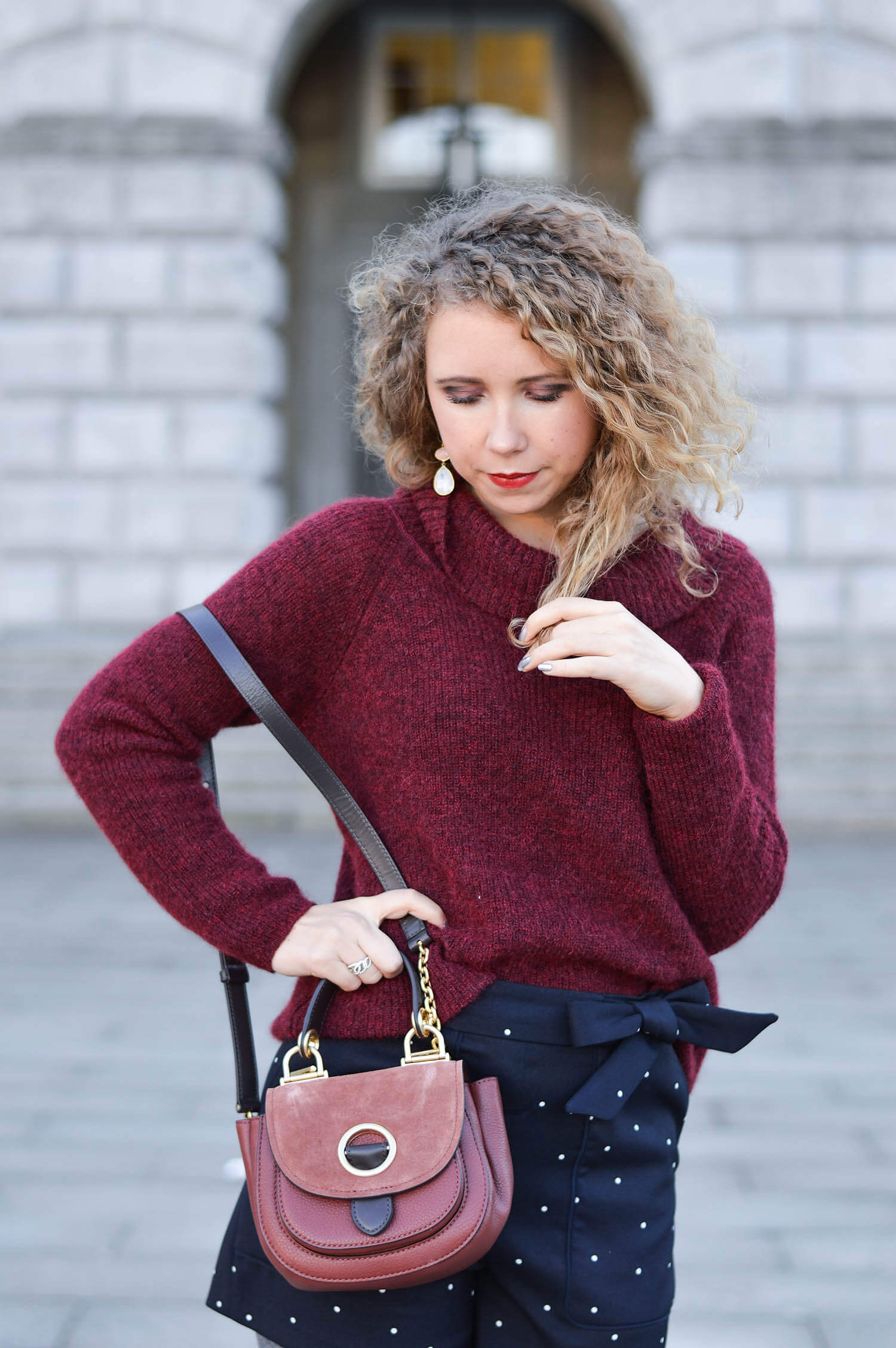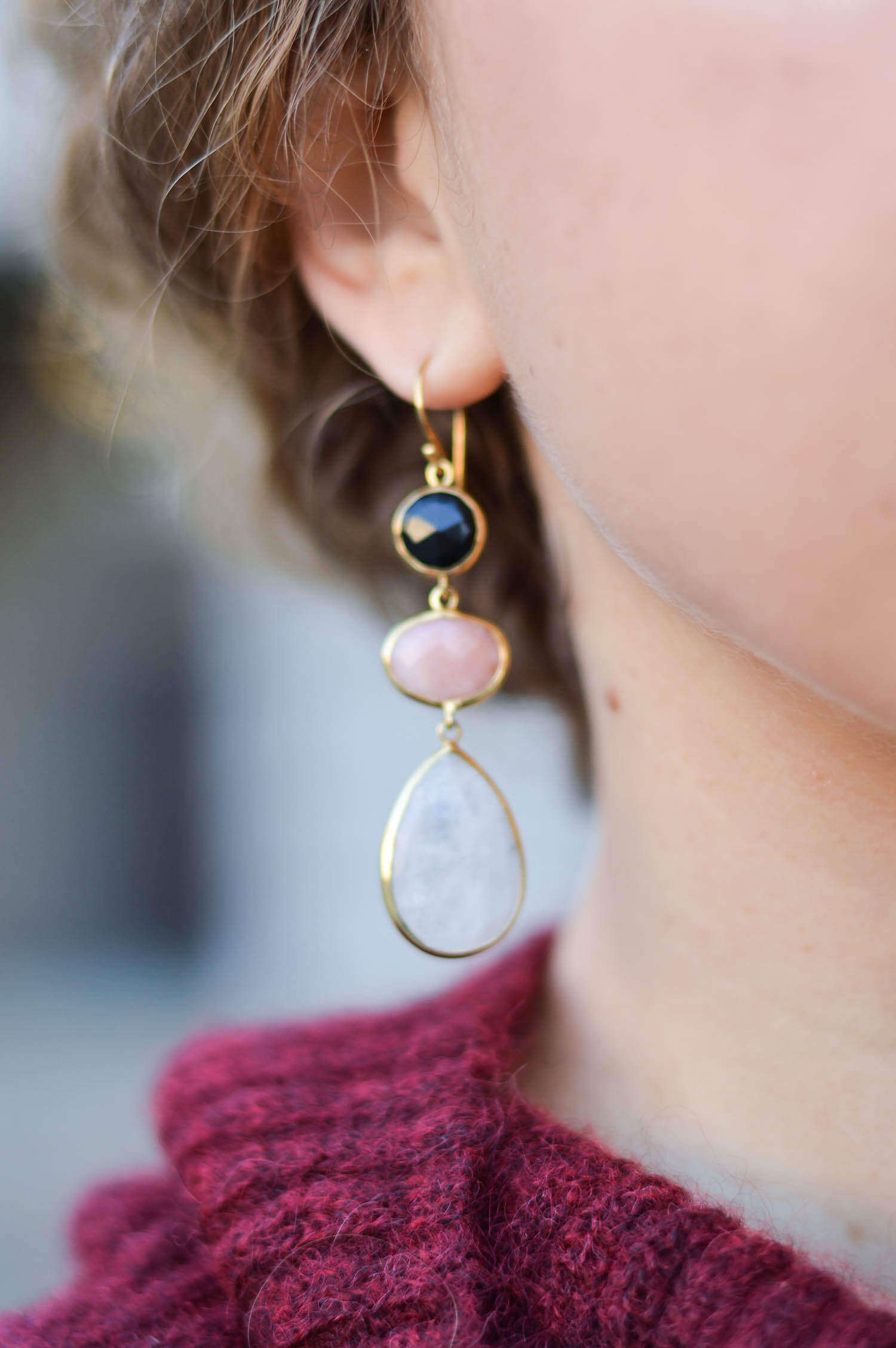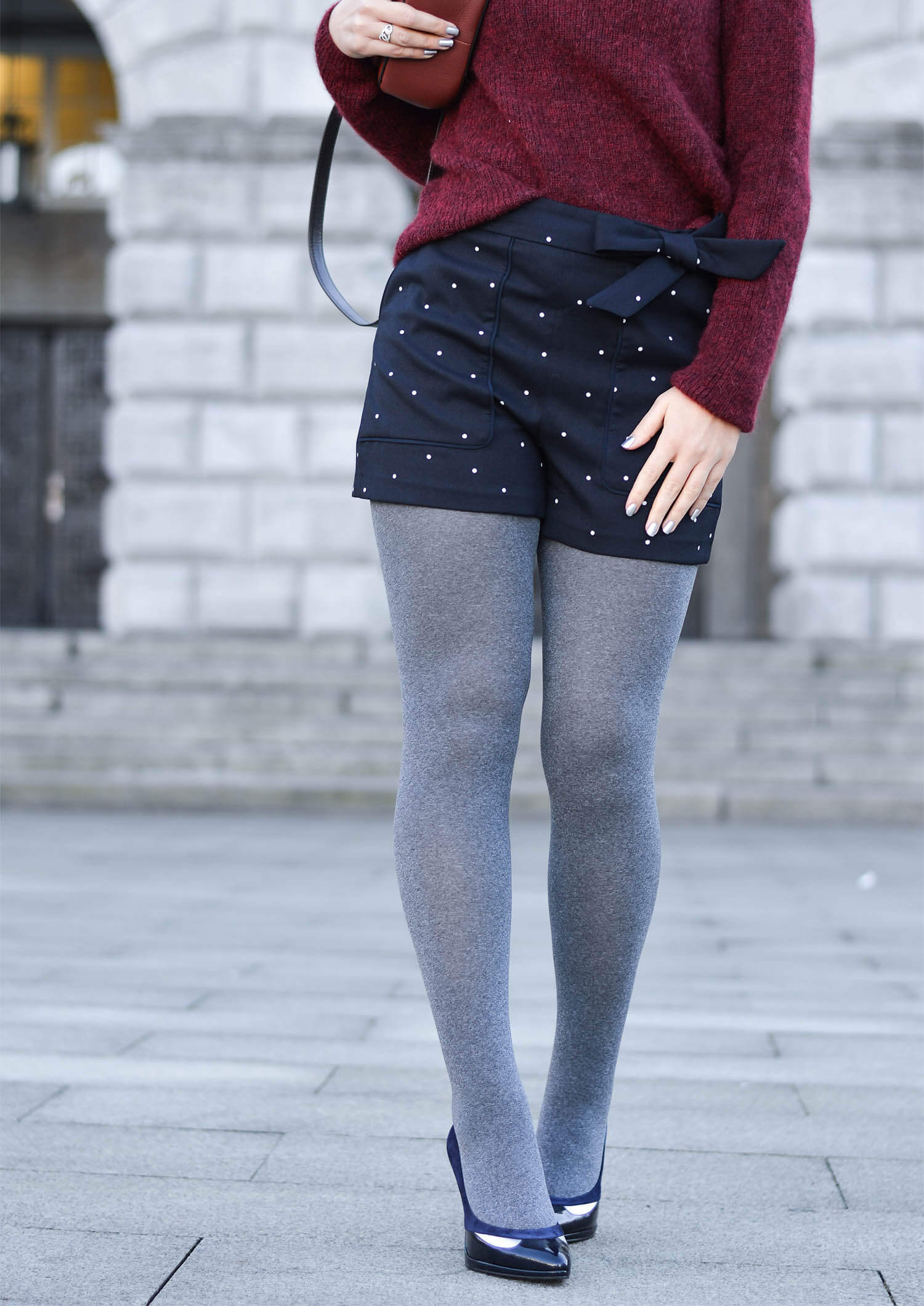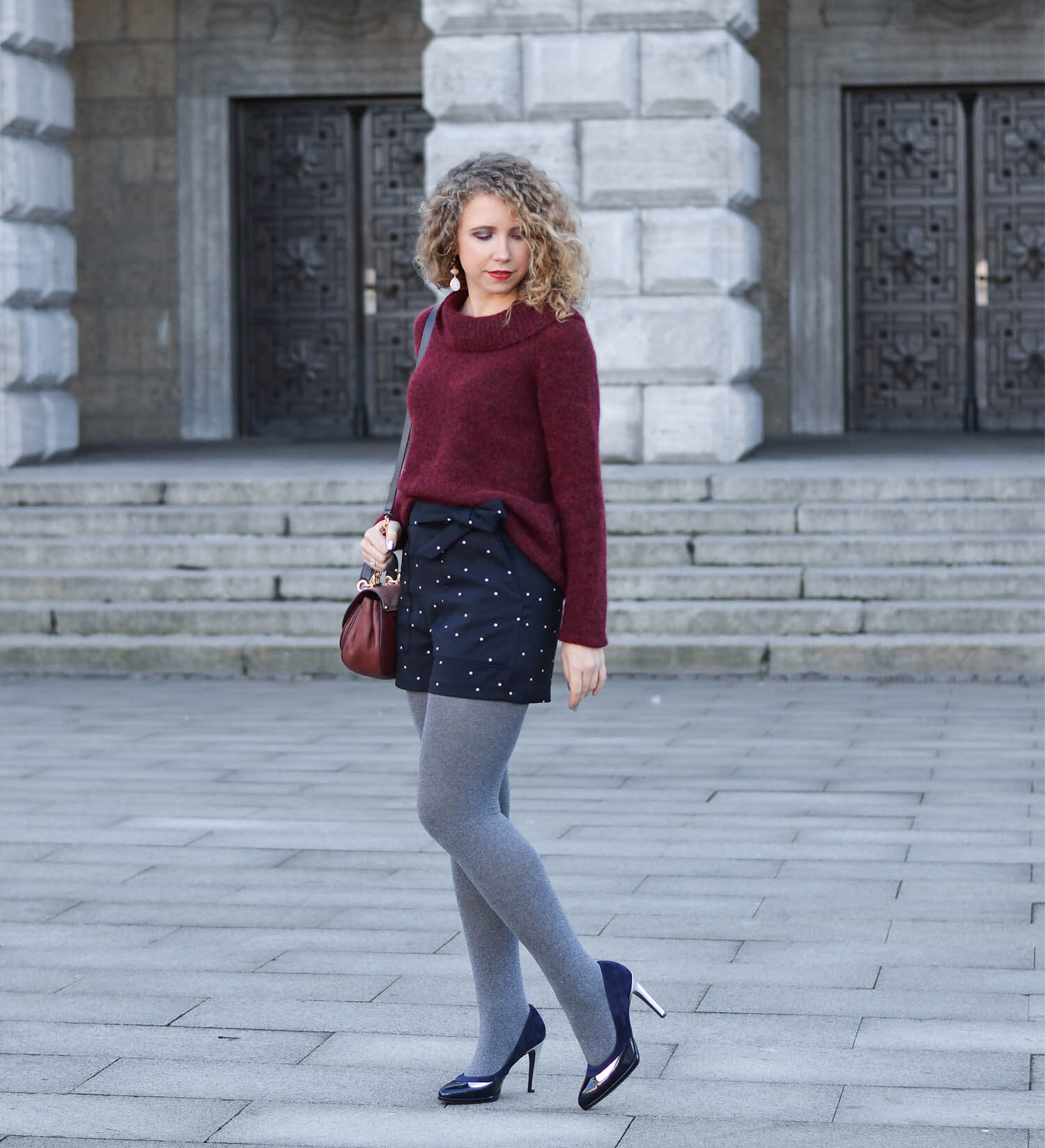 Sweater: noman'sland// Pants: Zara // Bag: Michael Kors // Pumps: Peter Kaiser // Tights: Calzedonia // Earrings: Pernille Corydon
Shop my Look
In meinen heutigen gemütlich-schicken Winter-Look habe ich gleich drei Weihnachtsgeschenke integriert sowie ein quasi nachträgliches Weihnachts-Schnäppchen an mich selbst. ;-)
Edelsteine, Wolle und Taschenliebe
Von meinem Schatz lagen dieses Mal so einige Präsente für mich unterm Weihnachtsbaum. Zwei davon trage ich hier. Zum einen diese wunderschönen Edelstein-Ohrhänger in Goldfassung. Sie stammen aus einem kleinen Schmuckladen in Düsseldorf, vor dessen Schaufenster ich schon öfter stand. Sie haben dort wunderbar individuelle Stücke, und ich kann mich wirklich glücklich schätzen, dass der Mister sich so etwas merkt. Besonders toll ist, dass die Hänger federleicht sind! Ich liebe große Ohrringe, aber oft sind sie so schwer, dass ich sie nur kurze Zeit tragen kann. Diese hier sind so leicht wie Stecker und ich spüre sie den ganzen Tag über nicht.
Zum anderen habe ich die hübsche Saddle Bag von Michael Kors bekommen. Ich finde sie mega schön und zudem ist es meine erste braune Handtasche – es wurde also wirklich Zeit. ;-) Das Täschchen ist zudem sehr geräumig und sowohl crossbody, über die Schulter oder auch am Henkel tragbar.
Pullover und Pumps
Den kuscheligen Wollpullover in weihnachtlichen Rot habe ich von meinen Panteneltern bekommen und liebe ihn jetzt schon sehr! Ein roter Pulli fehlte auch aktuell noch in meinem Kleiderschrank.
Tja, was soll ich sagen: Schuhe habe ich – eigentlich – mehr als genug Zuhause. Aber als ich zwischen den Jahren kurz mal bei TK Maxx war, haben mich diese unglaublich schönen Pumps der Qualitätsmarke Peter Kaiser angestrahlt. Sie waren genau einmal da! In Größe 40, meiner Größe! Und sie passten perfekt! Noch dazu ein Schnäppchen! Braucht es mehr Gründe? Die Kombi aus dunkelblauem Lack- und Wildleder sowie den silberfarbenen Highlights und Absätzen ist einfach traumhaft und die Verabeitung ebenso.
Was sagt ihr zu meinen Präsenten und meinem Schuh-Schnapper? Habt ein wundervolles Wochenende ihr Lieben!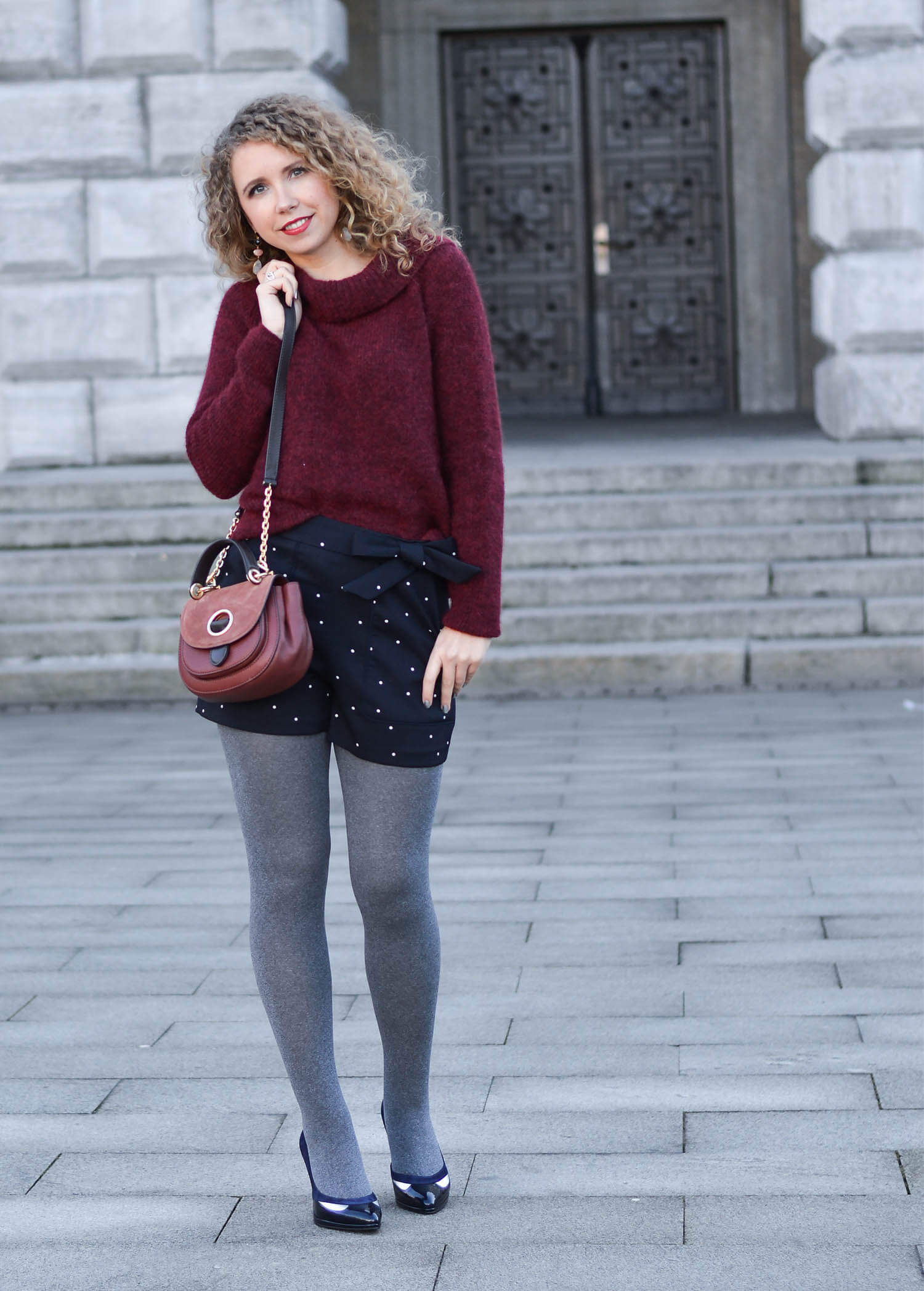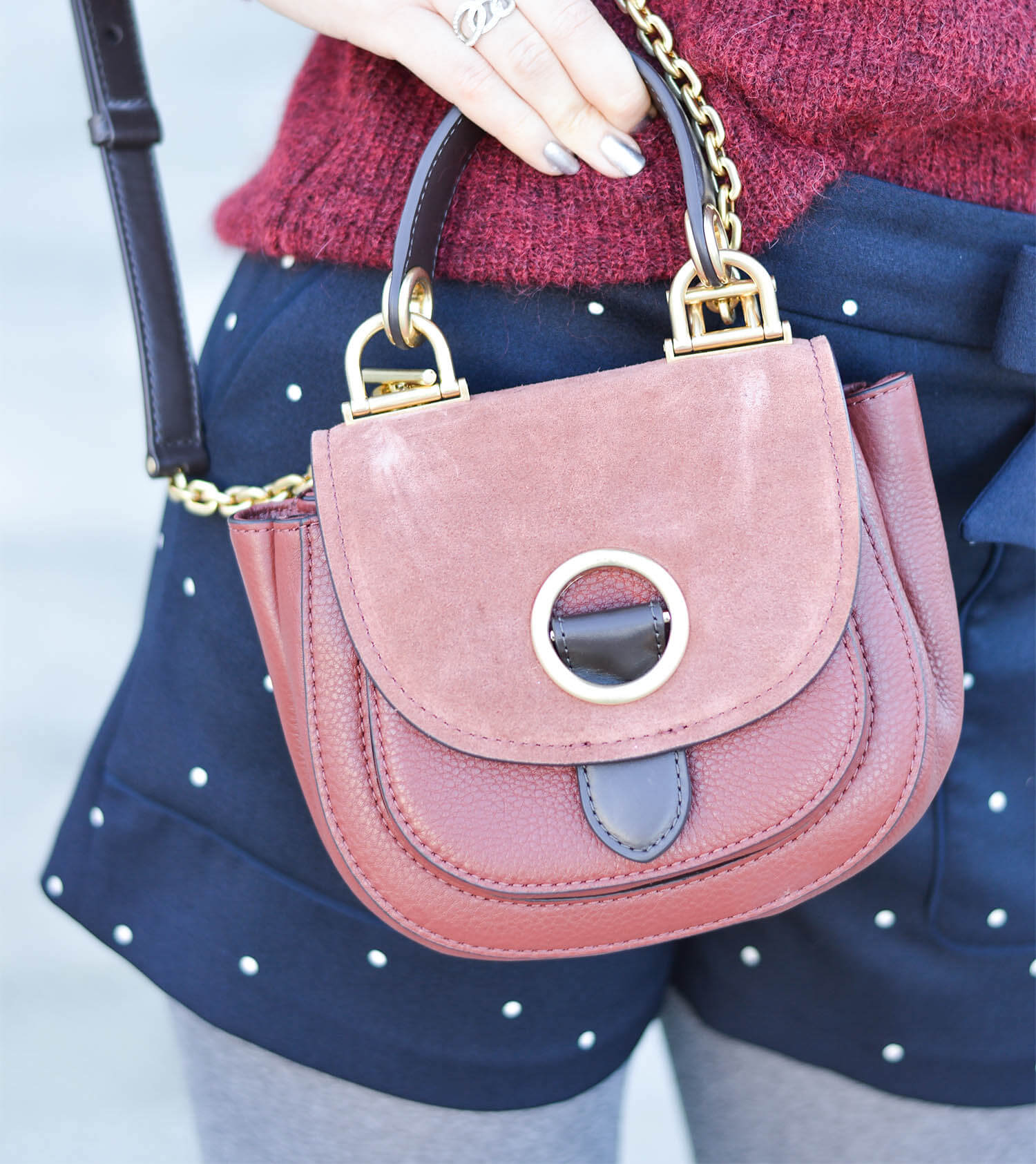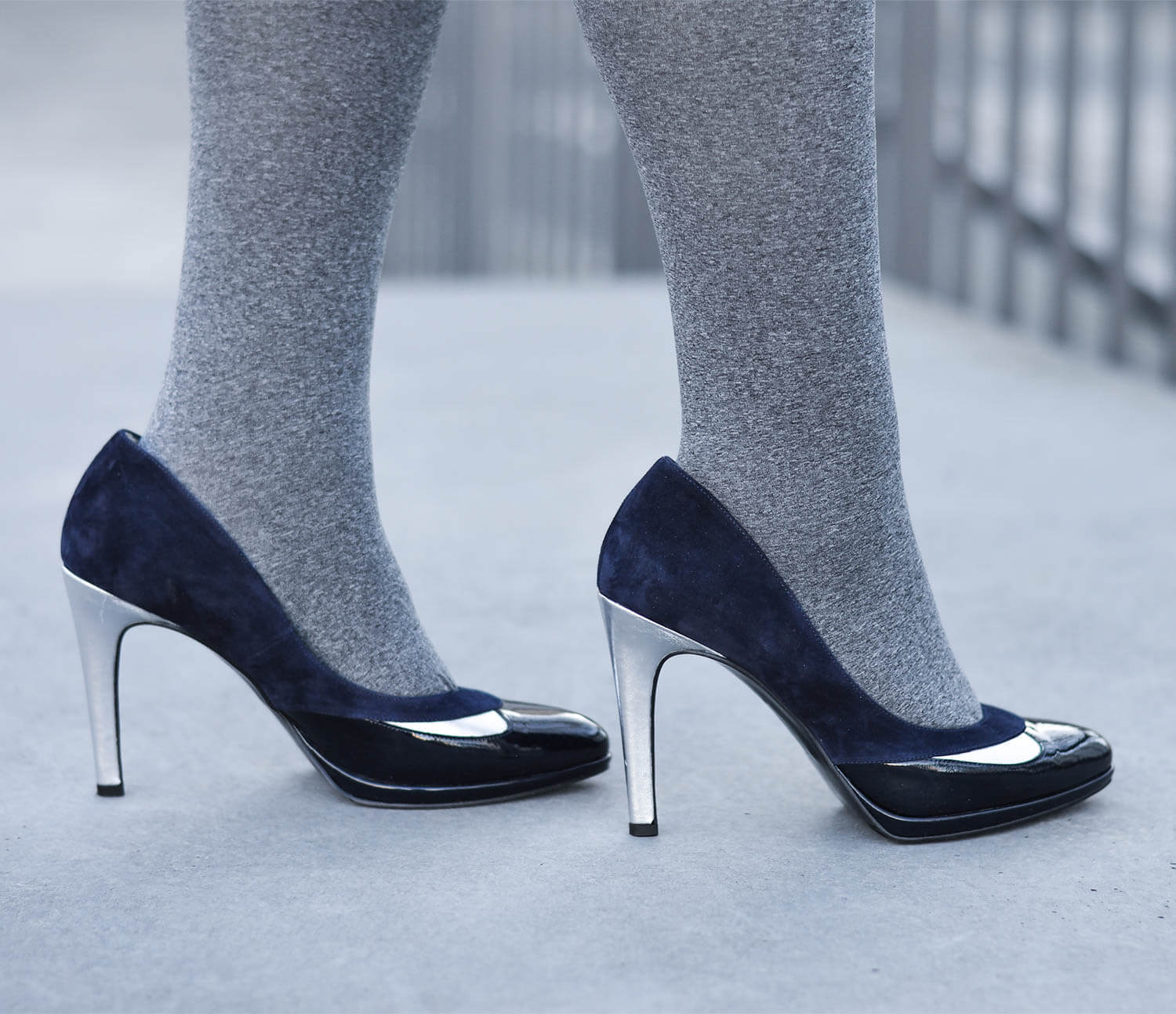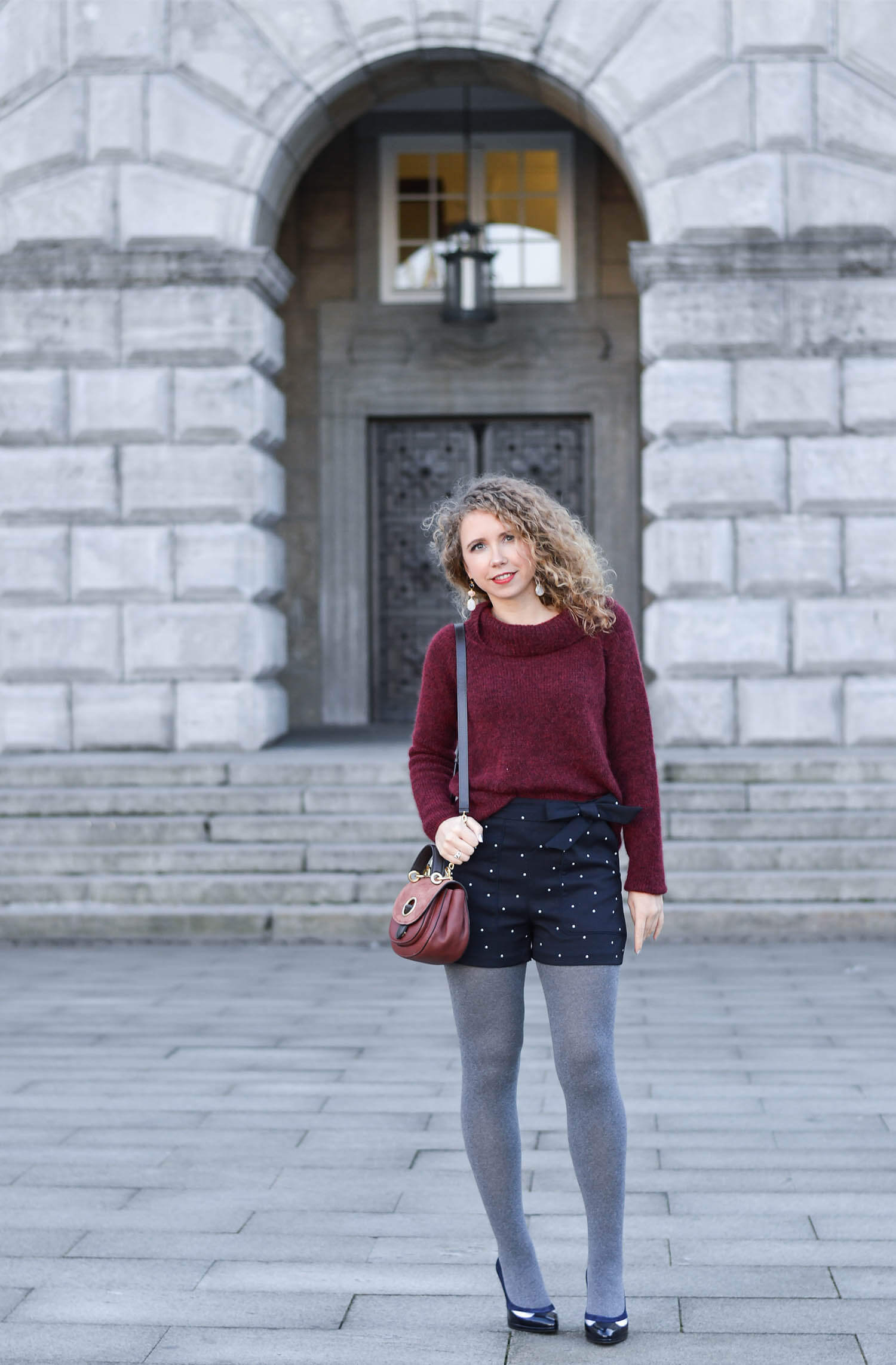 ---
I integrated three Christmas presents into today's look and also one after-Christmas gift from me to myself. ;-)
Gemstones, wool and bag love
I got lots of presents from my dear this Christmas. I'm wearing two of them here. First, these beautiful gemstone earrings. They are from a little jewelry store in Dusseldorf which I love, because they offer very individual and valuable pieces there. The best thing about these earrings is, that they are as light as a feather. I love big eardrops, but they are too heavy very often. These ones are so light, that I don't really notice them the whole day.
The other new item I got from my boy is this pretty saddle bag from Michael Kors. It's so beautiful and also my very first brown handbag by the way. The bag is very roomy and I can wear it cross body, over my shoulder or at the handle.
Pullover and pumps
My godparents surprised me with this cozy wool sweater in christmassy red. Believe me or not, a red pullover was still missing in my wardrobe and I love my new fluffy one so much.
Well, what shall I say… I know, I actually have more than enough shoes at home, but while strolling through TK Maxx between the years I spotted these incredibly beautiful pumps from Peter Kaiser. They've been there just once and in my size! They fit perfectly and were a real bargain furthermore… Do we need more reasons?
How do you like my Christmas gifts and my shoe snap?