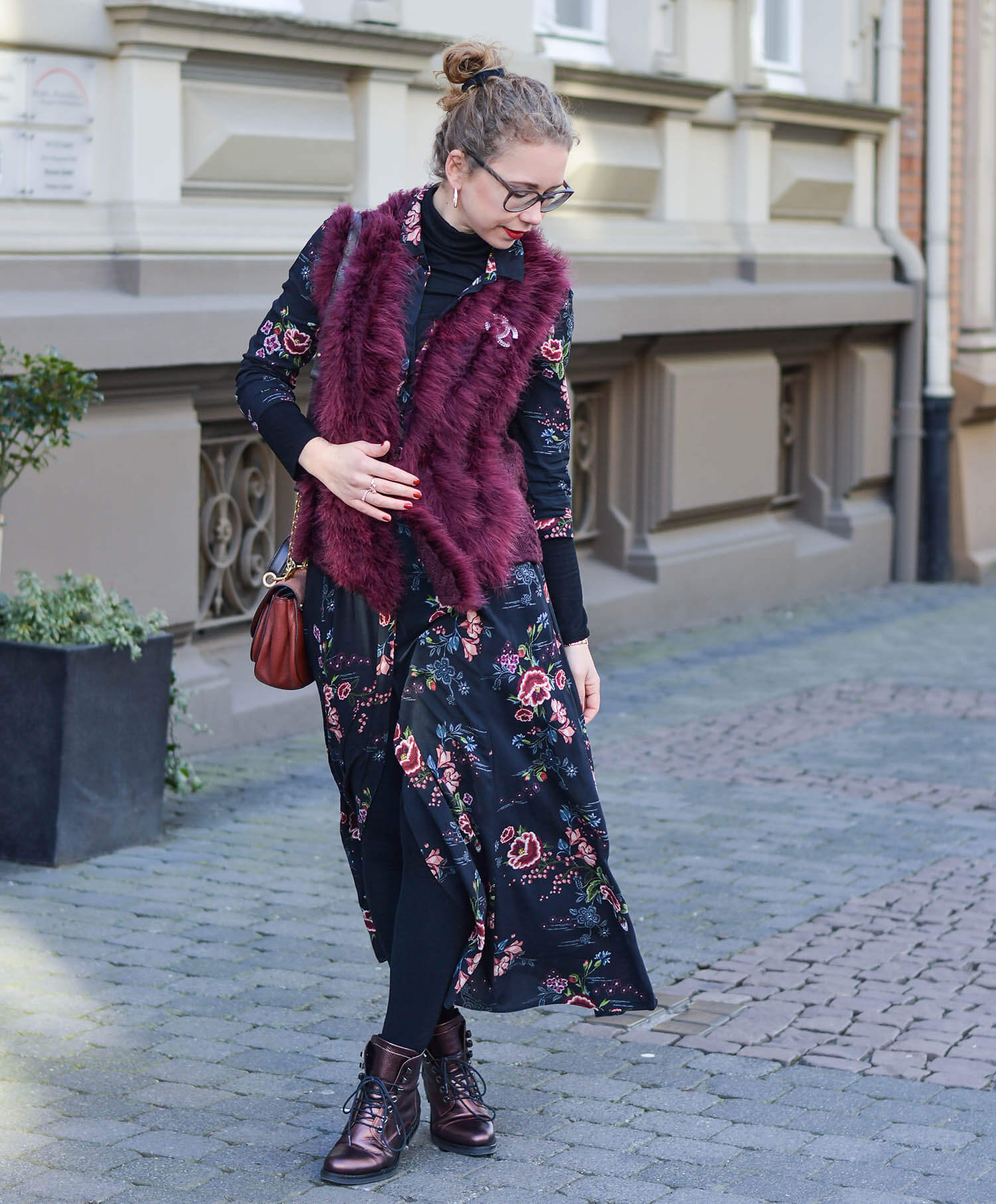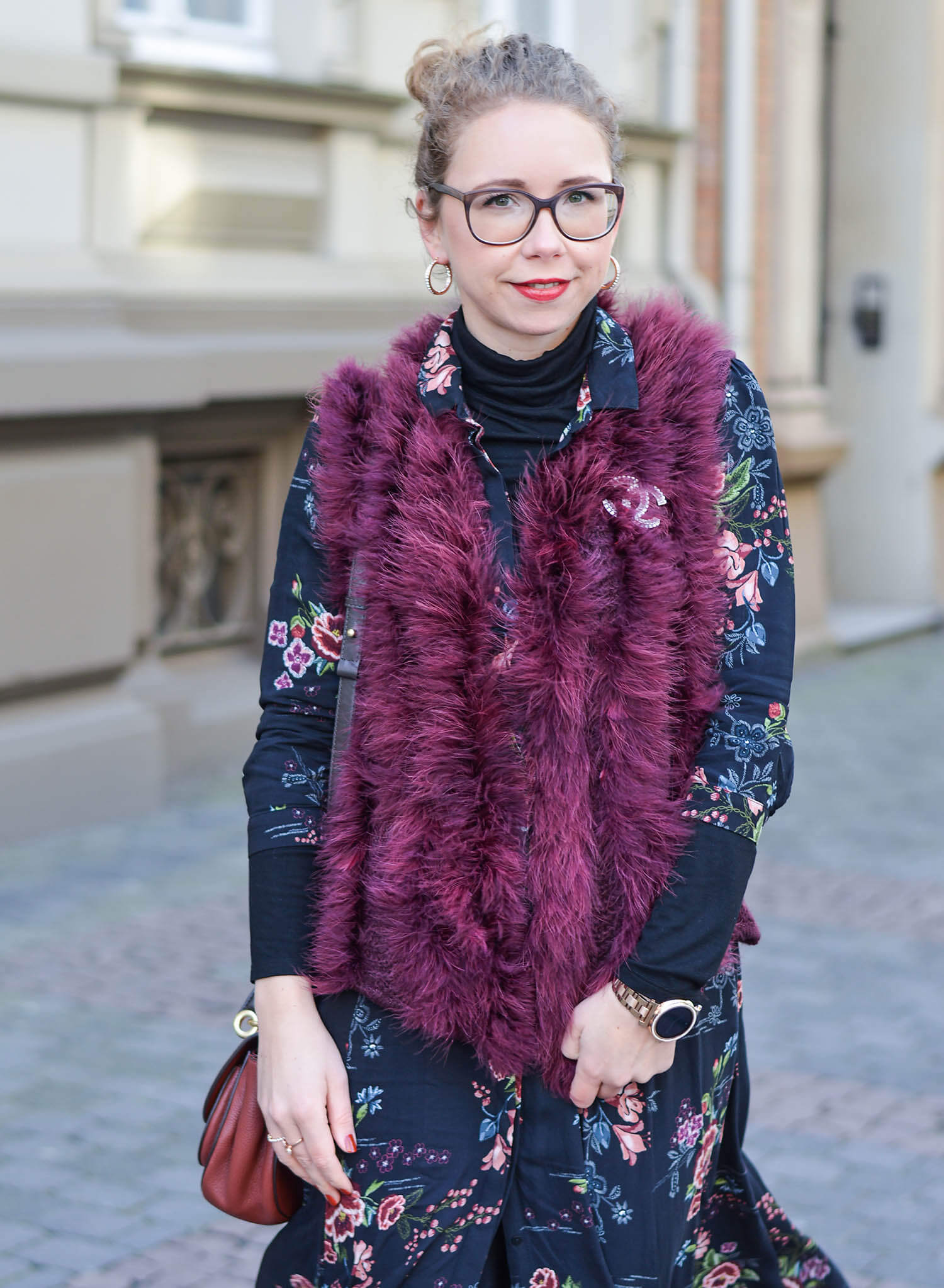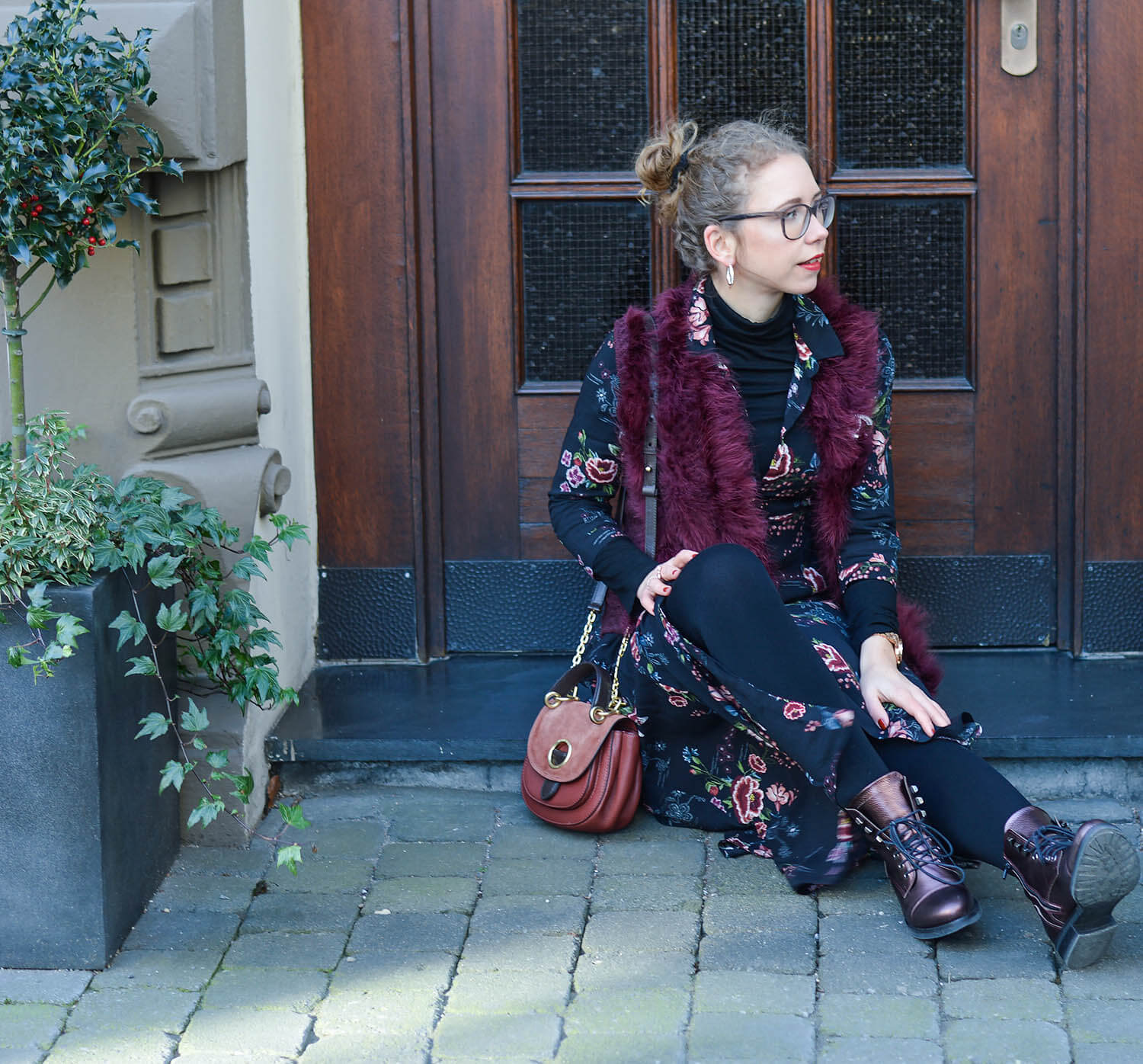 Yay, der Frühling kommt! Zeit für Blumenkleider und das erste Eis des Jahres. Ersteres gibt es im heutigen Outfitpost. Witzigerweise haben wir diese Bilder aber am kältesten Wochenende des Jahres vor rund zwei Wochen geshootet – der Wind, den man hier sieht, war wirklich eisig und so fix waren wir wohl noch nie mit Blogfotos fertig. ;-)
Blumenkleid und Federweste
Viel zu lang schon hatte ich mein Maxikleid mit Blumenprint von Zara nicht mehr an. Der Grund? Ganz ehrlich? Ich war zu faul zum Bügeln. Schande über mein Haupt, aber ich bügle wirklich verdammt ungern, und die meisten meiner Wintersachen brauchen auch kein Bügeleisen. Dafür bin ich Meister im möglichst knitterfrei Aufhängen. Wer kennt's?
Jetzt habe ich es aber endlich geschafft und keinen Tag zu spät, denn Blumenkleider sind diese Saison wieder der absolute Renner. Ich trage das Kleid mit Rolli und einer dicken Thermostrumpfhose. Ohne diese hätte ich es aber auch nicht ausgehalten. Über das Kleid habe ich dann noch meine Federweste – ebenfalls schon viel zu lange nicht mehr getragen – geworfen und meine geliebten Metallic Boots dazu kombiniert. Ich finde, die Farben passen unglaublich gut zusammen, nicht wahr?
Wochenendgeschichten
Ich hoffe, ihr hattet ein schönes Wochenende? Meins fing einen Tag eher und somit bereits am Freitag an. Leider mit einer fiesen Migräne, aber auch drei schönen Hochzeitsterminen in Düsseldorf, die ich nach der zweiten Tablette auch genießen konnte. Los ging's mit dem zweiten Änderungstermin für mein Brautkleid. Es sitzt schon unfassbar gut und in rund zwei Wochen kann ich es abholen! Anschließend habe ich unsere Torte ausgesucht; dazu dann auch bald mehr. Und der letzte Termin war beim Frisör meiner Wahl – hier hatte ich kürzlich von meinem kleinen Frisör-Drama berichtet. Die Frisur steht nun also auch! :-)
Samstag habe ich dann bei meiner Allerbesten, ihrem Mann und mit ihren Familien den zweiten Geburtstag meines Patenkinds gefeiert. Das war ein wunderbarer Tag und es ist immer wieder schön und erschreckend zugleich, wie schnell die Kleinen groß werden… und man selbst eben immer älter.
Der Mister glänzte mit Abwesenheit, weil er seinen ersten JGA hatte (er wird mit seinem Trauzeugen in Berlin auch nochmal ein Wochenende feiern). Tja, und den gesamten Sonntag war er dann auch zu nix zu gebrauchen, weil die Jungs ordentlich in die Gläser geschaut haben, wenn ihr versteht… ;-)
Dress: Zara
Feather Vest: s.Oliver
Tasche: Michael Kors
Boots: Manfield
Shop my Look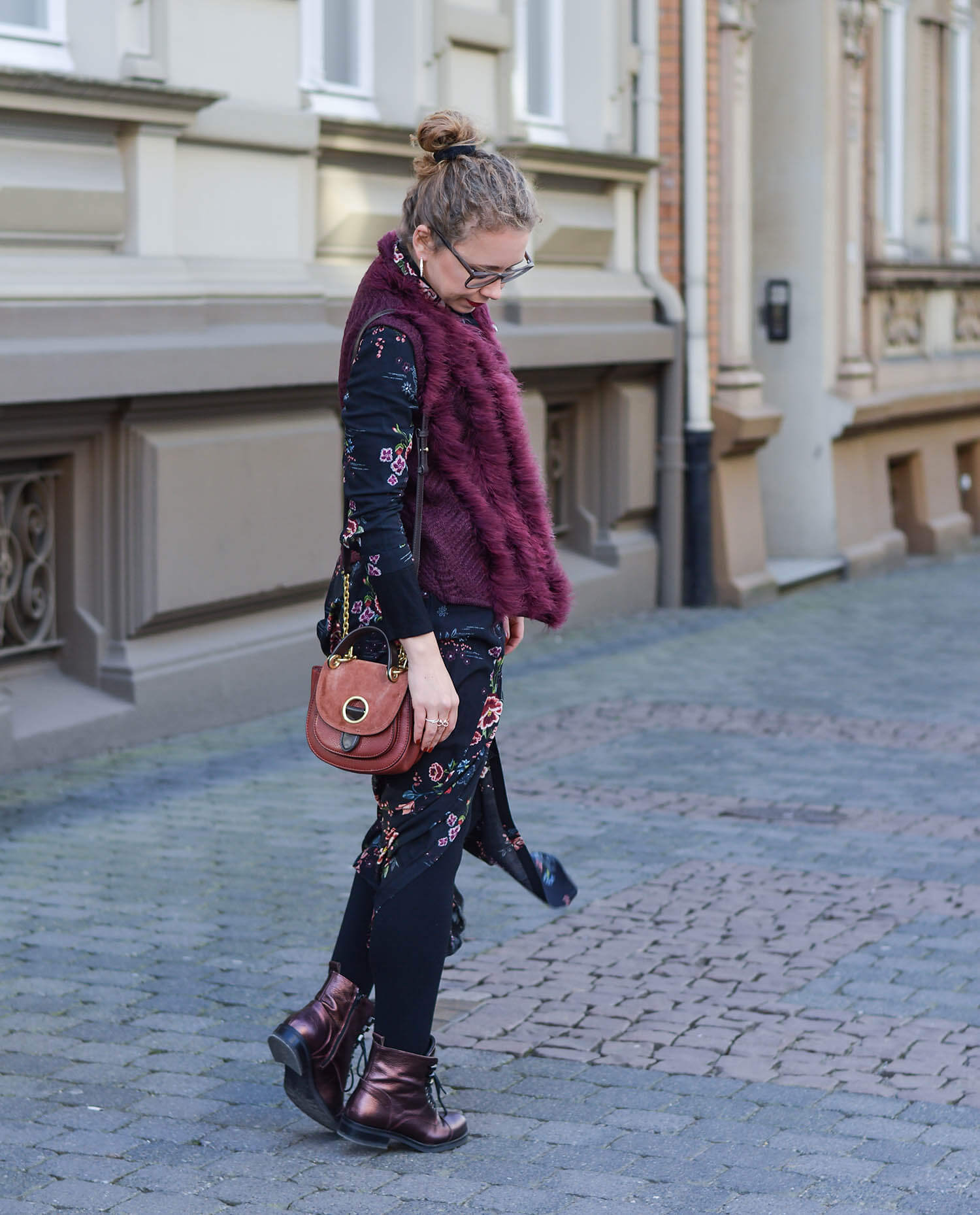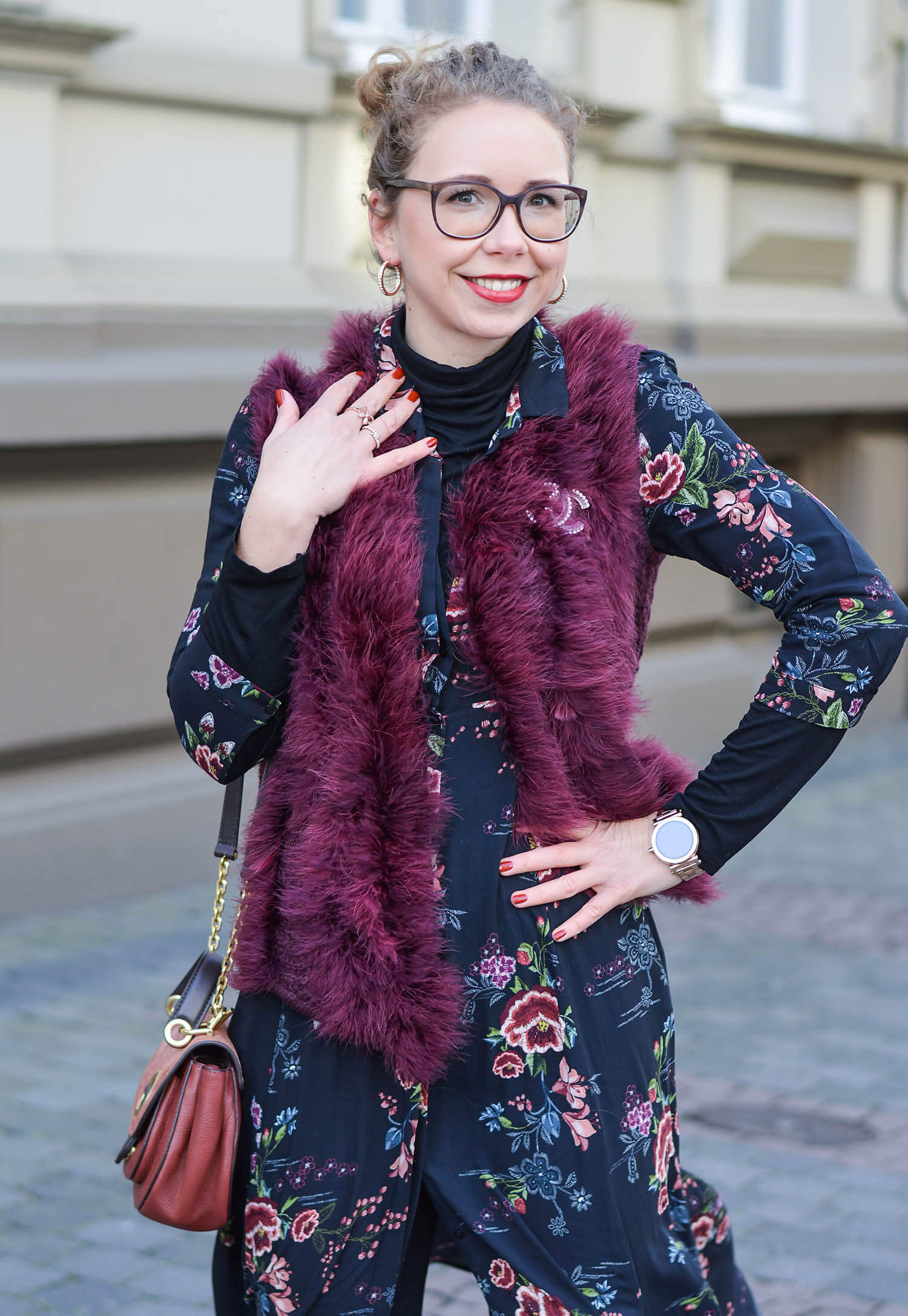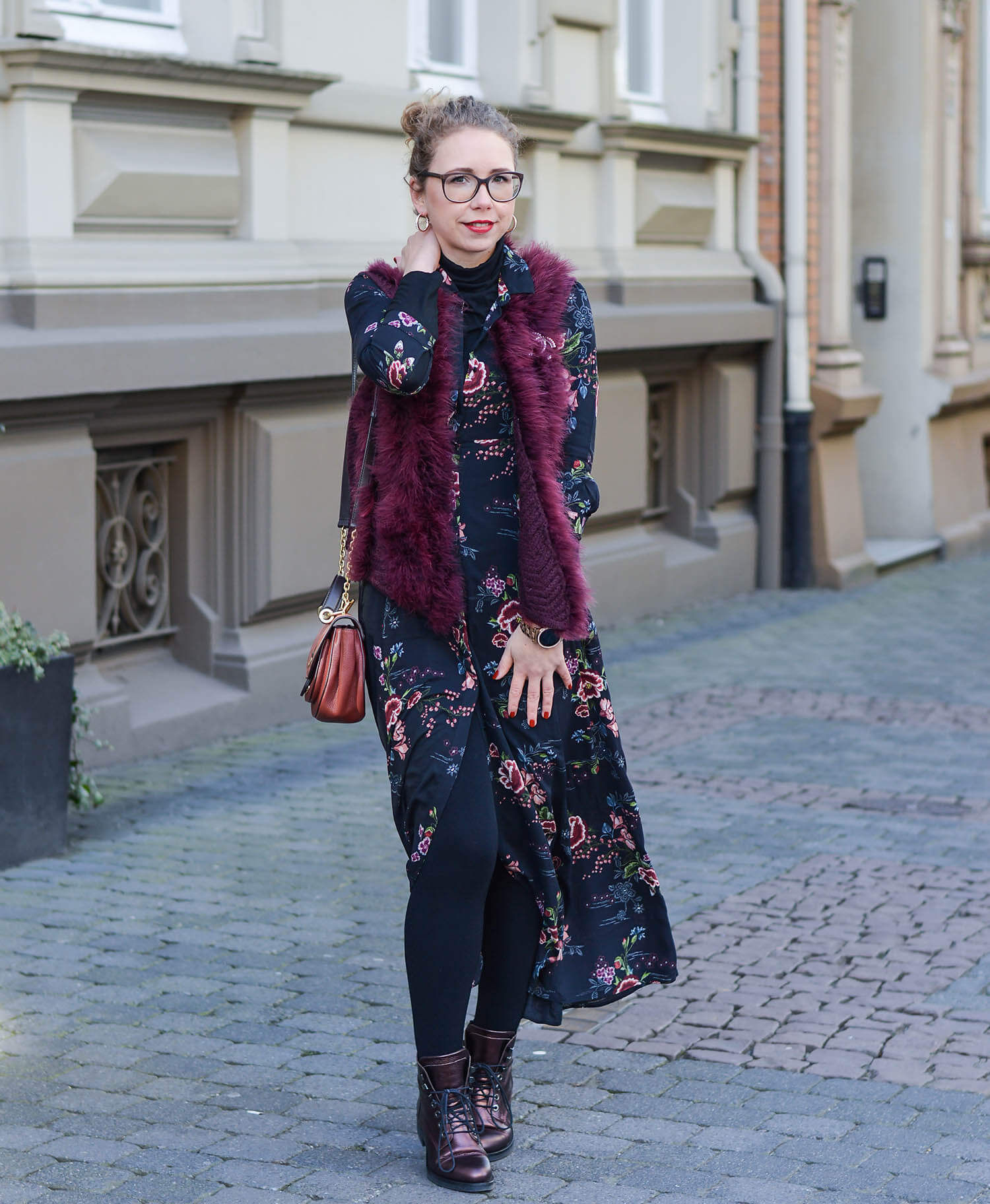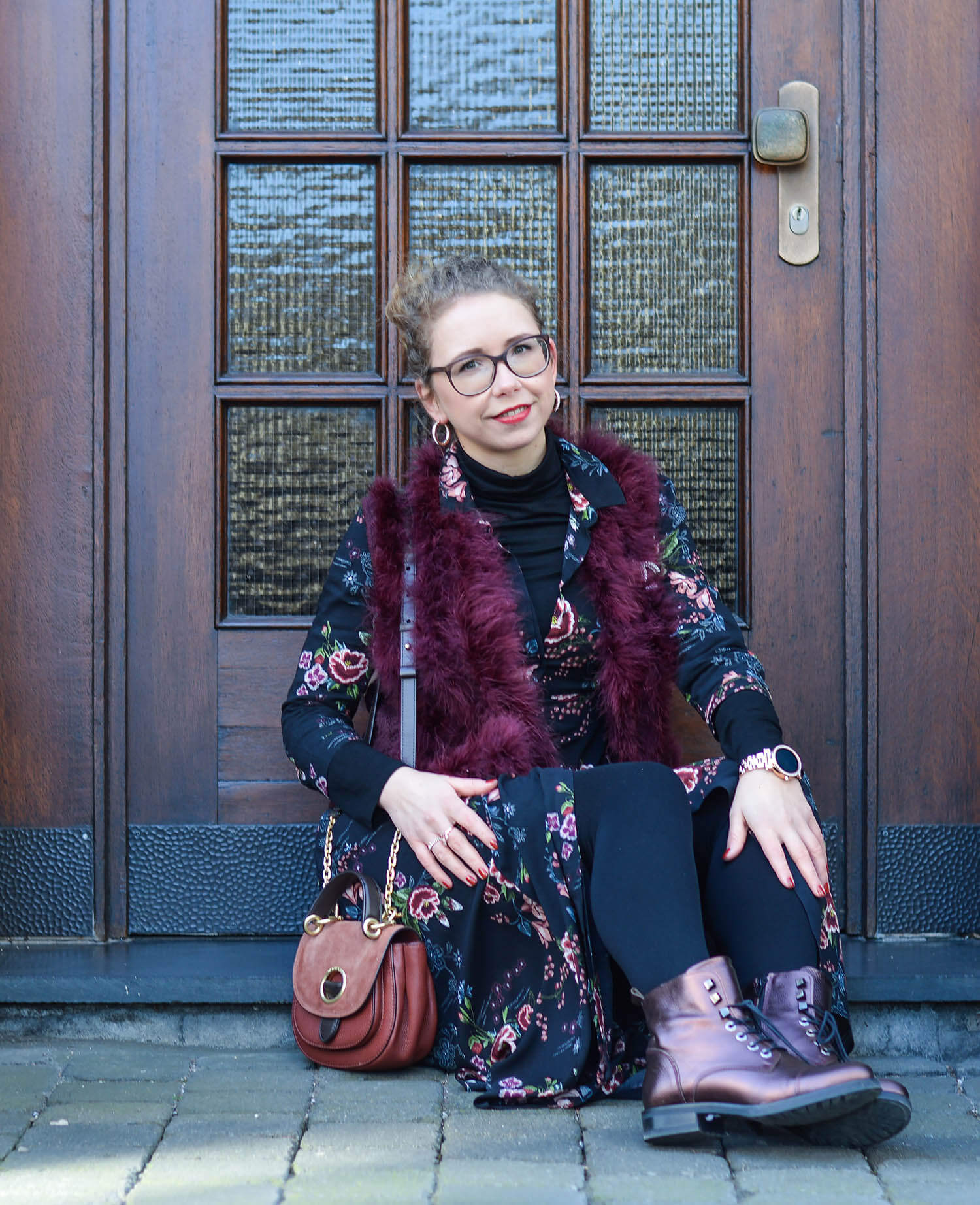 ---
Yay, spring is coming! Time for flower dresses and the first ice-cream of the year. The former comes here in my new outfit post. Funnily enough, we shot these pics on the coldest weekend of the year two weeks ago. ;-)
Flower dress and feather vest
A world too long since I've worn my maxi dress with flower print dress from Zara the last time. Why? Well, to be perfectly honest, I really hate ironing. Do you know that, too?
Now, I finally did it and ironed the dress. I'm wearing it with a turtleneck sweater and thick thermo tights underneath. Over the dress I put on a feather vest and this all goes perfectly with my metallic boots, right?
Weekend stories
I hope you had a nice weekend? Mine started one day earlier and thus already on Friday. Unfortunately with a nasty migraine, but also three nice wedding dates in Düsseldorf, which I could still enjoy. It started with the second change date for my wedding dress. It sits already incredibly well and in about two weeks I can pick it up! Afterwards I chose our cake. And the last appointment was at the hairdresser of my choice – here I recently reported about my little hairdressing drama. So the hairstyle has been changed!
On Saturday I celebrated the second birthday of my godchild with my very best, her husband and their families. It was a wonderful day and it is always beautiful and frightening at the same time, how quickly the little ones grow up… and you yourself are getting older.
The mister shone with absence because he had his first JGA (he will celebrate another weekend with his best man in Berlin). Well, and the whole Sunday he was useless because the guys looked into the glasses, if you understand… ;-)