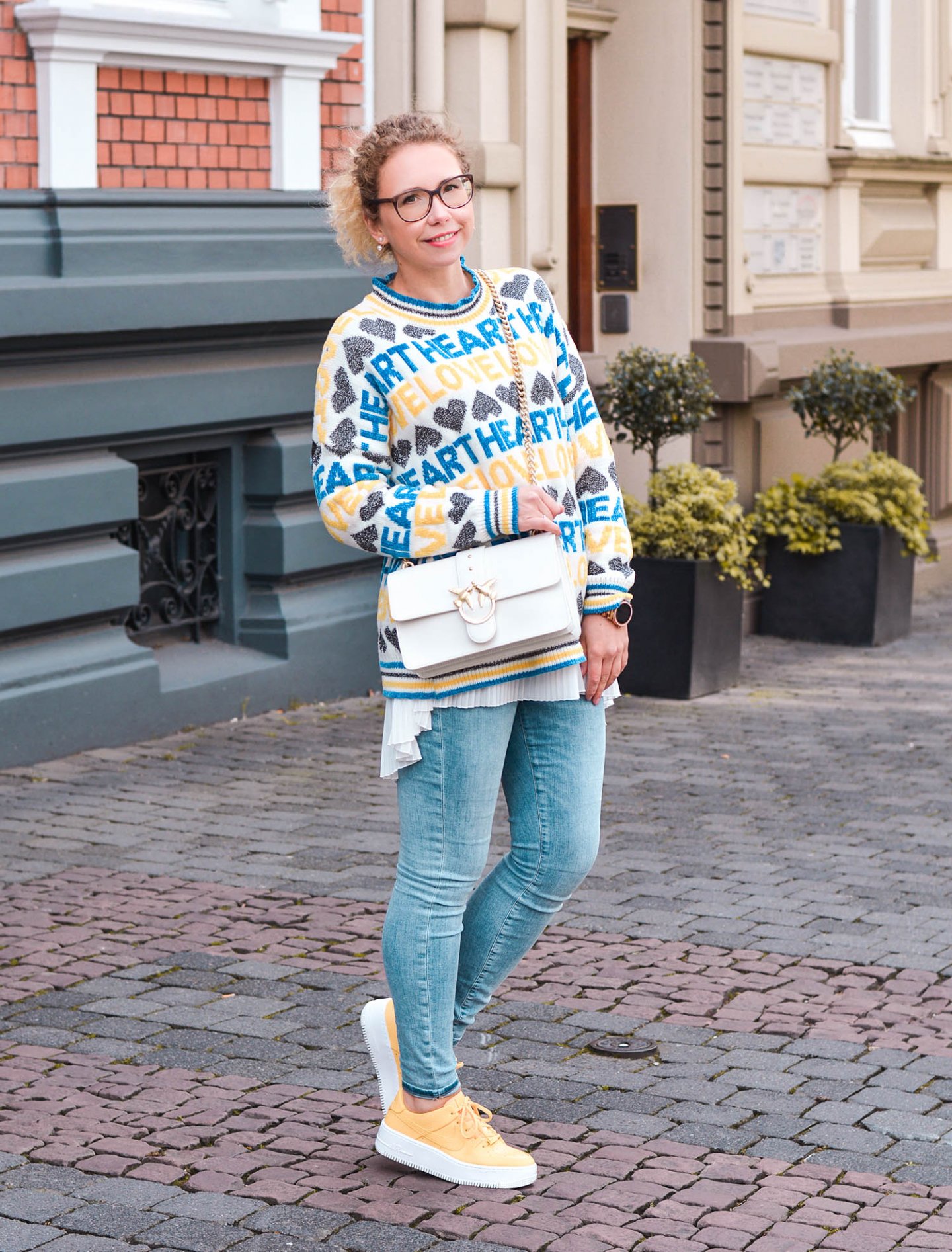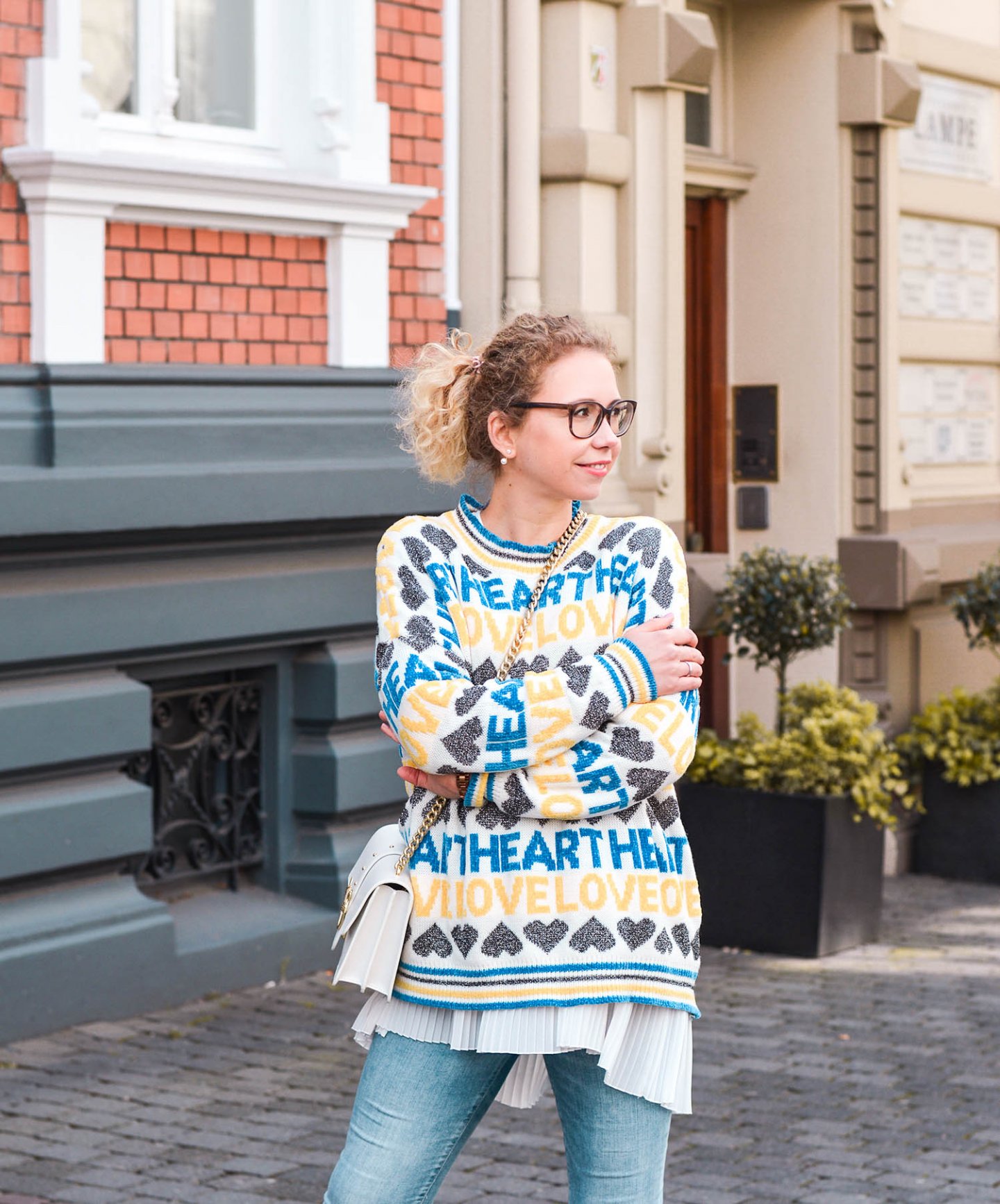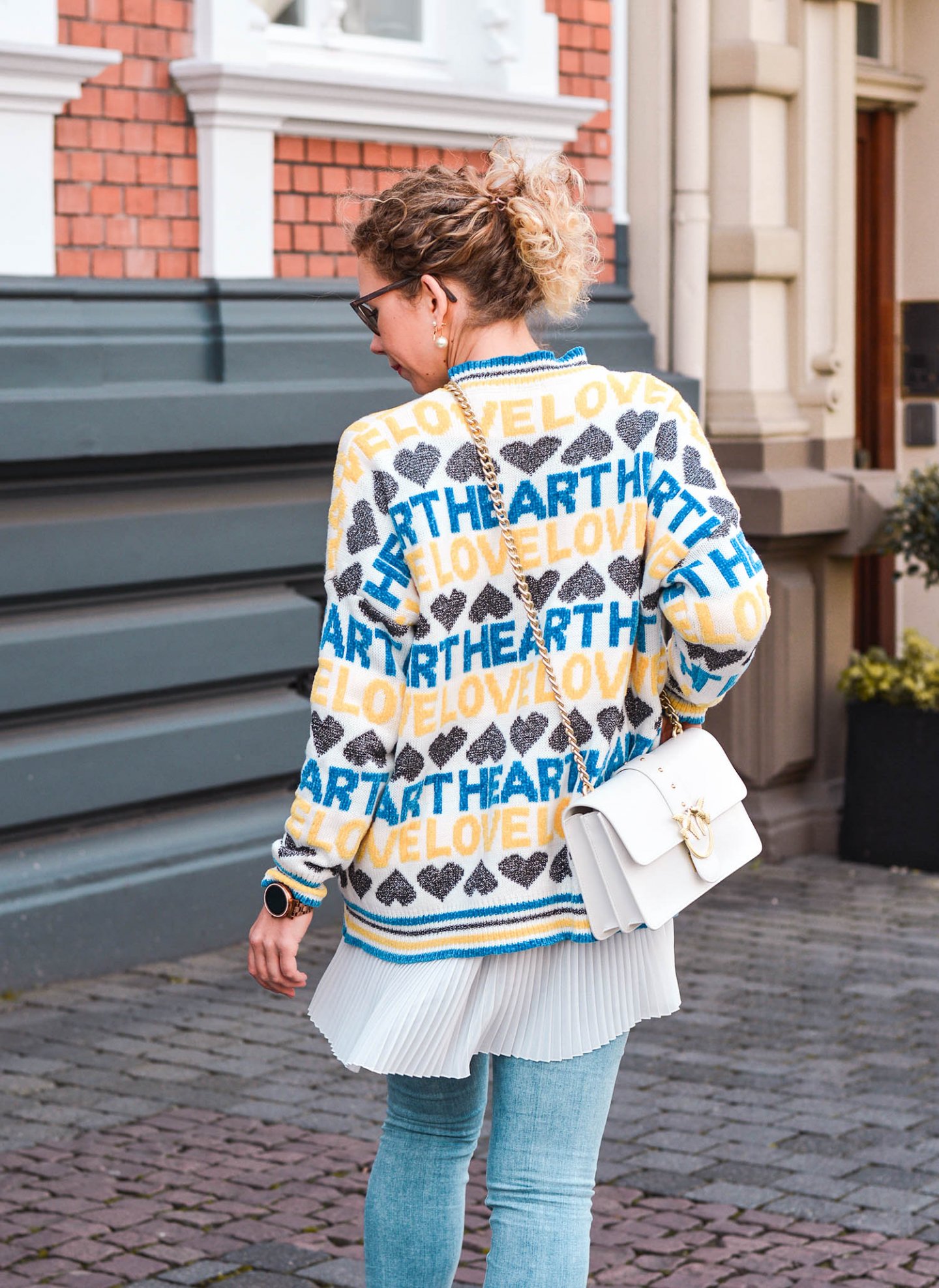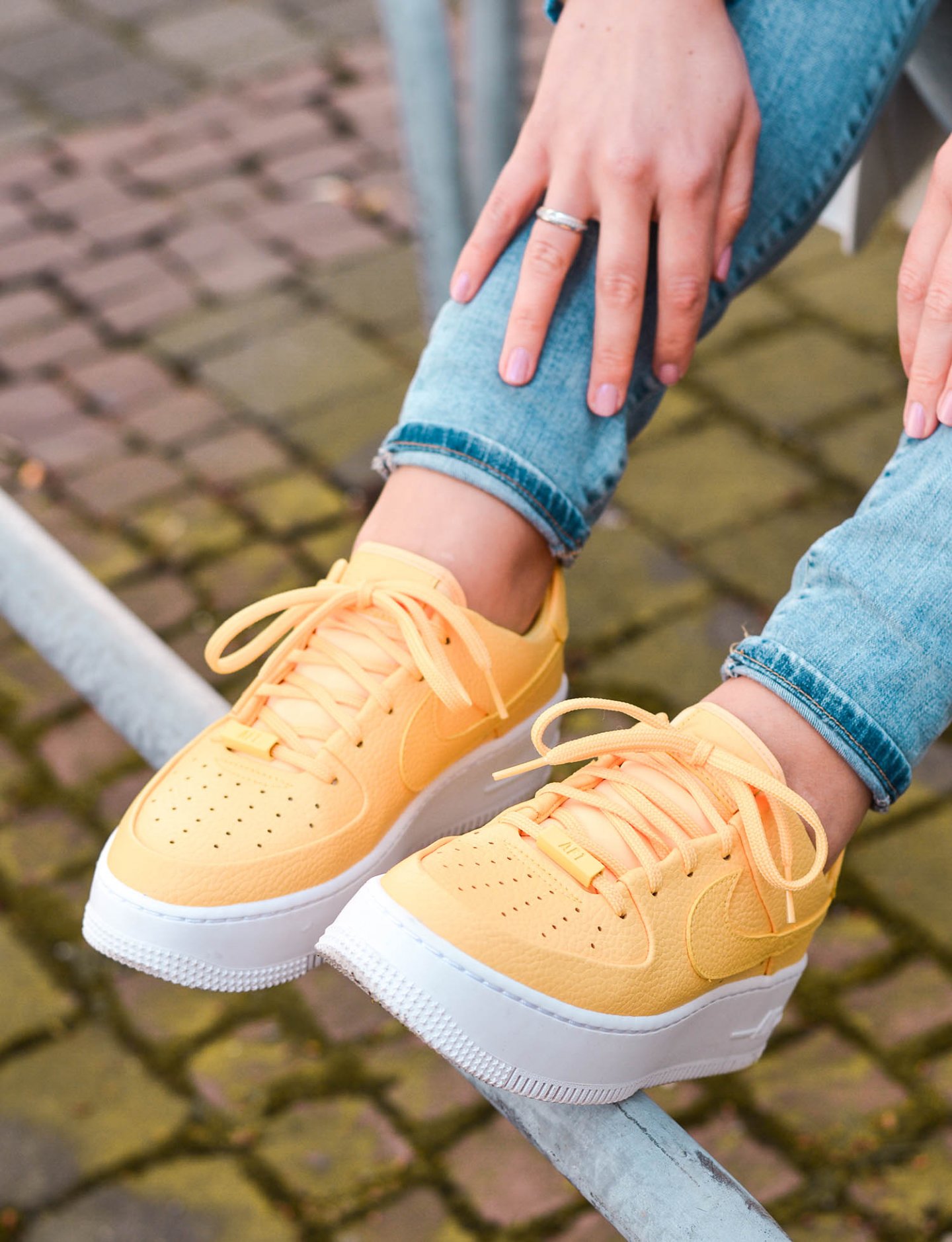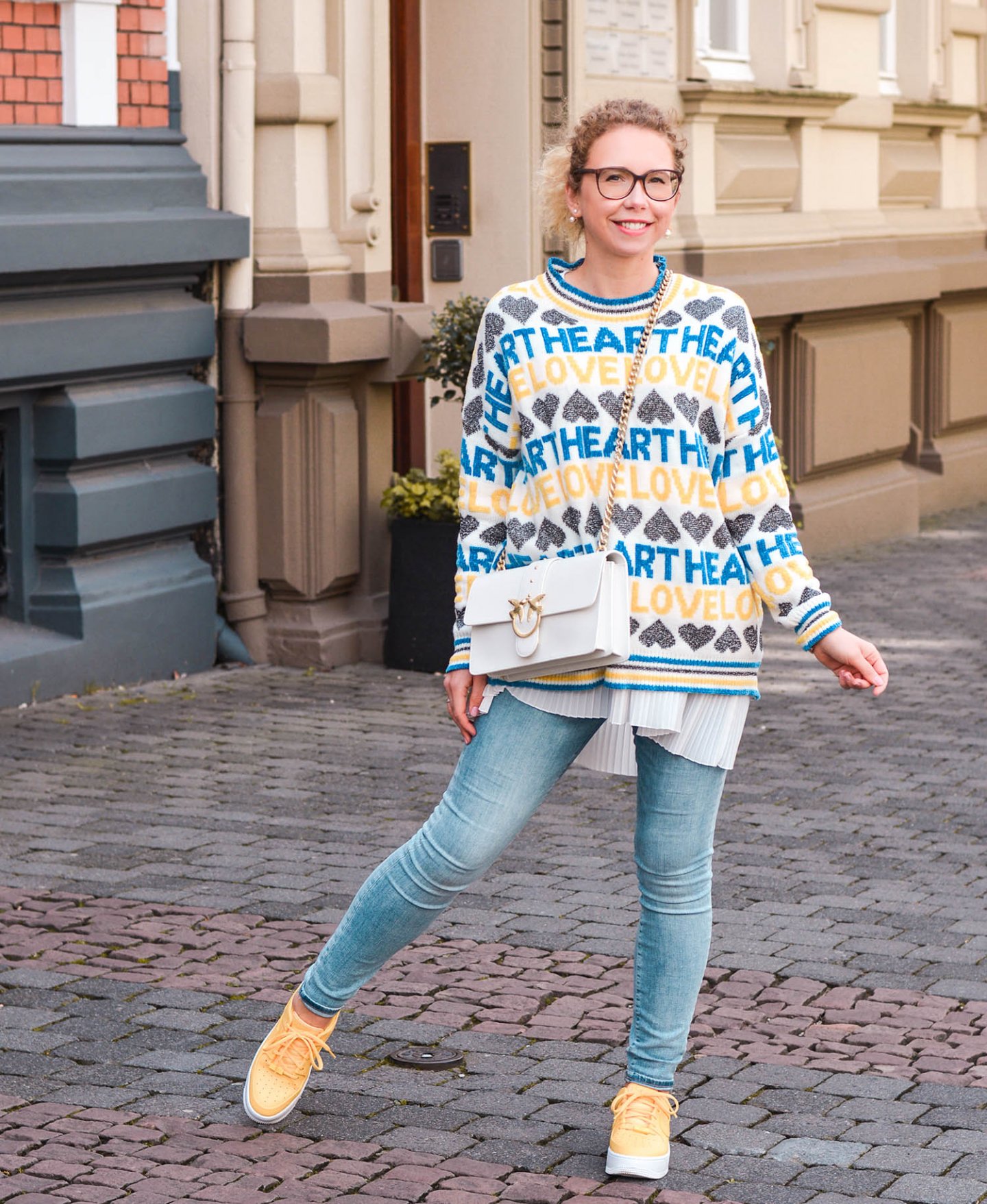 enthält Affiliate Links

Eine DER Farben fürs Frühjahr und den Sommer ist Gelb für mich. Und das, obwohl ich die Sonnenfarbe erst im letzten Jahr so richtig für mich entdeckt habe. Ich dachte nämlich immer, Gelb stünde mir nicht so gut. Mittlerweile liebe ich die Farbe und war somit direkt geflasht, als ich diese wunderschönen Nike Air Force 1 Sneaker entdeckt habe.
Neuheiten: Nike Air Force 1 in Gelb und ABCDior Tribale Ohrring
Bei den Sneakern handelt es sich um die Nike AF1 SAGE im Farbton topaz gold/white. Ich liebe die monochrome Optik und die weiße Plateausohle. Zudem sind die unheimlich bequem! Einfach perfekt dazu ist mein Statement-Pullover mit gelb-blauem Druck. Da der Mai temperaturmäßig doch etwas zu wünschen übrig lässt dieses Jahr, ist ein Pulli doch noch oft angebracht. So kann man dann wenigstens mal auf eine Jacke verzichten. ;-)

Ebenfalls ganz neu – und ein nachträgliches Hochzeitstagsgeschenk vom Hubby – ist der wunderschöne Dior Ohrring aus der ABCDior-Kollektion. Alphabet-Schmuck ist ja seit der Céline (old Céline) Schmuckkollektion beliebter denn je. Mittlerweile sind viele große wie kleine Namen auf den Zug aufgesprungen, aber bisher konnte mich keine so wirklich überzeugen. Bis ich in der Insta Story von Mehrnaz kürzlich diesen hübschen Dior Tribale Ohrring mit Perlen und Buchstaben entdeckt habe. Man kauft sie einzeln und ich trage auch ganz gern mal nur einen Ohrring oder kombiniere ihn mit einem anderen, schlichten Perlenohrring.

Ich bin gespannt, wie euch die beiden Neuzugänge und der gesamte Frühlingslook gefallen! Wie steht ihr denn zur Farbe Gelb?
Intensive Woche, gefolgt von intensivem Wochenende
Ich leide nach wie vor immer wieder unter Migräne; auch am Wochenende hat es mich wieder erwischt…
Kein Wunder, denn die Woche war – wie üblich in letzter Zeit – sehr anstrengend und arbeitsreich. Auch die ständigen Wetterwechsel tun ihr übriges. Dennoch war das Wochenende recht voll: Am Samstagabend waren wir bei lieben Freunden in großer Runde den Eurovision Song Contest schauen und gestern war ich mit einer Kollegin und Freundin auf einem Mädchenflohmarkt zum Verkaufen. Auch wenn wir nicht sooo viel eingenommen haben, hatten wir einen richtig schönen Tag!

Zum Glück stehen mir nun nur zweieinhalb Arbeitstage bevor, da es am Donnerstag zu meinem Geburtstag bis Samstag nach Paris geht. Ich hoffe, ich kann dann endlich mal abschalten und habe ein paar Migräne-freie Tage. :-)
Shop my Look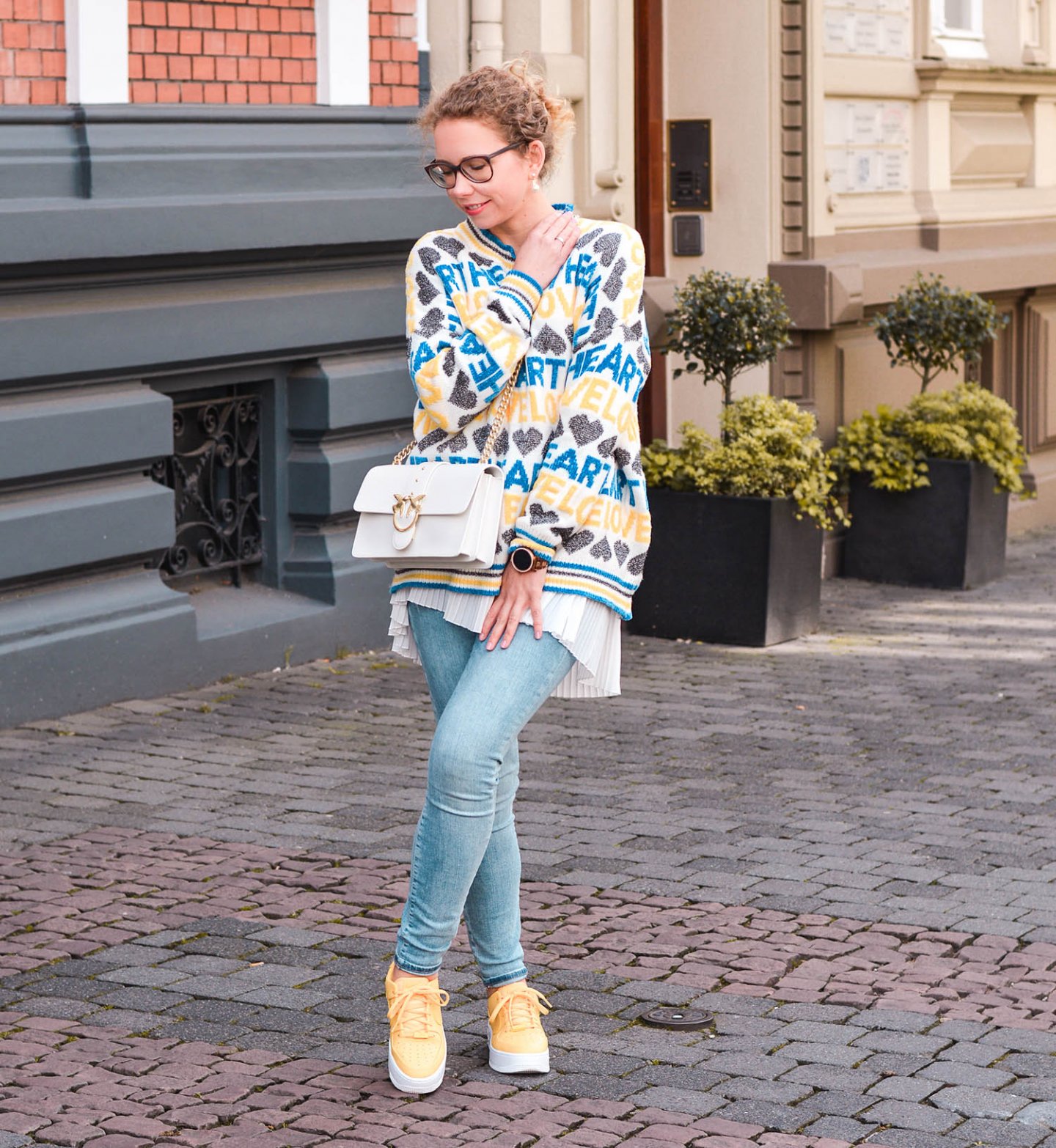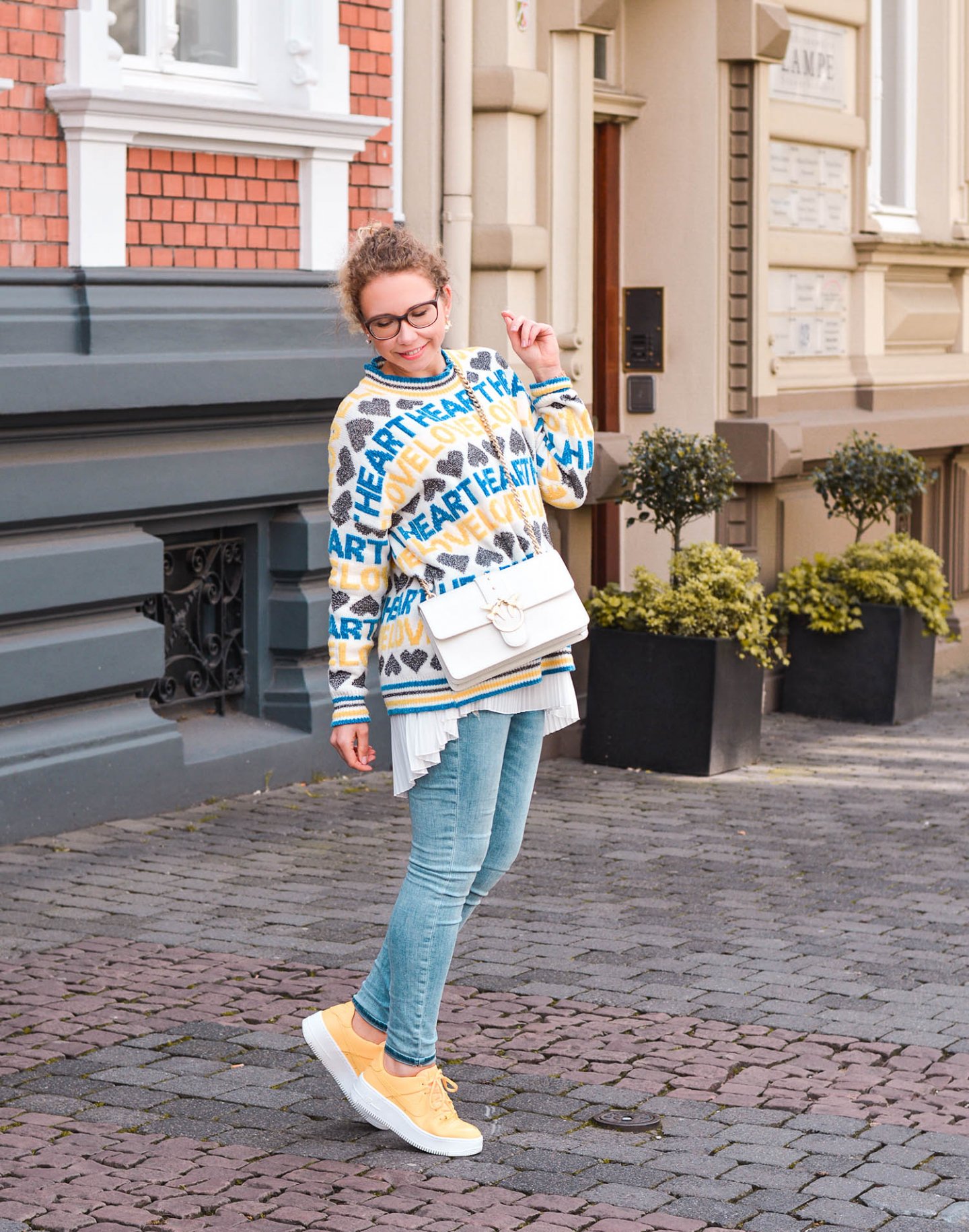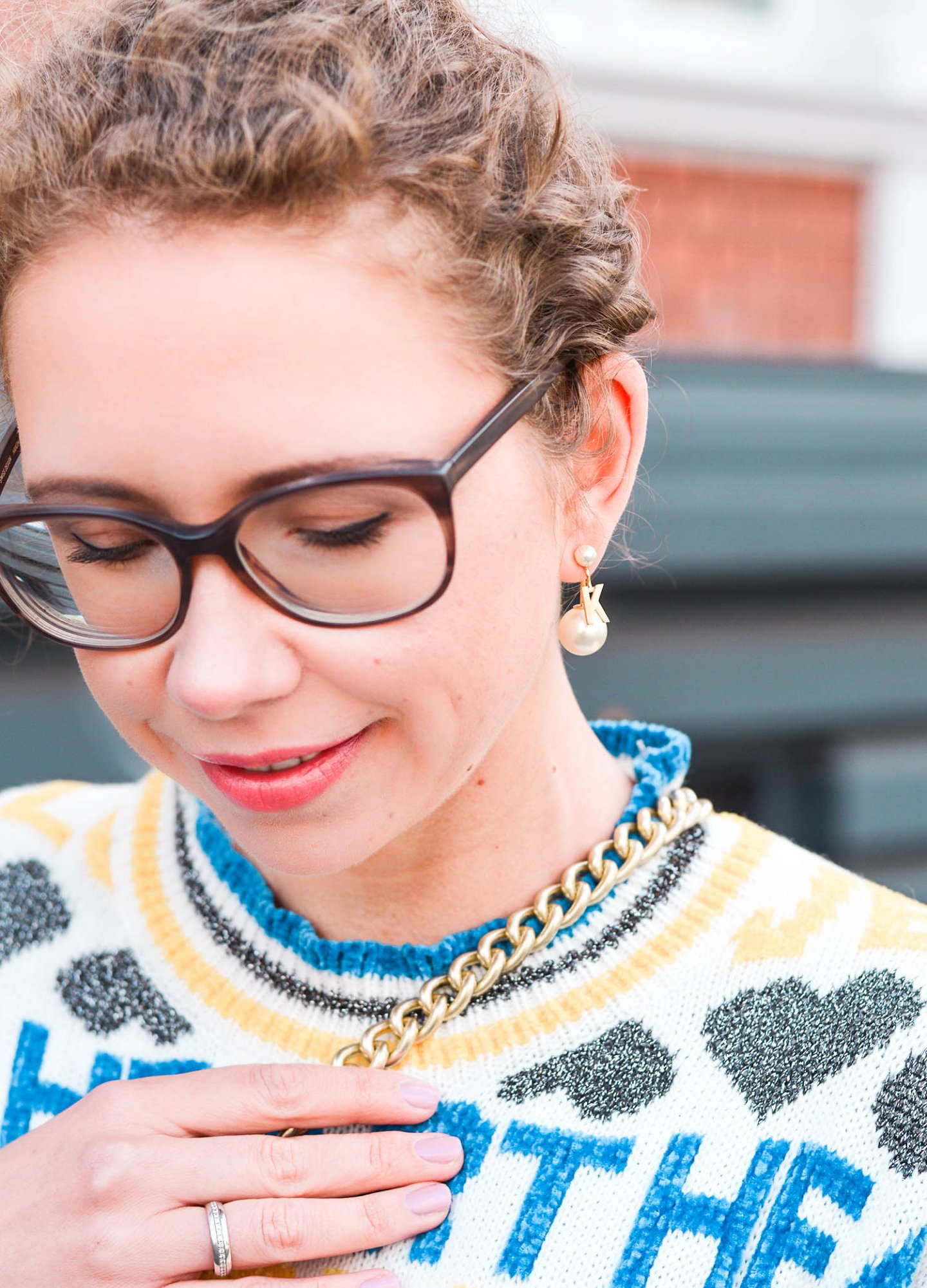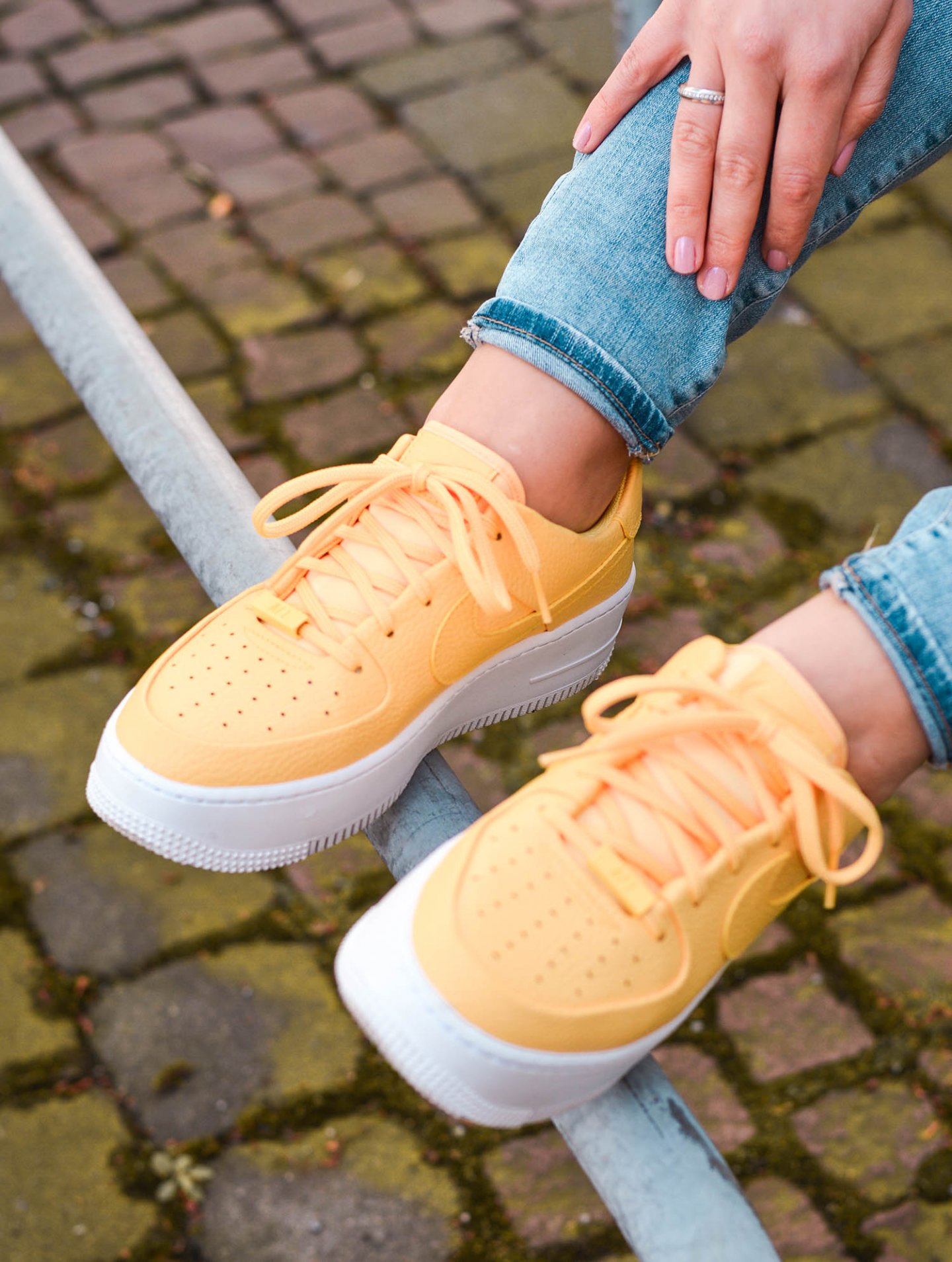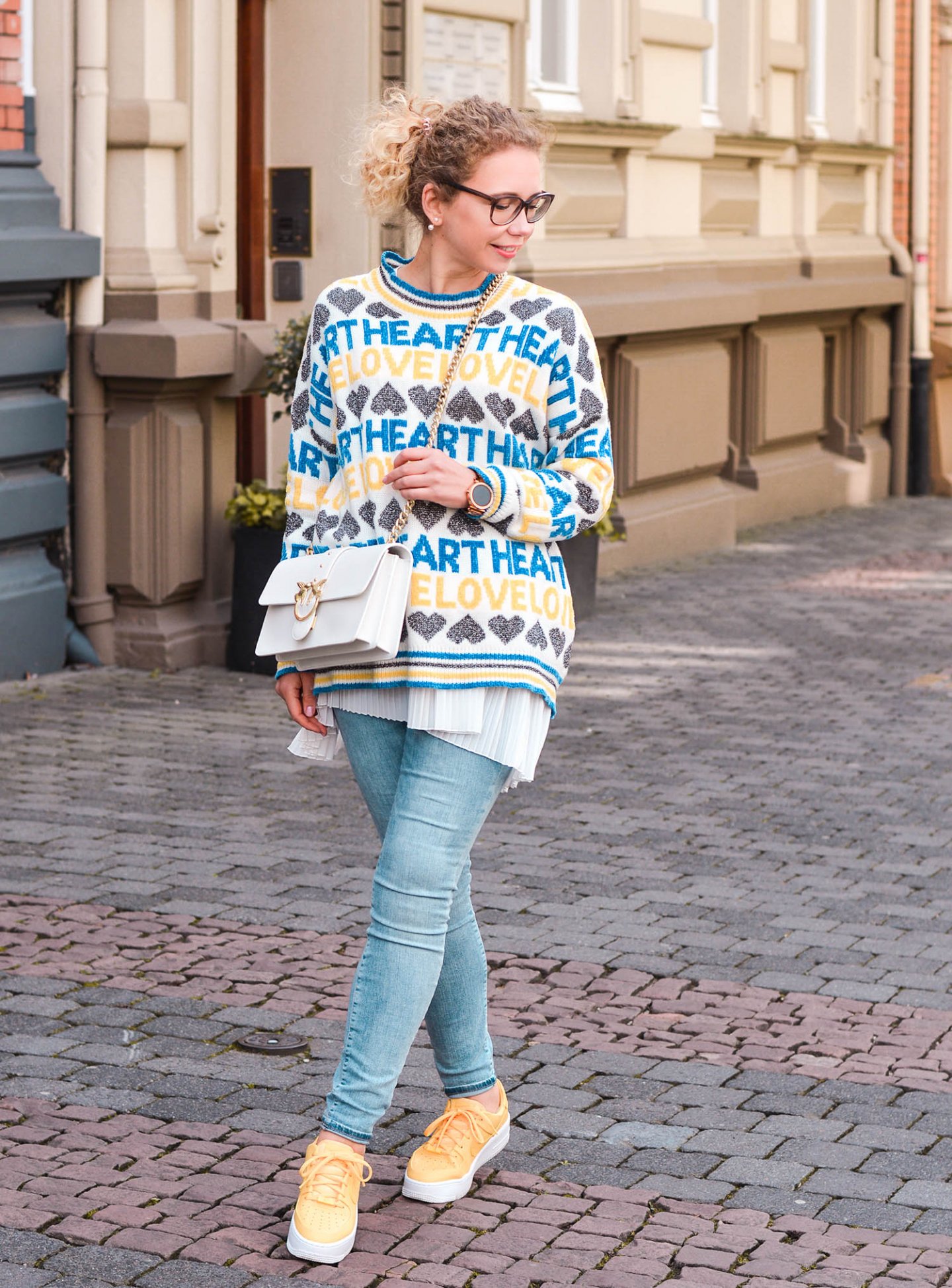 One of THE colors for spring and summer is yellow for me. And this, although I discovered the sun color for myself only last year. I always thought yellow didn't suit me so well. Meanwhile I love the color and was therefore flashed directly when I discovered this beautiful Nike Air Force 1 sneaker.
Novelties: Nike Air Force 1 in yellow and ABCDior Tribale Earring
The sneakers are the Nike AF1 SAGE in the color topaz gold/white. I love the monochrome look and the white platform sole. They are also incredibly comfortable! Simply perfect is my statement sweater with yellow-blue print. Since the temperature in May leaves something to be desired this year, a sweater is still often appropriate. So you can at least do without a jacket. ;-)

Also completely new – and a later wedding anniversary present from Hubby – is the beautiful Dior earring from the ABCDior collection. Alphabet jewelry is more popular than ever since the Céline (old Céline) jewelry collection. In the meantime, many big and small names have jumped on the bandwagon, but so far none have really convinced me. Until I recently discovered this pretty Dior Tribale earring with pearls and letters in the Insta Story by another fashion blogger. You buy them separately and I like to wear only one earring or combine it with another, plain pearl earring.

I'm curious to see how you like the two newcomers and the whole spring look! How do you like the color yellow?
Intensive week, followed by an intense weekend
I still suffer from migraine again and again; even on the weekend I got it again…

No wonder, because the week was – as usual lately – very exhausting and busy. The constant changes in the weather also do the rest. Nevertheless the weekend was quite full: On Saturday evening we were watching the Eurovision Song Contest with dear friends and yesterday I was with a colleague and friend at a girls flea market for selling. Even though we didn't take that much, we had a really nice day!

Fortunately I only have two and a half working days ahead of me now, as my birthday on Thursday we will go to Paris until Saturday. I hope I can finally switch off and have a few migraine-free days. :-)