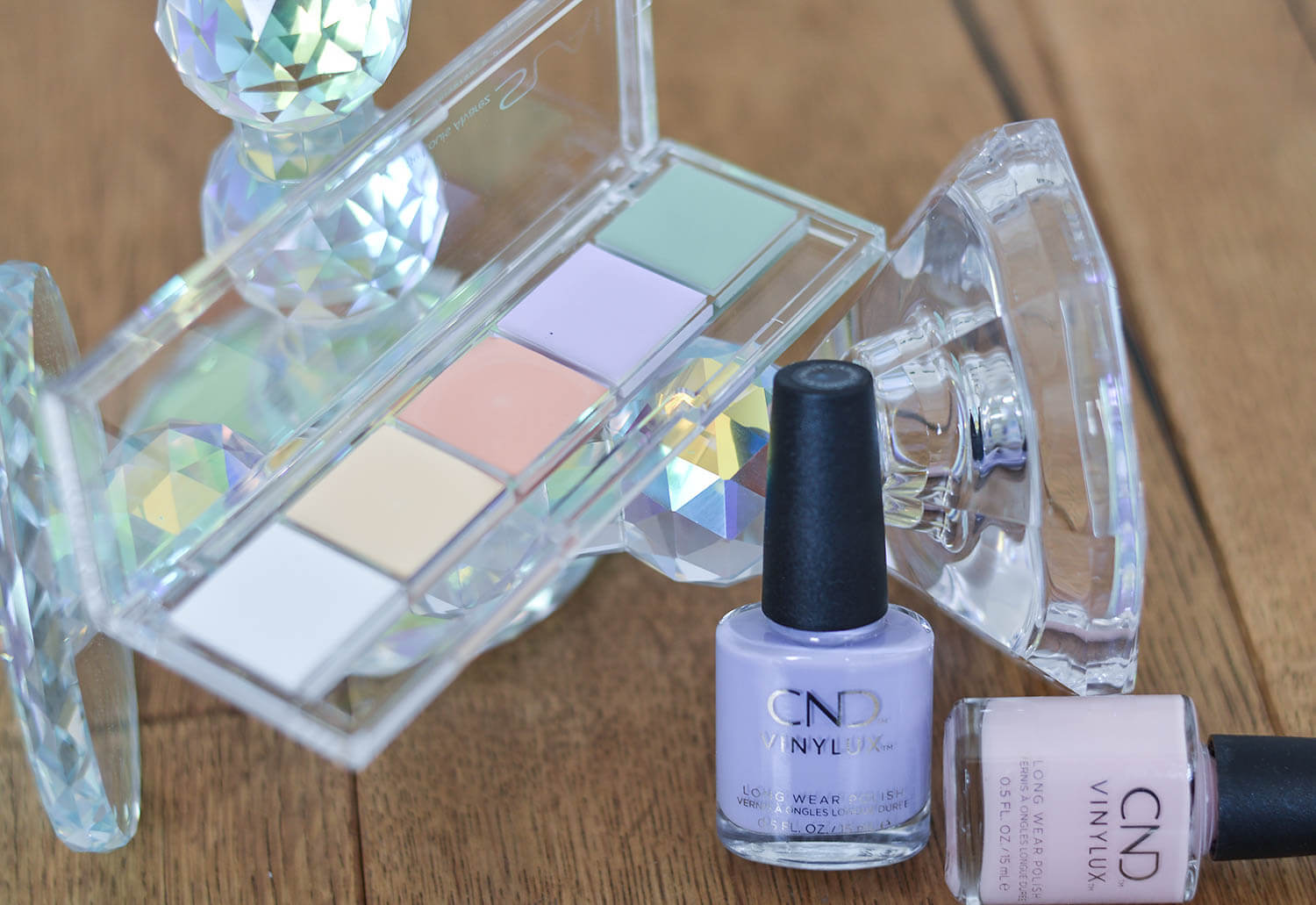 Während ich voller Spannung auf unsere Hochzeitsbilder warte – bei der Post ist leider etwas schief gelaufen, sonst hätte ich sie schon – lenke ich mich und euch heute mit einem neuen Beauty-Post ab. Ich habe nämlich wieder fleißig über den Blogger Club* getestet! ;-)
CND Vinylux Chic Schock Collection
Wie ihr wissen dürftet, bin ich ein Fan der CND Vinylux Lacke! Sie halten meist eine ganze Woche sehr, sehr gut, haben einen schönen Glanz in Gel-Optik und lassen sich dank des breiten Pinseln wunderbar auftragen. Klar, dass ich ein paar neue Lacke der "Chic Schock Collection" testen musste. Ich habe mich für "Gummi", ein Pastell-Lila sowie "Candied", ein helles, aber deckendes Rosa entschieden. Beide Farben gefallen mir gerade jetzt im Frühling ausgesprochen gut. Neben diesen beiden Farben gibt es noch ein Pastellgelb ("Jellied") sowie ein Mintgrün ("Taffy") in der Kollektion.
Die Lacke kosten je 14,90 Euro und ich empfehle auf jeden Fall den passenden Überlack zum selben Preis!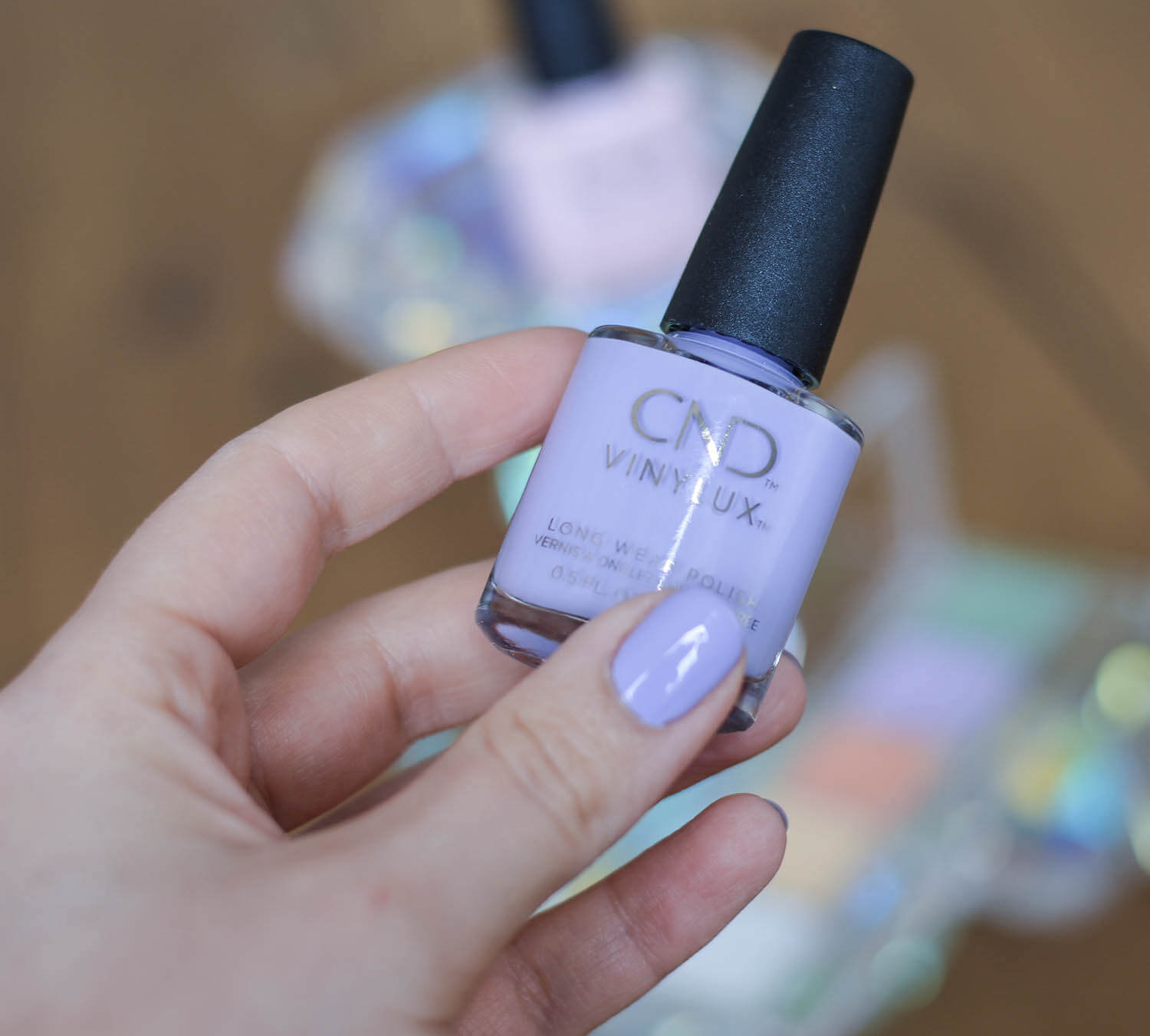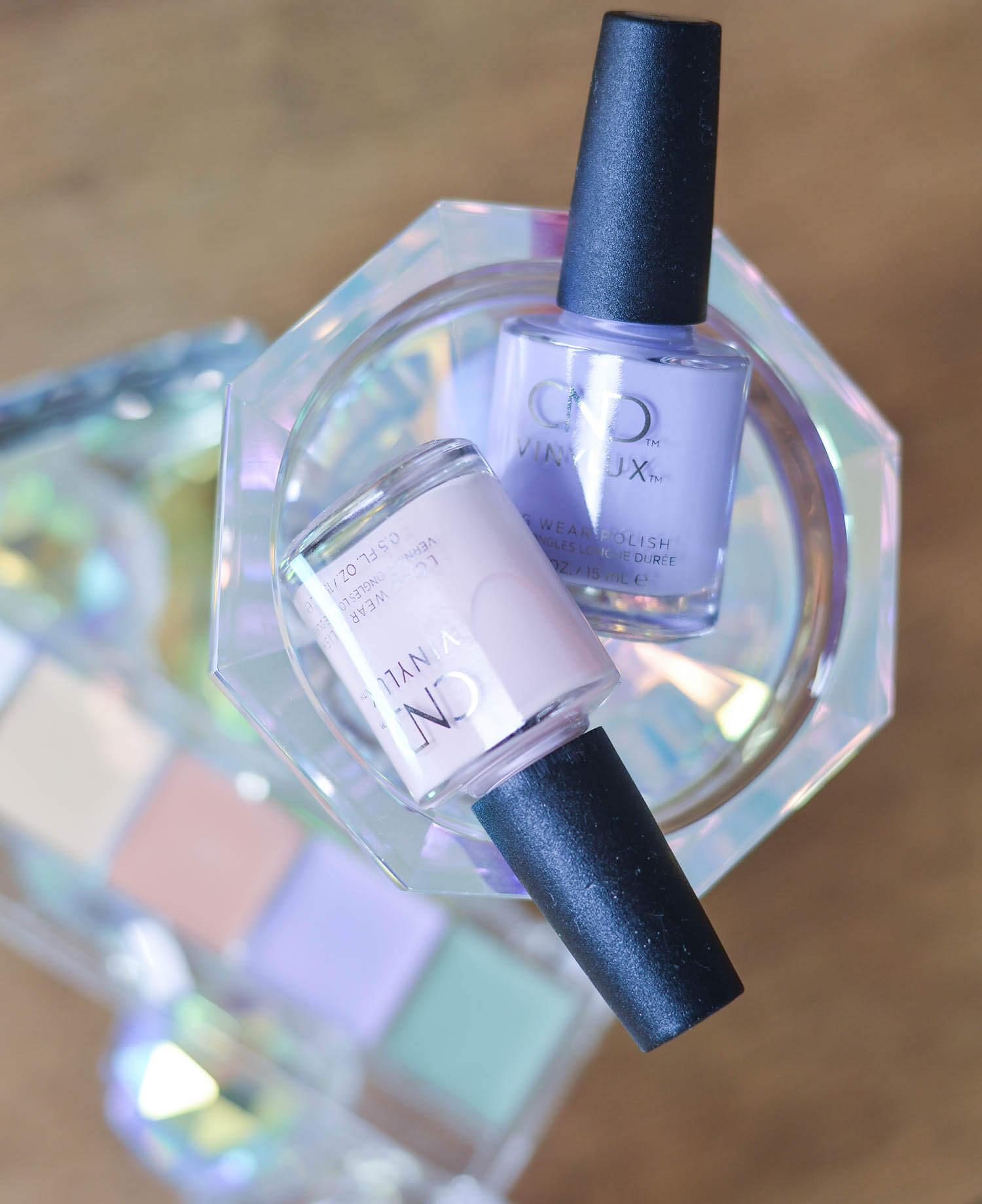 Sla Make-up "Palette of 5 Corrective Luxury Light"
Kommen wir zu einer wahren Wunderpalette. Zum Glück habe ich nur ganz selten starke Hautunreinheiten oder Pickel im Gesicht. Das einzige, was leider mit zunehmenden Alter – schließlich werde ich kommende Woche schon 32 (!) – stärker hervortritt, sind leichte Augenringe und Schwellungen. Besonders am Morgen. Hier hilft mir jetzt die neue "Palette of 5 Corrective Luxury Light" von Sla Make-up.
Die Palette ermöglicht das Formen und Modellieren des Gesichts, das bewusste Setzen von Lichtern und Schatten. Die Farben sind untereinander mischbar und decken Augenringe, Pickel, Narben, rote Äderchen, Tränensäcke und alles, was ein perfektes Make-up stört, zuverlässig und langanhaltend ab.
Damit ich immer weiß, wofür welche Farben am besten geeignet sind, habe ich es mir inzwischen auf der Palette selbst notiert:
Gelb – deckt lila-farbene Unregelmäßigkeiten und Augenringe ab
Orange – hilft, mit Gelb gemischt, gegen intensiv blaue Unregelmäßigkeiten wie Blutergüsse oder ausgeprägte Augenringe
Violett – lässt blasse oder gelbliche Haut frischer aussehen
Grün – korrigiert Couperose/Rosacea, Pickel, Narben und andere gerötete Stellen im Gesicht
Weiß – zum Aufhellen der anderen Farben
Ihr bekommt as kleine Wunderwerk für 27,80 Euro im Deynique Online-Shop.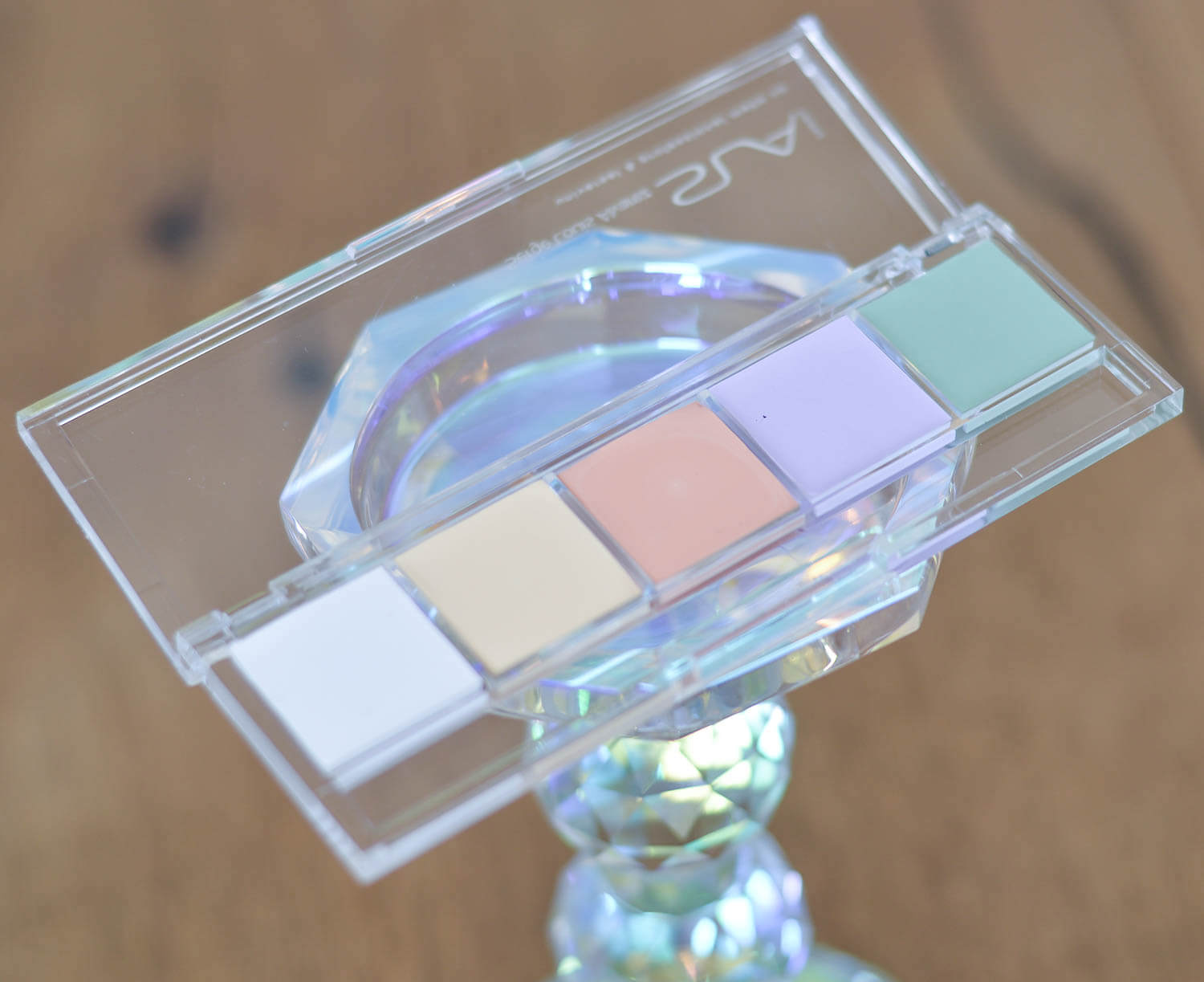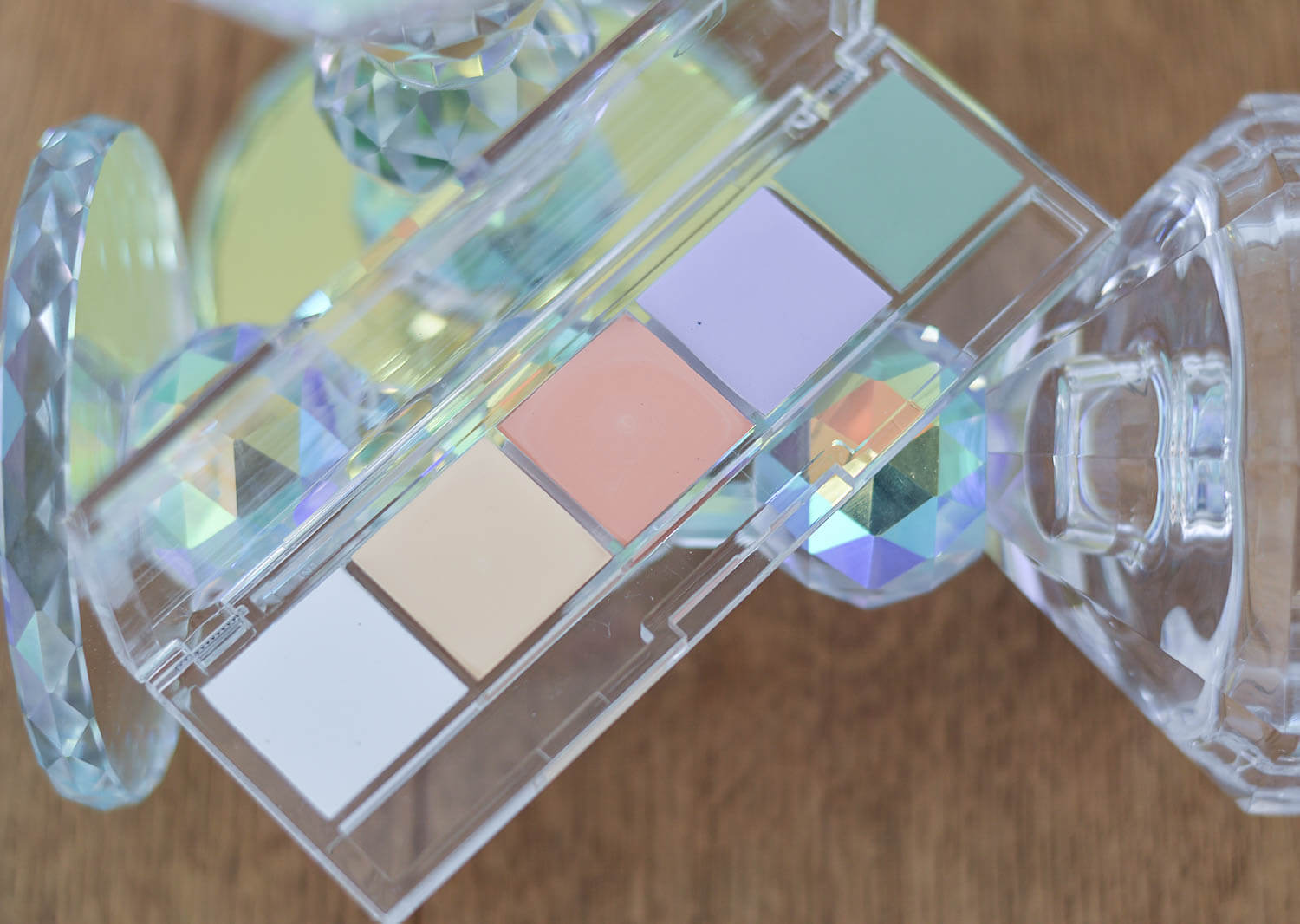 Detox und Selbstbräuner-Set von Gertraud Gruber
Als letztes stelle ich euch Neuheiten von Gertraud Gruber vor. Als Pionierin der Wellnessbewegung gelang Frau Gertraud Gruber 1955 mit der Gründung der 1. Schönheitsfarm Europas der Grundstein für mittlerweile über 60 Jahre Kosmetik Kultur. Das Credo: So natürlich wie möglich, mit den besten Eigenschaften in Bezug auf Wirksamkeit, Verträglichkeit und Anwendungsverhalten. Klingt schon mal klasse, nicht wahr?
Detox Ampulle
Aktuell teste ich die Detox Ampullen, die wirklich super ergiebig sind!
Dank natürlicher, entgiftender, entwässernder und regenerierender Inhaltsstoffe verschönert die Ampulle das Hautbild. Super praktisch finde ich das Fläschchen mit Dosier-Pipette. Hier die wichtigsten Eigenschaften zusammengefasst:
Hilft der Haut, Giftstoffe abzubauen und sich von innen zu regenerieren
Zieht perfekt ein und klebt nicht
Für ein entspanntes und ebenmäßiges Hautbild
Ideal als Kur oder als Grundlage für die Tagescreme geeignet
BIO-Löwenzahn- und Heublumen-Extrakte besitzen entschlackende und entspannende Eigenschaften
Brennnessel-Extrakt wirkt durchblutungsfördernd und kräftigend
Die Mikro-Alge Chlorella vulgaris mit zellschützenden Eigenschaften unterstützt den Detox-Effekt
Laut Hersteller für alle Hauttypen geeignet – ausgenommen bei Kräuterunverträglichkeiten
Ich kann bisher absolut bestätigen, dass das Serum wunderbar einzieht und die Haut die Inhaltsstoffe förmlich aufsaugt. Ich habe das Gefühl, die Ampulle tut meiner Haut ausgesprochen gut und bin gespannt auf die weitere Wirkung.
Die Detox Ampulle, 3 x 4 ml, kostet 31 Euro und ist zum Beispiel im Onlineshop von Gertraud Gruber erhältlich.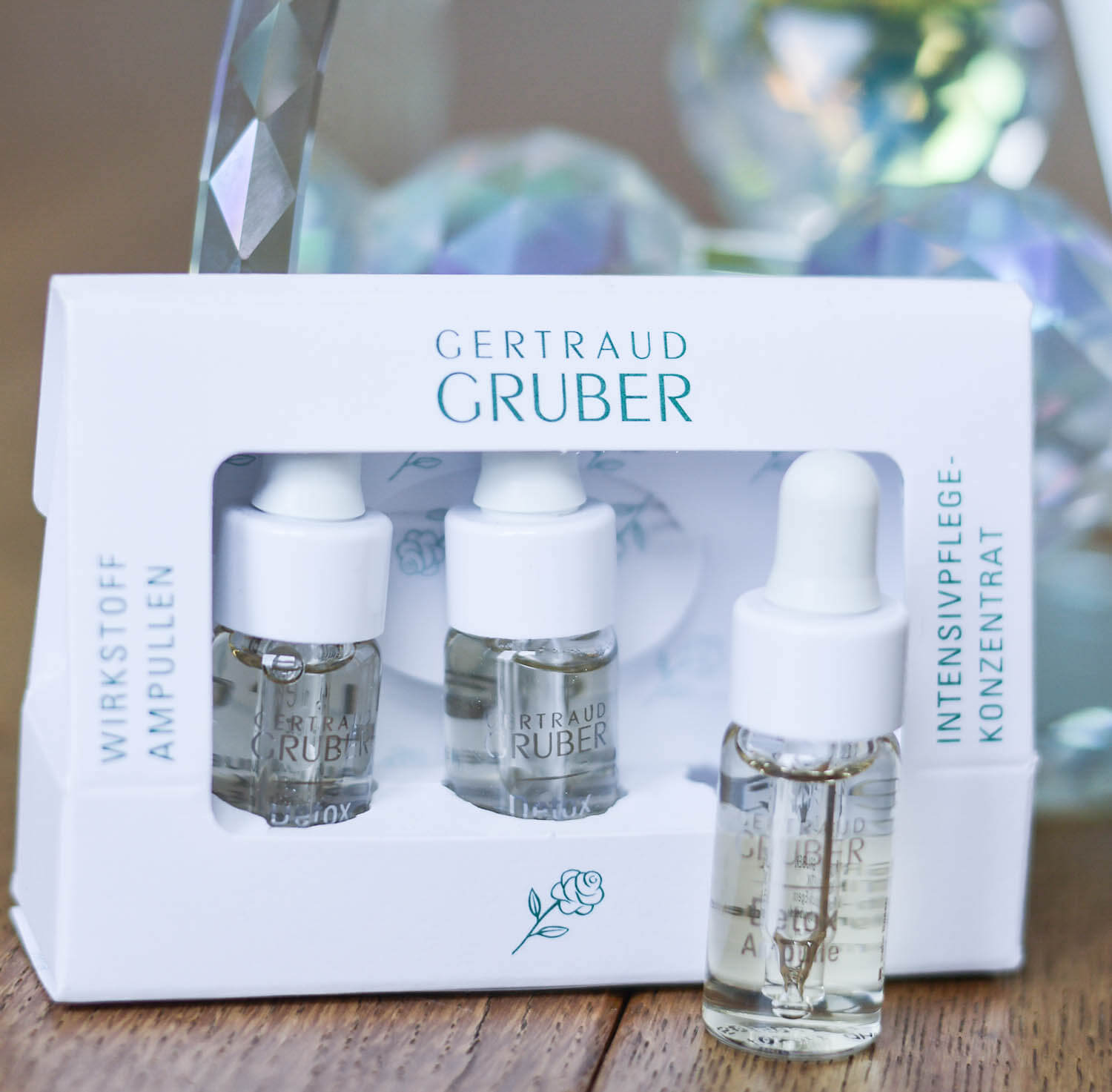 Selbstbräuner-Pflege-Set
Das Selbstbräuner-Pflege-Set für das Gesicht habe ich noch nicht geschafft für euch zu testen, möchte es aber dennoch kurz vorstellen. Ich bin nämlich von der Aufmachung schon mal sehr begeistert und habe bisher nur Positives darüber gelesen. Vielleicht kennt ihr das Set ja bereits?
Das limitierte Set besteht aus:
Sun Care Selbstbräuner Fluid Gesicht (50 ml)
Mit pflanzlichem Selbstbräunungswirkstoff
Für eine stufenweise natürliche Bräune ohne Flecken und Streifen
Angenehmer, frischer Duft
Für jeden Hauttyp geeignet
Enzym Peeling Puder (10g)
Mit wirksamem Papain-Enzym
Für eine glatte und geschmeidige Haut
Für einen frischen und feinporigen Teint
Unterstützt die Zellerneuerung
Aktiviert und beschleunigt die Zellteilung
die ideale Vorbereitung für das Selbstbräuner Fluid
Das Set ist für 21 Euro erhältlich.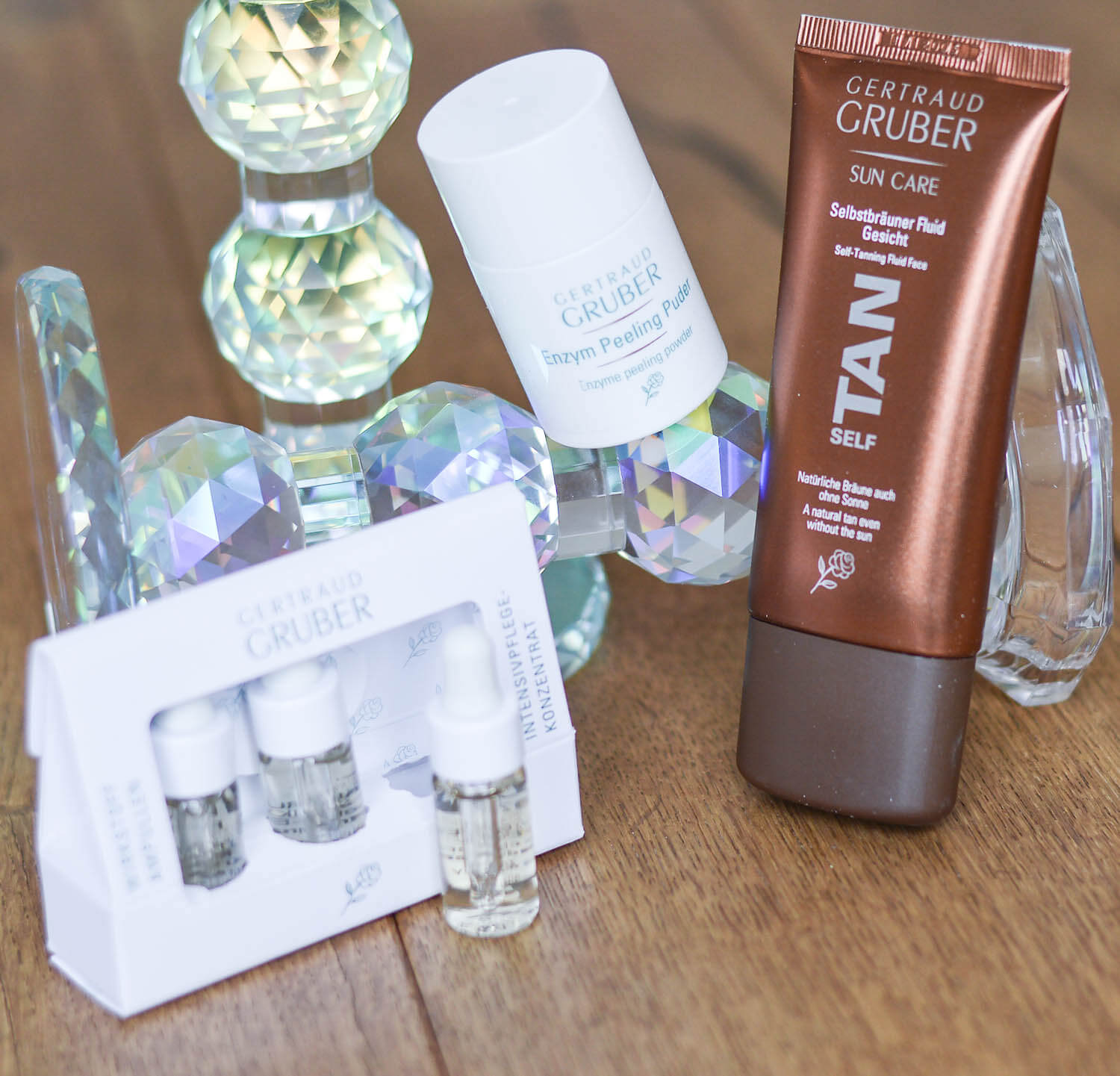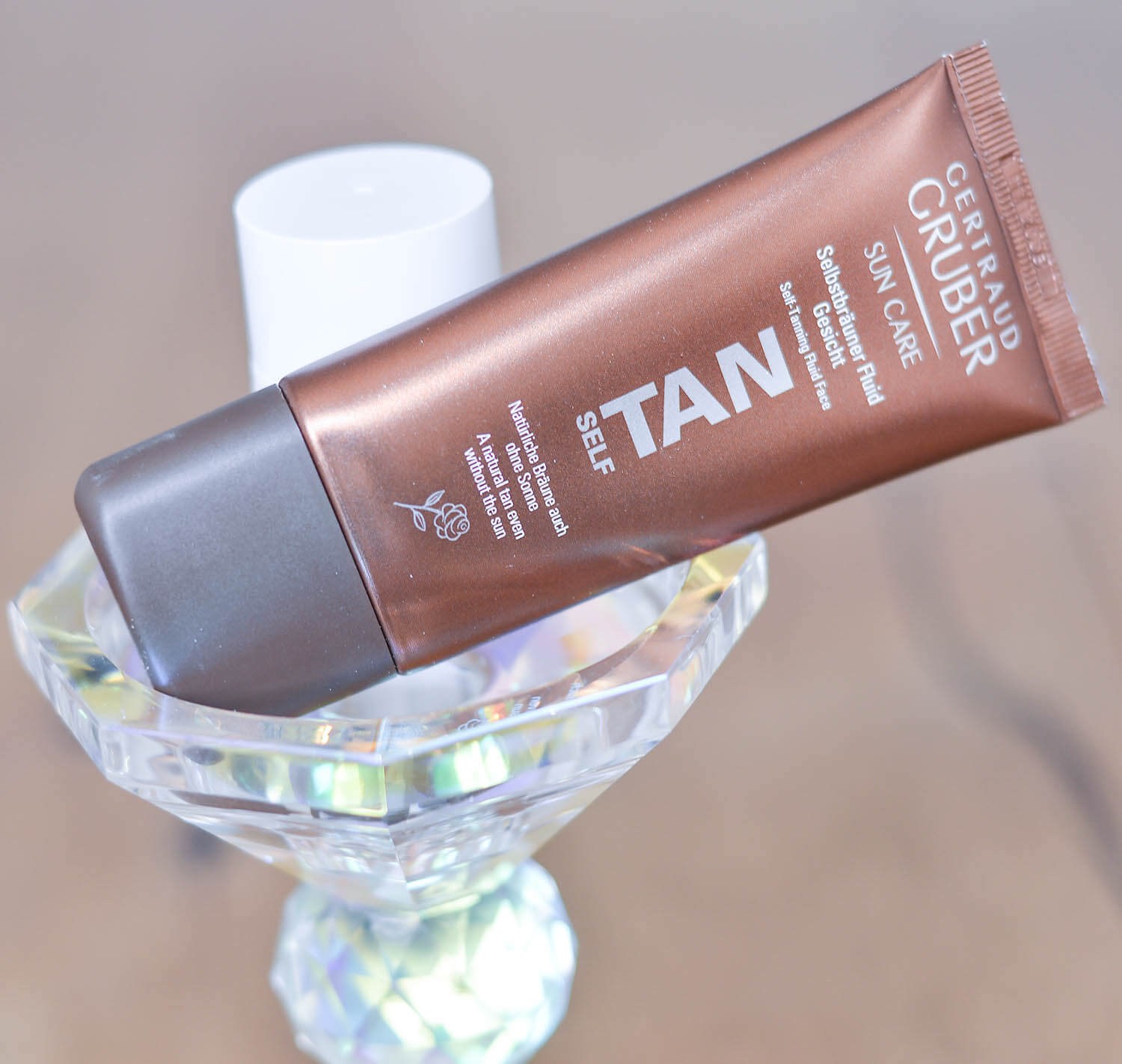 ---
While I am eagerly waiting for our wedding pictures – unfortunately something went wrong at the post office, otherwise I would already have them – I am distracting myself and you today with a new beauty post. I have tested again diligently through the Blogger Club*! ;-)
CND Vinylux Chic Shock Collection
As you may know, I am a fan of CND Vinylux nail polishes! They usually last a whole week very, very well, have a beautiful shine in gel look and can be applied wonderfully thanks to the wide brush. Of course I had to test a few new paints from the "Chic Schock Collection". I chose "Gummi", a pastel purple and "Candied", a light but opaque pink. I really like both colors right now in spring. In addition to these two colors, the collection also includes a pastel yellow ("Jellied") and a mint green ("Taffy").
The polishes cost 14,90 Euro each and I recommend in any case the suitable top coat for the same price!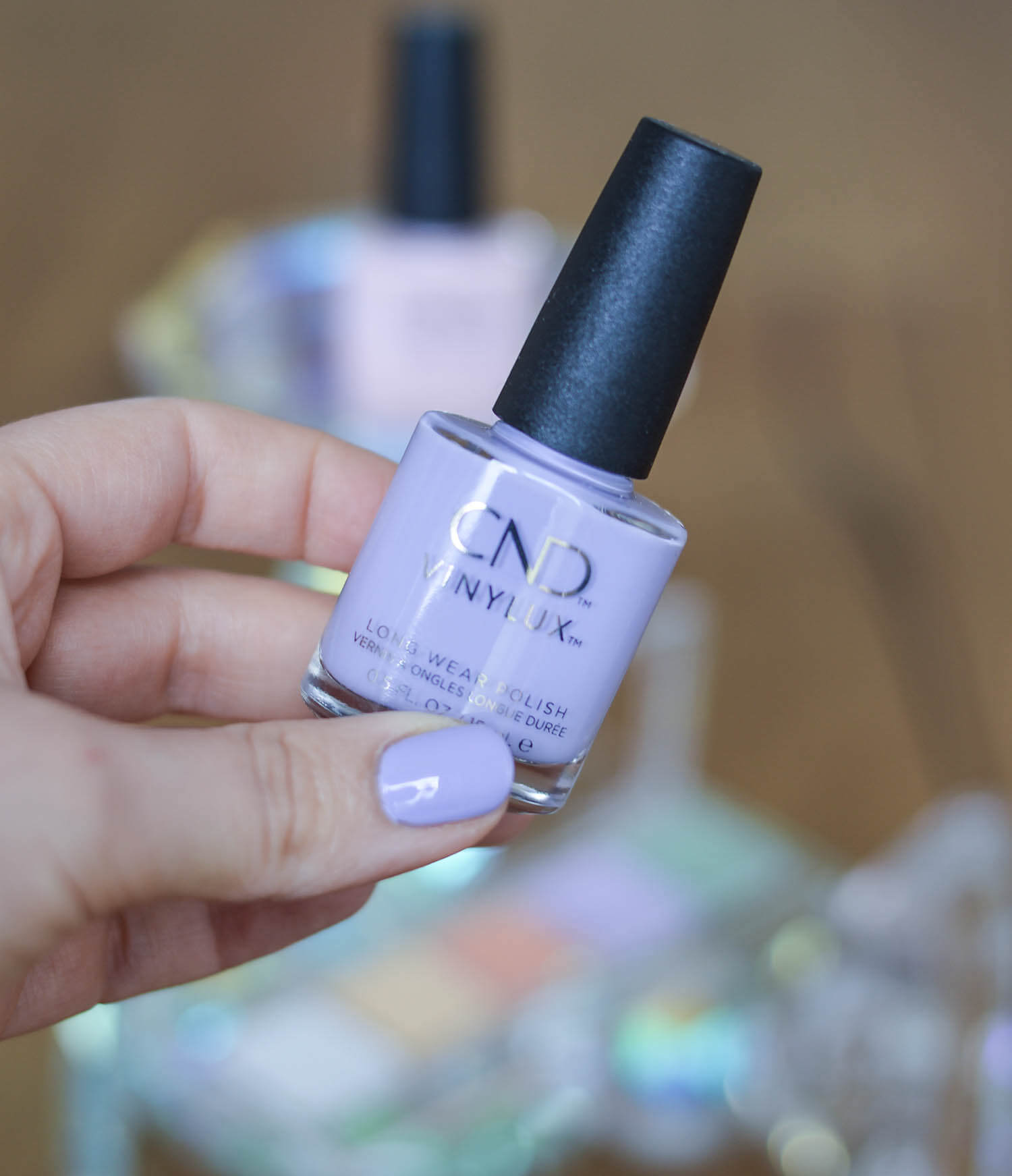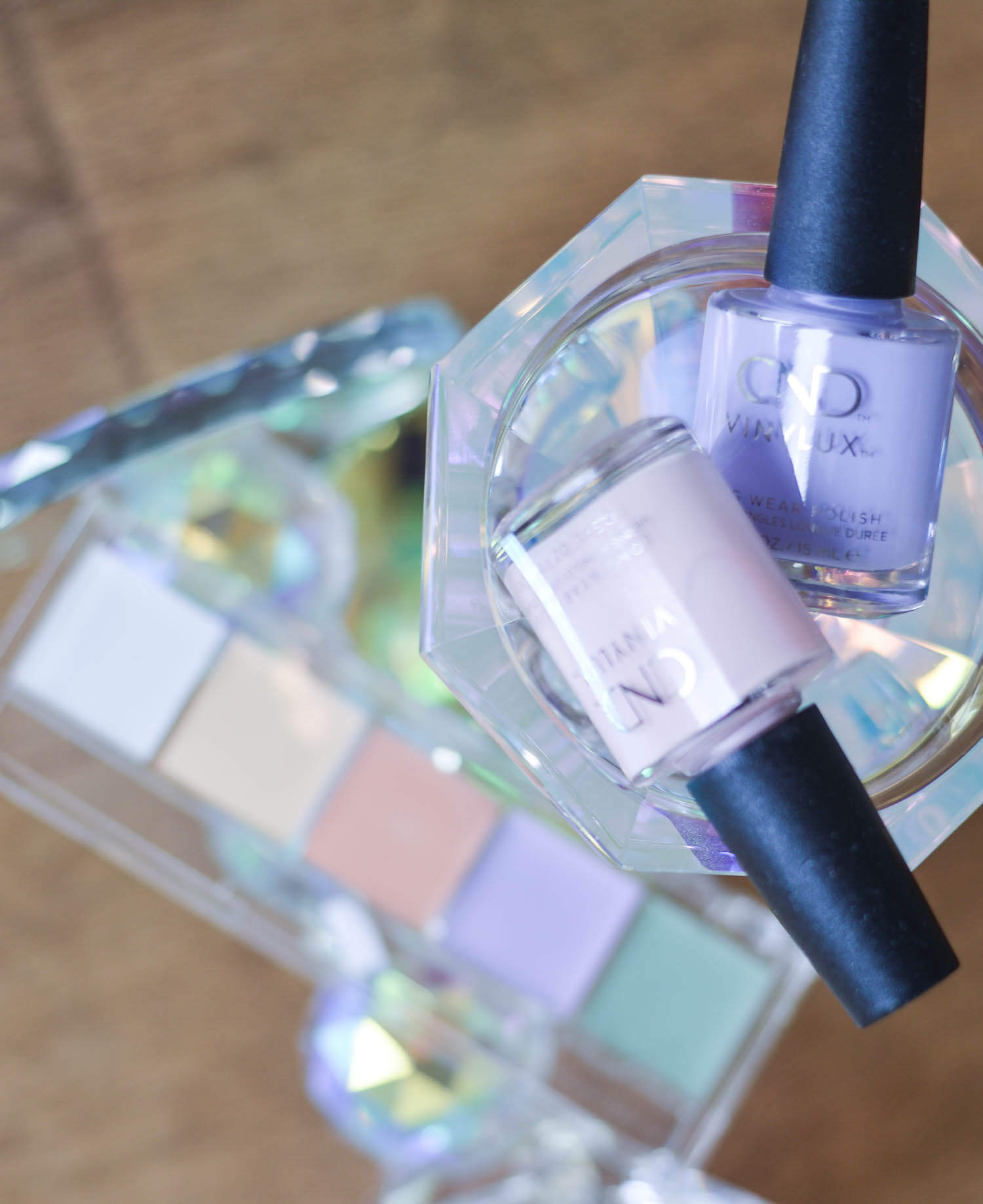 Sla Make-up "Palette of 5 Corrective Luxury Light"
Let's come to a true palette of miracles. Fortunately, I rarely have severe skin impurities or pimples on my face. The only thing that unfortunately becomes more prominent with increasing age – after all, I'll be 32 next week (!) – are slight circles around the eyes and swellings. Especially in the mornings. The new "Palette of 5 Corrective Luxury Light" from Sla Make-up helps me here.
The palette allows the shaping and modelling of the face, the conscious placement of lights and shadows. These colors are mixable and cover dark circles, pimples, scars, red veins, bags and everything that disturbs a perfect make-up, reliably and long-lasting.
So that I always know what colors are best suited for, I have now noted it down on the palette myself:
Yellow – covers purple irregularities and dark circles around the eyes
Orange – helps, mixed with yellow, against intense blue irregularities such as bruises or pronounced circles around the eyes
Purple – makes pale or yellowish skin look fresher
Green – corrects couperosis/rosacea, pimples, scars and other reddened areas of the face
White – to brighten the other colors.
You can get the little miracle for 27,80 Euro in the Deynique Online-Shop.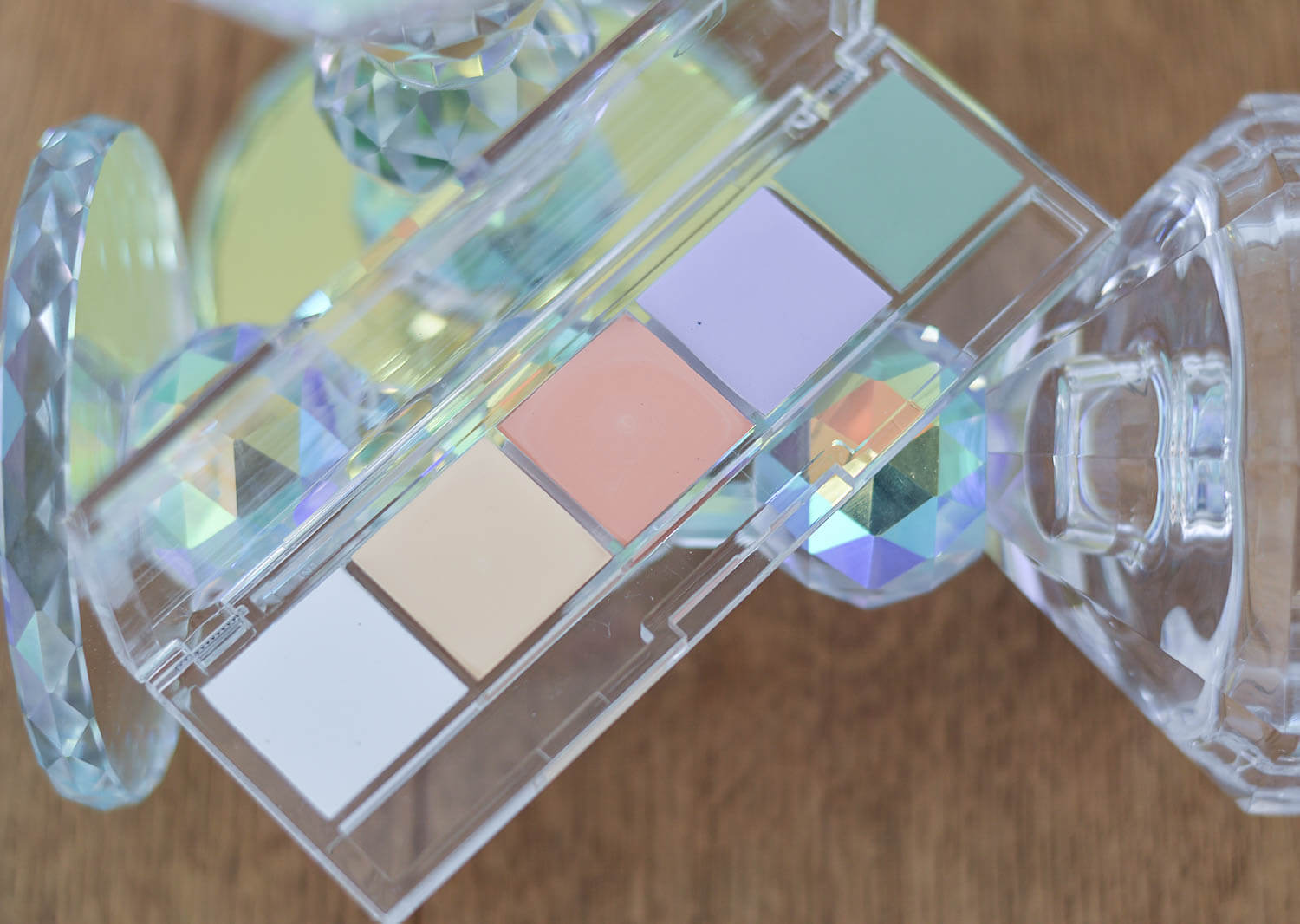 Detox and self-tanning set by Gertraud Gruber
Finally, I'd like to introduce you to some of the latest news from Gertraud Gruber. As a pioneer of the wellness movement, Mrs. Gertraud Gruber laid the foundation for more than 60 years of cosmetics culture with the creation of Europe's first beauty farm in 1955. The credo: As natural as possible, with the best properties in terms of effectiveness, compatibility and application behaviour. Sounds great, doesn't it?
Detox ampoule
Currently I am testing the detox ampoules, which are really very productive!
Thanks to natural, detoxifying, draining and regenerating ingredients, the ampoule beautifies the skin. I find the vial with dosage pipette very practical. Here is a summary of the most important features:
Helps the skin to break down toxins and regenerate from within
Absorbs perfectly and does not stick
For a relaxed and even skin appearance
Ideal as a cure or as a base for the day cream
BIO lion tooth and hay flower extracts have purifying and relaxing properties
Nettle extract has a blood circulation-promoting and invigorating effect
The micro-alga Chlorella vulgaris with cell-protecting properties supports the detox effect
According to the manufacturer suitable for all skin types – except for herbal intolerances
So far I can absolutely confirm that the serum absorbs wonderfully and the skin literally absorbs the ingredients. I have the feeling that the ampoule is extremely good for my skin and I am curious about its further effect.
The Detox ampoule, 3 x 4 ml, costs 31 Euro and is for example available in the online shop of Gertraud Gruber.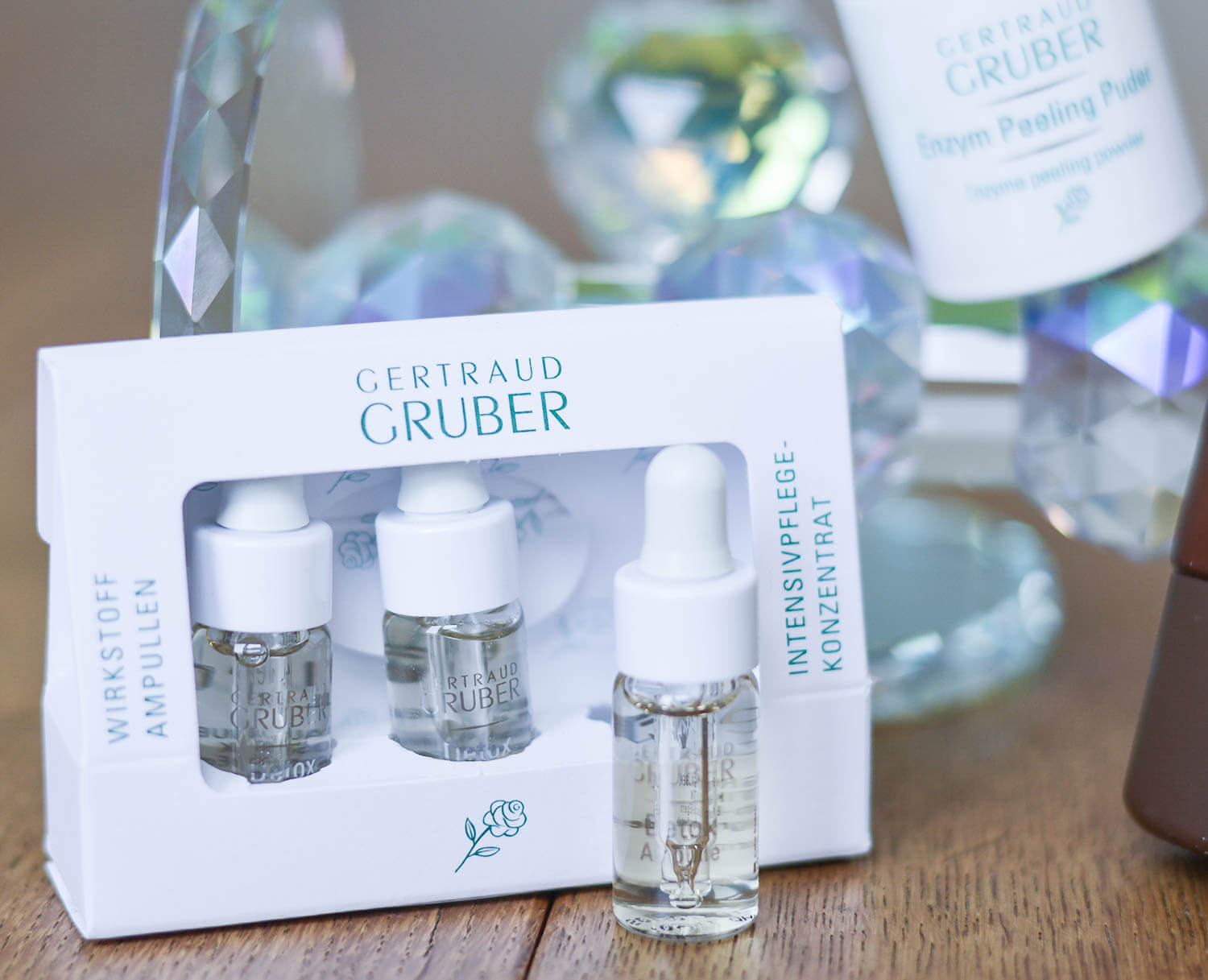 Self-tanning care set
I have not yet managed to test the self-tanning facial care set for you, but I would like to introduce it briefly. I am very enthusiastic about the design and have only read positive things about it so far. Maybe you already know the set?
The limited set consists of:
Sun Care Self Tanning Fluid Face (50 ml)
With herbal self-tanning active ingredient
For a gradual natural tan without stains and streaks
Pleasant, fresh fragrance
Suitable for all skin types
Enzyme Peeling Powder (10g)
With effective papain enzyme
For smooth and supple skin
For a fresh and fine-pored complexion
Supports cell renewal
Activates and accelerates cell division
the ideal preparation for the self-tanning fluid
The set is available for 21 Euro.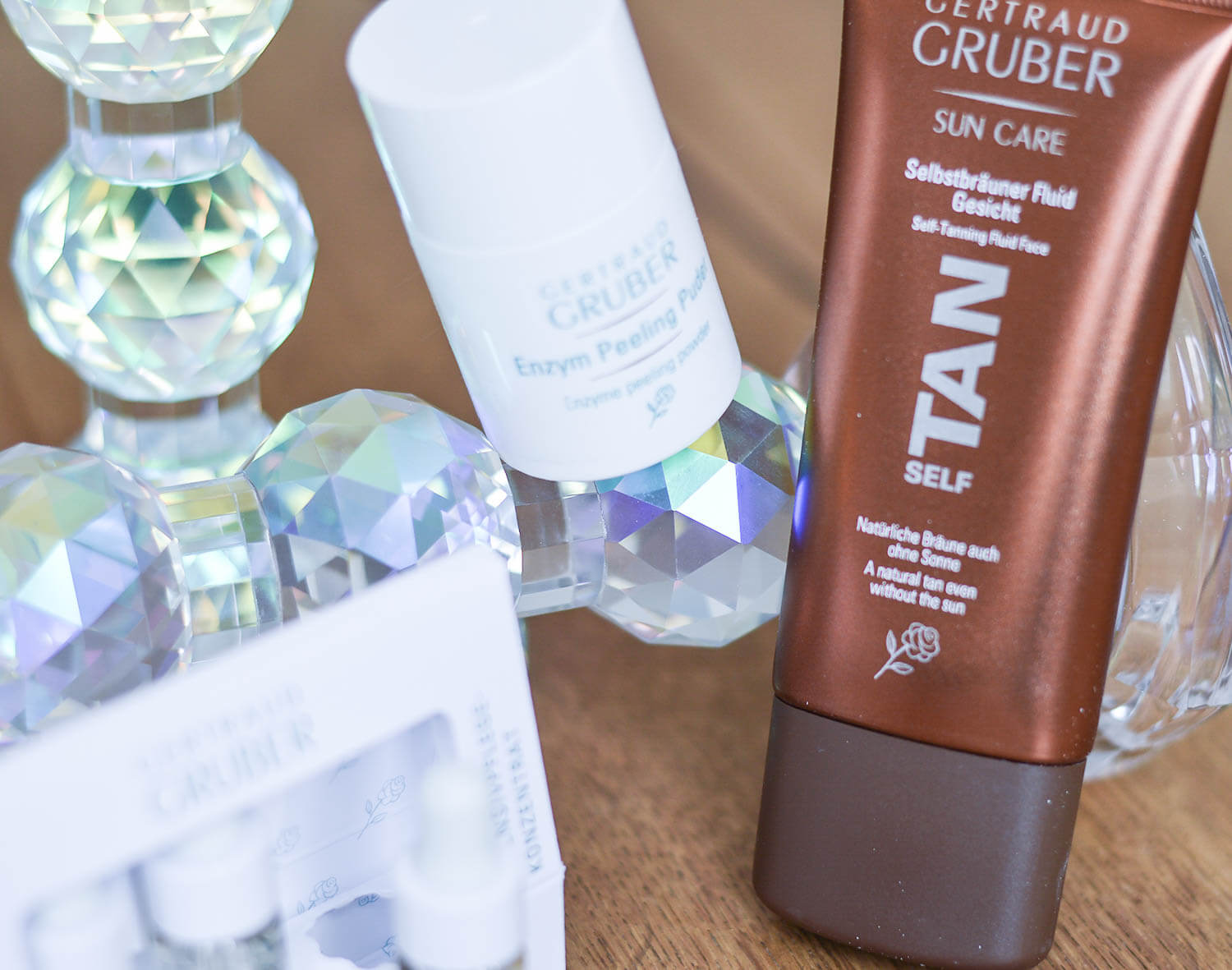 *Die Produkte wurden mir über den Blogger Club kostenfrei zum Testen zur Verfügung gestellt.
//
The products have been cost-free provided from Blogger Club.