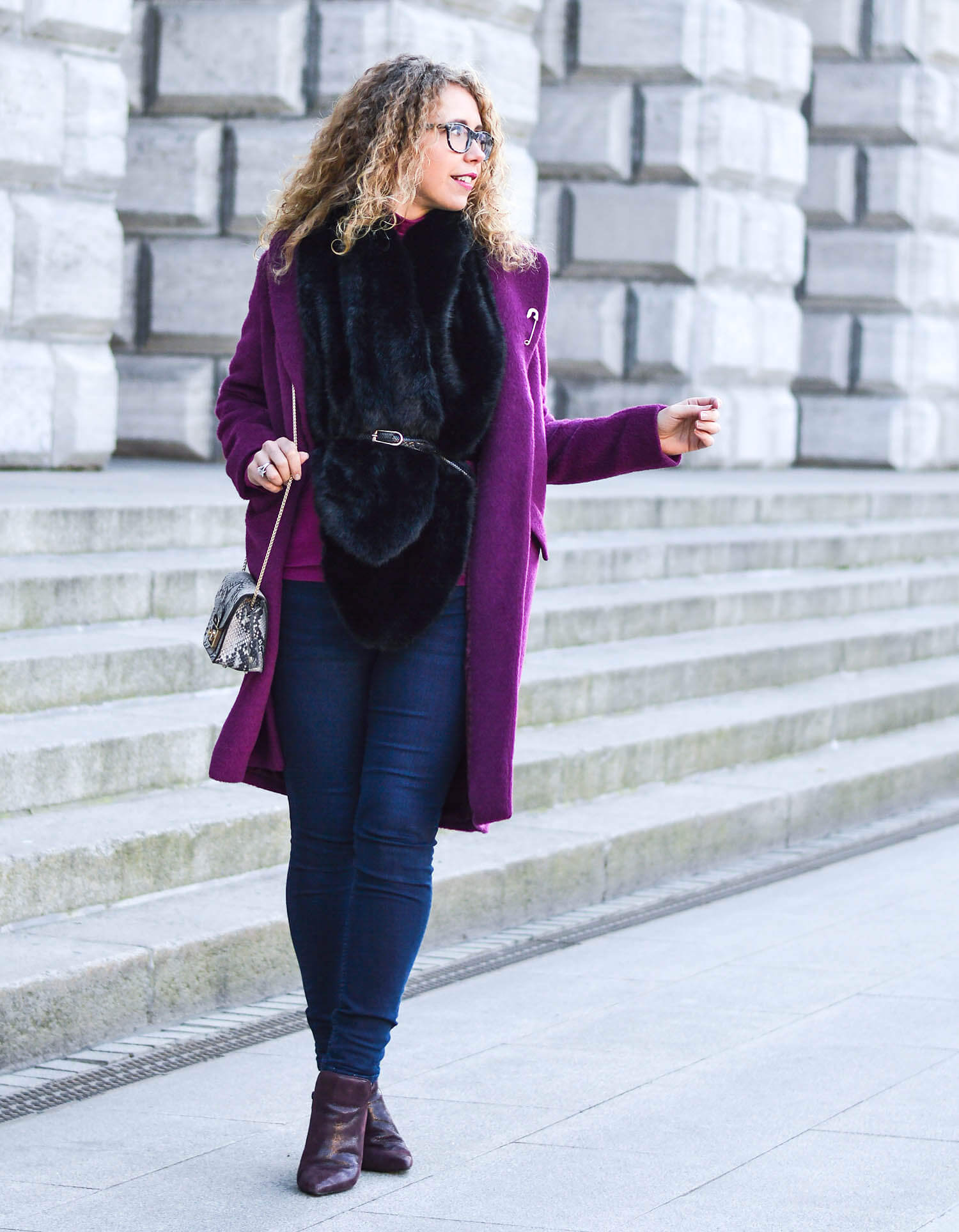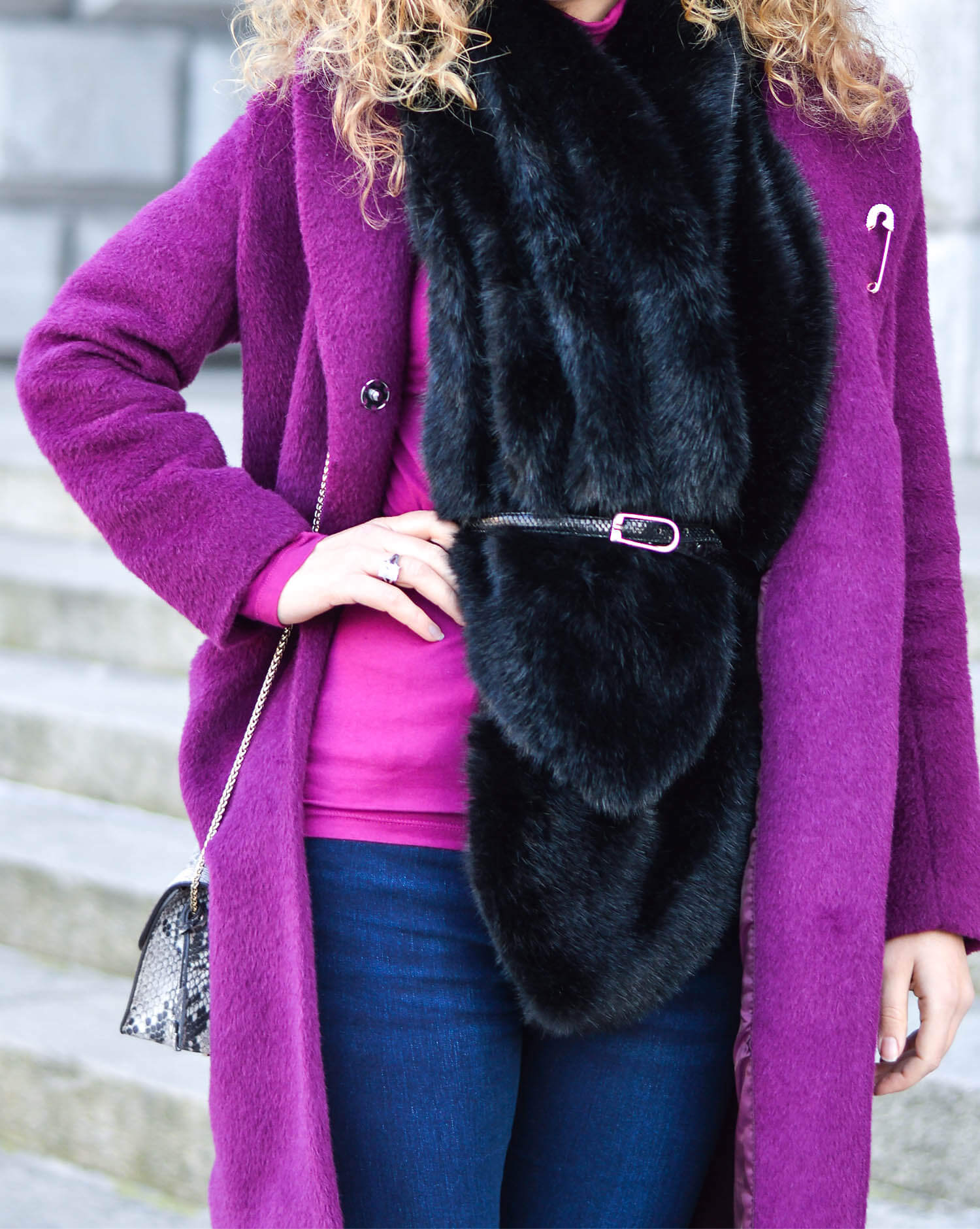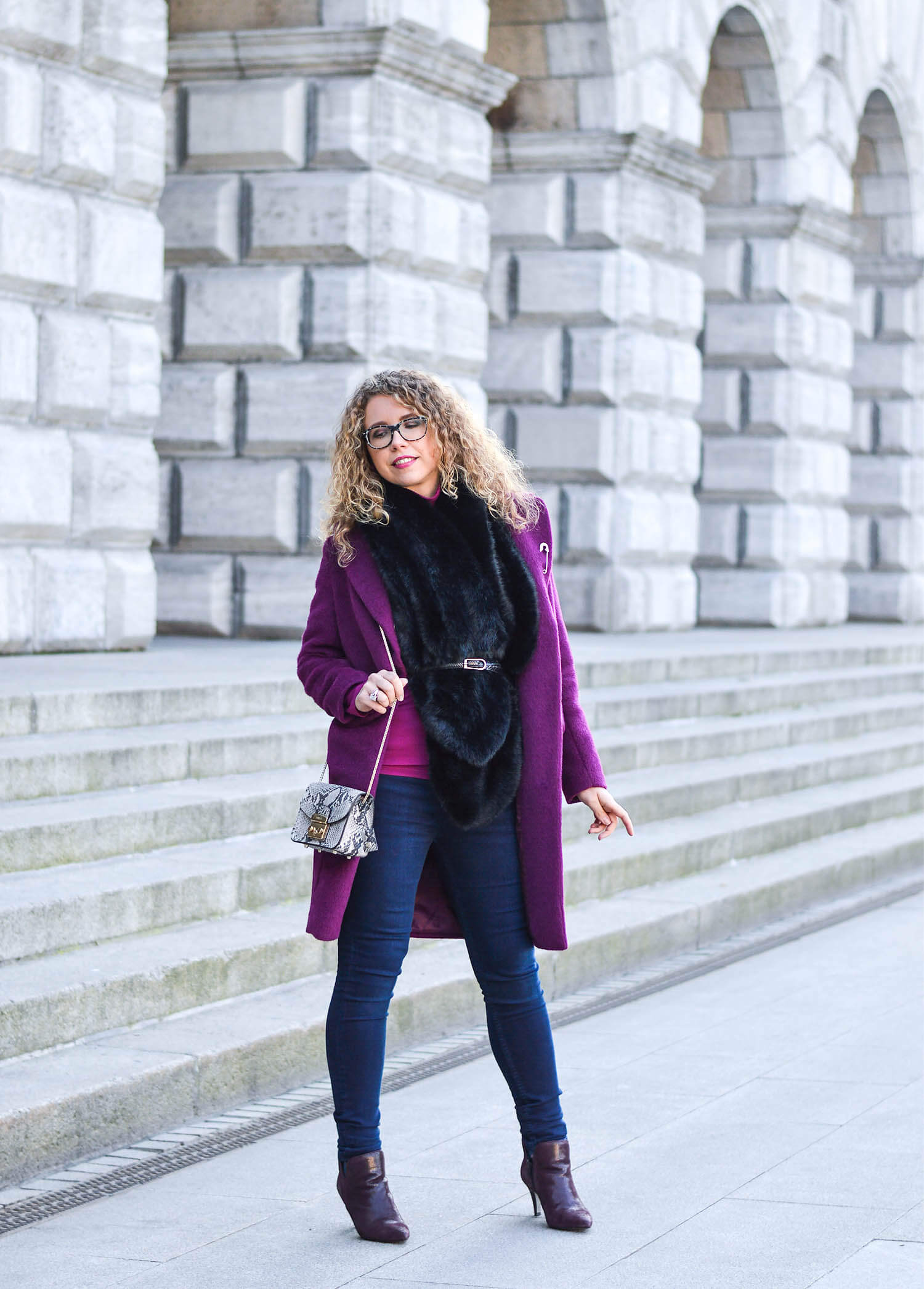 Fake Fur Stole: Zara // Coat, Denim: H&M // Booties: Tamaris // Bag: Furla // Belt: Vintage
Shop my Look
Mädels, ich habe mich nochmal eingemuckelt – am Samstag bin ich doch wirklich von ein paar Zentimetern Schnee überrascht worden – und einen weiteren eher winterlichen Look für euch. Aber mit Farbe! ;-)
Beerentöne
Durch die doch wieder sehr kalten Temperaturen kommen die Wollmäntel nach wie vor zum Einsatz. So auch mein beerenfarbenes Modell von H&M, das mich schon durch den dritten Winter begleitet. Hier kombiniert mit meiner neuen dunkelblauen High Waist Jeans, ebenfalls von H&M, einem dünnen pinken Rollkragenpulli und dunkelroten Anklebooties. Letztere passen sich wunderbar den Beerentönen an.
Accessoires
Clou des Outfits ist – weil kuschelig, schick und so schön "fashionig" – meine Pelzstola, die ich mit einem dünnen Gürtel um die Taille zusammengefasst habe. Die Stola hat zwar theoretisch auch eine Schlaufe, durch die man das andere Ende durchziehen kann, praktisch hält das aber einfach nicht, weil sie so schwer ist. Außerdem finde ich es mit Gürtel viel raffinierter. So bleibt alles, wo es hin soll, sieht gut aus UND wärmt! ;-)
Dazu meine liebste Furla mit Reptil-Print, eine effektvolle Brosche in Sicherheitsnadel-Optik, und fertig ist der Look.
Mein Wochenende und big News
Wie war denn euer Wochenende meine Lieben? Wir waren am Samstag mit Pateneltern zunächst lecker Italienisch essen und anschließend im Duisburger Stadttheater in der Oper "Madama Butterfly". Wunderschön sag ich euch! Ich hatte und habe aber auch etwas zu feiern: Zum ersten April diesen Jahres werde ich meinen Job wechseln! In meinem Jahresrückblick hatte ich euch bereits eingeweiht, dass ich leider zunehmend unzufrieden mit meinem derzeitigen Job bin. Was unglaublich schade ist! Denn eigentlich dachte ich, es sei mein Traumjob…
Ich werde euch sicher bald noch mehr verraten, in jedem Fall bleibe ich dem Social Media treu und bin schon irre gespannt auf das, was mich erwarten wird! :-)
Nachdem ich diesen Beitrag eigentlich schon fertig geschrieben hatte, gibt es noch etwas zu verkünden. Der Mister hat mir ganz spontan – für mich jedenfalls – am Samstag einen Heiratsantrag gemacht!!! Mit einer wundervollen Chanel-Brosche, statt eines klassischen Verlobungsrings. Für mich einfach perfekt, genau wie der Antrag selbst. Wir waren gerade mit dem Outfit-Shooting fertig – übrigens vor genau derselben Kulisse wie bei diesem Outfit hier – da geht er plötzlich auf die Knie… :-)
Demnächst halte ich euch also hier auch über meine Hochzeitsplanungen auf dem Laufenden, wenn ihr mögt.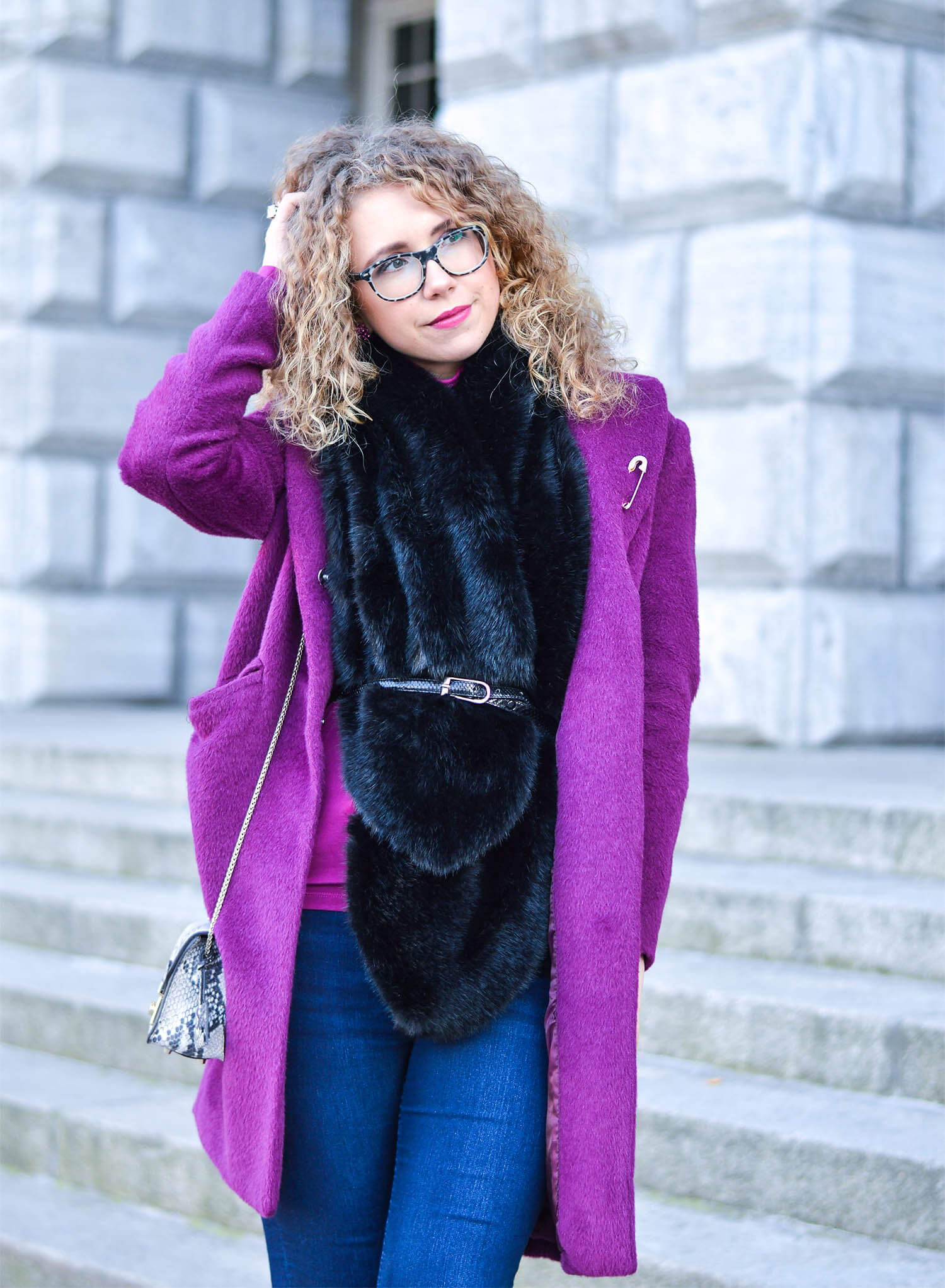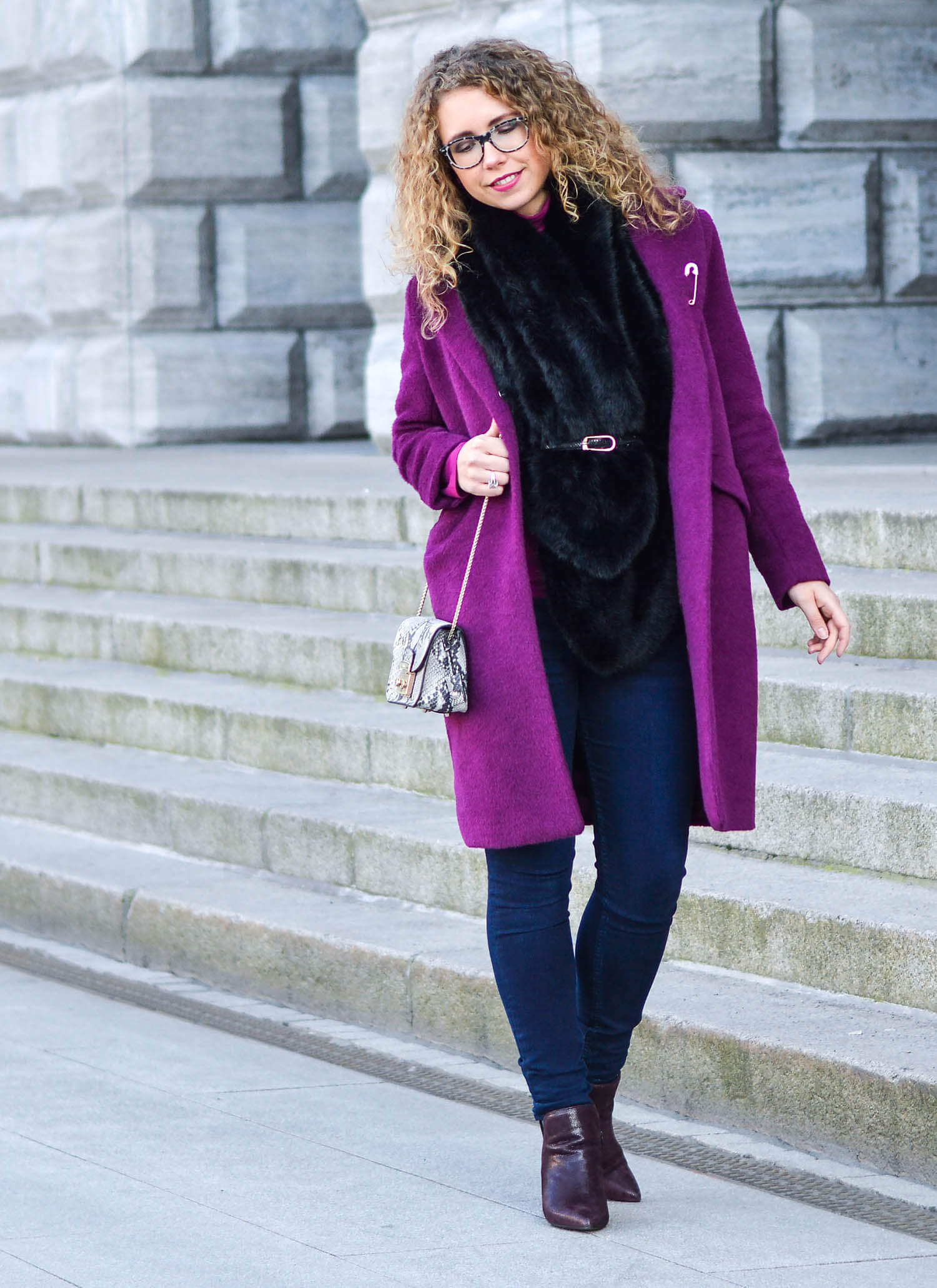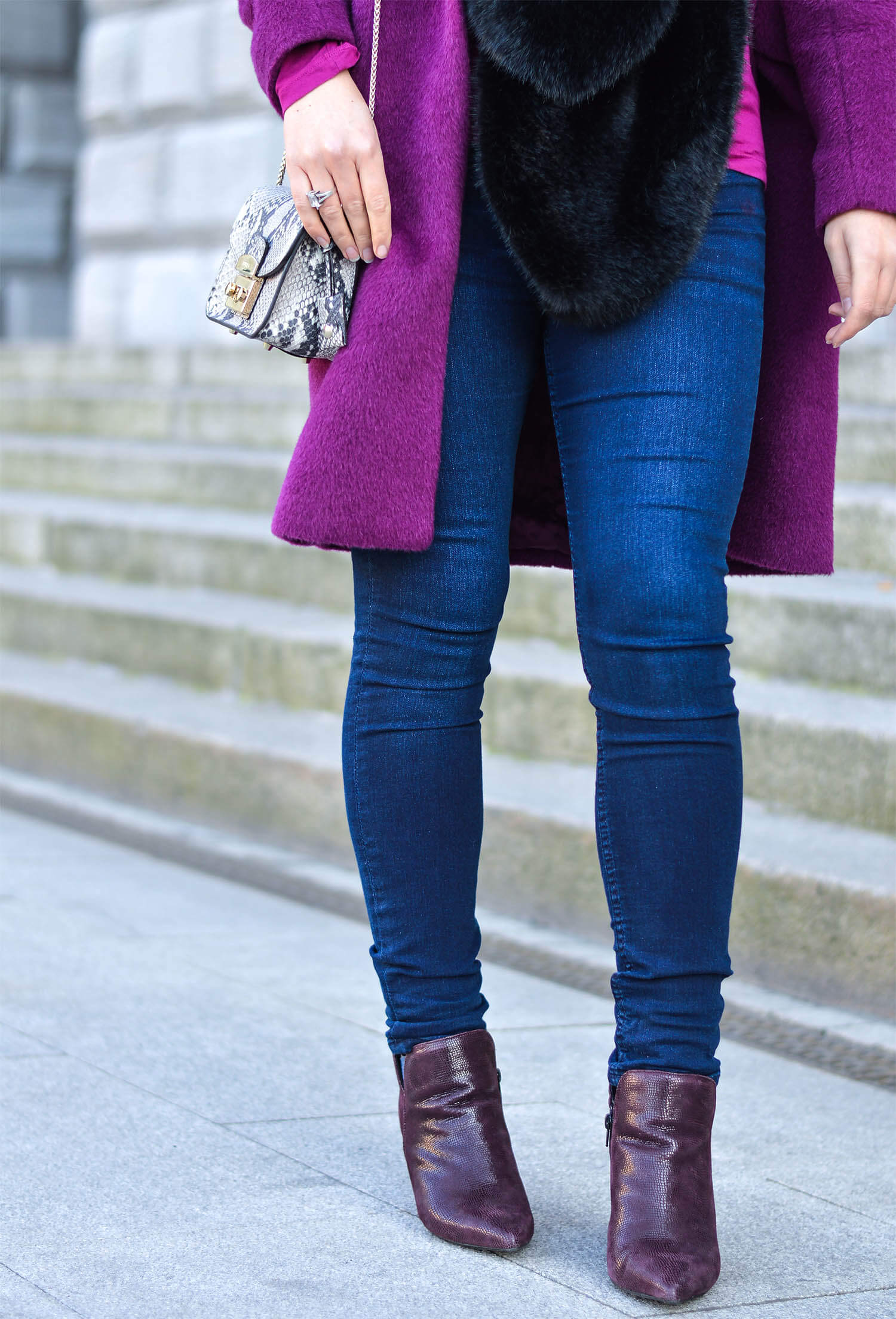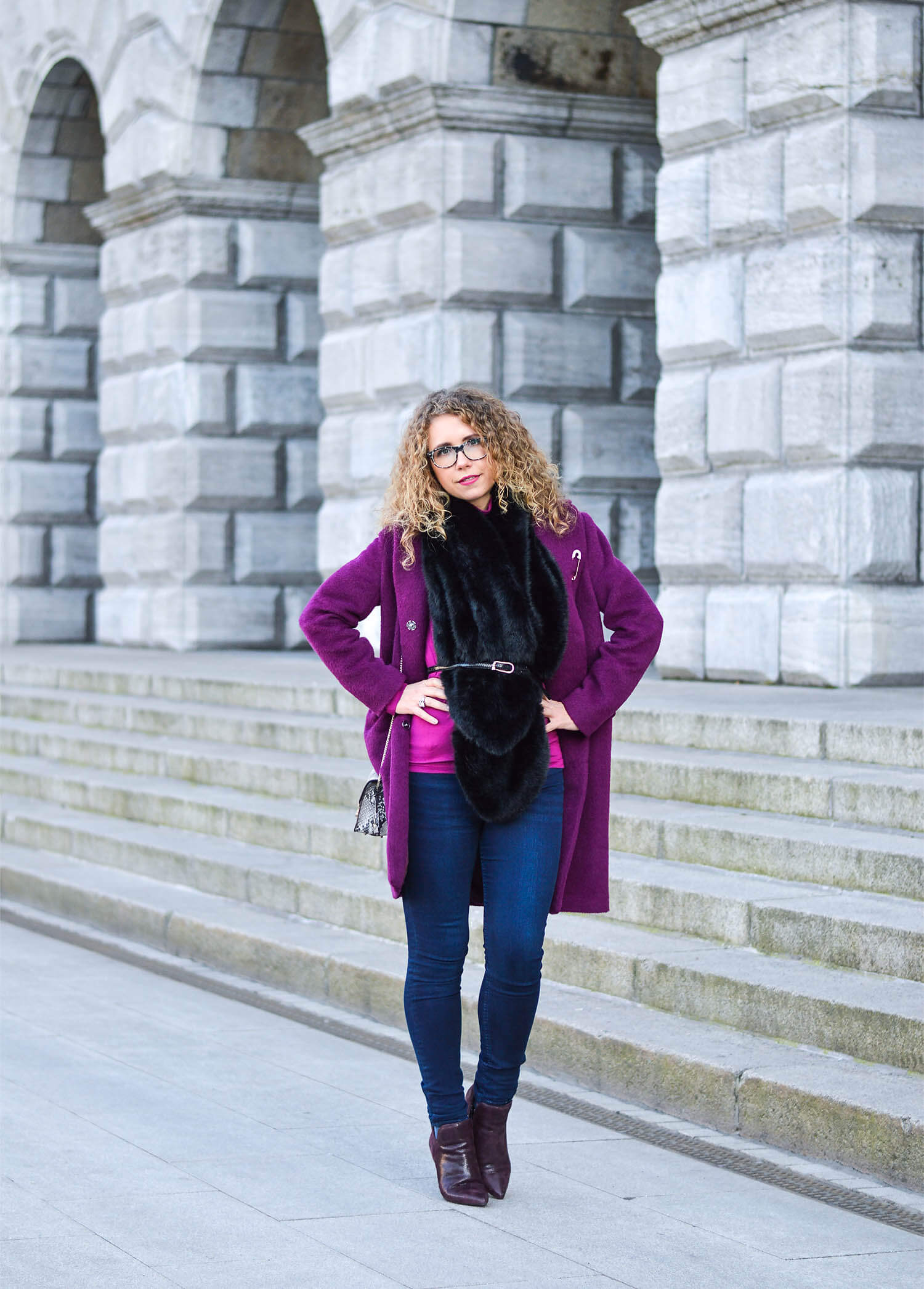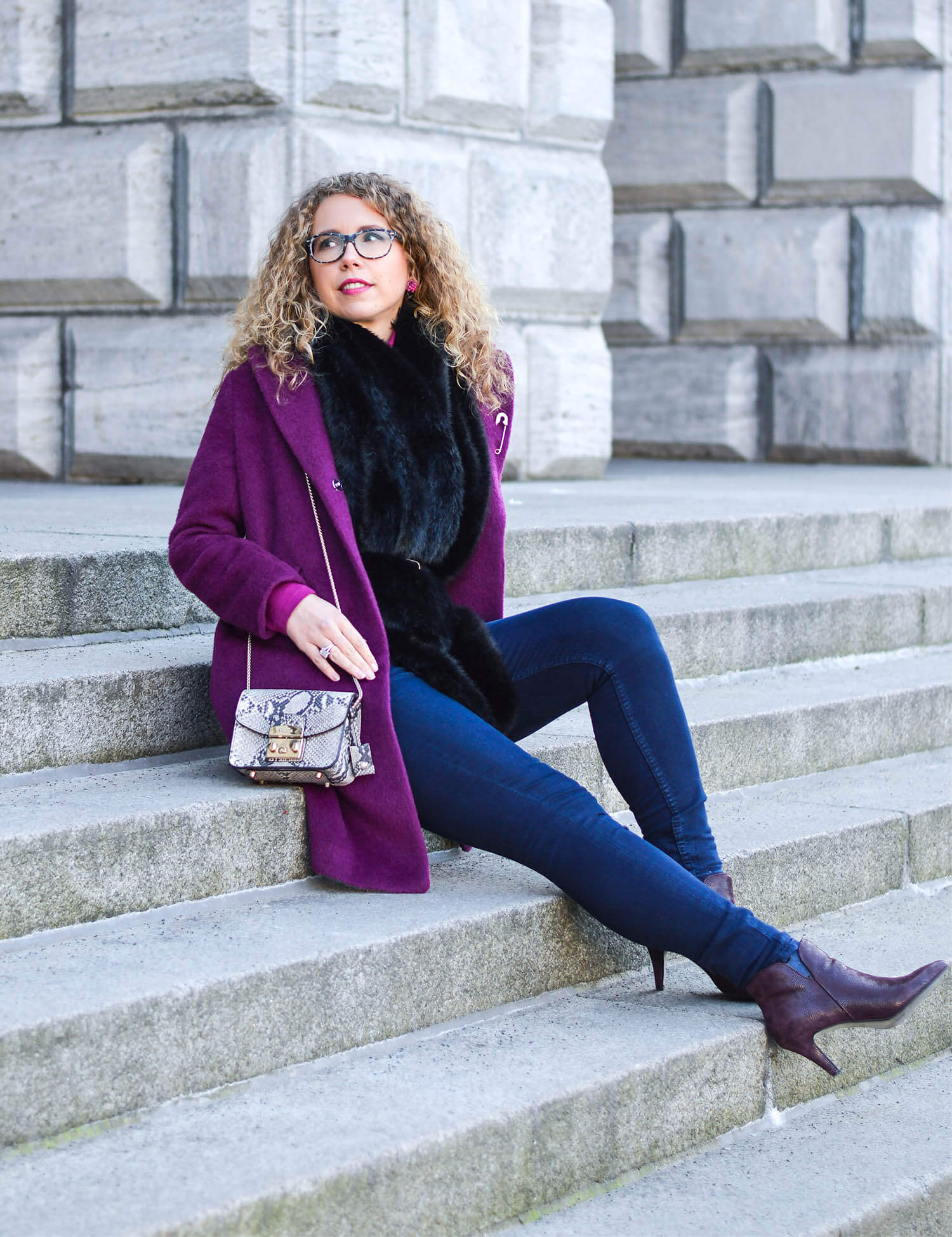 ---
Ladies, I dressed me warmly again – on Saturday we had some snow – and have another winter look for you, but with a pop of color! ;-)
Berry shades
Because of the cold temperatures, I still have to wear my wool coats like this one from H&M which I'm wearing the third winter already. I match it my new dark blue high waist denim pants, a light pink turtleneck sweater and dark red ankle booties from Tamaris.
Accessories
The highlight of this outfit is – because it's chic and really fashionable – my fake fur wrap which I pooled with a small belt around my waist. Added to this my fave Furla with reptile print and a flashy brooch in safety pin design.
My weekend and some big news
How was your weekend cuties? We've been to the theatre in Duisburg and watched the opera Madama Butterfly with my godparents which was very great! I have a reason to celebrate by the way: I will change my job in April! In my end-of-year review I already told you that I'm not that happy anymore with my current job. That's really sad, because I thought it would be my dream job.
But I have something else to announce. The mister proposed to me on Saturday!!! With an absolutely gorgeous Chanel brooch instead of a classic engagement ring which is just perfect for me!
So, I will keep you current about our wedding preparations here soon if you want me to. ;-)