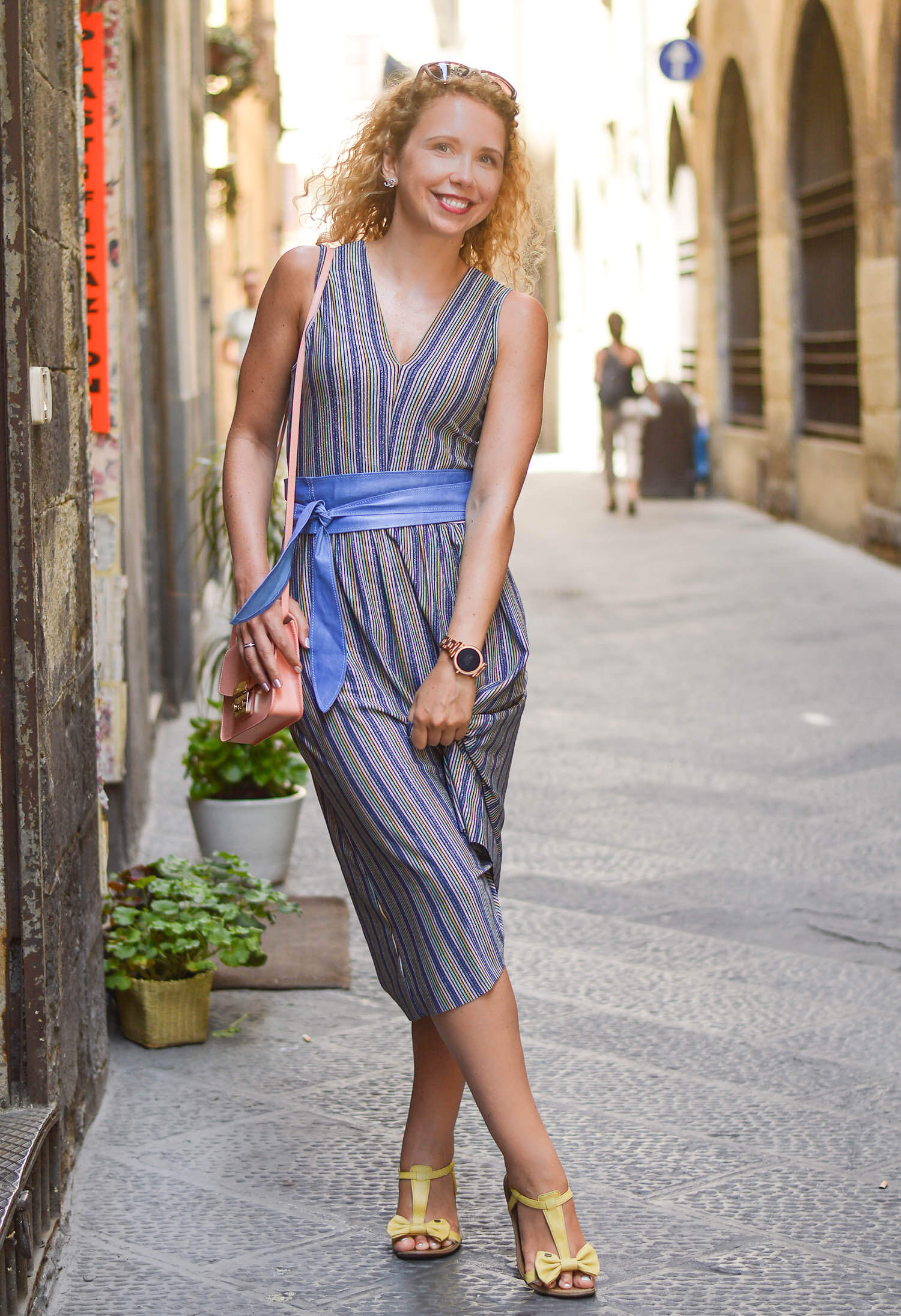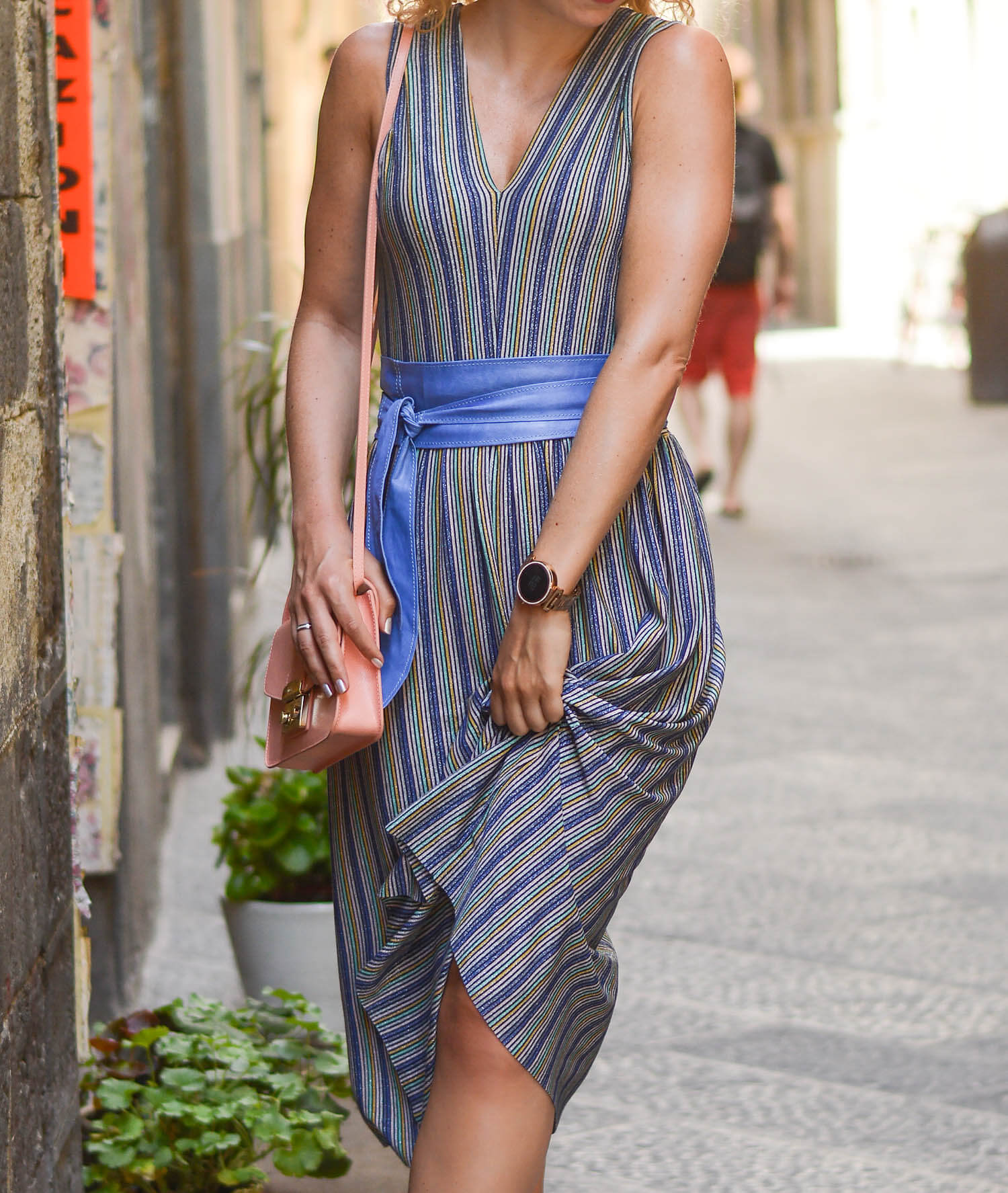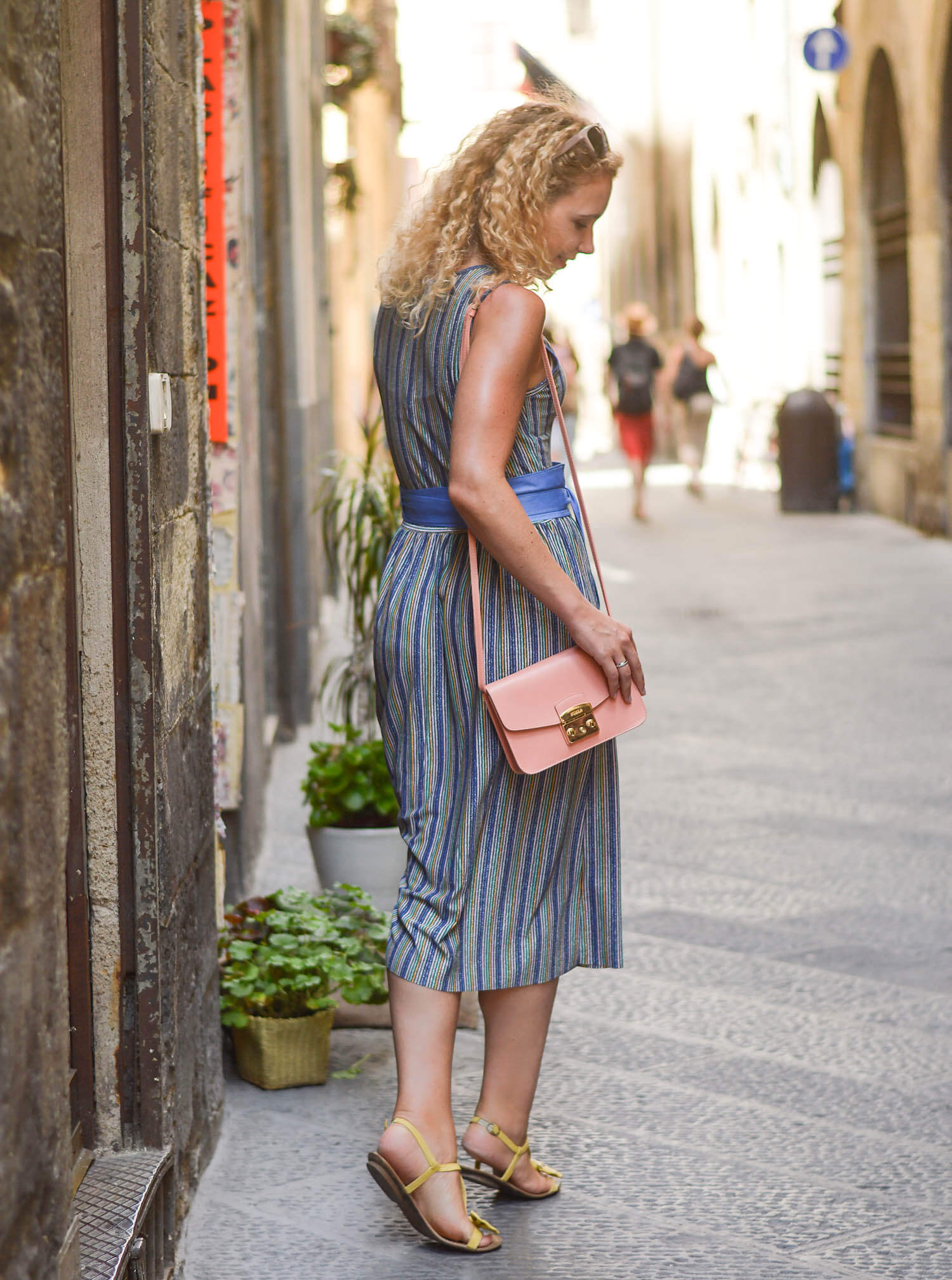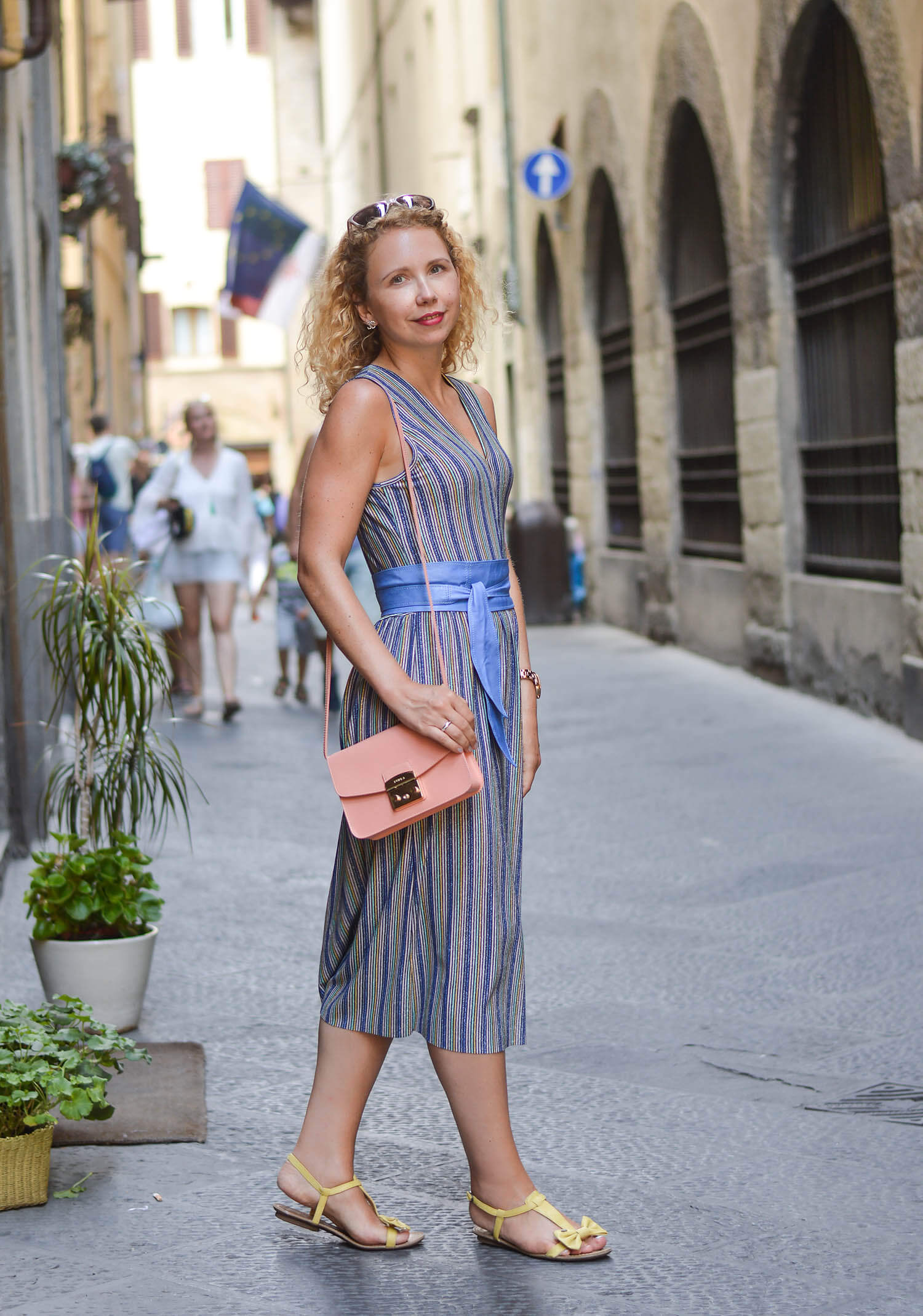 Hallo meine Lieben! Nachdem es am Wochenende tatsächlich mal richtig kühl war und erste Herbstgefühle bei mir aufkamen, geht es hier heute erst einmal weiter mit einem neuen Look aus unseren Flitterwochen…
Midikleid mit Glitzerfäden und Taillengürtel zum Binden
Während unseres Ausflugs nach Rom am vierten Tag unserer Mittelmeer-Kreuzfahrt habe ich natürlich auch ein paar Boutiquen besucht. In Italien kann man einfach wunderbar shoppen und ich liebe es, mir Erinnerungsstücke in Form von Kleidung oder Accessoires zu kaufen. So denke ich auch Zuhause, wenn ich die Teile trage, immer wieder an die Urlaubsorte zurück. :-)
Natürlich bin ich auch in Rom fündig geworden – wenn auch erst kurz vor unserer Rückfahrt. In einer italienischen Boutique mit Kleidung komplett "Made in Rome" habe ich mich für dieses hübsche Midikleid entschieden. Es ist ganz simpel geschnitten, aus stretchigem Material und hat Streifen aus Glitzergarn. Es erinnert mich ein bisschen an Missoni Kleider und hat mich sofort begeistert. Die unglaublich zuvorkommende Verkäuferin im Shop hat mir dann noch diesen tollen Ledergürtel umgebunden. Er ist ganz soft und ich liebe den Blauton. Natürlich hatte sie recht: Der Gürtel pappt das Kleid noch mal so richtig auf und verleiht ihm etwas Besonderes. Zudem kann ich den Gürtel ja auch anderweitig tragen; mit anderen Kleidern oder langen Blusen.
Location: Gassen von Florenz
Mein neues Outfit habe ich direkt am nächsten Tag ausgeführt; für unseren Trip nach Florenz. Macht sich doch ganz gut in den hübschen Gassen dieser traumhaft schönen Stadt in der Toskana, nicht wahr? Ich wurde auch prompt auf mein Outfit von einer stylischen Italienerin angesprochen, was mich natürlich ungemein gefreut hat! :-)
Ein volles, aber schönes Wochenende
Noch kurz ein paar Worte zum letzten Wochenende. Der Hubby und ich hatten recht viel vor: Freitag waren wir mit meinen Lieblingskollegen und einer lieben Ex-Kollegin, die wir alle sehr vermissen ein paar Cocktails in Düsseldorf trinken. Okay, für mich gab's nur einen zum Anstoßen, denn ich bin nach wie vor vorsichtig mit Alkohol und sonstigen "Sünden" wegen meines unsicheren Gesundheitszustands. Es war aber ein super schöner Abend! Am nächsten Morgen sind wir direkt wieder nach Düsseldorf gefahren um zu frühstücken und ein paar Leckereien für den Abend zu besorgen. Später waren wir nämlich bei meinen Pateneltern, haben lecker gegessen, unsere kommende Südtirol-Reise besprochen und ein bisschen Canasta gespielt. Gestern Nachmittag ging es dann noch zu meinen Eltern zum Grillen.
Ich hoffe, euer Wochenende war ebenfalls schön und wünsche euch eine erfolgreiche, stressarme Woche! Für mich ist sie nur dreieinhalb Arbeitstage lang, was das Ganze direkt erträglicher macht. ;-)
Dress and Belt: from Rome
Bag: Furla
Shoes: Esprit (very old)
Shop my Look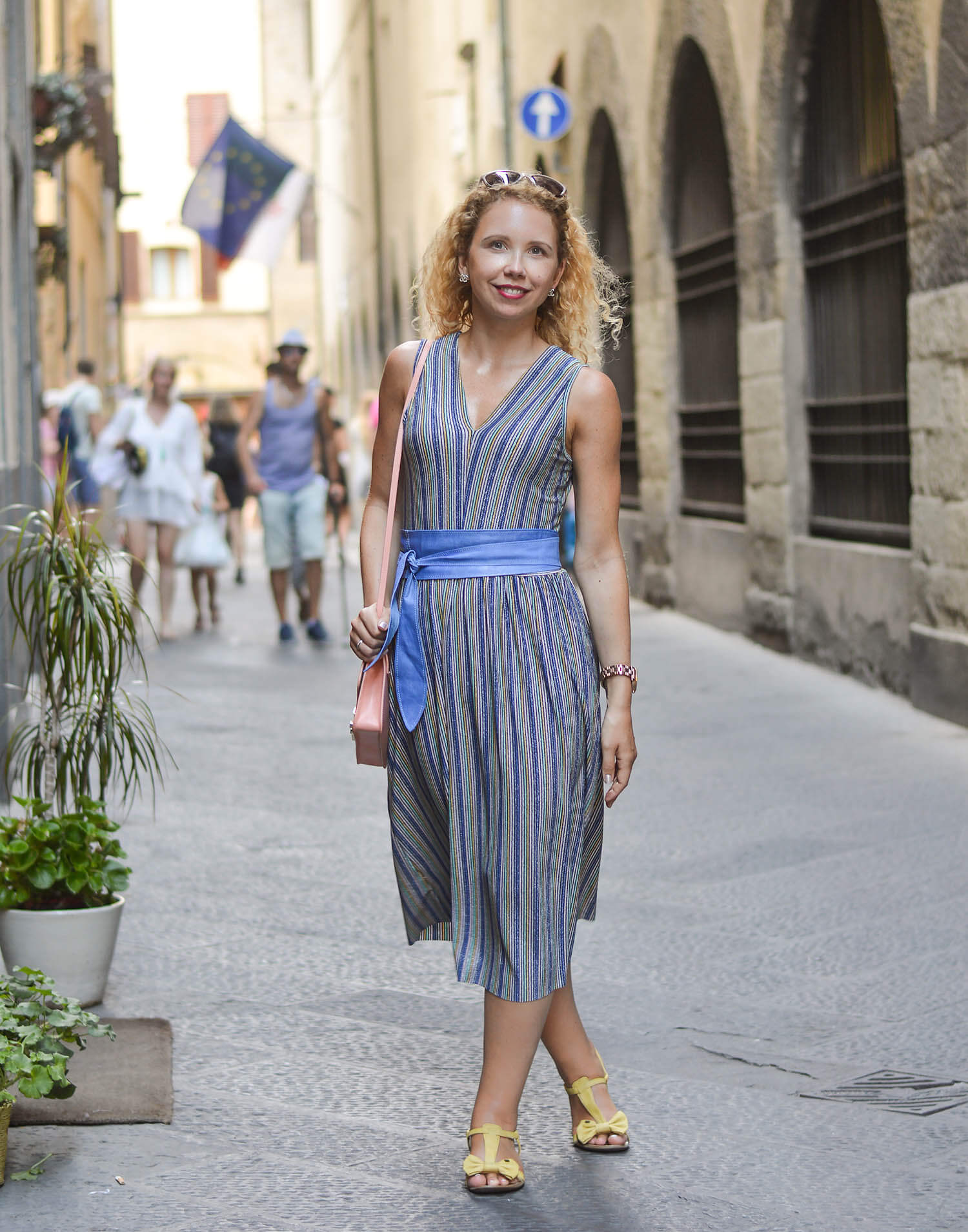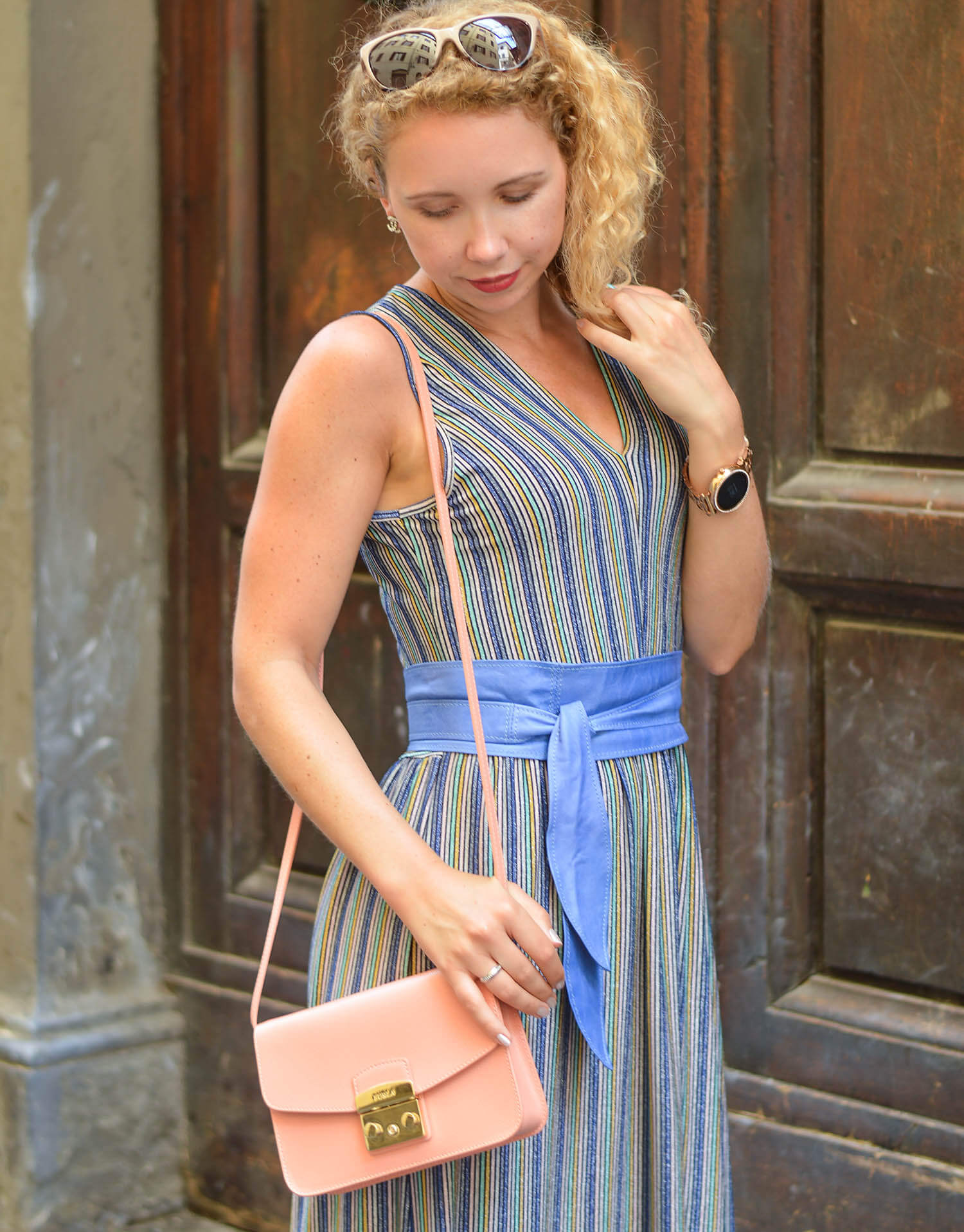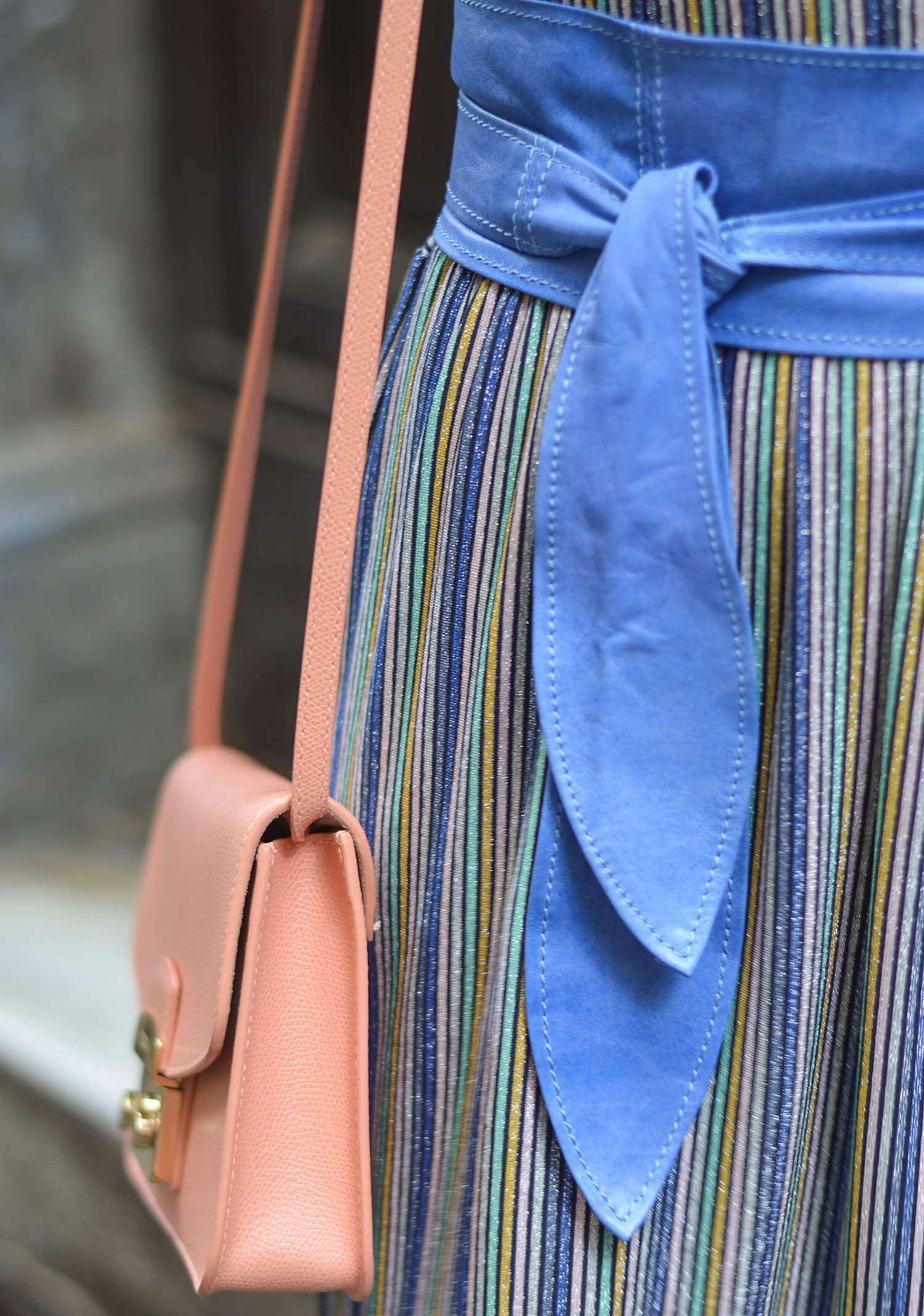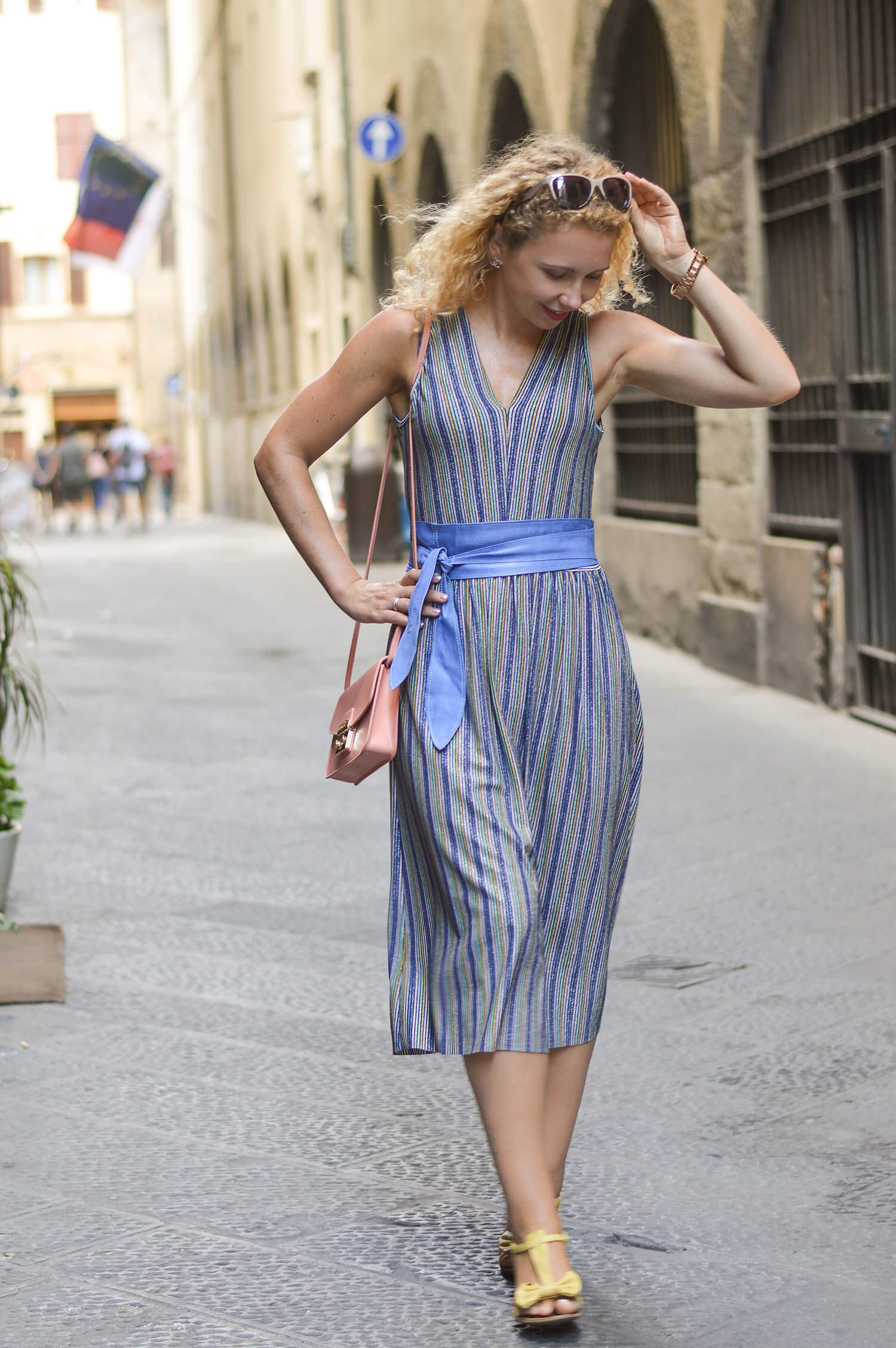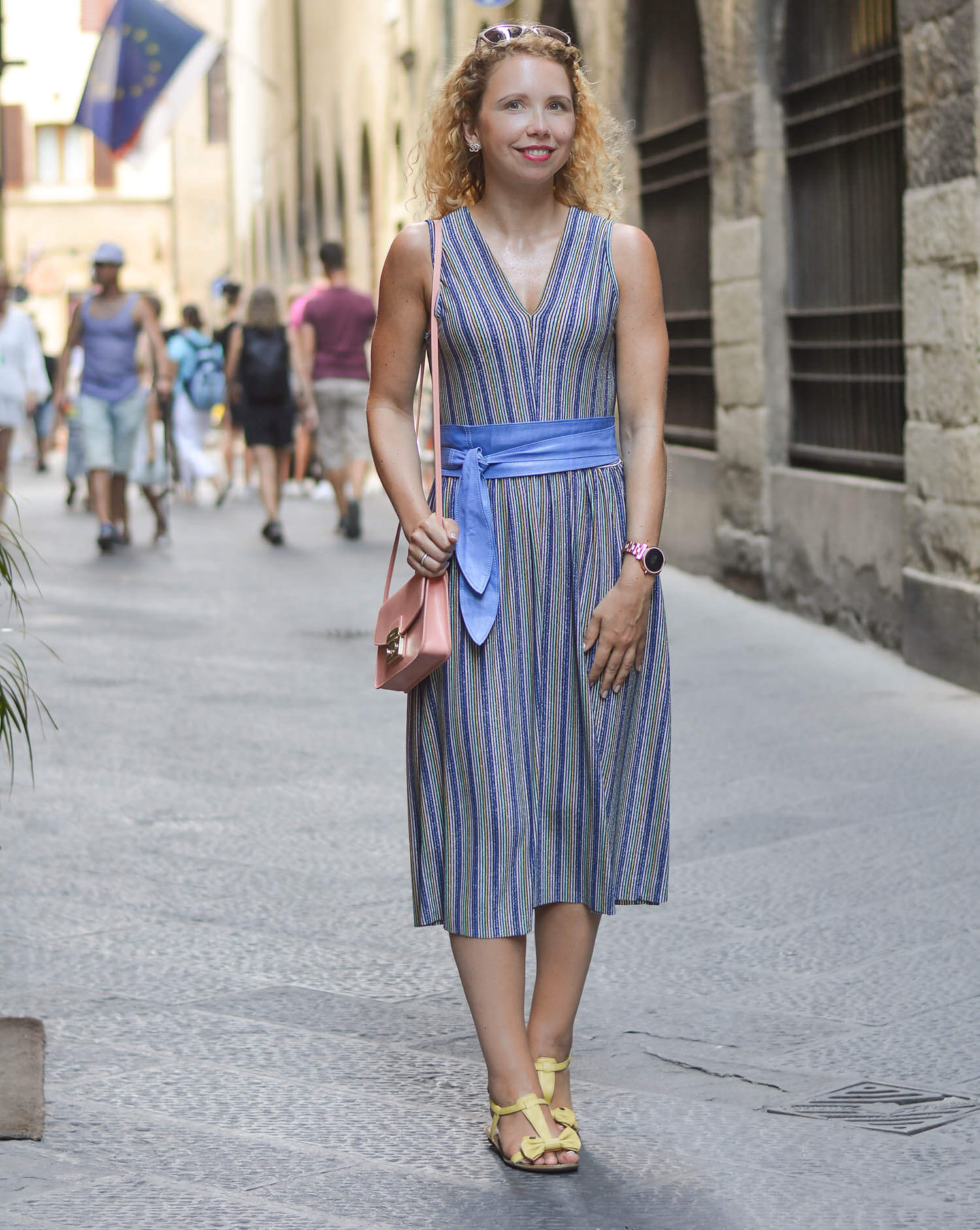 ---
Hello my dears! After it was really chilly on the weekend and I had my first autumn feelings, today I will continue with a new look from our honeymoon…
Midi-dress with glitter threads and waist belt for tying
During our trip to Rome on the fourth day of our Mediterranean cruise I also visited a few boutiques. In Italy you can shop wonderfully and I love to buy souvenirs in the form of clothes or accessories. So when I wear the pieces at home I always think back to the holiday locations. :-)
Of course I also found something in Rome – even if only shortly before we returned. In an Italian boutique with clothes completely "Made in Rome" I decided for this pretty midi dress. It is cut very simply, made of stretchy material and has stripes of glittering yarn. It reminds me a bit of Missoni dresses and immediately inspired me. The unbelievably courteous saleswoman in the shop has then tied this great leather belt around me. It's very soft and I love the blue. Of course she was right: The belt sticks the dress up again and gives it something special. I can also wear the belt in other ways; with other dresses or long blouses.
Location: Alleys of Florence
I wore my new outfit the next day for our trip to Florence. It's doing well in the pretty alleys of this beautiful city in Tuscany, isn't it? I was also promptly approached about my outfit by a stylish italian woman, which made me very happy of course! :-)
A full but nice weekend
Just a few words about last weekend. The hubby and I had a lot of plans: Friday we were with my favourite colleagues and a dear ex-colleague, who we all miss in Düsseldorf for some cocktails. Okay, for me there was only one toast, because I am still careful with alcohol and other "sins" because of my insecure state of health. It was a super nice evening! The next morning we drove directly back to Düsseldorf to have breakfast and to get some delicacies for the evening. Later we were with my godparents, ate delicious food, discussed our upcoming South Tyrol trip and played a little Canasta. Yesterday afternoon we went to my parents for a barbecue.
I hope your weekend was also nice and wish you a successful, stress-free week! For me it's only three and a half working days, which makes it more bearable. ;-)