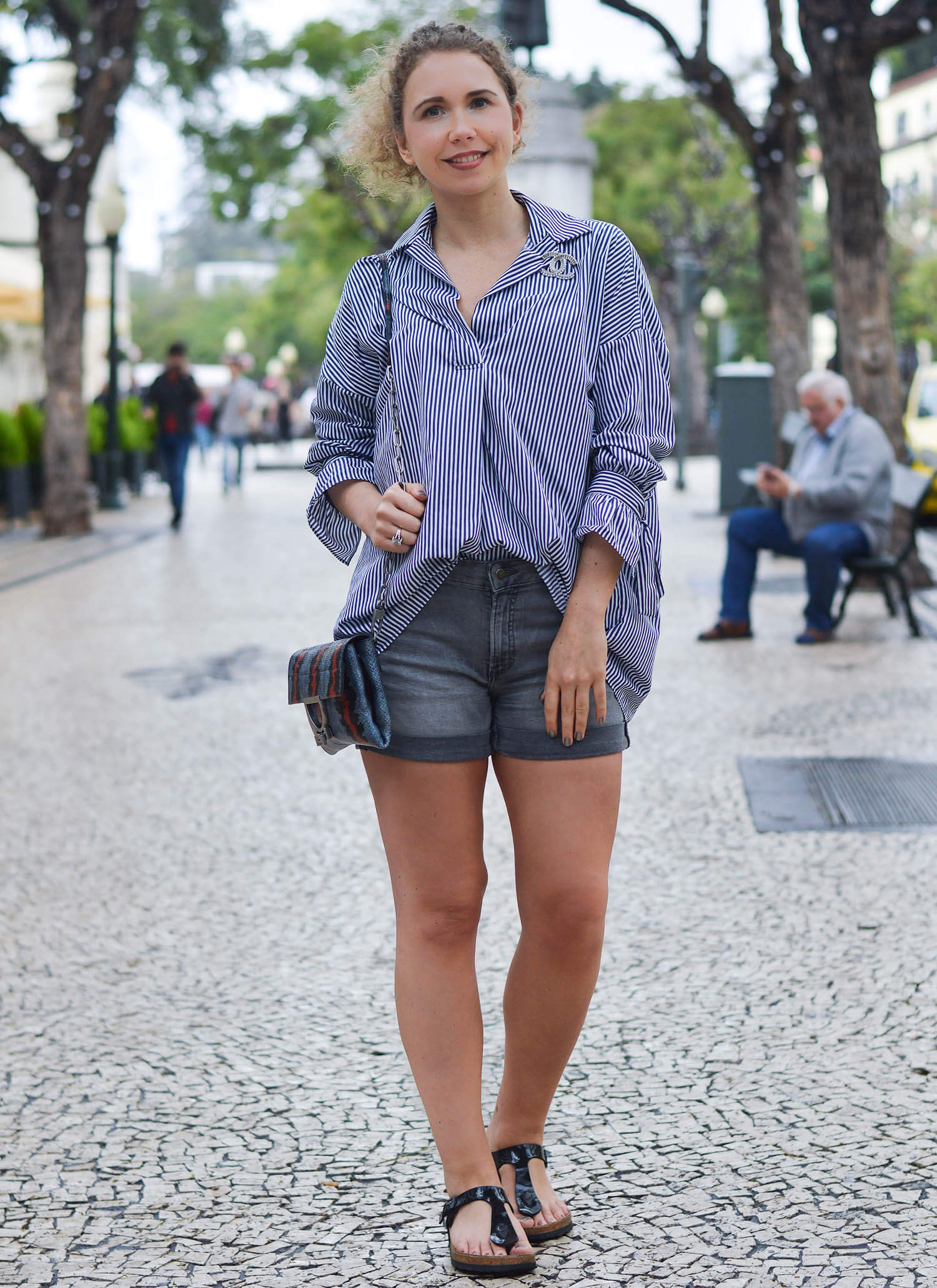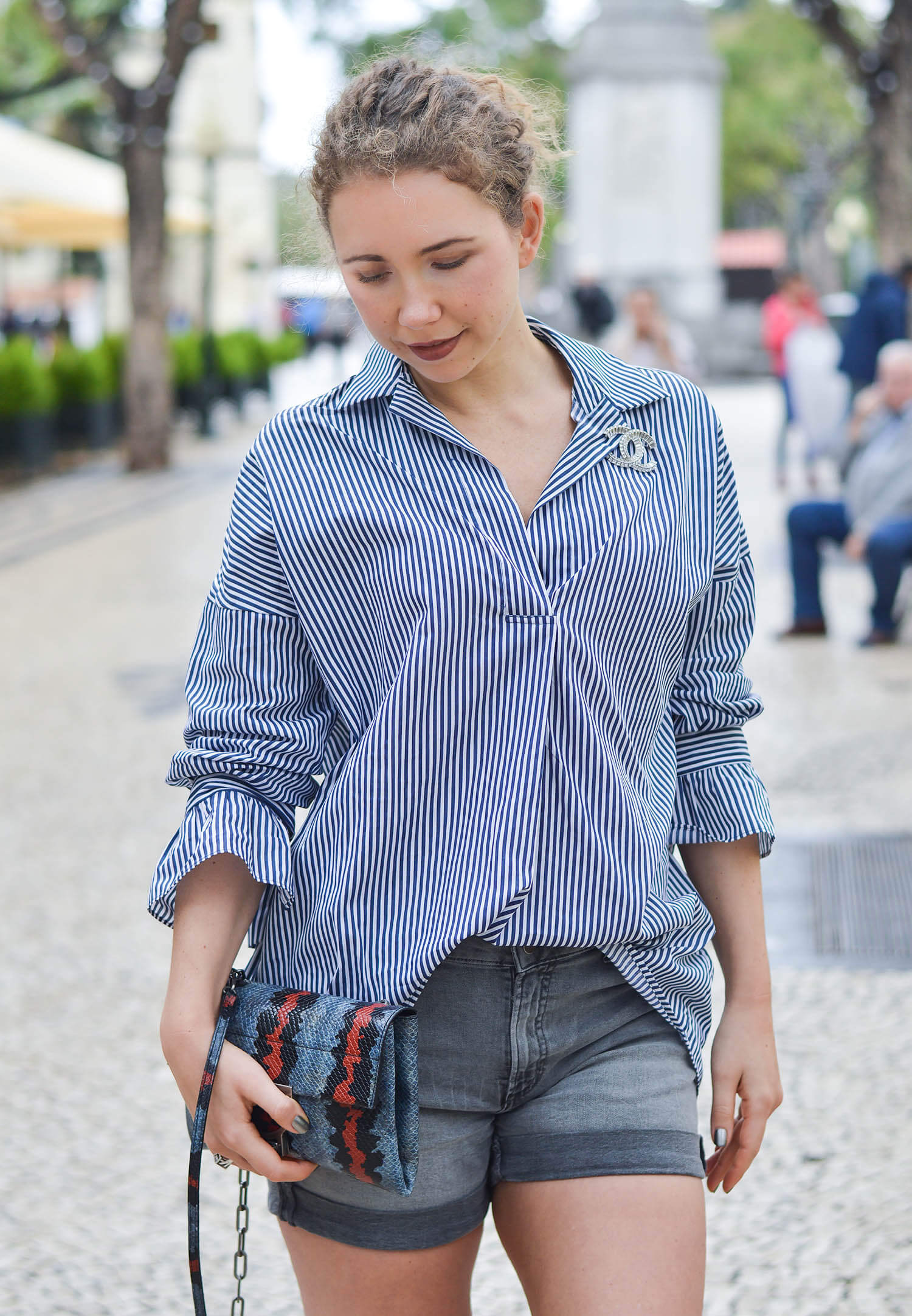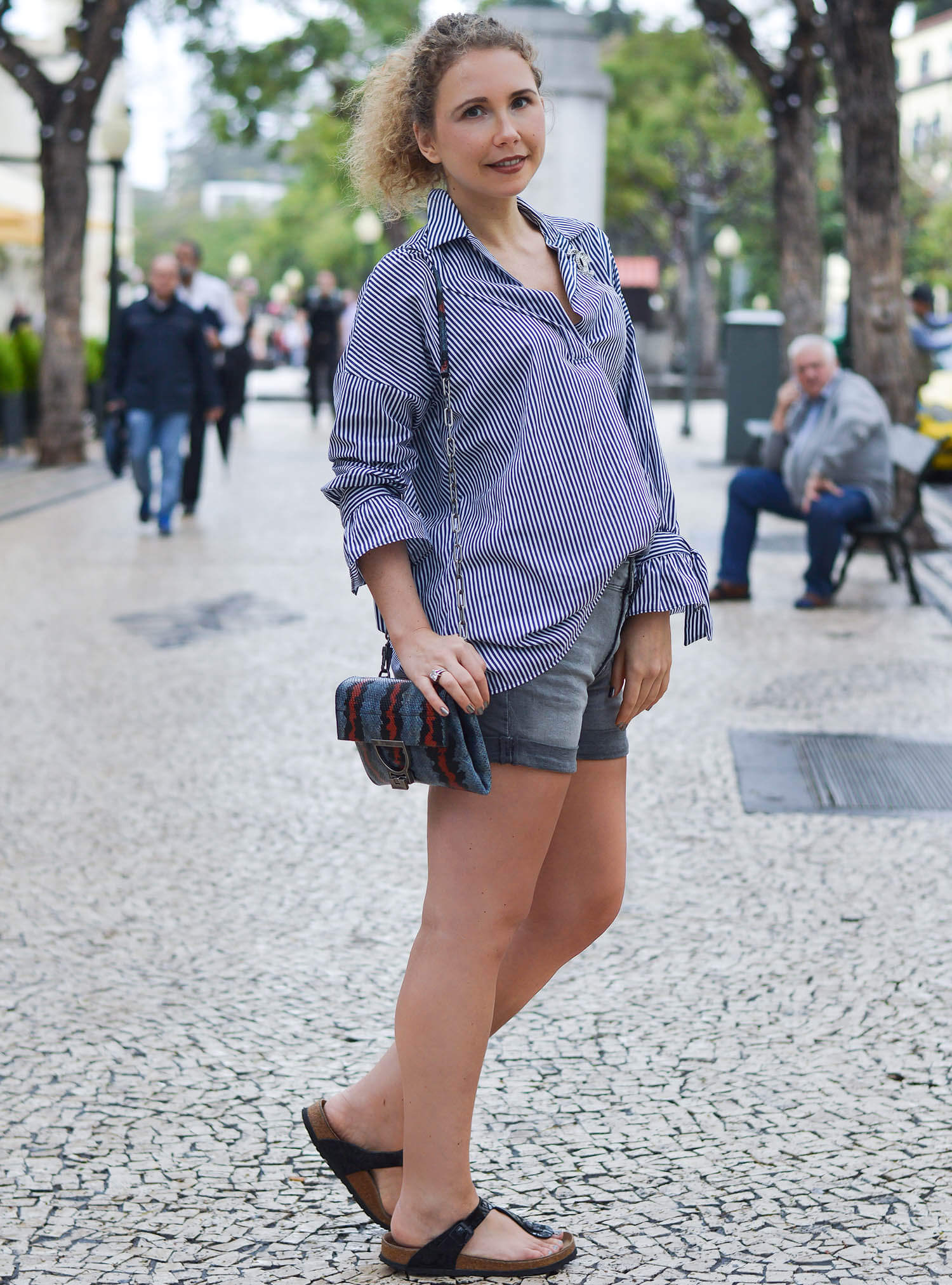 Meine Lieben, heute ist der erste Arbeitstag nach meinem Urlaub und das bedeutet auch, dass es auch hier wieder mit regelmäßigem Content weitergeht. So starte ich heute – mitten im kalten deutschen Spätherbst – mit dem ersten Urlaubsoutfit aus Madeira.
Lässiger Look mit Streifenbluse und Hotpants für einen Spaziergang durch Funchal
Gleich nach unserer Ankunft in Funchal vor nun fast zwei Wochen (leider rennt die Zeit natürlich auch im Urlaub nicht weniger), haben wir die Stadt ein bisschen erkundet. Und waren direkt verliebt in die hübschen Altstadthäuser, die vielen Bäume und die schönen Pflastersteine. Hinzu kommt das milde Klima – eine echte Wohltat zu dieser Jahreszeit! Für so einen Spaziergang darf es natürlich eher bequem und lässig sein. Dementsprechend casual ist das heutige Outfit.
Ich trage wieder meine neue Streifenbluse von Zara, die ich euch hier schon in einer winterlichen Kombination gezeigt habe. Dazu schlichte, graue Jeansshorts  und bequeme Birkenstock Sandalen; immerhin aus schwarzem Lack. ;-)
Ein wenig "Fashion" darf dann aber natürlich doch sein, und deshalb trage ich dazu meine Coccinelle Tasche mit Reptilien-Print sowie meine Chanel-Brosche. So war ich bestens gerüstet für ein paar Kilometer durch die Stadt und auch ein paar Regentropfen konnten mir so nix anhaben. Wie bereits kurz angedeutet, hatten wir durchwachsenes Wetter auf der Insel. Letztlich waren aber auch viele schöne Sonnenstunden dabei und selbst in der Nacht hatten wir noch um die 20 Grad – also alles gut!
Weitere Urlaubseindrücke
Neben weiteren Outfits aus dem Urlaub werde ich euch natürlich auch noch ein paar Infos zur Insel und unserem Hotel liefern. Für heute soll es dies aber erstmal gewesen sein und ich hoffe, ich kann euch auch mit diesem schlichten Style begeistern. :-)
Blouse: Zara
Hotpants: H&M
Bag: Coccinelle
Shoes: Birkenstock
Shop my Look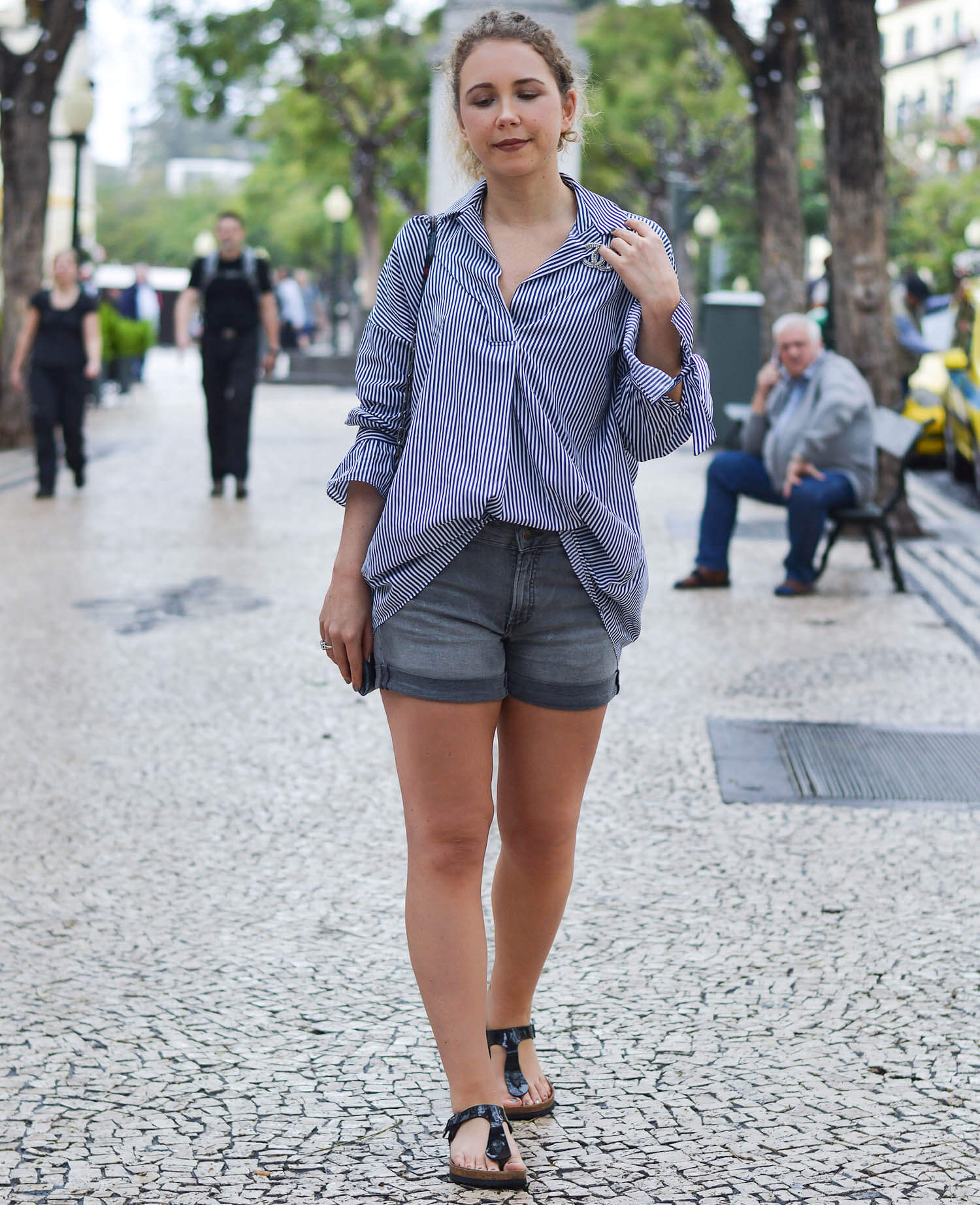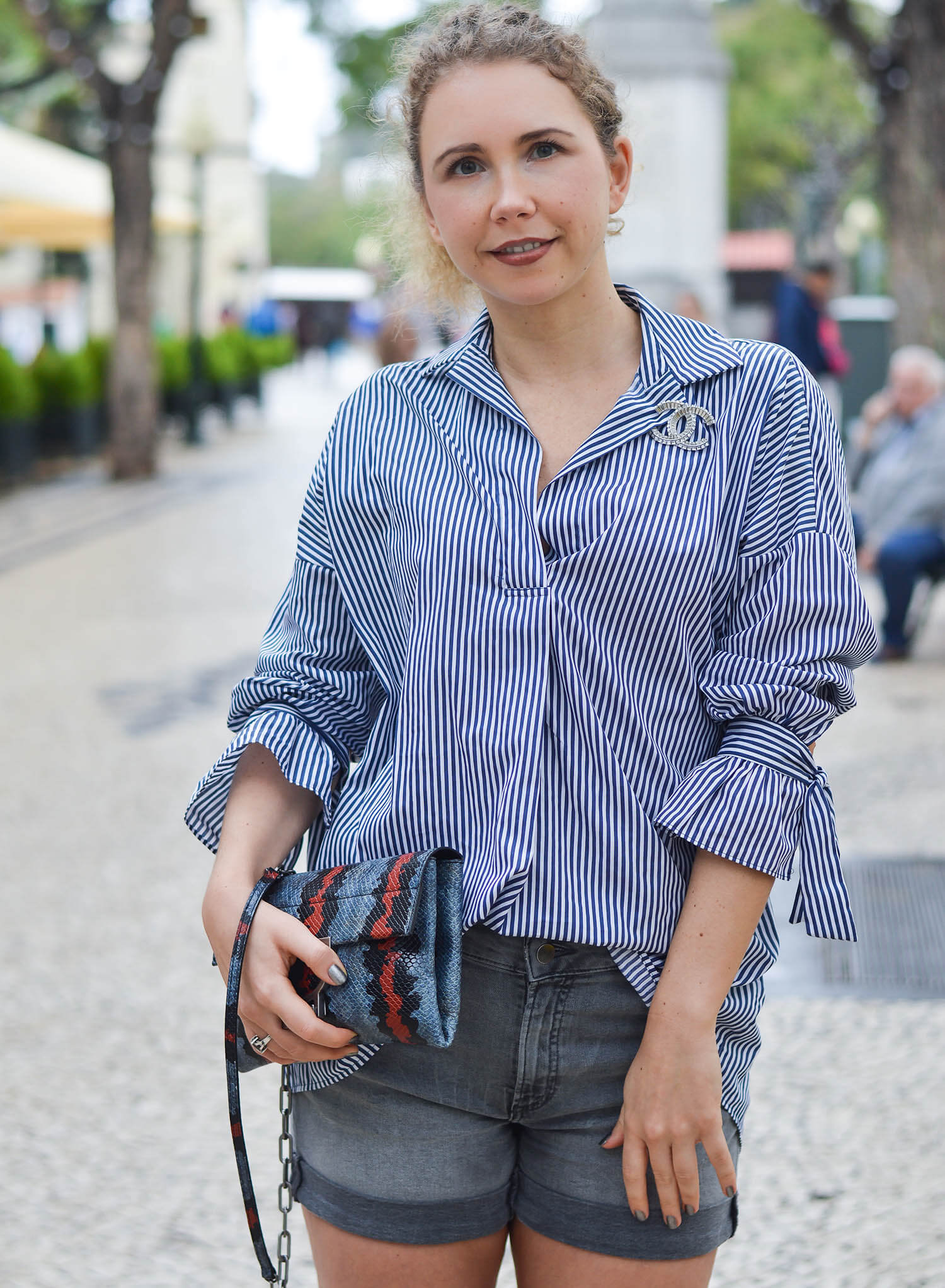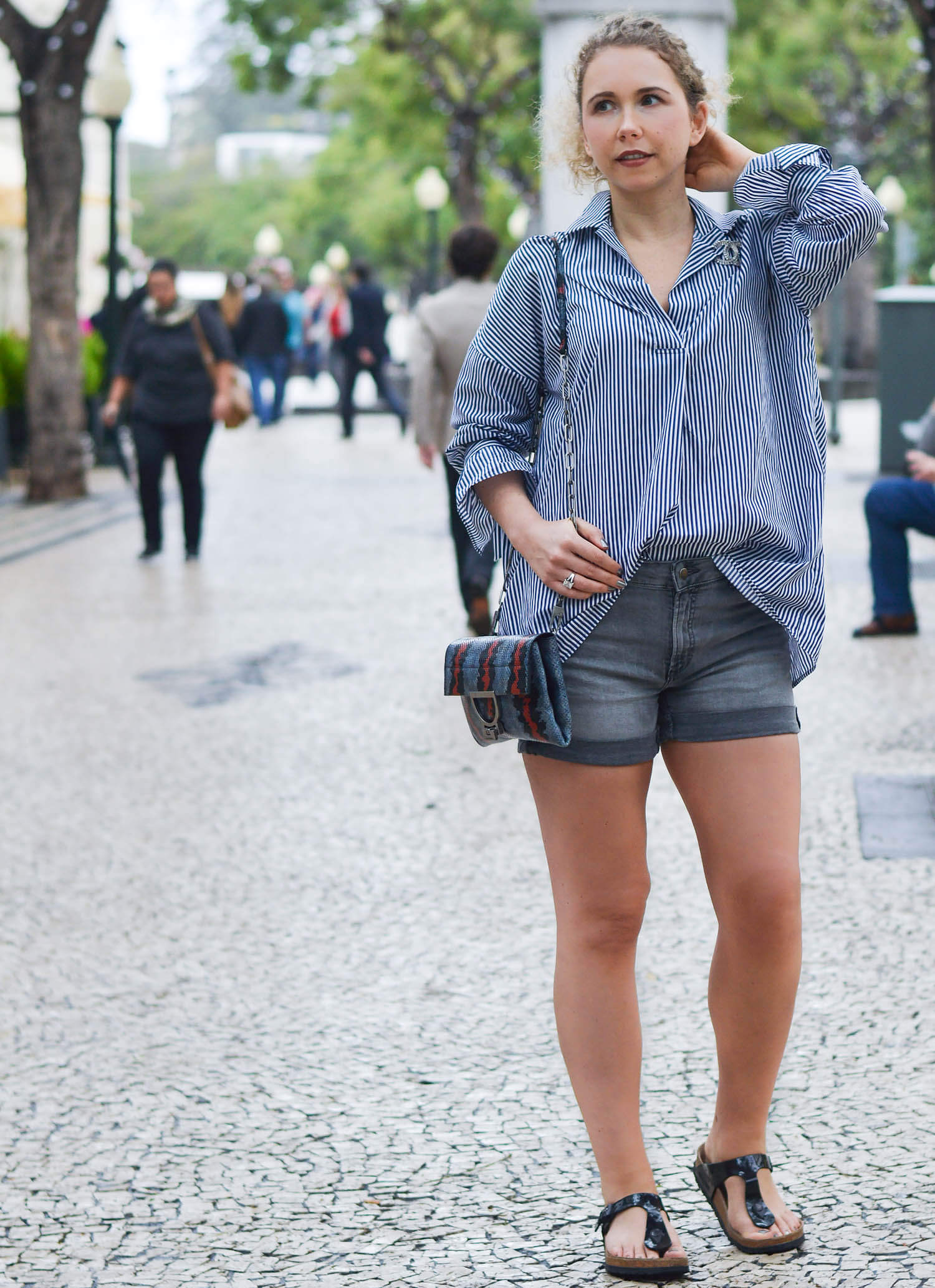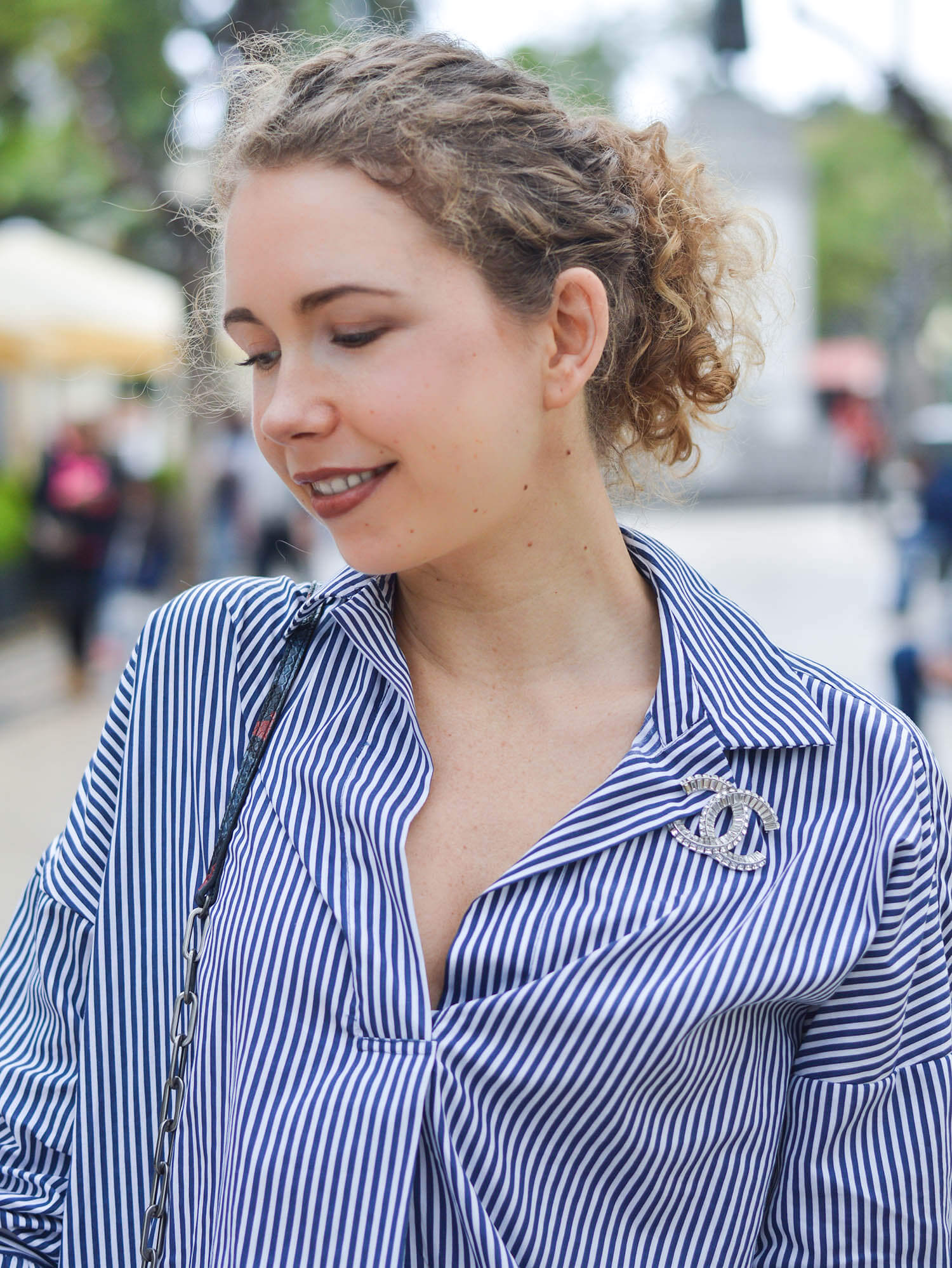 ---
Lovelies, today is the first workday for me after our holiday… That also means, that I will regularly post here again. I'm starting today – while it's really cold here in Germany – with the first holiday look from Madeira.
Casual Style with striped blouse and hot pants for a stroll through Funchal
Right after our arrival in Funchal we explored the city a bit. We immediately fell in love with the beautiful old town, the houses, the trees and the nice cobblestones. Together with the mild climate it is a real benefit. For a city stroll it should be comfy and casual. Following this, today's outfit is quite casual, too.
I'm wearing my new striped blouse from Zara, which I already showed you in winterly combo here. With grey denim shorts and comfy Birkenstock sandals the blouse goes great for summer.
Fora bit more "fashion" I wear my Coccinelle bag with reptile print and my Chanel brooch. So, I was ready for a few kilometers by foot through the city. Even a few raindrops didn't bother. As already mentioned we had some up-and-down weather on the island, but in the end we had some great sunshine hours and even during the nights about twenty degrees.
More holiday impressions
I will show you more holiday looks and give you some pieces of information about Madeira and our hotel soon. For today that's it and I really hope you like this simple style. :-)