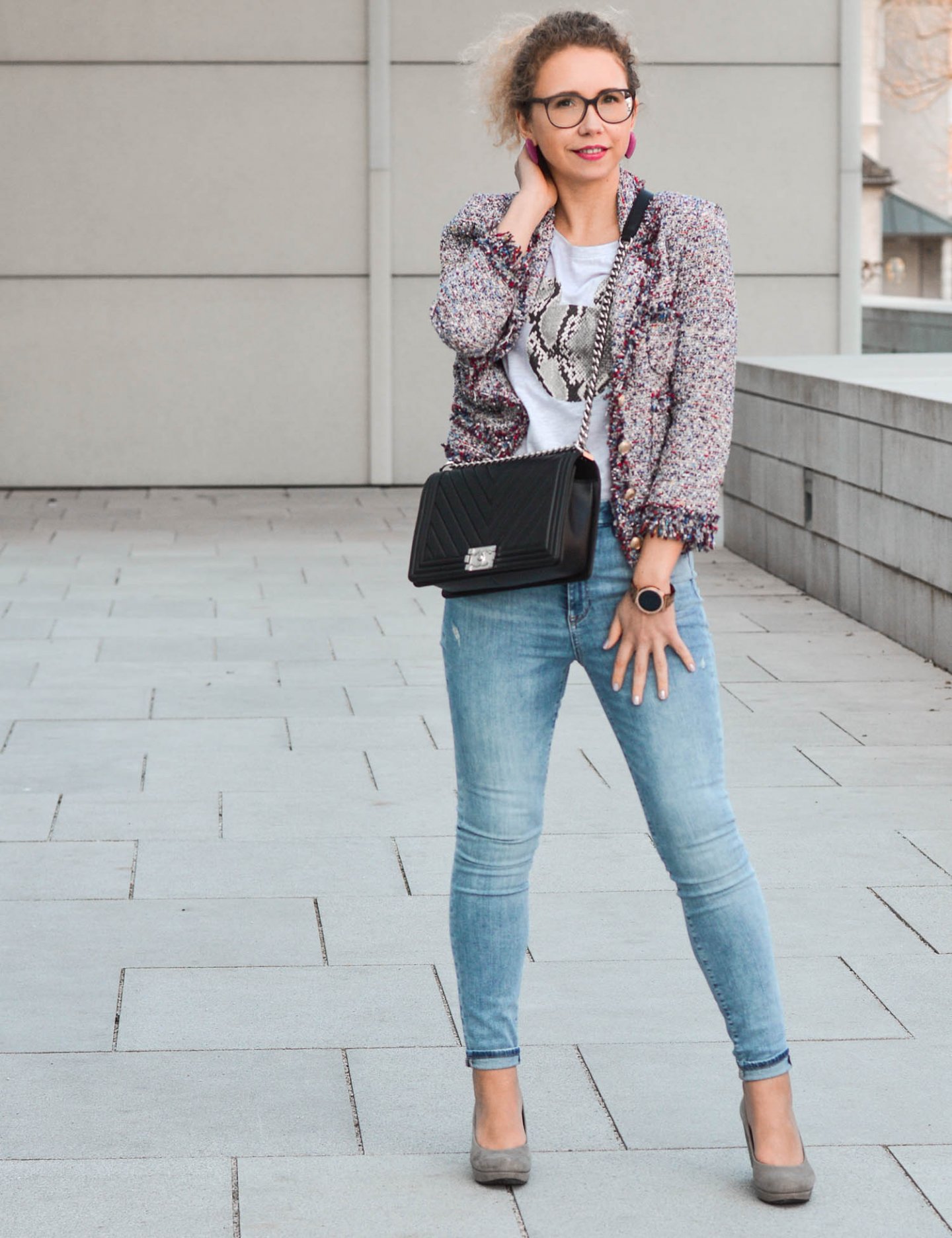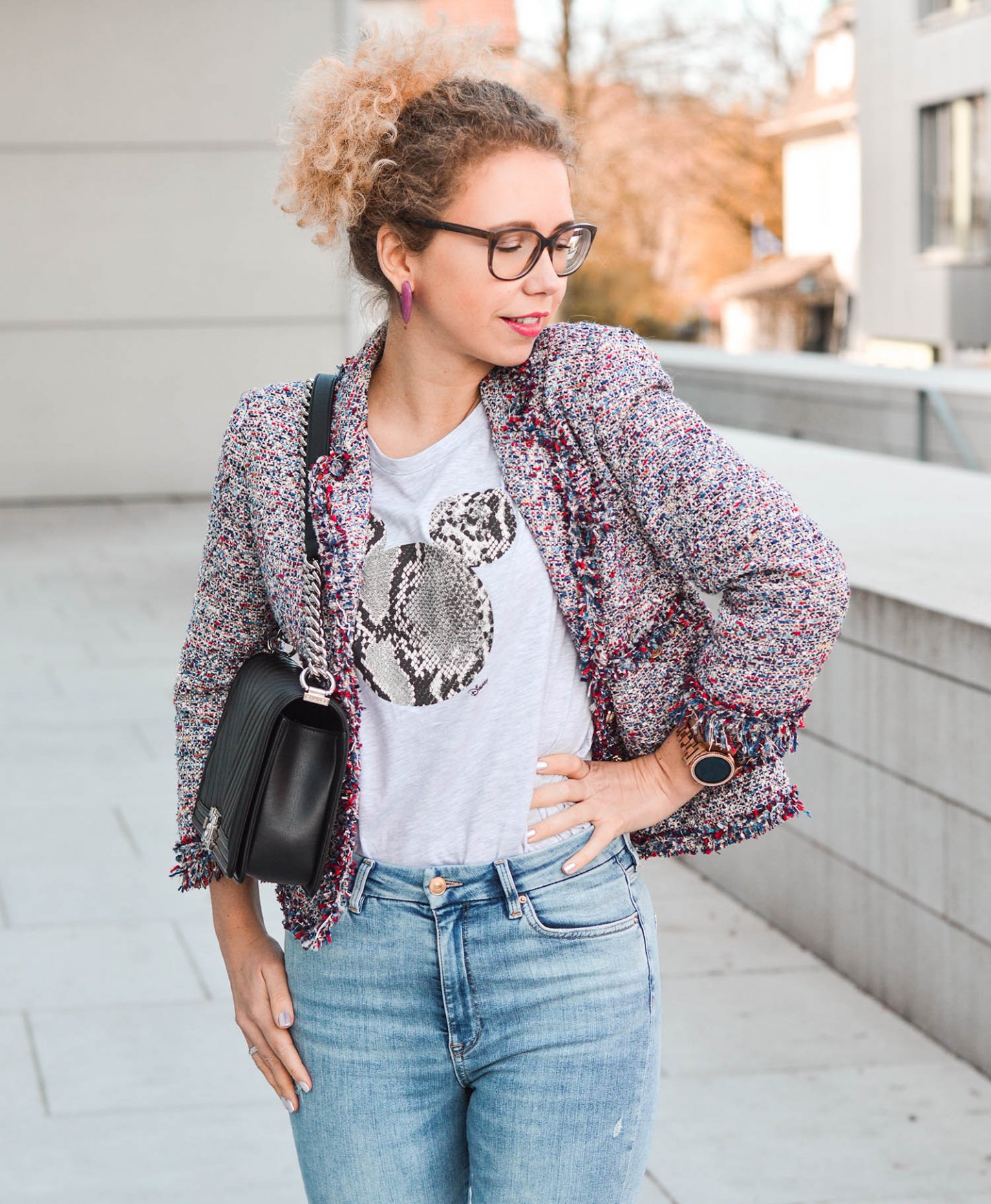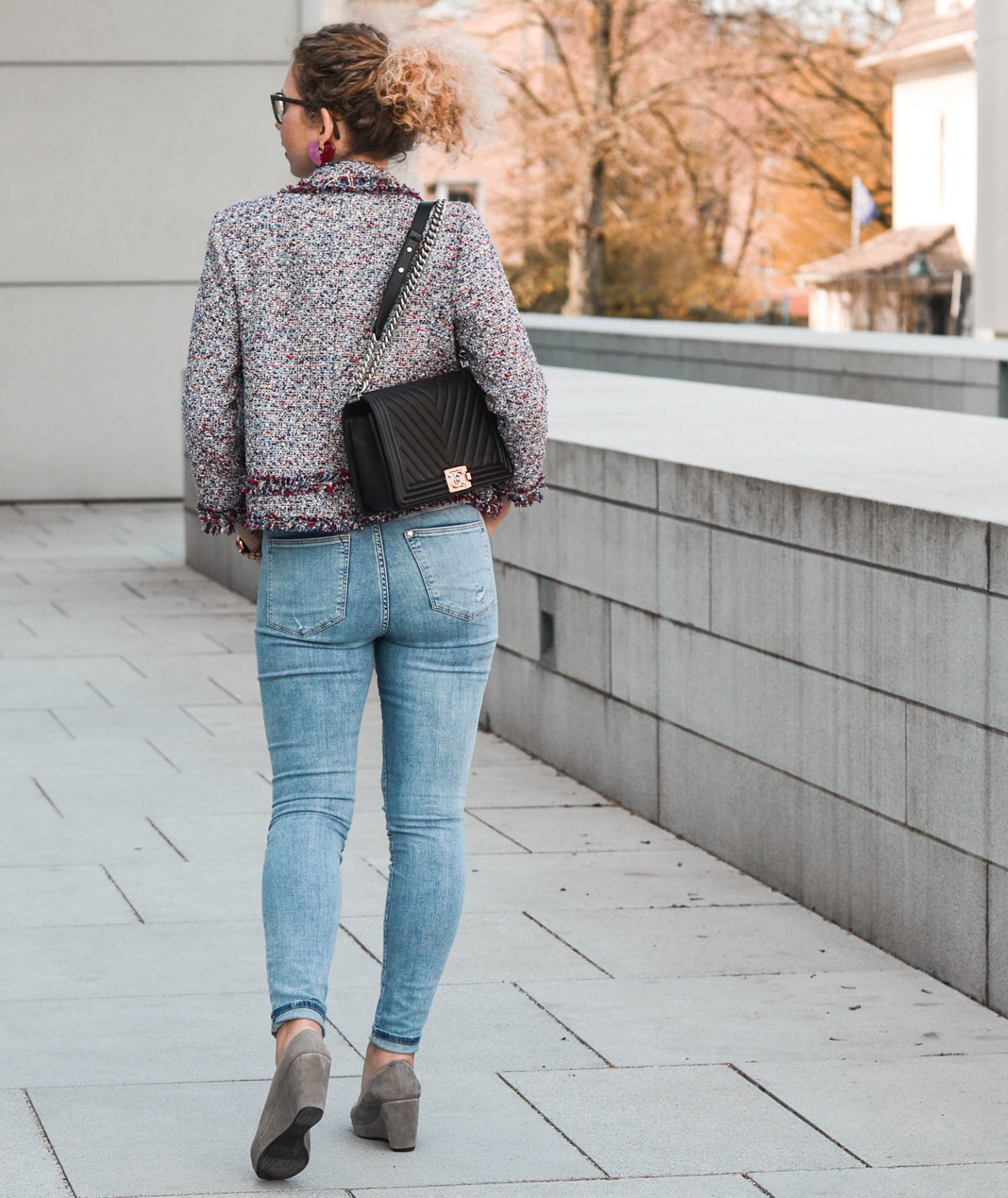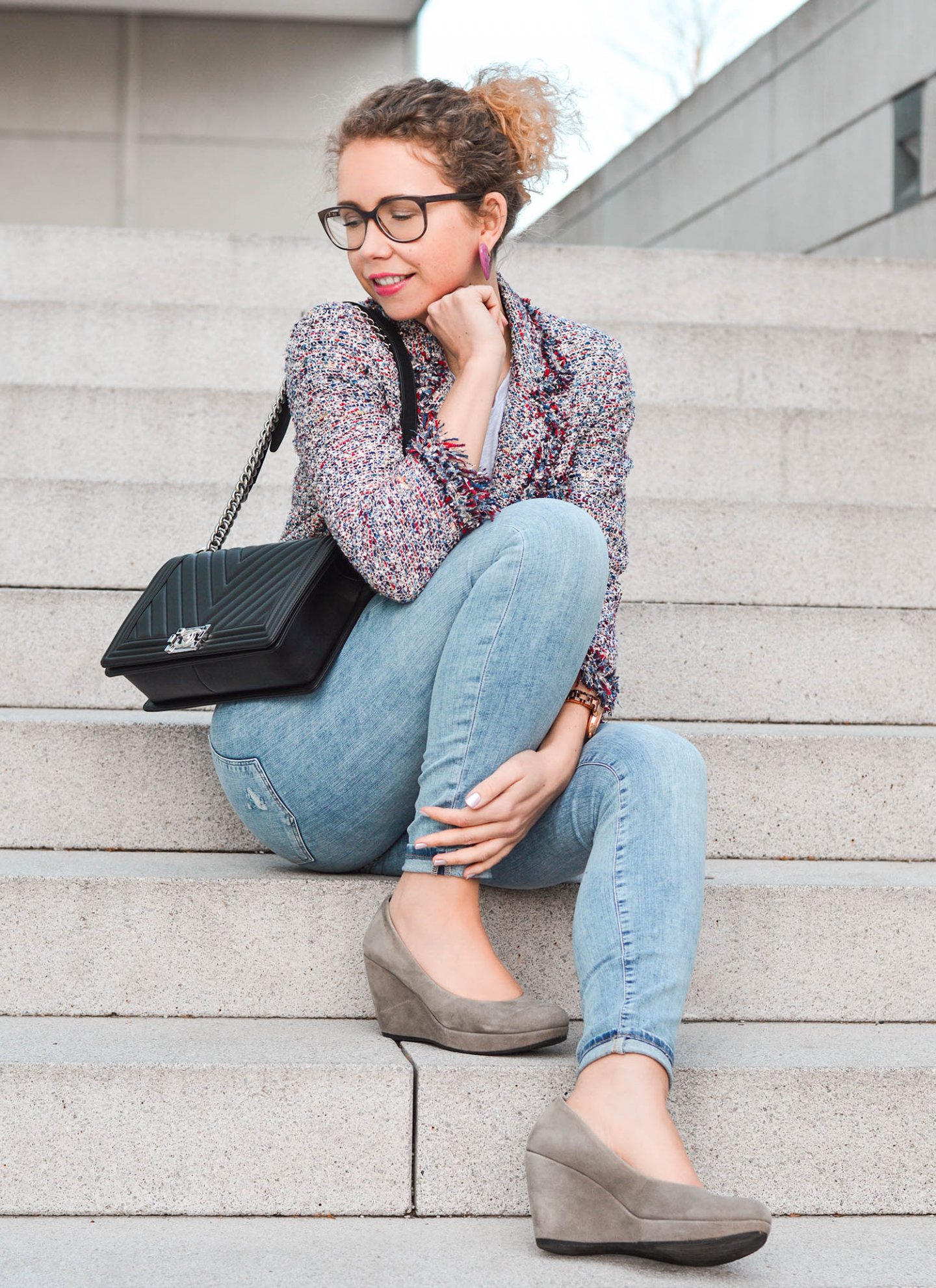 enthält Affiliate Links

Der Hubby und ich gehen gerne und häufig essen am Wochenende – sowohl mit Freunden als auch nur wir zwei. Für solche "Date Nights" trage ich gern Outfit, die lässig, aber auch etwas schicker sein dürfen. Ein Beispiel für solch ein Date Outfit zeige ich euch heute.
Date Outfit mit Tweed und Mickey
Immer eine Nummer sicher – ob im Job, oder Privaten – sind Jeans-Blazer-Kombinationen. Ich persönlich mag sehr gerne extravagantere Tweed Blazer, die jede Jeans ordentlich upgraden. So auch im heutigen Look. Zur bunten Tweedjacke von Zara, sie haben einfach Saison für Saison immer die schönsten Blazer dieser Art, trage ich eine hellblaue High Waist Jeans.

Etwas ungewöhnlich mag die Kombi zusammen mit dem Mickey-Shirt in Snake-Optik erscheinen, da der Tweedstoff an sich ebenfalls schon gemustert ist. Aber gerade der Mustermix macht den Look nochmal extra spannend und das Grau vom Print findet sich in den Schuhen wieder.

Als Accessoires habe ich meinen Chanel Klassiker – oh, wie sehr ich sie liebe – sowie Ohrringe in Herzform gewählt. Ist ja schließlich ein Date Outfit. ;-)
Migräne, Massage und Muttertag
Wie ihr sicherlich mitbekommen habt, leide ich momentan noch öfter als sonst an Migräne. Der letzte Anfall hat mich nun tatsächlich über eine Woche lang begleitet – das ist schon ein neuer Negativ-Rekord für mich. So kann es auf jeden Fall nicht weitergehen und ich habe Ende Mai einen Termin für eine Ohr-Akupunktur. Im letzten Jahr habe ich bereits normale Akupunktur ausprobiert, aber leider ohne großen Erfolg. Die Ohr-Akupunktur soll aber viel intensiver sein, also bin ich sehr gespannt und erhoffe mir endlich eine Besserung.

Aber natürlich muss ich ich selbst an mir arbeiten, mehr auf mich achten und unnötigen Stress vermeiden. Leichter gesagt als getan, zumal sich auch im Büro gerade alles überschlägt. Ich muss einfach noch mehr lernen, wann ich mir eine Pause gönnen sollte und das die Gesundheit im Zweifel auch vor der Arbeit kommt…

Einen ersten Schritt in Richtung mehr Achtsamkeit haben der Hubby und ich am Samstag gemacht. Wir haben zusammen zum ersten Mal eine Rücken-Thai-Massage ausprobiert. Auch wenn ich ziemlich Muskelkater davon habe, hat es doch unglaublich gut getan und wird nun öfter in unseren Alltag integriert!

Ansonsten habe ich wirklich versucht, mal abzuschalten am Wochenende. Gestern war ich dann aber mal wieder beim Sport und am Nachmittag mit meinen Eltern anlässlich des Muttertags lecker essen. :-)
Shop my Look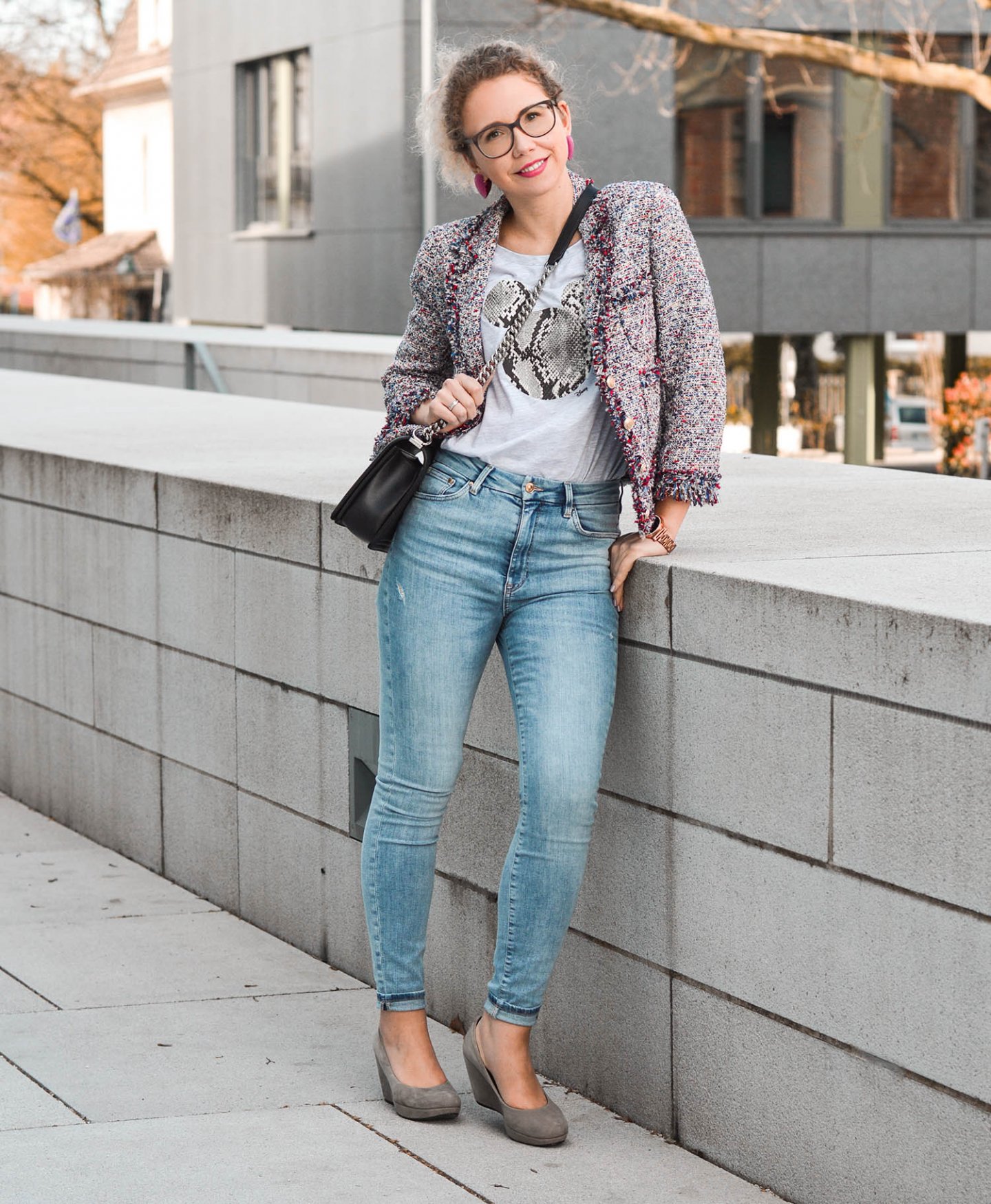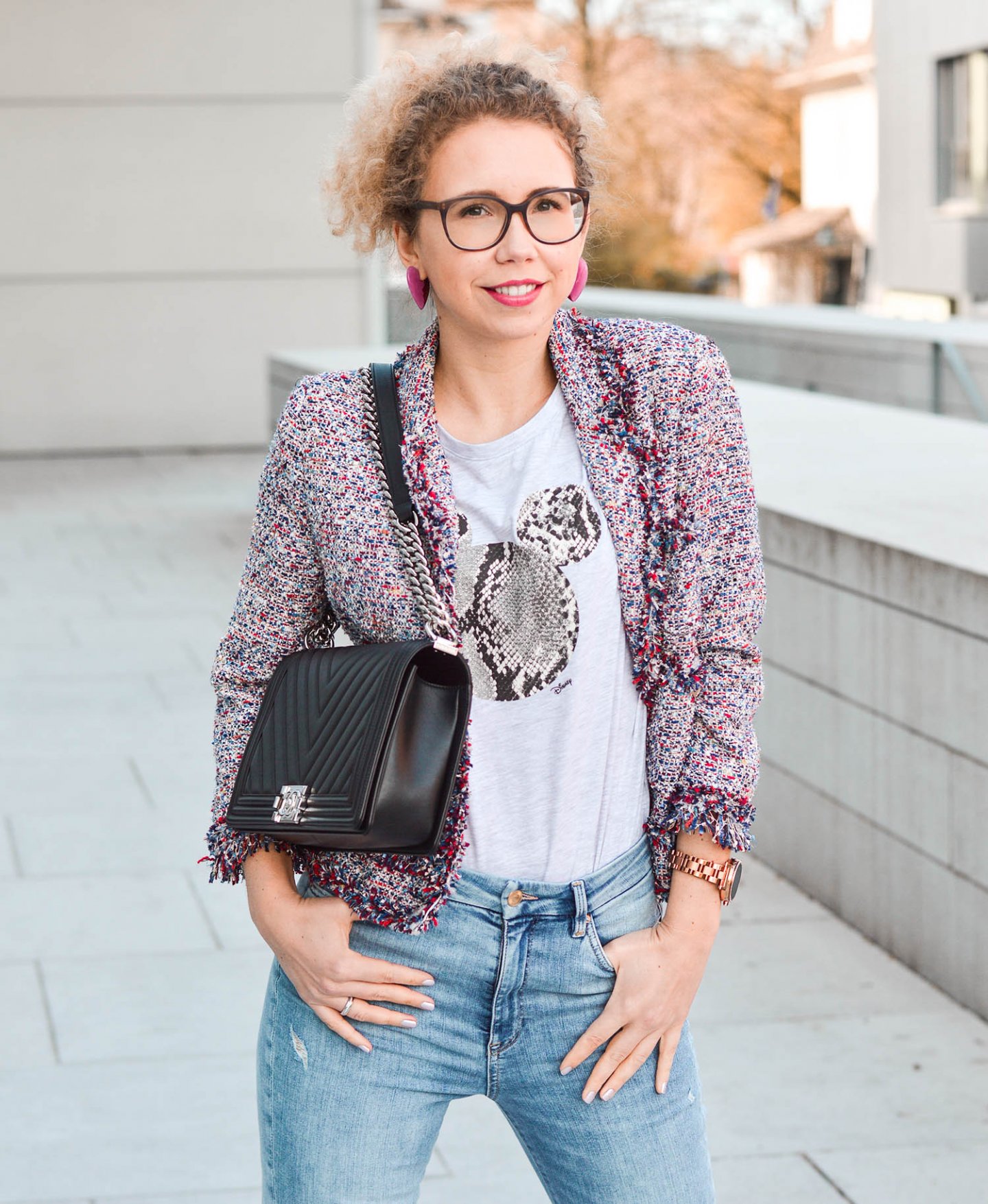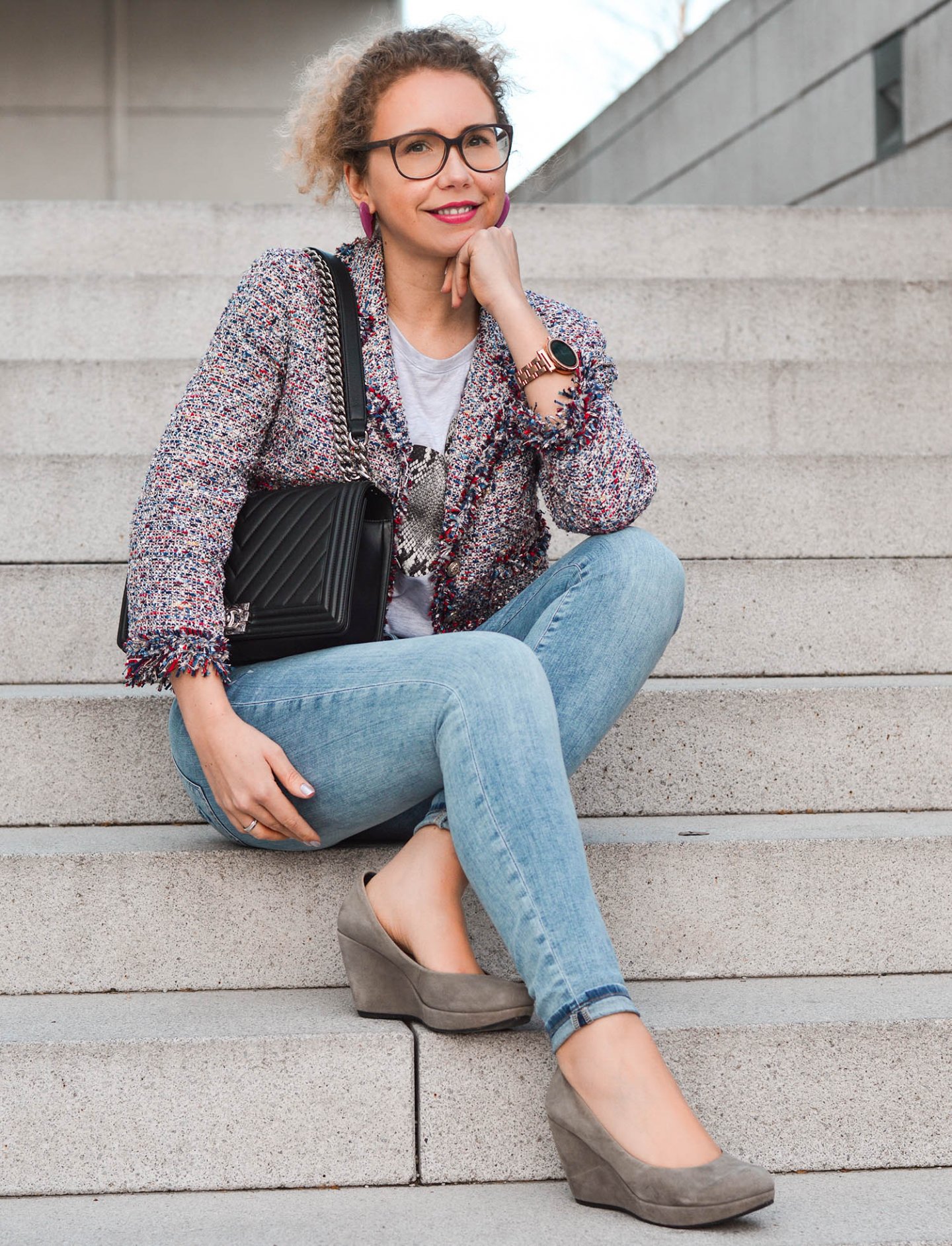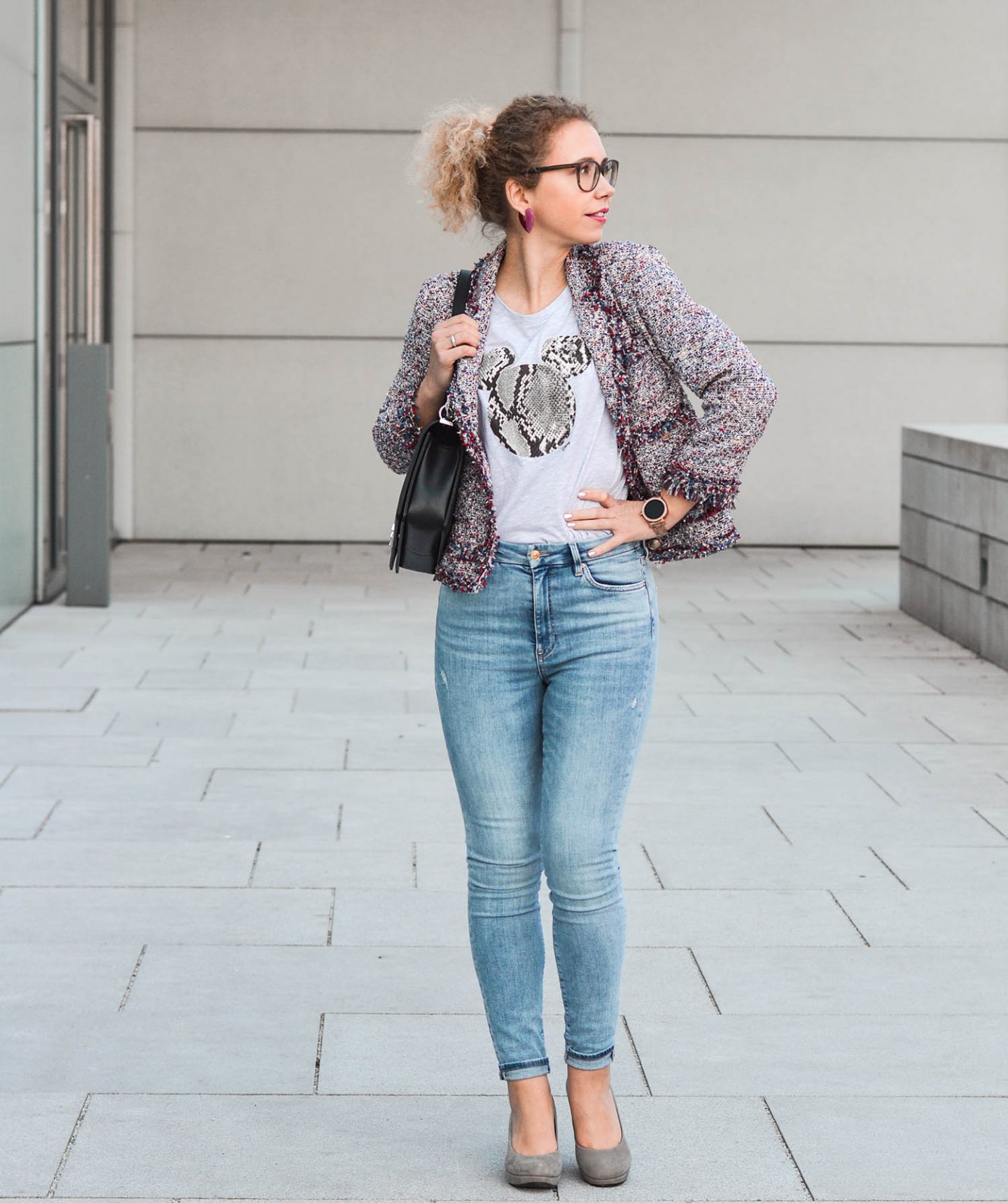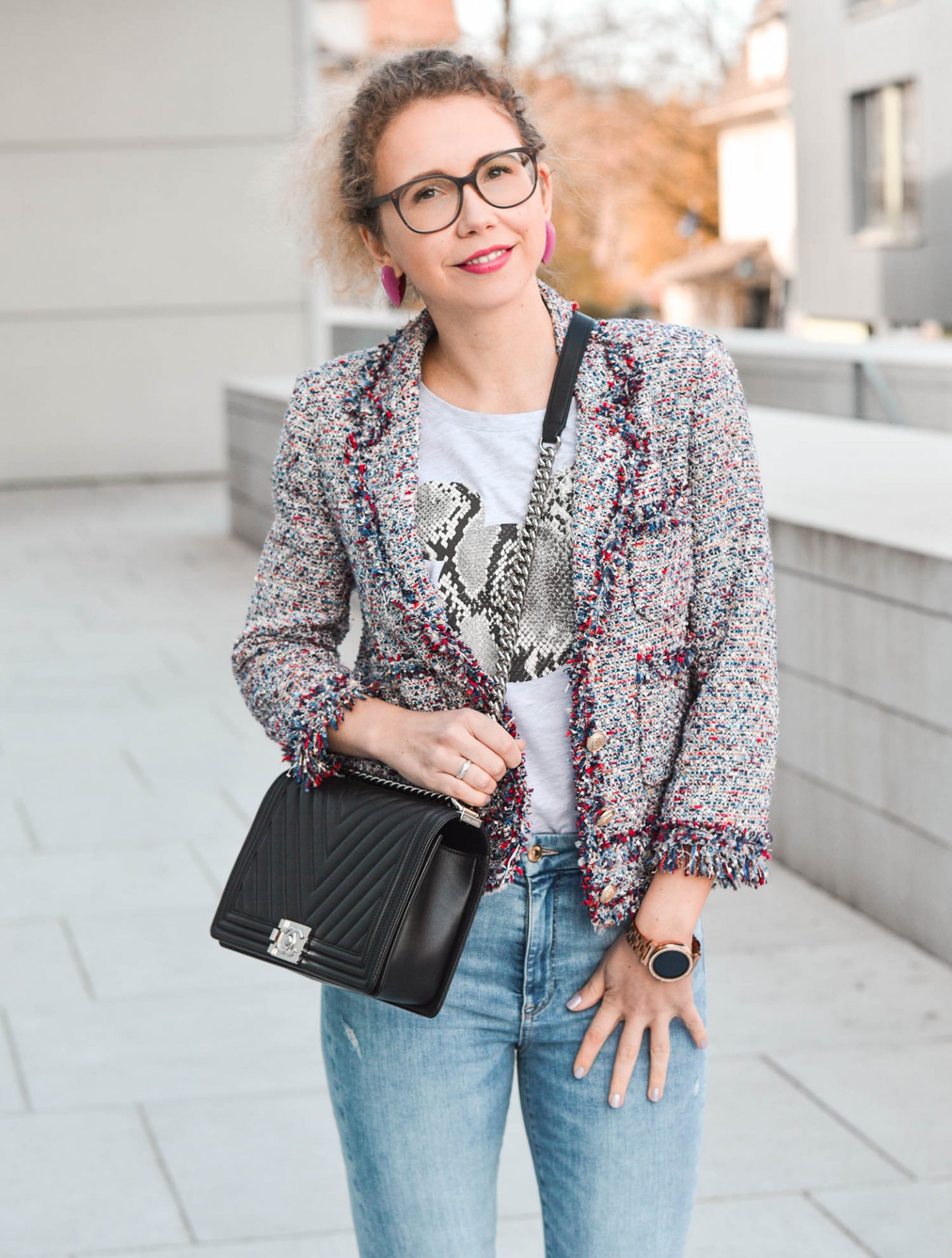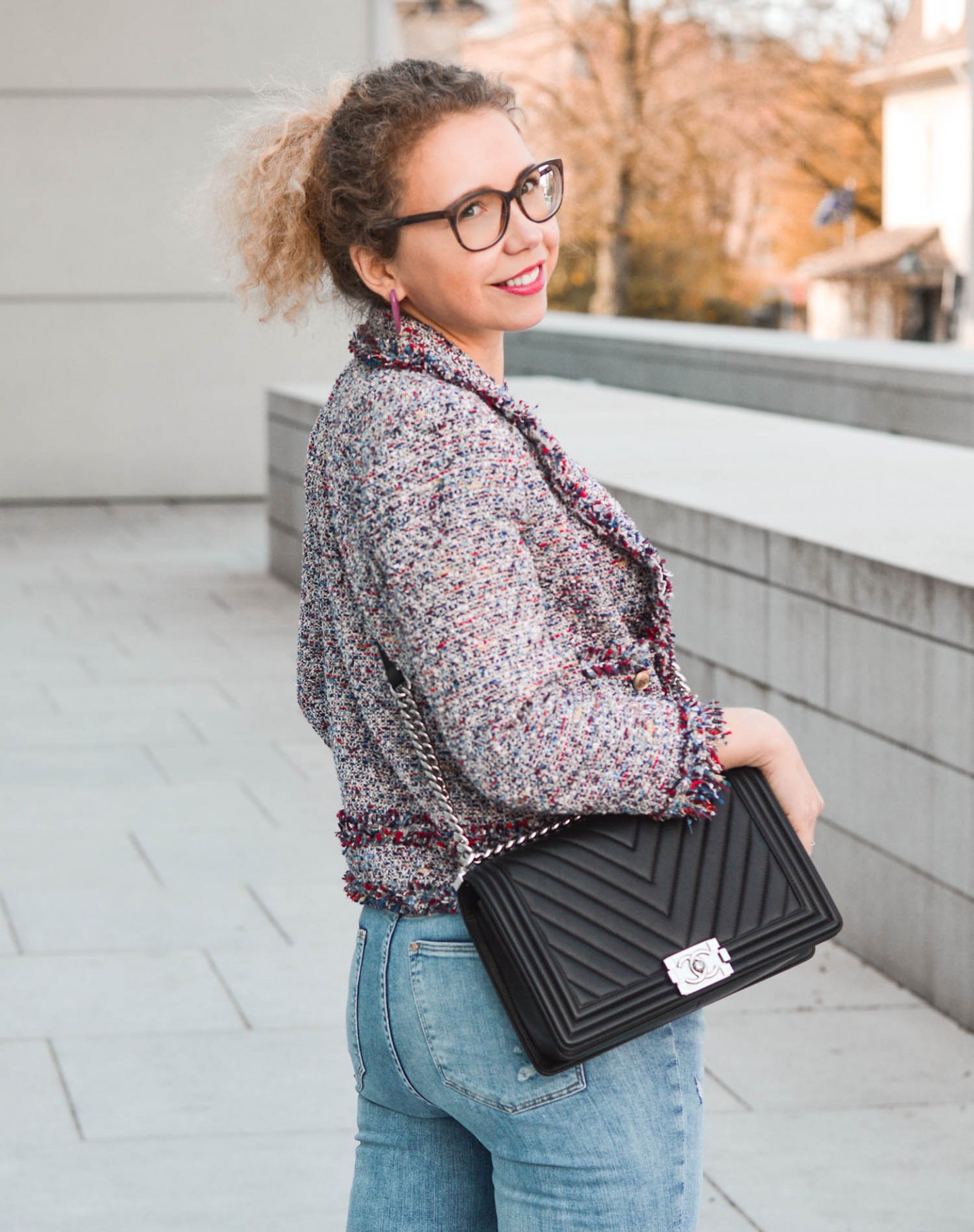 The Hubby and I like to go out for dinner on weekends – with friends as well as just the two of us. For such "Date Nights" I like to wear outfits that are casual, but also a bit chic. An example for such a date outfit I will show you today.
Date outfit with tweed and Mickey
Always a number safe – whether in the job, or private – are jeans blazer combinations. Personally, I like more extravagant tweed blazers that upgrade every pair of jeans. So does today's look. To the colorful tweed jacket by Zara, they simply have season after season always the most beautiful blazers of this kind, I wear a light blue high waist jeans.
A bit unusual might be the combination together with the Mickey shirt in snake optic, because the tweed fabric itself is already patterned. But especially the pattern mix makes the look extra exciting and the grey of the print can be found in the shoes.
As accessories I have chosen my Chanel bag – oh, how much I love it – as well as earrings in heart shape. After all, it's a date outfit. ;-)
Migraine, massage and Mother's Day
As you may have noticed, I'm suffering from migraines more than usual at the moment. The last attack actually accompanied me for over a week – that's quite a new negative record for me. It can't go on like this and I have an appointment for an ear acupuncture at the end of May. Last year I tried normal acupuncture, but unfortunately without much success. But the ear acupuncture should be much more intensive, so I am very excited and hope for an improvement.
But of course I have to work on myself, pay more attention to myself and avoid unnecessary stress. It's easier said than done, especially as everything in the office is turning upside down at the moment. I simply have to learn even more when I should take a break and that my health in case of doubt also comes before work…
The Hubby and I took a first step towards more attentiveness on Saturday and tried a Thai back massage together for the first time. Even though I have a lot of muscle ache from it, it has done incredibly well and is now more often integrated into our daily lives!
Apart from that I really tried to switch off on the weekend, but yesterday I went to sports and in the afternoon I had a delicious meal with my parents on Mother's Day. :-)