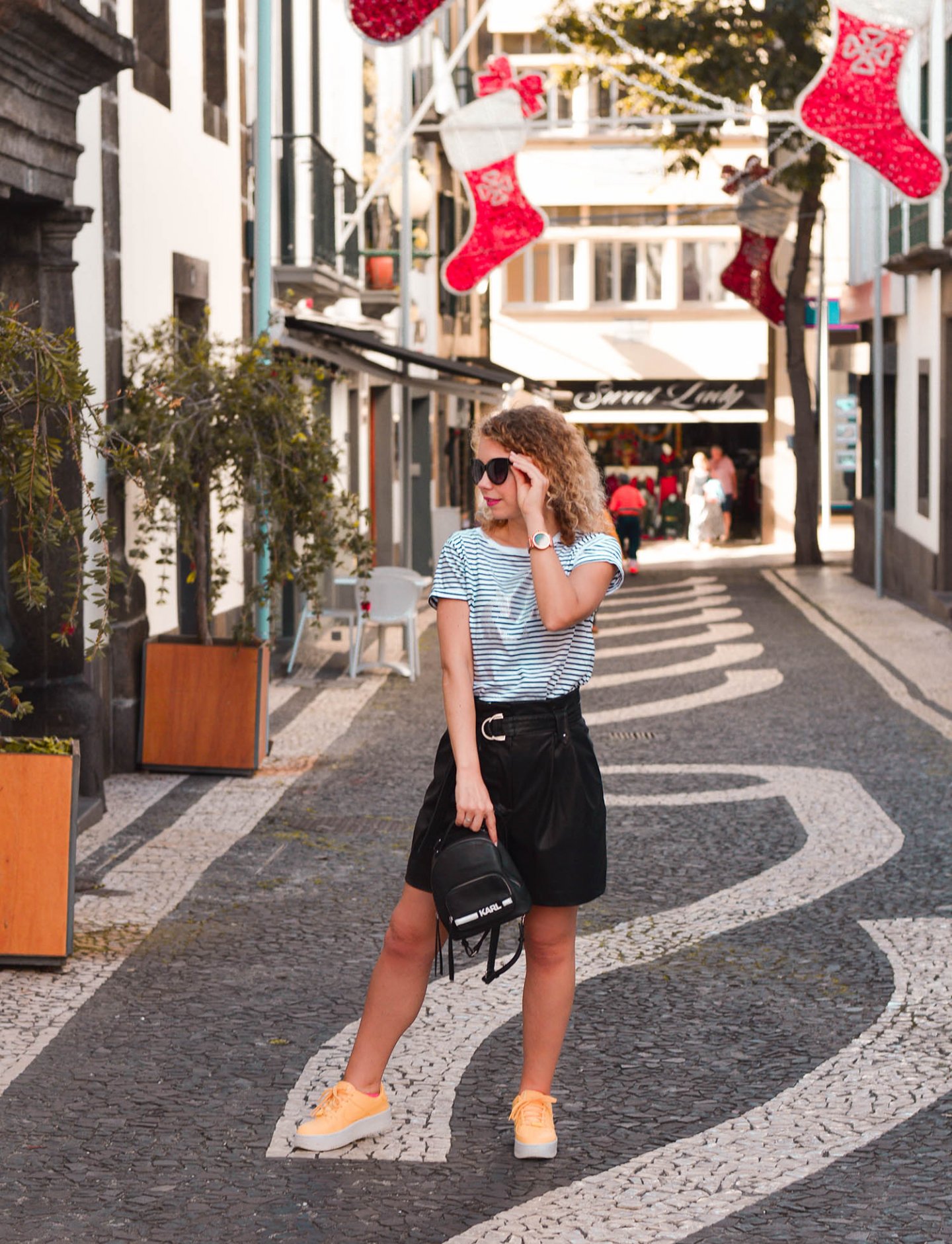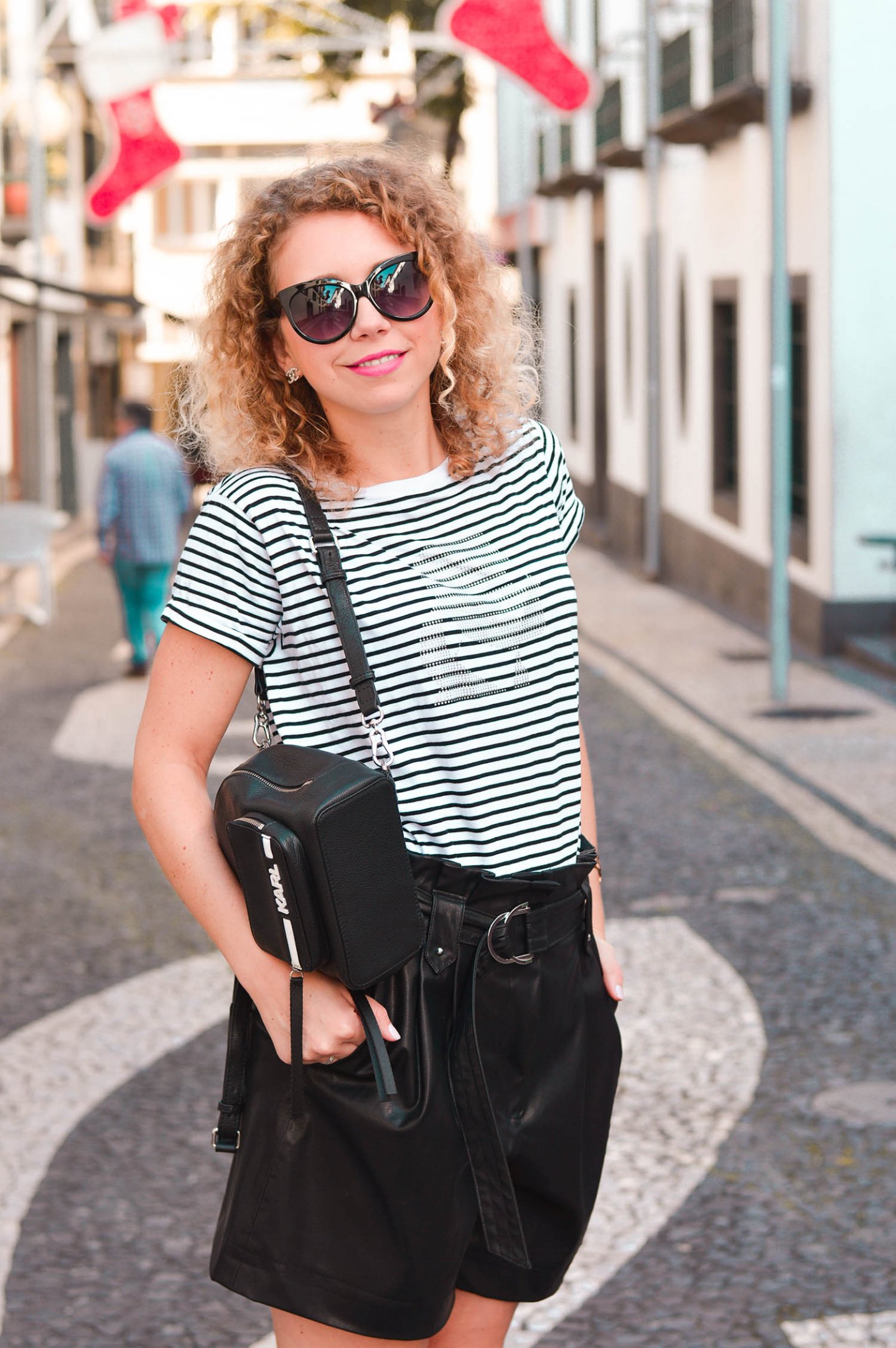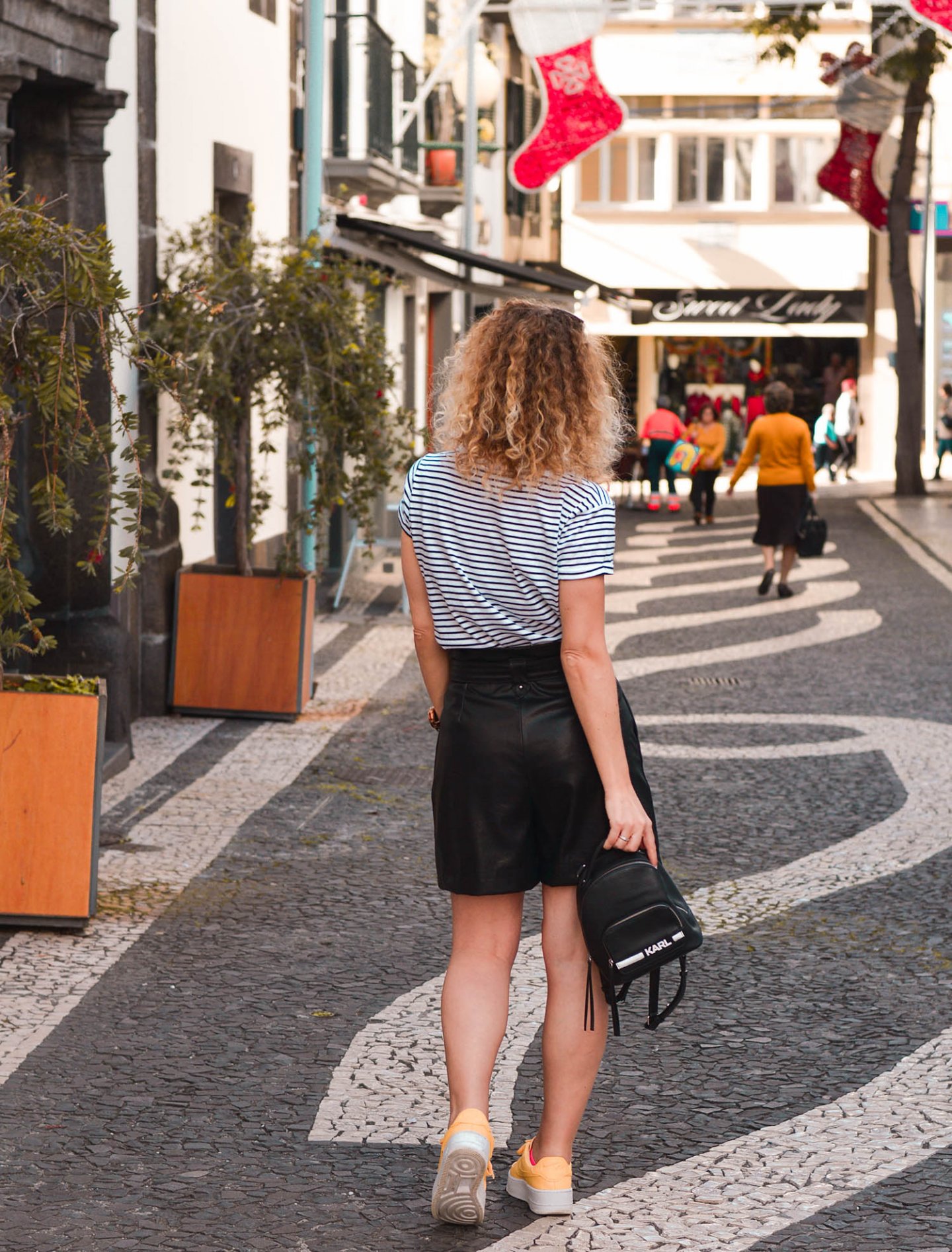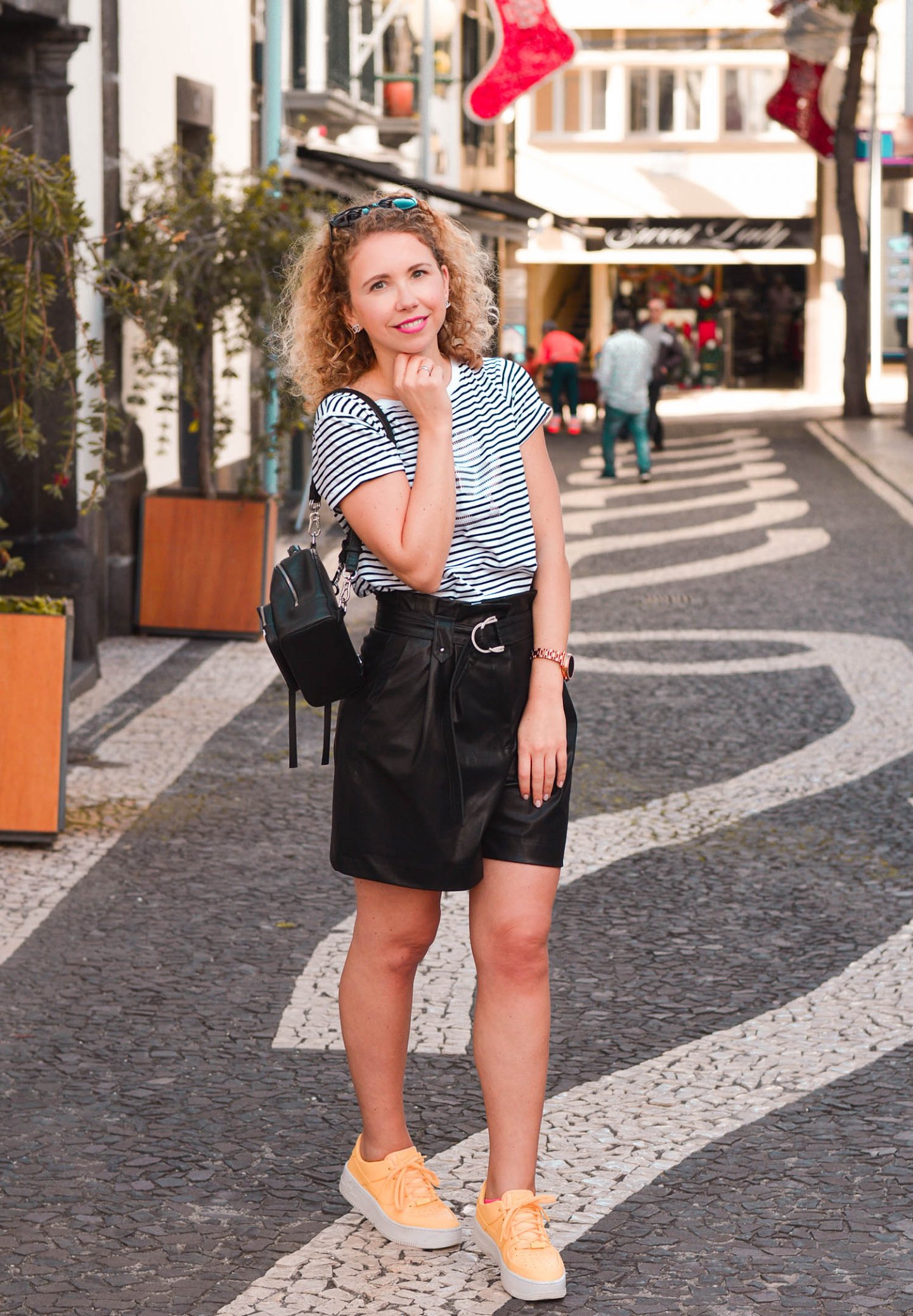 Kurz vor Weihnachten folgt ein frühlingshafter Urlaubslook von mir. Von der Insel des ewigen Frühlings: Madeira! Mit 20 Grad im Schatten (in der Sonne locker 25) konnte man es mit Shorts und Shirt wunderbar aushalten. Dennoch war es mir wichtig, euch den Look noch vor Weihnachten zu zeigen, denn im Hintergrund könnt ihr einen kleinen Teil der weihnachtlich geschmückten Altstadt von Funchal sehen. :-)
Urlaubslook: Praktisch, aber mit Style
Ich bin ein großer Fan von (fake) Ledershorts. Bei 20 Grad kann man sie prima tragen, ohne, dass man schwitzt. Dazu ein lässiges Streifenshirt, oben in die High Waist Shorts gesteckt, schon ist man gut angezogen. Da ich auf der Insel zuvor, Gran Canaria, zig Kilometer mit Zehensteg-Sandalen herumgelaufen bin, brauchten meine Füße etwas Abwechslung. Deshalb habe ich mir für meine Sonnen-gelben Nike Sneaker entschieden. Eine gute Wahl, denn auch bei diesem Landgang auf unserer Lieblingsinsel der gesamten Kreuzfahrt, sind wir viele Kilometer gelaufen.

Statt einer klassischen Handtasche habe ich mich für meinen brandneuen Mini-Rucksack von Karl Lagerfeld entschieden. Den habe ich erst kurz vorm Urlaub bei TK Maxx gefunden. Der perfekte Fund, denn ich war schon länger auf der Suche nach einem kleinen schwarzen Rucksack. Es geht mehr rein, als in meine üblichen Handtaschen, man hat verschiedenste Möglichkeiten, ihn zu tragen und er sieht aufgrund der Größe dennoch nie klobig aus. Für mich ideal!
Funchal in der Weihnachstzeit
Ich kann euch die Insel Madeira und ihre Hauptstadt Funchal nur ans Herz legen. Vor zwei Jahren waren wir schon mal für 10 Tage auf der Insel und haben uns in sie verliebt. Während unserer jetzigen Winter Cruise Tour mit der AIDA Nova war der Besuch Madeiras erwartungsgemäß das absolute Highlight. Zumal wir zwei Jahre zuvor ganz knapp den Beginn der Weihnachtsbeleuchtung und des Weihnachtsmarktes in Funchal verpasst haben. Sie starten damit immer am 1. Dezember. Dieses Mal kam ich als Weihnachtsfan voll auf meine Kosten und wusste gar nicht, wo ich zuerst hinsehen soll…
Shop my Look
enthält Affiliate Links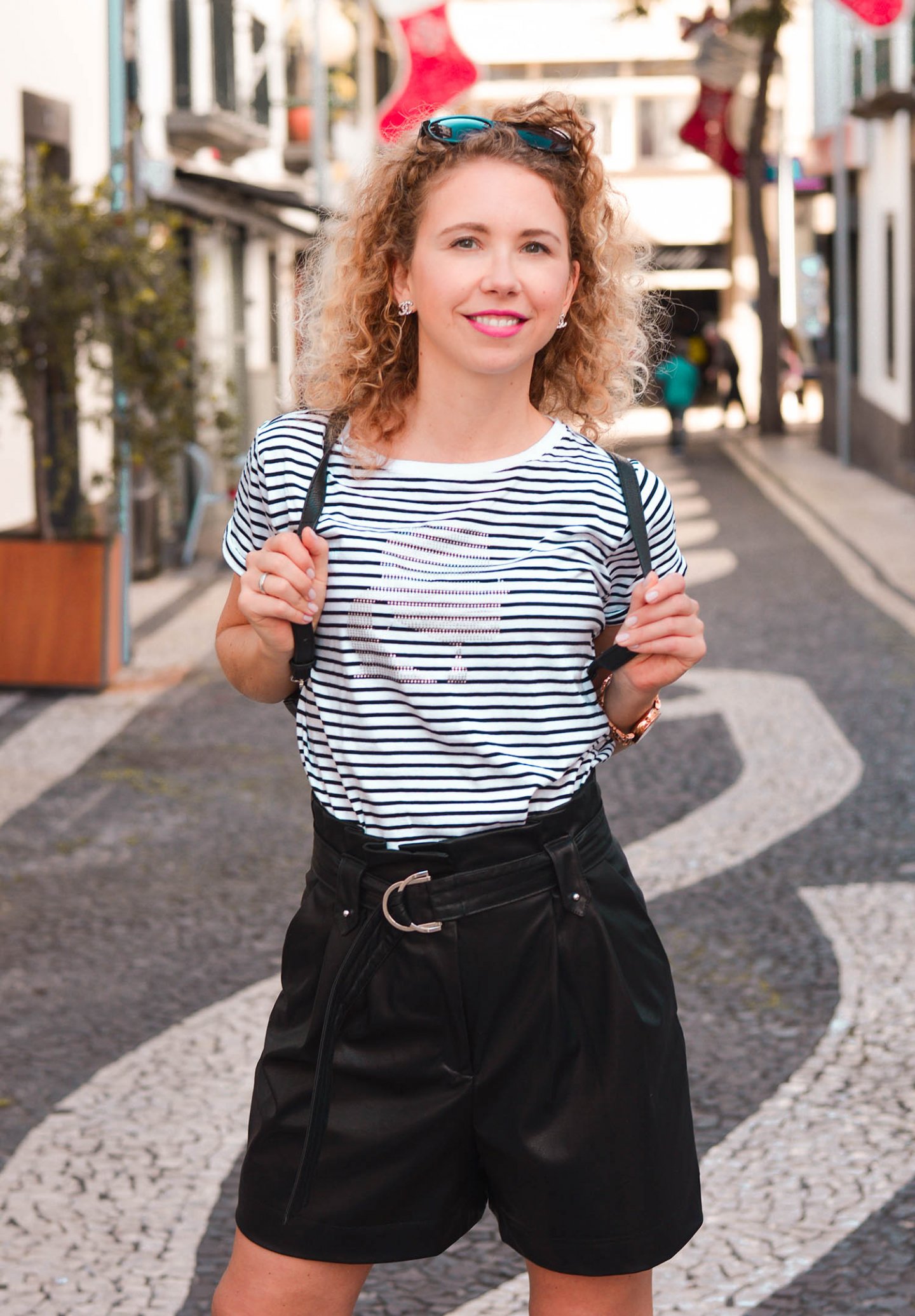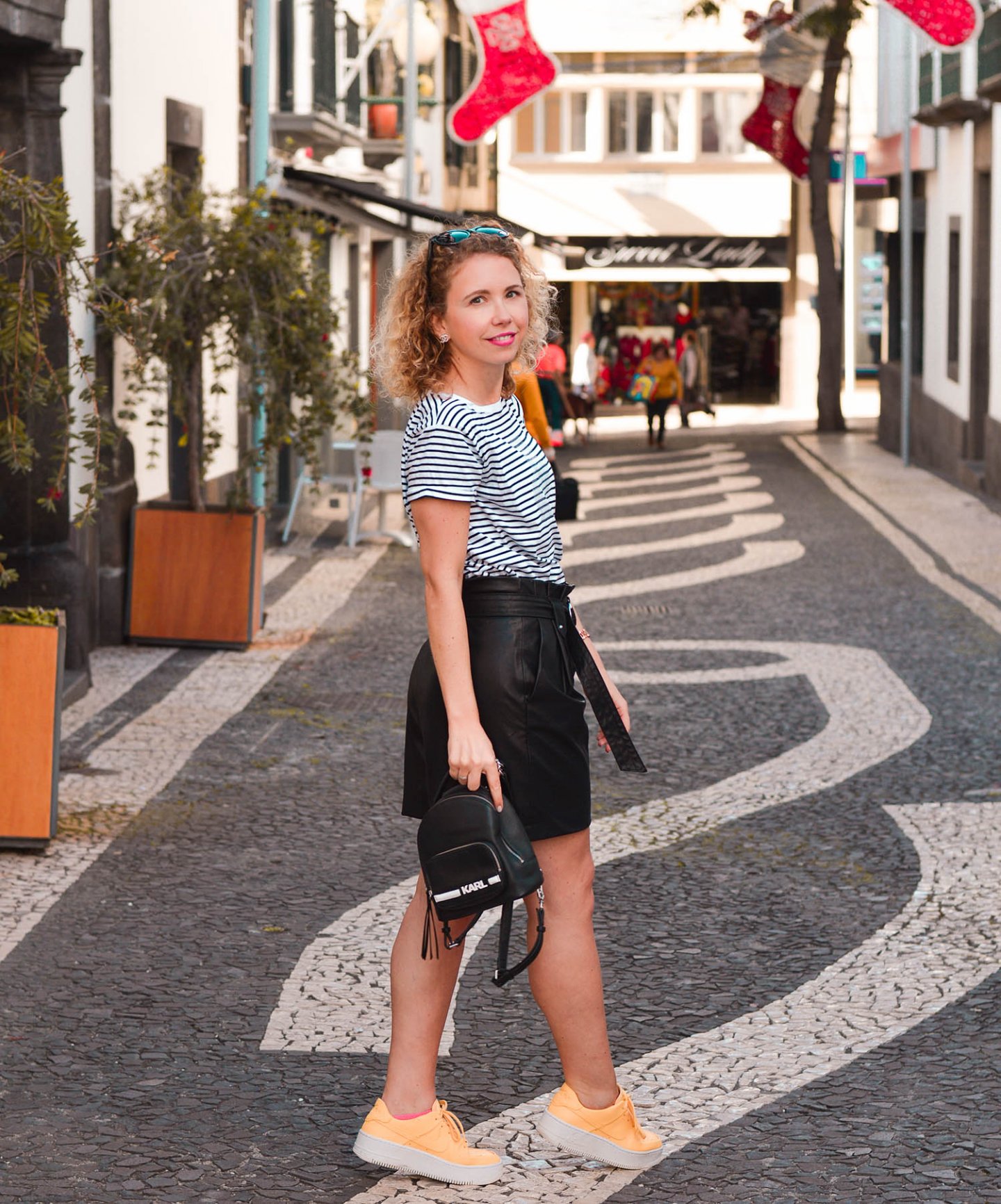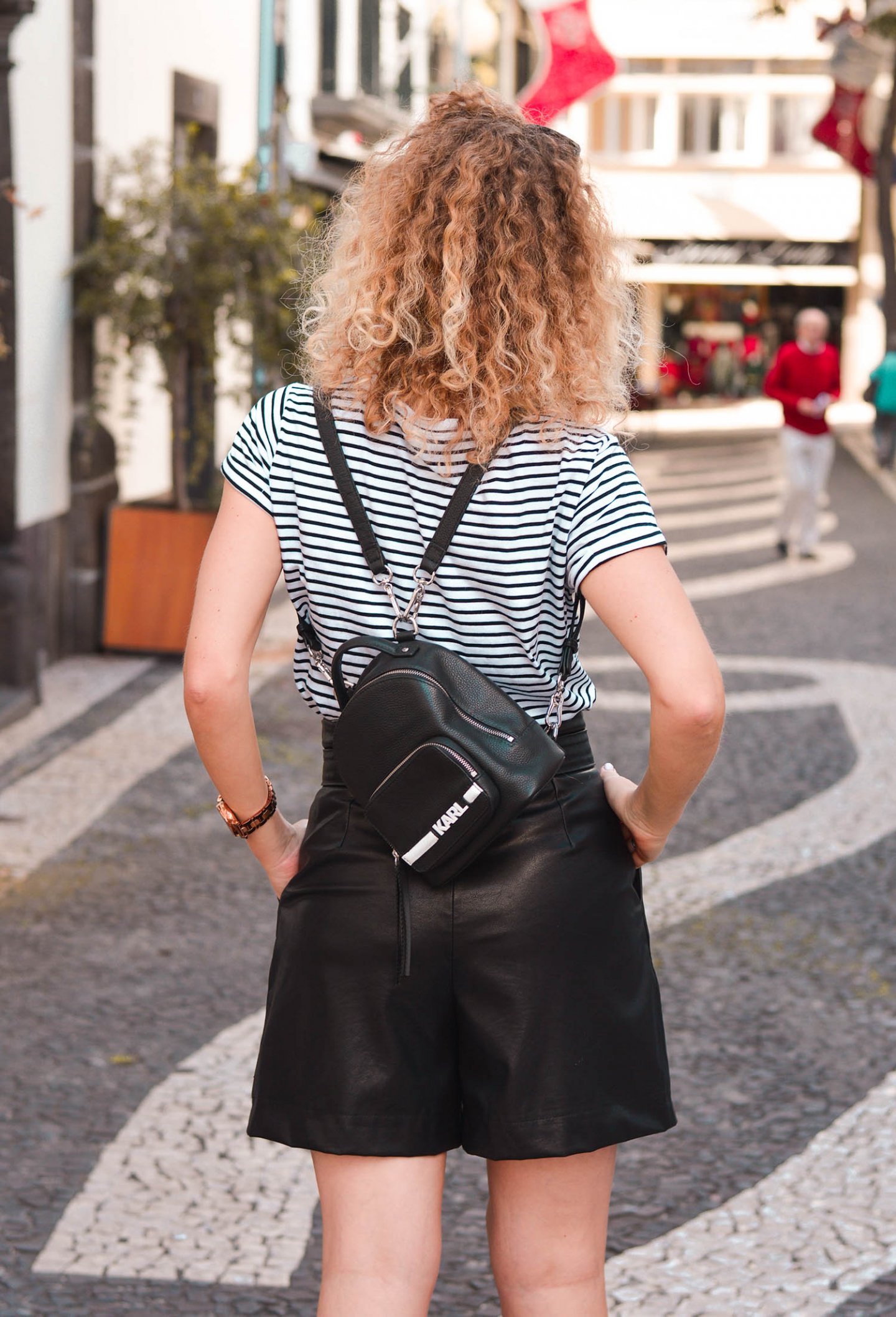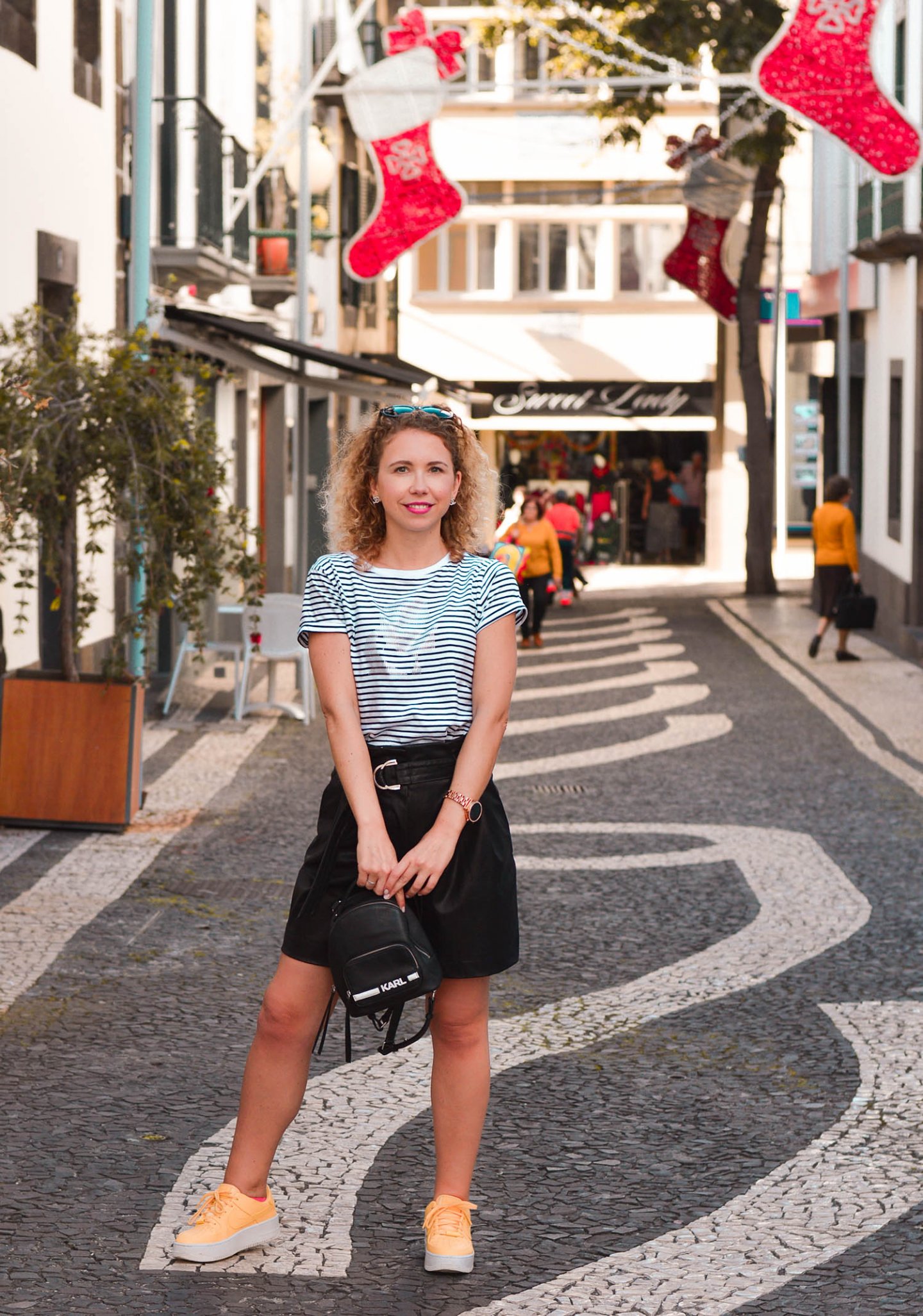 Shortly before Christmas follows a spring-like holiday look from me. From the island of eternal spring: Madeira! With 20 degrees in the shade (25 in the sun) you could stand it wonderfully with shorts and shirt. Nevertheless, it was important to me to show you the look before Christmas, because in the background you can see a small part of the Christmas decorated old town of Funchal. :-)
Holiday look: Practical, but with style
I'm a big fan of (fake) leather shorts. At 20 degrees you can wear them without sweating. In addition a casual striped shirt, put into the high waist shorts at the top, and you are dressed well. As I had walked on the island Gran Canaria for umpteen kilometers with toe-bridge sandals, my feet needed some change. That's why I chose my sunny yellow Nike sneakers. A good choice, because also during this shore leave on our favorite island of the whole cruise, we walked many kilometers.

Instead of a classic handbag, I chose my brand new mini backpack from Karl Lagerfeld. I just found it shortly before vacation at TK Maxx. The perfect find, because I had been looking for a small black backpack for quite some time. It fits more than my usual handbags, you have different options to wear it and it never looks clunky because of its size. Perfect for me!
Funchal during the Christmas season
I can only recommend Madeira Island and its capital Funchal. Two years ago we were on the island for 10 days and fell in love with it. During our current Winter Cruise Tour with the AIDA Nova the visit to Madeira was as expected the absolute highlight. Especially since two years before we missed the beginning of the Christmas illumination and the Christmas market in Funchal. They always start on the 1st of December. This time I got my money's worth as a Christmas fan and didn't even know where to look first…