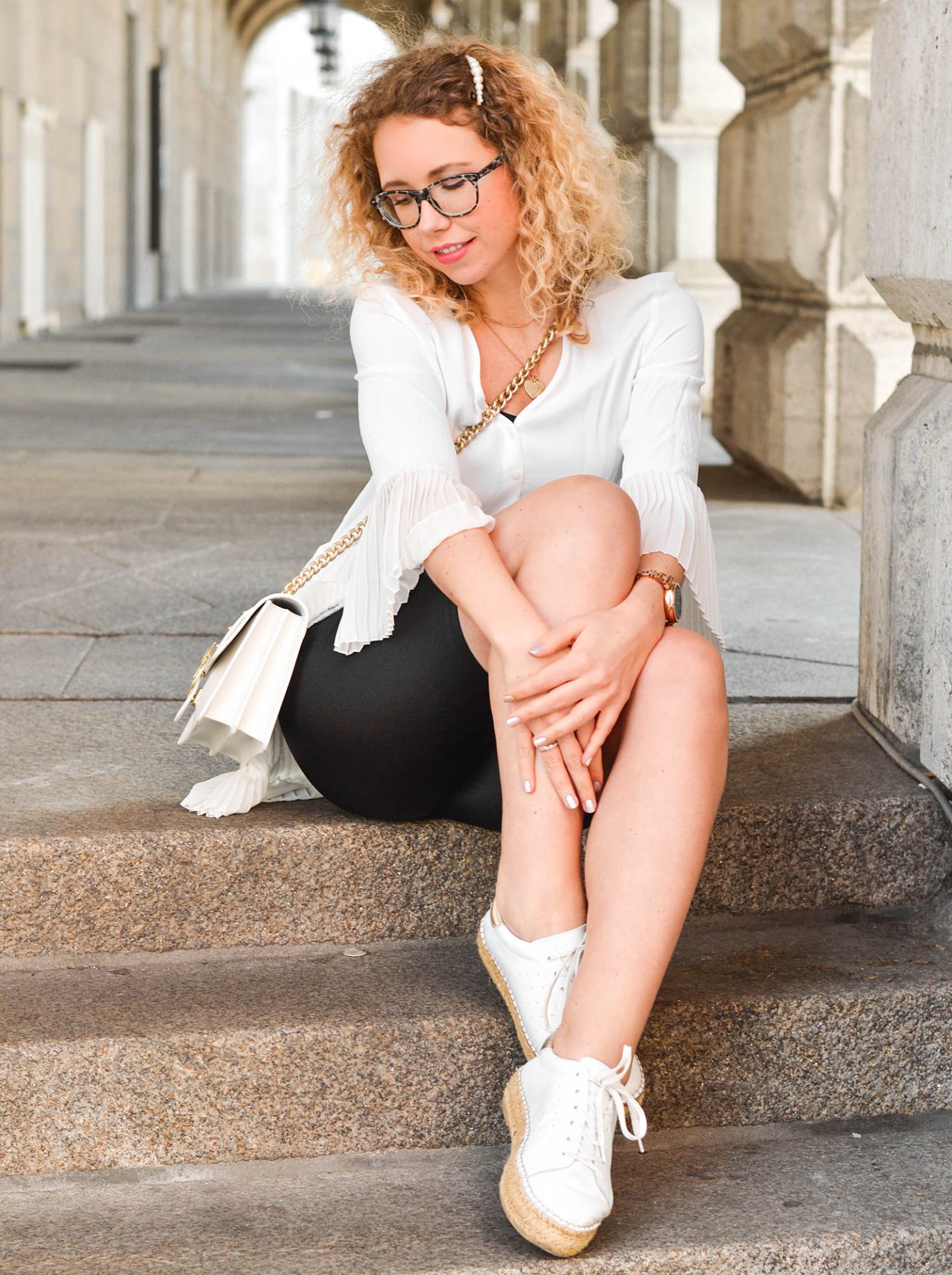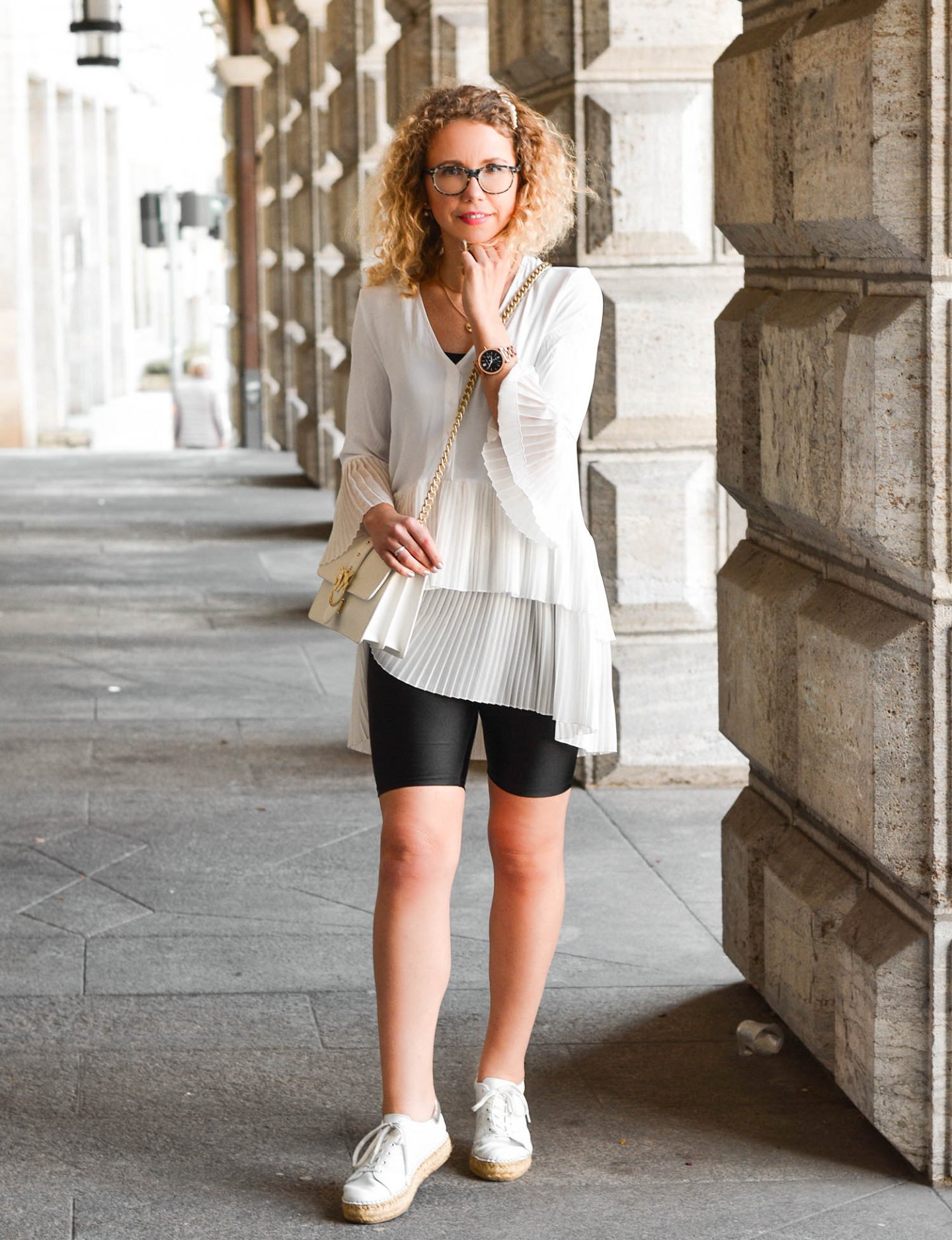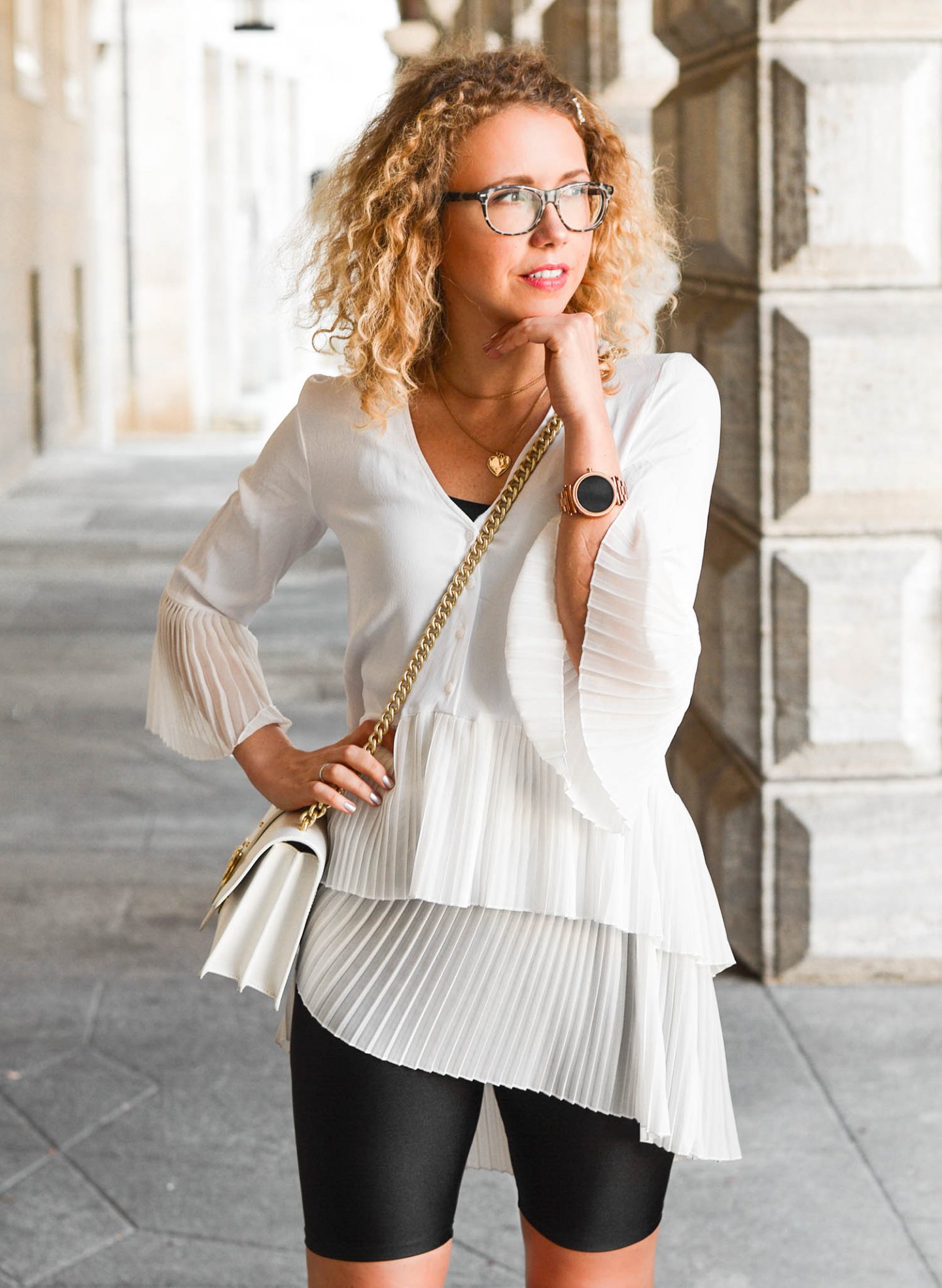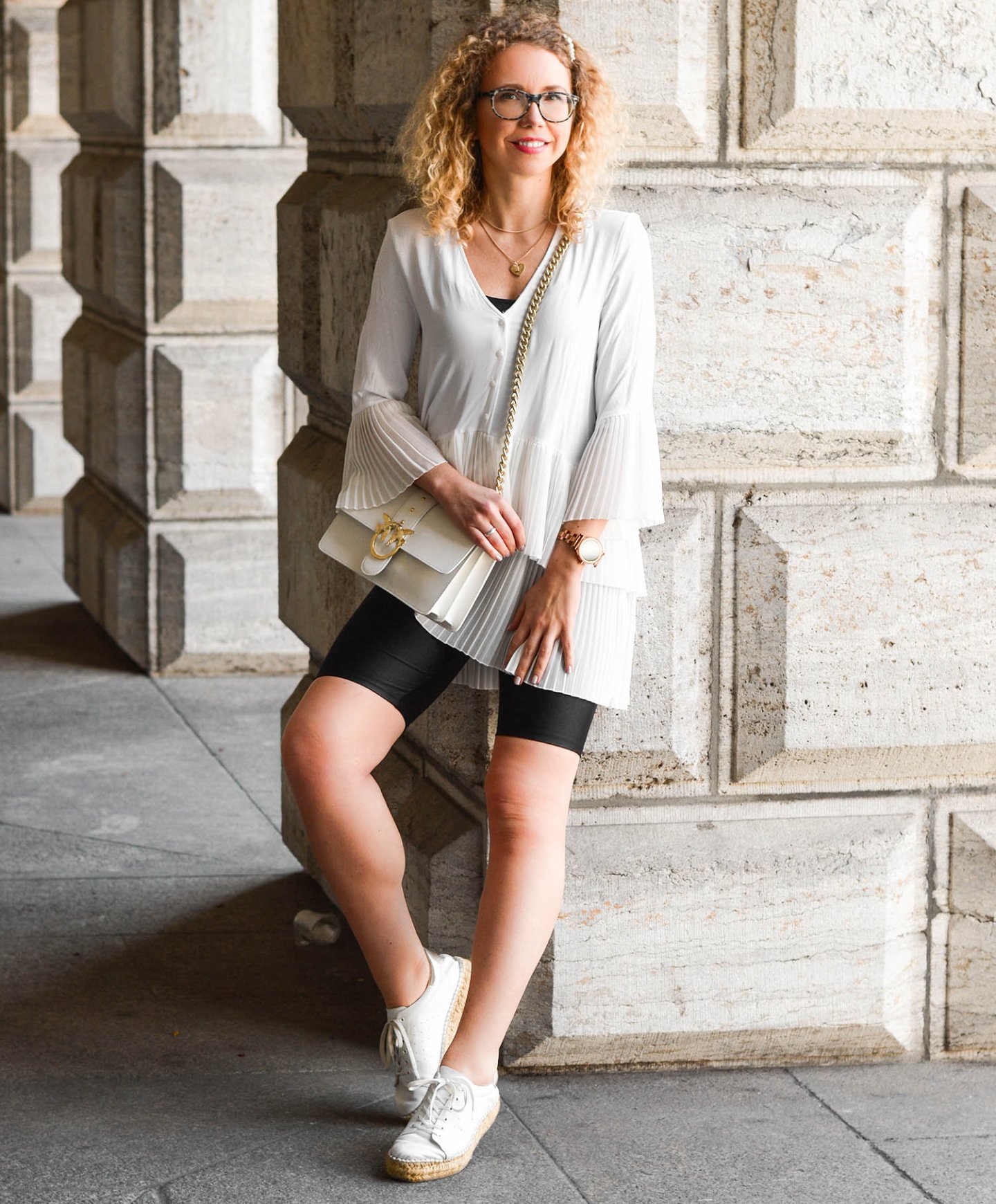 enthält Affiliate Links
Heute habe ich mal wieder einen kontroversen Fashiontrend für euch: Radlerhosen! Ich habe meine Kindheit in den Neunzigern und Nullerjahren verbracht und im Sommer quasi in bunten Radlerhosen gelebt. Damals waren die guten Dinger aber weit davon entfernt, ein Modetrend zu sein…
Radlerhosen: fashiontauglich?
Um es kurz zu machen: Ja, die Radlerhose ist in der Fashionwelt angekommen! Den Anfang machte bereits 2017 Modeikone Karl Lagerfeld für Chanel, inzwischen sieht man die praktische Hose auf fast allen großen Laufstegen dieser Welt.

Und bei den Streetstyle-Fashionistas wird der Trend ebenfalls seit Monaten gelebt und man sieht die spannendsten Kombis von Oversized Blazern, über transparente Blusen bis hin zu bauchfrei Kombis für die ganz Mutigen.
Radlerhosen: Alltagstauglich?
Nun, diese Frage ist nun nicht mehr ganz so leicht zu beantworten. Ich muss gestehen, ich konnte diesem Trend nicht unbedingt so viel abgewinnen. Meiner Meinung nach steht er nicht gerade vielen Frauen und verkürzt optisch die Beine, wenn man nicht gerade Model-Legs hat. Auf der anderen Seite sind Radlerhosen das, was sie auch in meiner Kindheit schon waren: Unheimlich praktisch!

So habe ich mir jetzt tatsächlich ein klassisches, leicht glänzendes Modell gekauft. Und zwar eigentlich genau dafür, wofür sie laut Namen auch gedacht sind: Zum Fahrradfahren! Ich radle in der der warmen Jahreszeit nämlich gern zur Arbeit und möchte trotzdem nicht auf Sommerkleider und -Röcke verzichten. So kann ich für den Weg mit dem Rad einfach die Radlerhose drunterziehen und kein Windstoß kann mir mehr etwas anhaben. :-)
Radlerhosen: Ein Outfit-Versuch
Da ich das gute Stück nun schon mal Zuhause hatte, habe ich mir dann doch ein Outfit dazu überlegt, um zu sehen, wie mir das Ganze im Alltag gefällt. Und ich muss sagen, zusammen mit der Longbluse – die als Kleid zu kurz wäre – den Plateau-Sneakern und weiß-goldenen Accessoires, gefällt mir die Radlerhose tatsächlich überraschend gut. Wird vermutlich nicht das letzte Outfit mit dem Fashiontrend sein!
Jetzt bin ich aber mal mehr als gespannt auf eure Meinung zur Radlerhose! Und ich wünsche euch natürlich ein fantastisches, sonniges Osterwochenende! :-)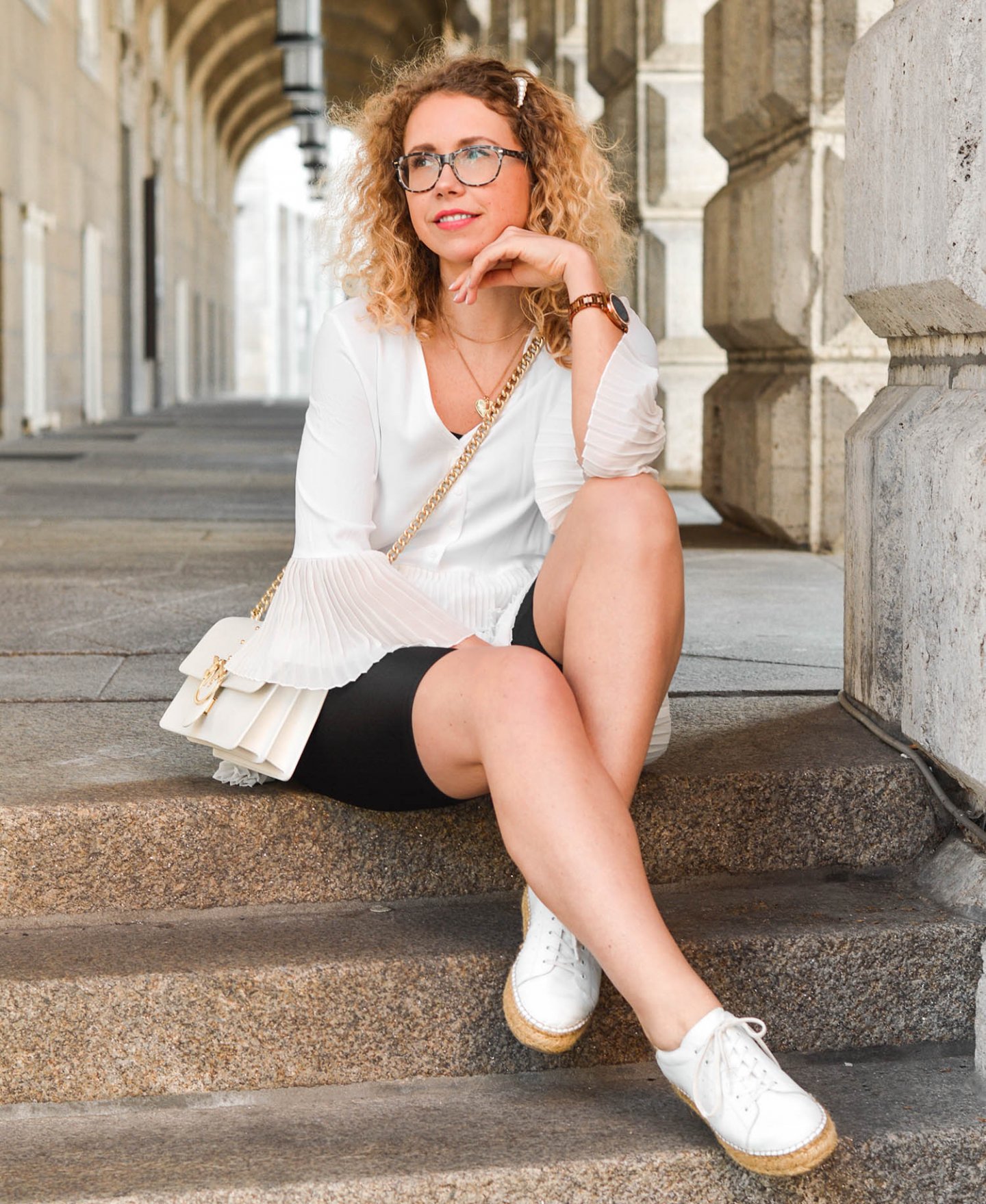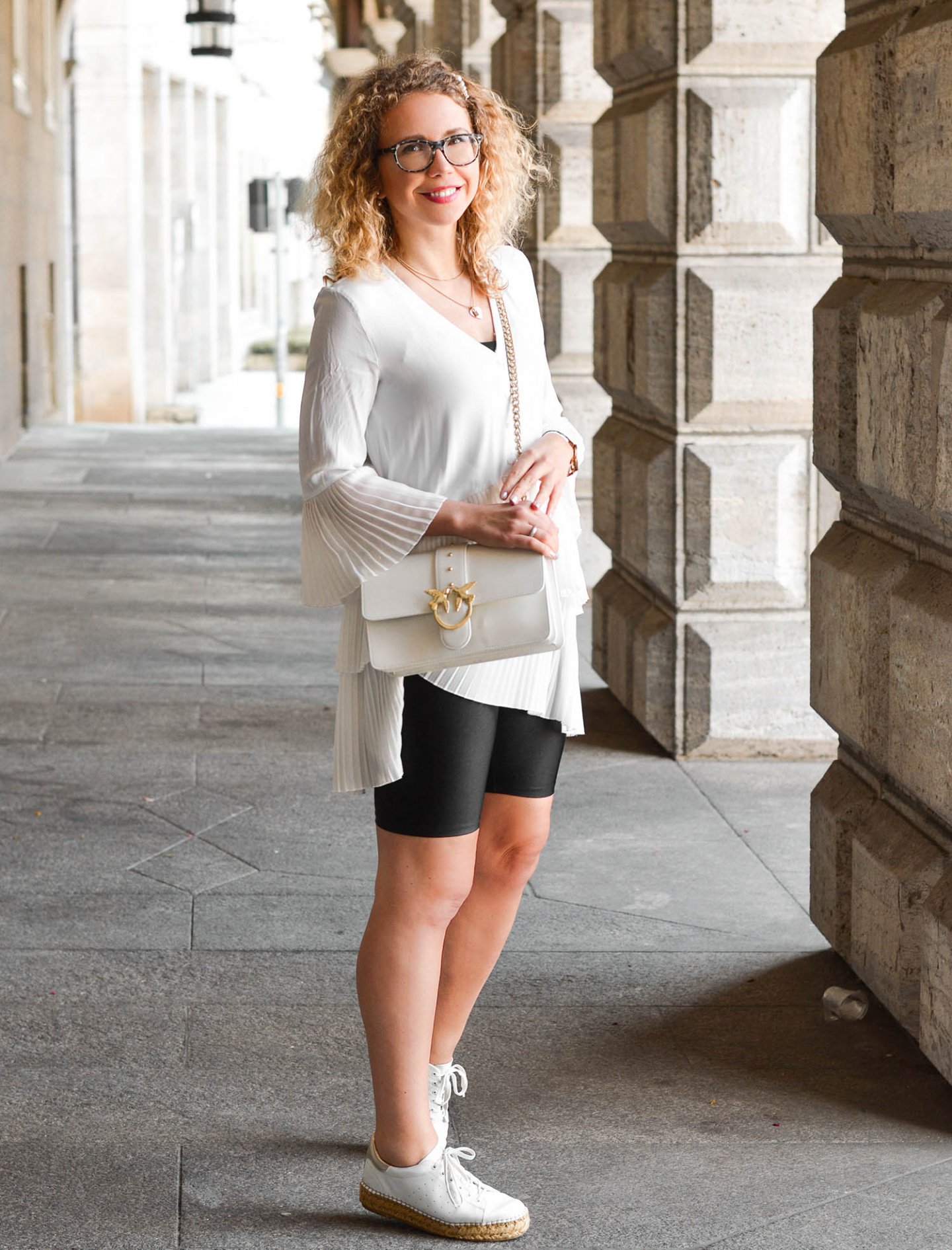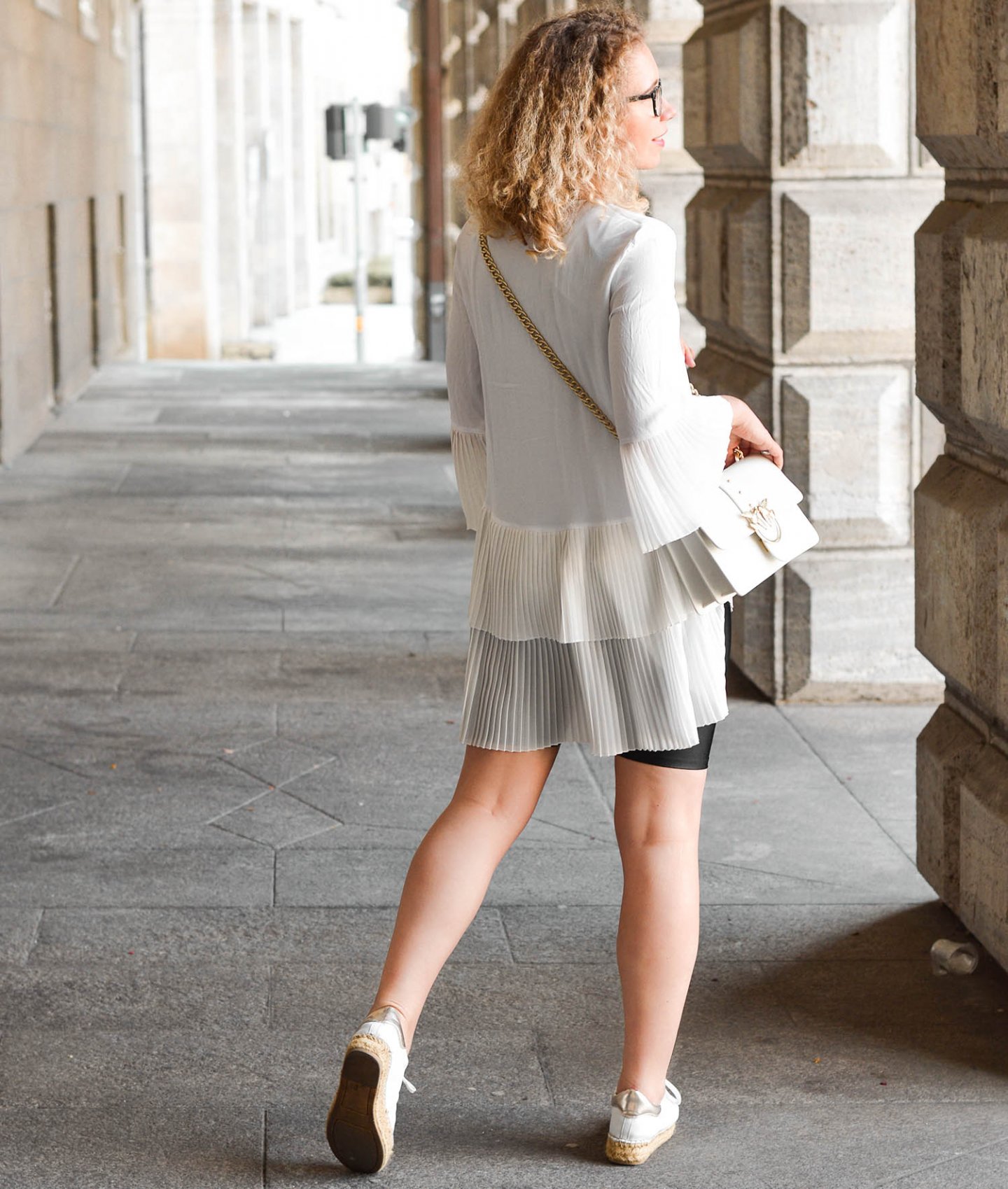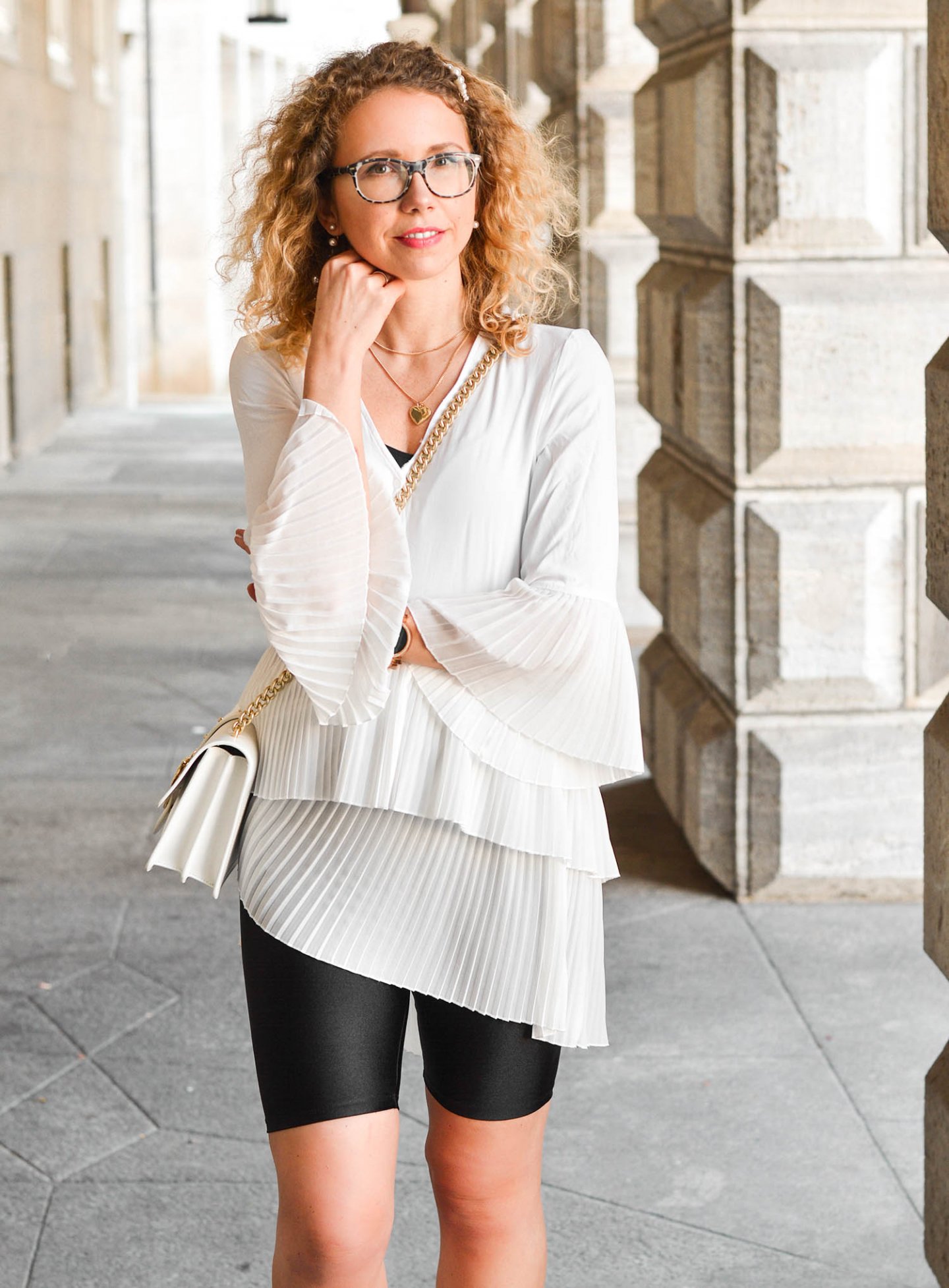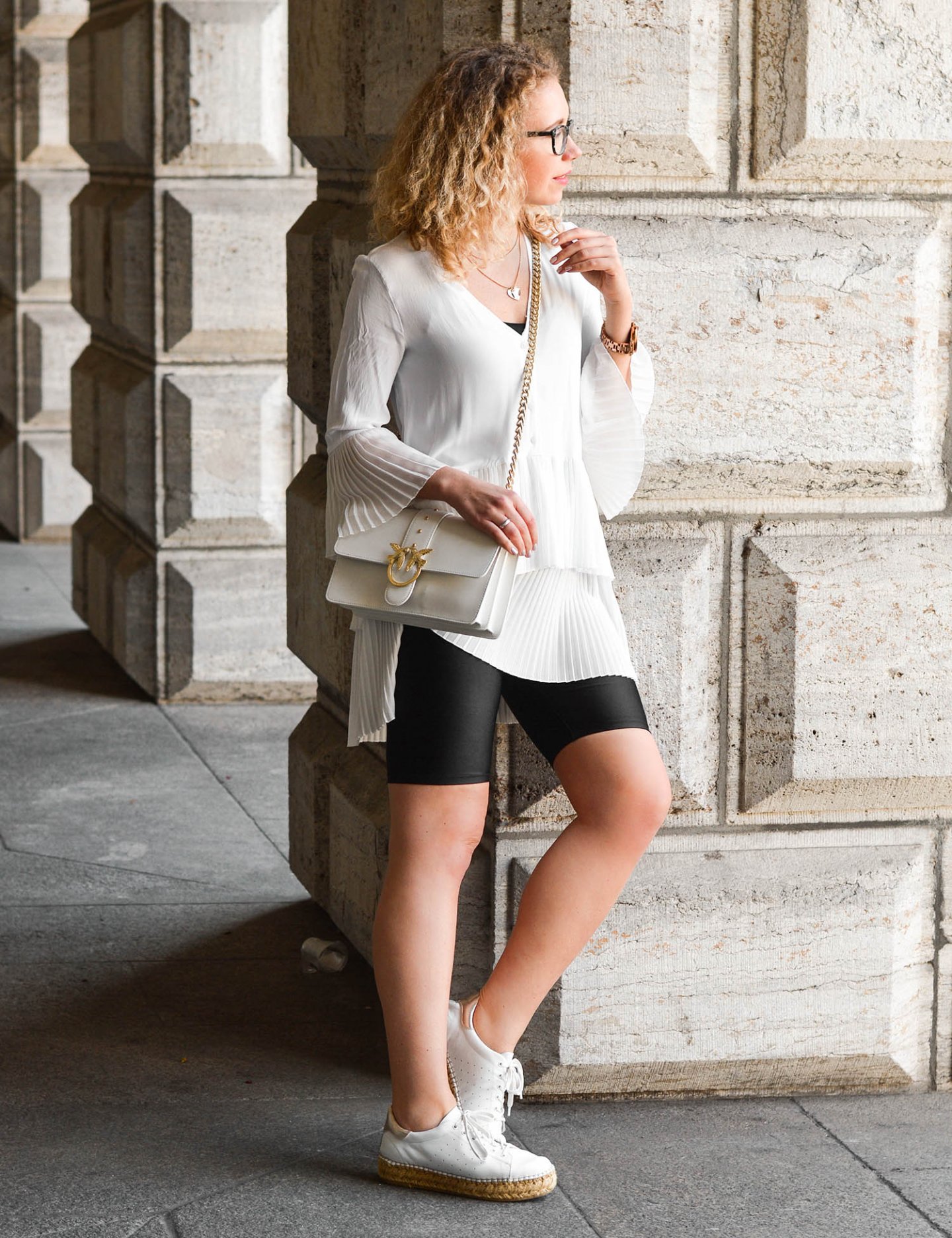 Today I have again a controversial fashion trend for you: Cycling shorts! I spent my childhood in the nineties and zero years and in the summer I lived in colorful cycling shorts. At that time, however, these were far from being a fashion trend…
Cycling shorts: fashionable?
To make it short: Yes, cycling shorts have arrived in the fashion world! It all started in 2017 with fashion icon Karl Lagerfeld for Chanel, now the practical trousers can be seen on almost every catwalk in the world.

And the streetstyle fashionistas have also been living the trend for months and you can see the most exciting combos from oversized blazers to transparent blouses to belly-free combos for the very brave.
Cycling shorts: suitable for everyday use?
Well, this question is not that easy to answer. I have to admit, I didn't really get that much out of this trend. In my opinion, it doesn't exactly suit many women and optically shortens the legs when you don't have model legs. On the other hand, cycling shorts are what they even were in my childhood: Very functional!

So now I have actually bought a classic, slightly shiny model. And actually for exactly what the name says they are meant for: For cycling! I like to cycle to work during the warm season of the year and still don't want to do without summer dresses and skirts. So I can simply put my cycling shorts under it and no gust of wind can harm me anymore. :-)
Cycling shorts: An outfit attempt
Since I already had the good piece at home, I thought about an outfit to see how I like the whole thing in everyday life. And I must say, together with the long blouse – which would be too short as a dress – the platform sneakers and white-gold accessories, I really like the cycling shorts surprisingly well. Probably not the last outfit with this fashion trend!
But now I'm more than excited to hear your opinion about the cycling shorts!