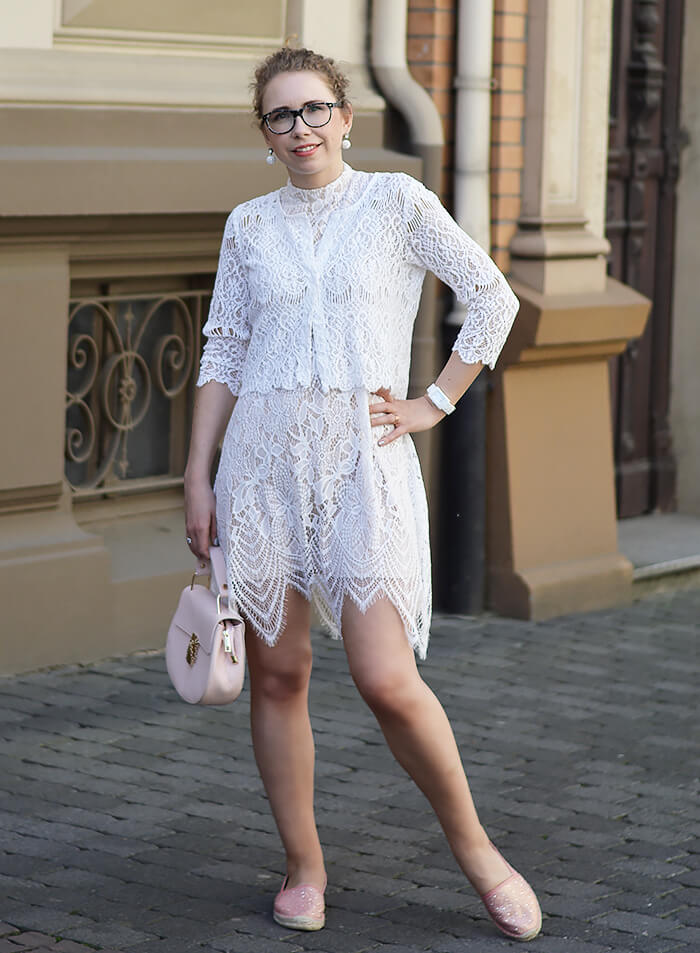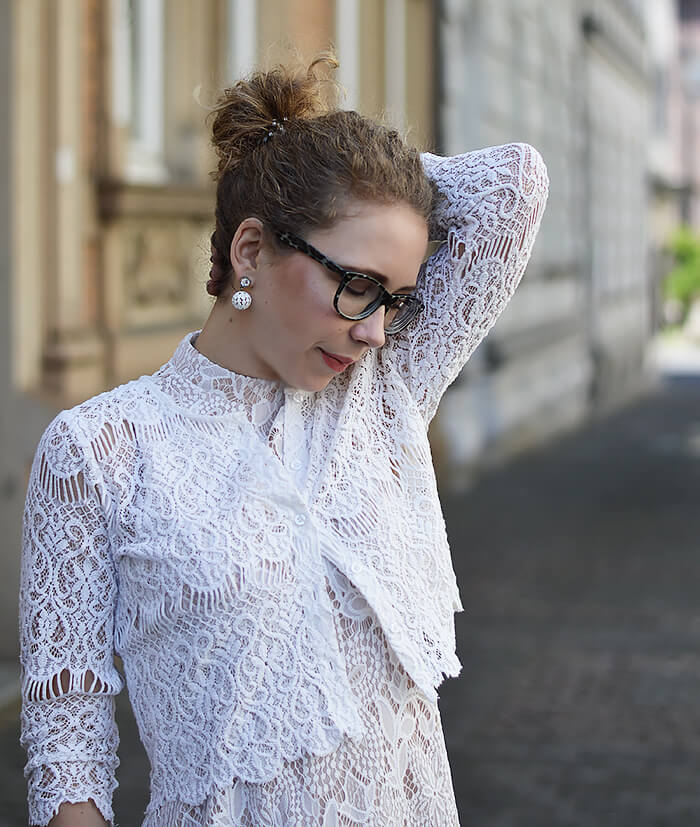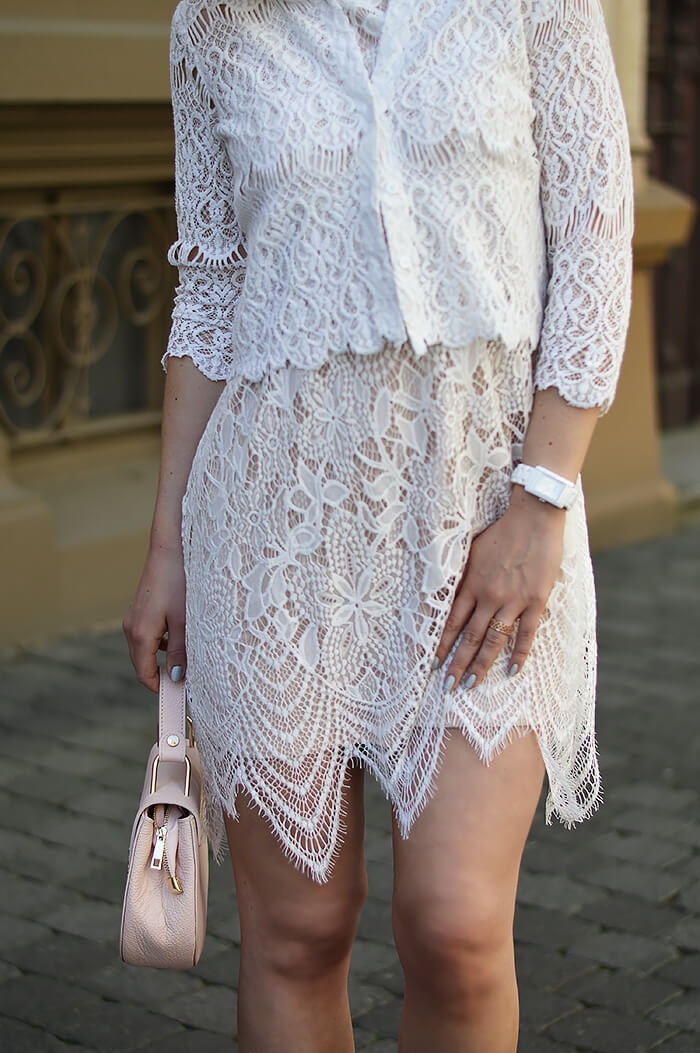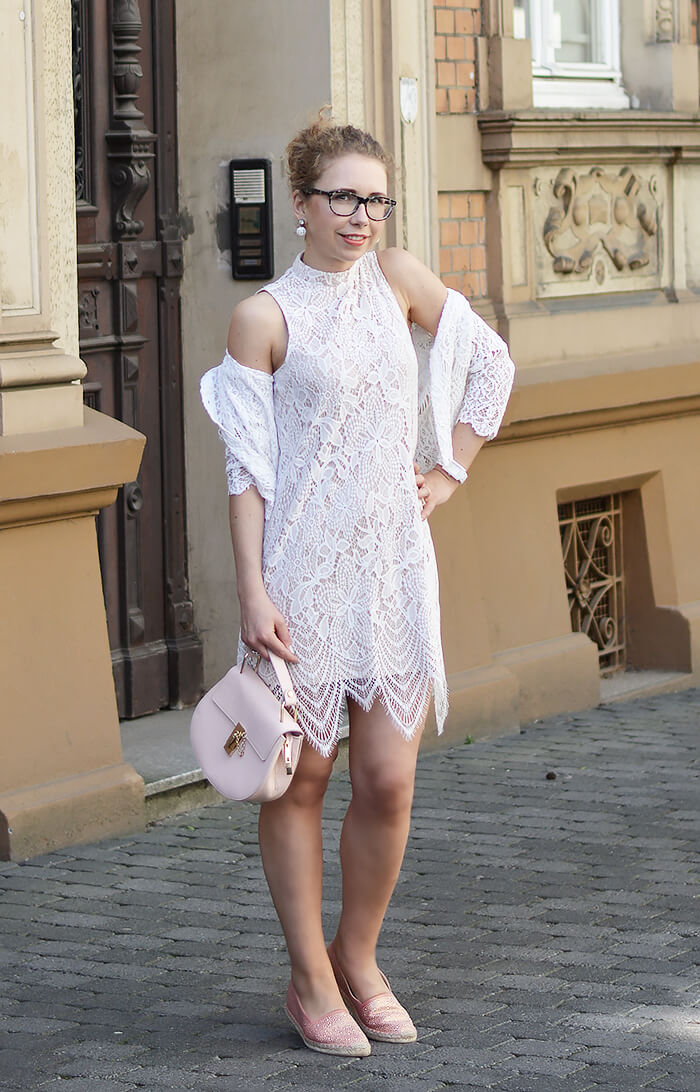 Dress, Bolero: TK Maxx // Bag: Italian manufacture // Espadrilles: Deichmann
Shop my Look
Oh, so Boho! Heute präsentiere ich mich euch mal ganz in Spitze – und liebe es! Außerdem versuche ich so, den Frühsommer zurückzulocken, ich hab nämlich nächste Woche Urlaub und… Geburstag! :-)
Das Kleid sowie den Boldero aus weißer Spitze habe ich vor kurzem bei TK Maxx gefunden. Ich liebe den lockeren Fall des Kleides und die Spitzenzipfel, die über das nudefarbene, blickdichte (!) Futter hinaus gehen und so die Oberschenkel leicht umschmeicheln.
Für mich das perfekte Sommerkleid, das definitiv mit nach Kroatien kommt, wo wir Mitte Juni zum ersten Mal hinreisen.  Genauso wie das kleine Spitzenjäckchen, das auch zu Tops oder ärmellosen Blusen ganz zauberhaft aussieht und trotz der Spitze ein bisschen wärmt.
Eigentlich wollte ich weiße Sandalen mit Keilabsatz dazu tragen, habe mich dann aber doch – mal wieder – für meine super bequemen Espas entschieden. Ich hoffe, ich langweile euch damit nicht… Dazu passend habe ich aber auch meine Tasche gewählt: Meine Chloé Drew Lookalike, die ich nun schon ewig nicht mehr getragen habe, weil sie aber auch viel besser in die warme Jahreszeit passt, nicht wahr?!
Wie gefällt euch das Outfit und seid ihr diesen Sommer auch ganz verrückt nach Bohemian und Hippie Styles?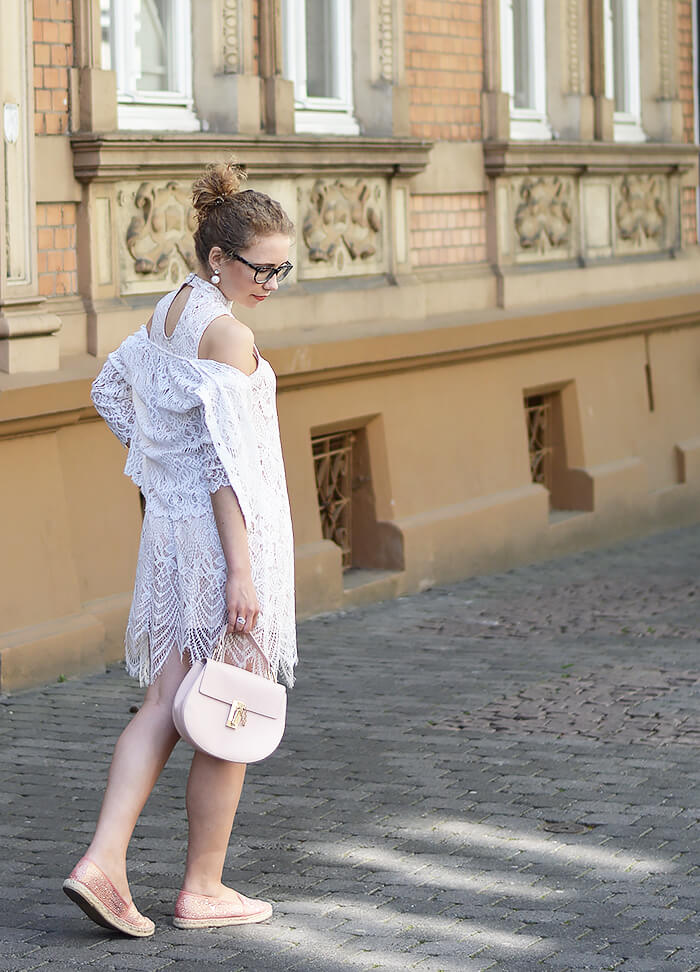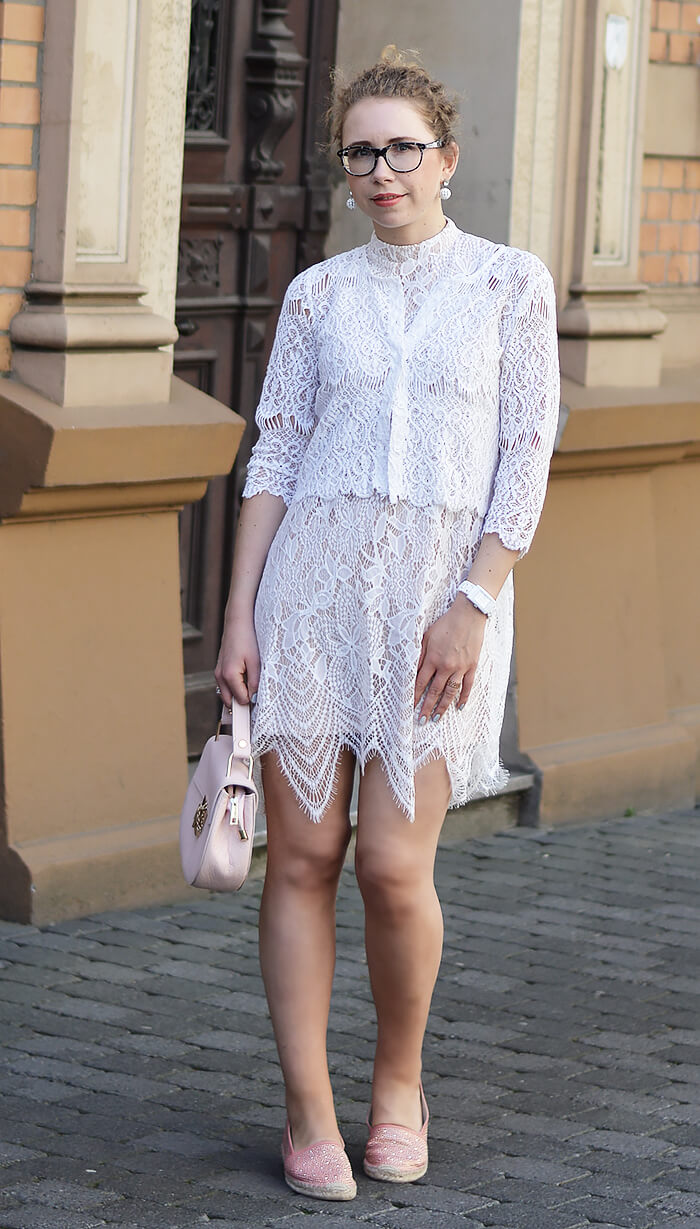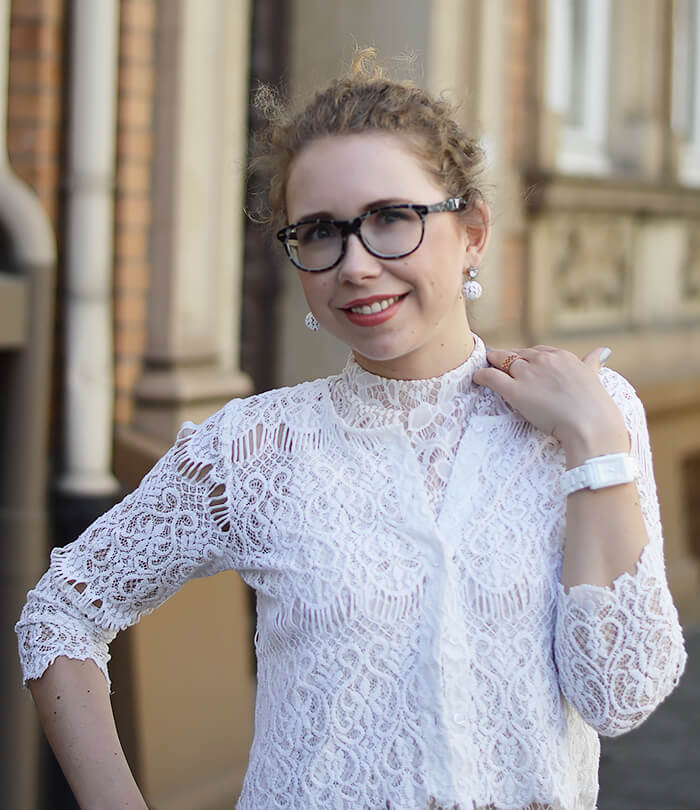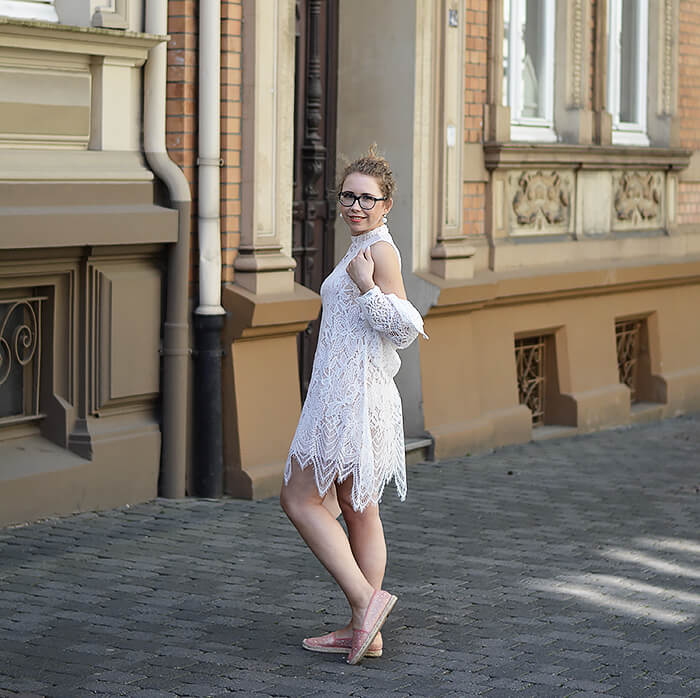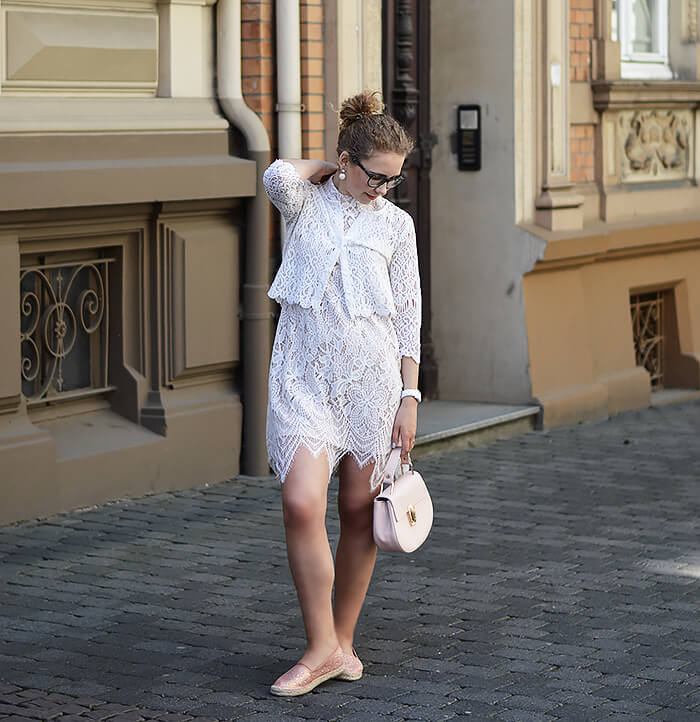 ---
Oh, so boho! It's all about lace today and I love it! Furthermore I try to wile the early summer back, because it's my birthday the next week and I'm off the whole week. :-)
I recently found this dress and the bolero at TK Maxx. I love the casual fit of the dress as well as the lace lappets which softly flatter the tighs.
For me it's the perfect summer dress which will definitely make it into my suitcase for Croatia were we will travel to next month.
Actually I wanted to wear white wedge sandals first, but then I – again – chose my super comfy espadrilles. I hope, I don't bore you…
How do you like my outfit and are you as crazy about boho and hippie styles like I am at the moment?