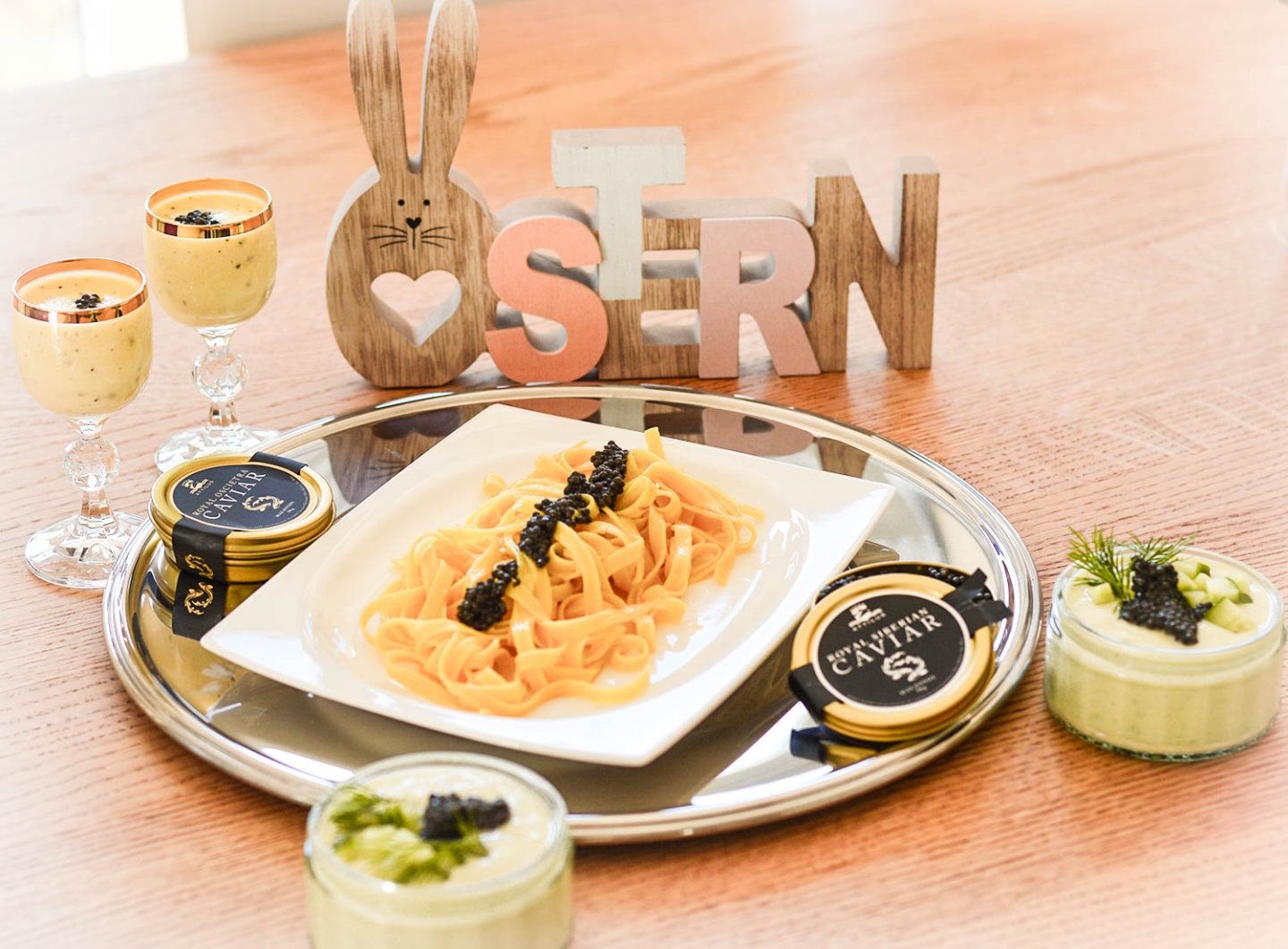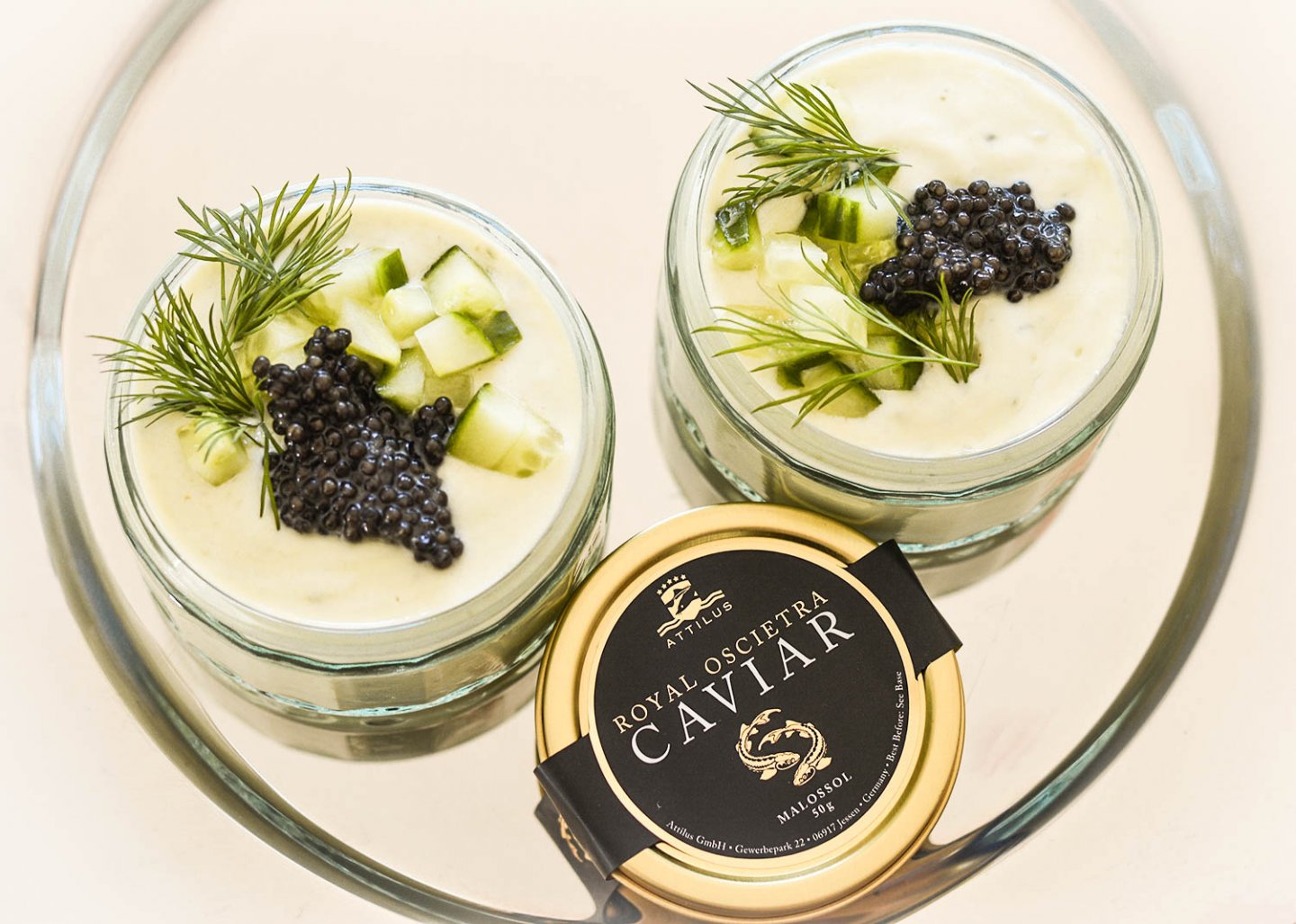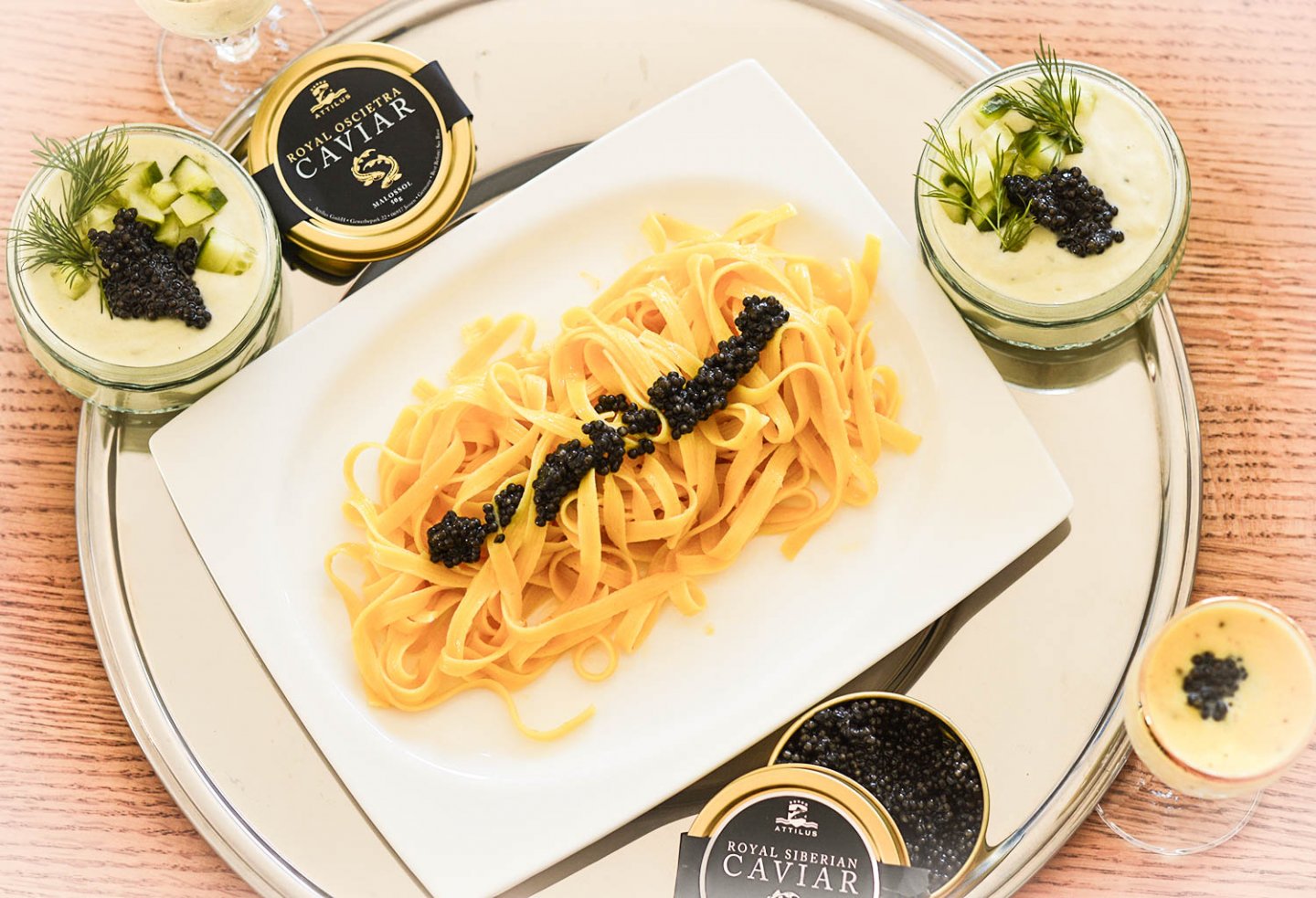 Werbung

Ostern steht vor der Tür und somit vielleicht auch für euch die Frage nach dem passenden Ostermenü. Ich durfte in diesem Jahr mit Attilus Kaviar ein paar festliche Oster-Rezepte kreieren, die eins gemeinsam haben: Sie alle werden getoppt von der juwelenartigen Delikatesse.

Attilus Kaviar stammt aus einer Fischfarm in Sachsen-Anhalt. Mit großer Sorgfalt werden hier seit 2008 Russische sowie Sibirische Störe aufgezogen. Man bekommt erstklassige Produkte direkt aus Deutschland – nachhaltig produziert aus reiner Aquakultur.

Kaviar ist für mich ein absolutes Genussmittel. Etwas, das zu ganz besonderen Anlässen und wohl dosiert genutzt wird. Ostern – als höchstes christliches Fest – bietet dafür doch die perfekte Bühne. Und warum nicht zum Beispiel an Karfreitag den klassischen Fisch mit Kaviar ersetzen?

Ich habe mir drei ganz einfache Rezepte überlegt, die ihr easy nachkochen könnt. Alle Mengenangaben sind für 6 Personen ausgelegt.
Kalte Gurkensuppe mit Avocado und Attilus Kaviar Topping
1 Salatgurke
1 Knoblauchzehe
4 EL Olivenöl
0,25 Liter trockener Weißwein
1 TL Gemüsebrühe (instant)
1,5 reife Avocado
500 g Vollmilchjoghurt
Salz
Pfeffer
Dill
6 TL Kaviar, z.B. Royal Siberian Caviar
Zunächst die Gurke waschen und 3⁄4 Gurke grob sowie 1⁄4 fein würfeln. Knoblauch fein hacken. 1 EL Öl in einem Topf erhitzen. Die groben Gurkenwürfel und den Knoblauch darin andünsten. Mit Weißwein und 1⁄4 l Wasser ab­löschen. Die Brühe einrühren, aufkochen lassen und ca. 2 Minuten köcheln. Anschließend den Gurkenmix etwas ab­kühlen lassen und dann kalt stellen. Im Kühlschrank ca. 60 Minuten, im Eisschrank eine halbe Stunde.

In der Zwischenzeit die Avocado halbieren, entkernen und das Fruchtfleisch aus der Schale lösen. Den kalten Gurkenmix, die Avocado und den Vollmilchjoghurt fein pürieren. Nach Belieben mit Salz und Pfeffer abschmecken.

Den Dill waschen, trocknen und fein hacken. Den Dill in die Suppe geben. Die Suppe anrichten und mit Dill, feinen Gurkenwürfeln und – natürlich Kaviar – garnieren. Ich habe mich hier für den Royal Siberian Caviar von Attilus Kaviar entschieden. Er stammt vom Sibirischen Stör und sein Salzgehalt liegt unter 4 Prozent. Dazu passen Ciabatta und ein Glas Champagner!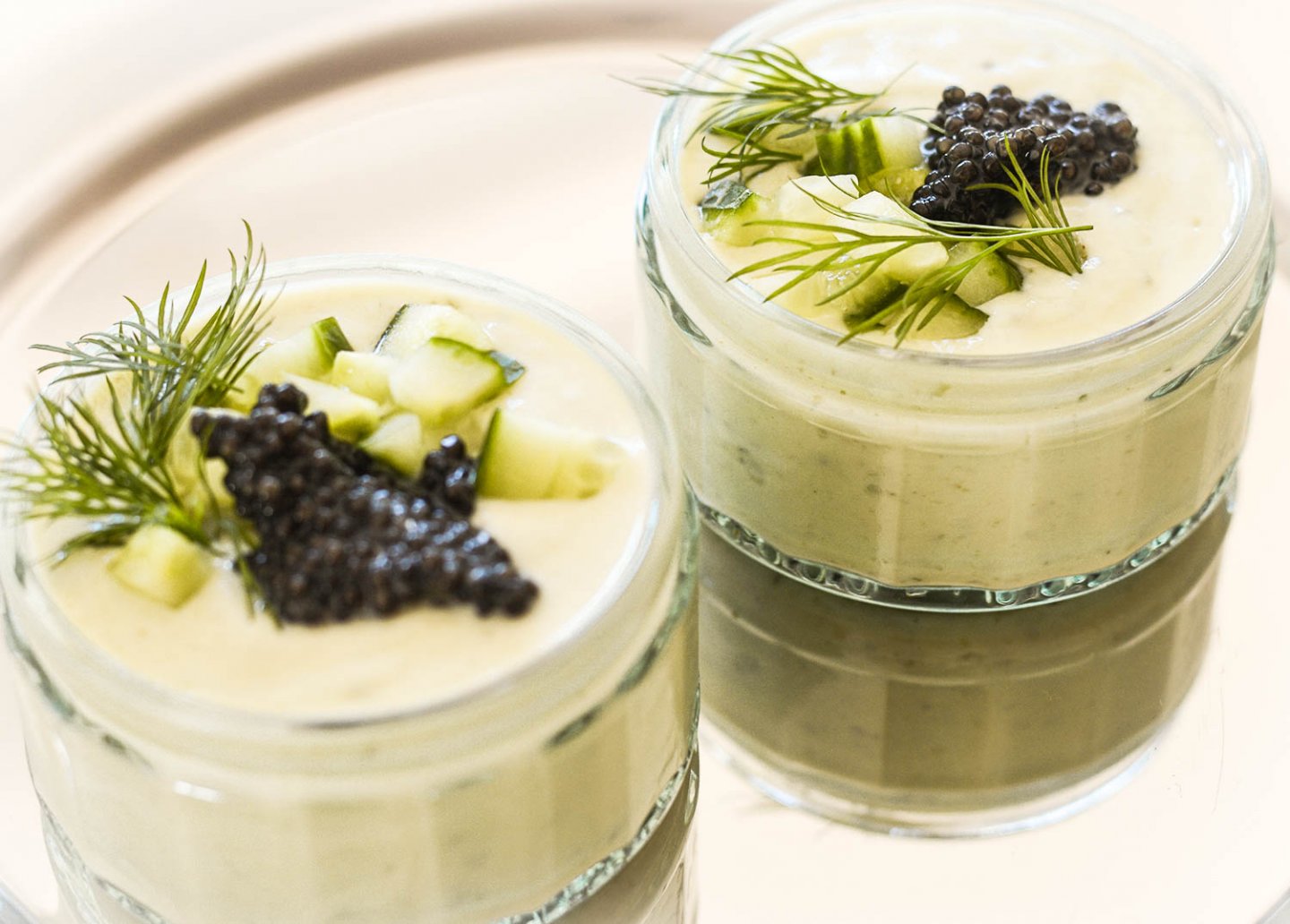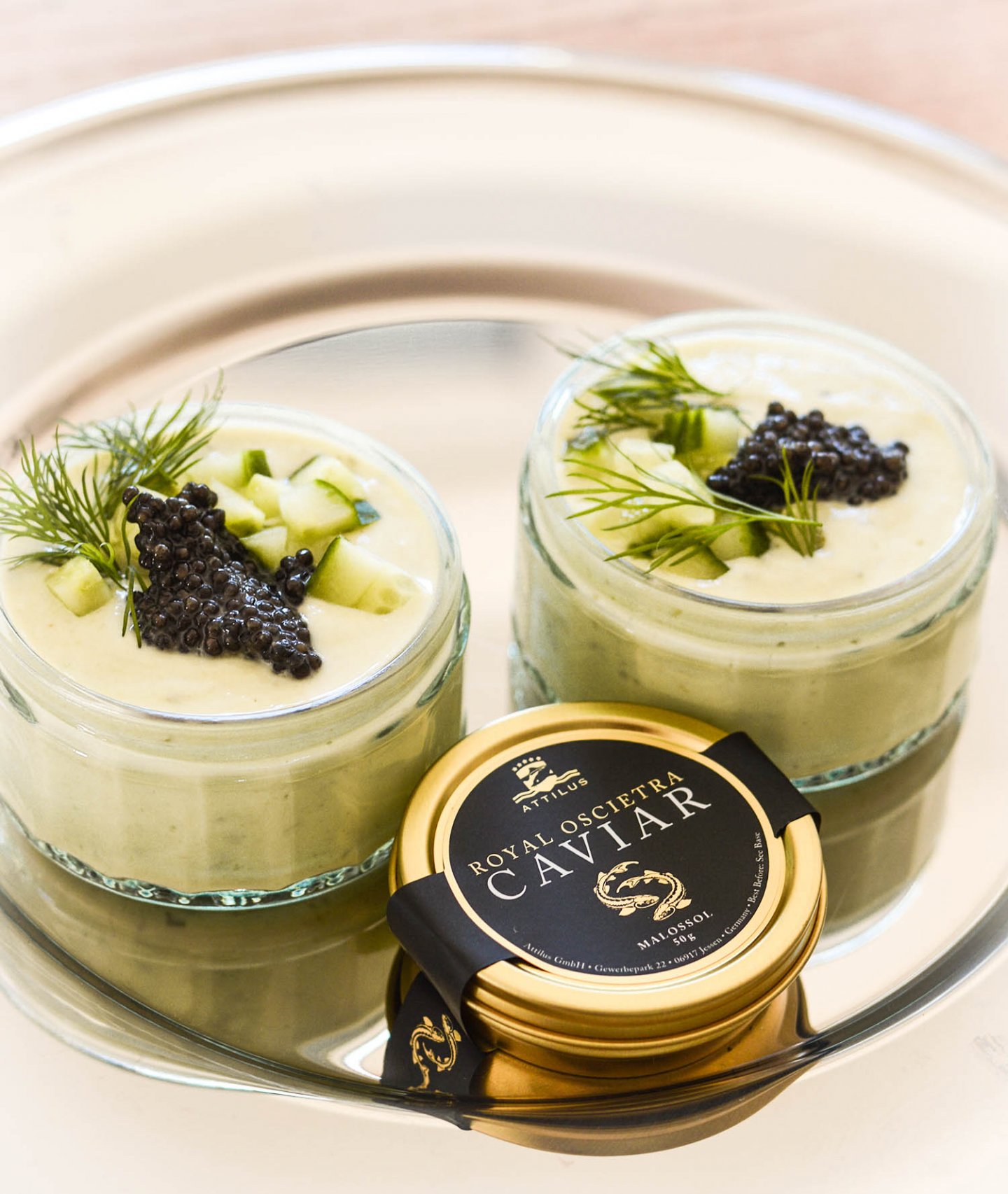 Pasta Al Limone mit Attilus Kaviar
650 g Pasta (ich empfehle Spaghetti oder Linguine)
6 ELButter
1 ½ ELZitronenschale
3 ELZitronensaft
9 EL Kaviar, z.B. Royal Oscietra Caviar
Die Pasta in reichlich Salzwasser in einem Topf zum Kochen bringen und sie darin al dente garen. In der Zeit Zitronensaft und -Zesten vorbereiten. Die Pasta abgießen, abtropfen lassen und in zerlassener Butter, Zitronenzesten sowie -saft schwenken. Auf Teller anrichten und mit Kaviar garniert servieren. So einfach, so gut! :-)

Bei diesem Gericht habe ich übrigens auf den edlen Royal Oscietra Caviar zurückgegriffen. Dieser stammt ganz klassisch vom russischen Stör. Auch bei diesem Kaviar liegt der Salzgehalt bei unter 4 Prozent und er zeichnet sich zudem durch einen leicht nussigen Geschmack aus, der hervorragend mit der zitronigen Pasta harmoniert.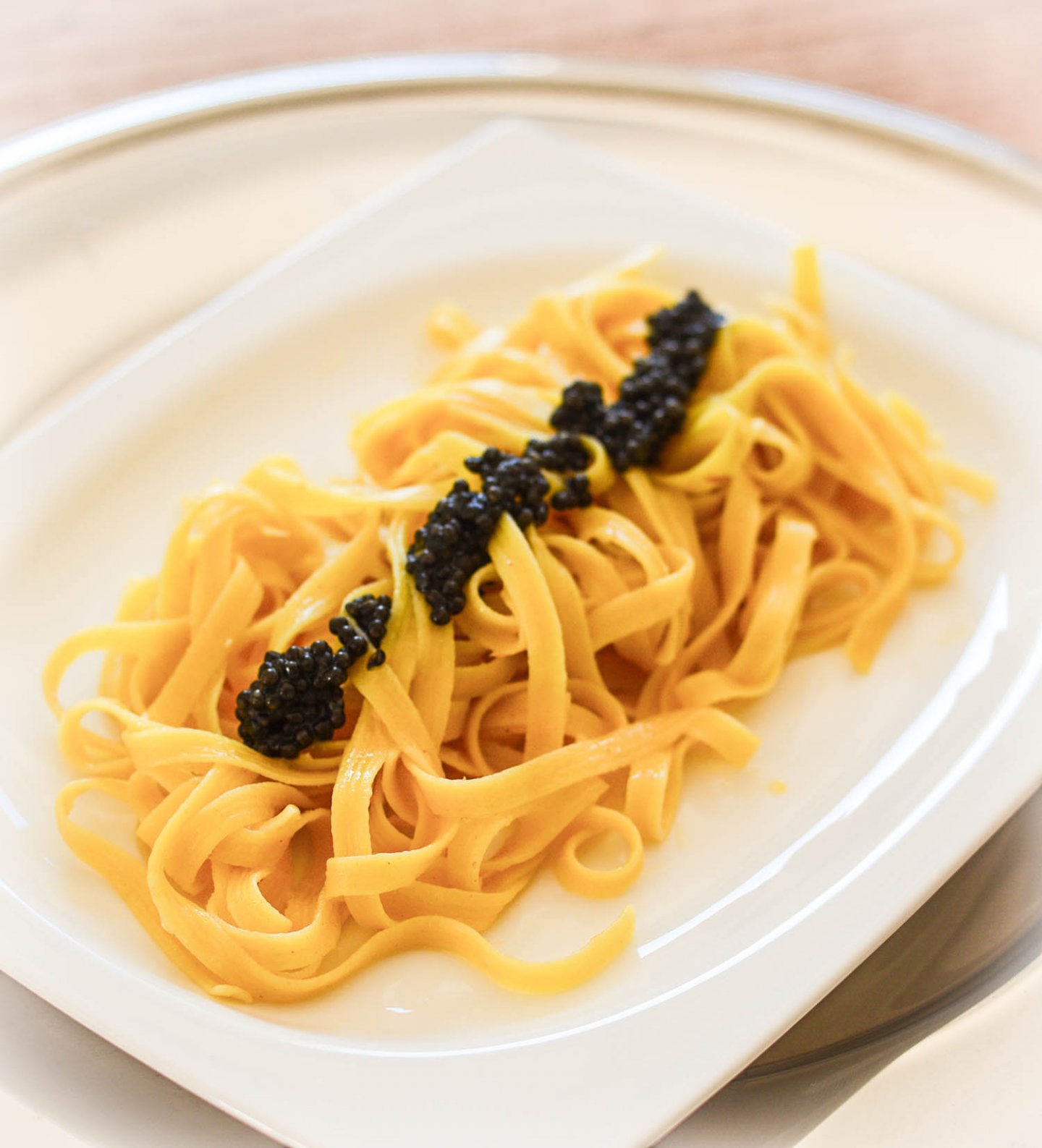 Wodka-Ei-Shot mit Attilus Kaviar
6 Eier (Größe M)
75 g Créme fraîche
120 ml Wodka
30 g Butter
Satz, Pfeffer, Cayennepfeffer
6 EL Kaviar, z.B. Royal Oscietra Caviar
Die Eier ca. 4 Minuten in Salzwasser kochen, abseihen und kurz abschrecken. Anschließend schälen, in eine Schüssel geben und mit einer Gabel grob zerdrücken. Die Eimasse mit Créme fraîche, Salz, Pfeffer und Cayennepfeffer würzen und mit dem Stabmixer fein pürieren.

Den Wodka und die Butter einrühren. Nun die Masse bei schwacher Hitze unter Rühren erwärmen, aber aufpassen, dass sie nicht stockt. Nun die lauwarme Masse in kleine Shot-Gläser füllen und mit Kaviar garnieren.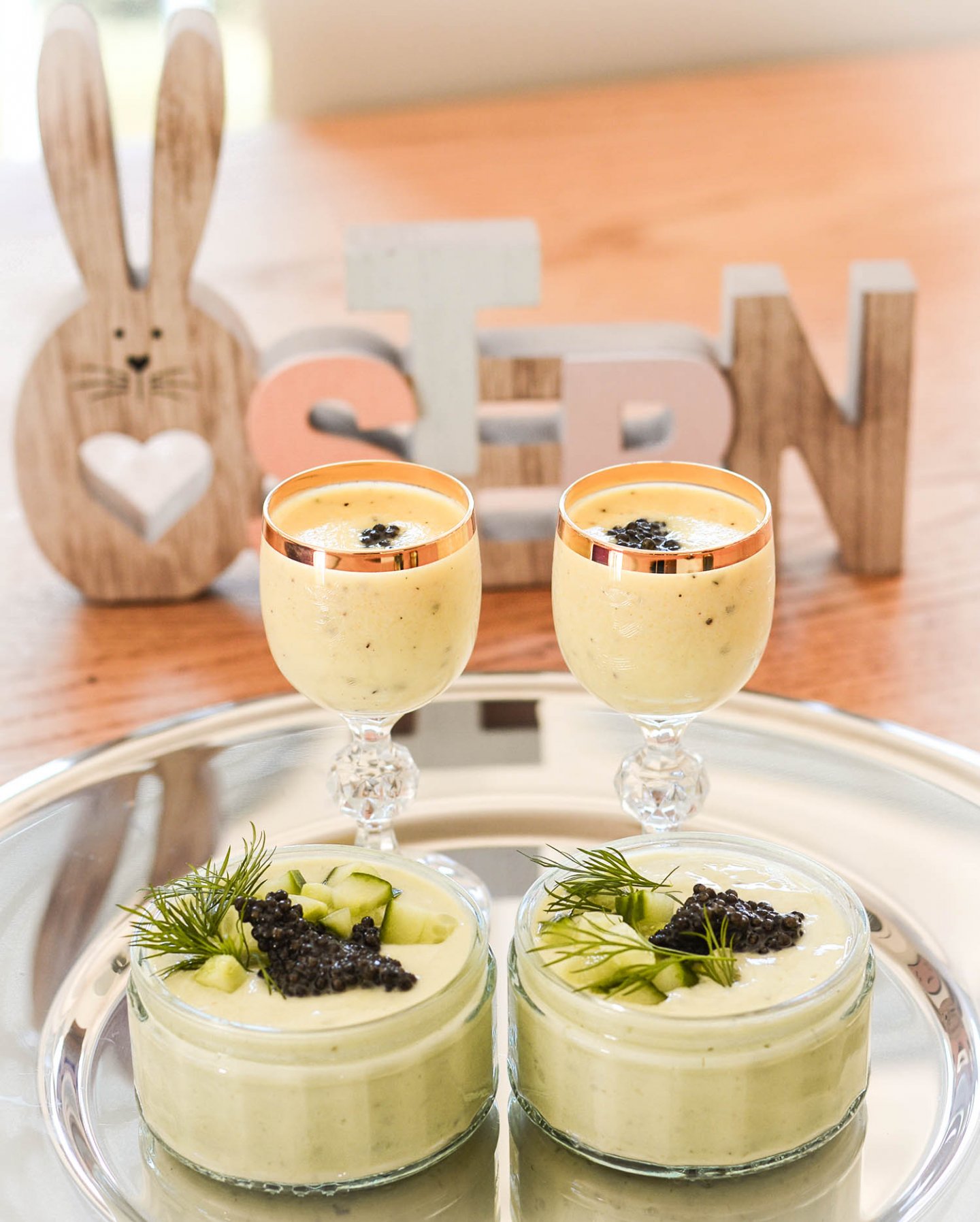 Attilus Kaviar online bestellen
Falls ihr euch Sorgen macht, dass dem Kaviar beim Versand etwas passieren könnte, kann ich euch beruhigen. Mein Paket kam hervorragend gekühlt bei mir an. Und das, obwohl ich es erst am Abend nach der Arbeit in Empfang nehmen konnte. Natürlich solltet ihr nicht gerade im Urlaub sein, wenn ihr Kaviar bestellt. Nach dem Auspacken sollten die Döschen direkt in den Kühlschrank. Nach dem Öffnen unbedingt schnell aufbrauchen; innerhalb von 2-3 Tagen. Dafür sind die kleinen Dosen perfekt!

Ich bin gespannt auf eure Meinung zum Thema Kaviar und hoffe, euch gefallen meine Rezeptideen! :-)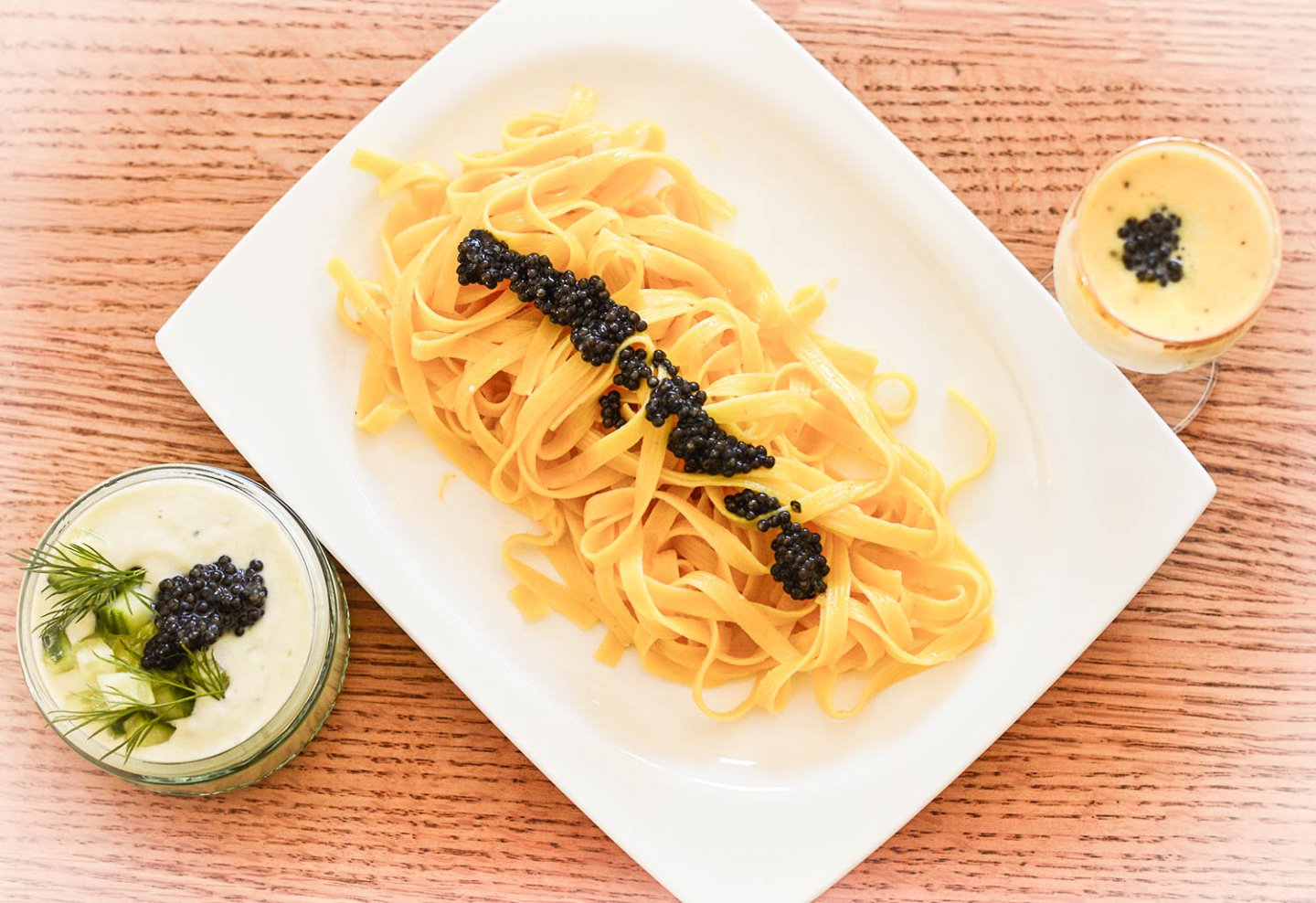 Easter is just around the corner and so maybe you are wondering which Easter menu is right for you. This year I was allowed to create some festive Easter recipes with Attilus Kaviar, which have one thing in common: They are all topped by the jewel-like delicacy.

Attilus Kaviar comes from a fish farm in Saxony-Anhalt. Russian and Siberian sturgeon have been raised here with great care since 2008. You get first-class products directly from Germany – sustainably produced from pure aquaculture.

Caviar is an absolute luxury for me. Something that is used for very special occasions and well dosed. Easter – as the highest Christian festivity – offers the perfect stage for it. And why not replace the classic fish with caviar on Good Friday, for example?

I have thought about three very simple recipes that you can easily recook. All quantities are meant for 6 people.
Cold cucumber soup with avocado and Attilus Caviar topping
1 cucumber
1 clove of garlic
4 tbsp olive oil
0,25 litre dry white wine
1 tsp vegetable stock (instant)
1,5 ripe avocado
500 g whole milk yoghurt
salt
pepper
dill
6 tsp caviar, e.g. Royal Siberian Caviar
First wash the cucumber and dice 3⁄4 cucumber coarsely and 1⁄4 finely. Finely chop the garlic. Heat 1 tbsp oil in a pot. Brown the coarse cucumber cubes and the garlic. Deglaze with white wine and 1⁄4 l water. Stir in the stock, bring to the boil and simmer for approx. 2 minutes. Then let the cucumber mix cool down a little and put it in a cool place. In the fridge approx. 60 minutes, in the refrigerator half an hour.

In the meantime, halve the avocado, remove the seeds and remove the flesh from the skin. Finely puree the cold cucumber mix, the avocado and the whole milk yoghurt. Season to taste with salt and pepper.

Wash, dry and finely chop the dill. Add the dill to the soup. Arrange the soup and garnish with dill, fine cucumber cubes and – of course caviar. I have chosen the Royal Siberian Caviar from Attilus Kaviar. It comes from the Siberian sturgeon and its salt content is less than 4 percent. Ciabatta and a glass of champagne go well with it!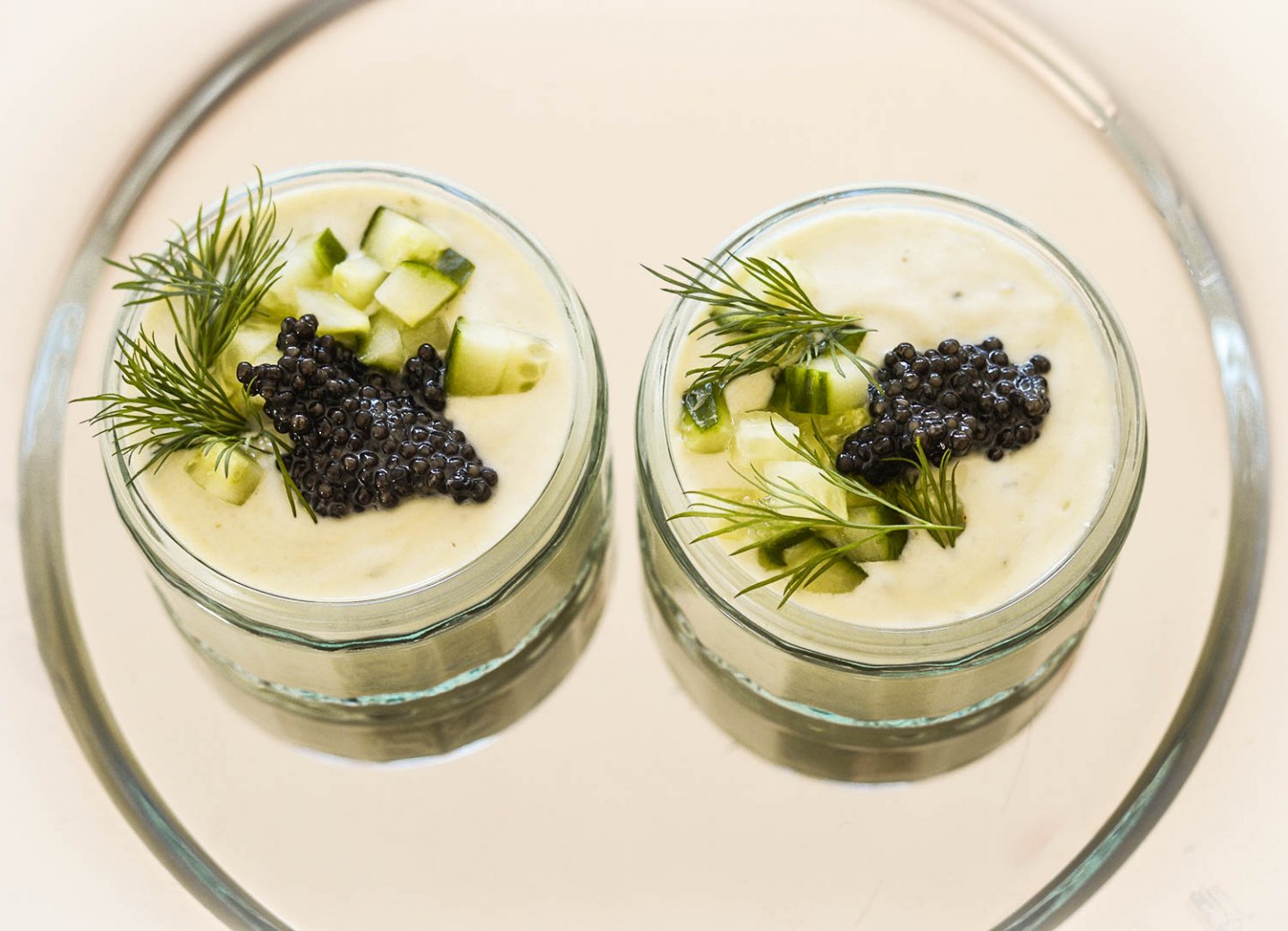 Pasta Al Limone with Attilus Caviar
650 g pasta (I recommend spaghetti or linguine)
6 EL butter
1 ½ ELLemon zest
3 EL lemon juice
9 tbsp caviar, e.g. Royal Oscietra Caviar
Bring the pasta to the boil in plenty of salted water in a saucepan and cook it al dente. Prepare lemon juice and zest. Drain the pasta, drain and toss in melted butter, lemon zest and juice. Arrange on plates and serve garnished with caviar. So simple, so good! :-)

By the way, I used the noble Royal Oscietra Caviar for this dish. This comes classically from the Russian sturgeon. Also with this caviar the salt content is below 4 percent and it is also characterized by a slightly nutty taste, which harmonizes excellently with the lemon pasta.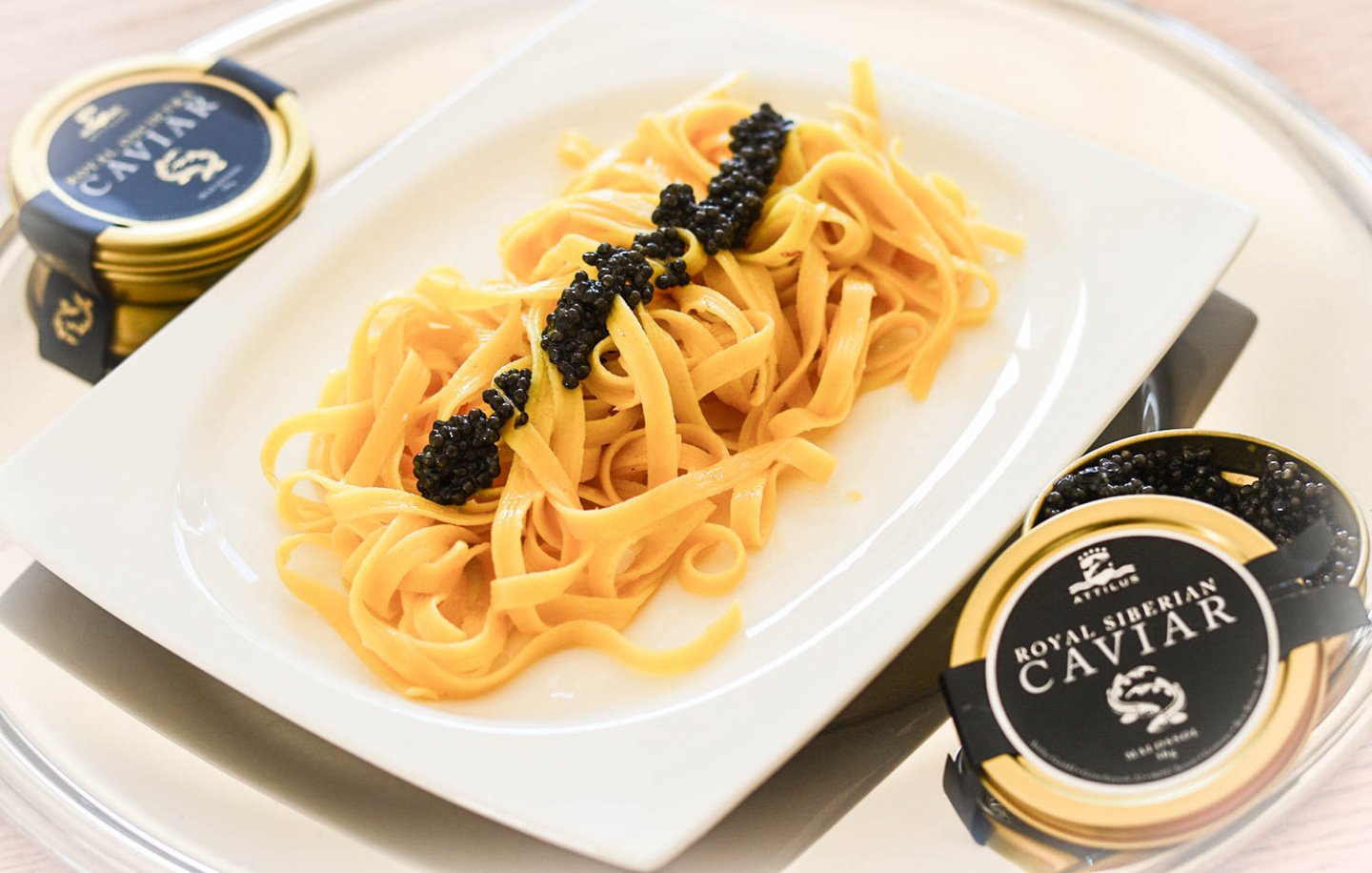 Vodka Egg Shot with Attilus Caviar
6 eggs (size M)
75 g crème fraîche
120 ml vodka
30 g butter
set, pepper, cayenne pepper
6 tbsp caviar, e.g. Royal Oscietra Caviar
Boil the eggs in salted water for about 4 minutes, strain and quench briefly. Then peel, put into a bowl and crush with a fork. Season the egg mixture with créme fraîche, salt, pepper and cayenne pepper and blend finely with a hand blender.

Stir in the vodka and butter. Heat the mixture over a low heat while stirring, but be careful that it does not stick. Now pour the lukewarm mixture into small shot glasses and garnish with caviar.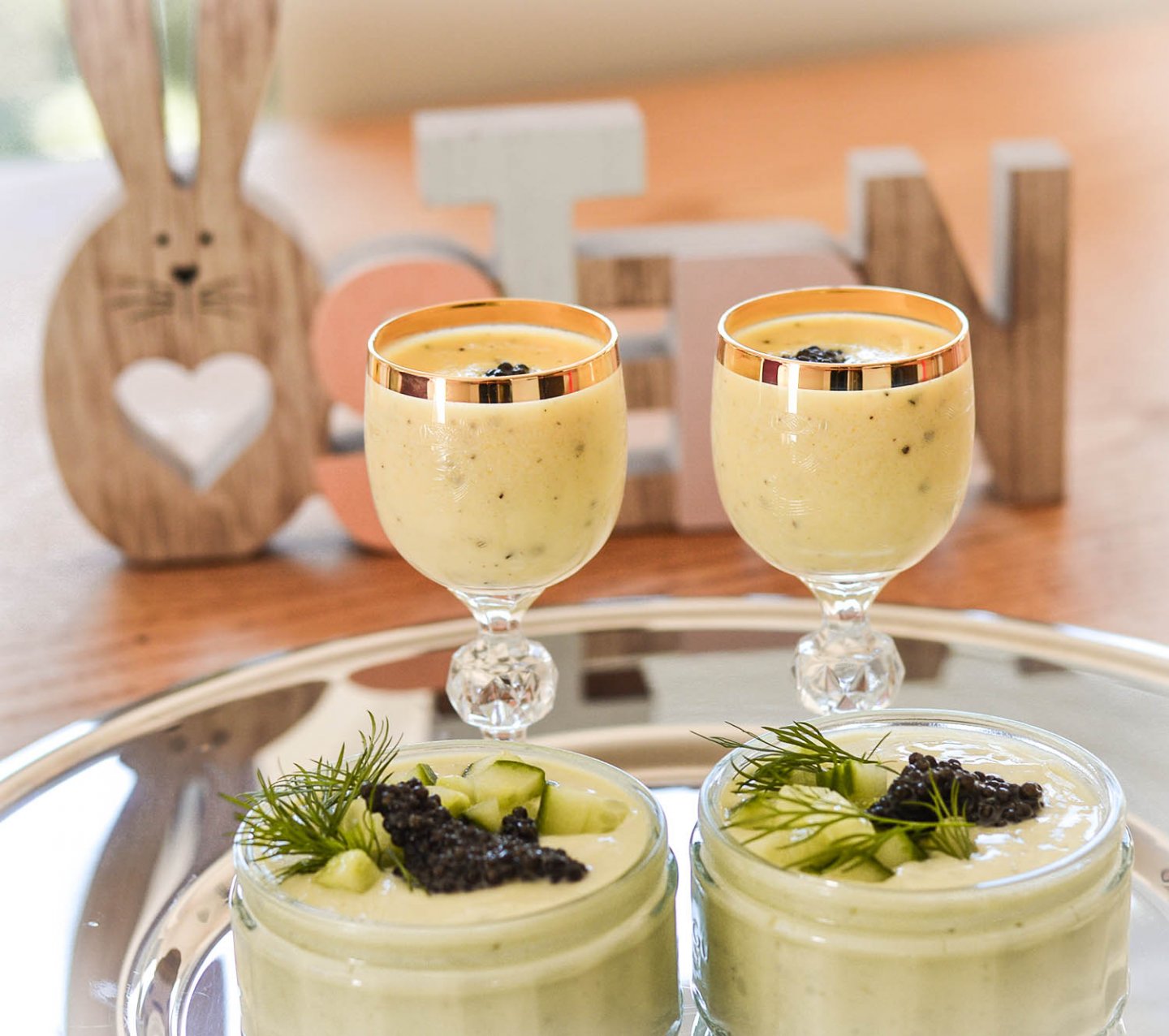 Order Attilus Caviar online
If you're worried that something might happen to the caviar during shipping, I can reassure you. My parcel arrived chilled and excellent. And this, although I couldn't receive it until the evening after work. Of course you shouldn't be on holiday when you order caviar. After unpacking, the boxes should be put directly into the fridge. After opening, use up quickly; within 2-3 days. The small cans are perfect for that!

I'm looking forward to your opinion about caviar and hope you like my recipe ideas! :-)