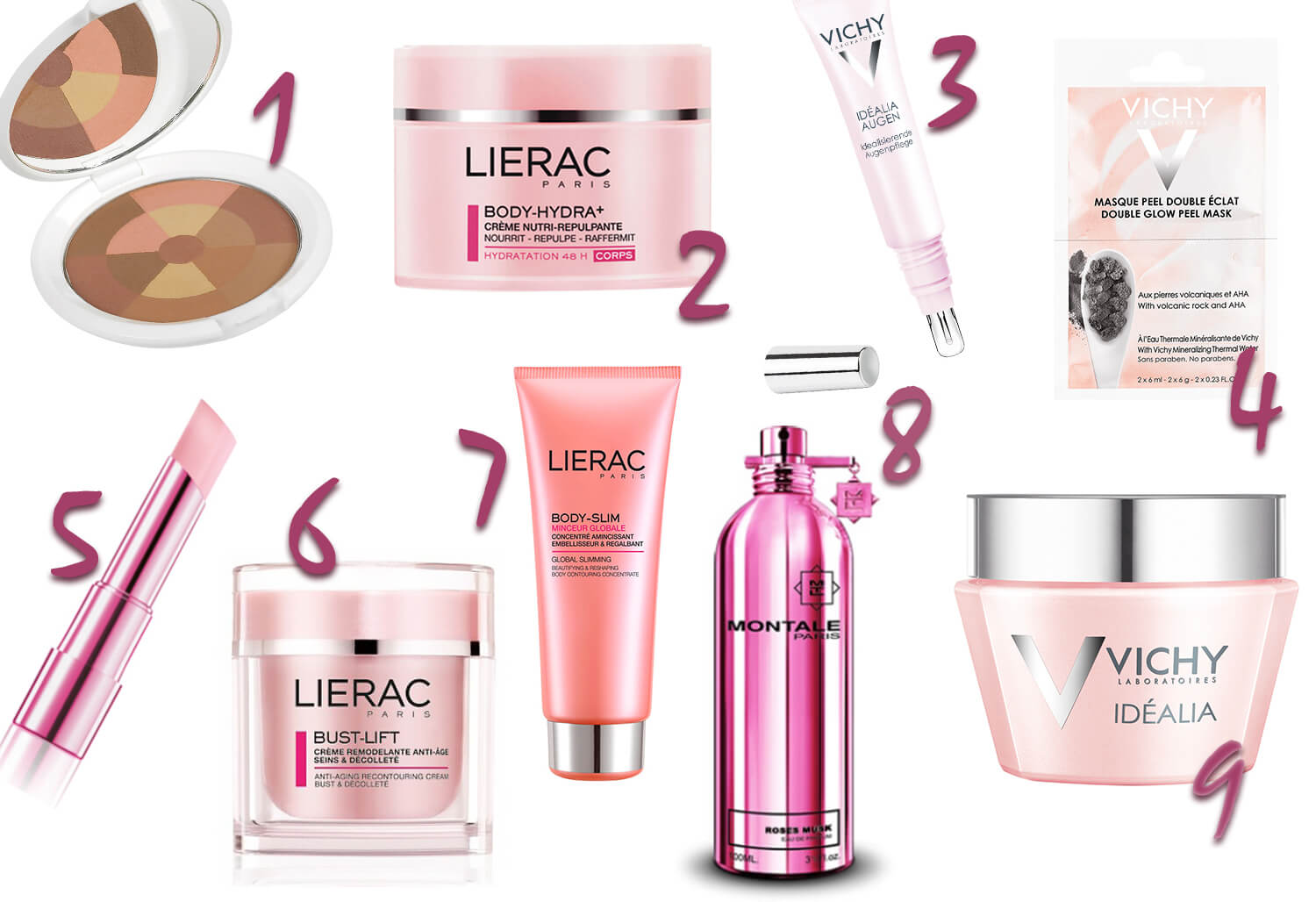 1.  Avène Couvrance Mosaik Bronze + Spiegel | 2. LIERAC Body-Hydra+ Creme
3. VICHY Idéalia Augencreme | 4. VICHY Double Glow Peel Maske
5. LIERAC Hydra-Chrono+ Lippen zartschmelzender Balsam | 6. LIERAC Bust Lift Creme
7. LIERAC Body-Slim Global Slimming | 8. MONTALE PARIS Roses Musk
9. VICHY Idéalia für normale bis Mischhaut
Mädels, ich möchte Frühling! Jetzt, sofort! Nach dem usseligen Wetter der letzten beiden Wochen, scheint es endlich besser zu werden. So dachte ich mir, dass hier auf dem Blog nun auch der Frühling einziehen darf. Heute in Form von Kosmetik in – hallo Verpackungsopfer! – roséfarbenen Tiegeln, Spendern und Töpfen. :-)
Gefunden habe ich sämtliche Produkte bei der Shop Apotheke. Ich war echt erstaunt, wie viel Beautyprodukte sie hier neben den üblichen medizinischen Artikeln anbieten. Von namhaften Anbietern und zu sehr guten Preisen!
Frühling für die Haut
Unsere Haut können wir nämlich schon mal auf die wärmeren Jahreszeiten vorbereiten. Ich gönne meinem Gesicht jetzt zum Beispiel Peeling-Masken mit Glow-Effekt, tägliche Augenpflege und eine Extraportion Feuchtigkeit. So ist gewährleistet, dass bald nur noch Bronzer und Highlighter zum alltäglichen Gebrauch gehören, und das flüssige Make-up auch schon mal weggelassen werden kann.
Der Rest des Körpers wird mit Slimming-Lotions mit Koffein und ähnlich straffenden Wirkstoffen versorgt, und auch das Dekolleté bekommt eine Spezialpflege mit Anti-Aging-Wirkung. Man wird ja nicht jünger und so kann ich hoffentlich manches der von mir geliebten Sonnenbäder ausgleichen…
Als Duft habe ich mir ein Rosen-Parfum ausgesucht. Natürlich im pinken Metallic-Flacon. Frühling pur!
Wie gefallen euch meine rosigen Beauty-Favoriten? Womit bereitet ihr eure Haut auf den Frühling vor?
---
Ladies, I want spring! Now! After the shitty weather during the last two weeks, it's finally time to welcome spring here on the blog. Today in the form of beauty products in rosy shades. :-)
I found all these products above at Shop Apotheke and was really surprised about the huge range of cosmetics they offer.
Spring on Skin
We should already pep are our skin for the warmer days. I treat my face with peeling and glow masks and use eye care products for example. So, I ensure that I can use only bronzer and highlighter soon instead of a full make-up.
The rest of the body receives attention with slimming lotions and the décolleté with special anti aging products. I hope, that I can compensate for the one or other sunbath this way…
How do you like my rosy beauty faves? How do you prepare your skin for spring?
In freundlicher Zusammenarbeit mit Shop Apotheke.
//
In collaboration with Shop Apotheke.