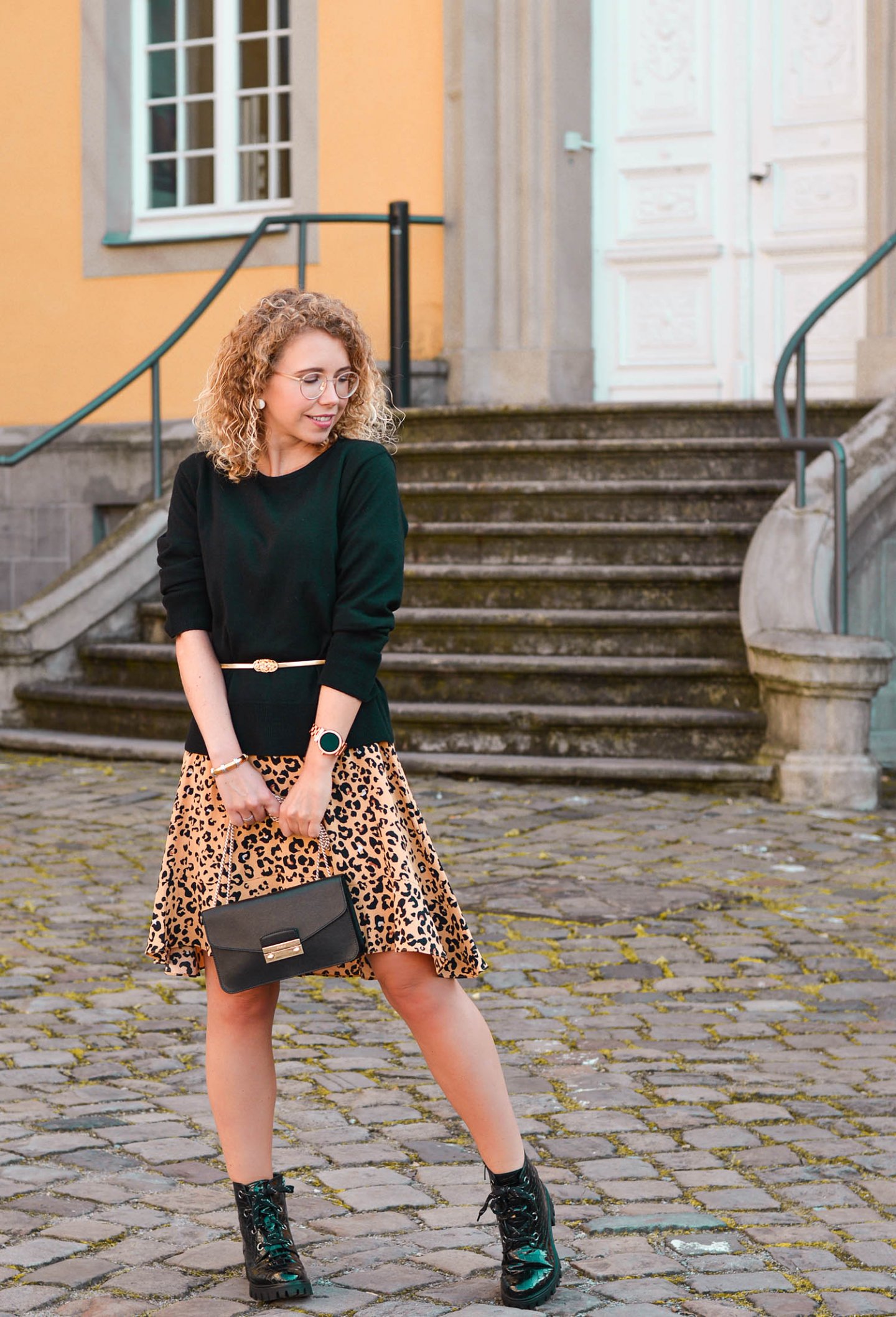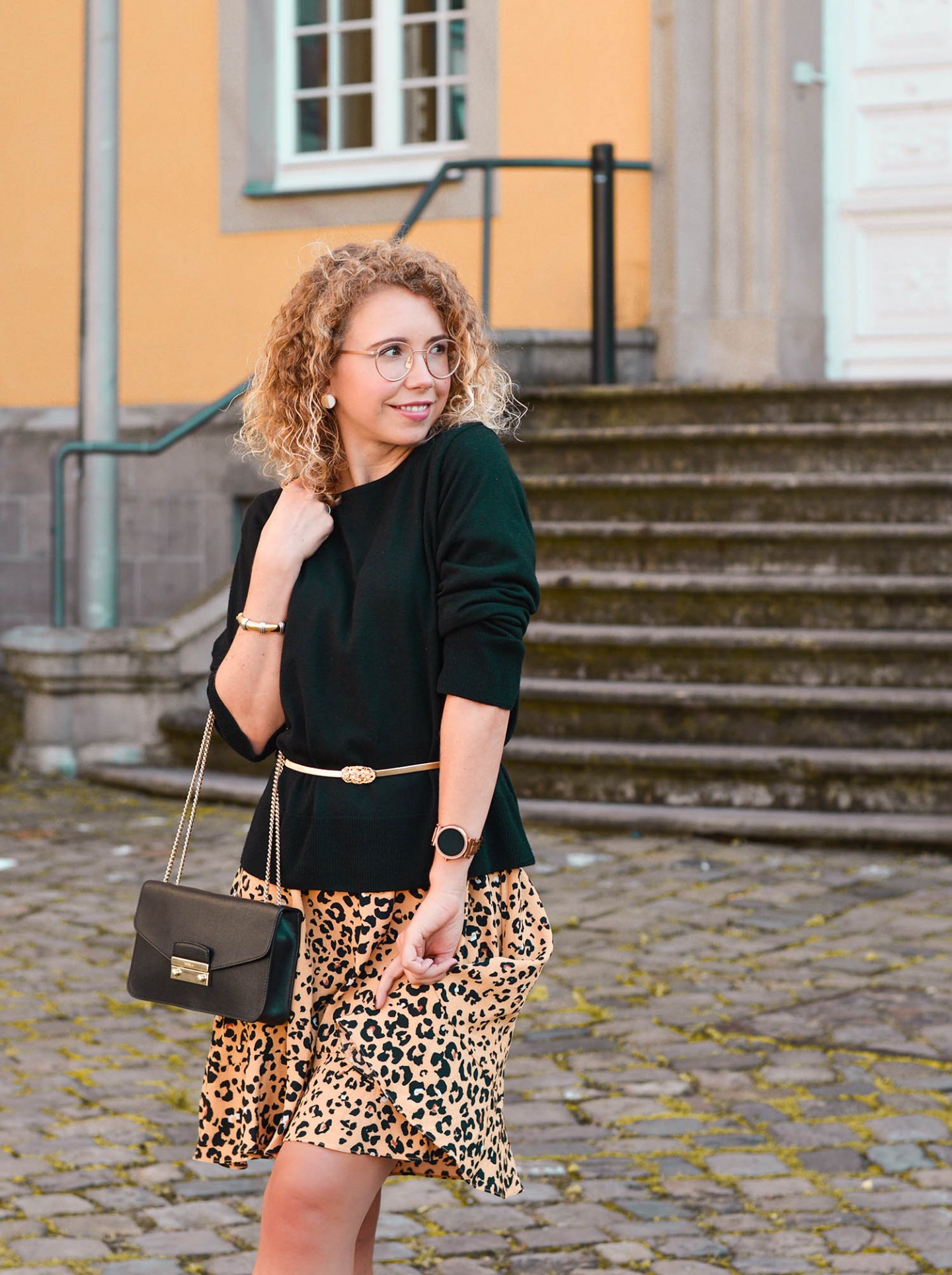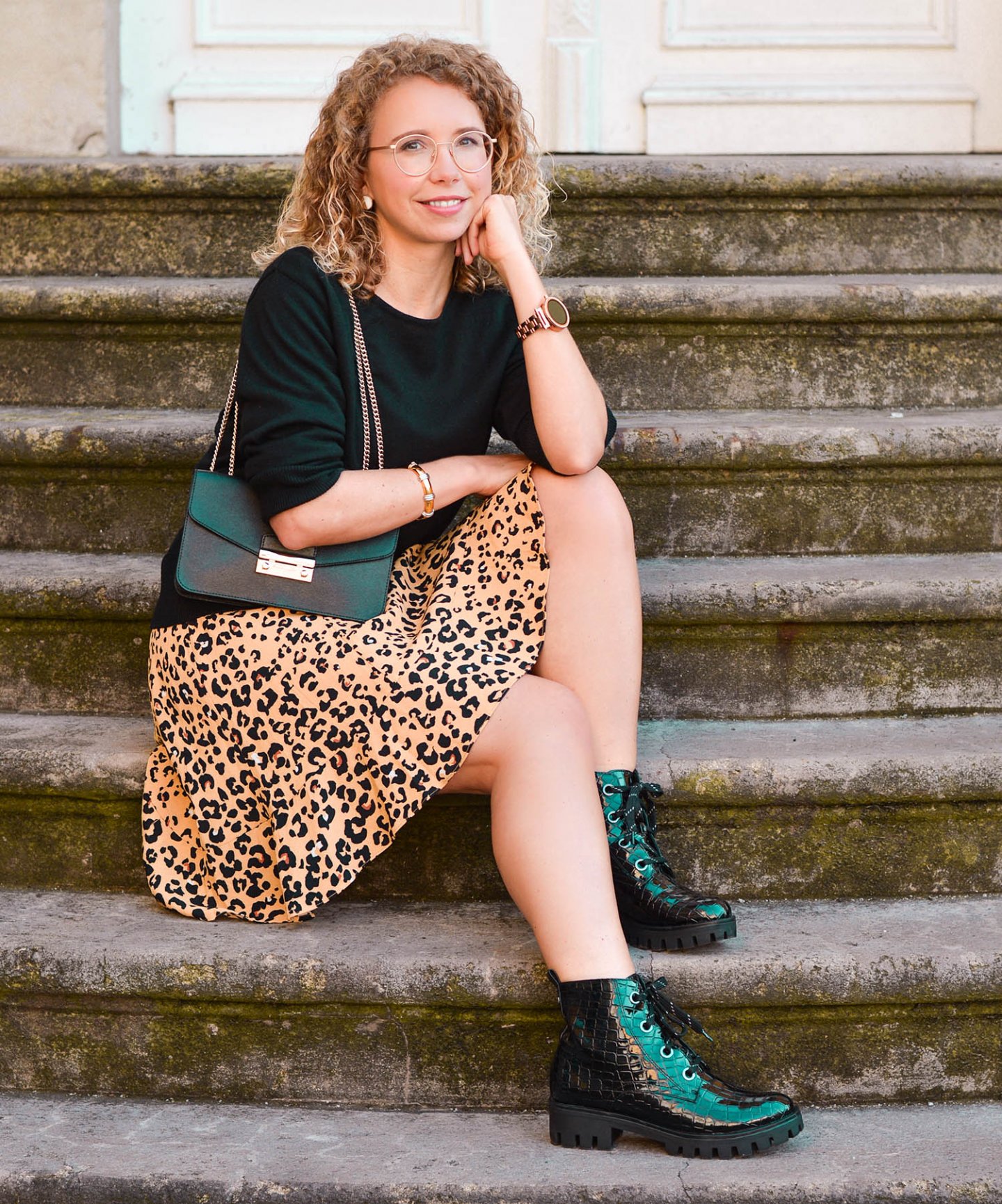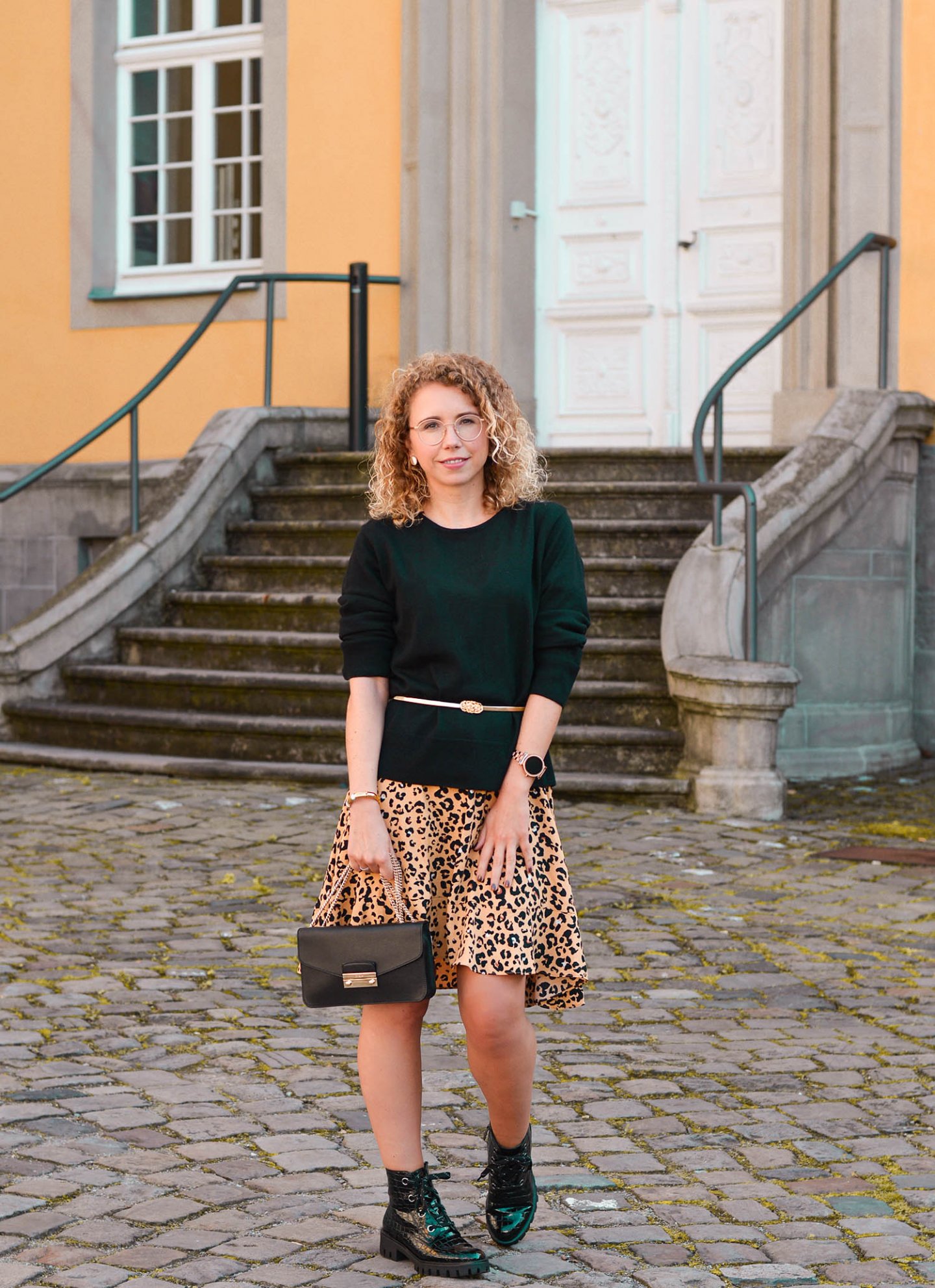 enthält Affiliate Links

Der Herbst ist da und es heißt: Bye bye Sommerkleider? Keineswegs! Mit dem heutigen Stylingtipp nehmt ihr eure liebsten Kleider einfach mit in den Herbst. Dank Pulli-Kleid-Kombinationen, die zudem absolut im Trend liegen.
Stylingtipp: Luftige Kleider treffen kuscheligen Strick
Der Sommer war dieses Jahr ein absolutes Kleider-Highlight dieses Jahr: Schwingende Midikleider, Blumenprints, Polka Dots und Volants so weit das Auge reichte. Auch die aktuelle Herbstmode greift diesen Trend weiter auf. Aber auch eure Sommerkleider müssen nicht auf die nächsten warme Saison warten. Kombiniert sie einfach mit kuscheligen Strickteilen, warmen Strumpfhosen und trag dazu Sneaker, Combat Boots oder die angesagten Slouchy Boots mit weitem Schaft.

Ich habe mich an einem der letzten milden Herbsttage für ein locker-schwingendes Leokleid entschieden und darüber einen schlichten schwarzen Strickpulli kombiniert.
Stylingtipp: Worauf ihr achten solltet
Bei gemusterten Kleidern wählt ihr am besten unifarbene Strickteile dazu und greift eine der Kleid-Farben auf. Ansonsten sind auch monochrome Looks immer sehr schön.

Wichtig ist noch, dass euer Pullover oder Cardigan keinen Gummizug am Saum hat oder generell sehr eng geschnitten ist, damit das Kleid locker schwingen kann und nichts an Hüfte und Po aufsitzt. Das ist ansonsten wenig vorteilhaft. Besonders gut funktionieren Pulli-Kleid-Kombinationen daher auch mit Oberteilen in Oversized Form.

Mein Pullover ist gerade geschnitten, aber recht dünn. Deshalb habe ich mich dazu entschieden, meine Taille durch einen schmalen Metallgürtel hervorzuheben. Taillengürtel sind ebenfalls ein großes Trendthema im Herbst 2019. Ihr findet super schöne Modelle von günstig bis hochpreisig in allen gängigen Shops. Ein paar Varianten habe ich euch hier auch mal verlinkt. :-)

Shop my Look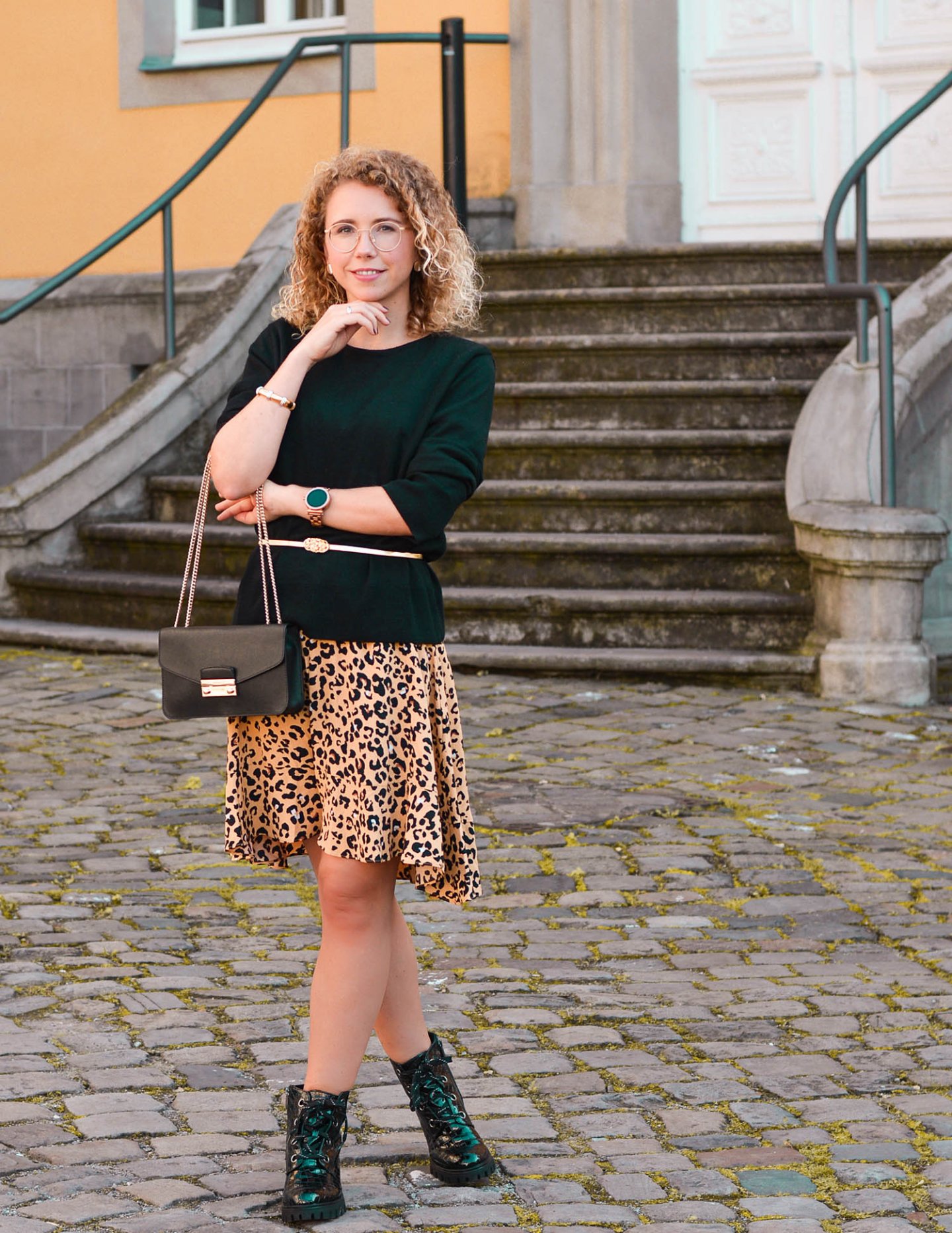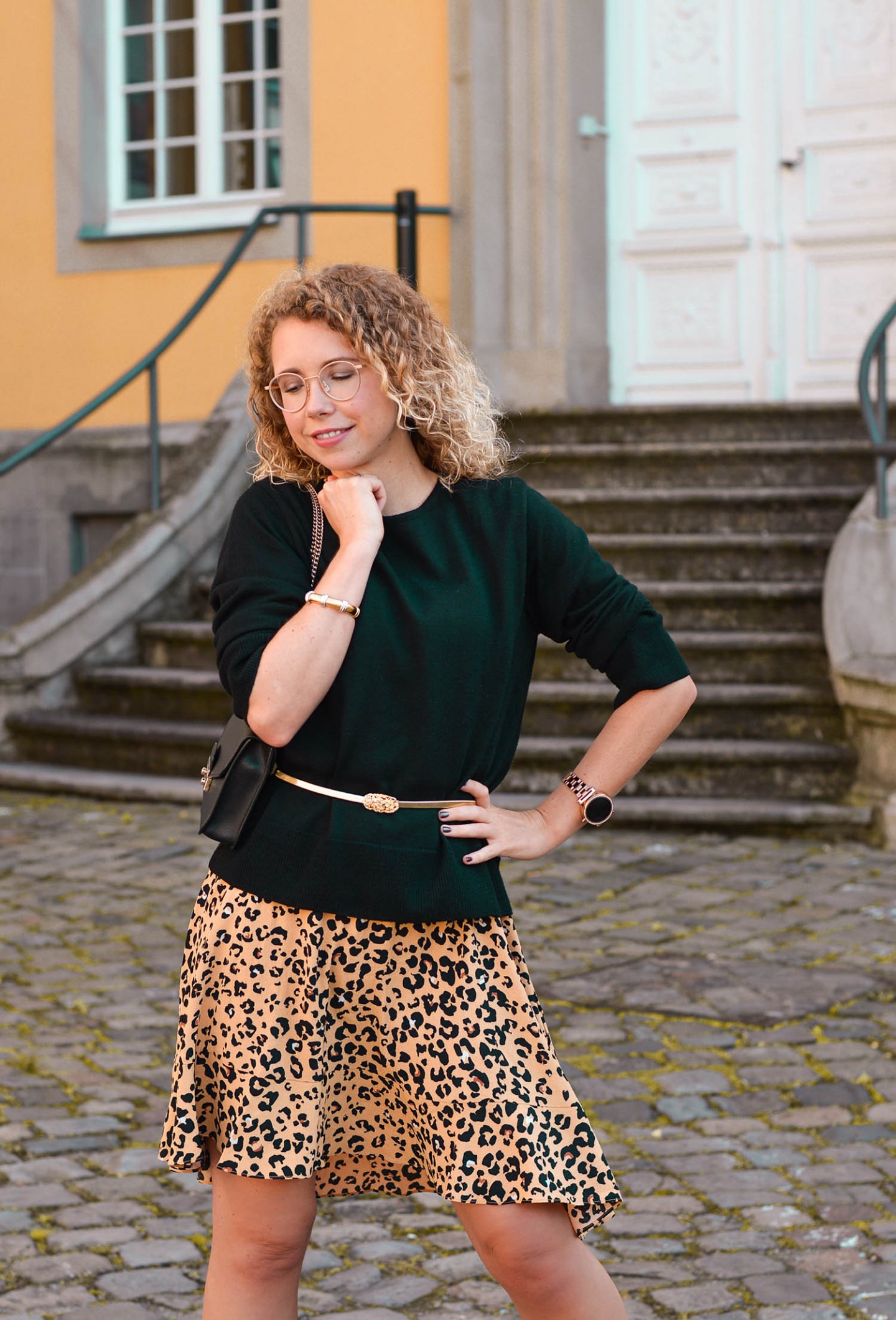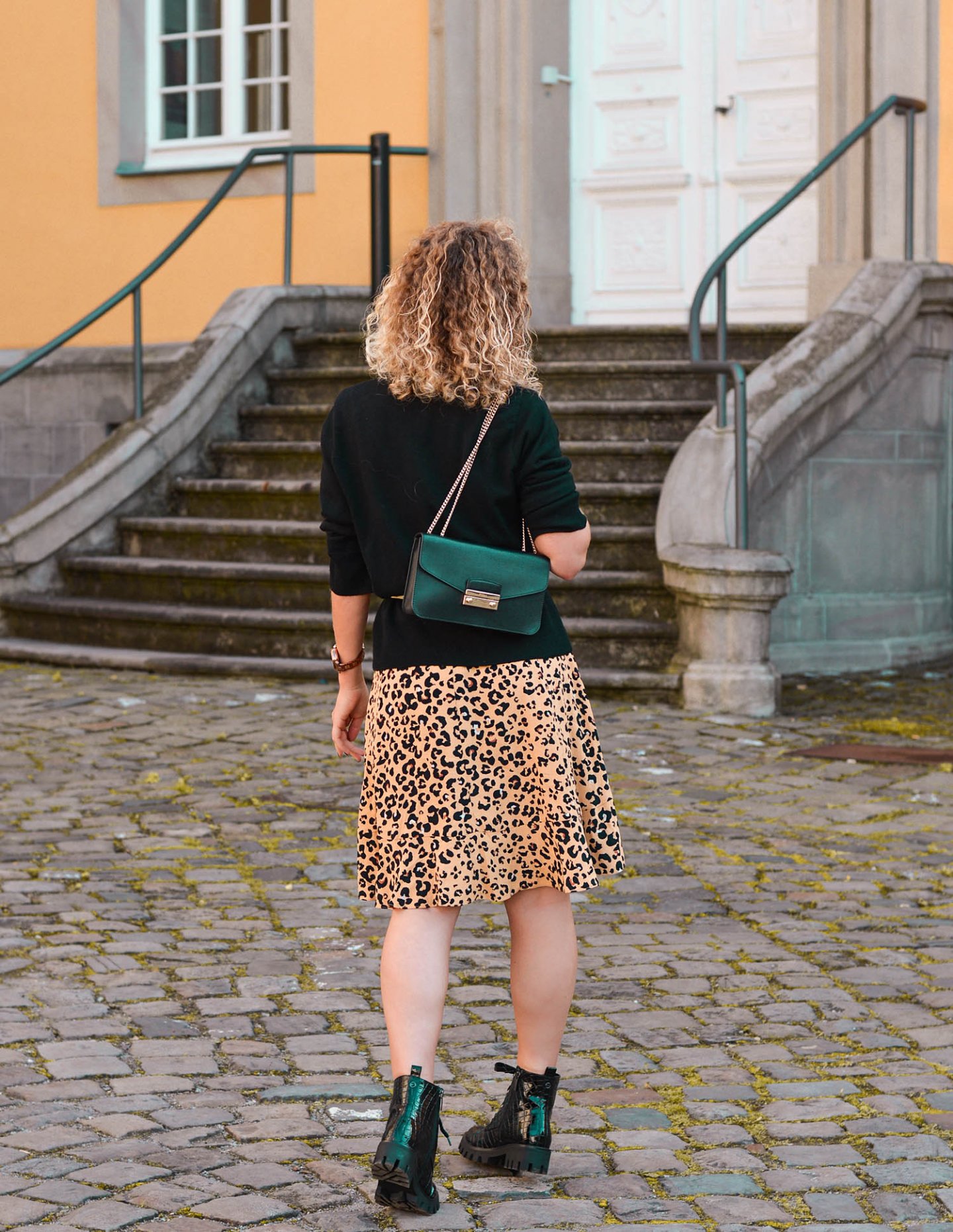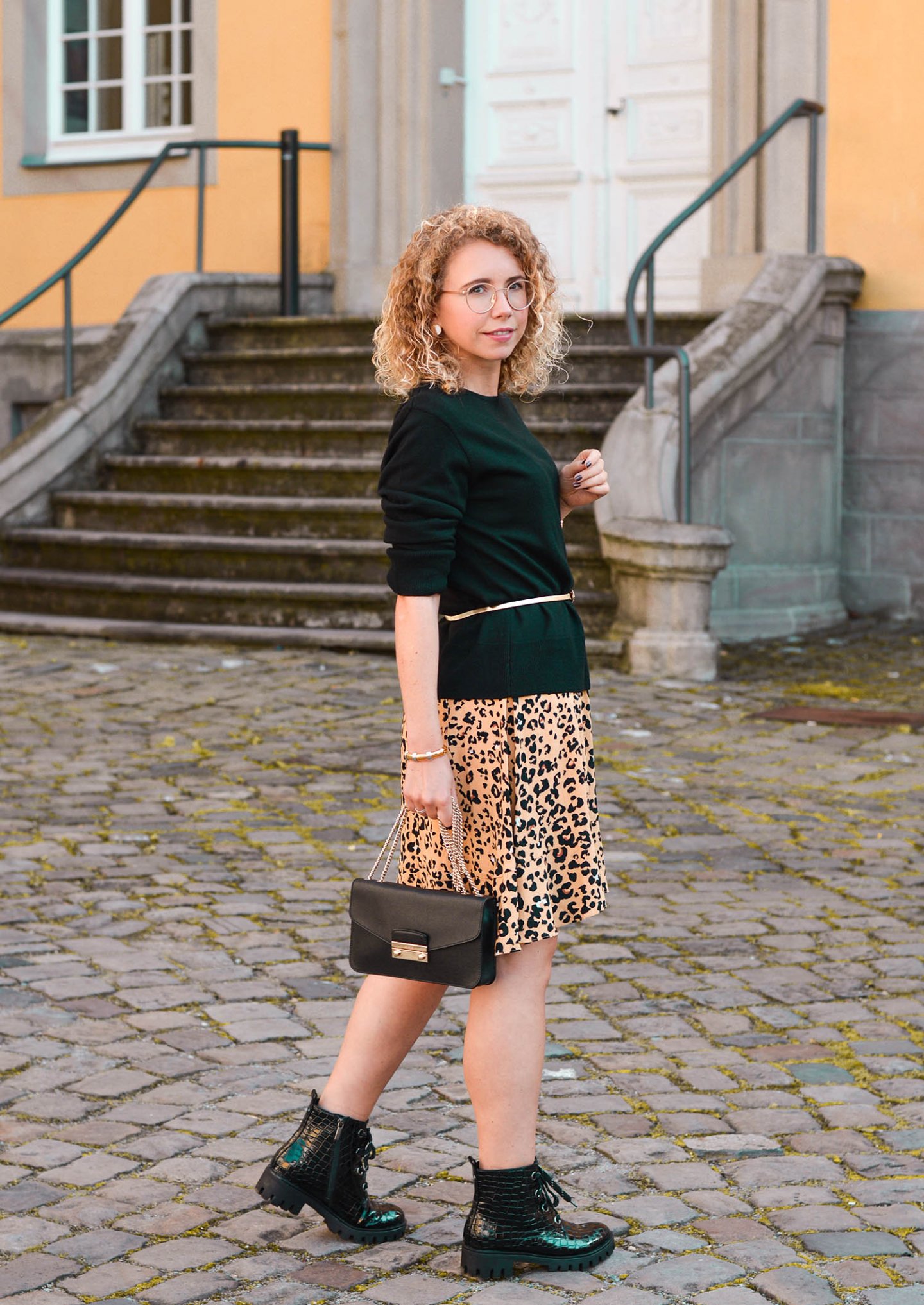 Autumn's here and ithat means bye bye summer dresses? Not at all! With today's styling tip you can simply take your favorite dresses with you into fall. Thanks to pullover-dress combinations, which are also absolutely trendy.
Styling tip: Airy dresses meet cuddly knitwear
Summer was an absolute highlight for dresses this year: swinging midi dresses, flower prints, polka dots and flounces as far as the eye could see. The latest autumn fashion also continues this trend. But even your summer dresses don't have to wait for the next warm season. Simply combine them with cuddly knitwear, warm tights and add sneakers, combat boots or the trendy slouchy boots with a wide shaft.

On one of the last mild fall days I decided to wear a casually swinging leopard dress and combined it with a plain black knit sweater.
What you should look out for
For patterned dresses it is best to choose plain knitwear and pick up one of the dress colors. Otherwise, monochrome looks are also very beautiful.

It is also important that your sweater or cardigan has no elastic at the hem or is generally cut very tight, so that the dress can swing loosely and nothing sits on hips and buttocks. This is otherwise not very advantageous. Sweater-dress combinations therefore also work particularly well with tops in oversized form.

My sweater is straight cut, but quite thin. That's why I decided to emphasize my waist with a narrow metal belt. Waist belts are also a big trend in autumn 2019. You will find super beautiful models from cheap to high-priced in all popular shops.