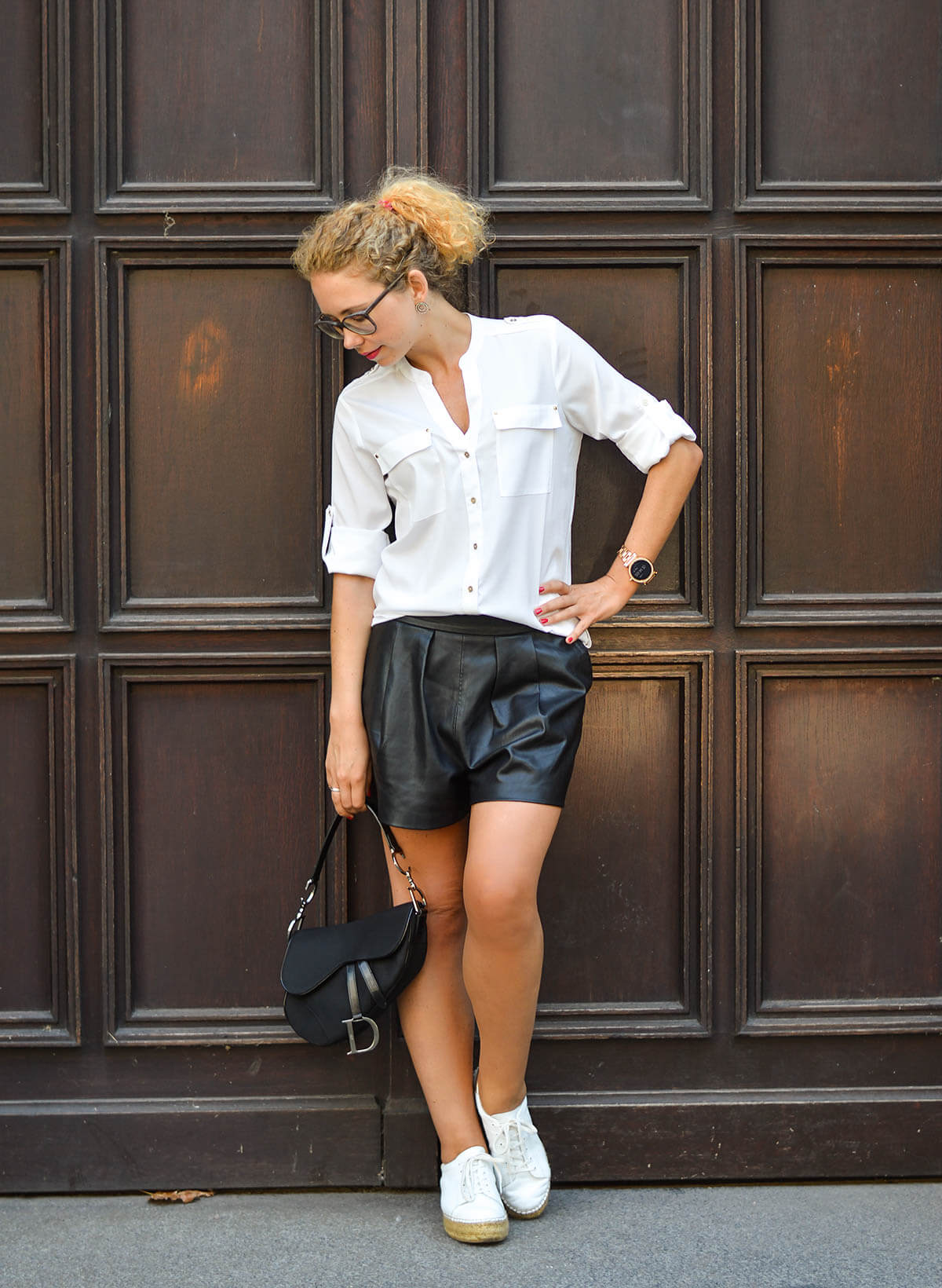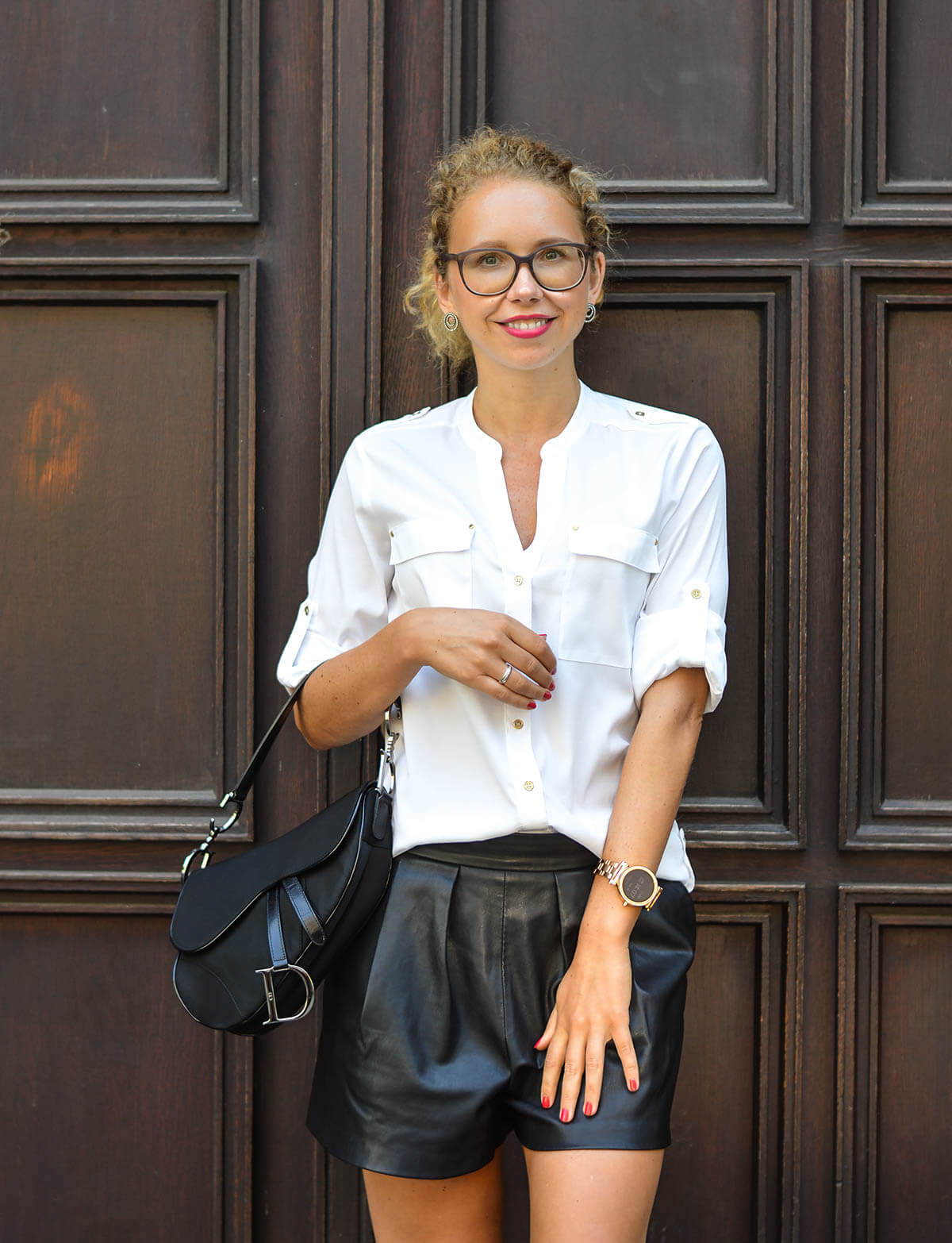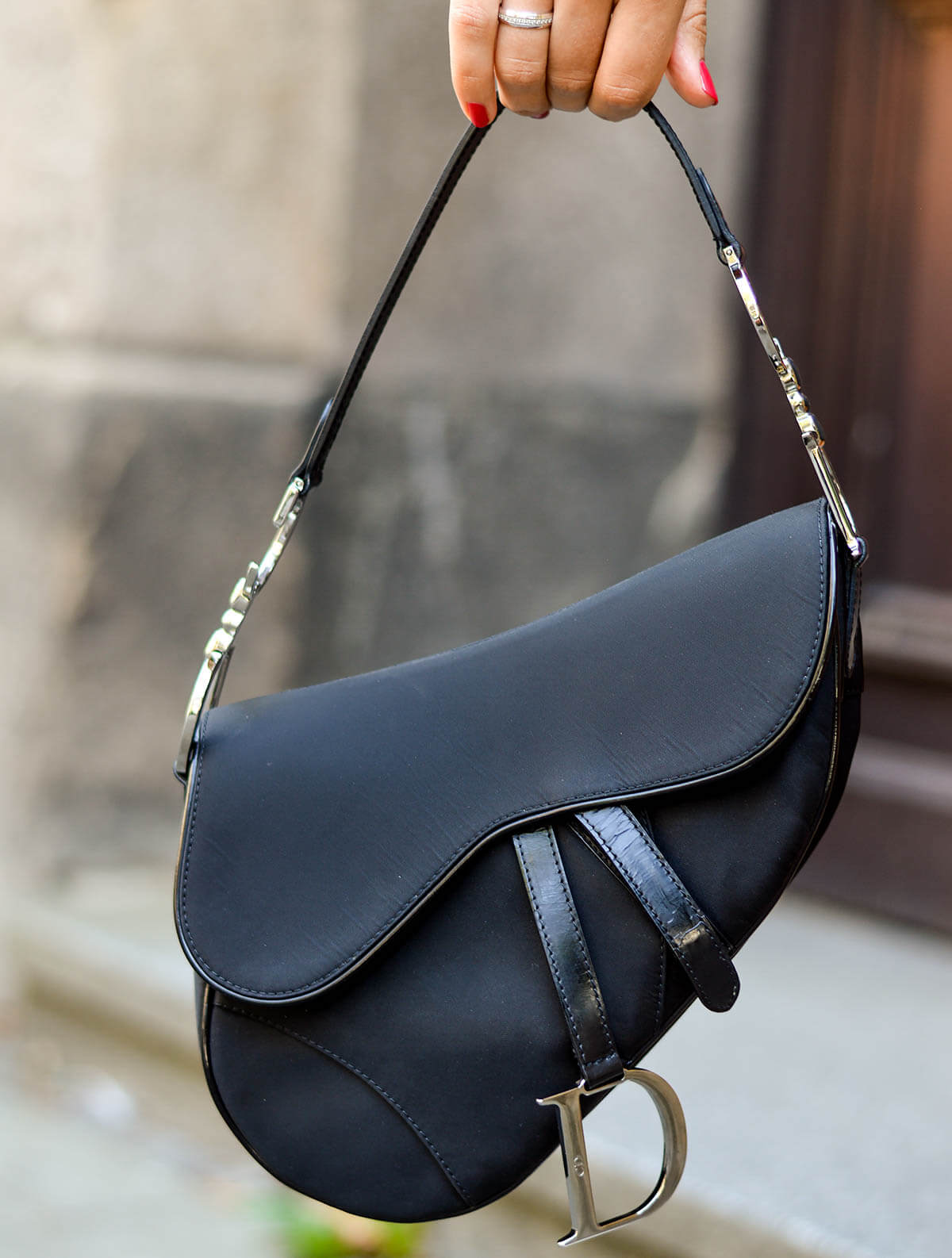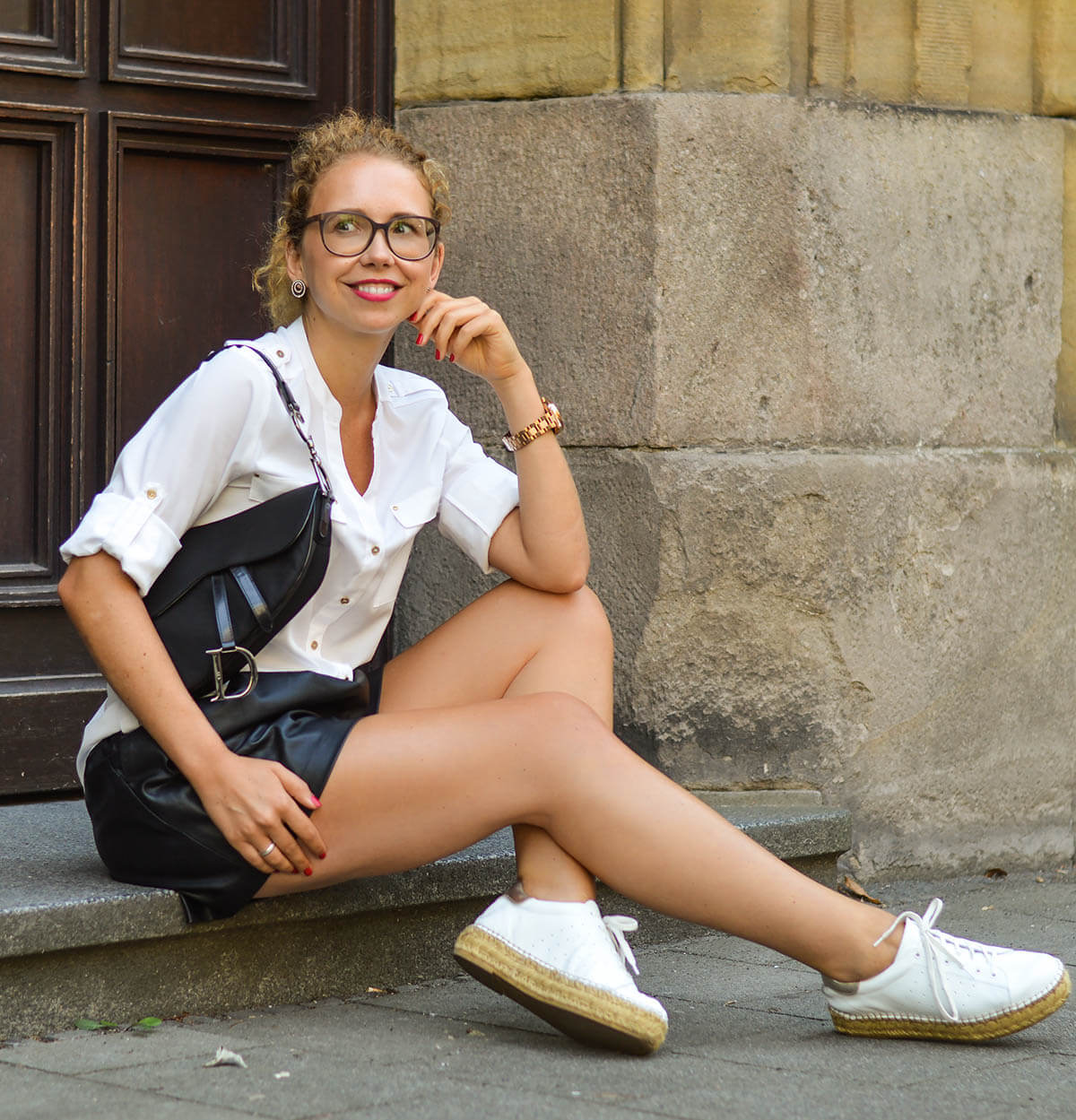 Meine Lieben, ich hoffe, ihr hattet ein fantastisches Wochenende? Mein heutiger Outfitpost dreht sich um meine neue, alte Errungenschaft: Eine Vintage Saddle Bag von Christian Dior!
Dior Saddle – die It-Bag der Nullerjahre ist zurück
Ja, die It-Bag der Nullerjahre ist zurück! Die Dior Saddle Bag begeisterte damals schon Carrie Bradshaw in SATC. Im jähr 1999 feierte sie ihr Debüt bei der Frühjahr/Sommer-Kollektion 2000 von John Galliano. Wenig später hing sie an den Armen von Carrie und Beyoncé. Auch ich war damals schon begeistert von der kleinen Schultertasche in Form eines Sattels. Natürlich konnte ich sie mir damals nicht annähernd leisten, erinnere mich aber, dass ich damals – als Teenie – mit einem formähnlichen Modell von Picard durch die Gegend spaziert bin.
Das Comeback und meine erste Vintage Tasche
Die aktuelle Dior-Designerin Maria Grazia Chiuri legt die legendäre Saddle Bag in der Herbst/Winter-Saison neu auf. Und feiert damit einen Riesenboom! Prompt baumelt das Täschchen wieder an den Armen von Promis, Models und vor allem Influencern. Auch mich ließ diese plötzliche Omnipräsenz bei Instagram sowie in den gängigen Fashion-Magazinen nicht kalt. Ich erinnerte mich an meine damalige Liebe für die Tasche und ging auf die Suche nach einem Vintage-Modell. Warum Vintage? Nun, zum einen ist mir die Neuauflage doch ein wenig zu kostspielig und zum anderen hatte ich mir schon länger vorgenommen, öfter nach Vintage-Designerstücke Ausschau zu halten. Ich finde den Gedanken einfach schön, dass diese besonderen Stücke weiterverwendet werden und somit wieder neu zum Leben erweckt werden. Gerade in der heutigen Wegwerfgesellschaft, wo ich mich keinesfalls ausschließen kann, finde ich dies besonders wichtig.
Fündig wurde ich nach vielen Tagen der Recherche und gefüllter Wunschzettel bei Vestiaire. Ich habe mich für dieses schwarze Modell aus einem recht robusten Nylonstoff entschieden, das noch in einem sehr guten Zustand war bzw. ist. Die Tasche hat Lackdetails, die natürlich leichte Gebrauchsspuren aufweisen sowie den typischen "D"-Anhänger, der fast gänzlich frei von Kratzern ist. Kurzum, ich bin absolut begeistert von meiner neuen, alten Tasche!
Der Look drum herum
Um der Tasche bei ihrem ersten Auftritt an meinem Arm die volle Aufmerksamkeit zu geben, trage ich sie auf einer weißen Bluse. Ganz clean kombiniere ich dazu meine schwarzen Shorts aus Kunstleder und weiße Sneaker mit Plateausohle.
Was sagt ihr zu meinem Taschentraum und wie steht ihr zur Dior Saddle Bag generell?
Blouse: Calvin Klein
Shorts: Zara
Bag: Christian Dior
Shoes: Steve Madden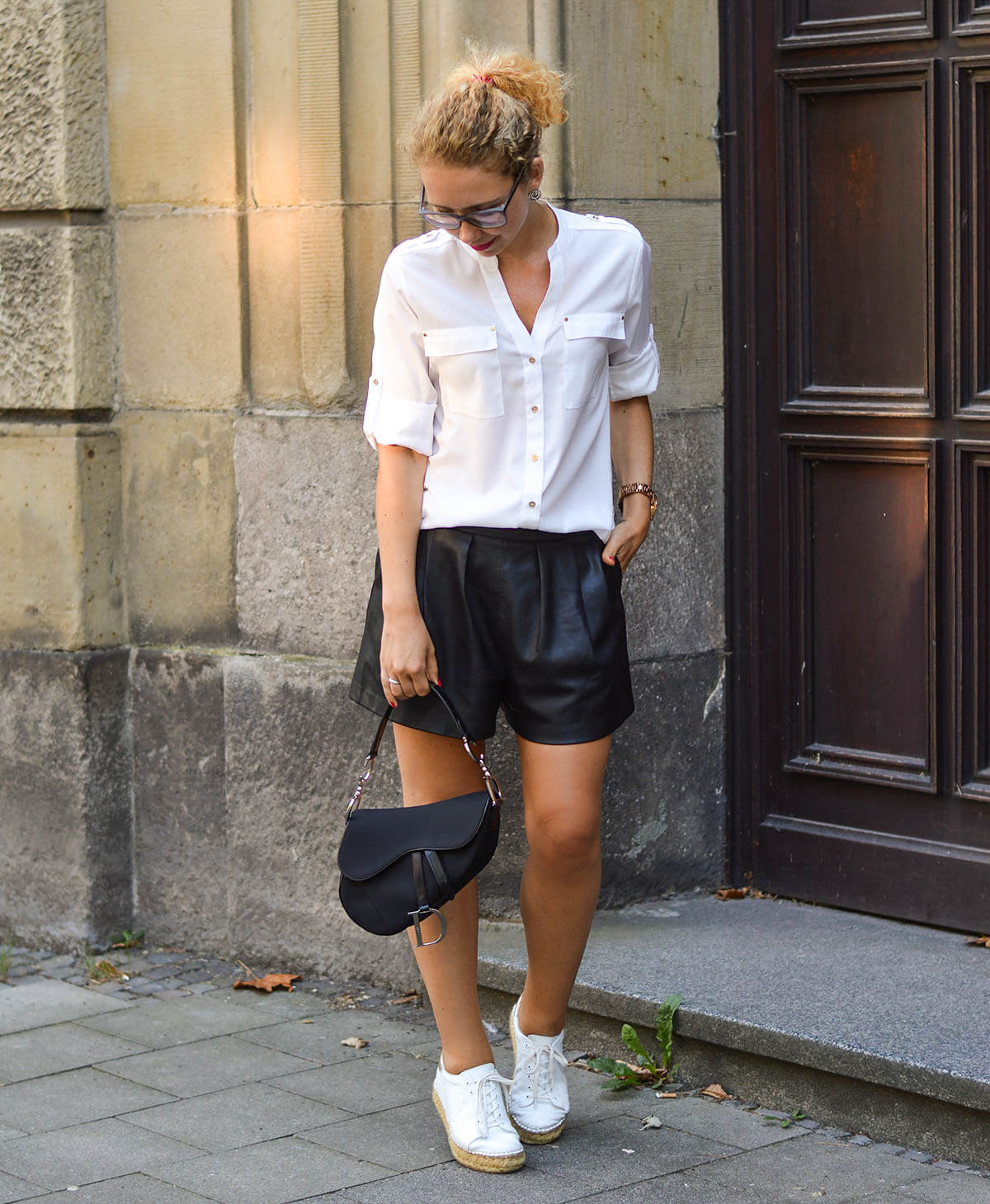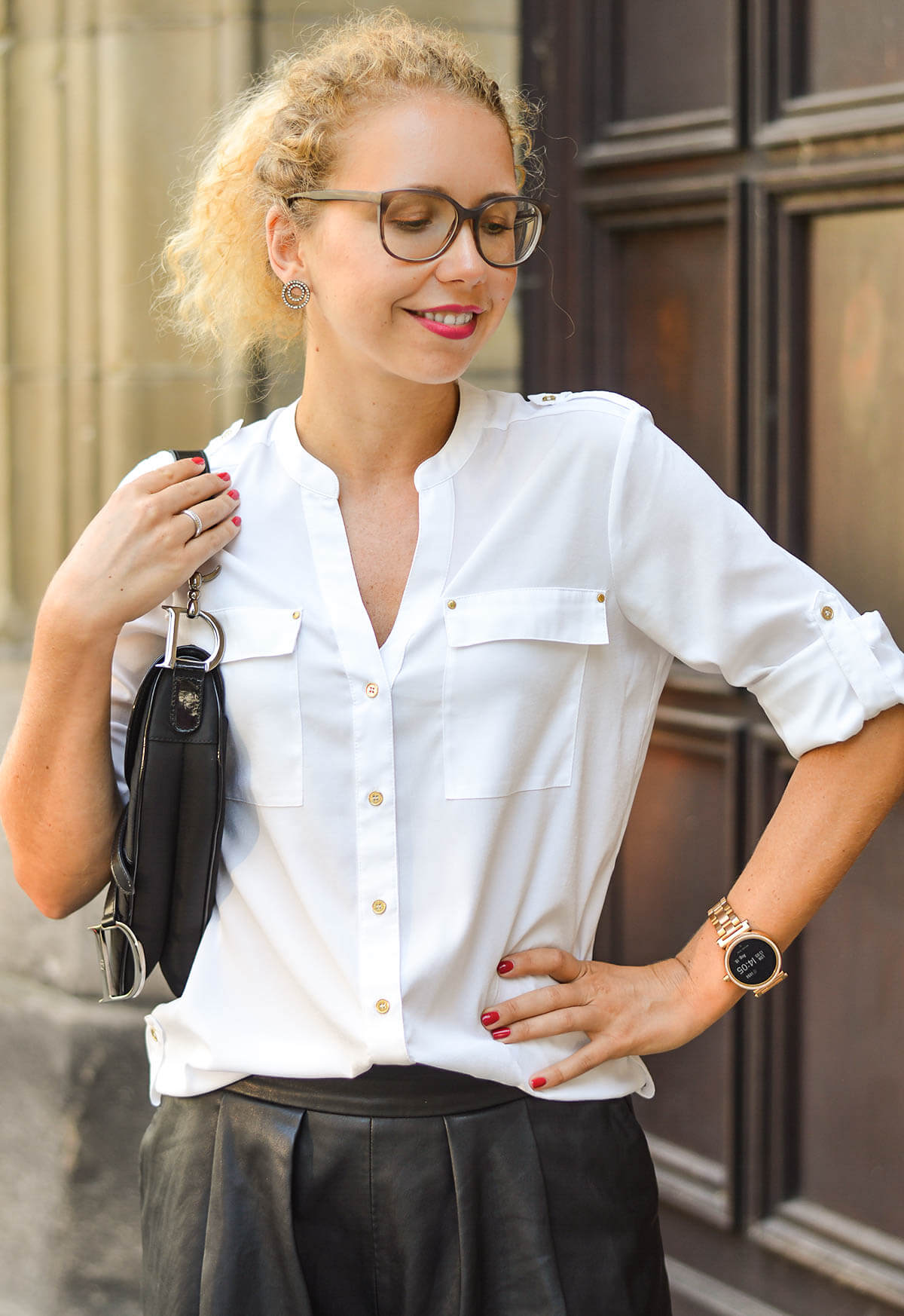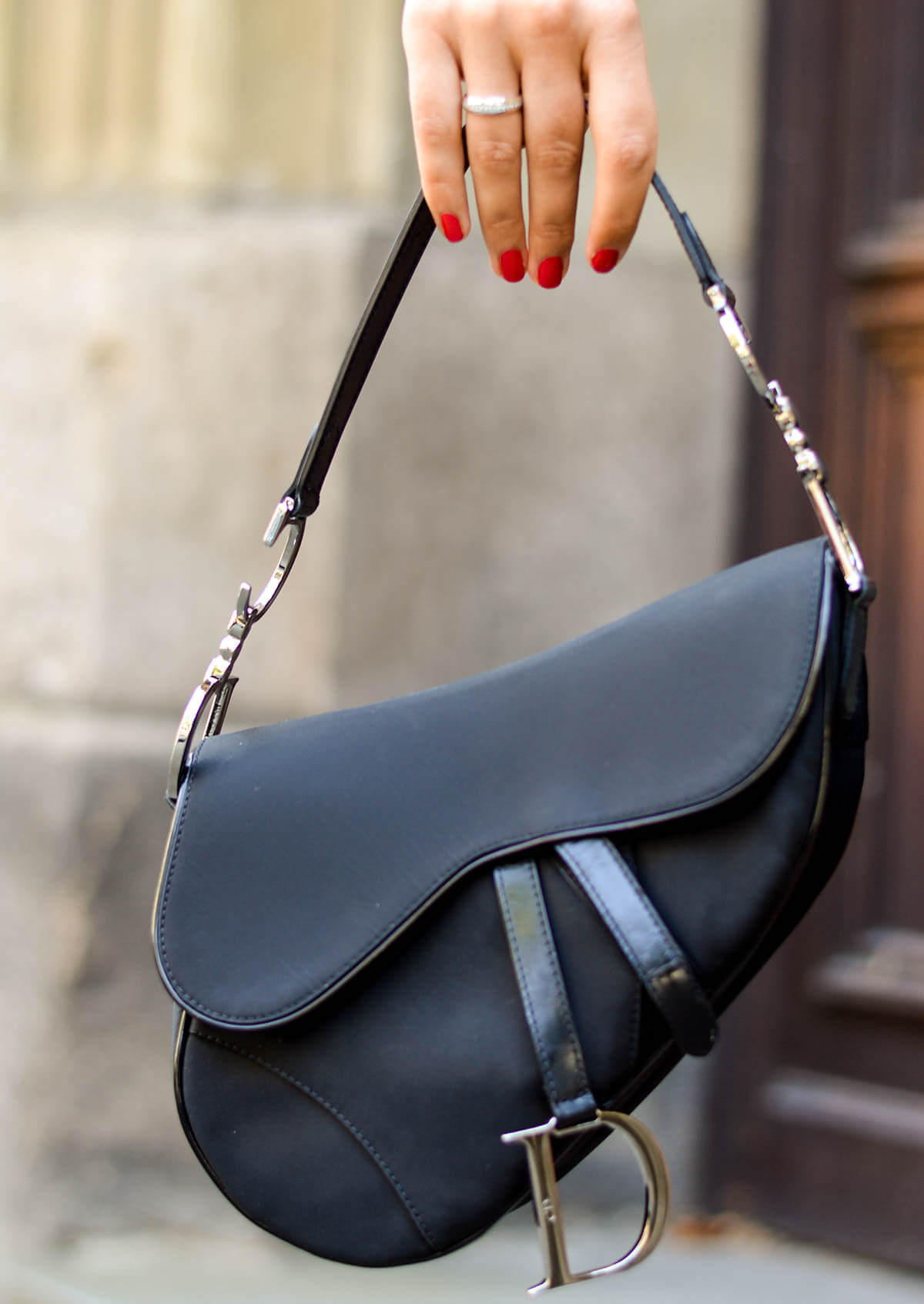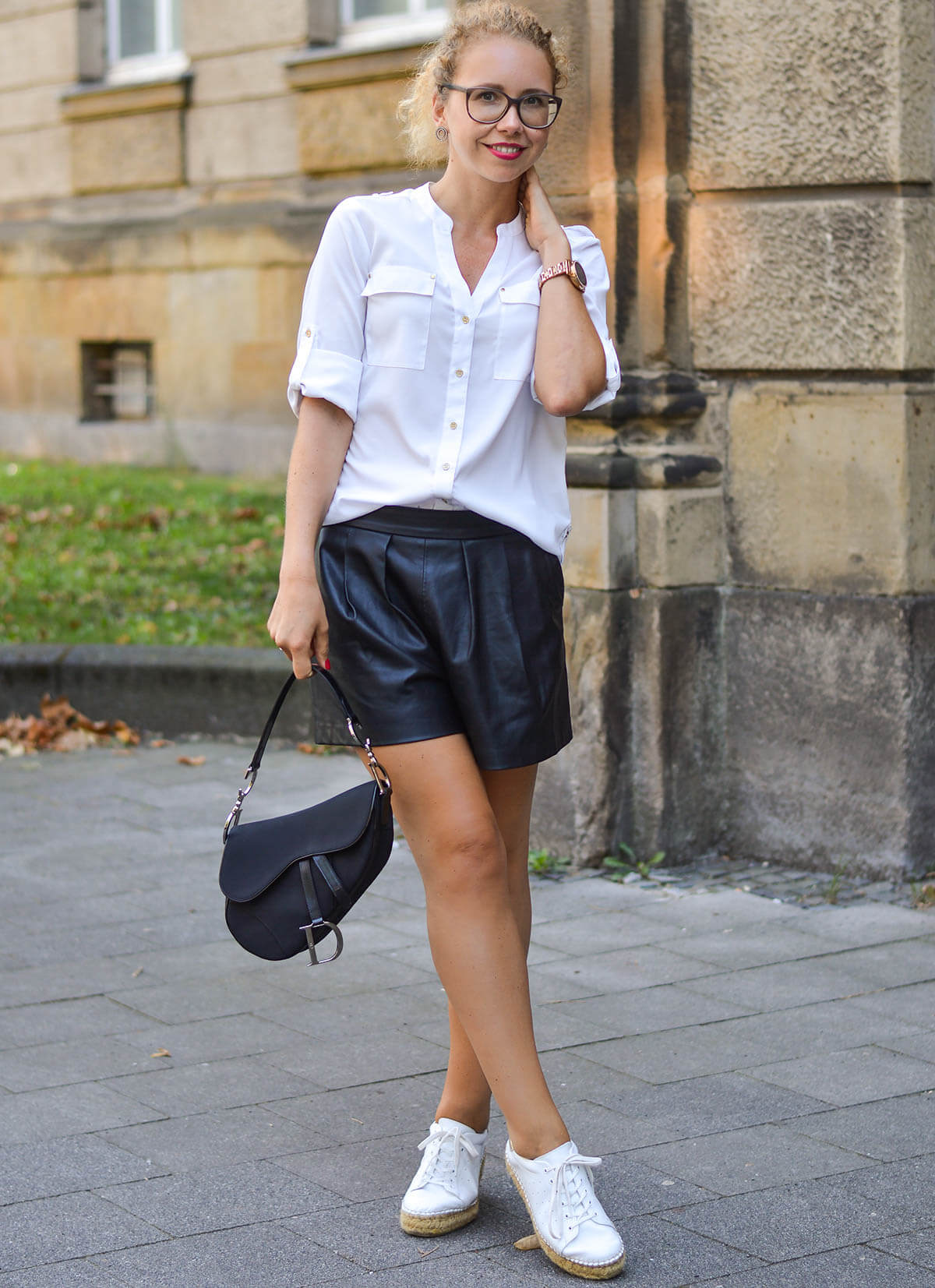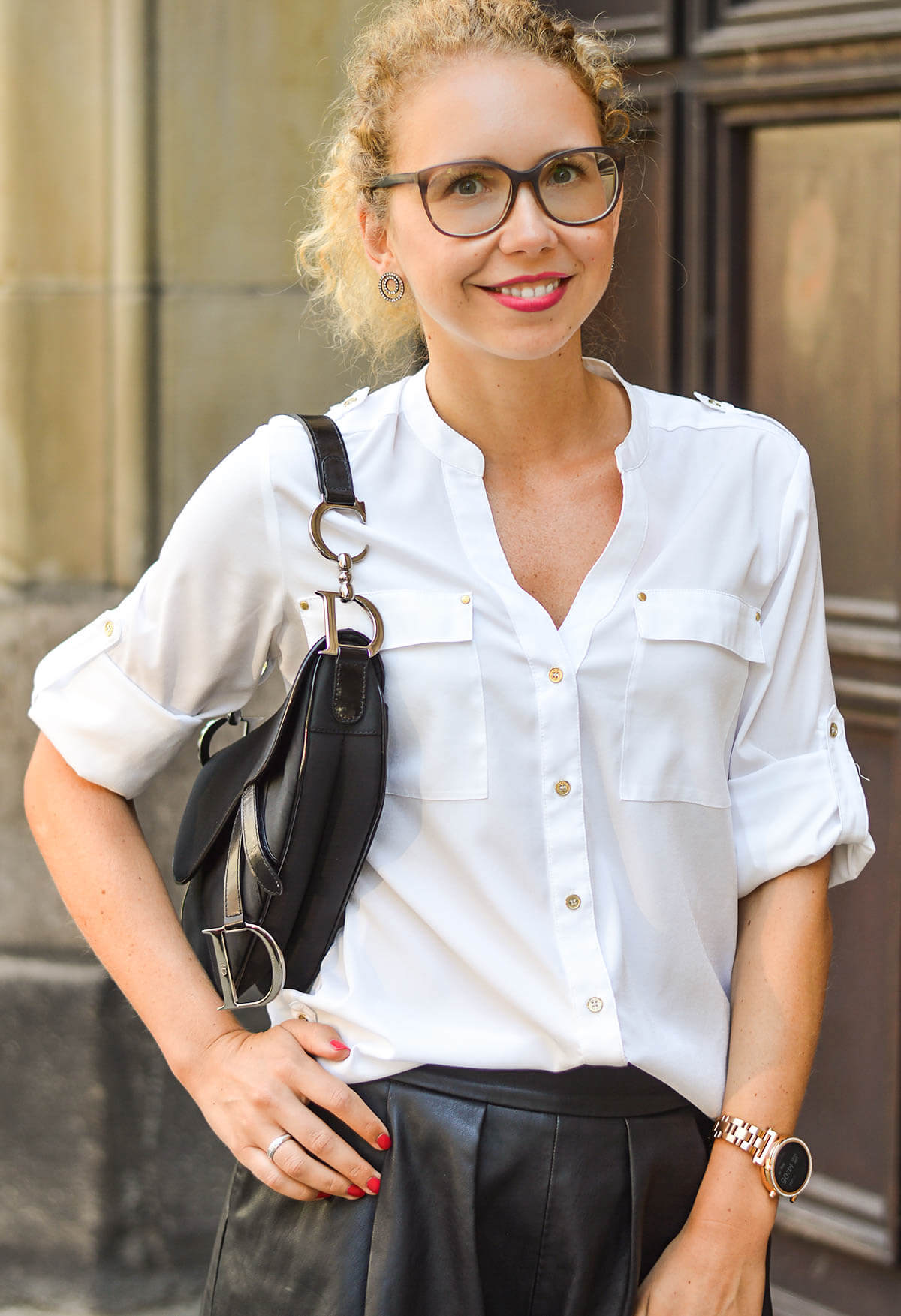 ---
My darlings, I hope you've had a fantastic weekend? My outfit post today is about my new, old achievement: A vintage Saddle Bag from Christian Dior!
Dior Saddle – the It Bag of the Zero Years is Back
Yes, the it bag of the zero years is back! The Dior Saddle Bag already inspired Carrie Bradshaw in SATC. In 1999 she made her debut at the spring/summer 2000 collection of John Galliano. A little later she hung on the arms of Carrie and Beyoncé. At that time I was also enthusiastic about the small shoulder bag in the shape of a saddle. Of course, I couldn't afford it at the time, but I remember that as a teenager I walked through the area with a Picard model similar in shape.
The comeback and my first vintage bag
The current Dior designer Maria Grazia Chiuri reissues the legendary Saddle Bag in the autumn/winter season. And celebrates a huge boom with it! Promptly the bag dangles again from the arms of celebrities, models and above all influencers. This sudden omnipresence at Instagram as well as in the popular fashion magazines didn't leave me cold either. I remembered my love for the bag at one time and went looking for a vintage model. Why vintage? Well, on the one hand the new edition is a little too expensive for me and on the other hand I had already planned to look for vintage designer pieces more often. I just love the idea that these special pieces can be reused and brought back to life. Especially in today's throwaway society, where I cannot exclude myself at all, I find this particularly important.
I found it after many days of research and filled wish lists at Vestiaire. I have decided for this black model made of a quite robust nylon fabric, which was or is still in a very good condition. The bag has lacquer details that of course show slight signs of wear as well as the typical "D" pendant, which is almost completely free of scratches. In short, I am absolutely thrilled with my new, old bag!
The look around it
To give the bag its full attention during its first appearance on my arm, I wear it on a white blouse. I cleanly combine my black shorts made of artificial leather and white sneakers with platform soles.
What do you think of my bag dream and what is your opinion of the Dior Saddle Bag in general?