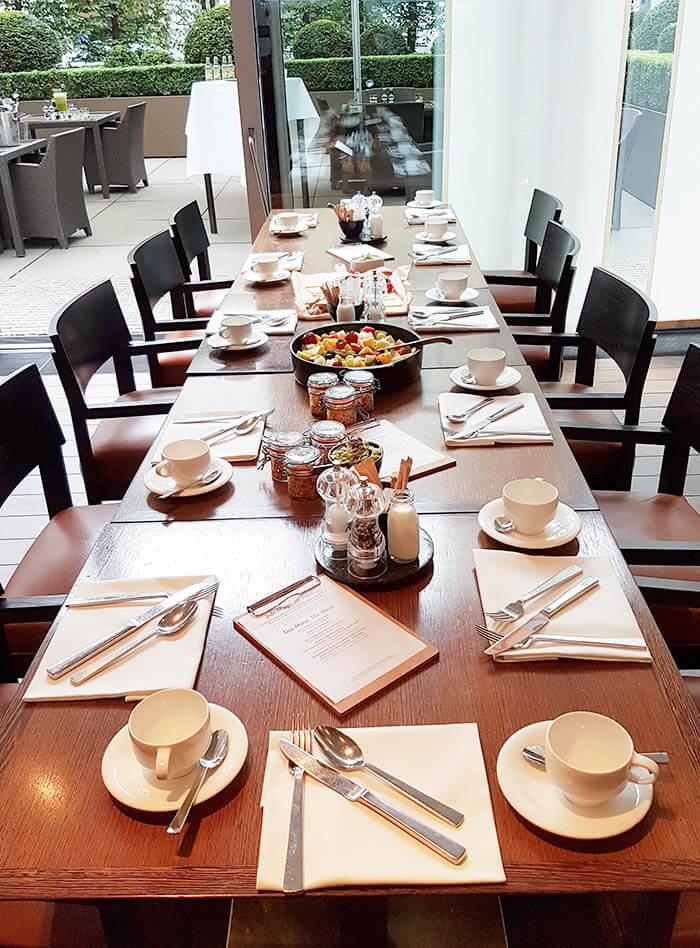 Hier kommt Teil zwei meines wunderschönen Wochenendes mit Radisson Blu Düsseldorf. Nach unserer Cocktailparty im Scandinavia Hotel in Golzheim, sind wir am nächsten Morgen ausgeruht und hungrig rüber ins Media Harbour Hotel in den MedienHafen gefahren. Zum Brunchen!
Restaurant Amano Verde
Das Restaurant Amano Verde in dem wunderschönen Hotel mit opulentem Interieur steht für gehobene vegetarische und vegane Küche. Das finde ich besonders für ein Hotelrestaurant super innovativ und ungewöhnlich, aber auch ziemlich clever. So ist es doch ein Alleinstellungsmerkmal, das neben den Hotelgästen auch Vegetarier, Veganer und kulinarisch neugierige Personen wie ich aus Düsseldorf und Umgebung anlockt.
Küchenchef Dennis Riesen ist selbst überzeugter Veganer und auf "seiner" Speisekarte stehen Köstlichkeiten wie "Lupinensteak unter einer Kräuterkruste mit Püreé von Violetten Kartoffeln dazu buntes Rübchenragout" oder "Kohlrabi-Haselnussröllchen mit Kartoffelbaumkuchen und Selleriepüree dazu Calvados-Schaum".
Für und gab es zunächst einen leckeren Begrüßungsdrink – Gurkensirup, aufgegossen mit Tonic Water. Für Power sorgte dannn noch ein grüner Smothie aus Spinat, Apfel, Banane, Gurke und Maracujasaft.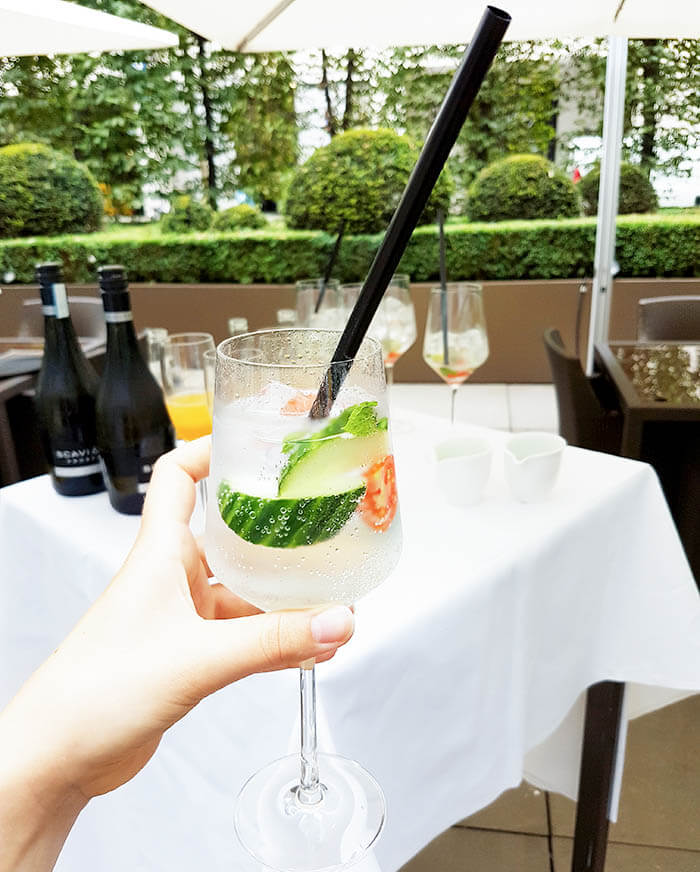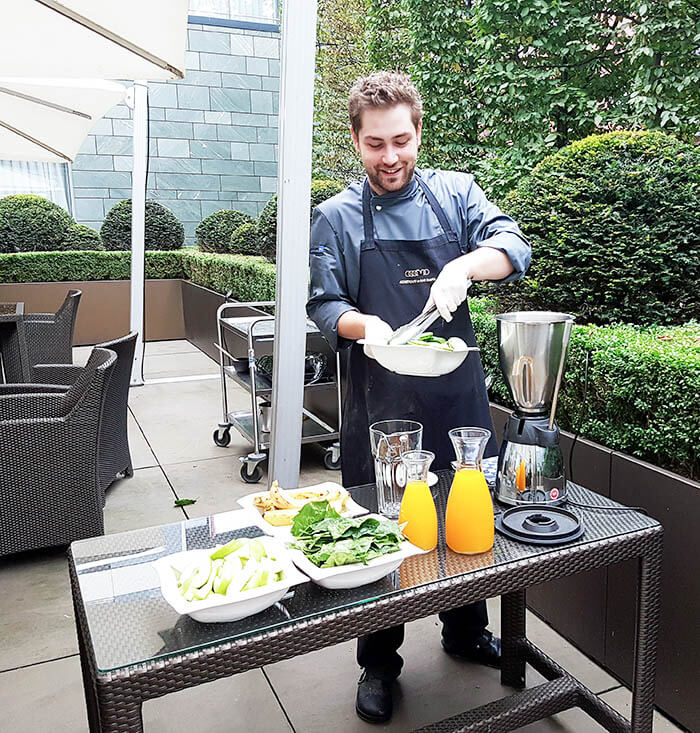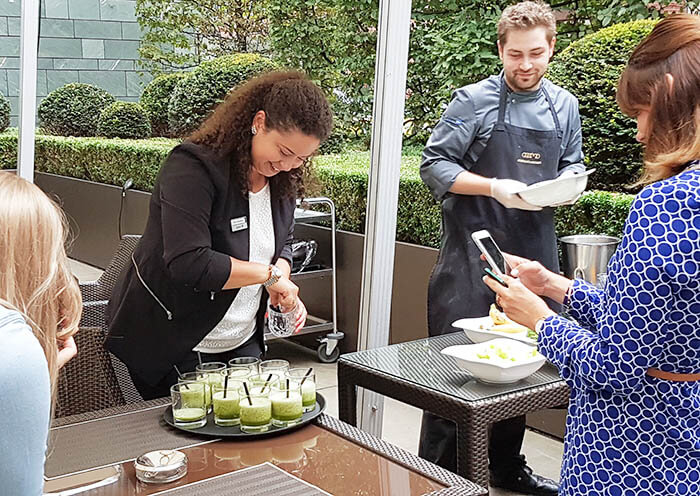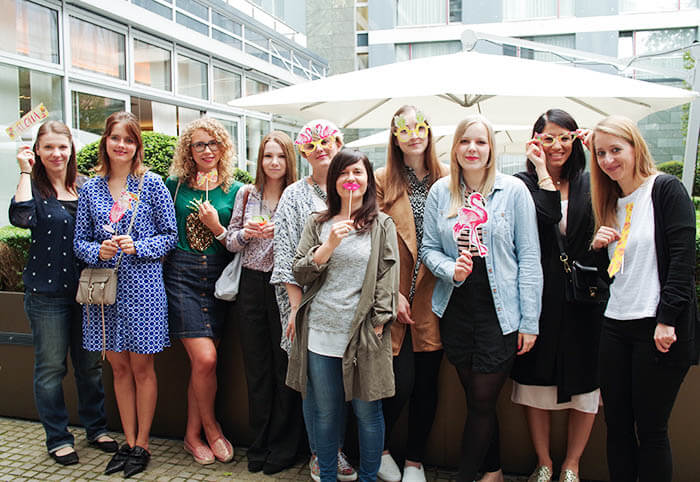 @André Scharf
Frühstücksbuffet mit veganen Highlights
Das Frühstücksbuffet im Radisson Blu Media Harbour Hotel ist wie schon in Hamburg und Rostock einfach großartig. Die Vielfalt, hier gibt es natürlich auch Wurst, Speck, Käse, Eier, Lachs und Co., ist ebenso beeindruckend wie die schöne Anrichteweise. selbst in großen Radisson Blu Hotels hat es keinerlei Kantinen-Charakter. Alles ist liebevoll und modern drapiert.
Schön sind auch die vielen Wahlmöglichkeiten. Sei es bei Milch (Vollfett, fettarm, laktosefrei, Mandel, Soja…), Cerealien, Brot, Saft oder Obst – hier findet jeder was!
Neben dem immensen Buffet warteten auf der schön gedeckten Tafel noch ein paar vegane Highlights vom Küchenchef auf uns: Zum beispiel eine super yummy Avocadocreme, verfeinert mit Schwefelsalz (!) für das Ei-Aroma. Aber auch Cashewmus, Linsensalat mit Maracujasaft sowie vegane Wurst- und Käsesorten.
Für den Süßhunger hat uns der liebe Elias, der uns bereits mit den Smoothies versorgte, frische, luftige Pancakes zubereitet. Was will Frau mehr? ;-)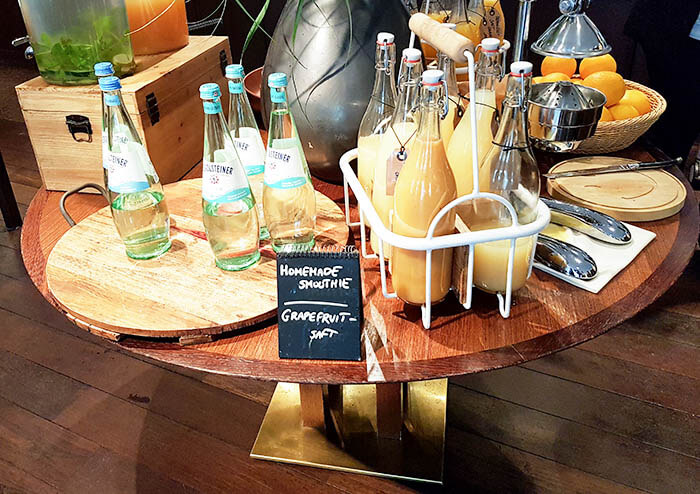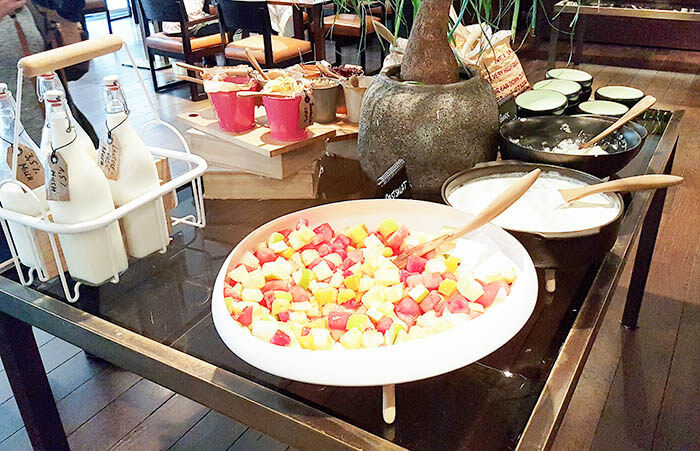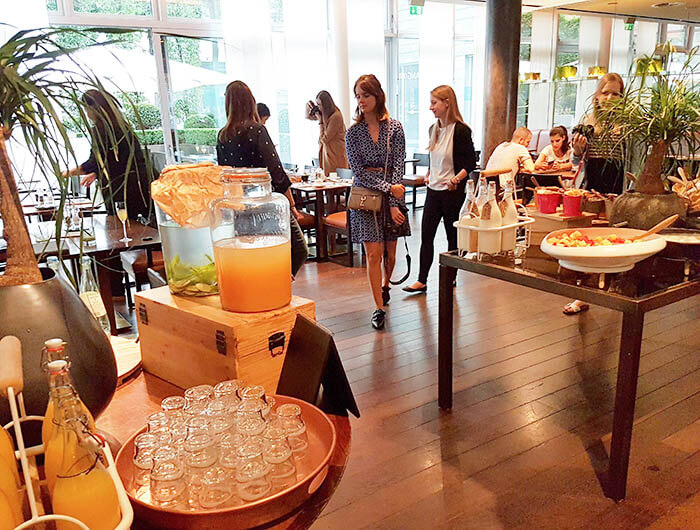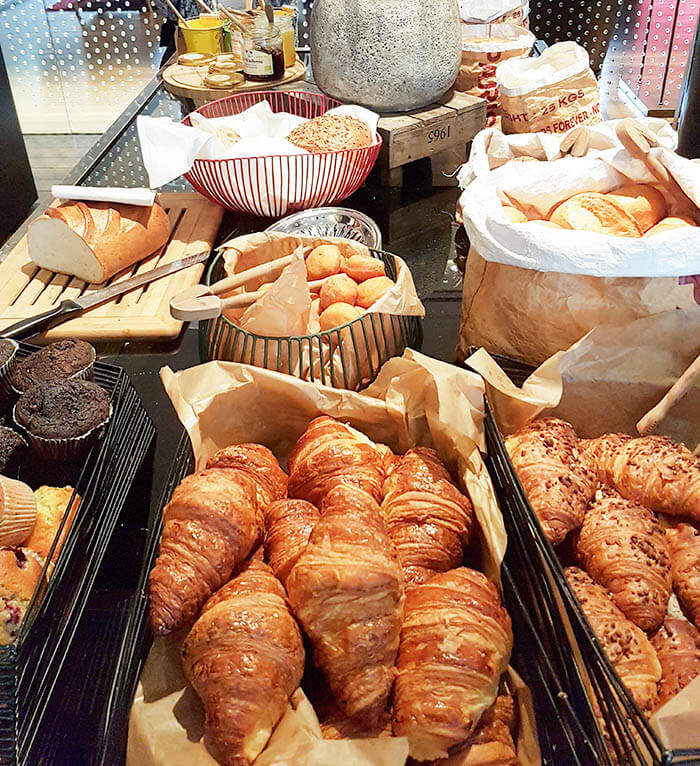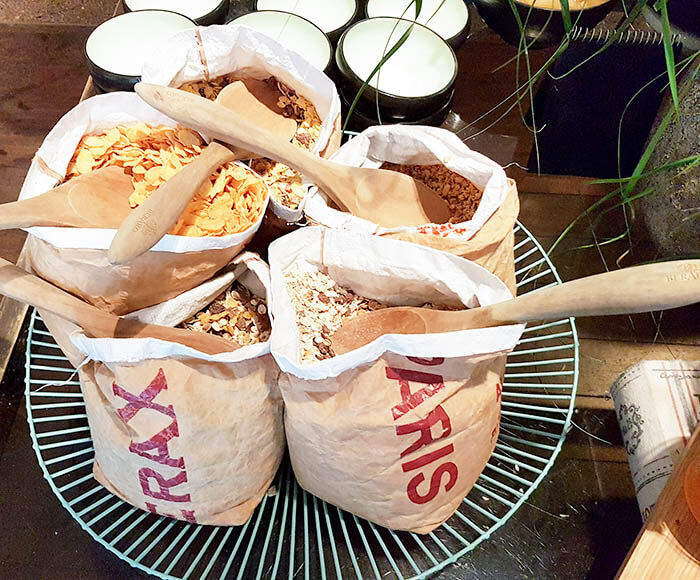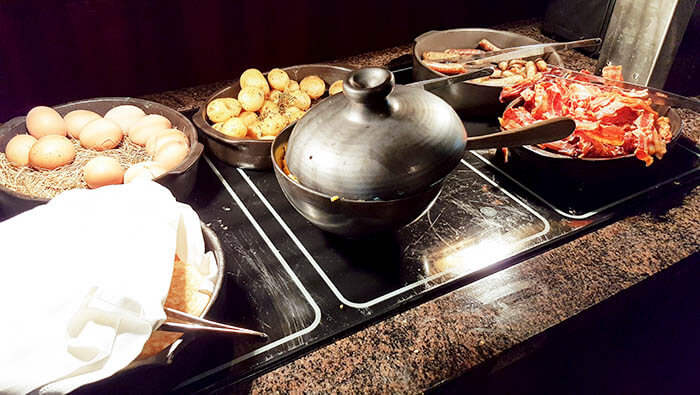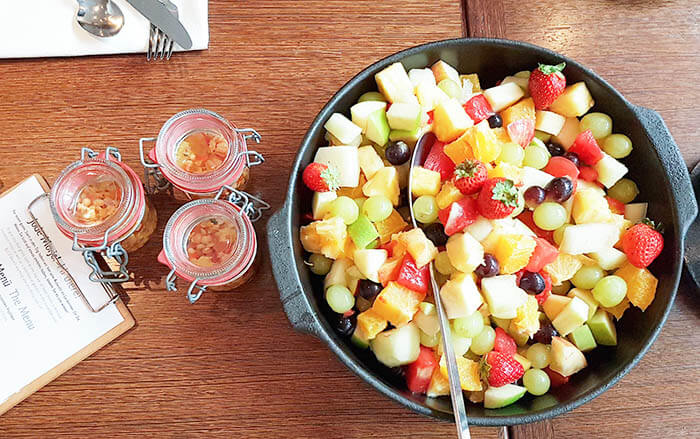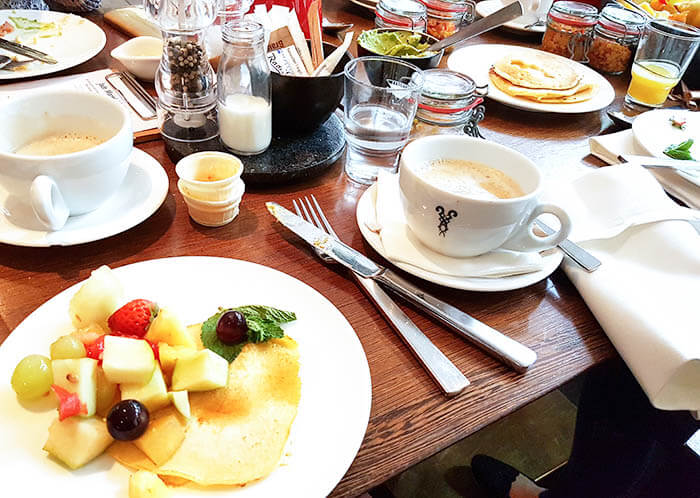 ---
Here comes part two of my wonderful weekend with Radisson Blu Düsseldorf. After our cocktail party at the Scandinavia Hotel in Düsseldorf Golzheim, we drove to the Media Harbour Hotel the next morning. Brunch-time was calling!
Restaurant Amano Verde
The restaurant Amano Verde stands for sublime vegetarian and vegan cuisine. That's great and innovative for a hotel restaurant, I think. Furthermore, it's also really clever, because it attracts not only the hotel guests, but also vegetarians, vegans and culinarily curios persons like I am from Düsseldorf and surroundings.
Chef de cuisine Dennis Riesen is vegan himself. So, he skillfully prepares light dishes or hearty entrees free of meat but full of flavor. He incorporates gluten-free products and fresh ingredients that are purchased regionally from controlled cultivation.
We first had a delicious welcome drink – cucumber syrup, infused with tonic water. In addition we got a healthy green smoothie from spinach, apple, banana, cucumber and passion fruit juice.
Breakfast buffet and vegan highlights
The breaky buffet at the Radisson Blu Media Harbour Hotel is great, just as it already has been in Hamburg and Rostock. The variety, here you also get sausage, bacon, cheese, eggs, salmon and co., is as impressive as the food arranging.
I love the selection options: Be it milk (full-fat, semi-fat, lactose-free, almond, soy), cereals, bread or fruits.
In addition to the huge buffet, some vegan highlights from Dennis Riesen were waiting for us on our beautiful breakfast table. We had super yummy avocado cream, cashew mush, lentil salad with passion fruit juice as well as vegan sausage and cheese.
Furthermore, waiter Elias, who already serves out smoothies, provides us with fresh, fluffy pancakes. What more could woman want? ;-)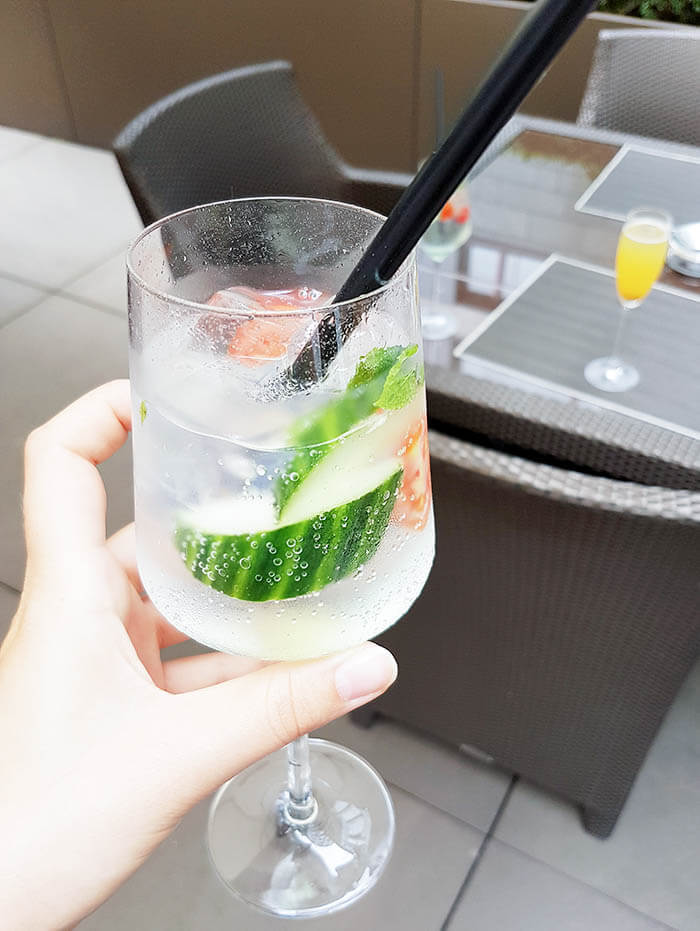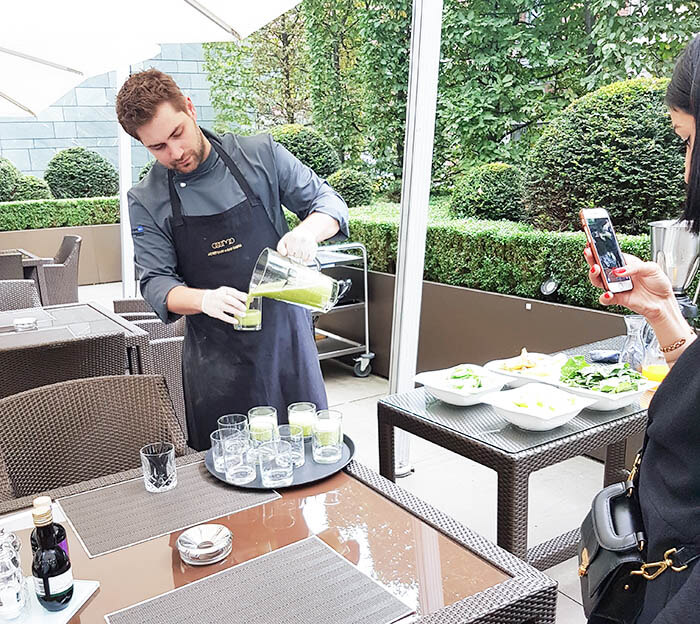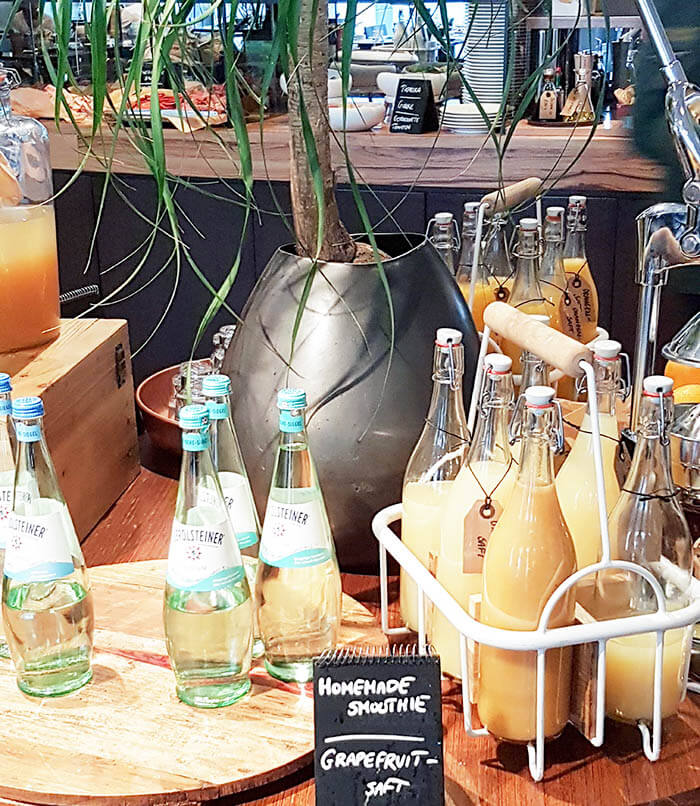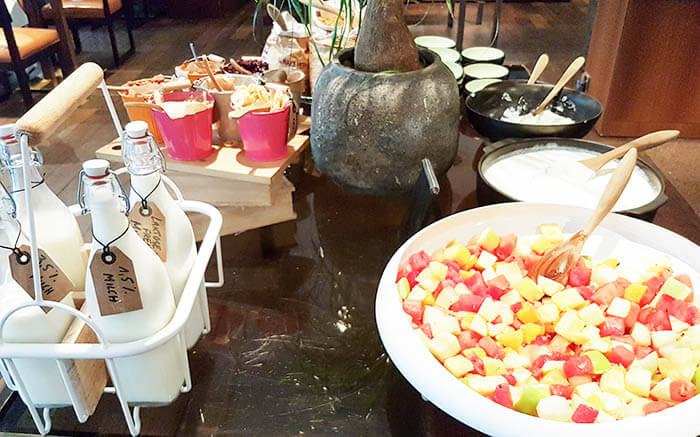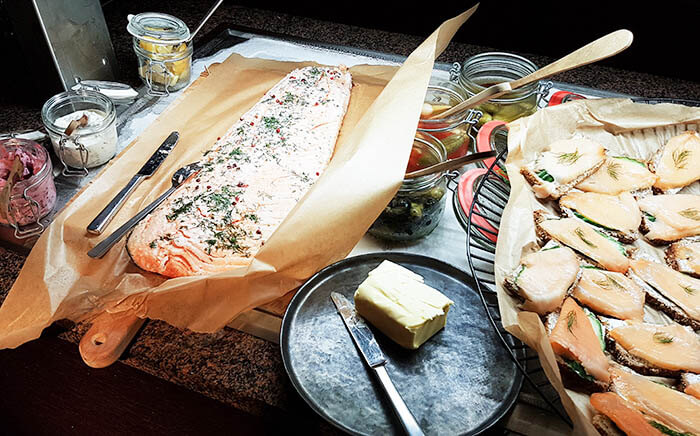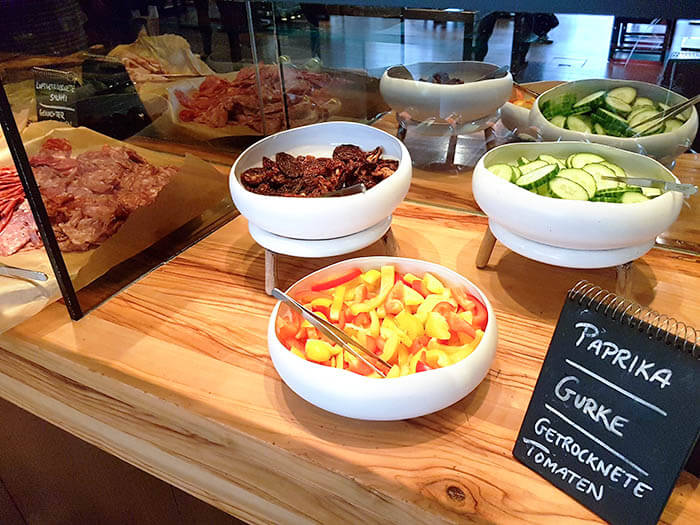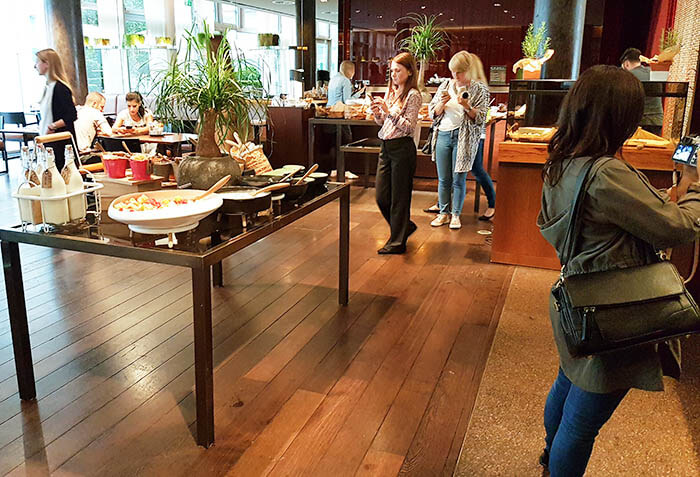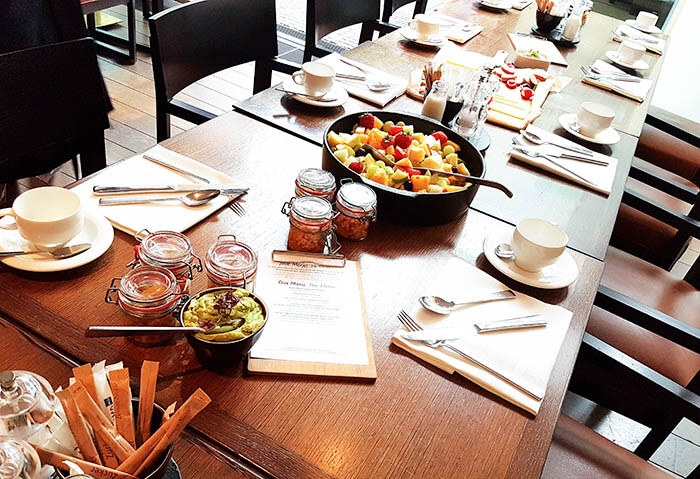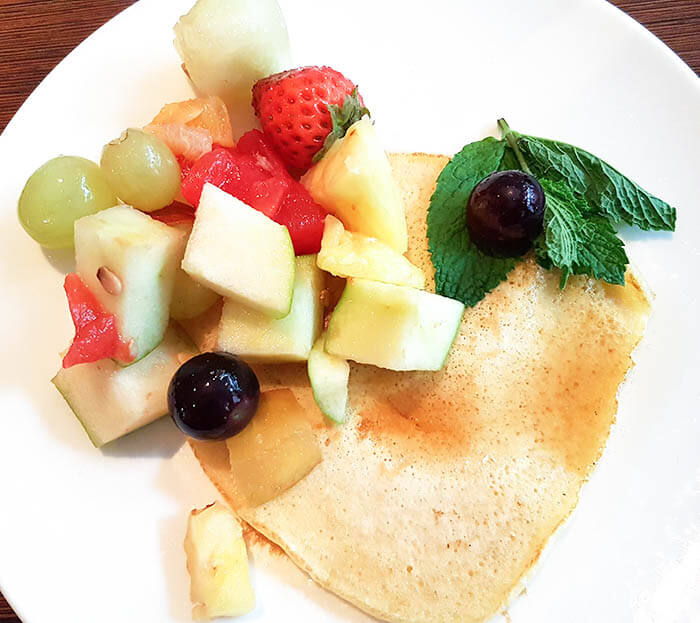 Vielen Dank nochmal an Radisson Blu Düsseldorf für das tolle Wochenende. / Thanks again Radisson Blu Düsseldorf for the invitation.